Top 13 Best Open Source Scheduling Software to Use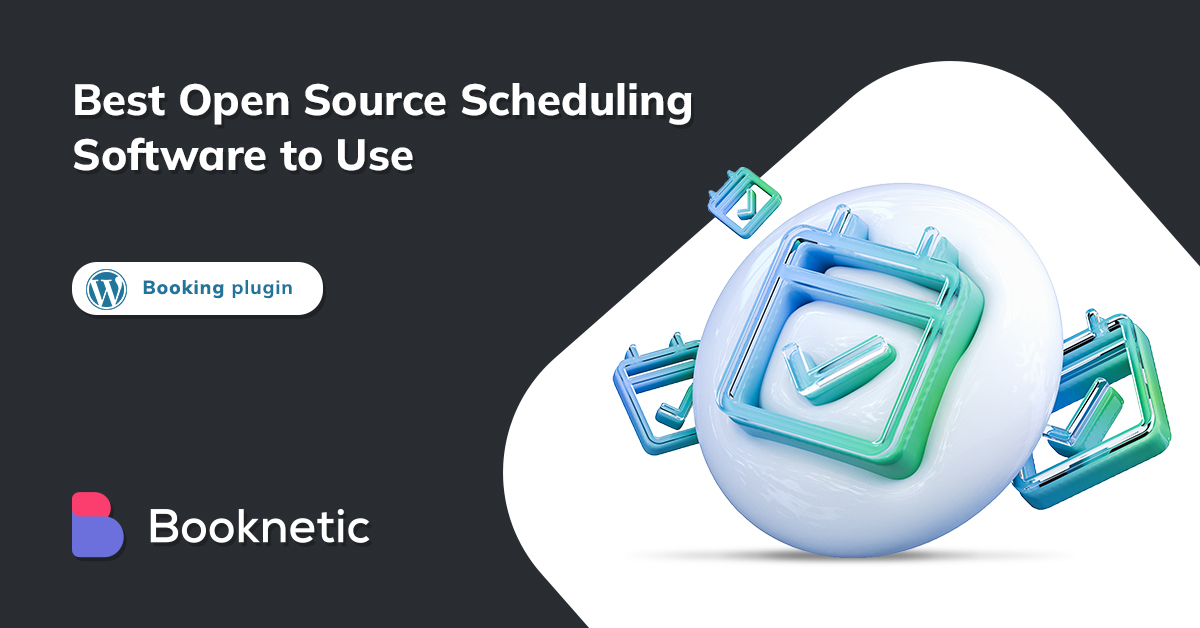 It is vital that you pick the best open source scheduling software to get your business off the ground and receive a needed number of prospect attention.
Businesses and individuals are continually undertaking steps to simplify their workflows and maintain sustainable revenue. The truth is these people are racing against time. They have to handle client meetings, employee scheduling, management workflows, weekly meetings, and a hundred other complex processes as part of their daily tasks.
Modern businesses cannot rely on cold calls or emails to get internal management and customer relations on track. Professionals and businesses are desperately in need of smart tools to smooth their operations. In this regard, the importance of open source scheduling software is unambiguously increasing.
Apart from putting meetings in order, the best open source scheduling software helps to increase customer engagement, enhance lead generation, optimize resources, and organize project management.
Table of Contents
Best Open Source Scheduling Software
1. Booknetic
2. Setster
3. Cal.com
4. BirchPress
6. Rallly
7. mHelpDesk
8. Bitrix24
9. Moto Press
10. Simplybook.me
11. Robin
12. Appointy
13. TimeTap
Best Open Source Scheduling Software to Untangle Meetings
1. Booknetic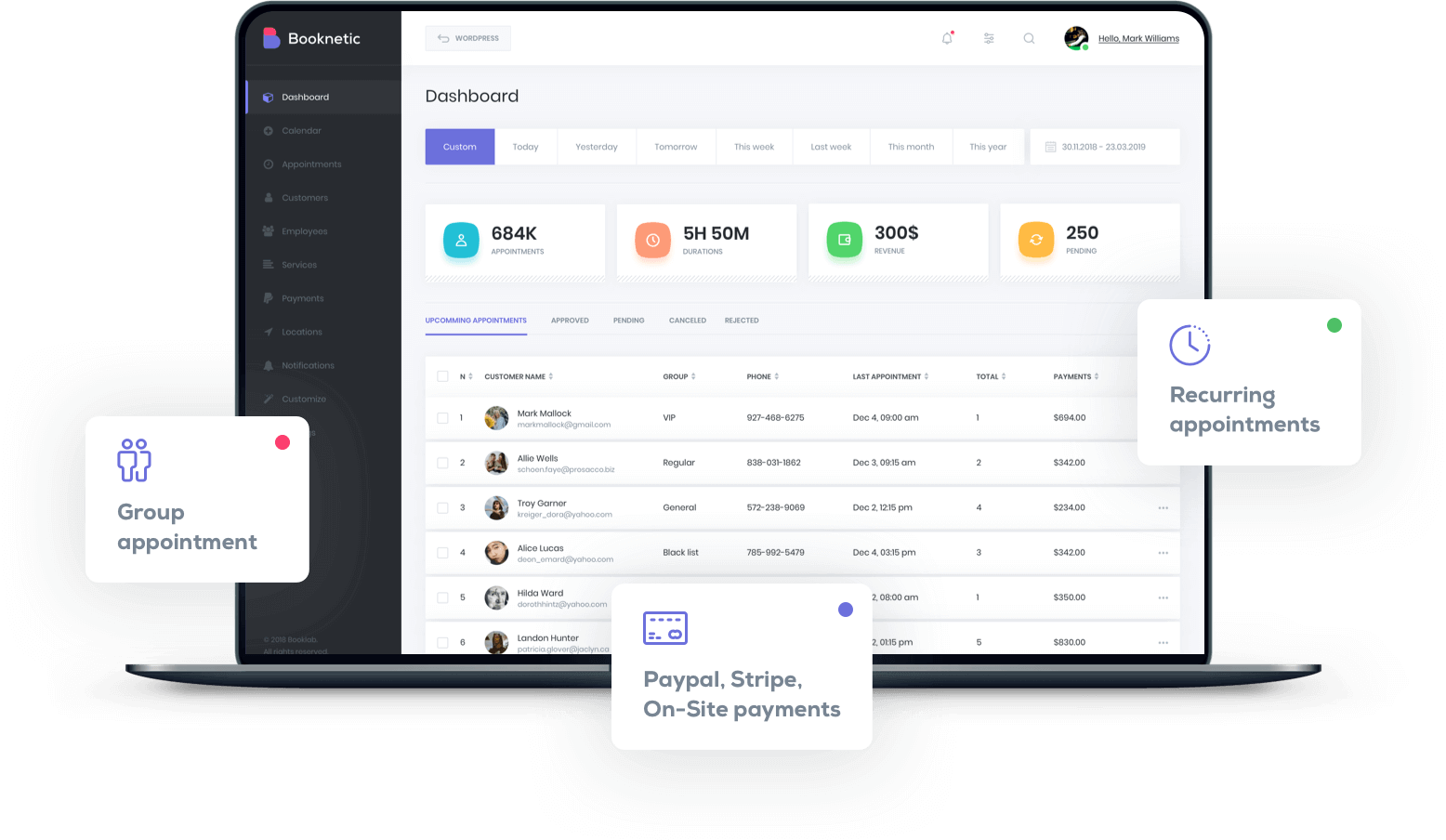 As a WordPress appointment scheduling plugin, Booknetic helps appointment-based businesses to streamline their appointment booking process. By enabling Google Calendar Sync, you can share your work schedule with clients. All booked hours will seem like busy time slots to viewers. This eliminates the risk of double bookings or a further need for in-person contact.
Its element-reach form builder lets you customize your booking page and personalize its colors to match your branding. This includes adding/removing additional steps, reordering steps, adding checkboxes, or requesting file sharing for the purpose of the appointment.
Furthermore, Booknetic lets you put the booking widget anywhere on your website. Users can register through their Google or Facebook accounts to remove the hassle. Once they sign up, all user data will be automatically saved in your system.
With the help of Zoom integration, you can host virtual meetings, 1:1 meetings, or webinars through the booking panel. You can further write reminder messages to secure against no-shows and cancellations.
Another no-show reduction policy is integration with online payment gateways. You can request deposits or charge full payments to fully automate appointments while securing their status.
With its extensive list of features and 5-star customer support, Booknetic comes at the top of the best open-source scheduling software. Booknetic offers a one-time $79 payment for all features on a lifetime basis.
? READ MORE: The Best Productivity Tools for Small Businesses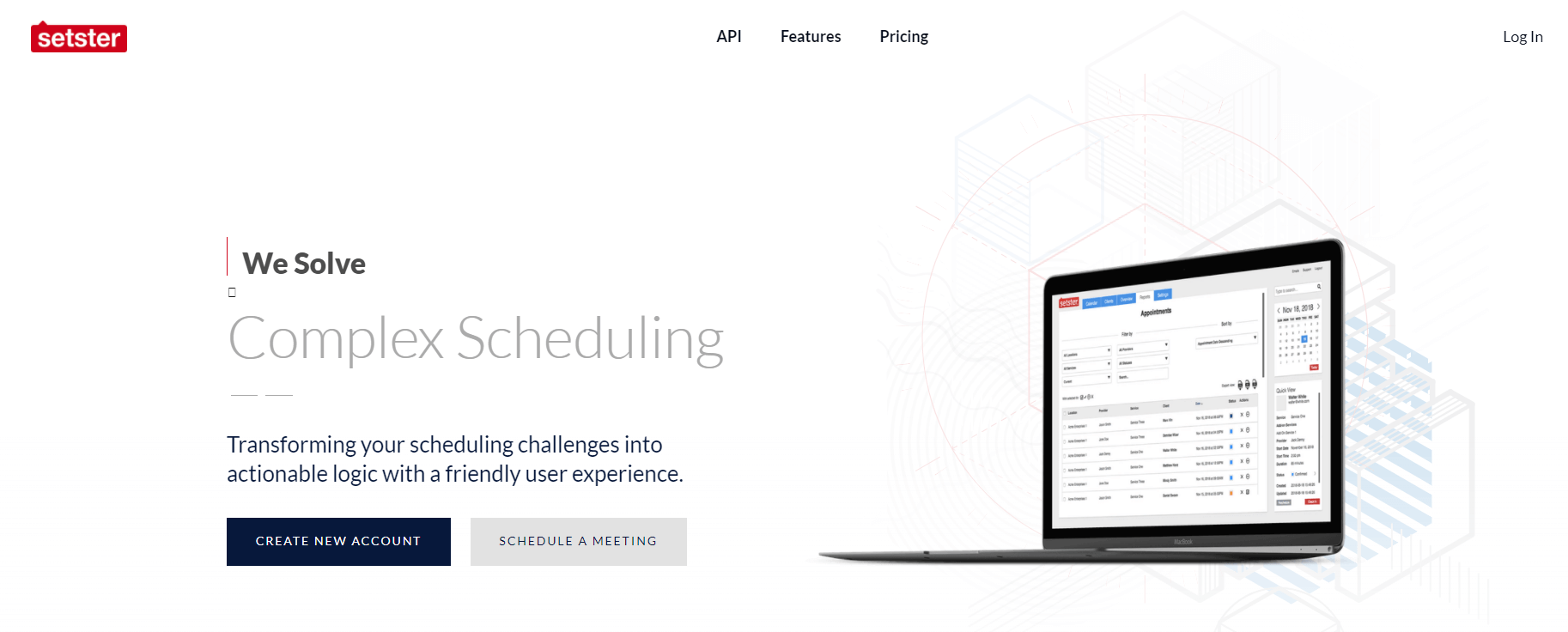 Setster is cloud-based scheduling software for businesses. Appointments can be scheduled in real-time for multiple locations while adding buffer time in between meetings. The best part is it lets you create specific settings for each appointment depending on the meeting you will have.
Managers can control employee schedules by adding holidays, and day-offs to their calendars through Google Calendar, and set custom rules for custom notifications. It allows teams to improve communication within internal teams and lead generation practices to boost productivity.
On top of that, it uses REST API that can be easily deployed and scaled based on your scheduling needs. Its capacity to handle tons of appointments and complex booking problems made it to the list of the best open-source scheduling software.
It is an enterprise open source scheduling software with 3 different plans. The cheapest plan costs $16 per month where you get unlimited scheduling of appointments. The features like API, developer tools, and dedicated server hosting are included in high-tier plans. You can also save 20% with an annual subscription.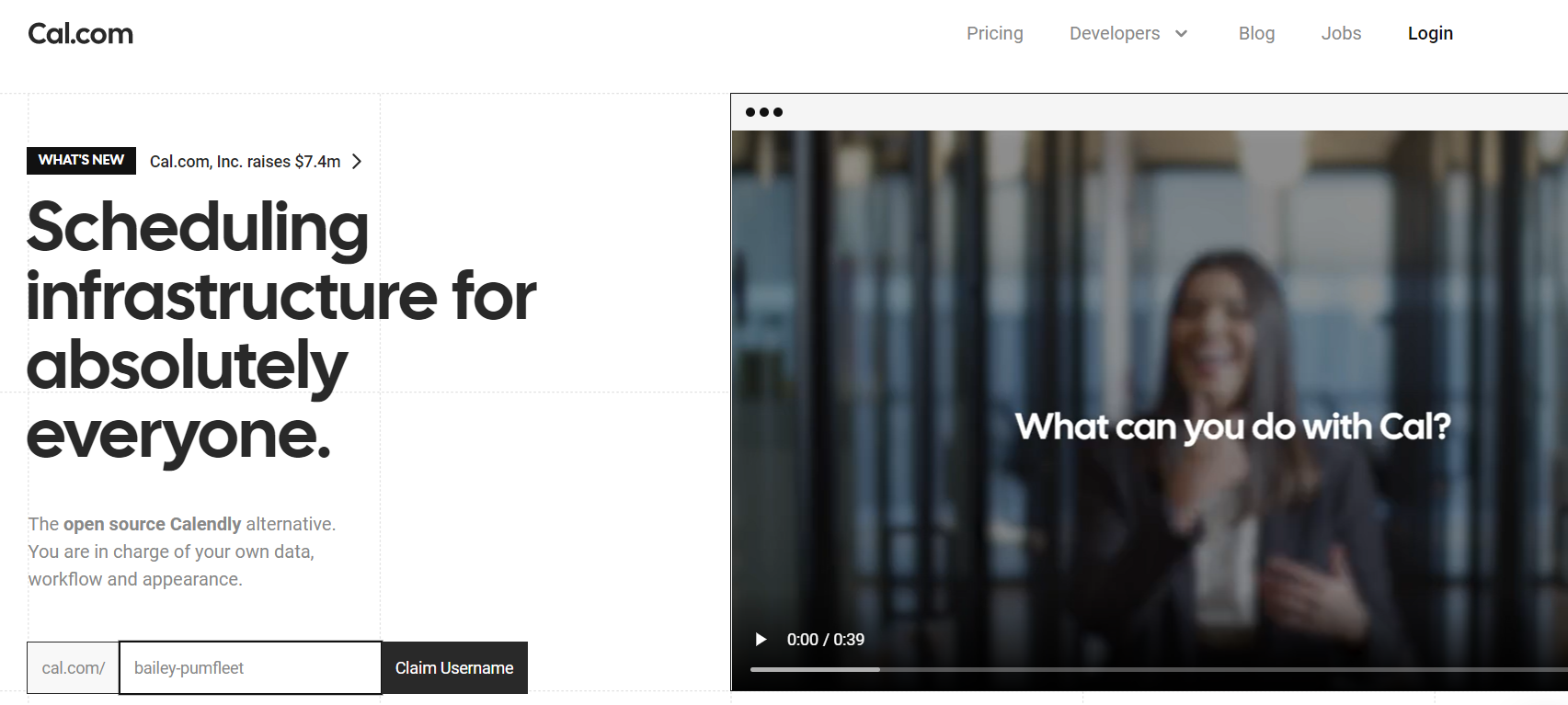 Cal.com is an outstanding open-source scheduling software for meetings and appointments. It integrates with, Google Calendar, and Outlook so that many users can easily register and schedule meetings via their emails.
It helps businesses to enhance their service quality through workflow management, team scheduling, and several other integration channels. Cross-platform compatibility makes sure that customers reach out to you through tablets, desktops, and smartphones.
It comes with ready templates for standardized types of meetings. Template changes include shifting in-person meetings to online calls. You can also offer meeting sessions from a few minutes to a few hours, for one invitee or group, automated roundups, or geography-based assignments.
You can automate meetings through customized notifications and follow-ups. It also works for webinars, and workshops where multiple invitees can schedule time slots for the same event. Y
Integration with third-party tools to automate and optimize more aspects of team and customer management.
Offering the same solutions to individuals is also provided with this best open-source scheduling software. If you are a freelancer you can still use the same features as businesses.
It has a free plan for a single type of event. Small teams or individuals who need scheduling automation and unlimited event can pay a $12 monthly payment per seat.
? READ MORE: Create a Multi Vendor Booking System with No Coding Required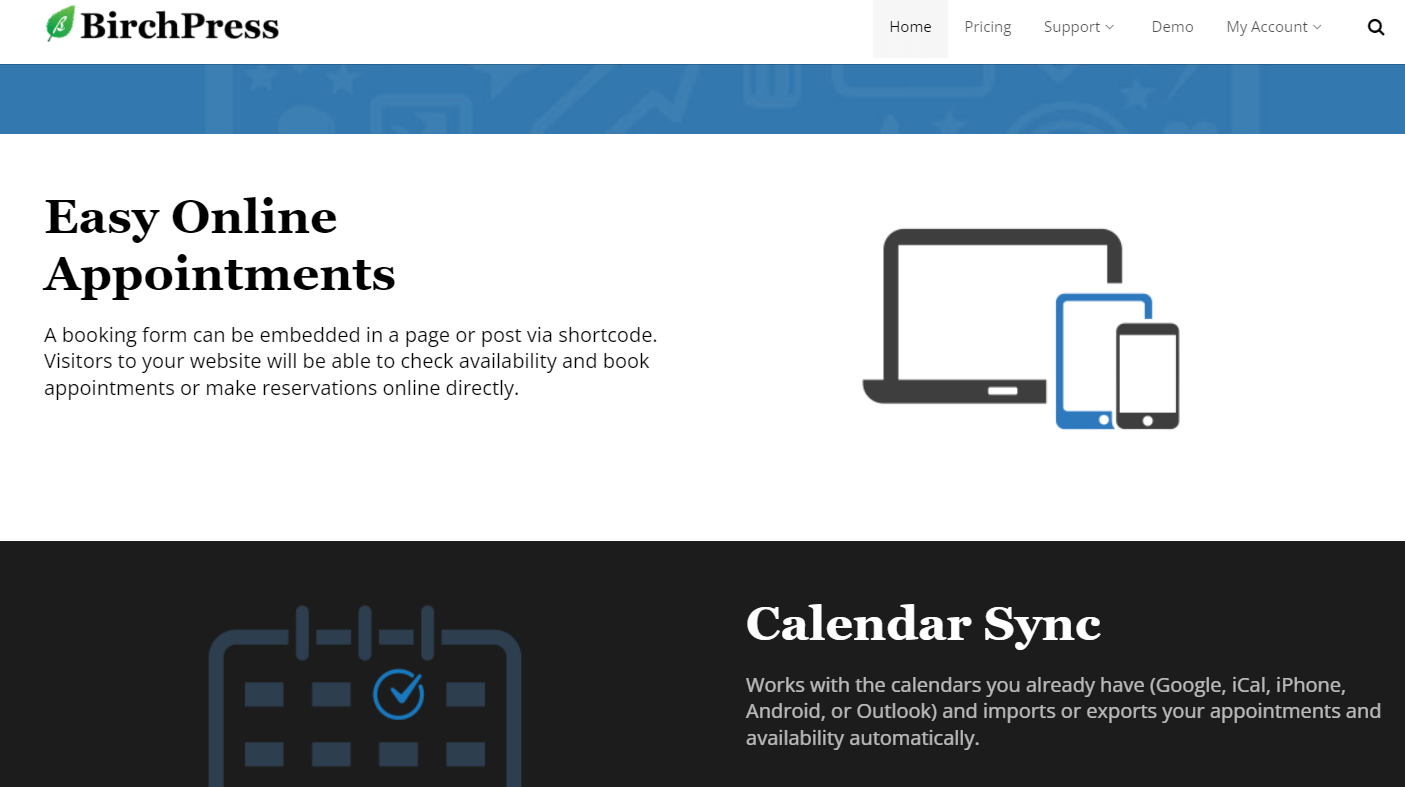 BirchPress is another open-source scheduling software that facilitates appointment, payment, and employee management within booking software. Its customizable scheduling page lets your clients easily view your real-time availability and self-schedule their appointments.
You can share your scheduling page on pages or website posts to get more visibility. Since it supports online payment gateways, you can filter appointments based on their paid and unpaid features.
Due to its user-friendly interface and high functionality, BrichPress is accepted as one of the best open-source scheduling software among WordPress plugins. It is a reliable and worthy tool to try if you are a solo entrepreneur.
When it comes to price it is on the pricier side of open source scheduling software. For a single site, you have to pay $99. This includes important features like text messages, block holidays, and set how far in advance an appointment can be made.
Mainly because of price points and several other factors, WordPress users compare it to other plugins in the market. Check out our blog on BirchPress vs Booknetic to compare both plugins.
Related: Best Tools for Scheduling Group Meetings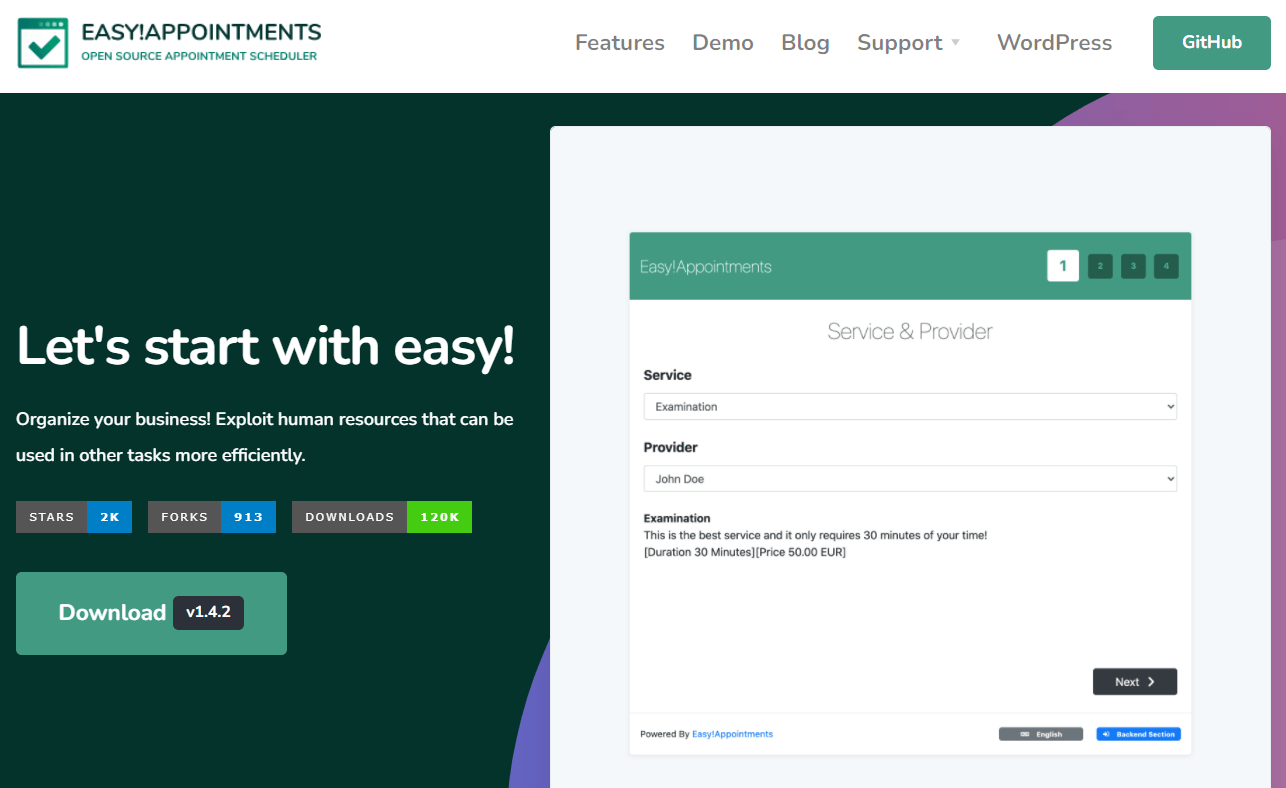 Easy!Appointments positions itself as the provider of an easy booking experience for teams and their customers. Google Calendar Sync ensures that businesses will eliminate double booking. You can also share your events with other applications.
It is highly customizable and can be adapted to different customer cases and integrations. You can add new features to the original app or change existing ones to enhance your booking experience.
You can configure calendars based on employees, services, or sections. Easy!Appointments enable you to host multi-attendant events and customer group meetings. On top of that, it has a dedicated URL to add to your website that will navigate visitors to book appointments on certain pages.
It also has a WordPress plugin. But, compared to Booknetic, it offers limited features to users. It is a full free open source scheduling software. If your business does not require complex scheduling procedures you can go with Easy!Appointments.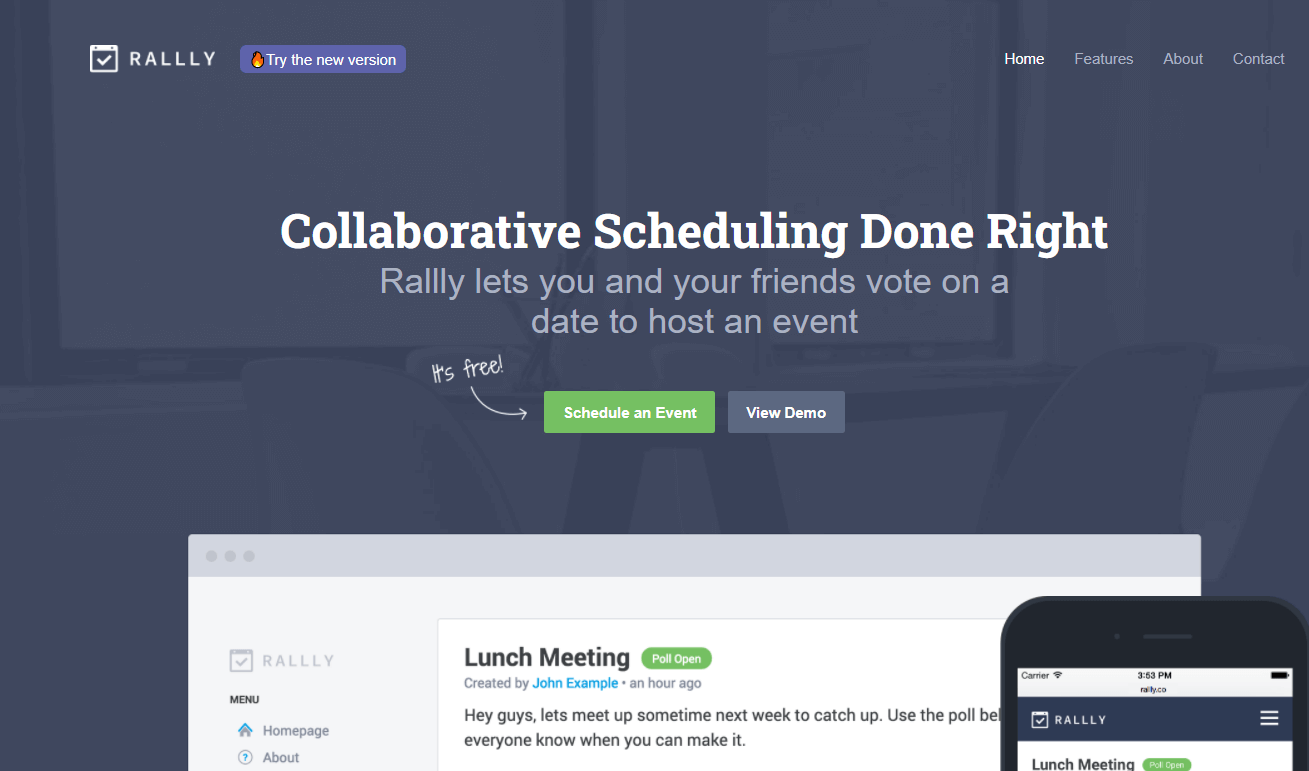 Rallly is a smart tool to optimize booking procedures for businesses and their clients as well. Its collaborative nature saves teams from going back and forth between emails. It integrates with different calendars so that you can add as many calendars and receive as many customers from different platforms.
You can create a booking page for single events and share its link with others. Scheduling polls is a unique feature of this open-source scheduling software. What it does is to send available time slots to customers or staff and let them vote on the appropriate time in the calendar. In a team's account, the meeting host can decide on the final time after voting. It also lets you put a deadline in the scheduling poll.
The overall features let you avoid common problems like time zone, tight meeting dates (as you can suggest appointment dates), and manage reminders.
The best thing is Rallly is a fully free open source scheduling software for freelancers and businesses.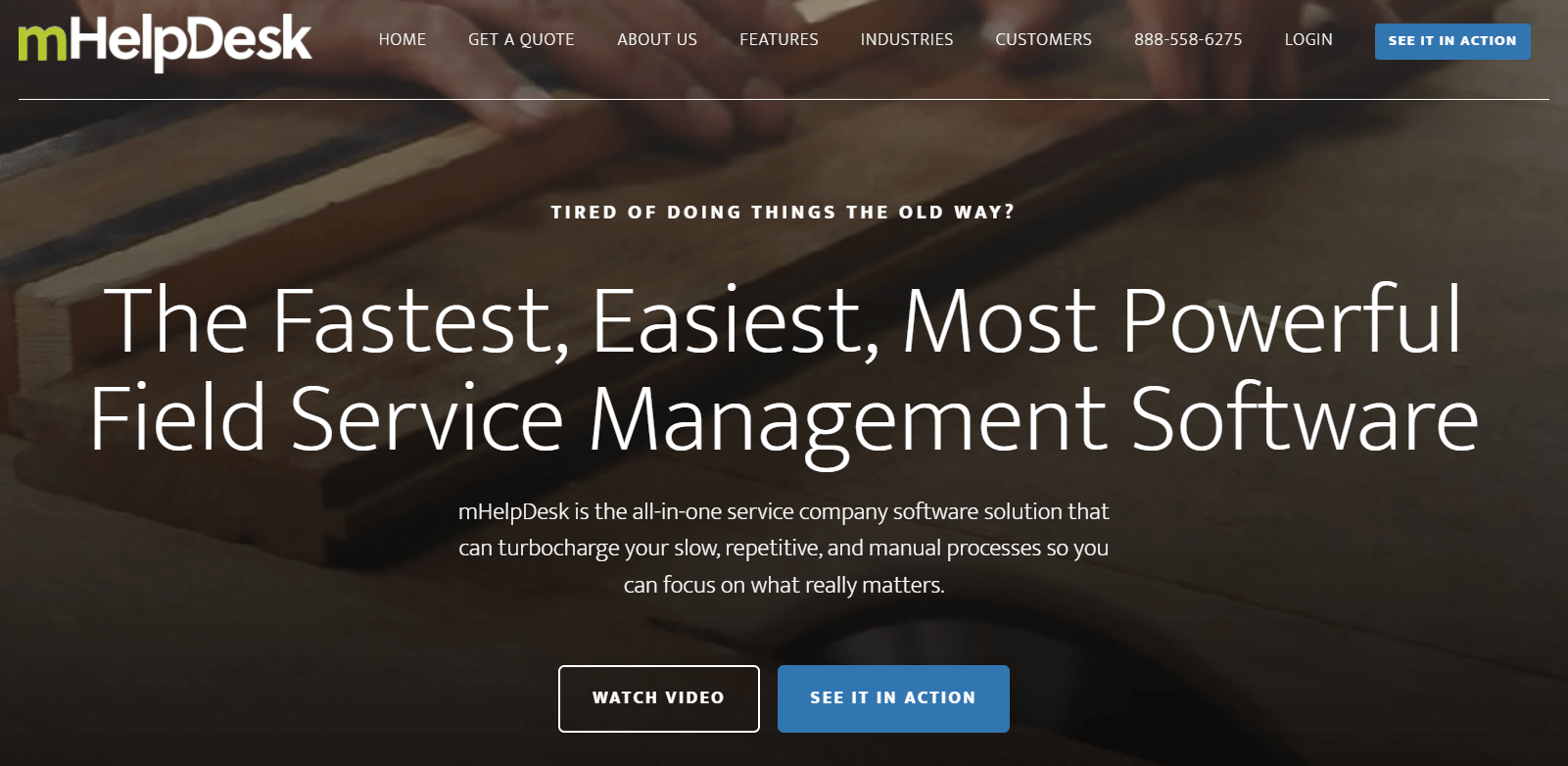 mHelpDesk is another affordable open-source scheduling software for a multitude of businesses and company sizes. With this in your toolkit, you can handle 1:1 meetings, and group meetings on all device categories.
It is compatible with Google calendar so that you can place all your meetings in a single calendar. Drag and drop calendar lets you easily set your booking page and share it with anyone you want.
To keep invitees in the booking loop, it lets you send instant confirmation notifications, text, or email reminders.
Apart from client bookings, your staff can also schedule meetings with clients.
Integration with online payment gateways is also provided with this open-source scheduling software. Additionally, it also combines other business tools like marketing, virtual meeting, business, and CRM apps. Moreover, it comes with administrative features that enhance workflow management.
Related: Elementor Appointment Booking Plugins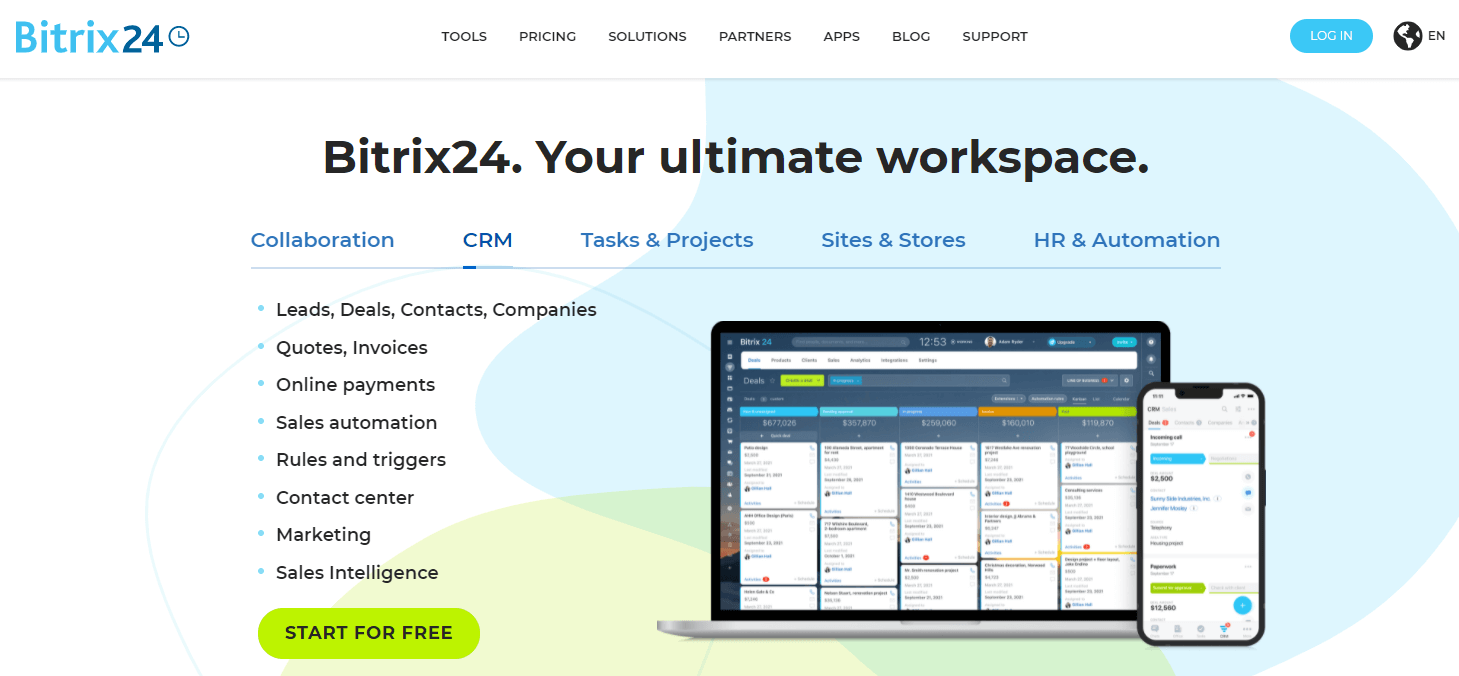 Bitrix24 provides a multitude of solutions within its open-source scheduling software. It comprises task and project management, messaging, file sharing, contacts, and other features.
A call center feature is also available in this open-source scheduling software. It means when a prospect schedules a meeting with you, you will view your interaction history with that client. If you miss a call with clients, you will have their contact details and required data in hand. This helps to reconnect with lost prospects and clients.
On the task & project side, it equips businesses with kanban boards, charts, and ready task templates that help to effectively organize workflow.
If you look for collaborative tools alongside your typical meeting scheduling software, Bitrix24 is worth trying. Individuals and organizations can use its free plan to get collaboration and other features with limited access.
Due to wide feature coverage, its paid options are pricer than other best open source scheduling software in the market. The starter plan costs $49 for 5 users per month. If you run dozens of data in your daily operations and need a single management tool for all, you can go for Bitrix24.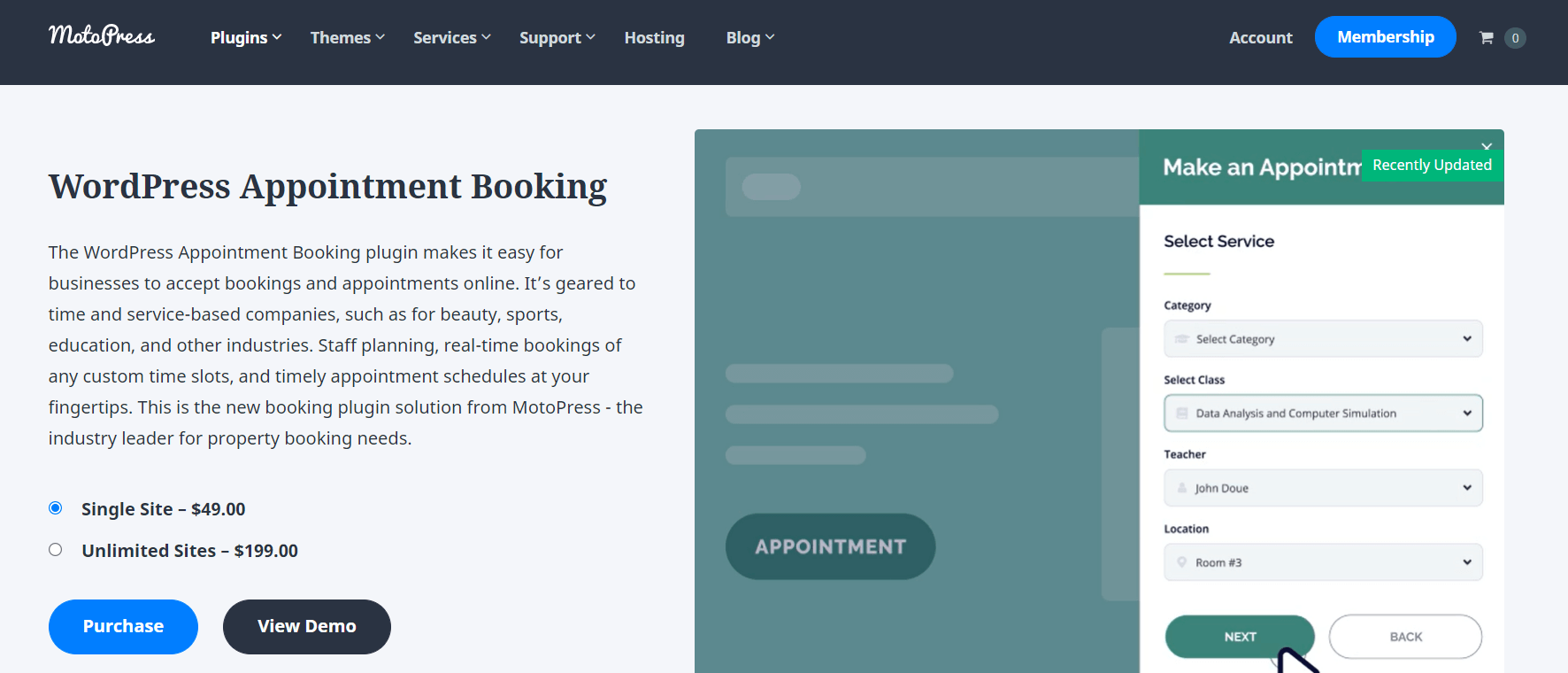 Moto Press has upgraded its core technicality into 360-degree WordPress development software. Along with meeting booking, it offers a point of WordPress themes to design your appointment scheduling business website.
Mobile optimization ensures that customers can book and check their appointments on the go. Its point of sale (POS) system lets you receive deposits and full payments for appointments. You can create individual employee profiles and set up their calendars. It has a step-by-step booking wizard to facilitate the sign-up and booking process. It also lets you send notifications and charge fees for no-shows.
With this in your hand, you can run a bunch of different tasks with a single product. With the help of developer tools, you can connect order tracking, inventory management, product directory, and employee management features into your customer management tool.
Compared to other booking tools, you have less flexibility to customize your booking page. You can get Moto Press by joining its membership program. You need to pay $45 for a single site to get scheduling and other business features.
? READ MORE: Best Appointment Scheduling Apps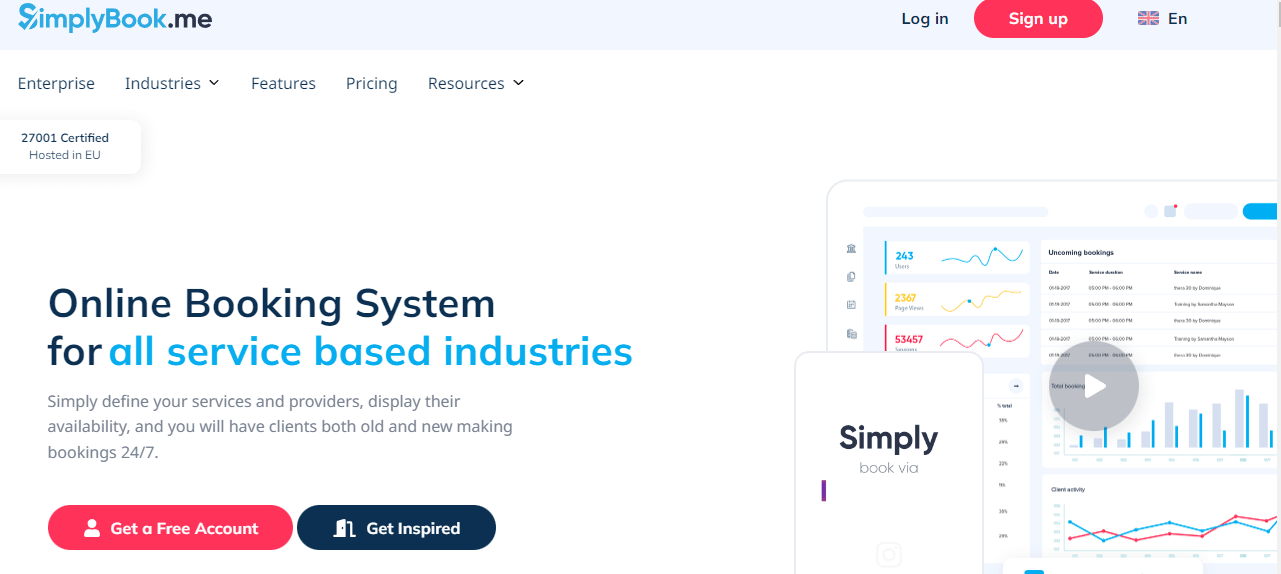 Simplybook.me is a powerful open-source scheduling software that allows you to create a professional booking website for your business. You can customize your site with your brand, logo, colors, and images. You can also offer different services, classes, courses, events, and products to your customers.
Simplybook.me integrates with various platforms such as Google Calendar, Outlook, Zoom, Stripe, PayPal, and more. You can sync calendars, accept online payments, send invoices and receipts, and manage bookings from any device. Built-in marketing tools are also helpful in promoting your business and attracting customers.
The platform is suitable for any business that needs online booking and scheduling. Whether you are a salon, spa, clinic, gym, school, or consultant, you can use Simplybook.me. You can also use it for personal purposes, such as scheduling appointments with friends or family.
Simplybook.me offers a free plan for up to 50 bookings per month and one custom feature. Paid plan starts from $9.90 per month and comes with more bookings and features.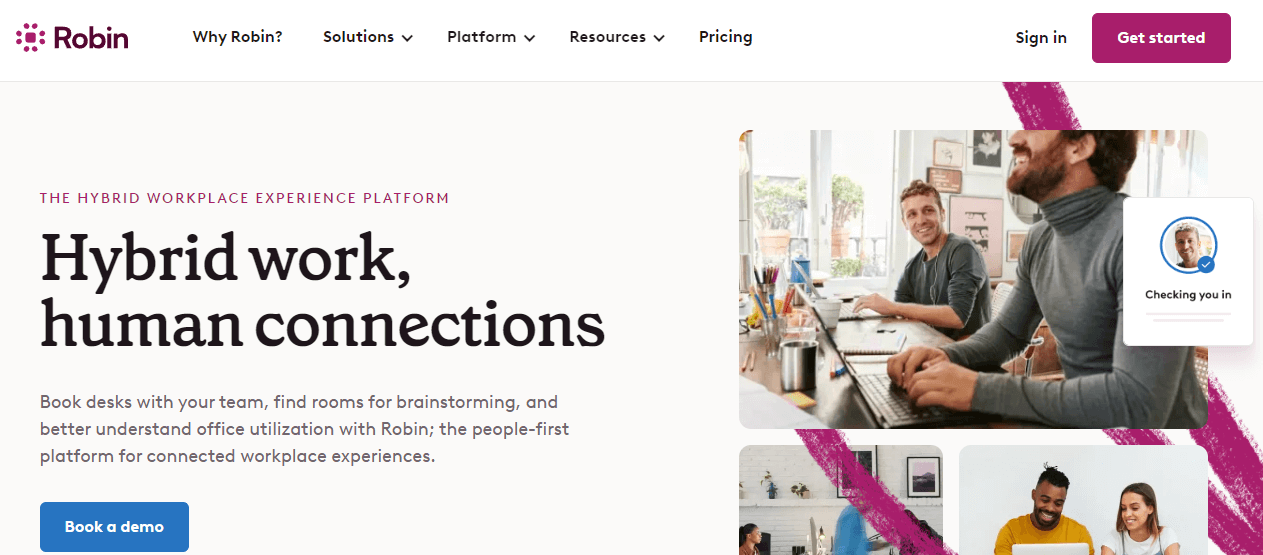 Robin is an innovative open-source scheduling software that helps you manage your office space and resources. It lets you easily book meeting rooms, desks, equipment, parking spots, and other amenities. It also helps you optimize your space utilization and reduce costs.
This innovative tool integrates with popular calendar apps such as Google Calendar, Outlook, and Microsoft 365. You can view the availability of rooms and resources in real time and book them with a few clicks. There is also a mobile app to check in, extend, or cancel your bookings.
Robin also provides analytics and insights into how your space is used and how you can improve it. Occupancy rates, meeting patterns, room preferences, and more are just a few clicks away.
Robin is designed for modern workplaces that value flexibility and collaboration. It works well for co-working spaces, shared offices, campuses, and enterprises. It helps you create a SMART and productive work environment that adapts to your needs.
Robin offers a generous free plan. But if you want to upgrade to fit to your needs, you will have to contact them to get a quote.

Appointy is a powerful open-source scheduling software that helps you grow your business and save time.
Appointy is designed to work for any industry, whether you are a salon, spa, gym, health care provider, education institution, or professional service provider.
Appointy is an open-source scheduling software that gives you complete control over your data and code. You can modify it to suit your specific needs and preferences. You can also integrate it with other open-source tools and platforms to enhance your workflow and productivity.
Appointy offers a free plan for up to 5 services and 100 appointments per month. If you need more features and flexibility, you can choose from their premium plans starting from $29.99 per month per user.

TimeTap is an innovative and flexible open-source scheduling software that helps you manage your appointments and clients online. With TimeTap, you can create booking forms, schedules, invoices, and reports. You can also automate your client communication through email and text messages.
This tool is an open-source scheduling software that adapts to your business needs and preferences. You can effortlessly define and showcase when you are available, what services you provide, how much you charge, and any specific detail you might want to include. It also supports custom fields to collect relevant information from your clients.
It is open-source scheduling software that integrates with popular tools and platforms such as Google Calendar, Outlook, Stripe, PayPal, Zapier, Mailchimp, WordPress, Shopify, and more. You can also access it from any device or browser with an internet connection.
TimeTap does not offer a free plan. If you want to use TimeTap, you need to go with their paid plans starting from $24.95 per month per user.
Final thoughts
In order to pick the best open source scheduling software, you have to first analyze the needs of your organization and its expectations from those tools. A cheat sheet on things to look at before looking for open source scheduling software:
The type of business - this is the foremost requirement you have to look at. If your business offers appointments to customers you need to go for a tool that will streamline your appointment booking process. Select software that meets your specific needs instead of offering many features that are useless for your business.
A number of employees - if you are a freelancer or manage a small team, a free version would do the job at the beginning. But if you manage a large team or hold lots of meetings on a daily basis, then go with enterprise open source scheduling software that gives value for money.
Budget - and of course, price is a crucial factor when picking the best open source scheduling software. Do a price-feature comparison of each available option. Make sure that you get the best bargain under your budget.
Sign up for our newsletter
Be the first to know about releases and industry news and insights.
Let's

get started

on something great
Booknetic is a simple yet powerful plugin for accepting online bookings & payments on your WordPress site.