Top 7 Calendly Alternatives on WordPress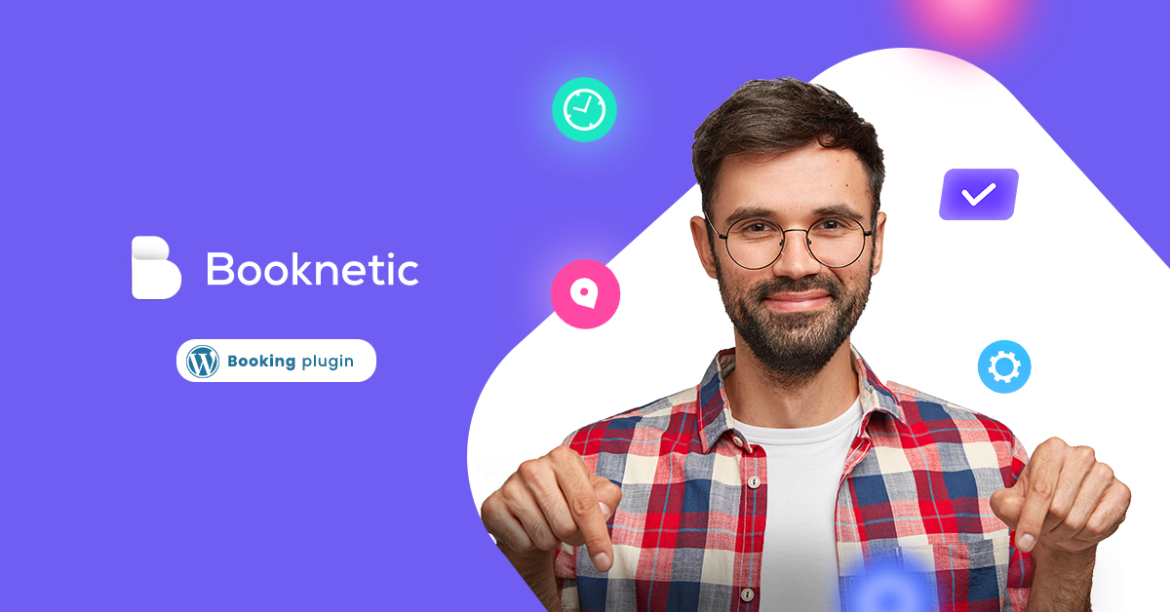 We've all heard of Calendly, appointment booking software used by over 50000 well-known companies throughout the world. Today, we won't go into detail about Calendly, but rather will provide you with the list of Calendly alternatives WordPress.
What is Calendly?
Calendly makes it easy to schedule meetings with your clients, so you can get back on track and focus. With integrations in Zoom, Salesforce, and Google for instance? No matter what you do, Calendly has the perfect integration for it.
Calendly offers a range of powerful collaboration and administration features to work together with your team, including robust security measures.
It has Basic (Free), Premium ($8/monthly), and Pro ($12/monthly) plans depending on per user. Additionally, if you own a large business, the Enterprise model is also available.
Top 7 affordable Calendly alternatives
Above all, the aim behind this listing lies in making you familiar with the similar tools to Calendly that are in WordPress and save your money.
1. Booknetic
Booknetic is the #1 Calendly alternative WordPress because of its customizable approach, which is great for optimizing and automating processes. Because of its adaptability, it is appropriate for a wide range of enterprises, including hotels, salons, dentists, legal offices, individual consultants, dancing, fitness, etc.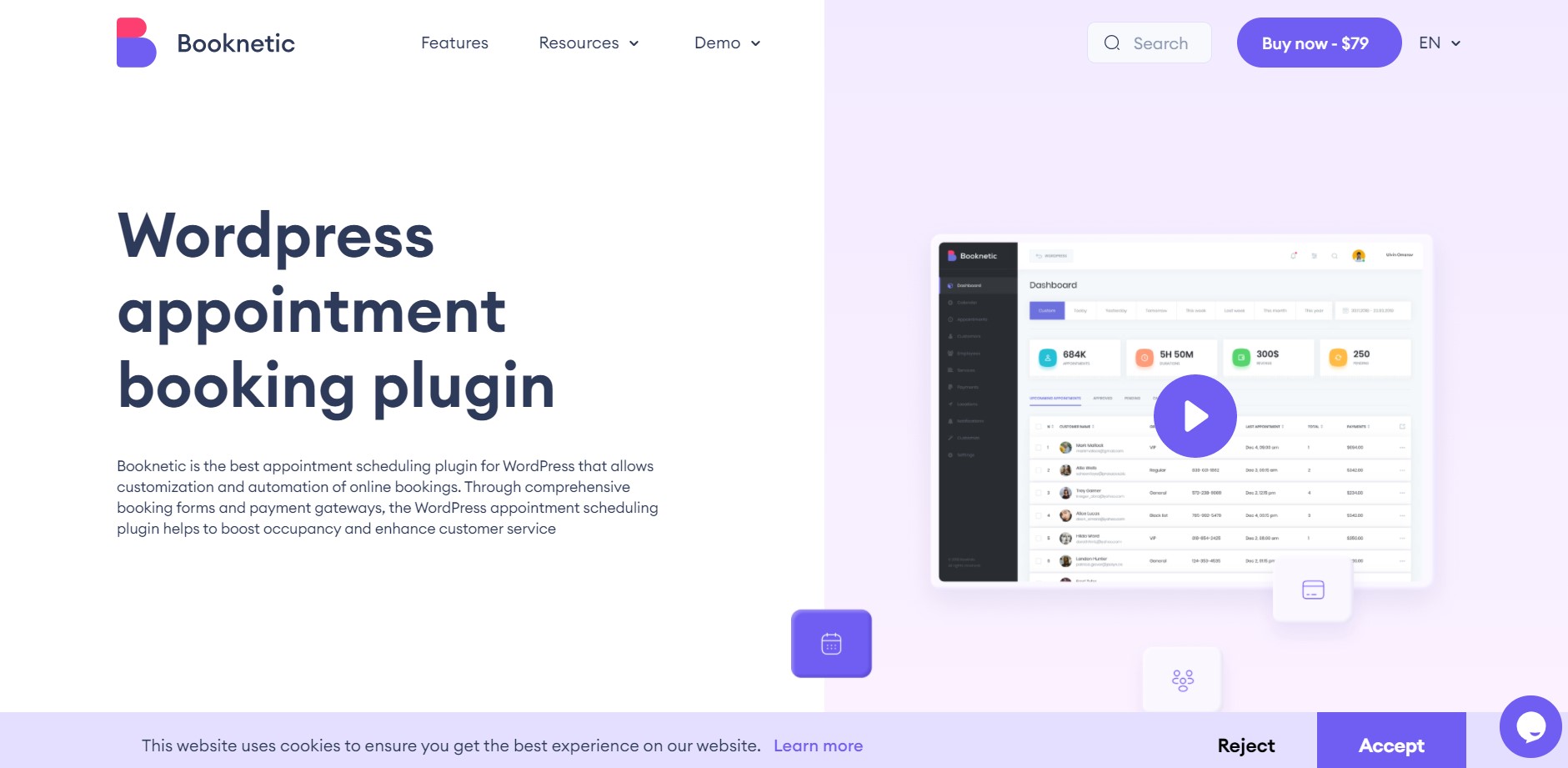 Booknetic has a clean UI/UX interface that is simple to install and use, and it is appropriate for any type of appointment schedule system. You may fully customize your business's booking system with adjustable templates, a form builder, several category levels, and other options.
Main features include:
Zoom integration is built-in to help you run your business
With the element-rich form builder, you can personalize your booking experience
Continue With Google and Continue With Facebook capabilities allow your client's information to be automatically filled in with the click of a button
Notify your consumers by email, SMS, and Whatsapp
Paypal, Stripe, WooCommerce, On-site payments
You may add a tax fee to your services and discount coupons and gift cards for customers using the Taxes tool.
When it comes to cost, the Booknetic appointment booking plugin is available to you for a one-time fee: $79.
2. Setmore
Setmore is a simple, all-purpose utility for keeping track of your appointments. It gives you access to your schedule, activity history, customers, and account information.
Setmore enables automatic online scheduling from many locations. This technology also allows you to make reservations and receive digital payments.
Some characteristics:
Sends email, as well as text reminders for upcoming bookings for both your team and customers
Appointments can be scheduled on a daily, weekly, or monthly basis.
With the Square or Stripe interfaces, you may accept cash, credit, or debit payments ahead of time for appointments.
Add Zoom meeting links to your appointments and classes
Customers can plan and pay for appointments directly from your page or posts, as well as through the Facebook app or in their browser.
Add your Instagram gallery on your Booking Page to guarantee that visitors see new material right away.
A basic Setmore account gives you unlimited access to a number of services. The Pro edition is $36 and includes a 30-day money-back guarantee.
3. SimplyBook.me
SimplyBook.me is the next from affordable Calendly alternatives WordPress for service organizations across a variety of sectors like beauty salons, gyms, restaurants, and financial organizations.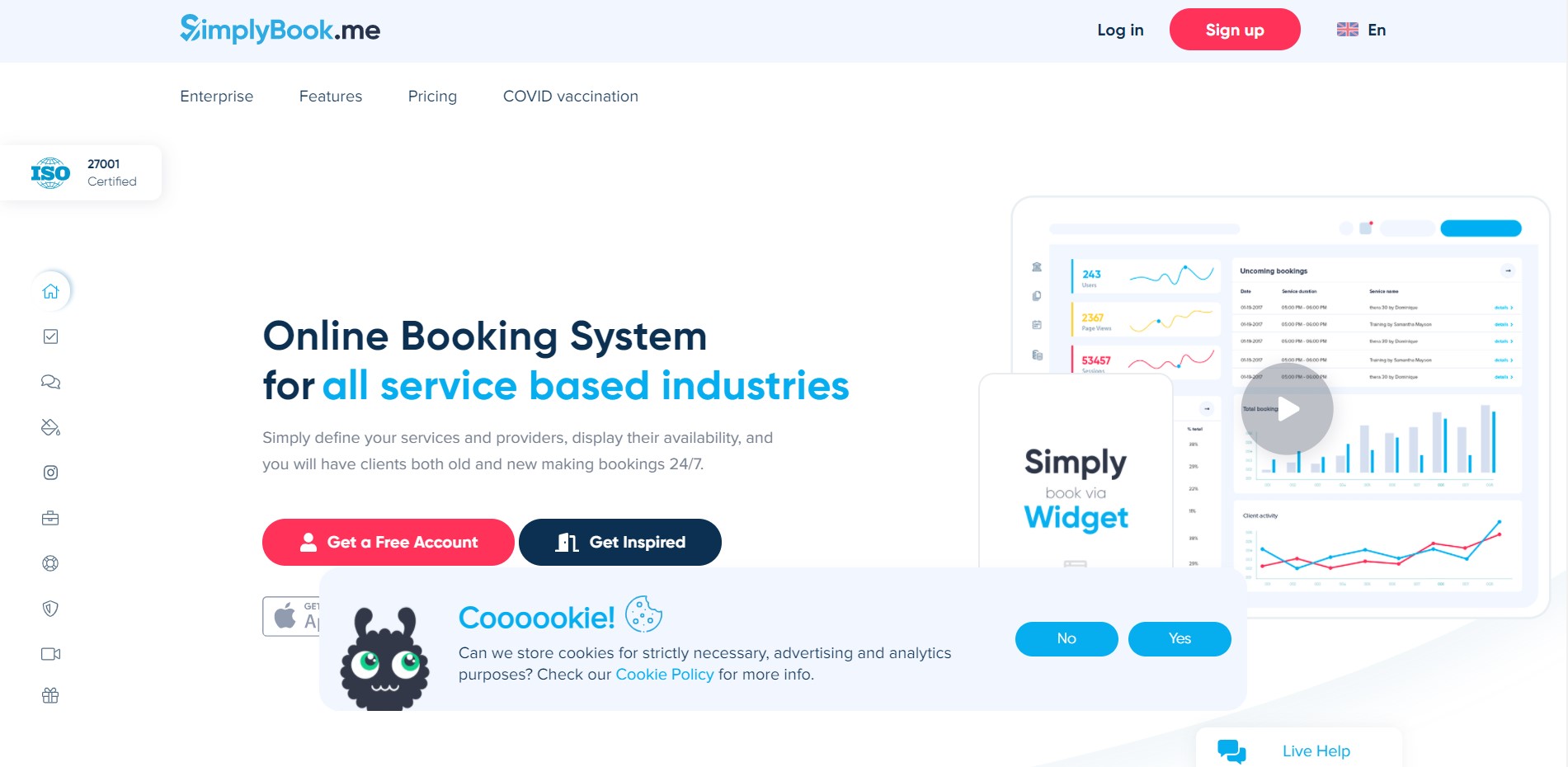 The plugin, on the other hand, is much more than booking software. Its Promotion technique is well-known for growing revenue and extending your consumer base while lowering marketing-related costs. A system in place compensates current consumers for introducing your business to their friends and family.
Key features
Allows you to accept appointments through your Facebook page and Instagram profile by clicking the "Book Now" button.
Send customized messages through email or SMS using the system.
SimplyBook.me provides a variety of payment providers with something you might connect to receive online or onsite payments.
Integrate your booking schedule with third-party business software such as MailChimp, Slack, Zenkit, Outlook, and others.
By including Google Meet links in your reservations, your customers will receive an invitation to a Google event as part of their booking confirmation.
It also provides a 14-day free trial with 50 appointments, followed by monthly subscriptions of $0 Free, $8.25 Basic, $24.9 Standard, and $49.9 Premium.
Check out our Calendly vs SimplyBookMe vs Acuity Scheduling comparison blog.
4. Picktime
Picktime is a straightforward platform as a Calendly alternative WordPress that requires no code or communication to operate. If you don't already have a website, you may create a unique booking page or customize booking forms to match all your needs.
A broad range of connecting channels, including payment channels, CRM systems, calendar software, and email marketing tools, help in the efficient running of your organization. You may start with an online calendar and work your way up by adding administration, payment, and CRM features.
Major advantages
The ability to receive cash and credit card payments via PayPal and Stripe integration.
Take account of all of your reservations, invoices, and refunds.
Email marketing functionality that works with Mailchimp and Constant Contact
Get thorough end-to-end reports on all of your company's activities.
Pre-booking your clients' sessions allows you to offer them a distinctive service.
The main benefit is the plugin is completely free!
5. Hubspot
From Calendly alternatives WordPress, HubSpot's booking software enables you to organize and arrange events with colleagues, clients, and teams. HubSpot provides a variety of meeting scheduling software functionalities that assist sales teams in saving time while organizing meetings. By arranging more meetings, your staff will be able to focus on creating contacts and acquiring new business.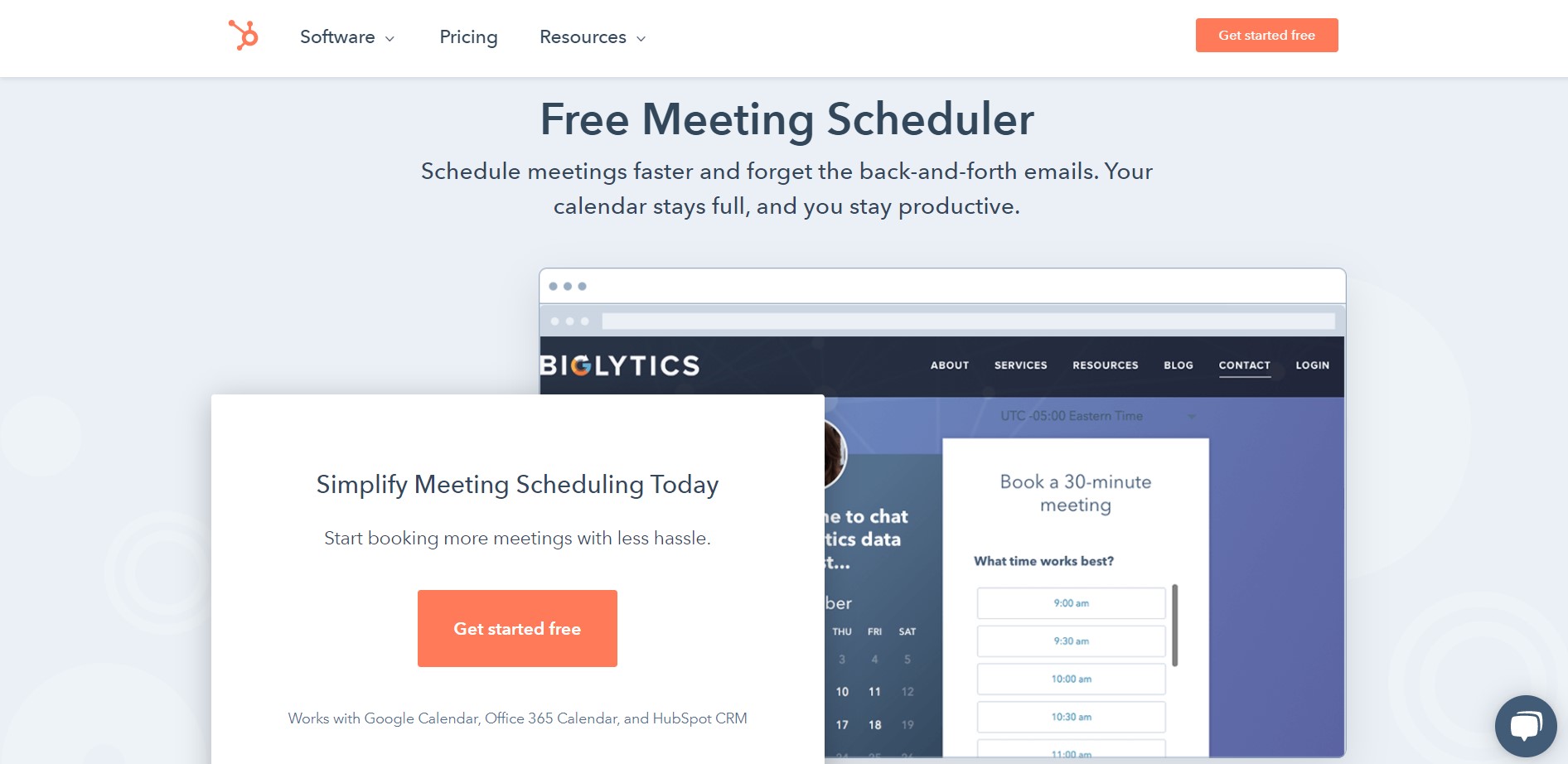 Main functions:
Connection with Google Apps (GSuite), Gmail (Google Free), and Office 365
Schedule emails to go out at a specified date and time
Optimize your files and customize your pitch by tracking who visits each one and which pages they spend the most time on.
To improve connections and close more business, route chat interactions to the appropriate salesperson.
It includes a free plan, but if you want more sophisticated capabilities, there are three options: Starter ($45/monthly), Professional ($450/monthly), and Enterprise ($1200/monthly).
6. Calendar
There is no Calendly alternative WordPress plugin other than Calendar, which contains everything you want to personalize here.
Calendar, employs artificial intelligence and machine learning to improve your time-management experience. The program analyzes the many ways you use Calendar and creates a personalized experience for you.
More features:
Creates customizable time slots
Creates shareable booking links
Spots attendance records
Send direct messages in Slack
Highlights who you're most likely to have meetings with
Connection with Zapier
Create Google Sheets rows from newly scheduled Calendar events
It has 3 plans: Free, Standard ($6/monthly), Pro ($8/monthly)
7. Doodle
Doodle is one of the fully-featured and affordable Calendly alternatives for WordPress that make it ideal for teams, institutions, and corporations. It detects available personnel and offers a suitable time to arrange by checking other people's calendars.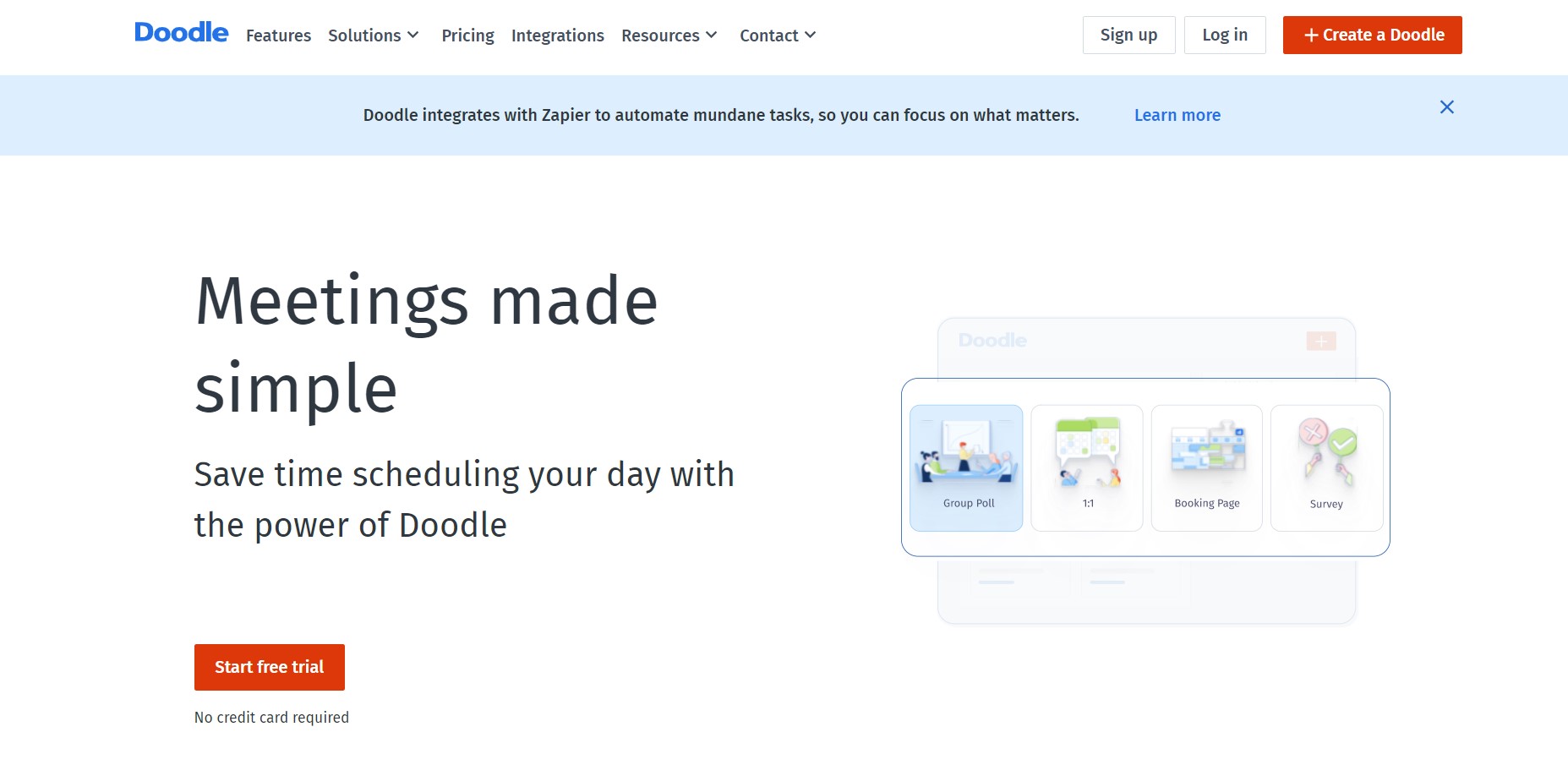 Key functions:
Sends notifications automatically or manually
Custom Design and Branding
Event scheduling
Zoom Integration
Group appointments
1:1 meetings
It gives 14 days trial, while prices are starting from $6.95 (Pro), and $8.95 (Team) plan.
We have Doodle vs Calendly vs WhenIsGood review you may want to check.
==> Also read: Which When2meet Alternative is Good for Your Business?
In Conclusion
Calendly is a great option, but other affordable Calendly alternatives for WordPress may fit your business needs better. If you want to have the best options available for scheduling appointments with clients or employees then use those specifications as criteria when looking through this list and pick something else for your needs. Good Luck!
Sign up for our newsletter
Be the first to know about releases and industry news and insights.
Let's

get started

on something great
Booknetic is a simple yet powerful plugin for accepting online bookings & payments on your WordPress site.