Multi vendor
booking system

for WordPress

Start your appointment booking company without any technical skills thanks to a sleek and intuitive installation panel. Start your online appointment booking business with a no-code SaaS module.
What is Booknetic SaaS?
Booknetic SaaS is a ready-made plugin for WordPress multi vendor booking.
3-step process to start your online business idea. Get Booknetic SaaS, install it on your WordPress, and click Activate. Voila! With multi tenant booking platform, the sky will be the limit for your SaaS business.
The simplest way to make money online

Get complete control of your SaaS business management

One-time investment for lifetime revenue
How does Booknetic SaaS work?
Super admin dashboard
Set up your SaaS appointment scheduling, monitor registered tenants, payment, and everything in a single intuitive-super admin panel.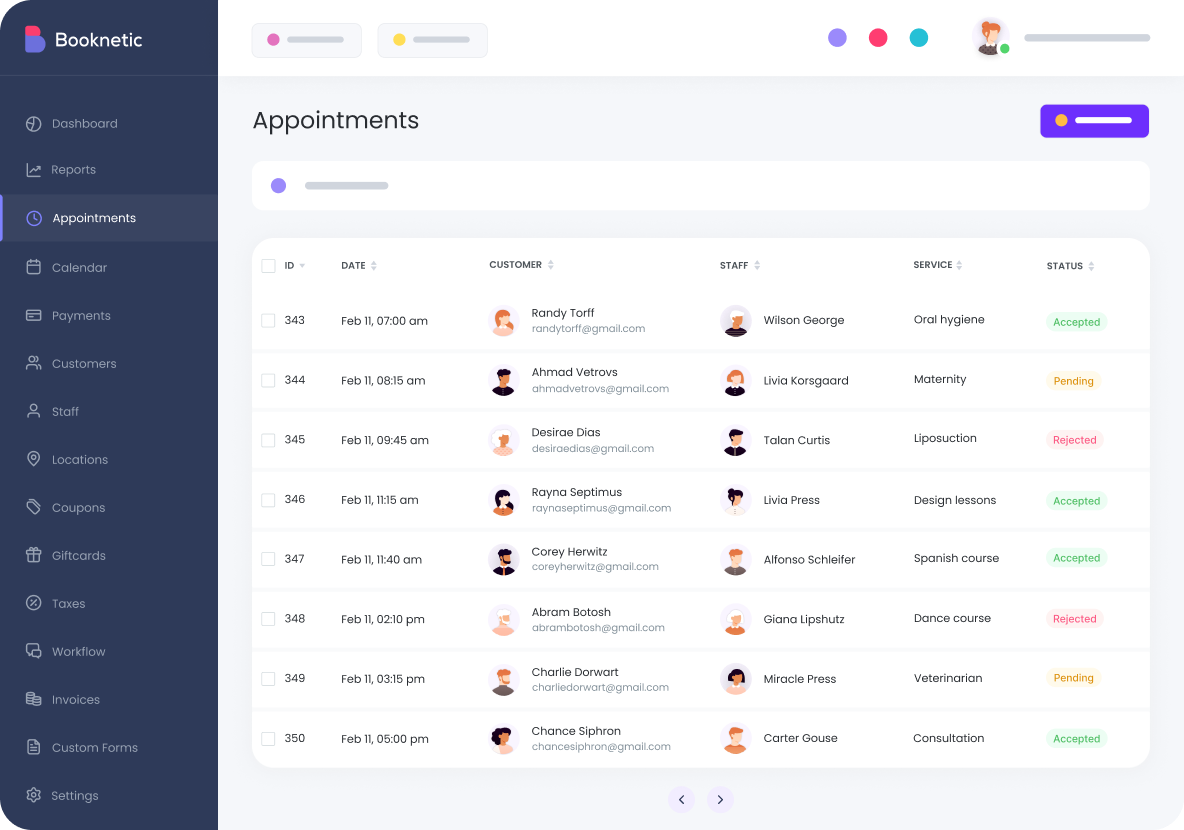 Tenant dashboard
Multi tenant booking platform to create individual tenant dashboards for each of your registered tenants. Tenants can view and manage every aspect of their bookings.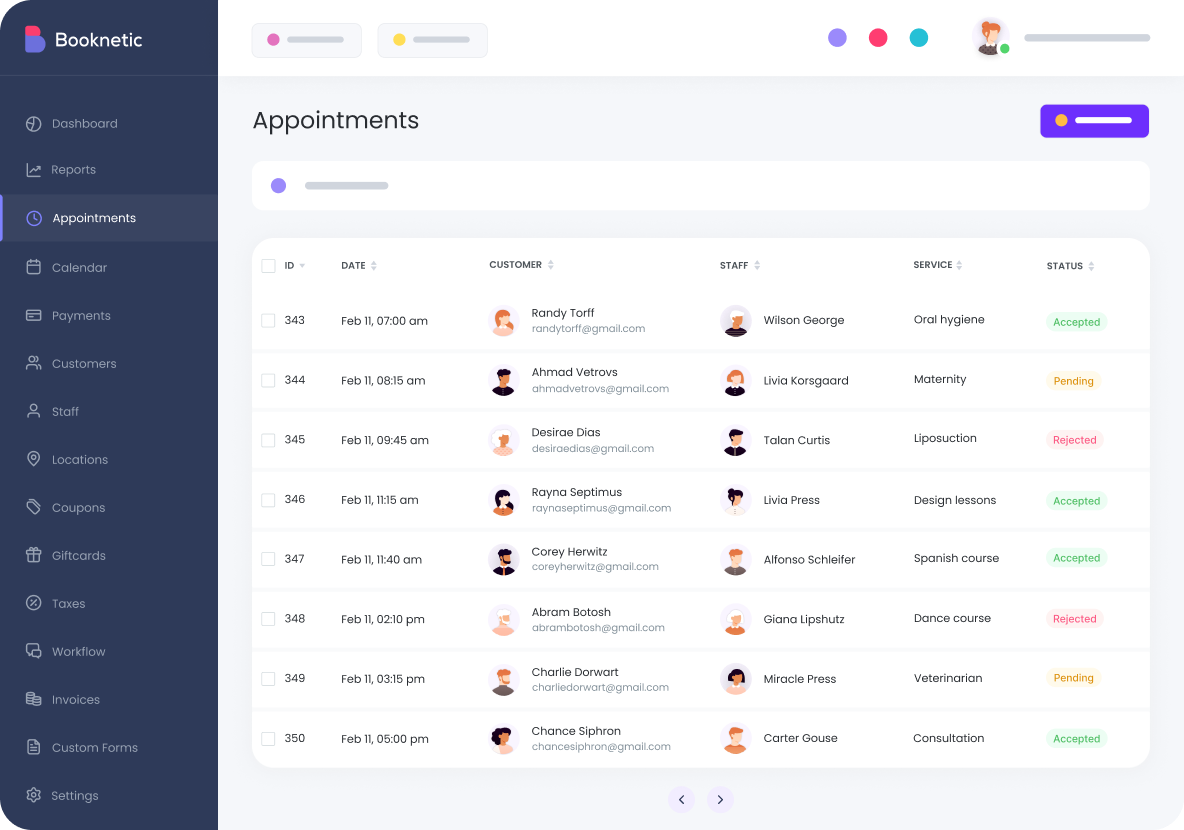 Booknetic SaaS super admin panel
Simple ingredients, WordPress, Booknetic SaaS, and Click
No coding knowledge is required. Install WordPress on your server, get Booknetic SaaS, and click Activate. Bingo! You finished!
Receive online appointments

Automate notifications and reminders via the Workflow module

Fully automate SaaS booking business with 15+ integrations
Setup for your SaaS booking needs
Turn your startup SaaS idea into a profitable business in less than an hour. Set up your start-up with our fully documented WordPress SaaS:
Starting guide

Documentation

Video tutorials
Create your plans and pricing
Done with the setup ✅
Time to define the pricing of your appointment booking startup. Manage your booking SaaS startup with no lines of code. Charge different pricing plans for your appointment booking service at different plans to your customers.
Manage features and limits per plan
You can set permissions and limits in the super admin dashboard straightforwardly. Define limits for appointment scheduling, staff, locations, services, integrations, or a combination of SaaS features to set the best possible pricing plan for your SaaS multi vendor booking system.
Configure SaaS payment methods
Configure SaaS pricing on monthly or yearly subscriptions to make money over the booking system.
Set monthly/annual subscription

Stripe and Paypal integration for SaaS payments

Accept WooCommerce multi-vendor booking payments
Tenant registration and dashboard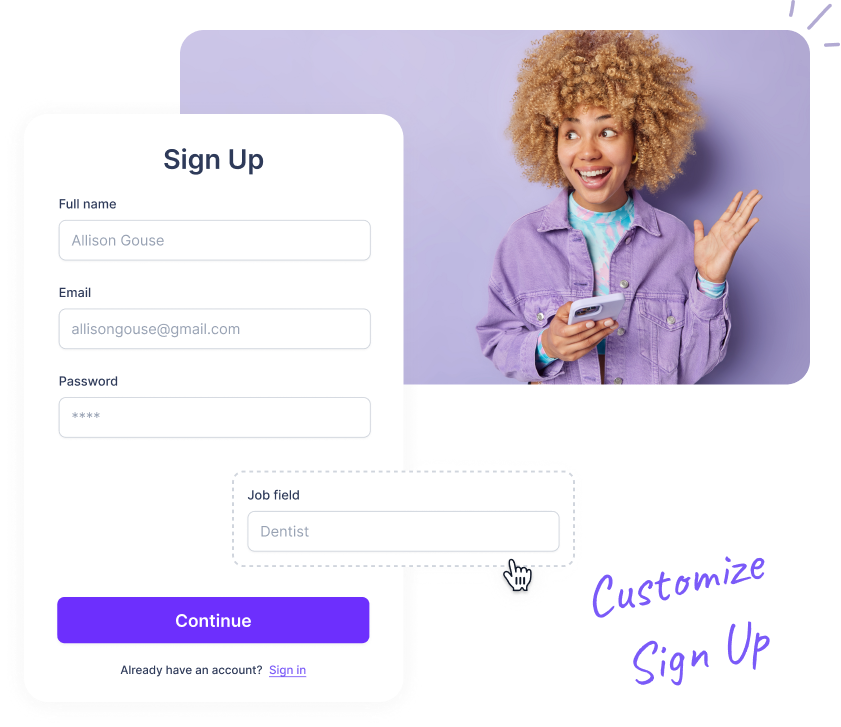 Tenant registration
Simple, intuitive, modern interface to register your clients in your service. Use these multi vendor registration forms to onboard your tenants:
Ready sign-up forms for tenants

Ready sign-in forms for tenants

Forget password forms for tenants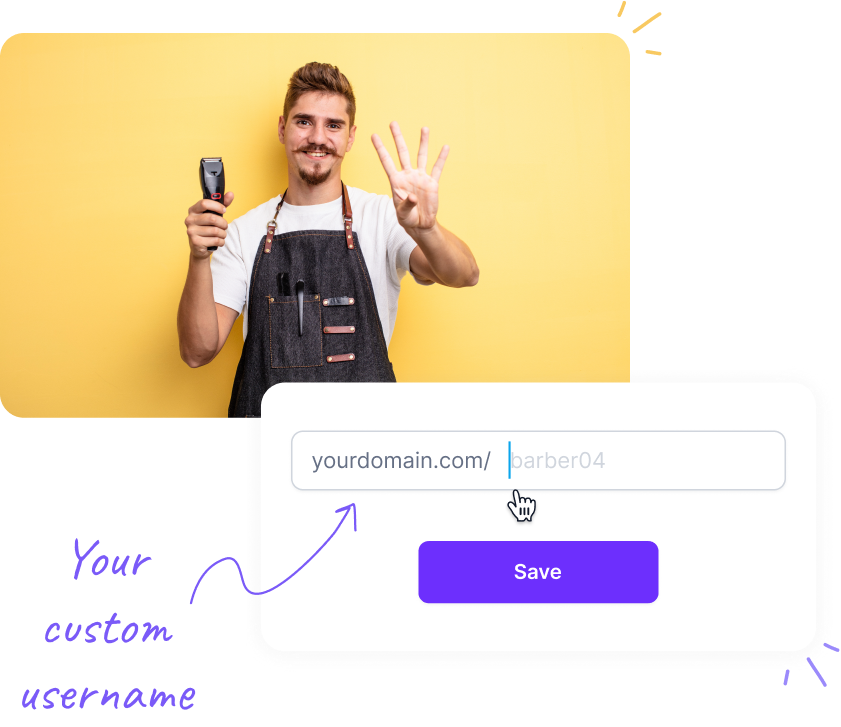 Complete tenant setup
Tenant registration happens in step 2. The second step is for tenants to set up their accounts in the WordPress SaaS platform.
Fill out sign up form

Verify confirmation email

Pick a username and complete the setup process
Share URLs & start receiving appointments
Sharable booking URLs for each tenant in the multi tenant booking plugin. Tenants can share URls with clients to accept online bookings and promote their appointment booking business
Make adjustments to the tenant dashboard

Share appointment booking URL or booking QR code with customers

Receive online appointment bookings with ease
Billing module for tenants
Tenants can view, monitor, control their payments and upgrade or downgrade their SaaS plans. Complete control on their billing page.
View payment history on the dashboard

Upgrade or downgrade plans anytime
Booknetic SaaS full features list
Booknetic SaaS features to maximize multi vendor booking system
Cozy and intuitive super admin panel
View and direct every aspect of your WordPress SaaS business. A modern, crispy, and mobile-compatible super admin panel is designed with business owners in mind.
Ready log-in/registration pages
To quickly register your tenants with your SaaS booking system, we present you with ready log-in/registration pages. All you need is to create WordPress pages and add the needed shortcodes. [booknetic-saas-signin]
Create and configure your SaaS pricing plans
You can set SaaS pricing plans, give permissions, and define limits at your will. You can customize more than 90% of the features and modules available to your tenants with the plan limits and permissions right here. Click here to check which permissions and limits are set.
Workflow module
The Booknetic SaaS Workflow module configures different types of notifications and unlimited triggers for each. The Actions in the booking system: new registration, membership, withdrawal, payment accepted, and more. Triggers you can set: send an email, SMS, WhatsApp, Telegram messages, and teir combinations over the appointment booking funnel.
Form builder
It will be in your hands to edit the registration form for tenants! You can simply add extra inputs and fields to the registration form by entering the super admin multi-vendor appointment booking WordPress panel using the drag & drop functionality.
PayPal / Stripe for SaaS payments
Booknetic SaaS natively supports PayPal and Stripe. Your tenants can subscribe to your SaaS payments you set for them on a monthly\annual basis via Stripe or Paypal. Your SaaS subscription charges will be automatically deducted from their accounts.
Commissions from Tenants (Paypal, Stripe)
You can choose to take commissions per appointment transactions from your tenants instead\beside of the monthly\annual subscriptions. This way, the split payments will be forwarded to two different payment accounts, yours and the tenants' accounts. Tenant commissions can be set as a fixed amount or percentage for each appointment transaction. We offer this feature as an add-on.
Affiliate program module
Now you can easily promote your WordPress multi-vendor booking system with the help of your tenants. With the Booknetic SaaS affiliate module, tenants will receive affiliate fees for monthly\annaul subscriptions or a fixed amount per new tenant. We offer this feature as an add-on.
Tenants can use these SaaS features
The extended list of Booknetic SaaS features to build a booking system online.
Case Studies
Your success is our pride. Check out the businesses of Booknetic SaaS customers. Test the multi-vendor booking samples they built in real time.
Build your multi-vendor booking software with Booknetic SaaS
Build a SaaS appointment scheduling in minutes with WordPress. Add unlimited tenants, websites, and customization features as you need. Get Booknetic SaaS once and make money all the time.
Lifetime update

Unlimited tenants

6 months support

Unlimited plans & configurations

All built-in features

Unlimited workflow automations

1 Domain

Unlimited everything 😇
Secure payment by envato
PayPal
Master
Visa
Skrill
American Express
Testimonials
demir86530
I have been using the system for a long time and I can say that the system and also their customer service are perfect. Now I am using the SaaS version which is also perfect and everything is considered.
pete78
I'm very very very happy with the Booknetic SaaS in regard to the code quality, the logic in programming, and customer service. This plugin is simply the best while in others there is always something missing. This is to set up and bug-free. 2 weeks on and still have no issues. The only problem I have is codecanyon doesn't allow a 10-star rating for them, otherwise, I would select all of them.
trfurkanergun
FS-Code is a great software team. Gathering these many features on the WordPress system takes an excellent amount of work. There are no errors in the Booknetic software. Moreover, they continue to improve every minute. The support team is great. They can answer any question in a friendly and professional manner.
harst100
Does somebody want to rate this plugin negatively? Be wise not to do so. I love the features of Booknetic. The fact that the team FS-code rolls to the updates frequently and keeps fixing bugs and adding new features is a big plus. I love the support team that will be willing to help you anytime. Thank you fs-code, looking forward to getting the best features that will open my eyes to Booknetic SaaS.
FAQ
Everything you need to know about Booknetic multi vendor booking system
How does Booknetic SaaS work?
With Booknetic SaaS, you can create your own booking platform and offer it to your customers. You can create various pricing plans with different permissions and limitations and tenants can select and subscribe to the plan that best suits their needs. Tenants will register through your platform and will be charged a monthly or annual fee depending on the plan they choose. Each tenant will get a unique booking link and will use the plugin as a Booknetic regular user, with access to their own booking panel, admin panel, staff, services, payment methods, and settings.
Is there a White-labeling feature?
Yes, there is a White-labeling feature in the SaaS version of Booknetic. You can add your own branding to the admin panel by adding your logo, small logo, the title of back-end, the slug of back-end, URL of documentation, and "Powered by" text. This feature allows you to customize the look and feel of the booking platform and make it truly your own.
Is there an affiliate program?
Yes, with the newly added affiliate program feature, your tenants can now advertise your platform with their own affiliate links and earn from monthly and annual subscriptions with the new customers they bring to your platform. Referrers will have their own affiliate links and they will be able to monitor all transactions related to their affiliate codes from their dashboard. Weekly, monthly, annual reports, and all kinds of operations can be observed in detail here. You can set referrers' earnings to be different for monthly and annual subscriptions. It is also possible to set a fixed amount per registration. As a SaaS admin, you can monitor all your referrers and their operations on your dashboard.
Is there a commissions feature?
Yes, the commissions feature allows you to set commissions for your tenants and receive your commissions on the tenants' appointments. The payment will be divided into two parts and it will go to tenant and SaaS admin. This feature is currently available for Stripe and PayPal.
Can I install it on my own server/hosting?
Yes, you need to install the plugin on your own WordPress website, which means you have full control over the platform and can customize it to your liking.
Is it a one-time payment, or do I need to subscribe to the monthly plan?
Booknetic SaaS is a one-time payment with lifetime updates and 6 months of technical support. This means that you will not have to pay a monthly subscription fee to continue using the plugin, and you will receive free updates for life. After the initial 6 months of technical support, you can purchase additional support if needed.
Is it possible for tenants to place the booking panel on their own websites?
Yes, tenants can place the booking panel on any external website by using the iframes. This feature allows them to integrate the booking platform seamlessly into their own website, making it easy for their customers to book appointments and services.
Can I translate the plugin?
Yes, Booknetic SaaS is fully translatable, and you can easily translate/change any part of the plugin using the language files (.po and .mo). Additionally, there is a Visual Translator module in the plugin for tenants, which allows them to translate/change the parts of the booking panel as they wish.
Will I have any limits after installing the plugin?
No, as a SaaS admin, you will not have any limitations or restrictions. You will use the system independently from us, and you will install the plugin on your own server/website to create your own business. You can have an unlimited number of tenants register through your platform and use the plugin without any restrictions.
Build your startup idea

no-code SaaS
Whenever you need help, our support team is as far as one click away from you.