WordPress Appointment Booking Plugin
Booknetic is the best appointment scheduling plugin for WordPress that allows customization and automation of online bookings. Through comprehensive booking forms and payment gateways, the WordPress appointment scheduling plugin helps to boost occupancy and enhance customer service
Trusted by
WordPress Scheduling Software with
4000

+

happy customers, and

100000

+

monthly successful bookings
Booking automation
Our WordPress booking plugin fully automates online bookings, which is a key to automating services business. By making use of various integration channels, you will automate booking procedures from booking to holding online appointments. With automated notifications and reminders, the WordPress appointment plugin reduces the cost and time spent on communication.
Saves time and cost
Get rid of repetitive manual tasks!
By installing WordPress online appointment scheduling plugin, you will minimize the expenses of unnecessary paperwork and focus your resource more efficiently. Plus, being available for 24|7, your booking system will continue to receive bookings beyond working hours.
Creation of a customer base
The creation of a customer database will not be a problem with the best WordPress booking plugin for appointments. The booking plugin will instantly systemize and securely store all the customer data. The longer you use the WordPress appointment software, the more insights you get about your loyal customers. Anytime you need customer data, you can refer to the ready customer database, filter by different categories, or export it into files.
Comprehensive reporting
With the best appointment booking WordPress plugin, you never have to worry about the performance of your business anymore.
Booknetic represents comprehensive reports on the number of scheduled events, their respective categories during a definite time slot. You can receive detailed insights into the sales statistics, employee contributions and make comparisons based on the source of revenue.
Why Booknetic
Booknetic appointment plugin works like
WordPress appointment software enables full automation of customer interaction and enhances the workflow, making customers and employees get instant updates on scheduled appointments.
Features
Key features of the Plugin
Browse the features of the Booknetic WordPress appointment booking plugin to maintain smooth operations
All features
Testimonials
Wordpress Booking Plugin
I'm very very very happy with booknetic plugin in regard to the code quality, the logic in programming and customer service. This plugin is simply the best while in other there is always something missing. This is to set up and bug-free. 2 weeks on and still have no issues. The only problem i have is codecanyon doesn't allow 10 stars rating for them otherwise I would select them all of them.
I have purchased different appointment plugins in the past, but this Booking plugin is the very best by miles, and the support services is superb. Every feature you might need is available and customization is as simple as it gets. The product is well documentated providing all the ways and means for you to get this things.
Great plugin, thank you Team Booknetic! Looks and works fantastic, easy to customize the look and support is very responsive - ran into a small snag, quickly resolved. Scripts are light and only run where needed, so great for speed too. I've looked at and tried a number of booking plugins, this one's the winner in my book. Especially if you need WooCommerce integration. Works like a charm!
I have tested a lot of WP booking plugins for my escape room business. Since the main target group of most booking plugins is gyms, yoga classes etc. my specific business is not easy to handle unless the plugin is very flexible. And booknetic did an incredible good job. For me the best plugin (better than A*elia, w'ocommerce booking, c*lendarista etc.) I have used and tested so far.
Add-ons
Booknetic addons to maximize your appointment process efficiency
$29$14
Google calendar
Connect Google Calendar to avoid double bookings and block personal events.
$29$14
Zoom integration
Create, share, and join Zoom meetings from Booknetic calendar.
$19$9
PayPal payment gateway
Accepts payments with the most secure payment gateways.
$19$9
Stripe payment gateway
Provide easy payment experience to mobile and eCommerce users.
$29
Coupons
Delight customers with coupons within booking software.
Free
Reports
Assess the viability of your business with filtering and comprehensive tables.
Business types
Booknetic WordPress appointment booking plugin is suitable for
Gym, Sport and Fitness
Keep your clients healthy and entertained with group or individual classes
Medical and Healthy
Give patients the care they need according to their booking calendar, doctor picks, and their medical nuances
Beauty & wellness
Strengthen your clients with a thorough examination, online appointments, a set of booking calendar, and other initiatives
Spa salons
Relax your clients with an enhanced appointment booking process, easy scheduling, and fast payment
Repair centers
Impress visitors with a list of services, professional backgrounds of servicemen, and the respective prices
Private Salons
Accessorize your styles with gift cards, discounts and make them clean with customized booking forms
Personal services
Deliver the best customer service by investigating clients' experiences with customized booking procedures
Educationals
Provide stress-free classes, webinars, one-on-one training, sell materials whether online or offline
Consultations
Justify your consultations with a list of services, counselor profiles, online meetings, and respective prices
Is the license for a limited time or a lifetime?
The license is for a lifetime, and we provide lifetime updates with 6-month free support from our support team for technical issues. You will be able to get updates and use the plugin forever.
If you have any other questions, please do not hesitate to create a ticket on the support system. Our support team will help you as soon as possible.
Can I translate the plugin?
You can translate the booking form using the built-in feature, visual translator. You can also translate the plugin back-end using any free translator plugins.
How many websites can I install the plugin on using a license?
A license can be installed on a website. You need to buy a license for each domain you want. It is an Envato policy, and we cannot change it. Envato provides licenses.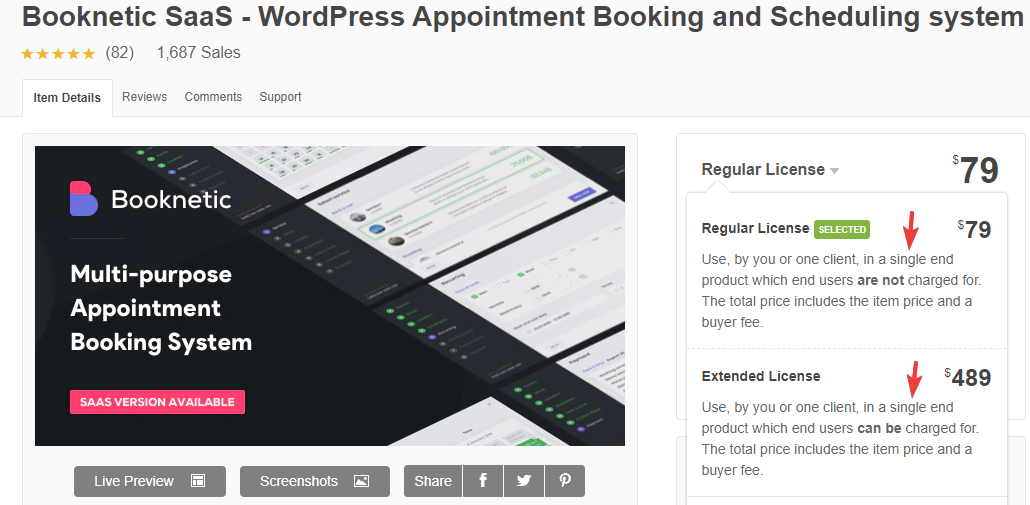 I have some difficulties related to the plugin. What should I do?
Feel free to contact our support team, if you need any assistance related to Booknetic. Our support team answers within a working day. If you are lucky, you will even get an answer within a few hours.
Please check the following before you create a ticket:
- Make sure you are running the latest version of the plugin and the latest version of WordPress;
- Check our Documentation for the answer to your question;
- Disable any additional 3rd party plugins you may be using to see if it fixes the issue. Mainly, issues happen because some other plugins do not release updates, and it arises plugin conflicts on the website.
What Does Support Include?
Our support includes help to use the plugin correctly, configuration, and any bug fixes that may arise. Unfortunately, we cannot provide support for customization or 3rd party plugins. If you need help with the customization of your plugin, then you should look for a developer.
I have a suggestion related to the plugin.
You can add your suggestions to our suggestion system. We first add the most elected suggestions to the plugin. If you add your email, you will receive a notification when the suggestion is added.
What is the difference between Booknetic and Booknetic SaaS?
If you want to use the plugin for commercial purposes like creating a platform and earning money using the plugin, you need to buy the SaaS version by purchasing the extended license of the plugin. If you need to use the plugin for only a single client or yourself, you need to buy the regular license.
You can also check the Video tutorial.
Click the drop-down button to select the extended license. When you activate the plugin with the extended license, the SaaS version will be available for you.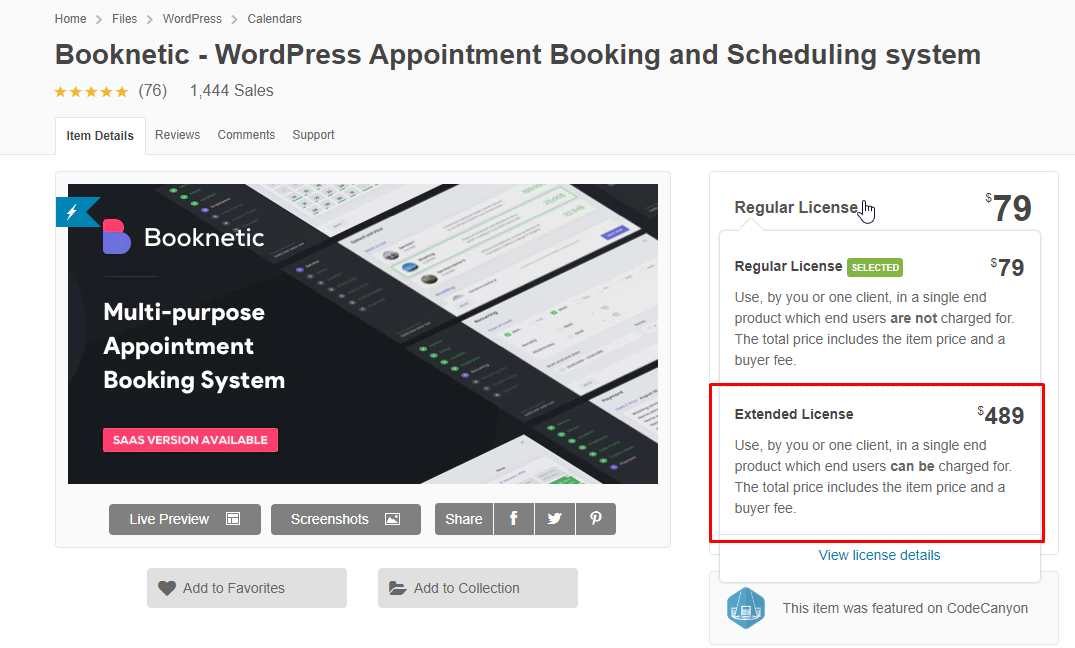 Media
Talks about the Booknetic
The feature will make your designs shine in a new light! Create full presentations using the Slides feature or quickly annotate and mark up your design using the Markup tools.