10 Ways to Improve Clinic and Hospital Appointment Booking System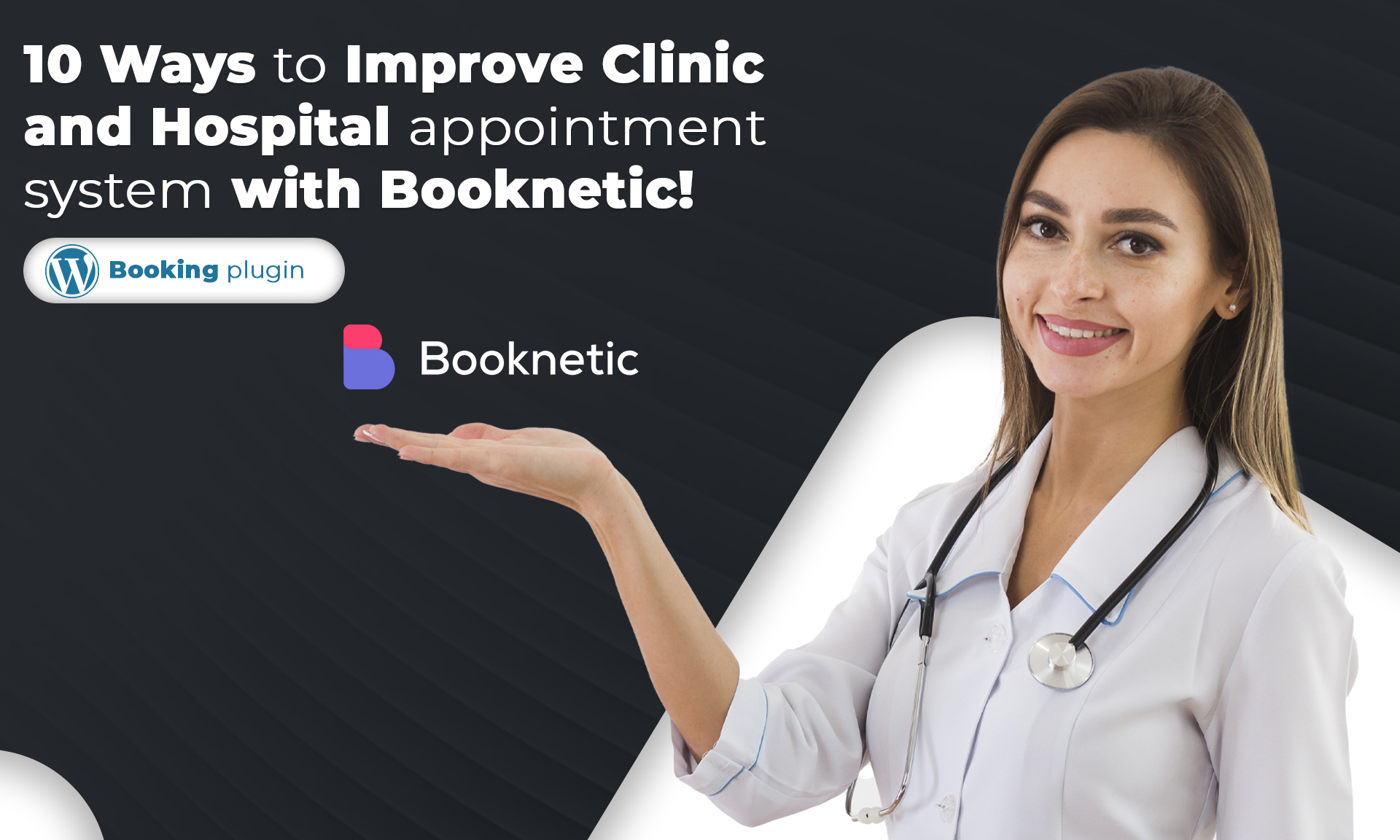 Everyone is busy, and it can be challenging to persuade your patients to hold appointments, particularly for regular and non-urgent office visits. Job deadlines, family responsibilities, and social obligations may sound more critical to your patients than a regular oral care visit or eye test. On the other hand, missed appointments will be disruptive to the practice, and your clients will have trouble resulting from not receiving the treatment they need. If you're grappling with cancellations due to your patients' busy schedules, we've got 10 ways to help you improve your clinic and hospital appointment booking system with Booknetic.
Remind the clients about their scheduled appointments
The most powerful approach is to alert your clients that they have an appointment coming up. If you depend on your busiest clients to recall their assignments on their own, you'll get a lot of missing and overlooked office visits.
The most organized clients would also welcome a short call or email a day or two ahead of time to alert them. However, there are some best practices to bear in mind before you start bombarding your patients with appointment reminders. In most cases, there is a specific window of opportunity to contact the client. Usually, the timeframe is between 24 and 72 hours before the appointment.
If you want to have the best clinic appointment booking system, you have to have a comprehensive notification. This ensures that you can keep customers informed about the status of appointments as well as pending appointments. With Booknetic's SMS, email, WhatsApp, Telegram, and Webhook notifications features, this will be very easy. You will be able to send reminders before the appointment so your patients will not forget about their reservations.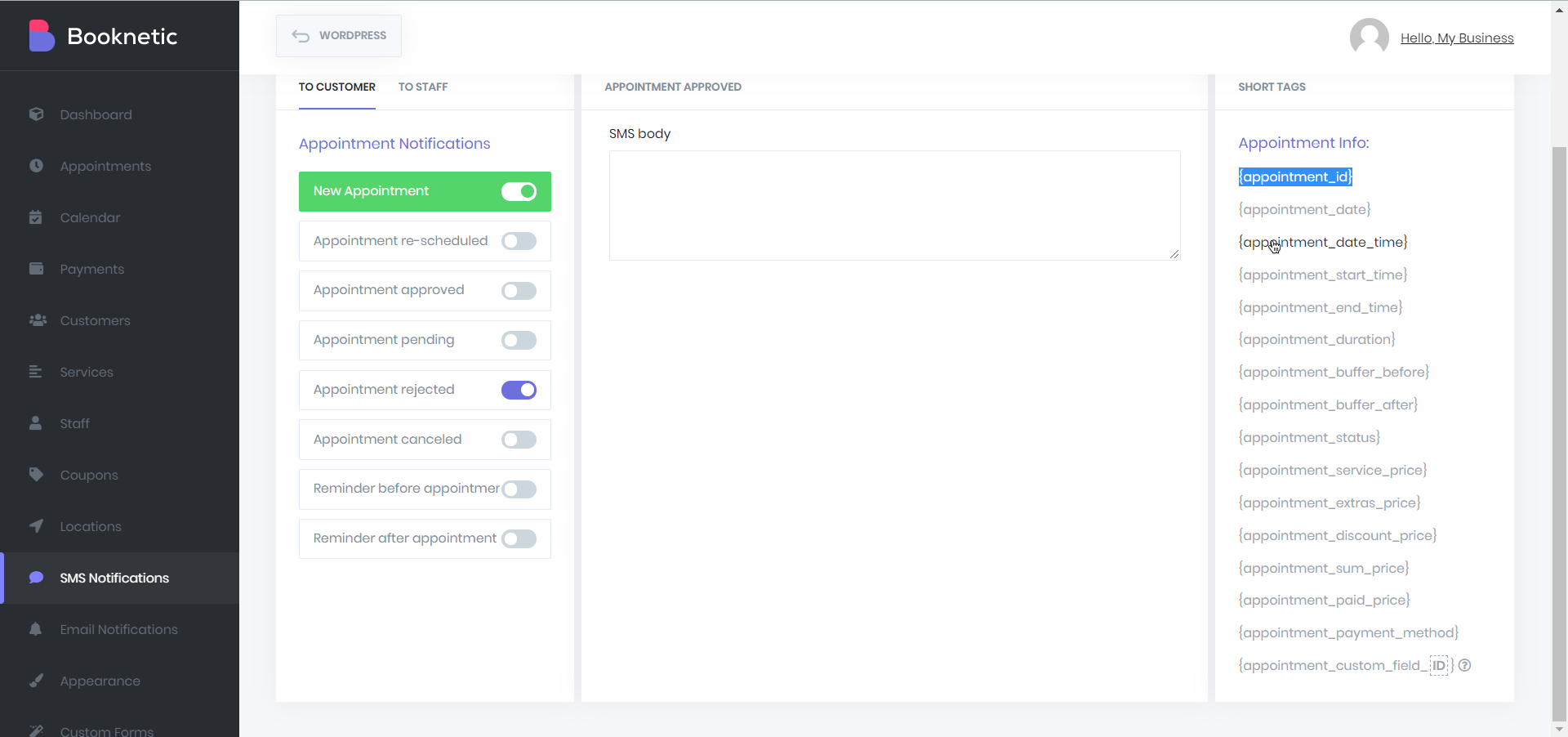 Make sure your data is up to date
If you're submitting appointment notifications, keep in mind that your contact details' quality limits the effectiveness of your device. Customers who have out-of-date phone numbers and email addresses will not get your messages.
Every 6 to 1 year, we suggest checking up with clients and reminding them that their contact information is updated and correct.
Enable customers to cancel and reschedule appointments quickly
Everyone is busy today. Many times, the patients will need to postpone or reschedule appointments. This will be easy with the appointment booking plugin. They would have the ability to schedule, cancel, and reschedule at any time. Your patients will be able to do this process when and where they want. They will only need internet and a computer or cell phone. Booknetic's straightforward interface will let your patients schedule quickly and stress-free.
No one enjoys being left waiting, and while some wait time is unavoidable, review your office flow to ensure that your customers are not kept waiting longer than necessary. Customers can feel as if their time isn't worth it if they have to wait for several minutes.
And if they don't believe you deserve their time, it would be more challenging to get them to value yours. They'll be more likely to sacrifice time out of their busy day to hold their appointments if the office staff greets them quickly and then allows them to be seen with a short wait time.
So choose the best time for each appointment and don't let your patients wait too long with the Booknetic online appointment booking plugin.
We have credit cards, and nearly everything is paid for online. Why not make a payment while making an appointment? Patients will be able to pay for their meetings electronically with this method. People like to use PayPal, WooCommerce, and other payment systems to make purchases. If you want to grant them this opportunity, you should start using appointment scheduling plugins. A deposit payment method is also used in some appointment plugins. You can save some money as a deposit using this feature.
Booknetic has PayPal, WooCommerce, Stripe, Square, Mollie, and Razorpay features, allowing your patients to pay online with one of these methods. The deposit payment method is also available in Booknetic.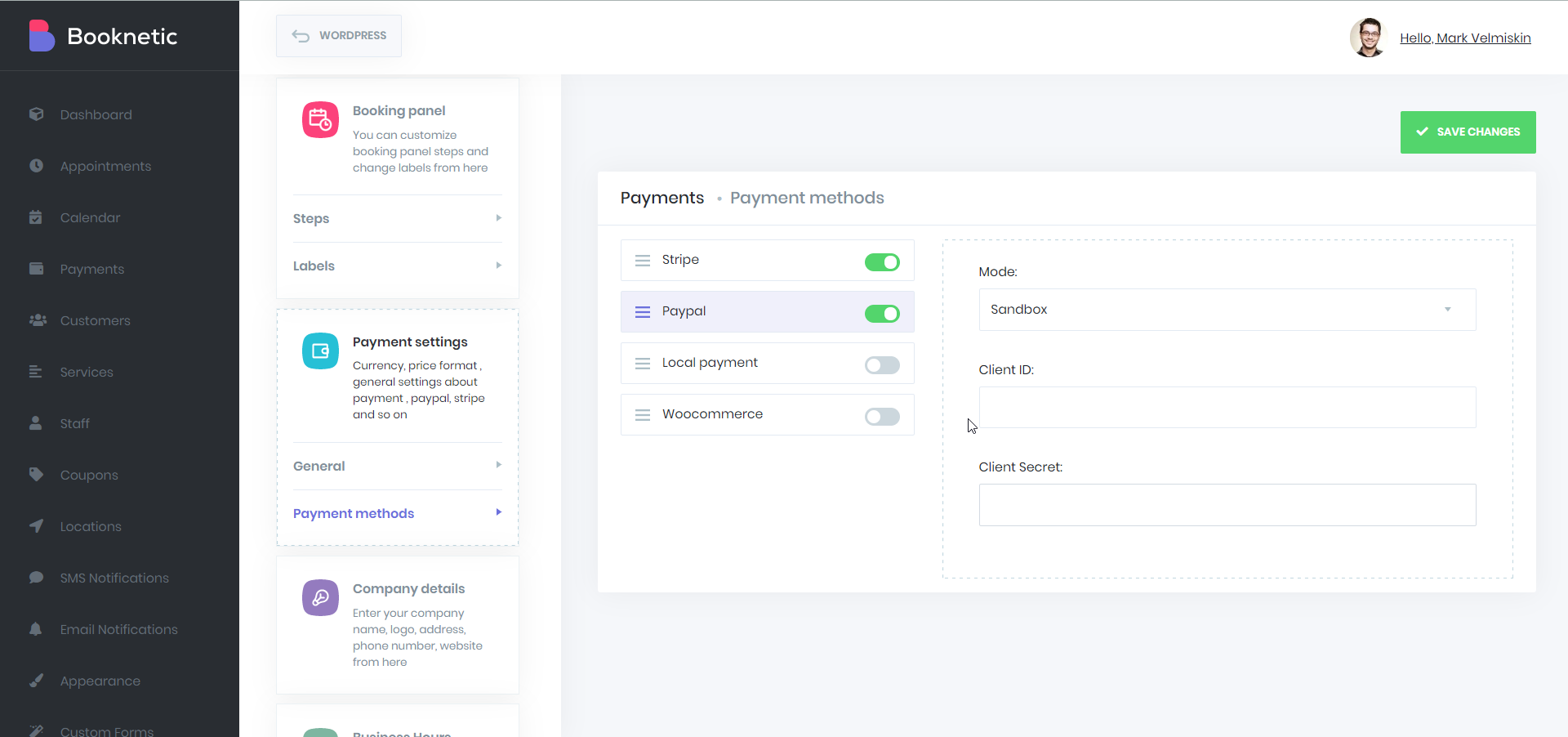 Visual translate feature for communicating with international patients
The majority of companies, on the other hand, provide services only to non-English speaking countries. As a result, company owners are compelled to implement a Multilingual Appointment Booking system on their websites or translate their existing plugins. As a clinic or hospital, you will have international patients. While scheduling, your foreign customer can translate the booking system into their language with this feature.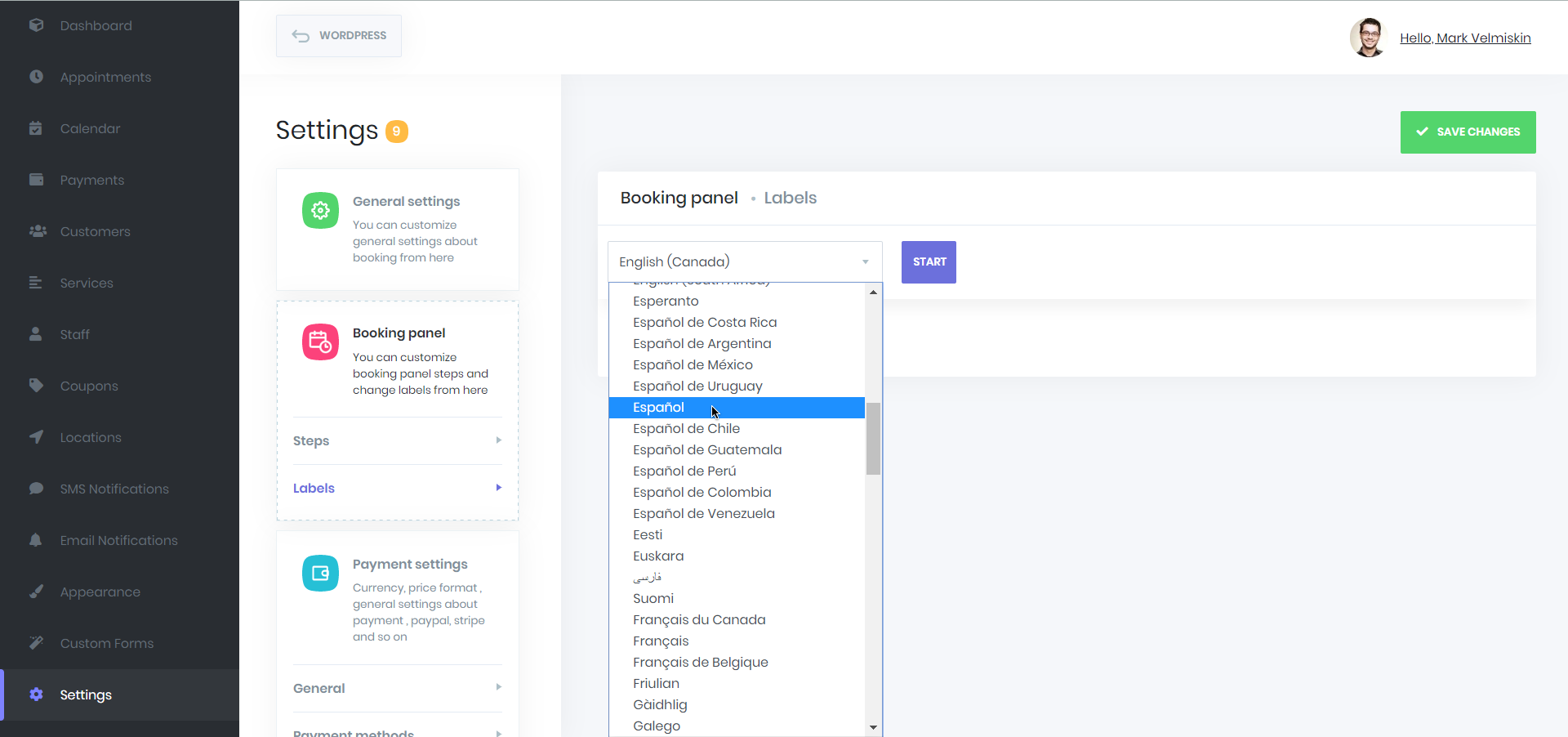 There are some options for translating a bought plugin into a language that your customers choose. But with this feature, they will not need these options.
Multiple locations feature for your hospitals
You will be able to handle multiple dealers with your brand using the Booknetic appointment booking system's multiple location features. This ensures that each location will be correctly mapped, and clients will get updates tailored to the exact place they reserved.
You may connect various personnel and resources to each location using the multiple locations functionality. Customers may order an appointment from the closest dealer when they make an appointment in the system.
After that, they will choose the team members working at their preferred position and make appointment with them depending on the service they need.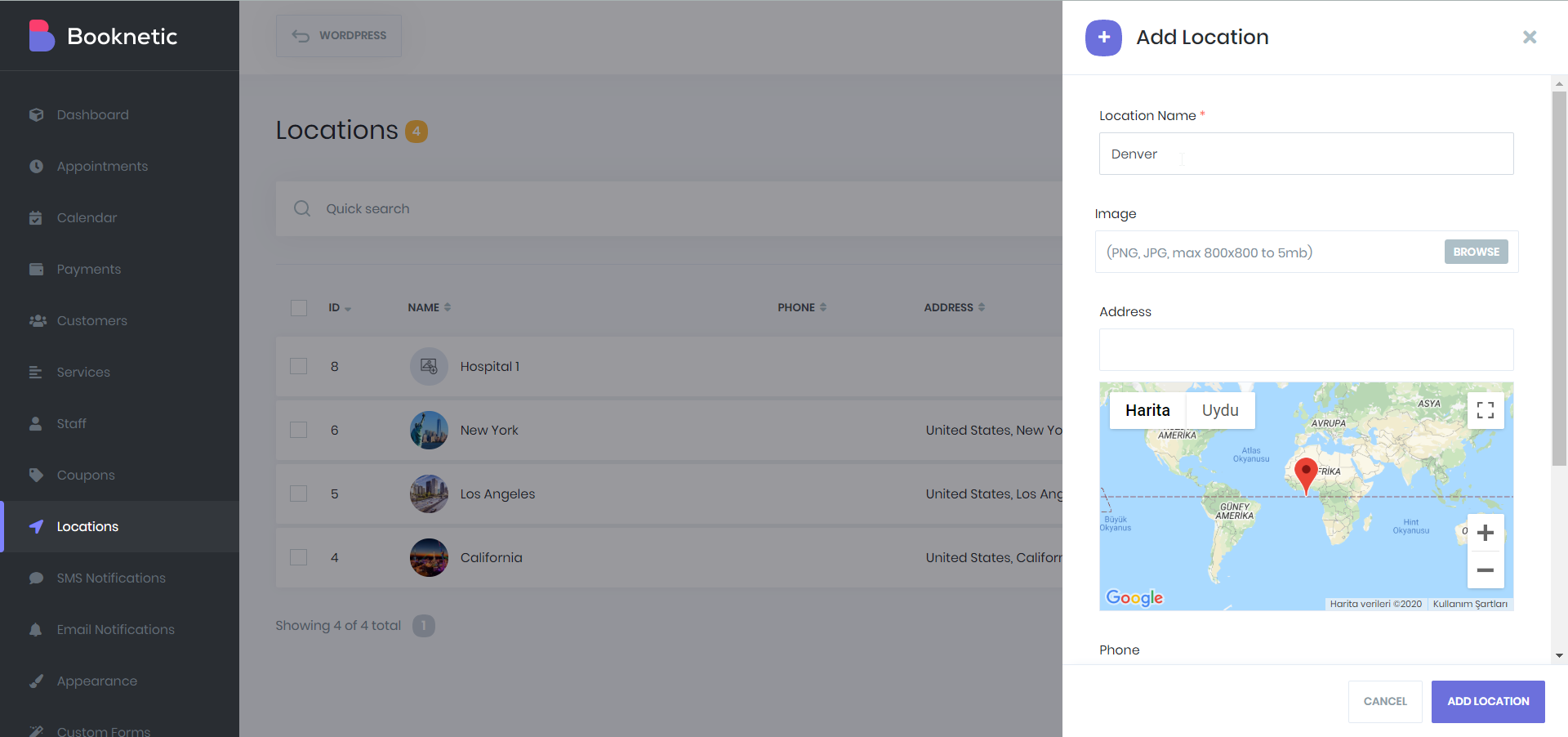 If your clinic is brand new, you may want to run discounts and provide coupons to your customers. In an appointment scheduling plugin, the coupon feature is crucial. Booknetic's coupon feature will let you give coupons to new and old customers.
Using Google ReCaptcha to avoid spam appointments
The majority of users of WordPress booking appointment plugins express dissatisfaction with spam appointments. If their service is free or requires payment in person, it may lead to significant issues such as spam appointments. Such situations are no longer an issue with the Booknetic WordPress booking appointment plugin's Google ReCaptcha function. Users of Booknetic would be able to stop spam appointments by configuring Google ReCAPTCHA.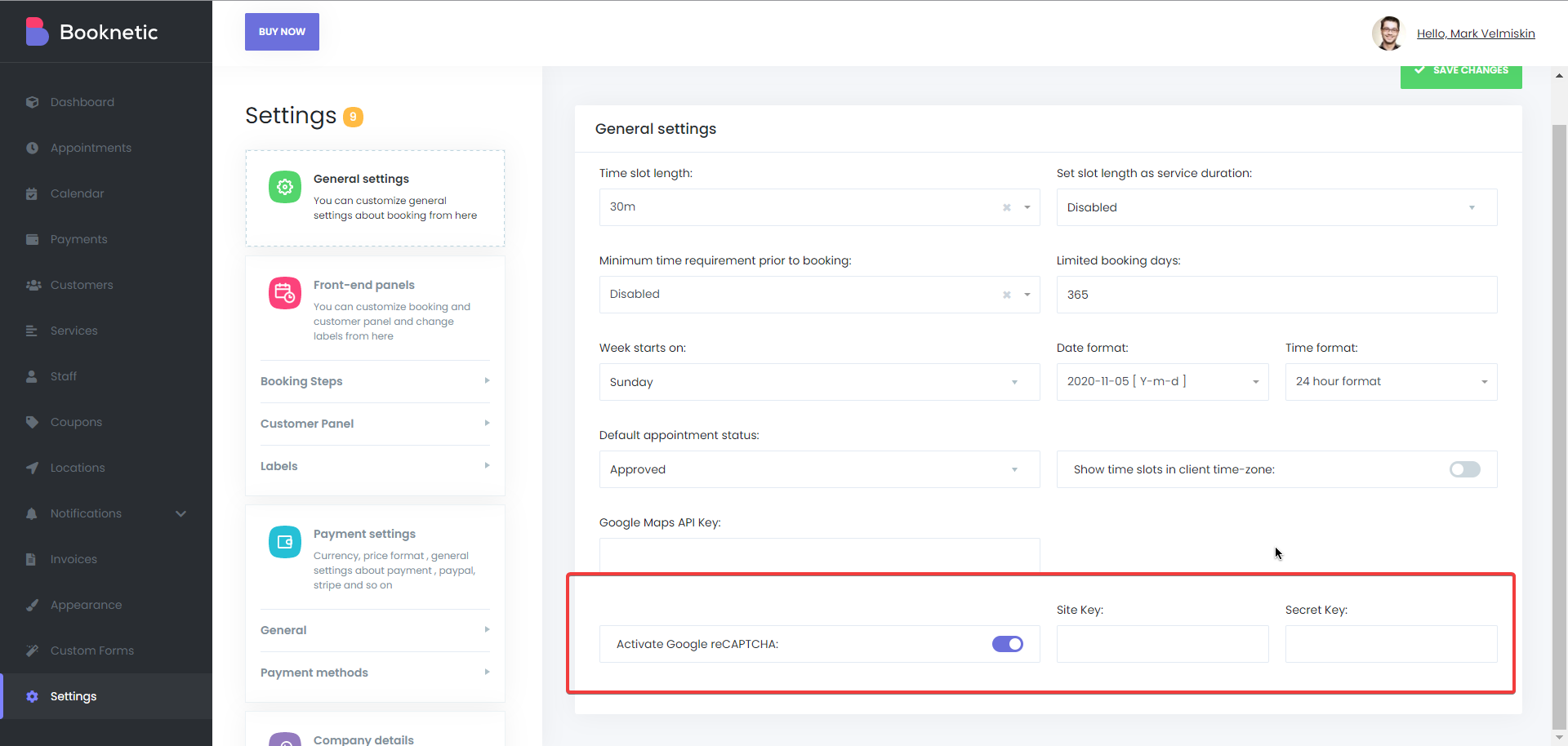 Identify and monitor the reasons for cancellation
You can conveniently record and log cancellation reasons with a plugin like Booknetic. Using a data-driven strategy helps you to spot trends and change the practices in advance to boost show-up times.
Let's imagine the office team experiencing a spike in cancellations between 5 and 6 p.m. Perhaps your clients are having trouble leaving work or are caught in traffic. You might reschedule these customers' appointments or put in a time buffer, stressing to them that you understand traffic can be a hassle and that you're okay with them being a little late in these situations.
As you see, there are various advantages of online scheduling software in business and you can develop your business even further with this tiny change.
Conclusion
Automating the scheduling process removes almost all of the frustrations associated with manual appointment making, whether you're in the business of booking tickets, leases, courses, or service appointments.
Customers can schedule appointments online at any time that is best for them. When they call your company, they don't have to wait on hold or leave a message, which saves them time and annoyance. Instead, they can view real-time appointment availability.
Booknetic appointment booking system has a lot of features that help you to improve your appointment booking system. In this blog, we listed ten ways to improve the clinic and hospital appointment booking system with Boooknetic. Try Booknetic's demo version.

Sign up for our newsletter
Be the first to know about releases and industry news and insights.
Let's

get started

on something great
Booknetic is a simple yet powerful plugin for accepting online bookings & payments on your WordPress site.