WooCommerce Appointment Booking System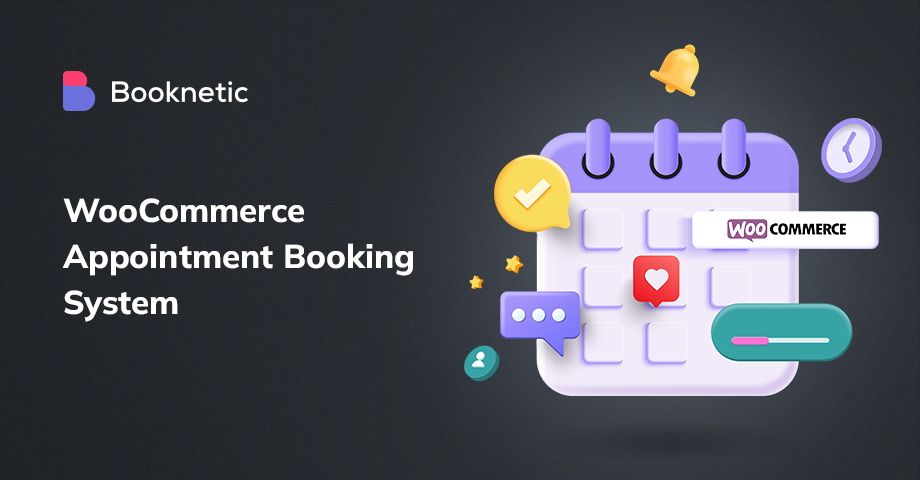 Nowadays, almost every place requires a reservation. So does a visit to your favorite restaurant or signing up for a personal training session at your local gym. In the previous years, customers would have to look up a phone number, speak to someone, book a date and place, and note it down in a notebook. The process took a long time to complete, and a physical notebook was required to manage all appointments.
Those days are gone, and it's incredible to see the types of new features that online scheduling tools constantly have added. Some providers include customer feedback surveys, in-built chat systems, and a variety of third-party integrations which can suit any industry. If you run a business that provides scheduling meetings and appointments, you need a comprehensive and distinct booking tool.

With that being said, WordPress and WooCommerce can be used to connect online shop and booking features. Unfortunately, WooCommerce does not offer a booking system in itself, but thanks to the WordPress community, there are tons of appointment booking plugins and software developed just for this purpose. Each of these tools has a variety of functions and sets of features.

Appointments are an integral part of any venture, whether you provide salons, clinics, hotels, or consultancy services. With technology becoming even more widely used, customers are expecting to be able to make their own appointments via the internet. Not only is this an excellent way for them to control the time and place, but it also saves you from having to answer any questions during your business hours.

There are a lot of plugins in WordPress that provide booking systems. It would be best to research what features each can offer and then decide which one suits your needs best. This article will find the best tips about WooCommerce booking and appointment plugins. In addition, we will cover some topics regarding scheduling an appointment, cancellation policy, and many more.

With that being said, let's get started.
Why do you Need a WooCommerce Booking Plugin?
First, let's define why you need a plugin to manage your appointments and run your business efficiently. The WordPress plugin market has grown faster in recent years and offers dozens of solutions for business needs. Many people prefer to automate their workflow and reduce their time on extra activities.

In previous years, websites had only contact pages and numbers to book an appointment. In many cases, it took too much time to arrange a meeting as the customer service person had to look at their system to check availability. As a result, these calls took longer than expected and caused a delay during the working hours.

Receiving calls can be tiring, primarily if your business depends on customers who directly connect with you. Therefore, having a solid system can reduce the number of calls and increase the rate of appointments. In fact, it will cost less time for the customers to arrange an appointment and not worry about the rest.
What Should you look for in a Booking Plugin?
You may initially think that a booking engine is a simple calendar with a form. However, it depends on what kind of business you are running. For instance, a fitness center might have a few personal trainers who need their own schedules listed on the website. On the contrary, it may be necessary for a dental office to show specific times and reveal the different services available.

Therefore, before setting up a booking system on your WordPress website, creating a meeting checklist and ideas about significant features is vital to extend your business effectively. You have to check the features of WordPress plugins carefully to understand the functionality of the system and their potential effects on your business.
Here are some of the essential features that you should determine for your business:
A customizable calendar that can be placed on your website
Mobile-friendly booking platform for a smaller devices
The payment system in case the customer decides to pay for the service in advance or your business requires a payment
Support for multiple service providers who have a dedicated profile and calendar to manage their appointments
Personal profile for customers to see their bookings, appointments, action options, and payment information (if applicable)
A filterable search system to find the necessary information among bookings
Features to customize booking such as change of date, cancellation, adding more information for both customers and service providers
Email confirmations about the booking and reminders for both customers and service providers
A solid and user-friendly webpage where all your services are listed with all information that your customers need
Online meeting services for scheduling live conferences, video-audio calls, and so on (if applicable)
Solid documentation or guidance about booking an appointment, cancellation policy, changing or editing bookings.
Best WooCommerce booking plugins
Before diving into details about managing bookings, let's give a shot to list the best well-known WooCommerce booking plugins. Keep in mind that WooCommerce booking plugins are different from WooCommerce plugins that provide other powerful solutions to strengthen eCommerce site performance.

WooCommerce Bookings plugin is one of the best extensions to manage your bookings and appointments. The core version is free and provides dozens of extensions for accepting payments and meeting requests. WooCommerce Bookings lets you sell bookings based on times or dates. This WooCommerce booking system is free, meaning that your customers can book a date quickly, but having a payment system makes it easy to receive payments from your customers depending on the service you provide.

Once the extension is activated, you can input a description, price, title, and a calendar. Reviews are also possible, which can help to build credibility and trust with potential customers. Here are some outstanding features that you will like the most:
Extra tools for creating fixed time slots
A dashboard shows all bookings with filter and update options
Approval system for the bookings that come as a request from customers
30 days "try before you buy" program to decide it suits your needs
Integration with other WooCommerce extensions to get more functionalities
Sell more bookings by presenting a calendar or schedule of available slots on a page or post with Bookings Availability
Send reminders and reduce no-shows
Book one-on-one appointments or multi-person events
Offer special pricing for groups, days, or individuals
3. Bookly

Bookly is another WooCommerce booking system for your business and goals. It has both free and paid versions. The free version of the plugin offers limited functionalities such as basic booking tools, online payments, and a limited number of staff users. If you want to get support for online payments and an unlimited number of staff users, you need to purchase a premium version. Bookly is a modern-looking plugin when it comes to design. It has a sleek, customizable interface in which you can customize the booking form, reminders, and text messages without knowing any code.

The booking form is fully customizable and responsive. It offers multiple views for both customers and staff members. In addition, with this plugin, you create an unlimited number of staff members where each member can create their own pricing and availability. Overall, here are some fantastic features that you will like the most:
Google calendar integration
A mobile-friendly user interface, customizable look & feel of the booking form
Unlimited number of booking forms on your site
Receive secure and flexible payments, options for viewing & editing bookings online
View calendar in daily/weekly/monthly modes
Set minimum notice periods for bookings & cancellations
We have the Bookly vs Booknetic blog to see their one-on-one comparison.

The Booking Calendar plugin is one of the oldest booking plugins for WordPress, and with its stellar development over the past years, they've put itself ahead of many challengers who have risen in popularity. The main plugin is free and already includes most of the features a startup company would need. If you decide to upgrade your plan, five payment plans are presented to choose from. However, each plan has its own functionalities and features; therefore, you need to check them to find the best option for your business.

Booking Calendar does not have a friendly and straightforward UI; however, installing all extra plugins that come with paid plans is recommended. One of the primary features of the plugin is automated email notifications when users make bookings and request reminders. One great function is the ability to set duration and expiration date. That way, you can accept several requests and then pick the best one when it comes up. Here are some valuable features that you will like the most:
Search bookings in the admin panel, sort the bookings, and see past appointments.
Customizable calendar design, Google Calendar integration
Online and secure payment gateways
Multiple custom booking forms, auto-fill fields, CAPTCHA support
Multiple language support
Different booking user roles, print bookings, and several booking admin panels

The Amelia plugin is a simple yet powerful booking agent that works 24/7 to make things easier for the customers. They can make appointments and pay online or offline quickly with a few taps on their screen. The great news is that the plugin is available free of charge for small businesses or beginners. The plugin has payment plans or a one-time license fee if you want to have more features. In addition, six months of responsive support is included, and if you need more than this, you can extend your service for a small fee.
Amelia prides itself on the ability for both customers and business staff to constantly contact each other through SMS notifications. Thanks to the seamless integration with Google Calendar, you can also keep track of all of your appointments and monitor their progress. It has a beautiful and smooth design, which looks good and is also easy to modify on the front- and back end. The design matches your website seamlessly, with an automatic shortcode, for an effortless installation. Here are some great features that you will like the most:
Notification and reminders of appointments in real-time with SMS notification
Admin calendar view, customizable design, Google Calendar & Outlook Calendar integration
Small business support and prices
Recurring appointments, step-by-step booking wizard, managing appointments
Multiple services and service categories, Service Extras.
Check out our Amelia vs Booknetic blog to see their in-depth comparison.
Final Remarks

In this post, we've gone over some of the best plugins for booking appointments on WordPress. Each of them is capable of developing cutting-edge, comprehensive booking systems that will propel the company forward.
When choosing a WordPress booking plugin, the best way to go is by looking at their trial sites. It's important to take in account how many modifications plugins have received. The more modifications a plugin has the less reliable it is.
We hope you find the information useful and informative. If you're not sure which option is the right fit for your site, be sure to check their website to learn more.
Now that you're aware of the importance of the booking systems, it's time to find a plugin that fits your needs.
==> Also read:
Sign up for our newsletter
Be the first to know about releases and industry news and insights.
Let's

get started

on something great
Booknetic is a simple yet powerful plugin for accepting online bookings & payments on your WordPress site.