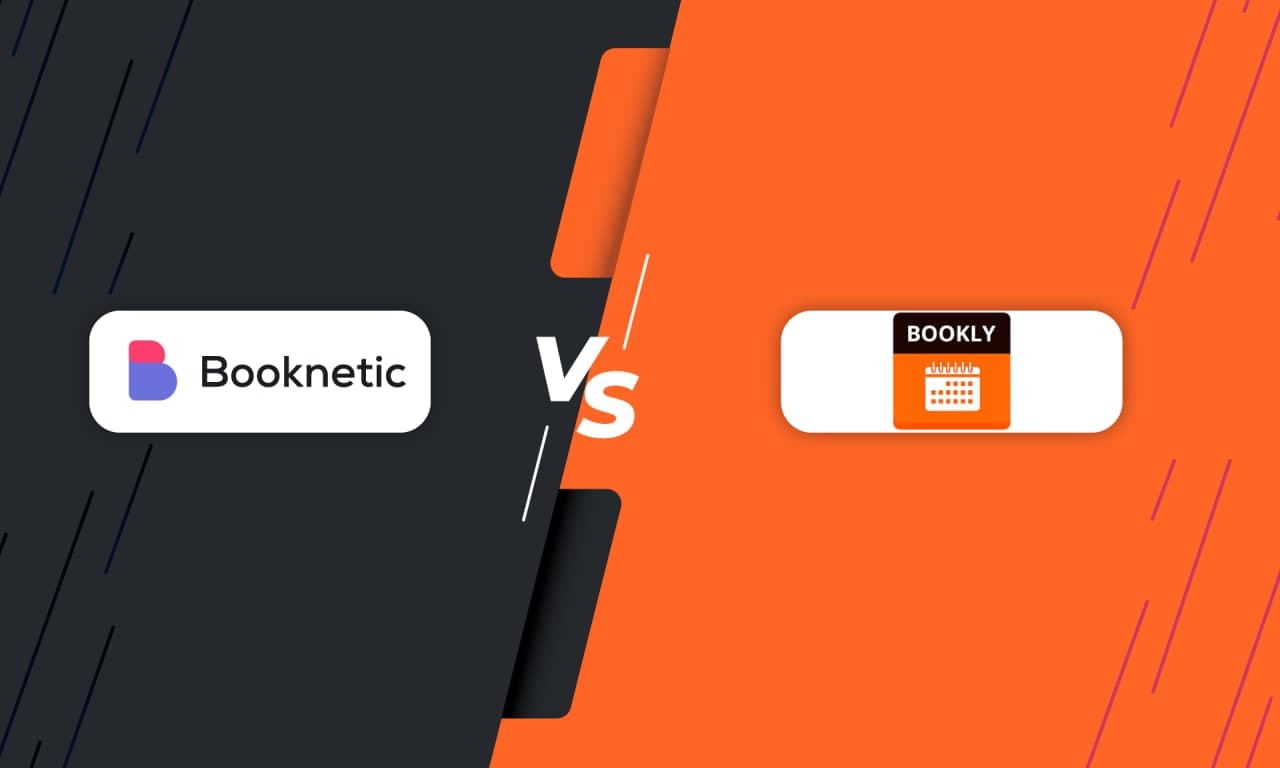 This article will analyze two WordPress booking plugins: Bookly PRO vs Booknetic. We will compare them and let the customers pick the most suitable one for themselves. We will be using the Bookly plugin's premium edition for this Bookly PRO and Booknetic comparison.
Booknetic vs Bookly Pro | Overview
Booknetic
Booknetic is an online appointment booking plugin for WordPress. Intuitive plugin can be easily installed and configured within few minutes. An intuitive interface and thorough documentation help everyone understand and exploit all the functionality thoroughly.
Booknetic works for a range of businesses such as hotels, retaurants, clincs, dentists, law offices, beauty salons, and mroe. The plugin is entirely customizable and mobile-friendly.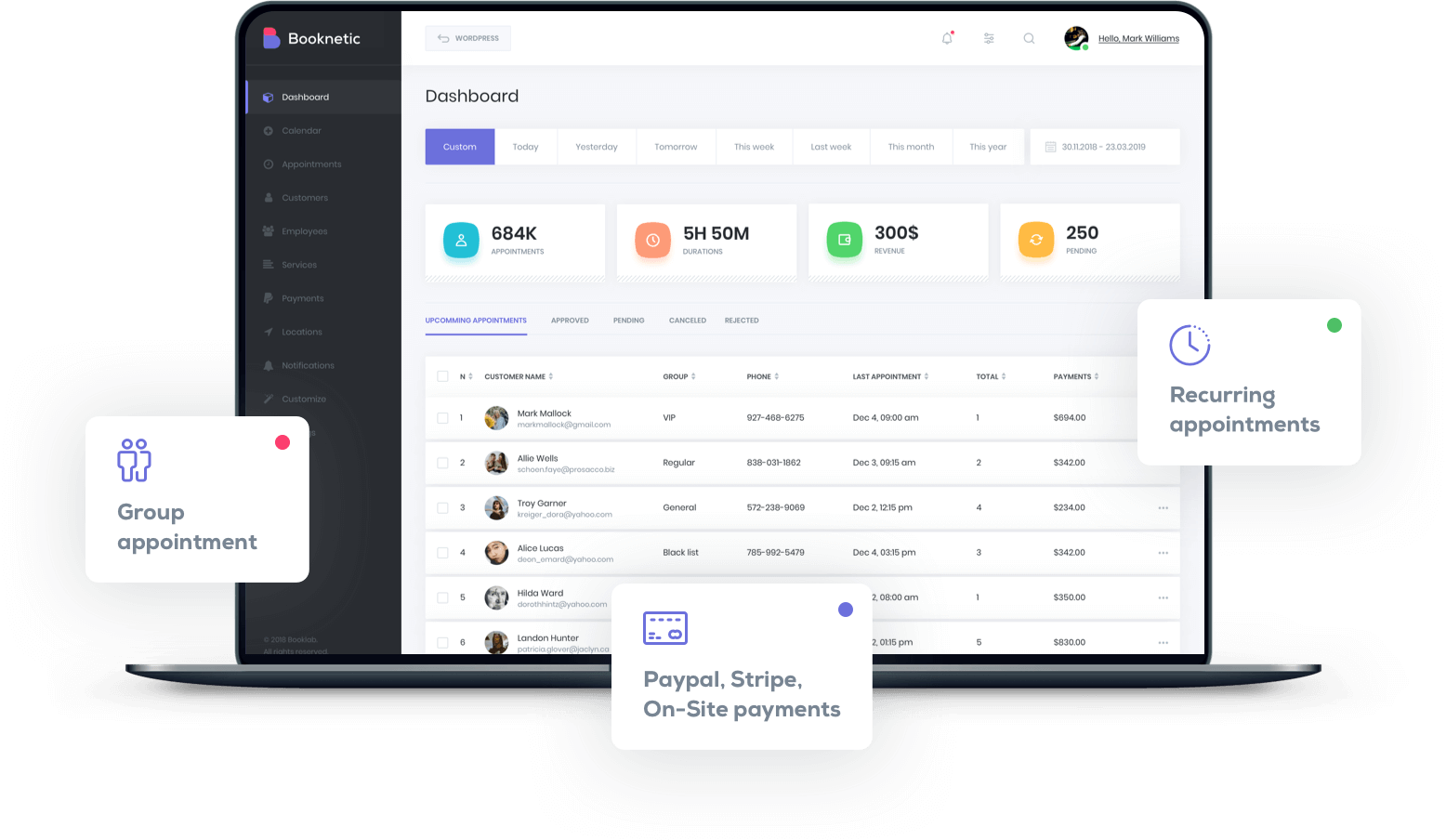 Full automation and customization of the plugin let you simplify your appointment booking procedures and enhance prodcutivity. This online booking system can be customized to suit all of your needs. It protects you from redundant energy, time-wasting, and other threats, gathers your client base, and opens your company to your clients 7/24.
Booknetic has a sleek UI / UX interface that is easy to install and use and is perfect for scheduling appointments of any kind. You can completely configure your company's booking framework with customized models, form-builder, different category tiers, and other settings.
You don't have to think about connecting a client to your CRM system again - all customer details can be automatically systemized and safely processed by the booking plugin. The more insights you have from your regular clients, the further you use the online booking system.
Booknetic allows you to prove a better customer experience with detailed information on the number of appointments received by such clients over a certain period, by one of your staff, or their income. For market analytics, this is invaluable.
Booknetic has a 24/7 customer support system that satisfies its customers. We want to add one review to show customer satisfaction with customer support:
"I have to compliment the support for its professionalism. Best support I saw! When I started using it, the plugin had fatal flaws, like the time calculation not working properly and other messy bugs, but after five months of helping the support fix my 15 issues and bugs, I can say now that the plugin is the best one in existence.
Even though the plugin wasn't the best five months ago, now I can say that I am delighted now. Thank you for your amazing support! Thank you for helping me find and resolve all my problems! 100% worth 80$! 100% recommended!"
Bookly PRO
Bookly Pro is a scheduling plugin for online booking appointments. This plugin is suitable for growing or small to medium-sized businesses and startups that offer services and simplify the booking process for benefits. Because of its rich functionality, Bookly is the ultimate appointment scheduling program.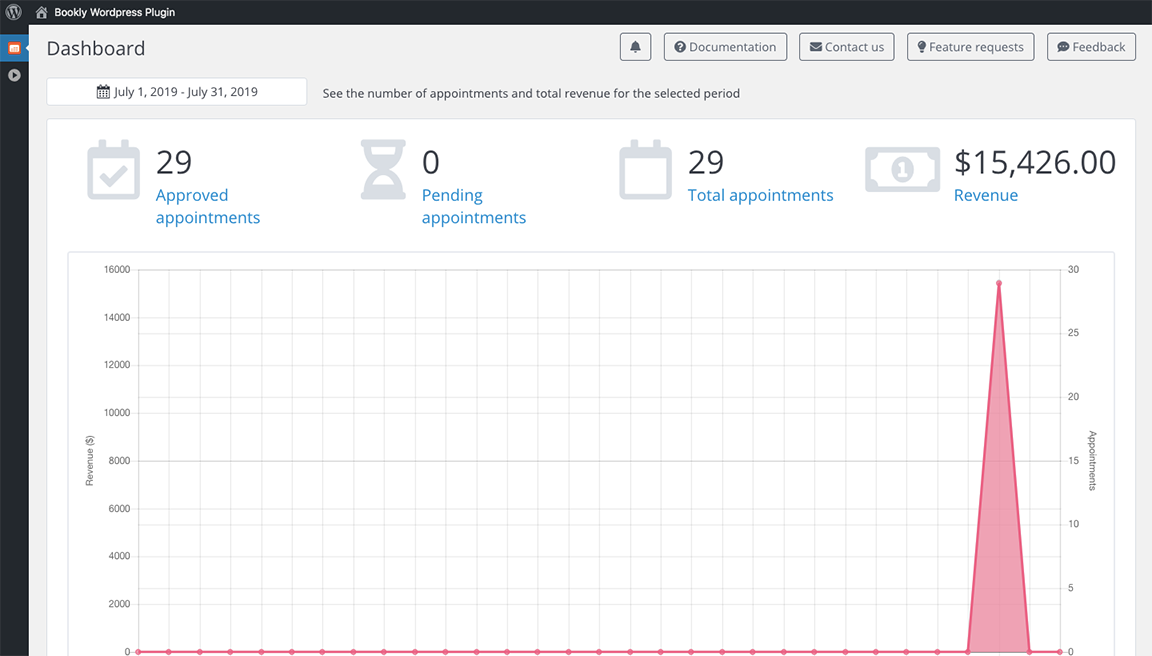 Thousands of consumers have reviewed the concept of Bookly PRO. It will lead your customers through the booking process and help arrange an appointment quickly. It is entirely responsive on any phone, offering your customers an opportunity to choose to book your services when any platform is convenient for them.
The Bookly PRO form is fully responsive and automatically fits either computer or laptop. The backend also adapts to your smartphone screen to handle your reservations on the go. The front-end connects well with your website, making it convenient for your clients to schedule appointments, pay for them online, and handle your website schedule.
There are 12 built-in languages in the plugin: English, Russian, German, Spanish, French, Italian, Dutch, Portuguese, Romanian, Swedish, Chinese, and Japanese.
You will quickly link the modified booking list to your website with the Bookly Pro appointment scheduling program. If your customer needs to access their schedules, they can sign in using their passwords automatically sent to them by Bookly Pro.
To make the service available to your customers, encrypted online purchases and cash-on-delivery work together. Paypal Express Checkout is included in paid Bookly, but you have to pay extra money for this add-on, which is free of charge in Booknetic.
Here is one review about Bookly PRO's customer support:
"Amazing customer support!
I wrote with a question, and I got an answer within an hour or so. And they solved my issue this way!
I feel safe to recommend buying the plugin, and it's made by a team that cares!"
Bookly Pro VS Booknetic Pricing
This section will provide Booknetic VS Bookly price details to simplify your plugin choice.
The price of Booknetic is $79 lifetime, meaning that you have access to free features and lifetime updates at this favorable price. With this amount, you will get support for six months. On Booknetic add-ons will be eligible at an additional fee.
Add-ons and their costs:
Email action for Booknetic workflows
Reports for Booknetic
Google Calendar integration for Booknetic- $14 ($29- without discount)
Zoom integration for Booknetic- $14 ($29- without discount)
PayPal payment gateway for Booknetic- $9 ($19- without discount)
Stripe payment gateway for Booknetic $9 ($19- without discount)
Custom forms for Booknetic- $39
Webhook action for Booknetic workflows- $39
Custom status for Booknetic- $29
WooCommerce payment gateway for Booknetic- $29
Customer panel for Booknetic- $29
Tax add-on for Booknetic- $29
Coupons for Booknetic- $29
Giftcards for Booknetic- $19
Amazon SNS for Booknetic workflows- $19
Telegram for Booknetic workflows- $19
Twilio SMS for Booknetic workflows- $19
Twilio WhatsApp for Booknetic workflows- $19
Mollie payment gateway for Booknetic- $19
Square payment gateway for Booknetic- $19
Invoices for Booknetic- $19
Razorpay payment gateway for Booknetic- $19
Paid Bookly pricing begins with a one-time charge, per user, at $89.00. A free version of bookly is available. Add-ons will be eligible at an additional fee.
Add-ons and their prices:
Recurring Appointments- $39
Service Extras Add-on- $49
Service Schedule- $29
Special days- $39
Special hours- $29
Stripe Addon- $39
Customer cabinet- $29
Deposit payments- $39
Google Calendar- $49
Google Maps address- $29
Group booking- $39
Locations add-on- $39
PayPal payments- $39
Bookly files- $29
Bookly invoices- $39
Bookly Pro add-on- $89
Coupons add-on- $39
Custom fields add-on- $49
Bookly PayPal Checkout- $29
Booknetic vs. Bookly Pro - Features
There are many features that Booknetic has that are free. This ensures that you can only spend the lowest cost for the plugin purchasing process.
Booknetic Features:
Integration with Zoom- You will arrange meetings directly with your clients on Zoom
Google Calendar Sync- Booking plugin with Google Calendar Synchronization enable you to connect your booking calendar with personal calendar.
SMS, email, and WhatApp notifications- Sending SMS, email, and WhatsApp notifications to clients and staff
Reminders- With the Booknetic Appointment Booking Plugin Reminder feature, you can remind your customers before or after the appointment
PayPal and Stripe payments- A popular payment systems are PayPal and Stripe. The more accurate and popular the online payment scheme you use, the more considerable the number of online payments you earn. So you can integrate PayPal and Stripe into your booking panel.
Local payment- They can pay when they arrive at the appointment if your customer can not pay online. You can take the money and make the appointment status paid with this feature.
WooCommerce Payment Method- You will be able to integrate WooCommerce and Booknetic appointment booking plugin with a single click.
Deposit payments- Online booked appointments will be safe in advance payments. You will not suffer financial loss because the clients do not come to appointments.
Customer panel- In Booknetic, customers can see, reschedule their appointments and use their profile (GDPR compliance)
Recurring appointments- In this feature, clients pick the repetition interval of the meeting when your clients make an appointment on your device and establish daily repeating arrangements.
Visual translation module- Through its latest update, Booknetic enables its customers to translate Appointment scheduling systems into any language without installing a translation plugin.
Form Builder- Using the multi-function Form Builder for your front-end booking line, you can configure your company's custom fields.
Customizable and responsive design- You can customize your booking panel to mathc your brand elements and business needs. Booknetic plugin has a responsive design. It means that your clients can make appointments on any device.
Group appointment- It is now effortless to set up group appointments in the Booknetic. You can set the lower and upper limits for the number of participants.
Manageable calendar- You will be able to manage your employees calendar and view their schedules from admin panel.
Multiple locations- Booknetic allows businesses to add unlimited locations to the booking system. This ensures that each destination will be correctly mapped, and consumers will get updates that are unique to the location they reserved.
Multilevel service- You can add unlimited services, put them in order, and adjust their order.
Unlimited staff with sepate calendars, prices, and service categories
Breaks, day-off- This feature helps you to pick breaks and day-offs in the calendar. This ensures users will not be able to book for that time.
Google ReCaptcha- Google ReCAPTCHA integrations removes any spam bookings into your system.
Coupons, Gift cards, Invoices, Service extras, etc. features- to streamline your marketing, sales, and accounting operations from the booking plugin.
Customer support- Booknetic is a 5-star booking plugin for WordPress on the CodeCanyon market where it is purchased. There are plenty of reviews on it. Don't hesitate to check them out.
Bookly Pro Features:
Customizable and responsive booking form for every type of device and business
Unlimited number of services group into categories and color customized
Unlimited number of employees with separate prices and work schedules
Exportable booking list - you can print and export booked appointments into CSV
Working schedules and prices of services can be added
There is no restriction on adding programs. Also, for each operation, you can set the specific color
SMS and WhatsApp notifications
Online and 24/7 customer support for six months
WooCommerce compatibility
Multi-language assistance, including 10 languages
Google Calendar Integration
In-built PayPal Express Checkout option, list of payments finished and pending
Built-in analytics with payment statistics
Bookly PRO's rating has 4.5.reviews on CodeCanyon.
==> Also read: Booknetic vs. Calendarize It!
Conclusion
WordPress has a lot of great appointment booking plugins.
For potential WordPress users, we have compared Bookly PRO vs Booknetic. Our blog will help you pick the one for you if you switch to online appointment booking systems.
If you are interested in the Booknetic plugin, we highly recommend you try our demo version to test how it works.
Tell us your favorite between Bookly Pro vs Booknetic comparison in the comments.
Sign up for our newsletter
Be the first to know about releases and industry news and insights.
Let's

get started

on something great
Booknetic is a simple yet powerful plugin for accepting online bookings & payments on your WordPress site.