Booknetic vs. Calendarize It! | Which is Better For You?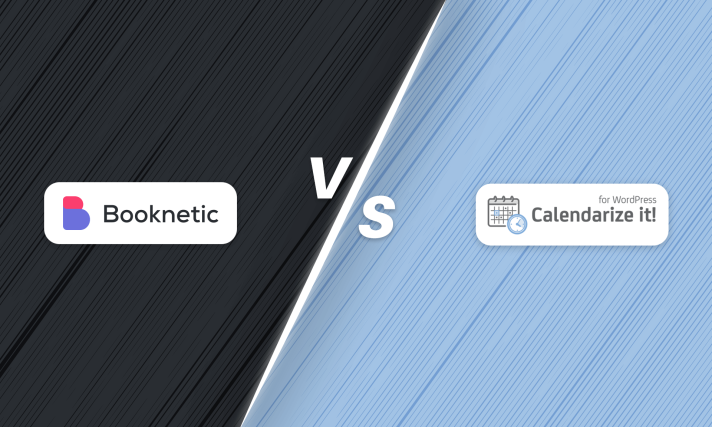 Have you ever noticed that you are starting to lose customers because you don't have an appointment booking plugin for your business?
A booking engine may appear to be a basic calendar with a form at first glance, however, this refers to the character of the company being conducted. For example, appointment plugins for IT consulting websites provide significant benefits to companies in order to maintain their operations efficiently. Or a plugin for dental websites will introduce you to visitors and establish significant leverage.
Read this blog to learn about the features of Wordpress's two promise booking plugins, Booknetic and Calendarize it!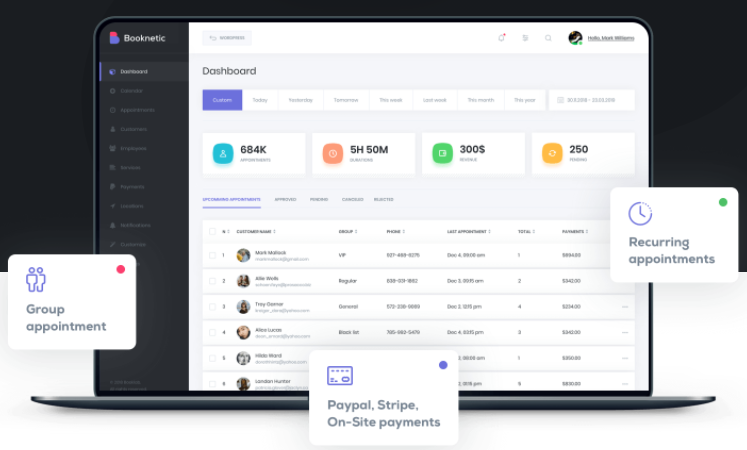 Booknetic
Booknetic is a WordPress plugin for online appointment booking. This plugin is easy to install and maintain. Booknetic is excellent for a variety of companies. The plugin is fully configurable and mobile-friendly.
Booknetic saves you money, time, and other dangers by collecting your user base and displaying your business to your clients 24 hours a day, seven days a week. To satisfy the demands of its customers, Booknetic offers a customer assistance system that is available 24 hours a day, seven days a week.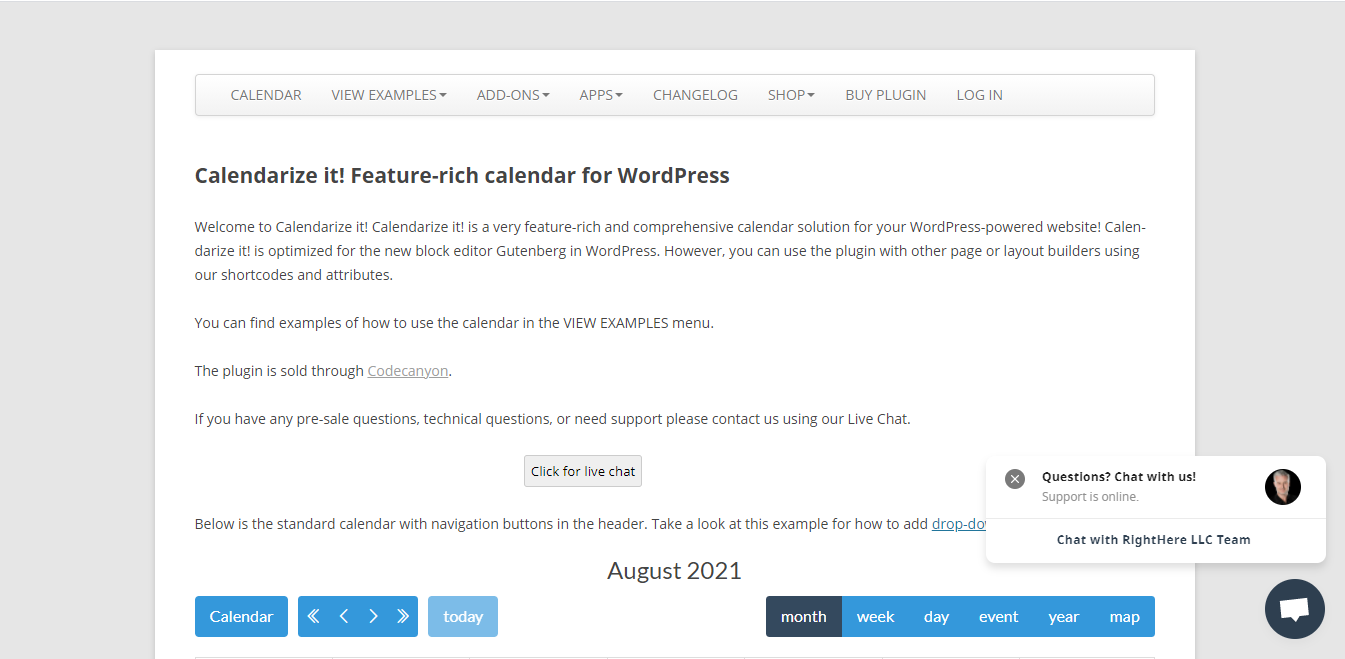 Calendarize it!
Calendarize it! is a calendar system for any WordPress-powered website. The first version was published on 22nd June 2012. Every now and then they update and fix bugs that occur 4-5 times a year. All products displayed on this site were purchased directly from the developer and are not downloaded from other sites.
You don't need VisualComposer to use the plugin, but if you are using Visual Composer you can take advantage of the plugin's native compatibility and create your own templates using VisualComposer's popular drag-and-drop page builder.
The plugin includes lots of handful options, such as built-in importer, community events, payment options, advertising options, events map styles, event tickets WooCommerce, events grid view, external event sources, accordion upcoming events, social sharing panel, visual CSS editor, member profile, ratings and reviews, RSVP events, flat UI calendar widget, advent calendar, social auto-publish, custom taxonomy labels, event color by taxonomy, capabilities, and taxonomies, taxonomy images, taxonomy filter, taxonomy counter, taxonomy by user role, featured image fallback, backend options, custom buttons, events link to, no vertical sidebar, events in blogroll and links with event attributes.
Booknetic vs Calendarize it! Comparison
| | |
| --- | --- |
| Booknetic | Calendarize it! |
| For a one-time fee, Booknetic is the booking plugin lifetime. You can use it for a lifetime by paying $79. | 1. Only one version, but frequently updated- Calendar it! 4.9.x has been optimized for the new Block Editor (Gutenberg), which has been included in WordPress since the introduction of WordPress 5.x. You can, however, continue to utilize Calendarize it! using the Classic Editor The most recent ver |
| 2. Booknetic provides 6 months of customer support. | 2. Technical support- If you have any issues installing, setting, or using the product, it will give competent technical assistance. The technical support team is accessible to you 24 hours a day, seven days a week, with an average response time of one business day. |
| 3. SMS, E-mail, Whatsapp notifications- Send notifications to clients through SMS, email, and WhatsApp | 3. There is no notification. |
| 4. PayPal and Stripe payments- PayPal and Stripe are two major payment systems. The greater the accuracy and popularity of the online payment method you employ, the greater the number of online payments you earn. As a result, you may incorporate PayPal and Stripe into your Booknetic plugin. | 4. You should pay an additional $49 for usage. To utilize this add-on, you must first install the Community Events add-on. Accept payments with PayPal.com and Stripe.com (Credit Cards, Bitcoin, and AliPay). |
| 5. Reminder system- Use the Booknetic Appointment Scheduling Plugin notification feature to alert customers before and after booking. Also, this notification feature is essential not only for clients but also for team members. | 5. They still don't implement the reminder feature. It depends on who knows how to use iCal and who understands it. |
| 6. Zoom integration- You can schedule and manage all of your online meetings with Zoom Optimized Appointment Booking without leaving your website. To connect Zoom and Booknetic, go to General settings and then select Integration options. To enable the integration, enter your Zoom account information. | 6. There is no Zoom integration |
| 7. Google Calendar Sync- With the Booknetic Appointment Booking plugin's Google Calendar interface, you can easily track the weekly, regular, and monthly appointment calendar. | 7. You should pay an additional $15 for the usage of Google Calendar, as well as Facebook and Meetup.com |
| 8. Group appointments- Booknetic appointment system makes it easy to make group reservations or set individual minimum and maximum limits. | 8. You should also pay an additional $25 for a member profile. Each user has a personal page with Upcoming Events, Past Events, Ratings & Reviews, Post & Comments, and Friends, as well as a Members and finally Group/Team Page. |
| 9. Multiple locations- With Booknetic scheduling system's multiple location functionality, you may manage various dealers of your brand. You will accurately map each destination, and customers will receive updates specific to the place they have reserved. | 9. There is not multiple location function |
| 10. WooCommerce payment method- The major advantage of the Booknetic Appointment Scheduling plugin's WooCommerce sync method is that it allows customers to pay for their services using WooCommerce payment gateways, including taxes and fees. | 10. The only integration of Calendarize it! And WooCommerce is Event ticket and you should pay an additional $89 for usage. If you have a lot of events on your schedule and need a means to sell tickets. And if you want to avoid using third-party websites and paying additional ticket costs this one will be useful for you. |

As we can compare Booknetic vs Calendarize it! There are such differences between them.
For example,
Booknetic:
1. You will be authorized to request invoices for your services using the Booknetic plugin.
2. Although the Booknetic Appointment Booking Plugin is intended for use by all organizations, some procedures may demand the use of certain kinds. You may use the form builder function to create one-of-a-kind shapes.
3. You can pick breaks and day-offs in the calendar.
4. The design of the plugin helps to create a great customer experience not only for the client, but also for the employee. Paying a deposit protects your service from no-shows and cancellations. To enable deposit payment on the site, go to the service panel and click on the details of the service to add the deposit amount to be charged. You can decide between a certain percentage of the deposit payment service or a certain amount.
5. Booknetic consumers will have a chance to stop spam schedules by setting up Google ReCAPTCHA.
Calendarize it!:
1. The Ratings & Reviews add-on makes it simple for your visitors to rate and review events. They may also simply contribute ratings and reviews by utilizing Facebook Connect and Twitter Connect.
2. You can add up to 16 social connections and log-ins to the plugin. (Bitbucket, Disqus, Dribble, Dropbox, Envato, Flickr, Github, Instagram, Mail.ru, Pinterest, Reddit, Tumblr, Vimeo, VKontakte, Yahoo, Yandex)
3. Starting with version 3 of the Google Maps API, you can apply custom styles to your maps. Developers and designers can choose a style that matches the theme of their website.
4. Calendarize it! for WordPress supports user-defined classification, which you can use to apply advanced filtering when viewing your calendar on the front end. Basically, all events are displayed unless you have inserted a shortcode that contains filtering. Click a user-defined classification and click Apply Filter. You can add filters in any combination you like. Click View All to remove all filters.
5. In WordPress, you can quickly show calendars for individual users by inserting a Shortcode with the username. You may also display events from numerous users by replacing the username with the user's id number.
Actually, there are some similarities too between Booknetic vs Calendarize it!
For instance, both Booknetic vs Calendarize it! Have a translation function. While Calendarize it! supports only 4 languages (English, French, Italian, Spanish), Booknetic converts into any language you want.
Additionally, they support recurring appointments. In Booknetic when your clients book on your system, they choose the recurring interval of our plugin reservations and set up regular recurring reservations. As well as in Calendarize it!, you can easily add recurring events: every day, every week, every 2 weeks, every month, every year, and if you select More Options you can choose to repeat events multiple times the same day, hour. You can also choose between settings like 1st, 2nd, 3rd, 4th, 5th or last.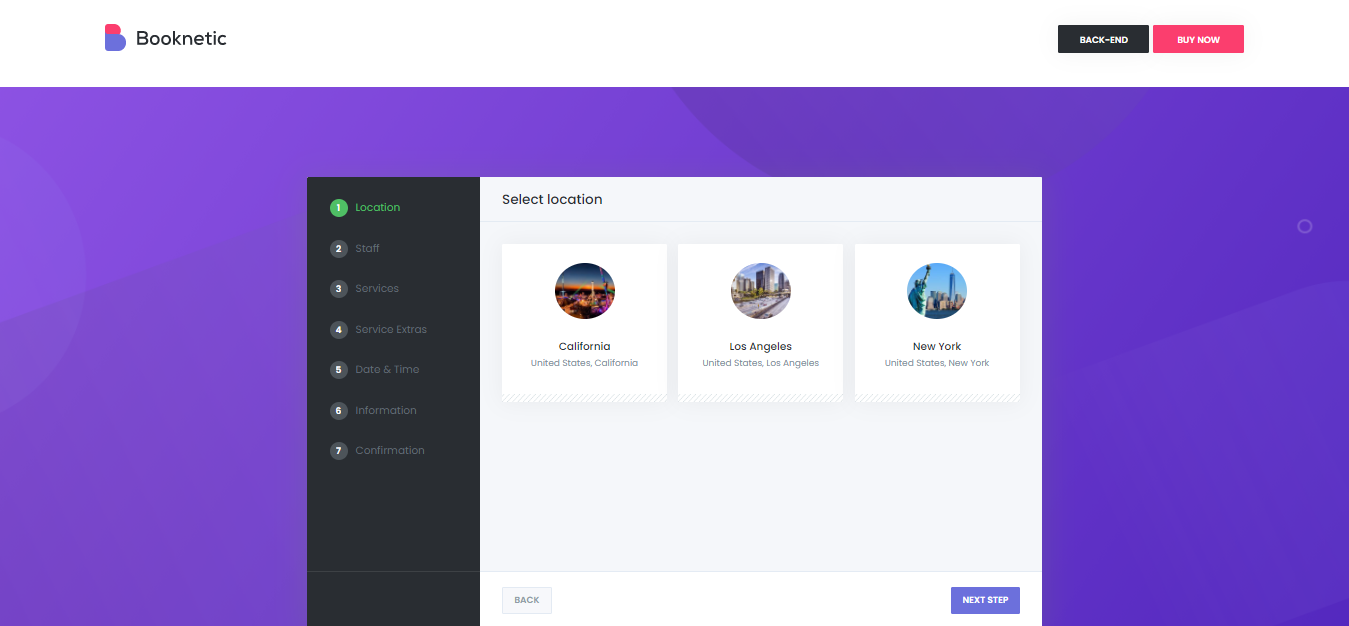 Pricing
For a one-time fee, Booknetic is the booking plugin's lifetime. You can use it for a lifetime by paying $79.
Calendarize it!
It costs $29 for 1 license on CodeCanyon. If you wish to purchase a premium addon, you may do so easily from the admin panel. The total cost of the premium additions is $548.
In Conclusion
This blog showed differences, comparisons, and some similarities of Booknetic vs Calendarize it! Hopefully, this will help you to choose the best one which fits your needs. Actually, If we look at the multitude of features and prices, Booknetic should be your first choice. Try Demo to look through all of them, before making your choice!
Sign up for our newsletter
Be the first to know about releases and industry news and insights.
Let's

get started

on something great
Booknetic is a simple yet powerful plugin for accepting online bookings & payments on your WordPress site.