Best IT Consulting Websites To Follow in 2023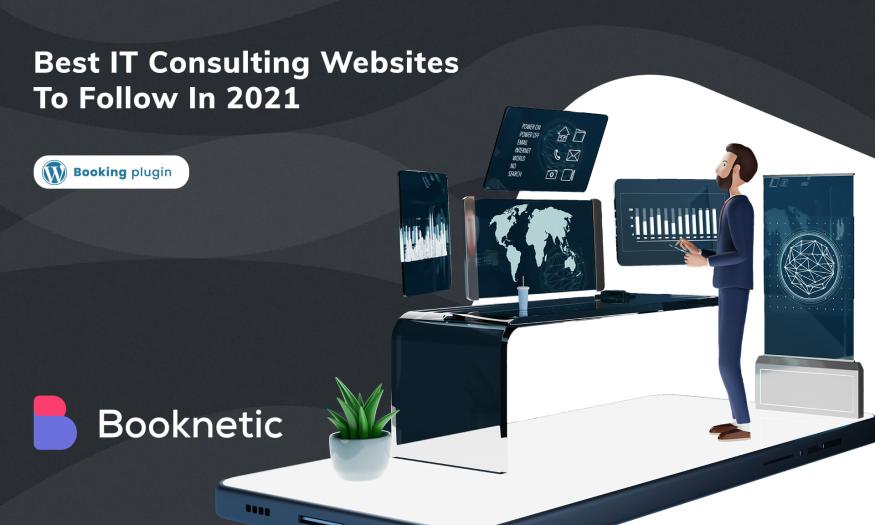 Are you looking for the best IT consulting websites to design your professional business site. Do you want technical websites to follow the latest trends in the tech sphere? In any way, you landed on the right ground. In this blog, we will first define what is IT consulting and then give a list of software consulting companies that will be next to you from the establishment of your business to its improvement.
What is IT consulting?
IT consulting is an advisory service involving information security, web programming, and data analysis. We live in a time that technology acts as the fuel for the growth of any industry. Best consulting websites help independent consultants or businesses overcome agile challenges by matching technological strategies with business strategies.
Many of the best IT consulting company websites provide consultancy as part of software building services. The general services they provide:
Architecture planning
Operational planning
Strategy planning
Cybersecurity
Big data
The purpose of hiring technology experts can be creating a new system or improving the existing one. You can hire IT consultants to replace your in-house team for auditory purposes over regular operations and software maintenance. The major benefits technology consulting websites provide:
Financial savings - you tend to spend by project or hourly for consulting services as opposed to fixed payment of your employees.
Experience - you may gather masters of coding around your company. But their scarce knowledge of diverse topics of IT management might be insufficient to handle tough topics. But best consulting firm websites have a narrow knowledge base of their specialty.
Facing the same nature of problems in various companies, consultants bring their expertise to bear on a problem.
Employee training - specialized agencies can also train your staff on the use of different techniques and share their knowledge on the management of problematic tasks.
Outside look - what is greater than having an outside professional having a fresh look at your system management? They will provide a new set of eyes to your project and examine problems from a different angle.
How to build a consulting website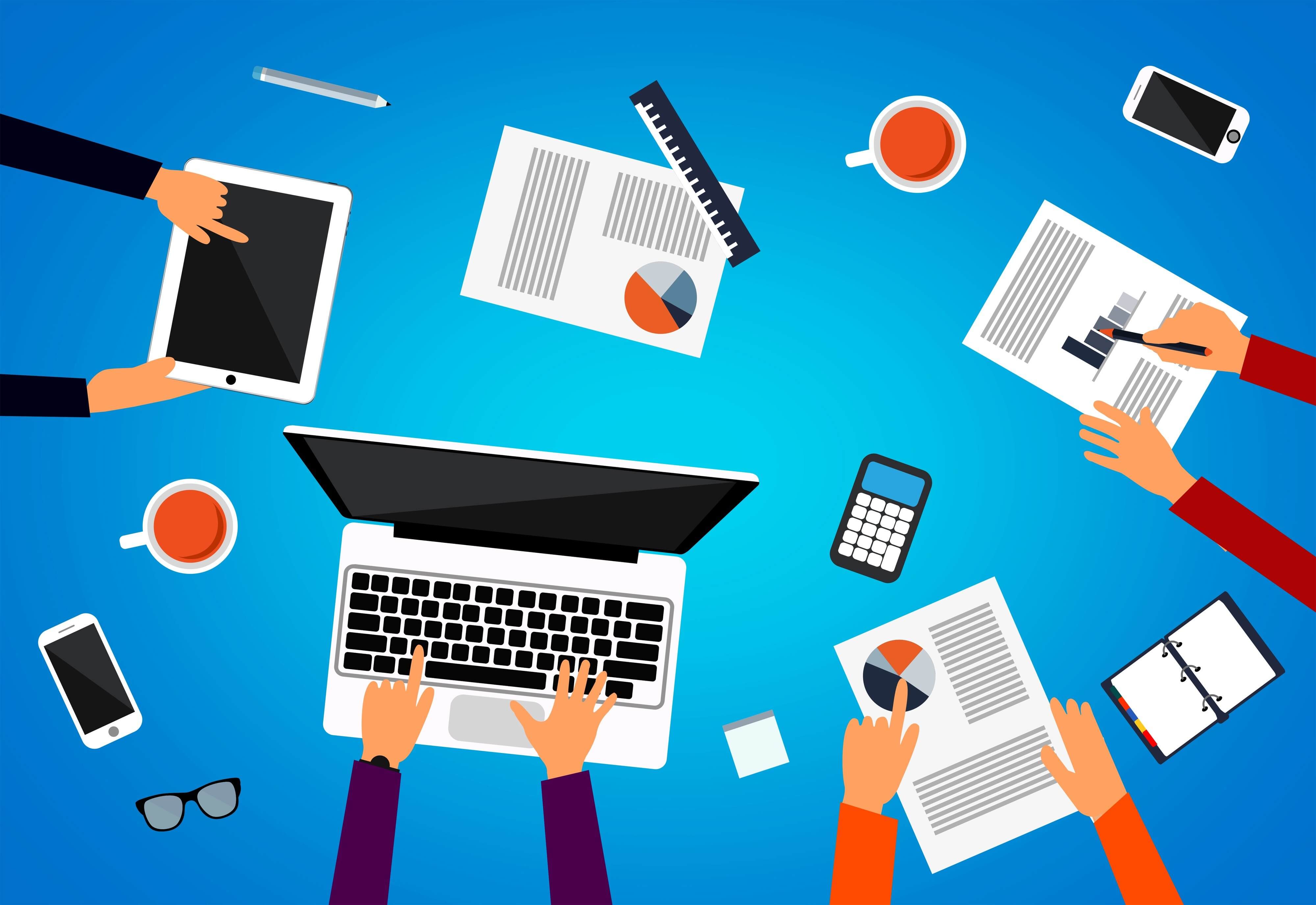 First hosting, you will need to choose and purchase a domain name.
Your domain name is important as it will be how people find your website - so make sure to choose something catchy and easy to remember!
Once you have hosting and a domain name, you can begin building your site.
If you're not familiar with web design, there are plenty of templates available online that you can use to get started.
Just be sure to include key pages like an "About" page, a "Contact" page, and of course, information about your consulting services.
Next Step, When it comes to building a website, WordPress is one of the easiest and most popular platforms to use.
There are tons of themes and plugins available for WordPress, which makes it easy to customize your site to match your brand.
Plus, using WordPress will make it easy for you to update your site on a regular basis - which is important if you want to keep your visitors coming back!
If you're not sure where to start, we recommend checking out some of the free themes and plugins available on the WordPress website.
Finally, don't forget to promote your consulting website on social media and other online channels. By taking these steps, you'll be well on your way to building a successful consulting website.

Best IT consulting websites to follow
Now that you acknowledge what technology consulting is you feel the need to cooperate with consulting services to complete their projects and deliver customer requirements. If you are on your way to digital transformation or need pro advice to upgrade your business operations, look through one of the best IT consulting company websites before making a final decision.
1. Ahead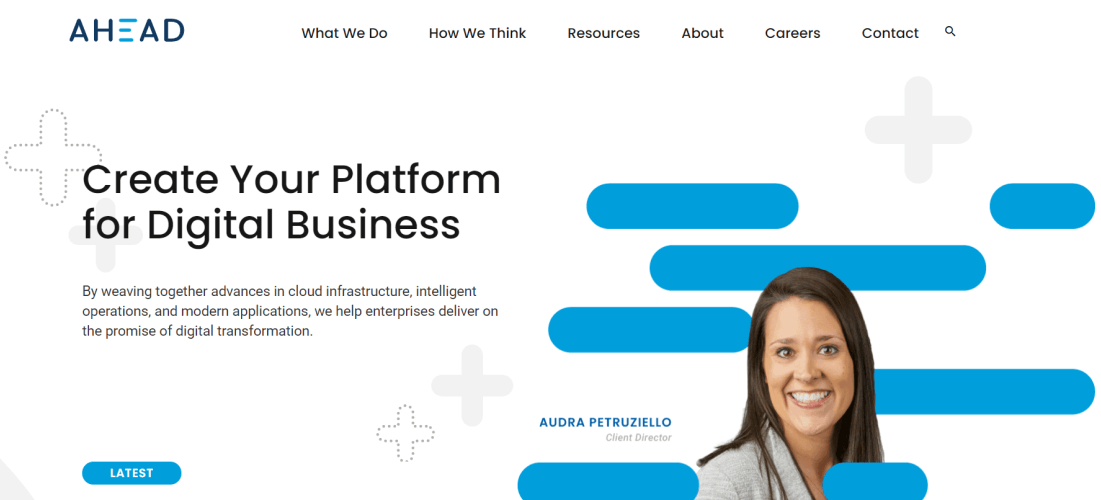 The clear design and typography make are the first things that lock viewers to the website. Ahead provides a holistic approach to digital transformation providing full service on the training of teams, building development roadmap, system designing, and deployment of ready infrastructure. They combine operational, technical capabilities to deliver maximum reliability at a faster pace. The key solutions are:
Infrastructure and application migration
Cloud security
Automation of CI\CD,
DevOps
Intelligence Ops strategy
Their distinct philosophy puts emphasis on the role of culture and communication as the foundation of the digital delivery system. They provide lots of valuable resources to users on what is tech consulting and its different fields. Well-prepared research materials, cloud summits, and other resources prove it as one of the best IT consulting company websites to follow.
2. Cognizant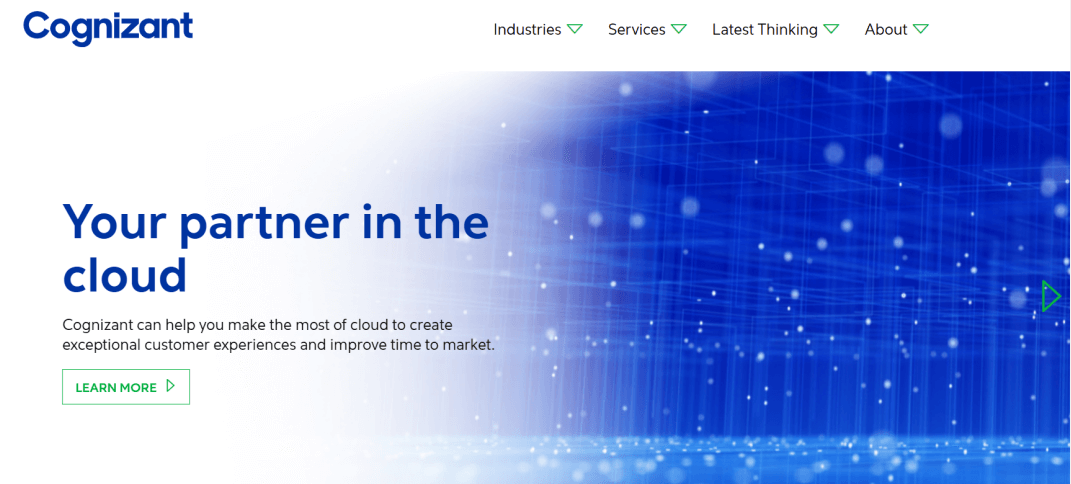 If you are in favor of a complex-looking website, then Cognizant is the one for you. They take a full-scale approach to explain what is IT consulting down to a gnat's eyebrow. A thorough site footer takes more than a desktop screen view. Coming to the portfolio, Cognizant serves a diverse range of industries including manufacturing, healthcare, telecommunication, oil&gas, consumer goods.
It helps businesses to uphold the challenges of modern business with agile methodologies. The offered services are:
Engineering
AI
Cloud enablement
Enterprise services
IoT
Intelligent Process Automation
Partnering with world-class platforms like AWS, Microsoft, SAP, Cognizant underpins its position as a reliable digital supplier. The broad spectrum of landing pages makes it one of the best IT consulting websites. The comprehensive resources section will help IT, enthusiasts, to stay updated with the latest news around the digital world.
3. ScienceSoft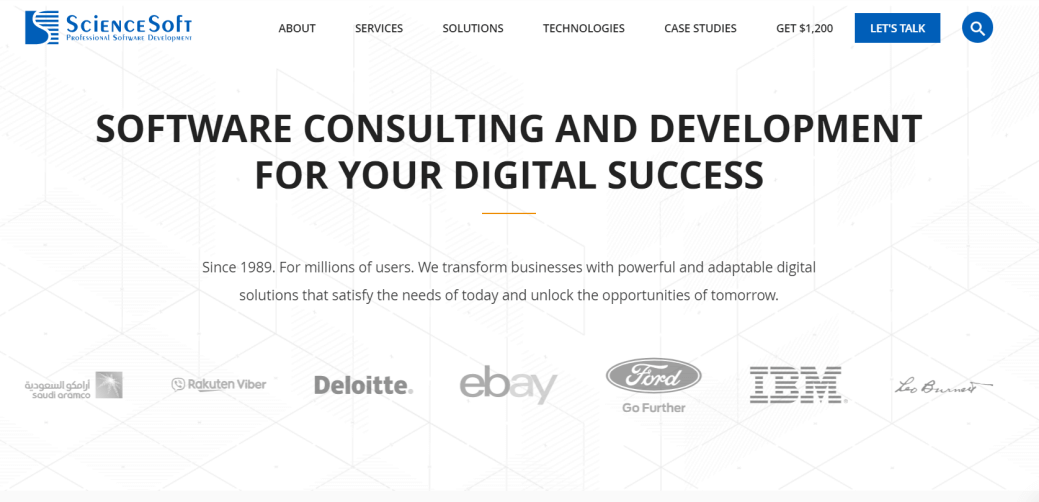 Though the first impression site gives is a school book design, you view more complicated content as you scroll down. For more than 30 years, ScienceSoft has been helping non-IT companies on what technology consulting is to grow their business and retain customers. Its technology service consists of software development, testing, QA, UI\UX design, cybersecurity, and helpdesk. And the key solutions they provide are CRM, ERP, marketing, supply chain management, and operations management.
ScienceSoft combines the most used programming languages like Python, Java, Golang, and React Native with advanced technologies like IoT, AI, big data, blockchain, and VR to deliver a high-quality customer experience to its clients. They have a distinct list of customer portfolios, including NASA, eBay, Leo Brunett, Walmart, Baxter, IBM, and many more.
The advanced filtering option helps users to read case studies relevant to their industry, preferred technology, and required solution. With its customer-centric design and the complexity of services, it deserves to be on the list of best IT consulting websites.
4. Centric Consulting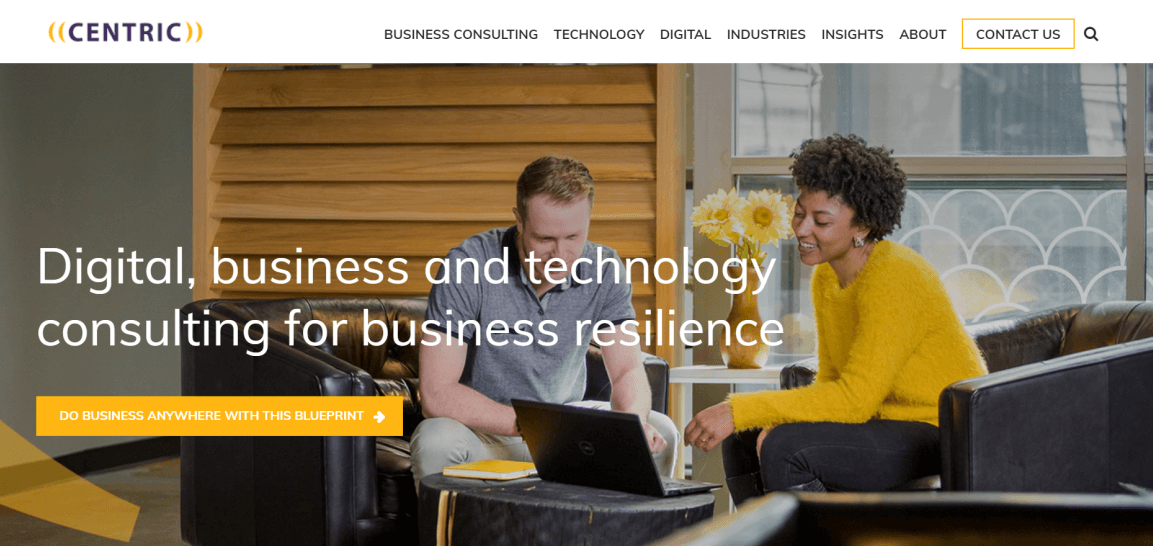 With well-organized feature bars, easy-to-read content, and complementary color combinations, Centric consulting provides the needed user experience from the first glance. It serves financial services, insurance, healthcare, energy&utility, and the public sector to beat the challenges of digital modernization.
Their services are mainly grouped into business, technology, and digital consultancy. The technology delivery solution focuses on DevOps, software delivery, and outsourcing. You can feel the collaborative culture with customers in the description of every service they provide. The comprehensive Insights section has the capacity to guide any user from the essence of what is a tech consulting into the essence of digital transformation and shape a solution-oriented mindset to grow. It is fair to remark Centric Consulting as one of the best IT consulting websites to follow in 2021.
5. Parmon consulting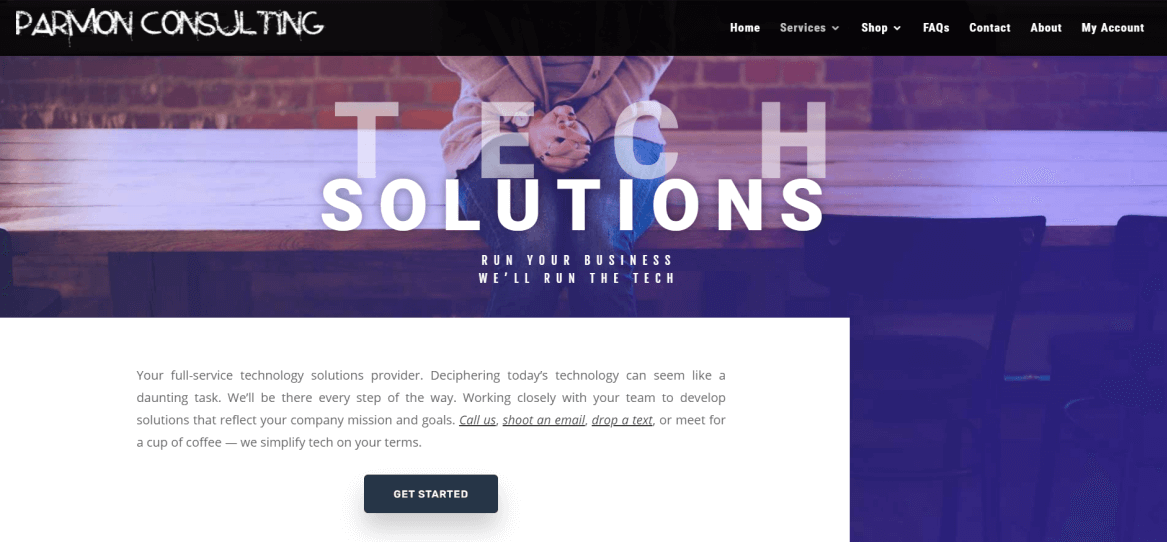 Never forget WordPressors. With a simple design and structured feature bar, the site leads users to more detailed service pages. Parmon consulting assists businesses by integrating technology into operations management. It offers website building and management services for individuals and businesses. The services encompass domain search, and WordPress hosting. SSL certificate, email marketing.
CTA-reach pages and a clear description of pricing are merely what made it to our list of best IT consulting company websites.
Oh, having said WordPress, if your consultancy website is built with WordPress, you can take your business to the next level with the Booknetic appointment booking plugin. The plugin appeals to legal, nutrition, psychology, and medical consultants to configure their website with appointment scheduling. Check Demo for more information.
Future to code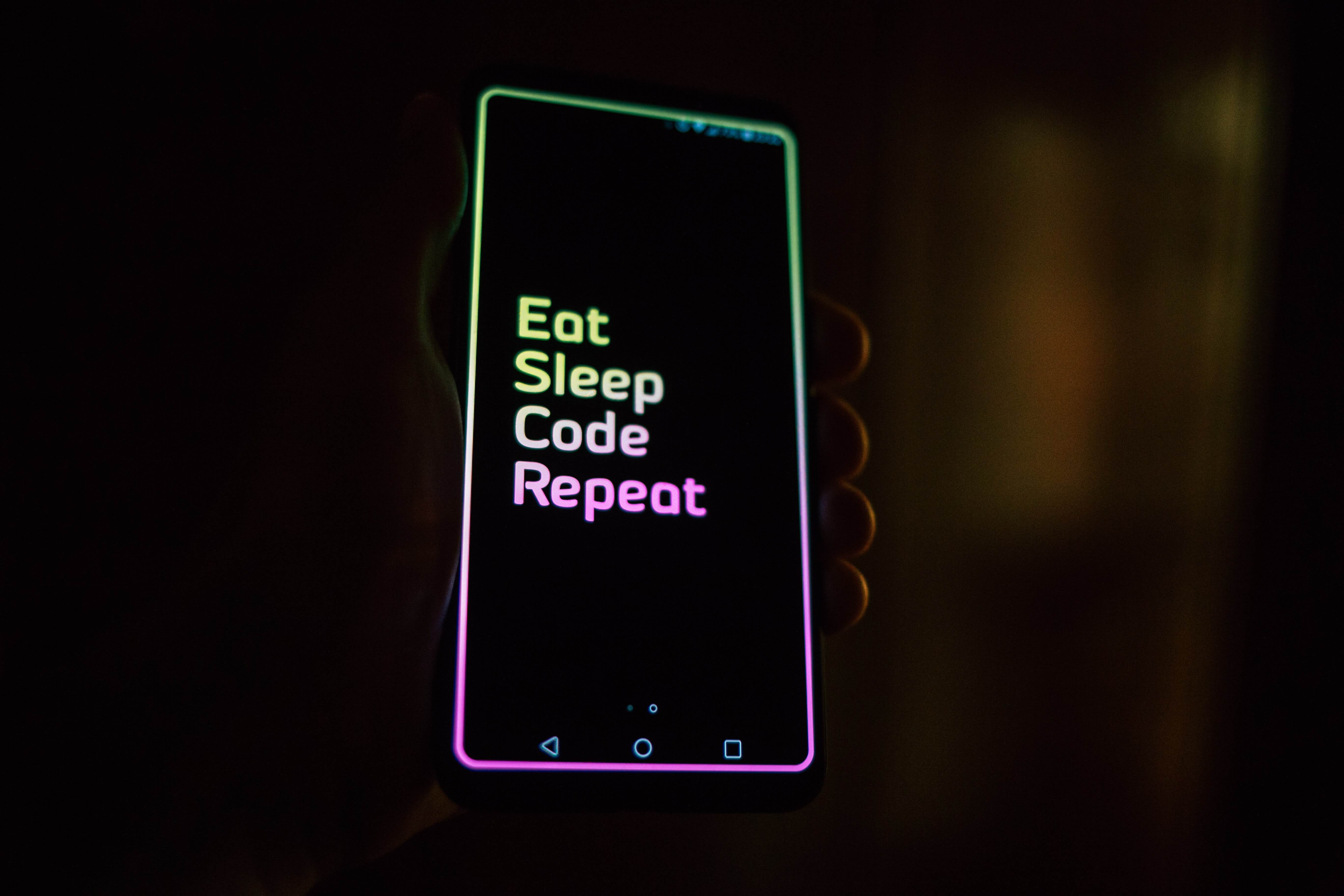 Technology is an essential element for any business to grow. Best IT consulting websites provide organizations with great advantages to keep their operations running smoothly. It is undoubtedly necessary to acknowledge what technology consulting is to define your IT strategy, its implementation, and deployment. Companies have to be specific about their business objectives and transfer them to the hands of the right parties. The rest is to decide on the provider that will walk them through their goals.
Conclusion
The best IT consulting company websites are well-organized and user-friendly. They provide a great experience for visitors, whether they are looking for information about the company or trying to contact customer service. These websites are also up-to-date with the latest technology and trends, providing an enjoyable browsing experience that is both visually appealing and easy to use. If you're looking for a new IT consultant, be sure to check out the best websites first!
Sign up for our newsletter
Be the first to know about releases and industry news and insights.
Let's

get started

on something great
Booknetic is a simple yet powerful plugin for accepting online bookings & payments on your WordPress site.