Participate in Our Exclusive Beta Testing Program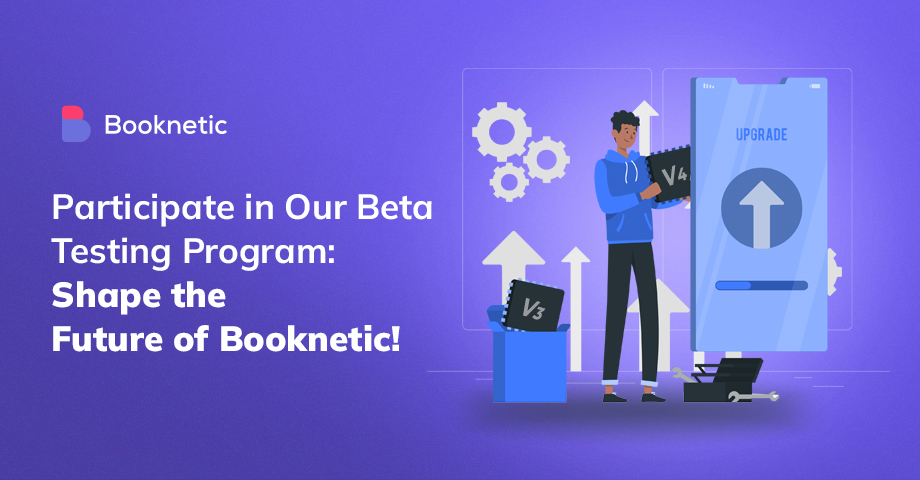 Are you a Booknetic enthusiast who is always eager to explore new horizons in appointment booking technology? Are you ready to get a sneak peek into the exciting new features and improvements coming to Booknetic? We're thrilled to announce that we have launched our Beta Testing Program, giving you the exclusive opportunity to try out upcoming updates before they are officially released!
Unlock the Advantages of Beta Testing
First Look Privilege: Immerse yourself in the latest Booknetic innovations before they are officially unveiled.
Direct Influence: Your valued feedback holds immense significance. By joining the beta testing ranks, you directly contribute to refining Booknetic and influencing its trajectory.
Get Rewards: By joining the beta testing ranks, not only do you help us refine Booknetic, but you also have the opportunity to earn rewards for identifying and reporting bugs. Your vigilance and dedication become a catalyst for Booknetic's seamless performance.
Beta Testing on Staging Environments
We understand the importance of testing in controlled environments. That's why we're excited to share that you can activate your Booknetic license codes on staging environments. This means you can receive beta updates directly to your staging environments, allowing you to thoroughly test the new features before implementing them on your live website.
Whether you're a business owner, developer, or a passionate Booknetic user, we invite you to be part of our Beta Testing Program. Your insights and feedback play a crucial role in making Booknetic the best appointment booking solution.
Harness this exceptional opportunity to be at the forefront of Booknetic's evolution — participate in our Beta Testing Program. Your discerning feedback is a compass guiding us towards perfection. Anticipate a cascade of innovative features, seamless enhancements, and an unparalleled appointment booking experience.
Participate in our exclusive beta testing program - Enroll Now
Please note that beta updates are primarily intended for meticulous testing and may encompass minor glitches. It is strongly advised to deploy them within staging environments prior to live website deployment.
Join Our Thriving Discord Community and Be a Part of the Booknetic Beta Experience
Introducing the Booknetic Discord Community — an engaging hub for enthusiasts, early adopters, and innovators alike. This is where collaboration meets innovation, and ideas take shape. Connect with like-minded individuals who share your passion for revolutionizing appointment scheduling.
How to Join:
Visit Discord: Navigate to our Discord server.
Create an Account: If you don't have a Discord account, sign up — it's quick and easy!
Access the Server: Use the provided invitation link to join our community.
Dive into the Beta Channel
Within our Discord server, you'll discover an exclusive channel dedicated to beta users. Here, you'll find discussions, updates, and conversations centered around the latest Booknetic innovations. Share your insights, exchange thoughts, and get a closer look at what's in store.
Unlock the Beta User Role
Once you're part of our Discord community, don't miss the chance to gain the coveted Beta User role. This role bestows you with special privileges, access to beta-related announcements, and an opportunity to engage in focused discussions with fellow beta testers.
Join us on Discord and become an integral part of Booknetic's Beta Testing Program. Your voice matters, and together, we'll shape the future of appointment scheduling. Let's innovate, collaborate, and elevate the Booknetic experience.
Sign up for our newsletter
Be the first to know about releases and industry news and insights.
Let's

get started

on something great
Booknetic is a simple yet powerful plugin for accepting online bookings & payments on your WordPress site.