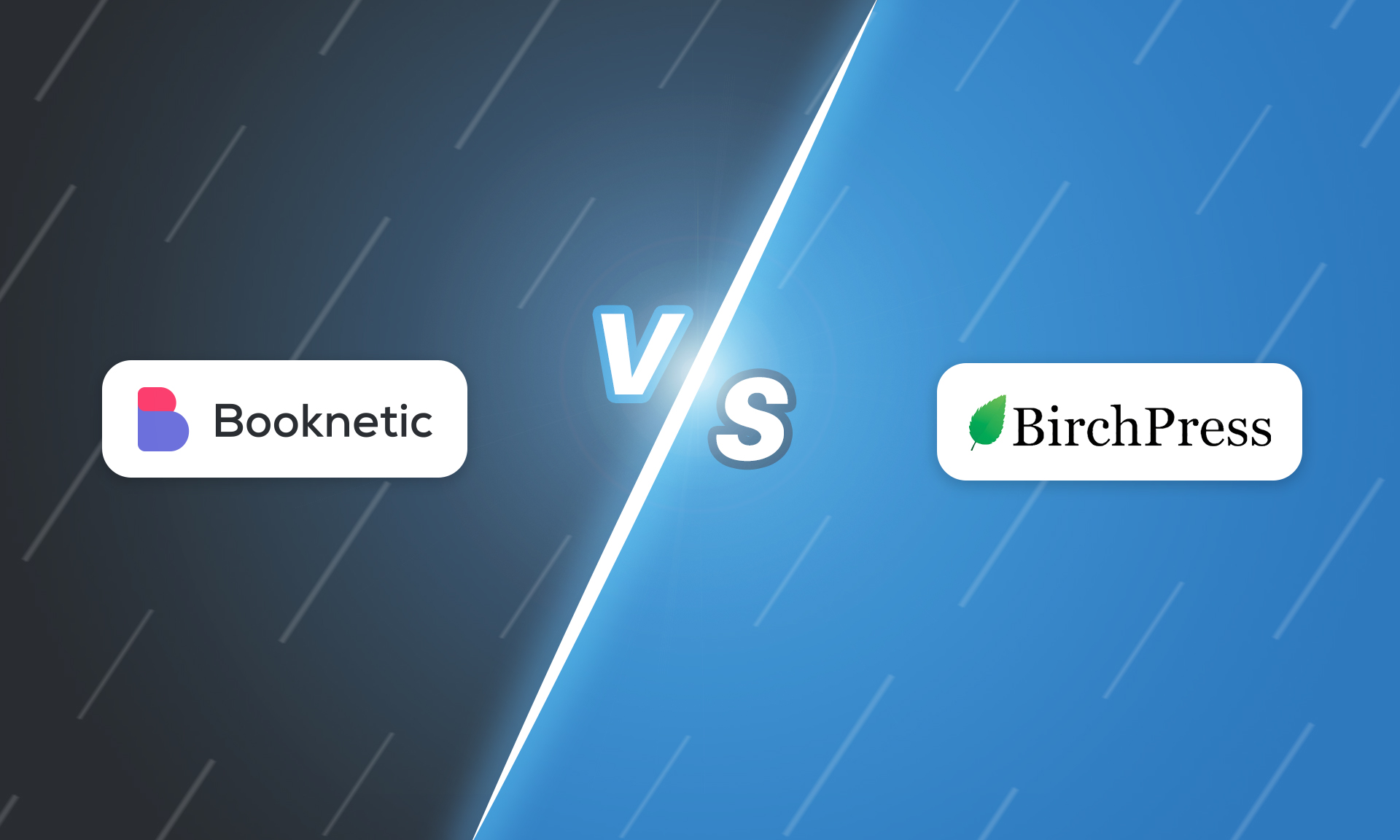 Dialing the number, talking to reception on phone, confirming your registration, waiting in line for your queue are long gone days. Thanks to online appointment bookings, clients and services have more control over their timing, prices, choices. It also helps service providers to receive more clients. If you are looking for a well-designed plugging that will provide everything you want from an appointment plugin, then read this article till the end.
Continuing our WordPress appointment plugin series, this time will compare BirchPress online appointment to Booknetic and surface the most standout features of each plugin. Ready? Then, here we go.
What do you need in a WordPress appointment plugin?
Before coming to the features of each booking plugin, let's briefly figure out the crucial functionalities that a decent plugin should have. The very first feature that you have to look for in a WordPress appointment plugin is a customizable calendar. Why it's important is that depending on your nature of business you may require more specified time and date options.
The next big thing you need to look for is 24/7 customer support so that no customer is unsatisfied with your service.
Pricing is yet another criterion that should match your business needs and its offered features as well.
While online payment is not a must-have feature for all booking plugins, having online payment will do much work from your side.
==> Also read: Booked VS Booknetic
Booknetic vs BirchPress overview
Booknetic is a multi-purpose WordPress appointment plugin that allows full customization and automation of online appointments. Its easy setup procedures will only take a few minutes to install the plugin and customize it.
Feature-rich configuration makes it suitable for a variety of businesses including hotels, salons, dentists, lawyer offices, individual consultants, dancing, fitness, and many more.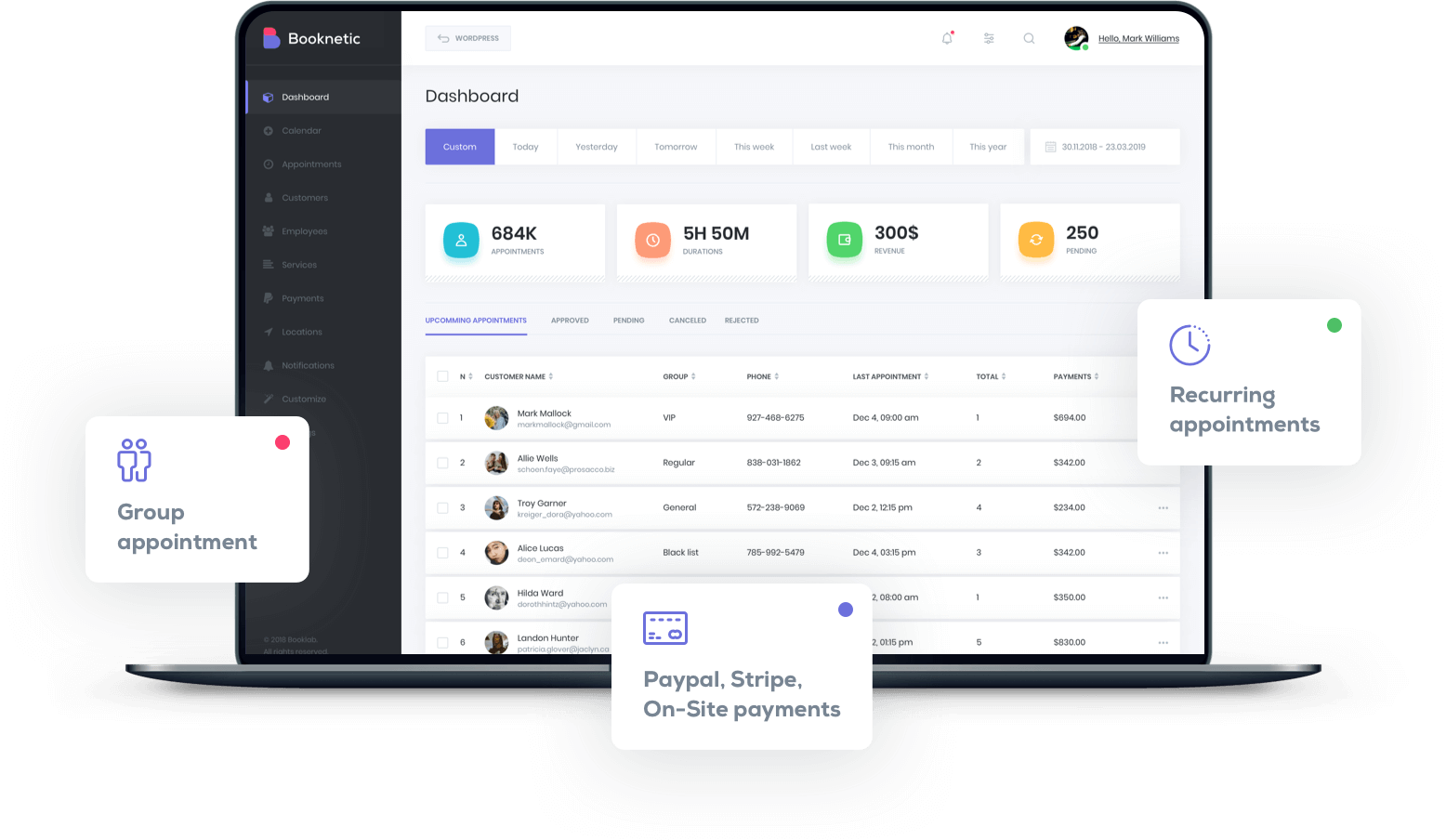 BirchPress is a premium WordPress appointment plugin designed for small businesses. It offers various functionalities to manage online appointments and payments.
The plugin can be easily installed and modified for service providers like health&wealness, education, professional services, salon and beauty, auto&home services, and many more.

Booknetic vs BirchPress - Functionality
Let's first check the core functionalities of Booknetic and then switch to BirchPress Scheduler.
With paying the lowest amount, you can benefit from countless enhancements Booknetic provides:
Zoom Integration
With Zoom Optimized Appointment booking, you will schedule and manage all your online meetings without leaving your website. To integrate Zoom with Booknetic, go to General settings and click to Integration settings. Enter your Zoom account details to enable the integration.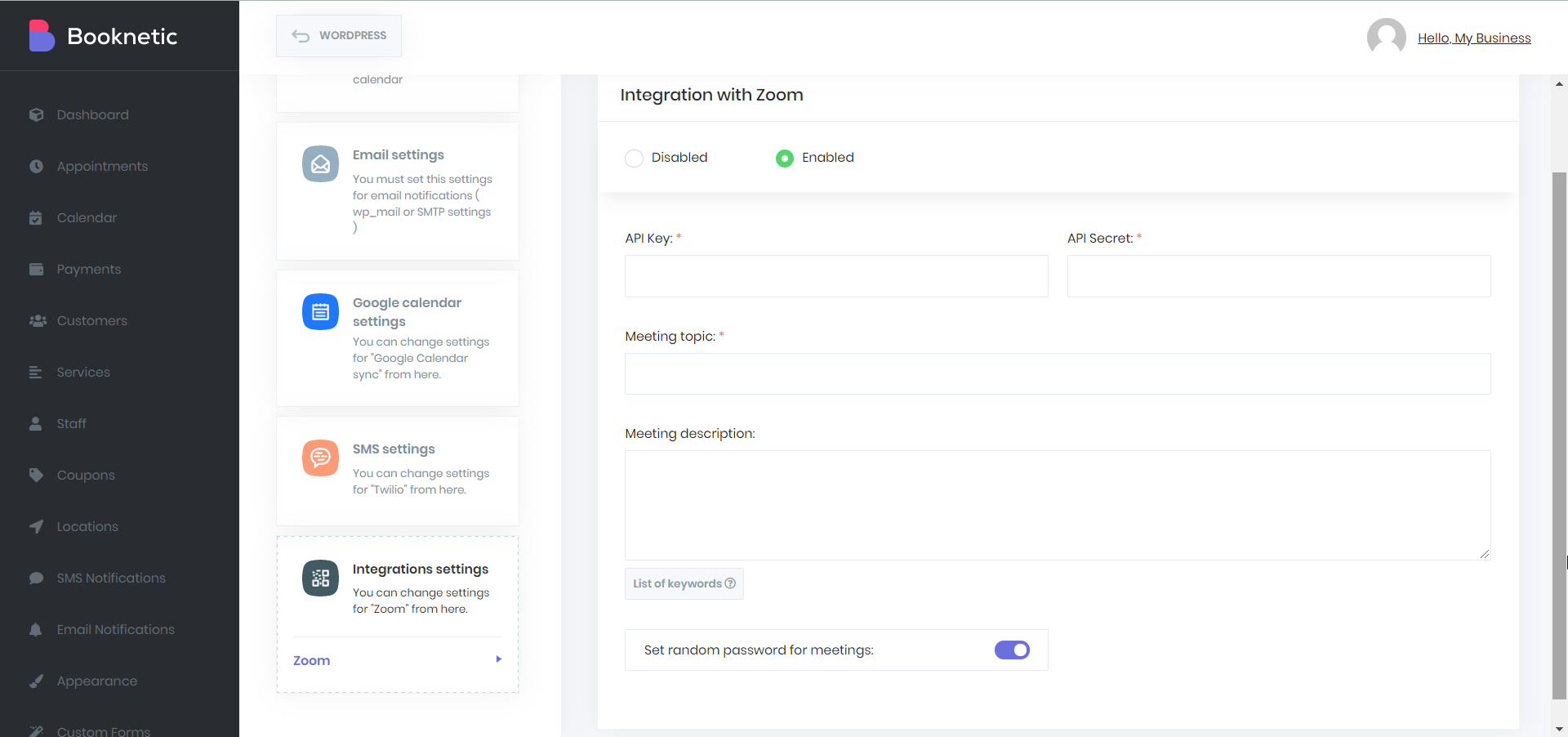 Form Builder
There are certain questions or documents that you may want to consider before clients come to the appointment. With Form Builders, you can easily build your specific custom forms without any code-level implementation. For this, go to the Custom Forms field of your back-end panel of the dashboard and add specific elements such as date, label, and number inputs that you would like to get.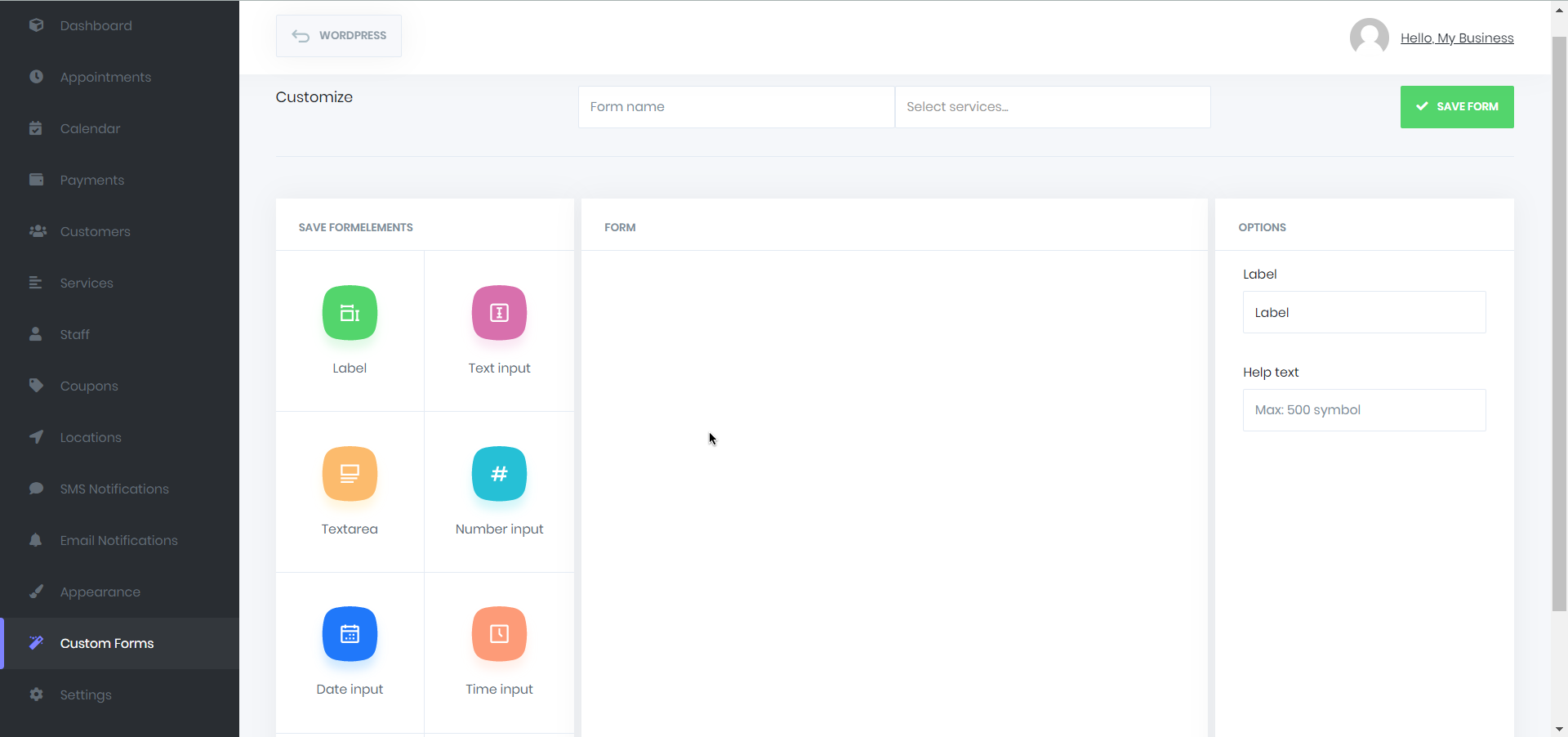 Google Calendar
Google Calendar sync allows you to keep track of online appointments according to your schedule.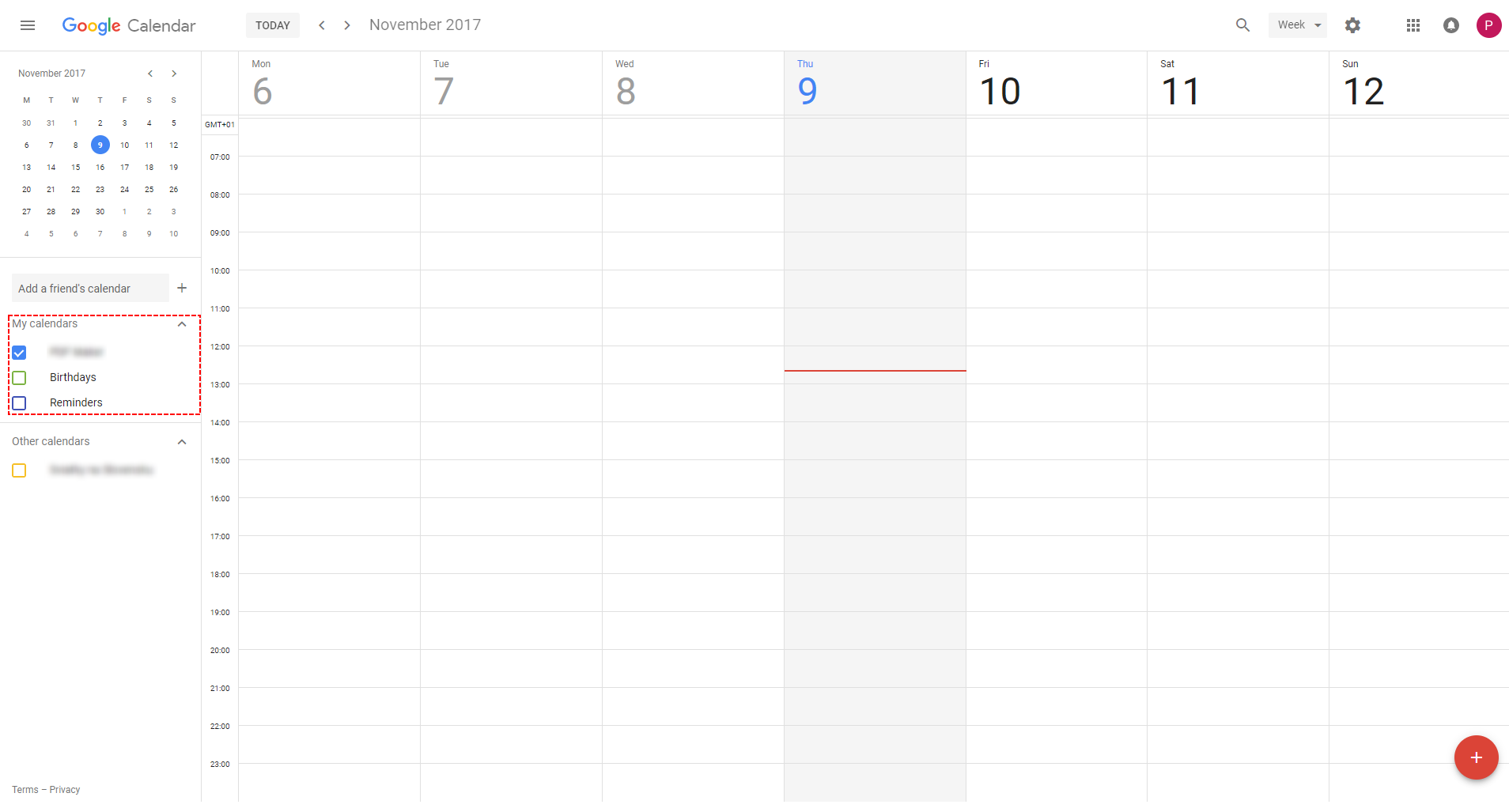 Recurring appointments
If you provide a service that clients repetitively come to your office like a salon, recurring appointments will help to save time from entering the same information over again. Recurring appointments are also saved in Google Calendar so that no overlap can happen during booking. Additionally, your customers can decide between paying for each appointment and full payment for the recurring appointments.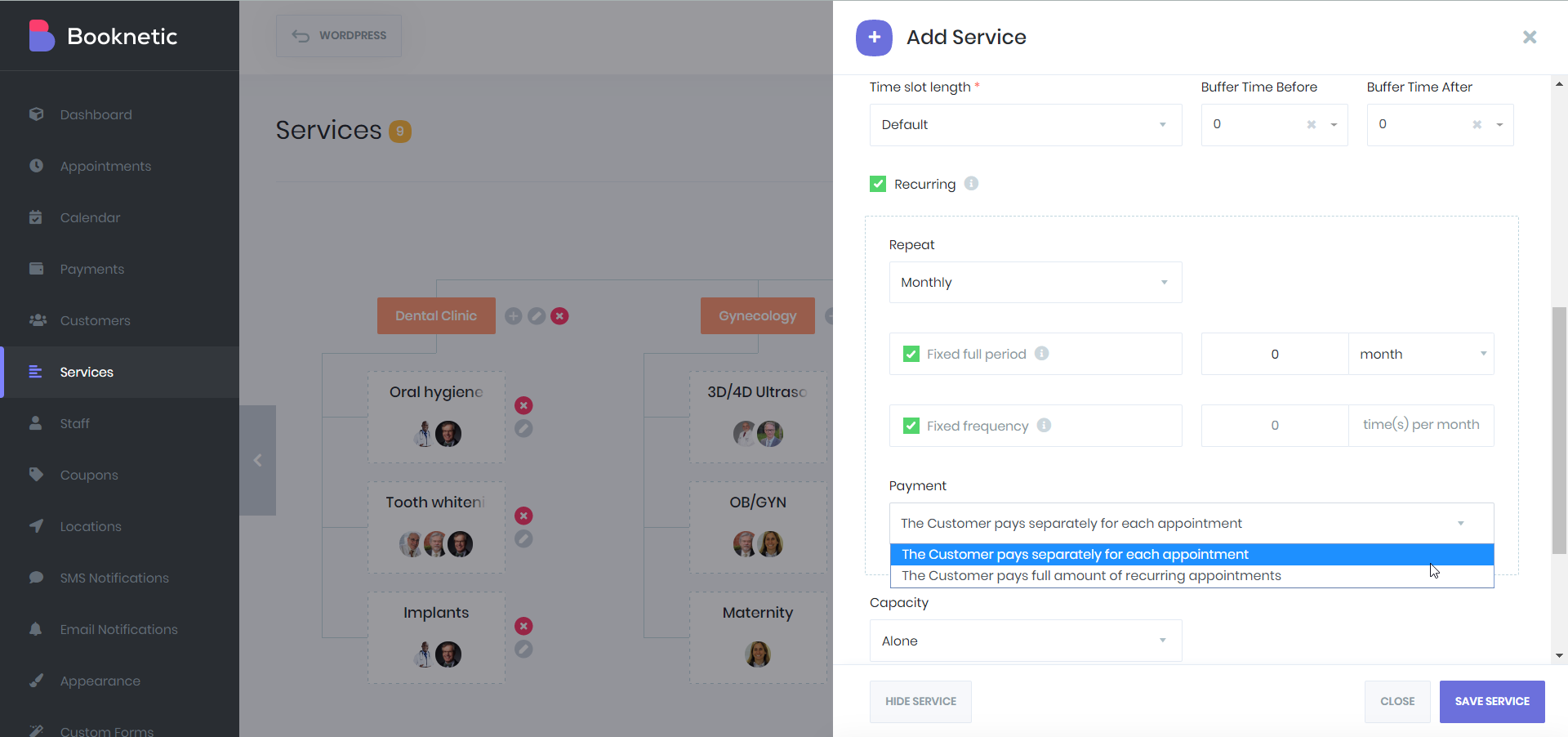 PayPal, Stripe, Square, WooCommerce, Mollie, Razorpay
To fully serve its customers, the Booknetic Appointments scheduling integrates the most secure and used payment systems such as PayPal and Stripe into its features. With a pre-installed payment gateway, tax calculation, and inventory management, WooCommerce integration helps businesses to adjust their e-store at ease.
You can enable payment integration from General Settings and add the required account information. Whenever clients complete their payments, their appointments will be completed and recorded in the system.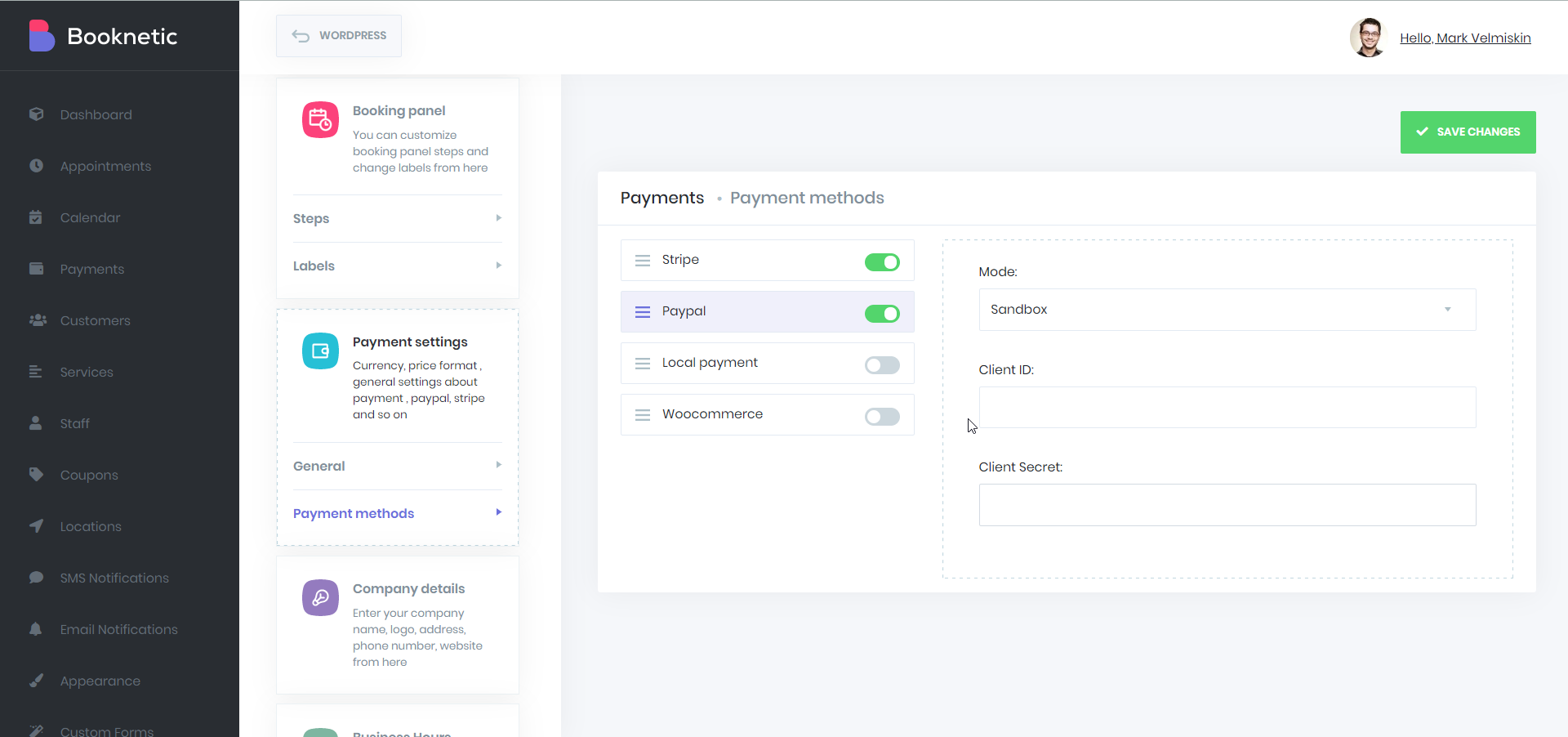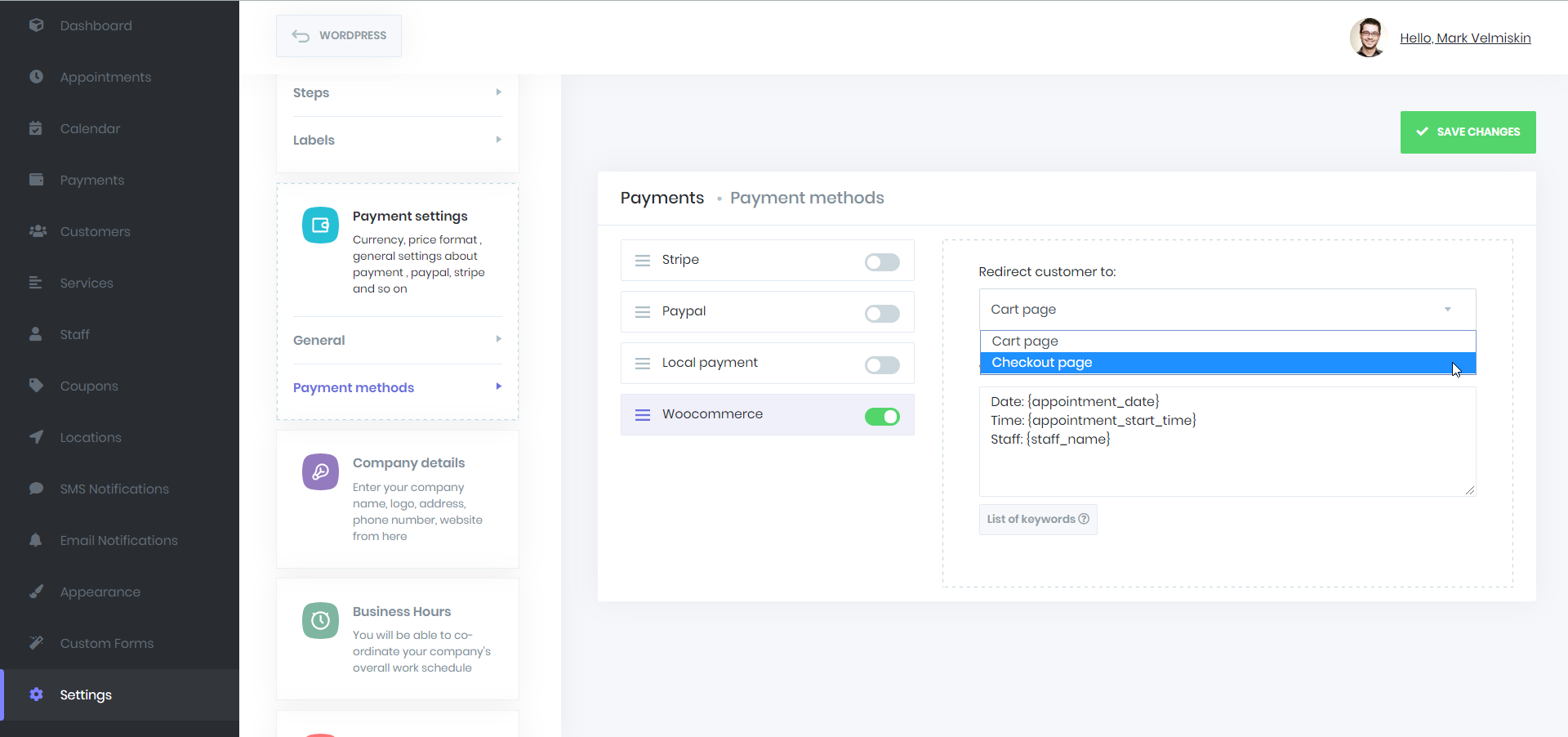 Deposit payments
Plugin design does not only serve to create a better customer experience for your clients but your employees, as well. With deposit payments, you will secure your service against no-shows or cancellations. To activate deposit payments for your site, you just go to the Services panel, click the Service details and add the deposit amount you want to charge. You can decide the deposit payment between a certain percentage of the service or a fixed amount.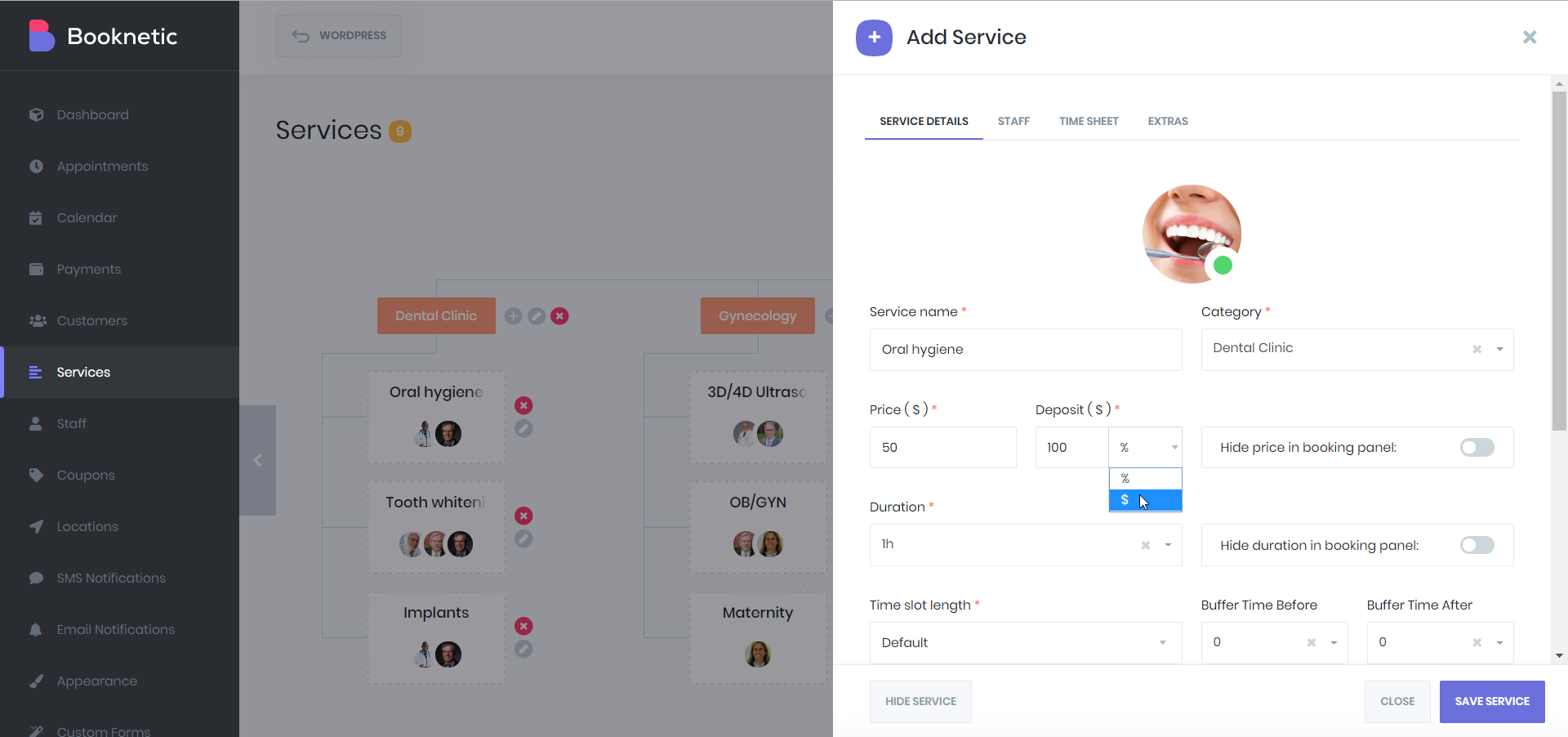 Continue with Google and Facebook
Multi-step registration may hassle customers. With Facebook or Google, you will save your clients from time and energy waste.
SMS, email, WhatsApp, Telegram, Webhook notifications
You can notify your clients via email, SMS, and WhatsApp about appointment changes, employee approvals, or cancellations.
Multiple locations, Multi-level categories, Group appointments
Businesses that provide various services, or are located in different areas may require more detailed booking forms. Booknetic helps to customize online bookings based on the location, category of service, and appointment member numbers so that no misguidance confuses clients and employees.
Report
Booknetic designed 4 report charts for detailed analysis of your online booking system. Reports by the number of appointments, earnings, locations, and earning staff give you visualized reports of the most productive days, offices, and employees.
The major functionalities BirchPress Scheduler has designed for easy online appointments are:
Calendar Sync
BirchPress successfully integrated various calendar systems such as Google Calendar, iCal, iPhone, Android, Outlook, and automatic import and export of appointments. To view the calendar, go to the dashboard panel and click the Schedule.
Email notifications
Supported in all of the payment plans, email notifications help to alert clients and staff about the new appointments, appointment changes, and cancellations. Within the Business and Business + plan, you can send appointments reschedule and cancellation notification emails.
Customizable Booking Form
You can easily build and design your booking forms upon your customer info and appointment details like location, service, provider (staff member that delivers the service). This feature is only available in Business and Business + subscriptions.
PayPal Prepayment
To minimize the risk of no-shows or cancellations, BirchPress has developed prepay PayPal integration into the booking plugin. To enable the prepayment go to the Appointments panel on the dashboard, click on the Payments field and check the Enable PayPal box and enter your PayPal account email address.
WooCommerce Integration
Supporting direct website payment, the plugin also offers a WooCommerce payment gateway. To set up WooCommerce integration, first, you need to add the product that the client will pay for and then enable the payment itself. The client can add location, service, provider, and specifications to the WooCommerce cart and make the payment. To enable the WooCommerce feature, click on the WooCommerce section and check the Enable WooCommerce box. This feature is only available for a Business + subscription.
Group bookings, Export customer list, Time slot length
Plus to mentioned features, BirchPress offers several functionalities that will further help to customize service and enhance customer satisfaction. All these features are presented within the Business and Business + plan.
Booknetic vs BirchPress - Price
Depending on the business size and needs, Booknetic offers two payment options:
The Regular - $79. Designed for small size businesses, the Regular plan includes:
1 Domain
One-time payment for lifetime
6 months support
Monthly updates
As a premium WordPress appointment plugin, BirchPress has three pricing plans.
The most affordable Personal plan starts at $99 offers:
1 year support
Automated email notifications to employees and clients
Reminder emails
Block holidays
Support minimum time requirement prior to booking
The Business plan starting at $199 includes:
All available features of the Personal plan
Cancelling/ reschedule customer appointments
Display staff appointments in colors
Customized booking forms
WP user integration
Group booking
PayPal integration
Set the time slot length
Set booking availability for a specific time
With $249, Business + plan offers
All the available features of the Business plan
Access control for staff
WooCommerce Integration
Booknetic vs BirchPress - Pros and Cons
All the features Booknetic has developed are designed to benefit its customers and make the most out of them.
Easy management
The very first advantage of the booking plugin is of course its easy setup and management. All customization and integration channels allow you to adjust your business in one place and focus on improving your service quality.
Security
Integration of ReCAPTCHA secures your operations against spam appointments, fake reviews, and most importantly fraudulent transactions.
Automated CRM system
Once clients register on your website, the plugin automatically processes customer data into your CRM system. Storing your clients' booking data at your website will give you more insights about your clients and use that data for enhancing your further service.
UI/UX
Features like Custom Forms, Customizable Calendar, Customizable design, Multiple locations, Multiple templates, Breaks, Day-ofs helps to ease the configuration of the website and create a better customer experience at the end.
Mobile-friendliness
Responsive website design allows to set up and manage bookings regardless of the device category.
Variety of payment options
Another advantage of Booknetic is the availability of online and offline payment options. Integration with the most secure payment systems, PayPal and Stripe allow you to receive payments within the interface.
24/7 customer service
With countless competitors in the market, satisfying customers is not easy these days. But with a comprehensive list of features, Booknetic helps clients to avoid time-wasting and secure their operations.
The key benefits that BirchPress Scheduler offer are:
Customization
Customization features allow you to build booking forms according to your service, categories, employees, locations.
Developer friendliness
The booking plugin positions itself as a developer-friendly interface rather than user-friendly. Developers can make modifications to templates, create their customized functionalities without touching the core code.
Cons
Lack of features for starter plan
Although the BirchPress Scheduler appointment scheduling has easy-to-use configurations in line, most of the key functionalities only encompass Business and Business + subscriptions. The basic features like Calendar Sync, WooCommerce, PayPal integration are not offered within the Personal plan.
Pricing
As BirchPress offers premium WordPress plugin subscriptions, the features are charged at high prices than the average WordPress appointment plugins.
Unfriendly across multi-devices
In spite of a smooth setup and seamless user experience, BirchPress is not utilized for working across multiple devices.
Unavailability of extra features
If your clients repeatedly book for your service you may want to enhance your service within the appointment scheduling. Coupons, gift cards are easy ways to thank your clients and ultimately increase your sales. These are the set of features that BirchPress lacks as a booking plugin.
Conclusion
In this article, we covered two WordPress appointment plugins including their features, prices, and the key benefits the users can take from them. The price-feature comparison makes it clear that Booknetic contains more than what is included in BirchPress's Business plan. With all of the enhancements, Booknetic provides all the necessary features that you as an online booking customer would expect from an online appointment booking website.
Sign up for our newsletter
Be the first to know about releases and industry news and insights.
Let's

get started

on something great
Booknetic is a simple yet powerful plugin for accepting online bookings & payments on your WordPress site.