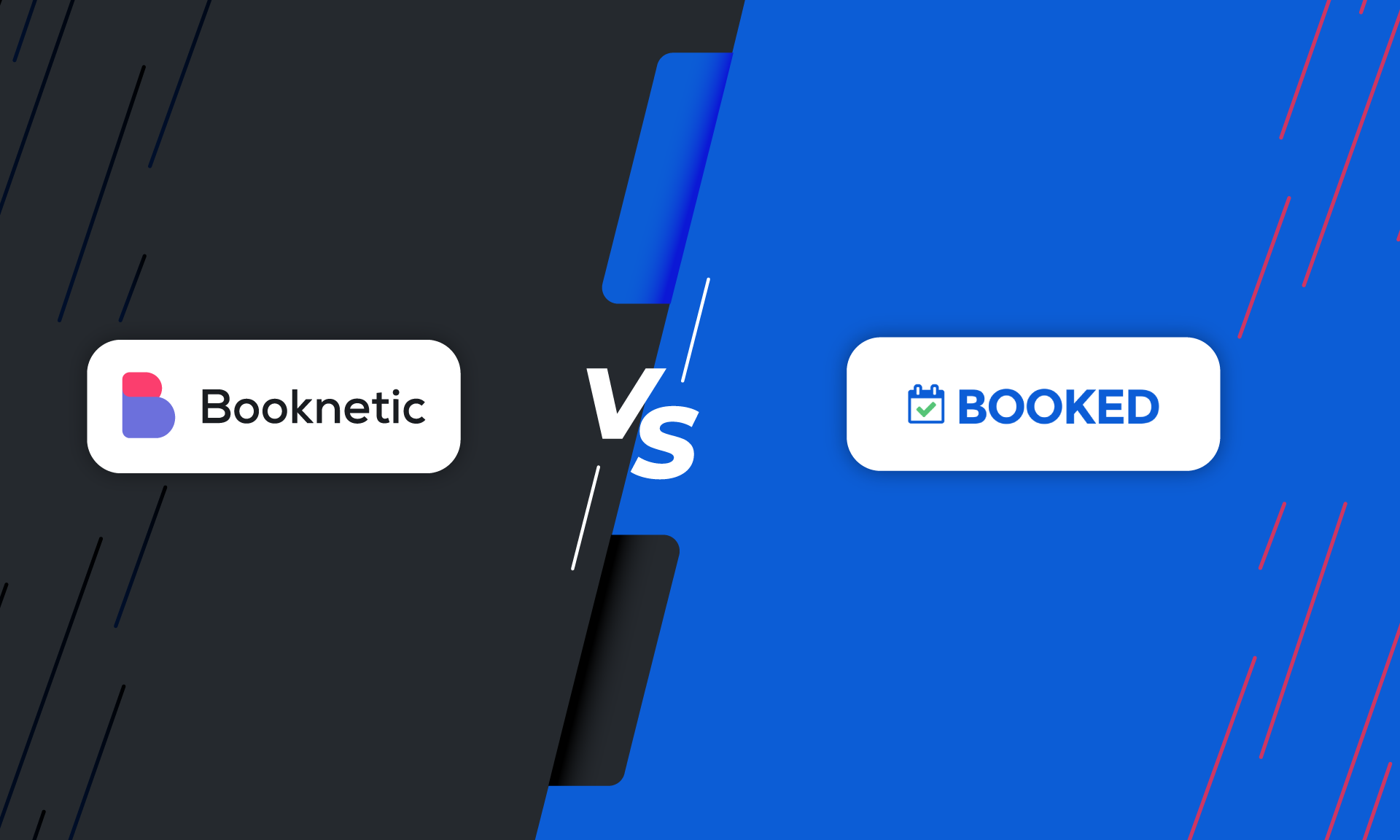 Do you want your consumers to be able to book appointments right from your WordPress site? Many companies need an appointment scheduling form that helps people schedule appointments quickly and conveniently online.
Which appointment and booking plugin should you choose?
To meet your company's needs, you may want to configure your appointment scheduling plugin. A few standard features to look for in a WordPress booking type plugin.
Customer demands for open time slots split into your business hours can be accepted via your appointment scheduling form.
It can run on cell phones and laptops, allowing your clients to book appointments conveniently from their phones.
Appointments can be saved in your WordPress database or a scheduling app like Google Calendar if you have a decent appointment booking form.
==> Also read: Booknetic vs Latepoint
Booked vs. Booknetic- Overview
Booknetic is an online appointment-making plugin for WordPress. It's possible to set up and use this plugin effectively. Booknetic is ideal for a variety of organizations. The plugin is fully customizable and mobile-friendly.
It will only take a few minutes to install and customize Booknetic in WordPress. All can fully understand and use all the features thanks to an intuitive interface and extensive documentation. This booking system can be customized to meet specific requirements.
Booknetic has a simple, easy-to-use UI/UX interface that is ideal for any form of appointment scheduling. You can completely customize the business's booking system with personalized models, a form designer, different category tiers, and other settings.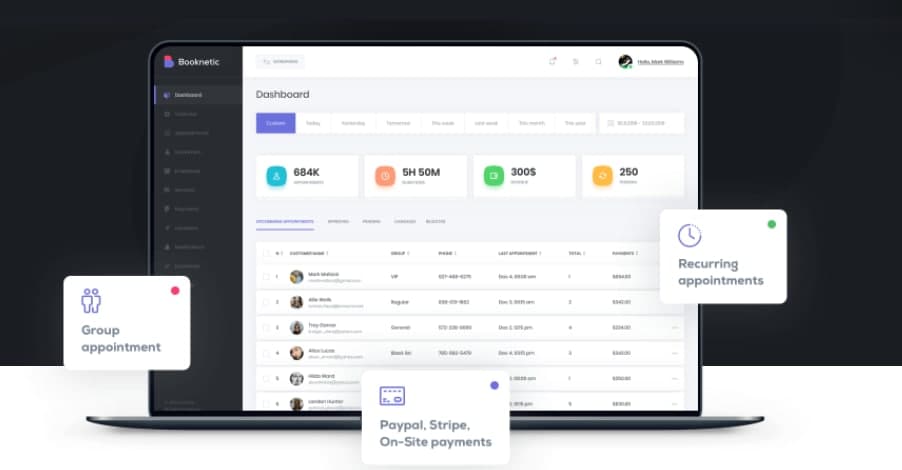 You'll never have to think about adding a client to your CRM system again because the booking plugin would automatically systemize and protect all customer data. The more feedback you get from your regular guests, the more you'll use the online booking system.
Booknetic saves you from losing money, wasting time, and other threats that collect your user base and show your business to your clients 24 hours a day, seven days a week. Booknetic provides a customer support system that is available 24 hours a day, seven days a week, to meet the needs of its consumers.
Booked is a WordPress scheduling plugin that allows users to book appointments directly on your website. It accomplishes this task effectively by including a variety of essential yet valuable functions. This gives you extra flexibility and gives the clients a better user experience.
To start, based on the type of details you need to gather for an appointment, Booked allows you to build several calendars with custom fields in the booking form. You can use text fields, paragraph fields, drop-down menus, checkboxes, and radio keys, and you can also make a lot optional or necessary. After the visitor submits their documents, you will receive a personalized email asking for your approval of the appointment. You may use the plugin's creator to install holiday days or special days, cut out those periods, and create a full personalized calendar. If the calendar is complete, you can use a widget or a shortcode to position it somewhere on the web.
Returning visitors may have their profile pages with their avatar, login credentials, pending and authorized appointments, and other features. Appointment buffering is used to discourage meetings from being scheduled too soon together. The ease of ordering and paying for appointments from WooCommerce and integrating with Google Calendar, Apple Calendar, and Outlook add comfort.
You have a versatile schedule to handle all of your appointments on the back end. There are a lot of color choices available to customize the look of your calendar, and the overall interface is open to either smartphone or browser.
Booked vs. Booknetic- Prices
For a one-time fee, Booknetic offers two variations of its booking plugin:
Standard edition- $79
SAAS edition- $489
Booknetic has a one-of-a-kind SAAS version. The SAAS version is an excellent alternative for starting a business and earning money. You can build your own multi-vendor appointment booking service by buying the SaaS version. You can create plans based on the privileges and restrictions you choose and set monthly and annual prices on each package, all from the admin screen. As a result, the vendors that will use your service will subscribe to you and create a booking URL for themselves on a weekly/yearly basis. All of Booknetic's regular edition functionality will be available to each vendor who signed up for the SaaS version of your service. Special features are included in the SAAS series. Here they are:
On the admin panel, make arrangements
Permission/Limits are fully flexible for each proposal
Monthly/yearly subscription
Beginner deals for the first month/year
Payments via PayPal
Stripe payment method
Customers' email notifications
Enrolled tenants can direct access to the dashboard
Registration Form for Tenants
Login for Tenants
Billing page for each Tenant
Unique URL for each Tenant
QR Code functionality
And all of the latest and potential features of Booknetic's standard edition.
The GPL-licensed Booked plugin is available for a one-time fee of $49. This includes lifetime updates to the plugin and six months of developer support. Support will be continued for an additional $16.50 for a total of 12 months.
Booked vs. Booknetic- Features
Booknetic's interface has both standard and unique functionality. Here they are:
Feature of Zoom Integration
With Zoom's Optimized Appointment Booking method, you don't have to arrange and combine meetings in different places.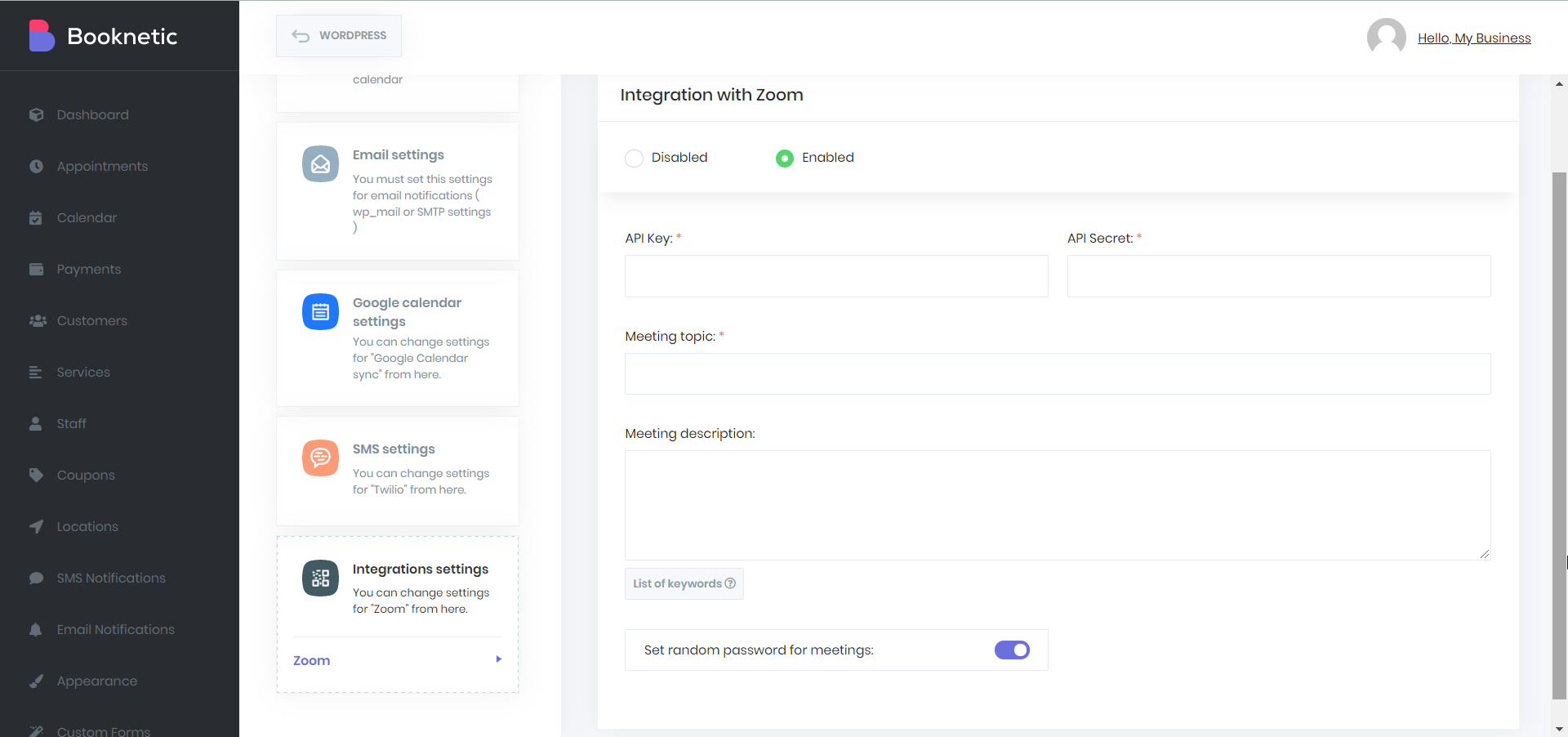 Google calendar two-way sync
You can conveniently track the weekly, regular, monthly appointment schedule with Google Calendar integration of the Booknetic Appointment Booking plugin.

PayPal, Stripe, On-site payment methods
PayPal and Stripe are two standard payment systems integrated into the Appointment Booking system. Stripe and PayPal are common and popular payment systems because they are the most secure payment instruments globally.

WooCommerce payment method
The WooCommerce sync mechanism is the Booknetic Appointment Scheduling plugin's main advantage because it allows customers to pay for their services via WooCommerce payment gateways, including taxes and fees.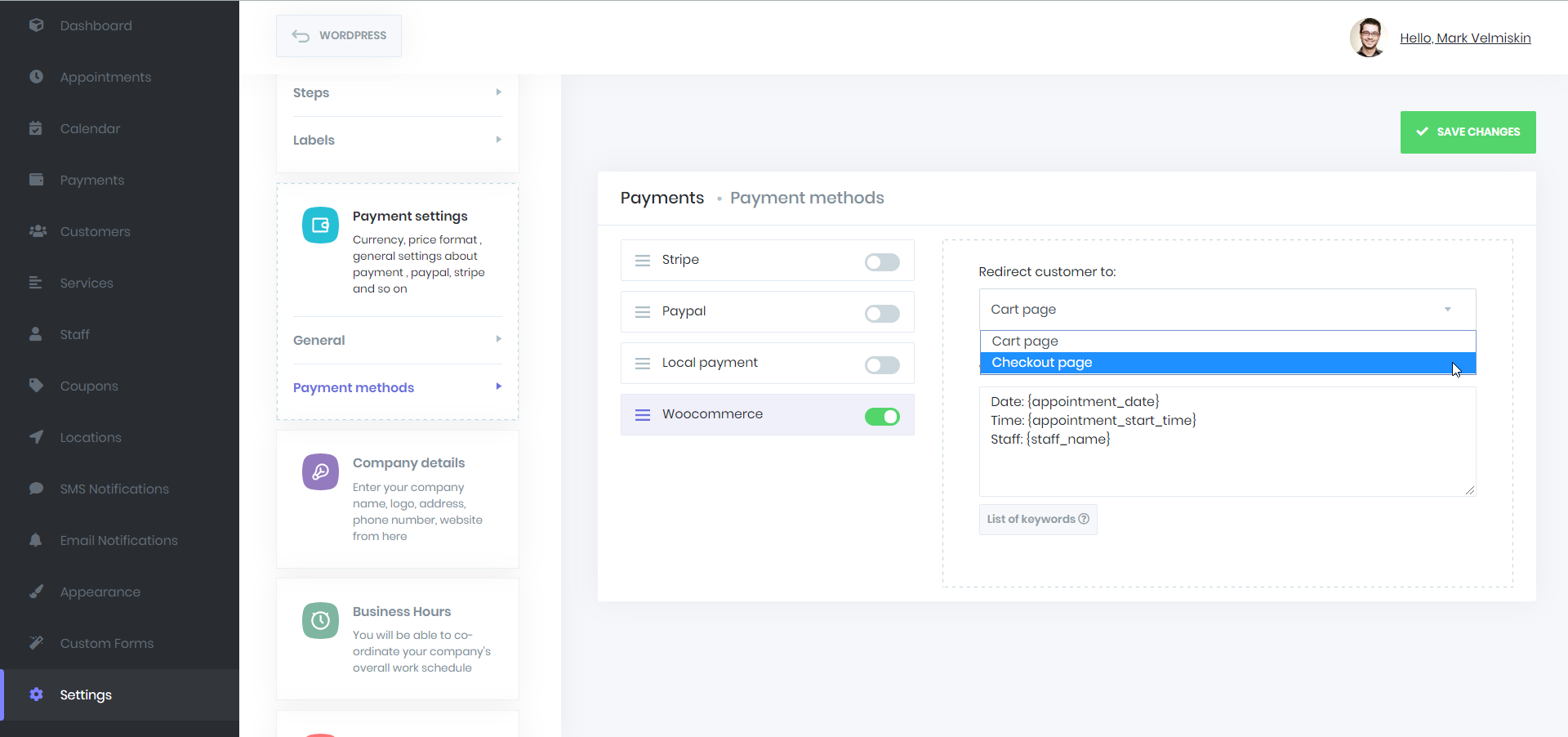 SMS and email notifications
With the Booknetic Appointment Scheduling Plugin, you can send SMS and email alerts to your clients.
WhatsApp notifications
The WhatsApp Notifications function of the Booknetic plugin allows you to send alerts to your customers.
Reminders feature
With the Booknetic Appointment Booking Plugin Notification feature, you can notify your customers before or after the appointment. This reminder function is also essential not just for your clients but also for your team members.
Form builder feature
While the Booknetic Appointment Booking Plugin is designed for all businesses, certain processes require specific types. You may use this function to generate unique shapes.
Invoices
Through the Booknetic plugin, you'll be able to send invoices for your services.

Visual translator
Customers can use Booknetic's Appointment Scheduling plugin to convert Appointment Scheduling programs into any language they like.
Customizable and responsive design
Appointment Scheduling Booknetic Plugin provides its consumers with a wide range of paint choices. The Booknetic Appointment Scheduling system leads users to a more meaningful customer experience with its intuitive interface.
Recurring appointments
When your customers book an appointment with your system, they can choose the appointment repetition interval in our plugin, which will create periodic repeat appointments.
Group appointments
Our booking system is now simple to make group appointments and set minimum and maximum individual limits.
Multiple locations feature
With our scheduling system's multiple location functionalities, you can manage various dealers of your company. Each destination will be adequately mapped, and customers will receive alerts specific to their reserved location.
Service extras
You will let your customers choose some extra service during reservations using the service extras feature.
Deposit payments feature
Every day, service professionals strike a delicate balance between the need for consumer versatility and market security. There is no one-size-fits-all solution for cancellations and no-shows, but there are ways to minimize and manage them. Deposits can aid in the reduction of no-shows and last-minute cancellations, as well as the partial refund of pre-booked events and the avoidance of unpleasant situations for customers.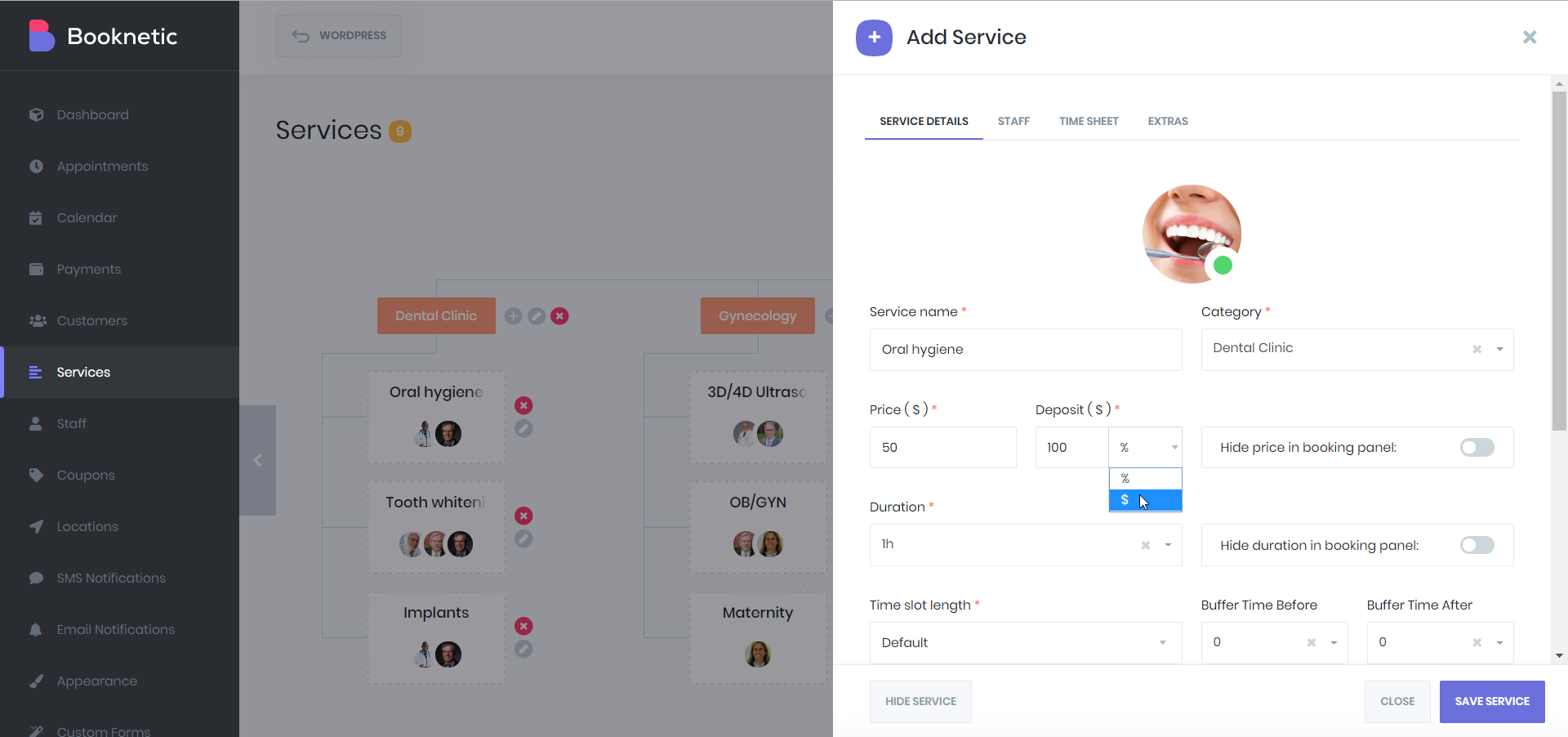 Local payments
If your consumers do not want to pay online, they should do so at the time of their appointment. With this feature, you can accept cash and make the appointment payable.
Breaks, day-off feature
This feature allows you to choose whether to take breaks and days off from your schedule.
Features include gift cards, coupons, holidays, an insightful dashboard, a manageable calendar, and more.
Booked has a lot of features. Here are they:
Shortcode and widget feature
You can use a shortcode or a widget to show your appointment booking calendar on your site, whether it's big or small.
Custom Time Slots
You can use the custom time slots option to install holiday days, special days, or leave the default time slots blank and create a fully custom calendar with this helpful maker.
Custom Fields
You can make your appointment fields to gather any data you need for each appointment. Text fields, paragraph fields, drop-down menus, checkboxes, and radio buttons can all be created.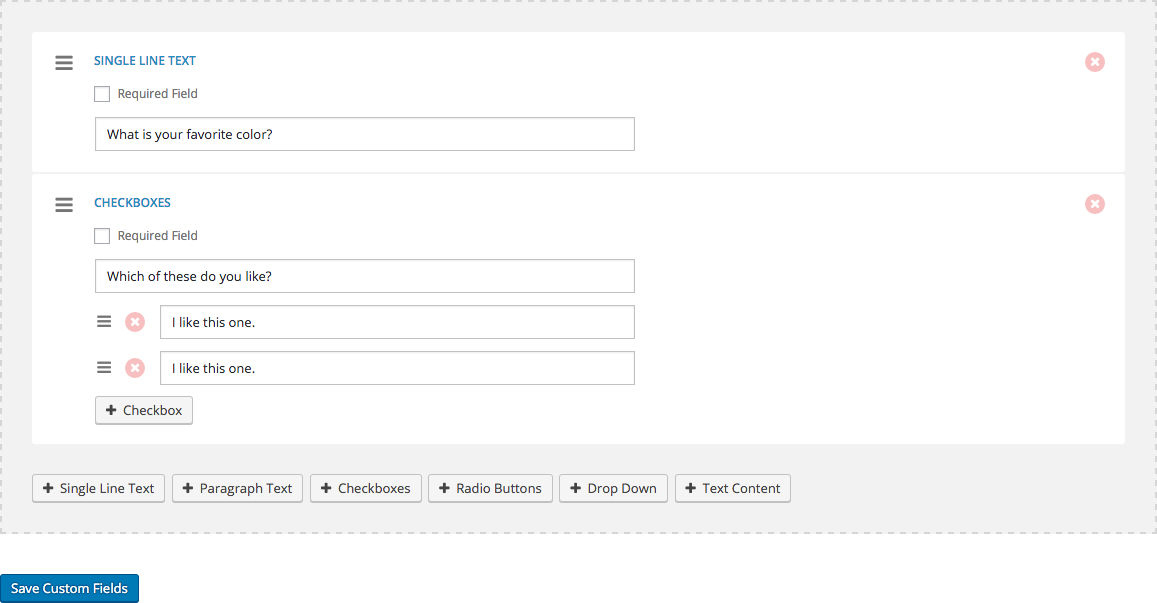 Endless color possibilities
You can customize your calendar with built-in color pickers to make it look exactly as you want it to.
Buffering appointments
This feature can be used to keep them from being booked too close to the latest date and time.
Customer profile/Appointment Management
Your customers will have their profile page to control their avatar, login credentials, and other details. They should keep track of their scheduled appointments, both pending and those confirmed.
"Add to Google Calendar" keys.
Customers will use the "Add to Google Calendar" keys.
Email notification feature
You can send customized emails to your clients.
Responsive design
Both the front-end and the admin are entirely responsive.
Conclusion
We compared the Booked and Booknetic plugins in this blog. Find out the functionality of these plugins if you're searching for the best plugin for you. We've added a lot of clarity about the settings. We hope that this blog will assist our potential clients in making a decision. Try Booknetic's demo version.
Sign up for our newsletter
Be the first to know about releases and industry news and insights.
Let's

get started

on something great
Booknetic is a simple yet powerful plugin for accepting online bookings & payments on your WordPress site.