Best Tools for Scheduling Group Meetings in 2023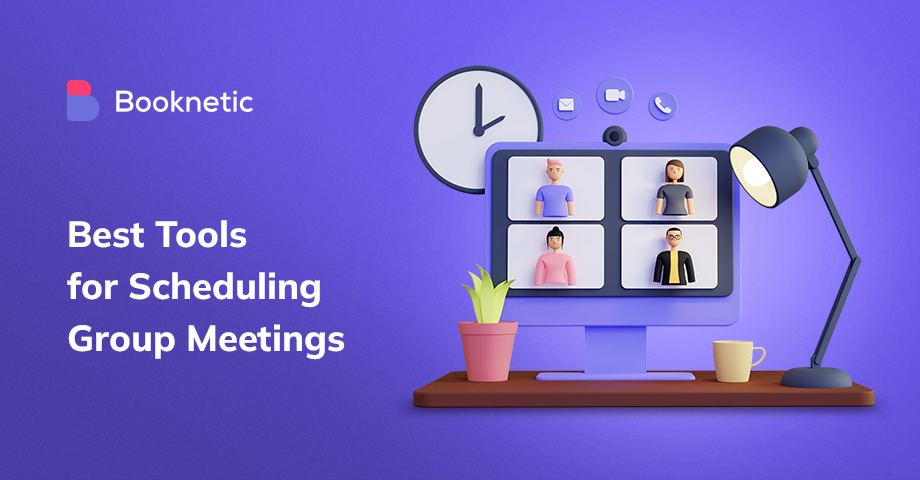 Whether you're a manager of a team of employees, or you work with a group of people on a regular basis to achieve a common goal, scheduling group meetings can be a daunting task. Trying to find an available time that works for everyone can be nearly impossible. And what about when someone has to cancel at the last minute?
In this blog post, we will discuss some of the best tools for scheduling group meetings in 2023. We'll cover everything from online meeting platforms to schedulers that allow for asynchronous communication. Stay tuned!
Best Tools for Scheduling Group Meetings
Booknetic
Doodle
Acuity Scheduling
HubSpot Meeting Scheduler
Calendly
YouCanBook.me
Arrangr
Acuity Scheduling
Engageware
MeetFox
When2meet
Rally
1. Booknetic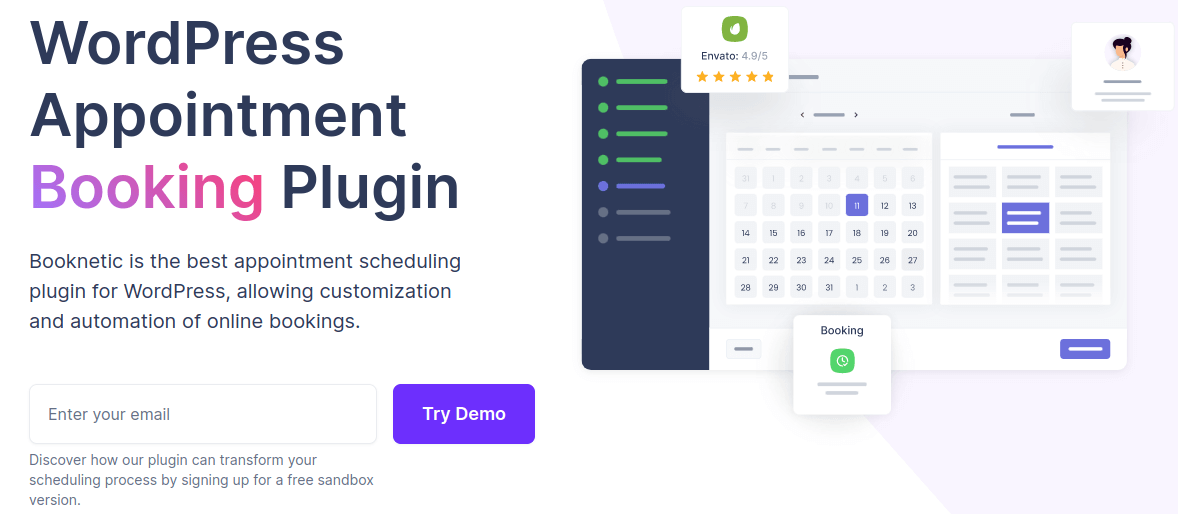 Booknetic is a complete meeting and appointment scheduling solution for small businesses, professionals, and enterprises. It offers features like automated reminders, payment integration, and customizable forms. With Booknetic, you can create different types of appointments, such as one-on-one meetings, group sessions, or events. You can also offer services like beauty procedures, private lessons or even car repairs, etc. For each type of appointment, you can set up how long it lasts, how many people can attend, what days and times it's available, and other options.
Online booking: Customers can see your availability for different types of meetings and book a time that works for them.
Confirmation email: The app will send both you and the customer a confirmation email with all the details of the appointment.
Calendar integration: Booknetic integrates with Google Calendar, so your appointments are automatically added to your calendar.
SMS, WhatsApp, and Telegram integrations: You can send and automate SMS reminders to your customers through these platforms.
Team scheduling: Booknetic can automatically assign appointments to team members based on availability and equal opportunities.
Pros:
Easy to understand dashboard
Booknetic's dashboard is separate from WordPress, so employees are less likely to cause problems
Helpful support
Cons:
Set up process can be a little challenging
Pricing: $79 for lifetime license
2. Doodle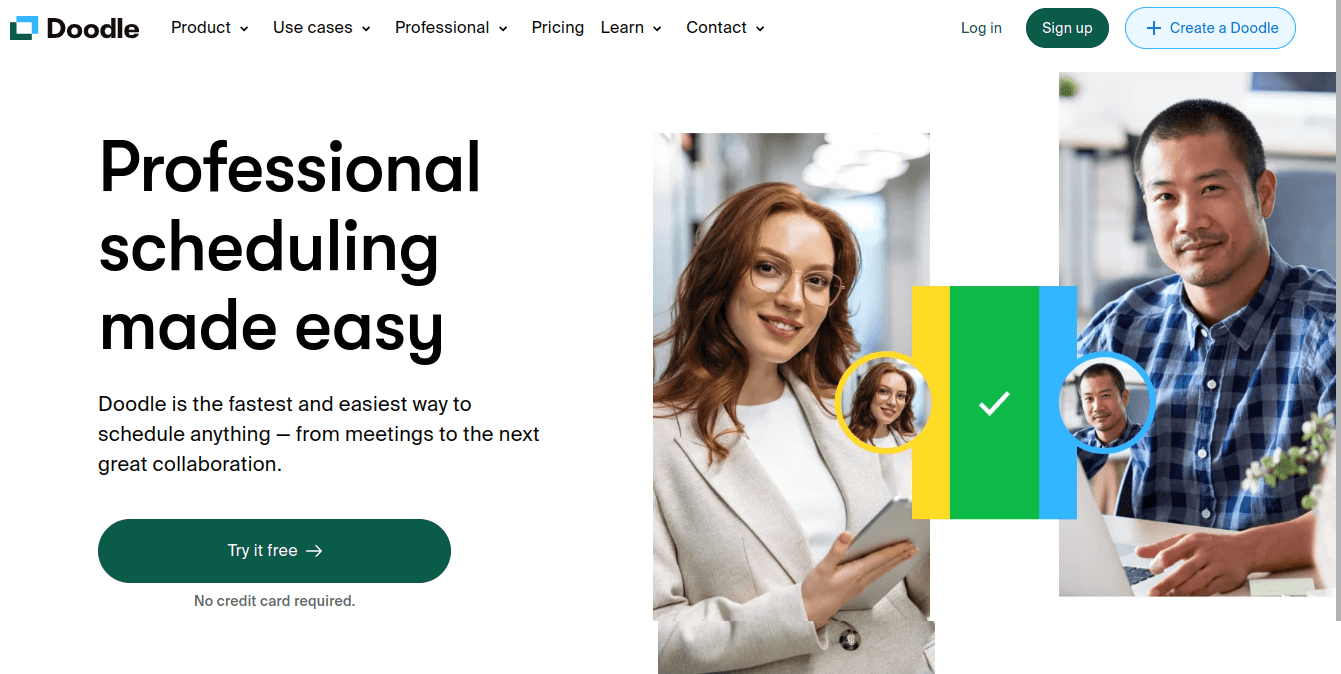 Doodle is an excellent tool for scheduling group meetings in 2023. Whether you need a quick meeting on your mobile device or a formal meeting with multiple participants, Doodle has you covered.
You can upgrade to Pro or Team versions for more features and integrations. For instance, you can sync Doodle with your Google Calendar or connect it with over 750 other apps via Zapier. You can also automate tasks like adding new poll participants to a CRM or sending email notifications when someone votes on your poll.
Features:
Google Calendar and Zapier integration
Automatic reminders and notifications
Group bookings and recurring appointments
Free version and low-cost paid versions
Easy to use and reliable
Pros:
Really powerful options for group meetings and decisionmaking
Has a sleek look
Cons:
You need to pay monthly
Less suited for customer connections
Pricing: Free, $14.95/Month per user for Pro, $19.95/Month per user for Team plan
3. HubSpot Meeting Scheduler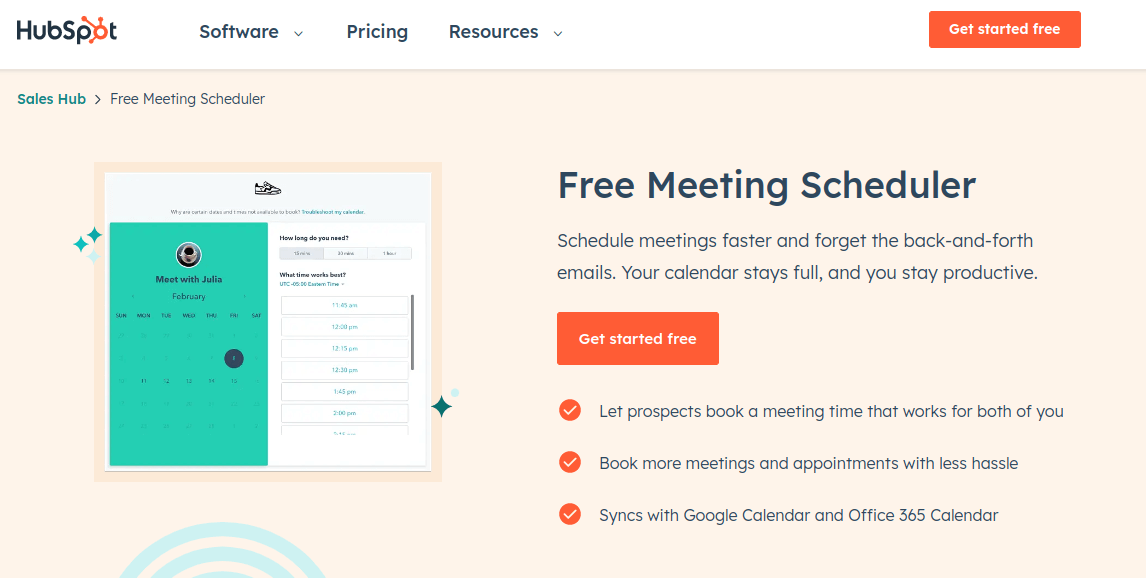 HubSpot Meetings is a powerful tool for scheduling group meetings in 2023. It works seamlessly with HubSpot's CRM platform, so you can avoid the hassle of sending multiple emails to find a suitable time. You can also customize your meeting page with your brand and ask important questions to your clients before the meeting. HubSpot Meetings syncs with your calendar and shows your availability to your team and prospects. Plus, it's free to use and there are no hidden fees.
Features:
CRM integration
Customizable meeting page
Pre-meeting questions
2-way calendar sync
Free of charge section
Pros:
Comprehensive coverage
Really powerful CRM tool with excellent integrations
Cons:
Too expensive for small businesses
Product is too large
Pricing: $9600/Year for Professional, $43200/Year for Enterprise plan
4. Calendly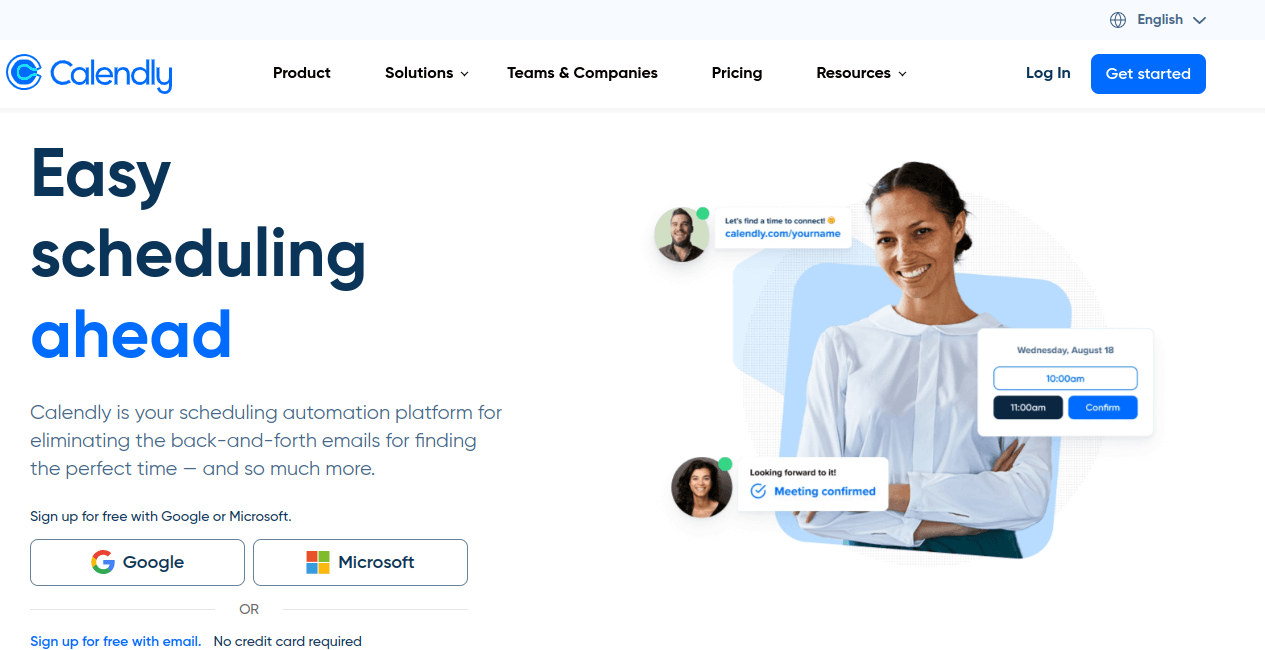 Calendly is a great tool for scheduling group meetings. It has a simple and aesthetically pleasing interface, is user-friendly, and offers cross-software compatibility. You can enter your availability into Calendly, which then provides you with a link to your calendar.
When communicating with people you need to set up a meeting with, just send them your link, and it will show them the times you are available. They can then choose a meeting time, length, and location. This will generate a meeting on your calendar, and a notification will be sent to remind you and your invitees before the meeting begins.
Calendly integrates with popular apps such as HubSpot, Zoom, Zapier, and Microsoft Office 365. It also has personalized booking pages or forms for individual team members.
Features:
Schedule meetings with anyone
Zoom, Salesforce, and Stripe integration
Customize availability, meeting types, and confirmation messages
Collect payments, track analytics, and send reminders
Multiple time zone, language, and currency support
Pros:
A straightforward way to schedule meetings
Really useful for freelancers and discovery calls
Cons:
Too basic for business management needs
Pricing model is a bit complicated
Pricing: Free, $8/Month per seat for Essentials, $12/Month per seat for Professional, $16/Month per seat for Teams plan
5. YouCanBook.me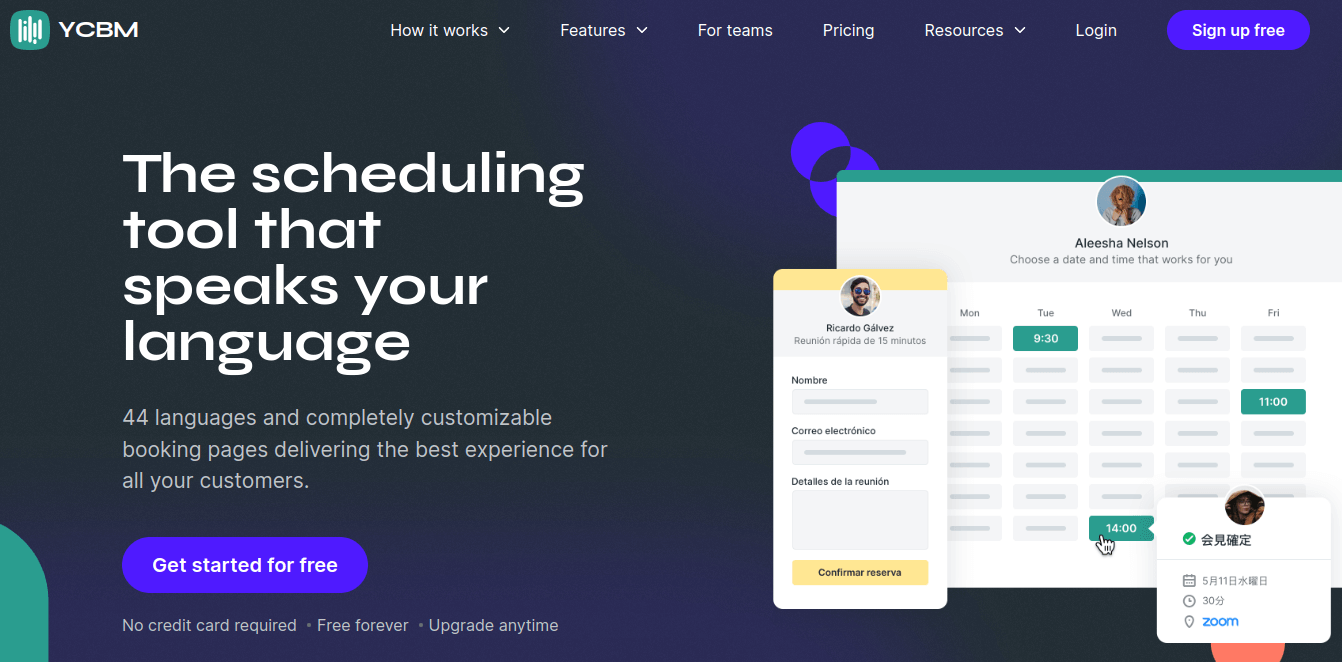 YouCanBook.Me is a powerful appointment scheduling app that lets you schedule meetings and save time. It has features like round-robin scheduling links, app integrations, and online payments.
YouCanBook.Me works with Zapier, Stripe, and Zoom to make your work easier. You can also send personalized and recurring links to your clients and charge them for bookings. The plugin is secure and has team management options. You can use it for free or upgrade to the premium plan for $12 per month.
Features:
Supports multiple languages
Free and premium plans
Works with popular apps
Round-robin and recurring links
Online payments and reminders
Pros:
User experience is majorly positive
Initial set up is easy
Cons:
Lacks advanced features
Product scope is limited
Pricing: Free, $10/Month per calendar for paid plan
6. Arrangr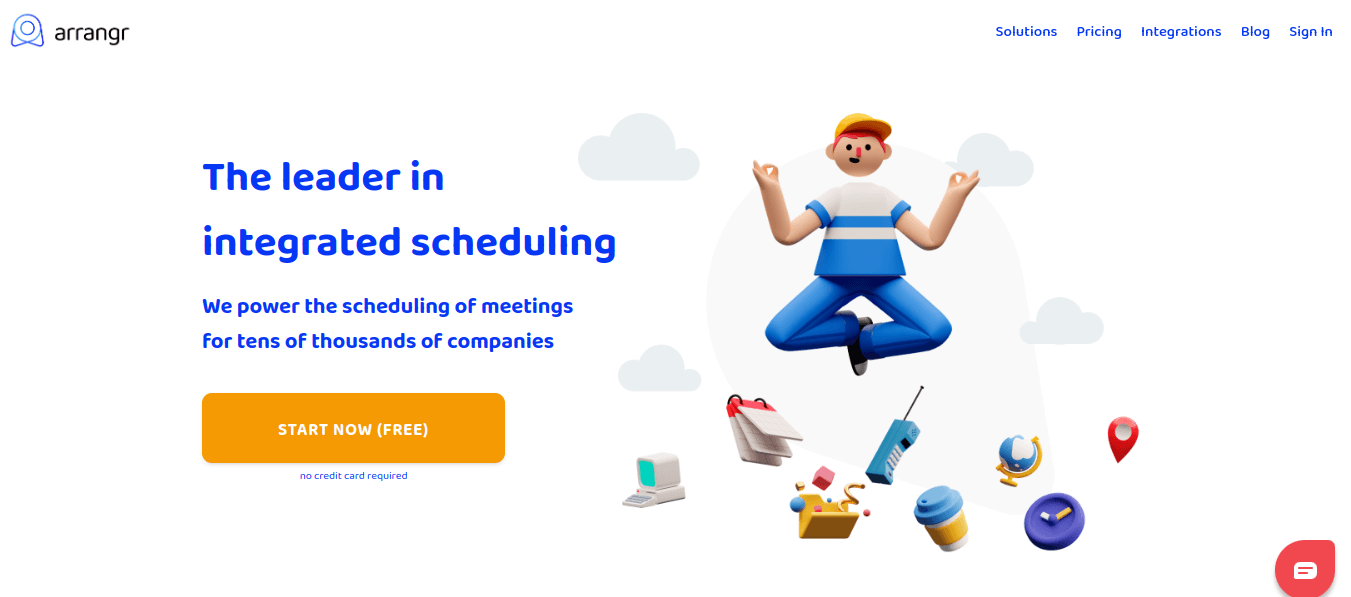 Arrangr is a powerful plugin for Elementor that simplifies group meeting scheduling. It's a versatile solution for professionals and teams of all sizes, offering features like app integration, group scheduling links, and availability-based or round-robin meeting creation.
Arrangr works seamlessly with Outlook, Google, iCloud, and Office 365 calendars. It also lets you create a booking link that your clients can use to pick the best time for them. Arrangr automatically displays your available slots and generates video conferencing links. You can also send surveys to up to 50 recipients depending on your plan.
It is a secure and reliable product for both hosts and guests.
Features:
Multi calendar and app integration
Flexible meeting options
Video conferencing and survey support
Secure and trustworthy
Pros:
Exceptional for scheduling
Polls for deciding
Cons:
Not suitable for bigger business needs
Pricing: Free, $29.99/Year for Pro, $59.99/Year for Pro+ plan
7. Acuity Scheduling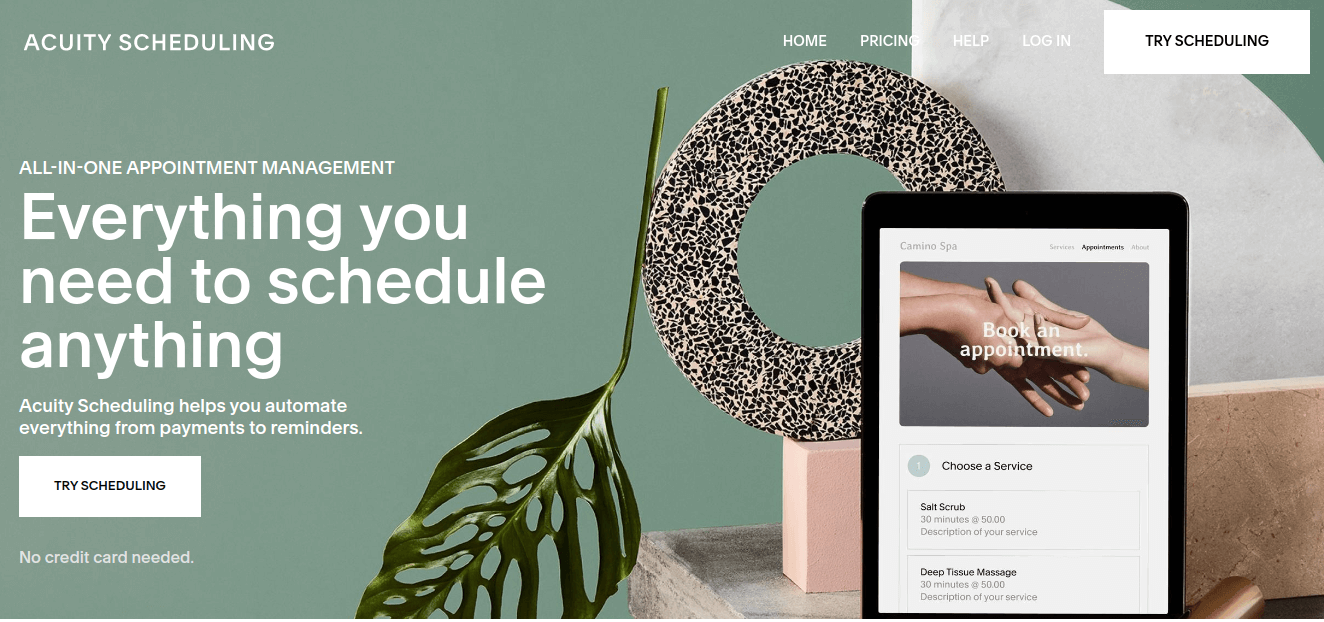 Acuity Scheduling is a powerful tool for booking group meetings in 2023. It offers a range of features, depending on your plan. You can sync your calendar with Google Workspace, Office 365, Exchange, and Outlook. You can also connect with Zoom, GoToMeeting, and Join.me for video calls.
Acuity Scheduling is more than just a scheduler for your website. It also helps you manage invoicing, accounting, payments, and mass emailing. Your clients can view your availability and book their own appointments with you.
Features:
Supports multiple languages
Monthly or yearly subscription
Accepts various payment methods
Embeddable scheduler
Customizable email and SMS reminders
Pros:
Extensive set of advanced features
Optimized for business needs
Cons:
You get Powered by Acuity if you don't pay the top price
Pricing: $20/Month for Emerging, $34 for Growing, $61 for Powerhouse plan
8. Engageware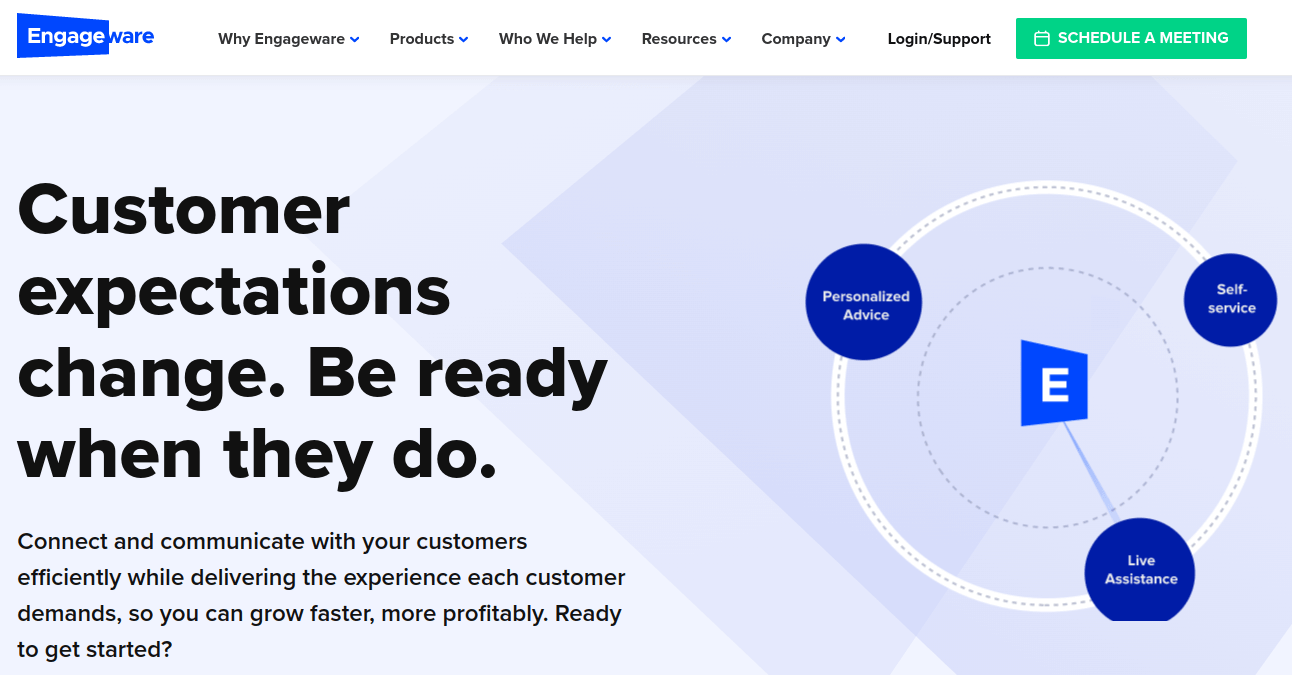 Engageware is the best scheduling tool for group meetings, especially for Salesforce users. It works on any device and has features like alerts, custom scheduling links, and Salesforce integration. It also meets high security standards, making it a trustworthy and dependable option for group meetings.
Features:
Salesforce integration
Mobile-friendly
Notifications and reminders
Personalized scheduling links
Secure and reliable
Engageware's pricing is available on request. But with all the features and benefits that this tool provides, it's definitely worth checking out.
Pros:
Ease of use
Round Rpbin selection method
Cons:
Initial set up is challenging
Some users have reported problems with support
Pricing: $78/Year
9. Simply Schedule Appointments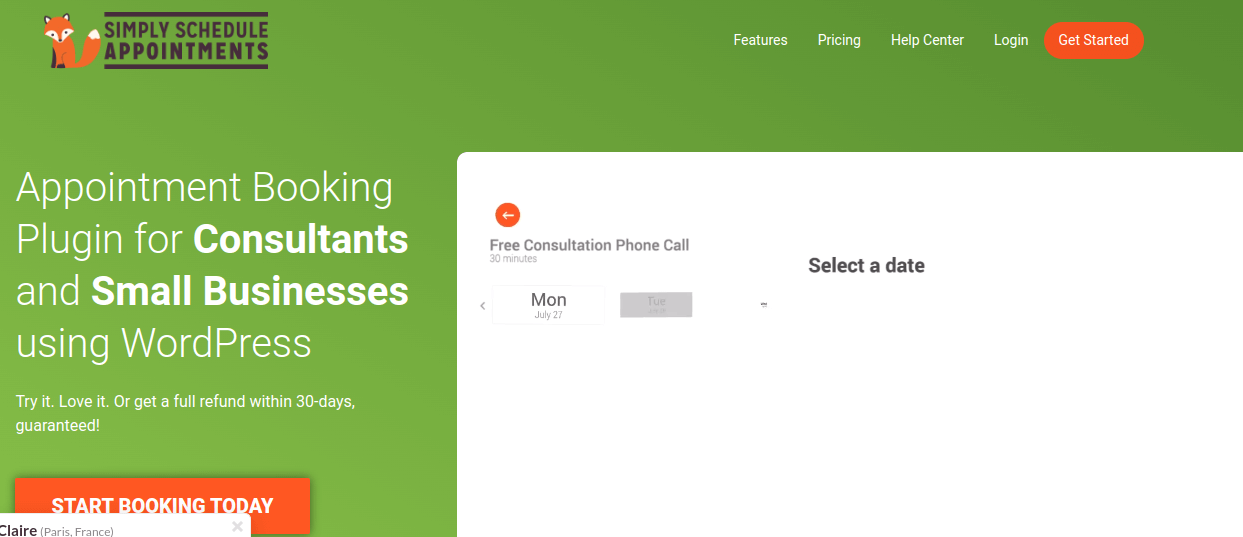 The Elementor plugin Simply Schedule Appointments is an easy-to-use appointment-booking plugin that natively supports group meetings. With Simply Schedule Appointments, you can easily add booking forms to any page and accept bookings.
It's perfect for a variety of appointment types, from medical appointments to hair salon appointments.
Features:
Appointment scheduling
Client management
Staff management
Booking form templates
Adaptive themes
Pros:
It is time-effective, as it is easy to manage and easy to understand
Cons:
Automation possibilites are limited
Pricing: $99 for Plug, $199 for Professional, $349 for Business editions
10. Easy Appointments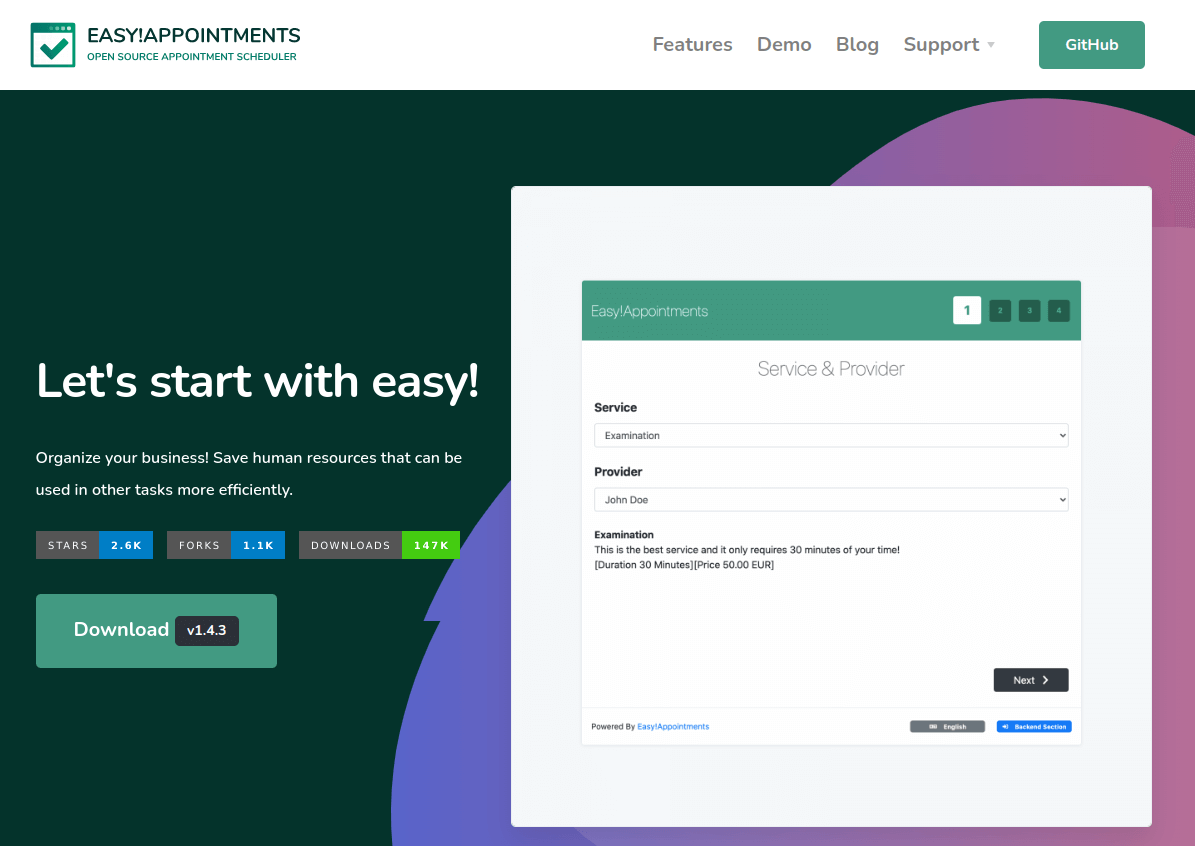 Easy Appointments is a user-friendly online scheduling software perfect for scheduling group meetings. With features like multiple staff support, recurring appointments, and WooCommerce integration, Easy Appointments has everything you need to manage your appointments. It also offers customizable email and SMS notifications and payment acceptance through Stripe, PayPal, and offline methods.
Features:
Customizable email and SMS messages
Stripe, PayPal and local payment options
Online scheduling
Google Calendar integration
Pros:
It is completely free and open source
Really easy to use
Cons:
Lacks advanced features
Is not being updated as much
Outdated design
Pricing: Free
11. Bookly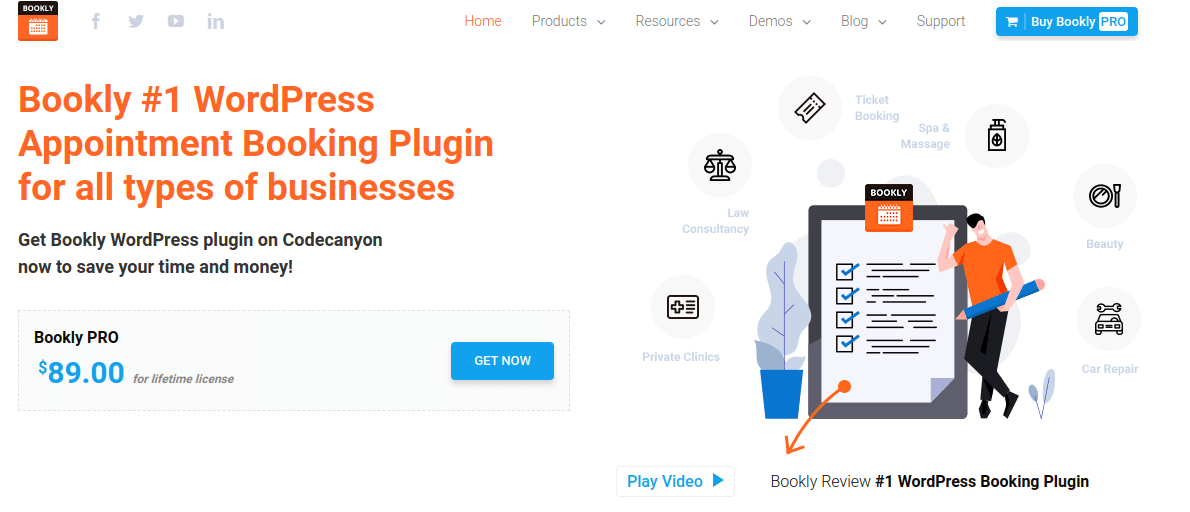 Bookly is the most popular appointment booking plugin for Elementor, and Bookly Pro takes it to the next level. It's a comprehensive solution for businesses of all sizes, offering features like automatic reminders, group bookings, and recurring appointments. Bookly Pro is also responsive and integrates with WooCommerce for online service sales.
Features:
Multi-language and RTL support
Lifetime license
17+ supported payment gateways
Responsive design
Custom durations for appointments
Pros:
Proved track of operations
Easy to use interface
Cons:
Add-on costs can add up quite fast
Pricing: $89 for lifetime license
12. LatePoint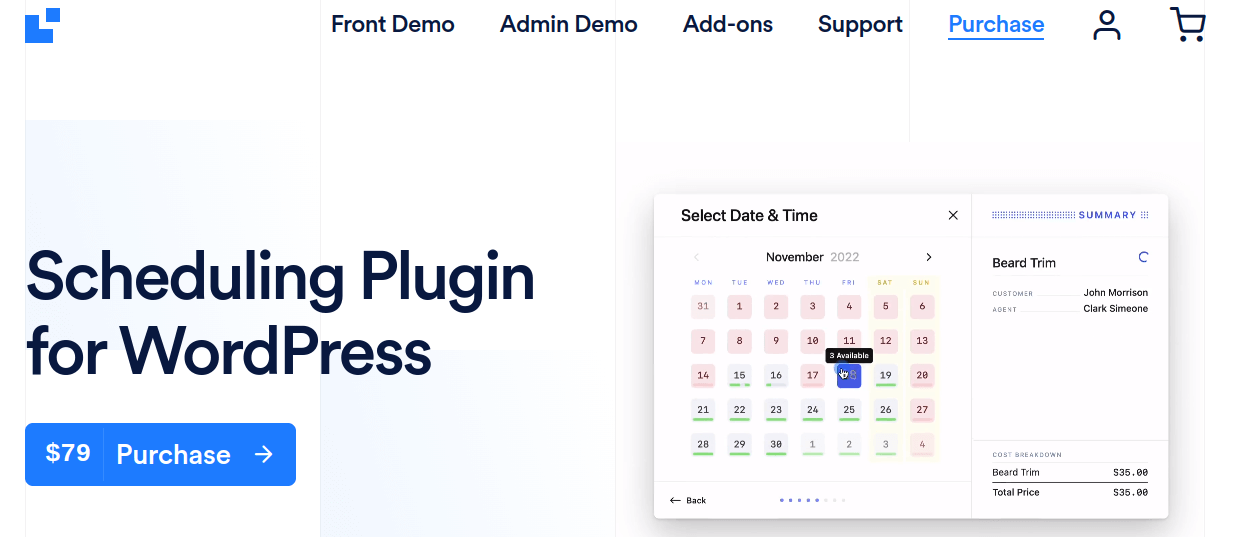 LatePoint is a versatile plugin for booking appointments online, suitable for any type of business. It allows you to accept group bookings, collect payments securely, and send SMS reminders to your clients and agents. LatePoint also has a user-friendly dashboard for managing your appointments and a range of add-ons to enhance its features.
Features:
Supports multiple languages
One-time purchase
Online payment options
SMS notifications
Flexible appointment durations
Pros:
Specifically made for WordPress
Offers all add-ons in a bundle
Cons:
Lack of advanced tracking features
Pricing: $79 for lifetime license
13. MeetFox

MeetFox is a free scheduling and meeting software that helps you organize group meetings online. You can create your own booking page, host video calls, and collect payments with MeetFox. It also integrates with various apps and platforms to simplify your workflow. MeetFox is suitable for professionals, coaches, consultants, and anyone who needs to meet with clients online.
Features:
Unlimited meetings and meeting types
Logo and color customization
SMS meeting reminders
Integrated video calling and recording
Multiple payment gateways
Pros:
All-in-one solution for appointment booking
Email signature integration
Cons:
Pricing: Free, $10/Month per user for Pro, $35/Month per user for Premium packages
14. When2meet

When2meet helps you find the best time for a group to get together. It is a free tool that lets you create a simple event and invite people to indicate their availability. You can see at a glance when everyone is free or busy, and adjust the time range accordingly. When2meet is ideal for businesses, but also for any occasion that involves multiple people.
Features:
Easy event creation and sharing
Flexible time slots and grids
Drag-and-drop interface
Real-time updates
No account required
Pros:
Completely free
Simple and easy to use
Cons:
Limited integration availability
Recurring appointments are not available
Pricing: Free
15. Rallly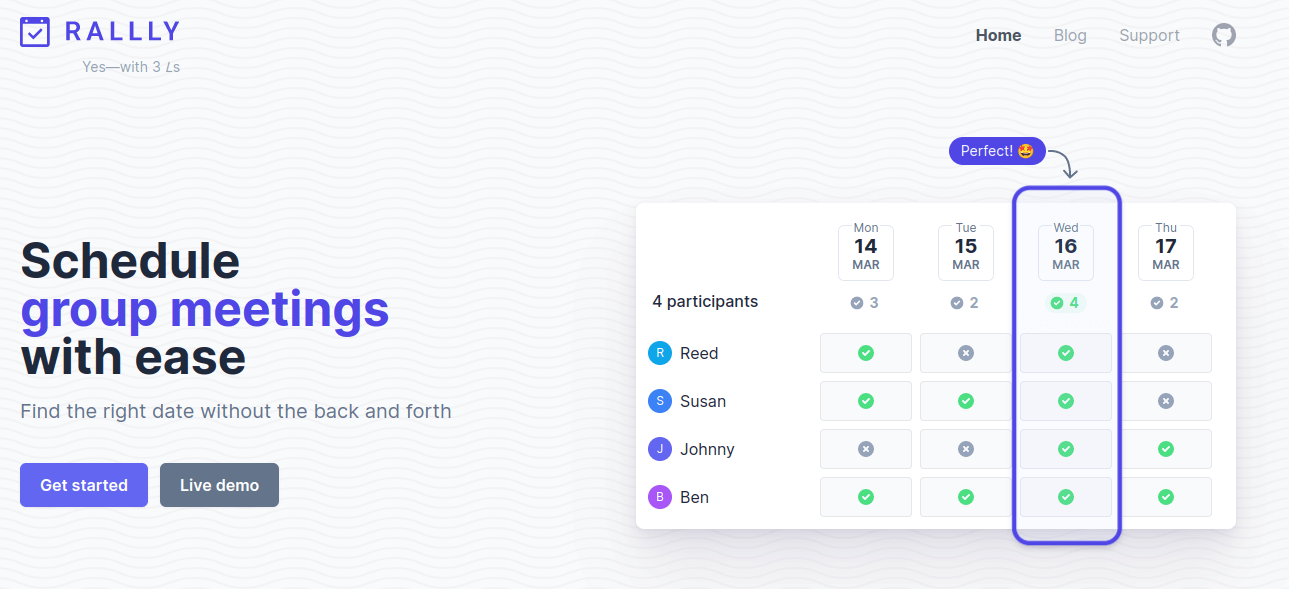 Rallly is a fun and easy way to schedule social events. You can create polls to vote on different options, such as date, time, location, or activity. You can also chat with your coworkers, share photos, and get directions within the app. Rally helps you discover new places and experiences, and stay connected.
Features:
Poll creation and voting
Group chat and photo sharing
Location discovery and directions
Calendar sync and reminders
Personalized recommendations
Pros:
Cons:
Is not suitable for businesses
Pricing: Free
What Are Online Meeting Scheduler Apps?
Online meeting scheduler apps are tools that allow you to schedule and manage meetings with ease. There are a variety of different types of online meeting schedulers, each with its own set of features and benefits. Some online meeting schedulers allow you to see the availability of all attendees in real time, while others allow for asynchronous communication so that everyone can participate at their convenience.
What Are The Benefits Of Online Meeting Scheduler Apps?
There are a number of benefits of using online meeting scheduler apps, including:
Eliminating the need for back-and-forth emails to schedule a meeting.
Allowing you to see the availability of all attendees in real-time.
Enabling asynchronous communication so that everyone can participate at their convenience.
Providing a central repository for all meeting information, including agendas, minutes, and action items.
Integrating with your email and calendar to make scheduling even easier.
What to Look for in a Scheduling Group Meetings Tool?
When you are looking for the best tool for Scheduling Group Meetings, you should consider the following features:
Ease of use: The user interface and functionality should be easy to understand and use.
Functionality: The tool should have all the features that you need to schedule group meetings effectively.
Compatibility: The tool should be compatible with your existing calendar system.
Pricing: The tool should be affordable and offer a free trial period.
CONCLUSION
Group meeting tools in 2023 will probably be a lot more advanced than the ones we have today. But even with all of the technological advances, there are some things that will never change. The best way to make sure your group meetings run smoothly is to use a tool that allows for plenty of communication and collaboration and one that is easy to use. So whatever technology comes out in the next ten years, make sure you find a tool that checks these boxes! Visit our blog regularly for updates on the latest group meeting tools and how they can help you be more productive.
Sign up for our newsletter
Be the first to know about releases and industry news and insights.
Let's

get started

on something great
Booknetic is a simple yet powerful plugin for accepting online bookings & payments on your WordPress site.