11 Best Appointment Scheduling Apps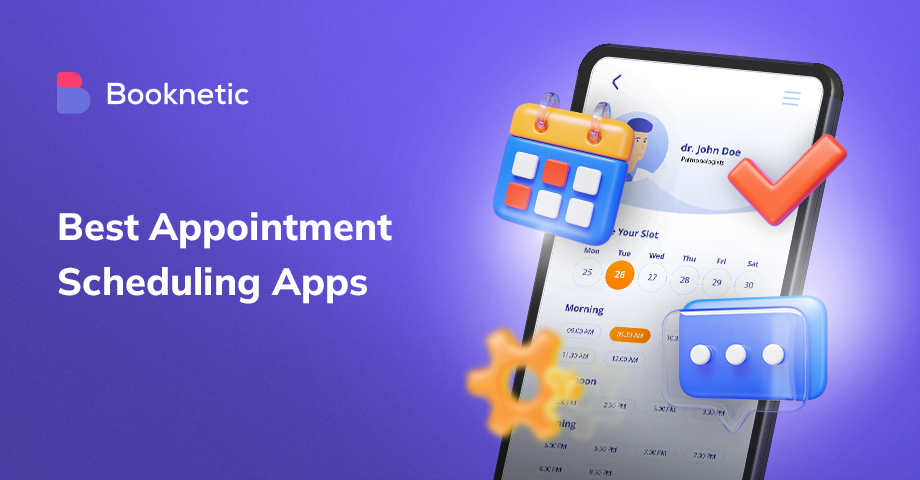 If you are looking for the best appointment scheduling apps, look no further! In this blog post, we will discuss some of the best options available. Appointment scheduling apps are a great way to keep your business organized and running smoothly. They allow customers to book appointments easily and quickly, without having to call or visit your office in person. Let's take a look at some of the best options currently available!

Table of Content
Best Appointment Scheduling Apps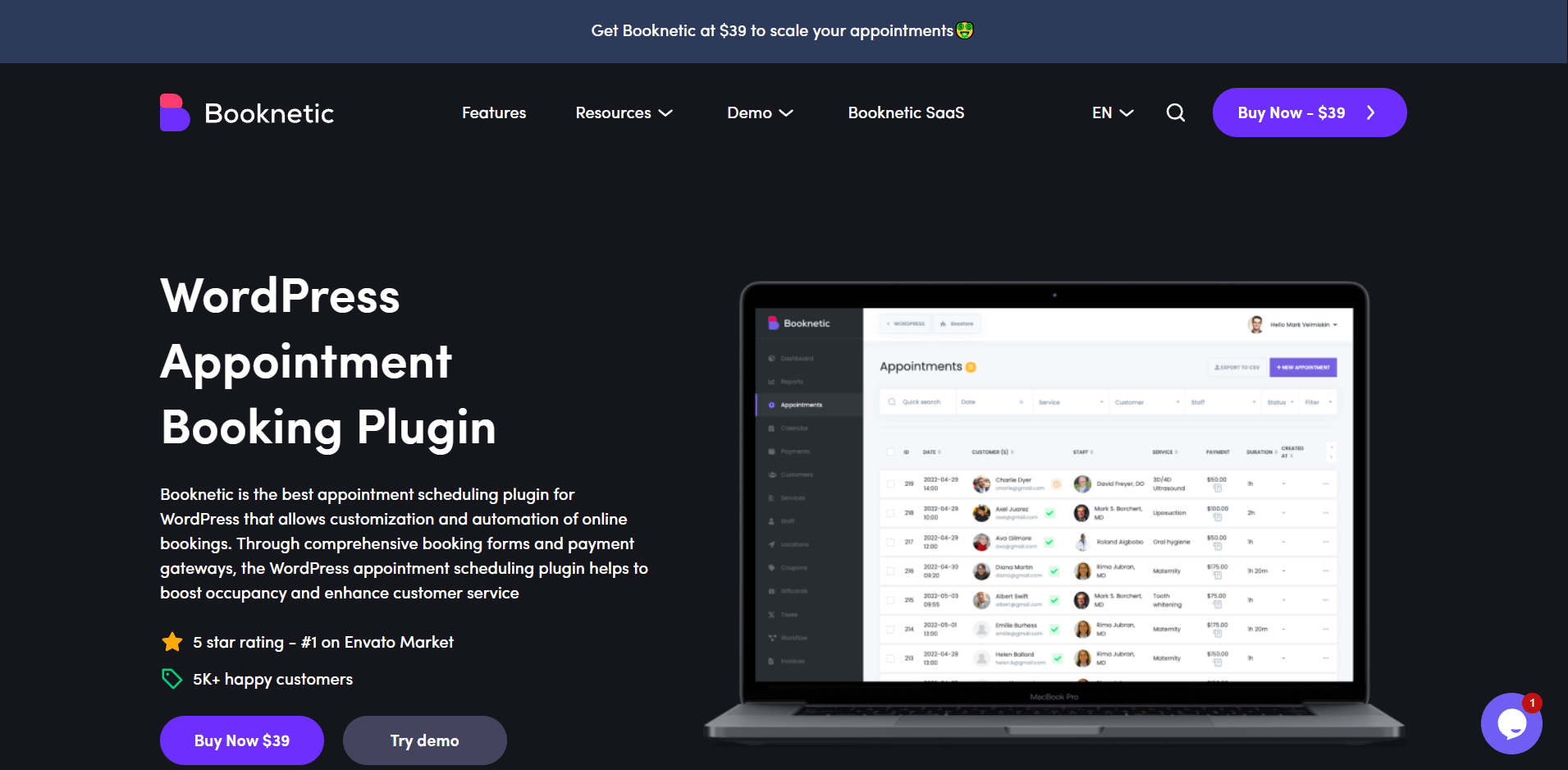 Booknetic is one of the best appointment scheduling apps compatible with many appointment-based businesses such as beauty salons, physicians, lawyers, and more. It is also flexible and can be used by businesses of any type. Another reason why it is a great choice is that it has sync features that allow managers to control staff workflow.
Additionally, it has automation notifications and reminders features which can help increase the attendance rate and reduce cancellations. Integration with Zoom, which lets businesses streamline virtual meetings via the plugin.
If you're looking for an appointment scheduling app that can help you automate your booking process, Booknetic is a great choice. It is flexible, has synchronization features, and besides Zoom integration, it also offers you SMS, WhatsApp, Telegram, workflow, and email integration for your notifications. Comprehensive notifications with payment processors let you easily receive payments from a broad range of customers. You can get Booknetic at a $79 one-time payment.
Check out their live Demo today to learn more about how this app can help.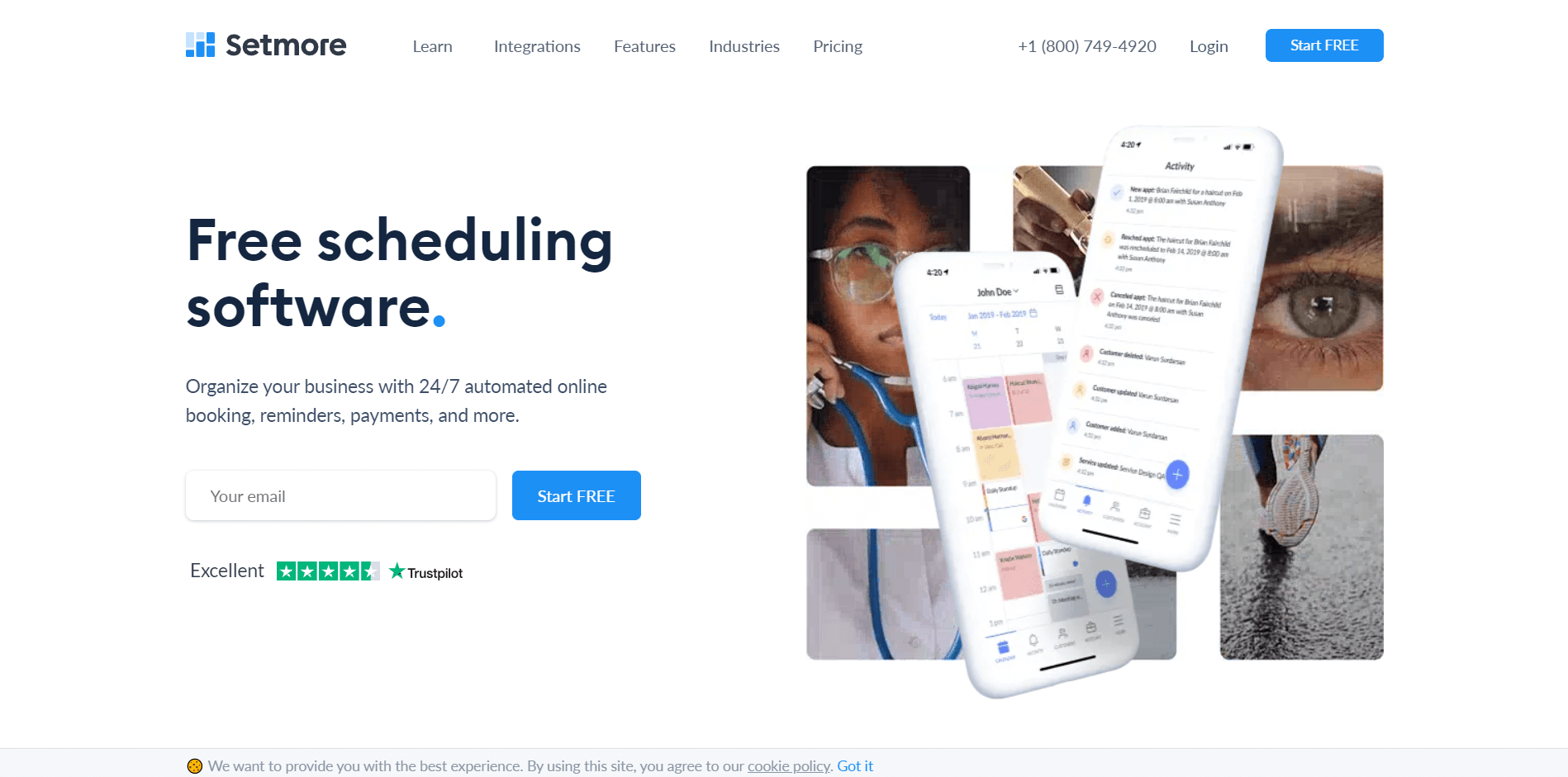 Setmore's free tier is one of the more generous out there, besides it counts as a mobile appointment scheduling app. It offers up to four users, social media and website integrations, a custom booking page with a unique URL, and unlimited appointments with email reminders. However, it does limit available integrations.
Users are only able to use Square for payment processing and Teleport for video conferencing. So if those choices work better for you and you're set on a free plan, Setmore is definitely worth considering.
Setmore pricing is simple and straightforward. The three pricing editions are Free, Premium, and Pro. You can find the features of each edition below.
Free- Appointments for up to four staff, a custom booking page, email reminders, payments with Square, Teleport video meetings
Premium- Starting at $9/month. Two users, recurring appointments, two-way Google Calendar sync, and two-way Outlook.co Calendar sync
Pro- everything from Premium at a better rate for larger teams (customers must contact Setmore for specific pricing)
Setmore offers a free trial, so you can explore the features of the different pricing editions and decide which one meets your needs best. With Setmore, you can get started with an online appointment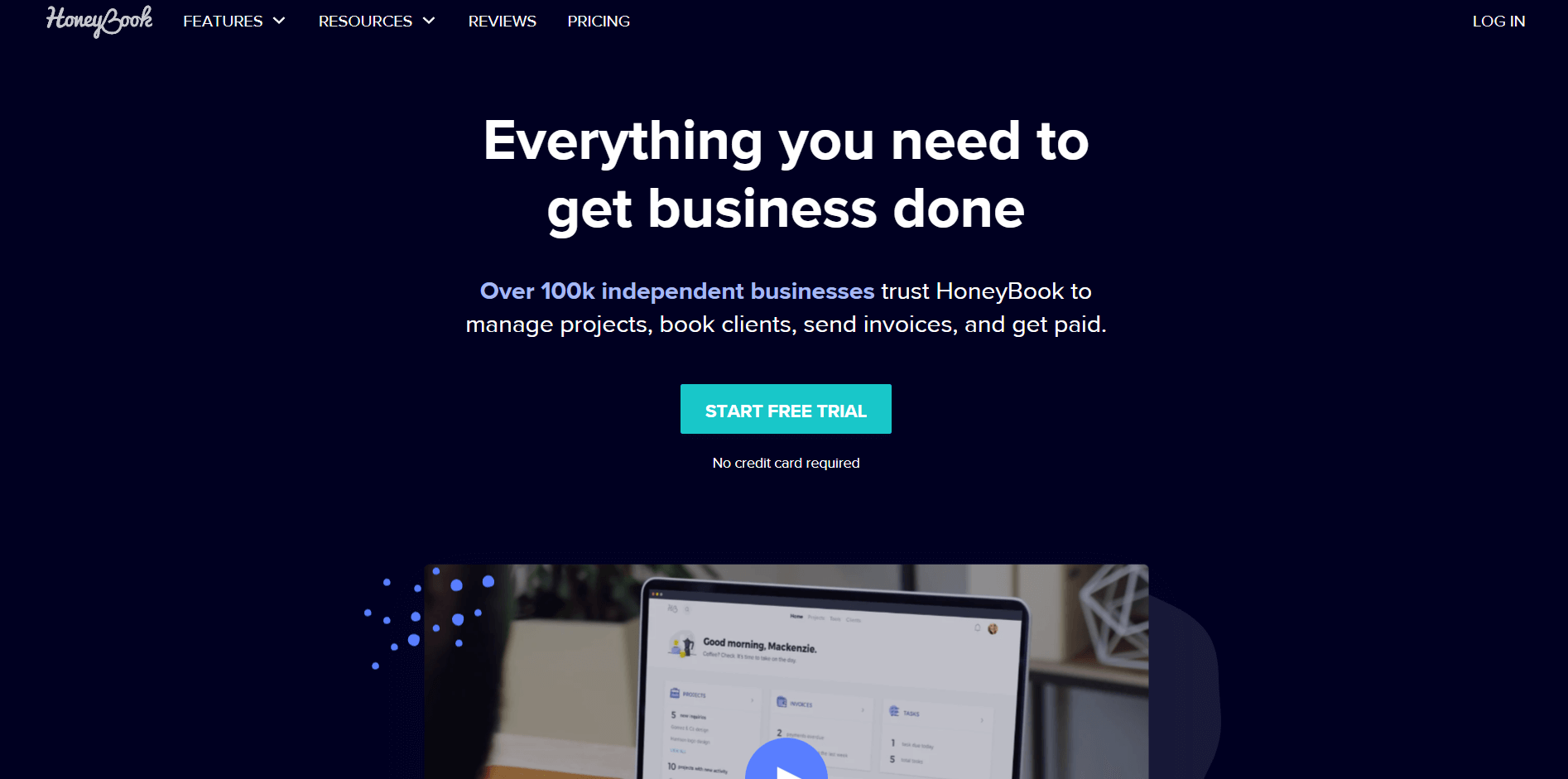 HoneyBook is one of the great options as an android & iOS appointment scheduling app for businesses that need to manage both internal projects and client appointments.
The custom branding feature is especially useful for creating a cohesive customer experience.
However, it's worth noting that customers can only book appointments through your personal schedule link—there are no website or social media integrations like you see with other appointment scheduling software.
Additionally, while HoneyBook invoicing is convenient, it doesn't offer the same payment flexibility as some of the other options on this list. Finally, at $39 per month for the unlimited plan (or $32 per month when paid annually), HoneyBook is one of the more expensive options on our list.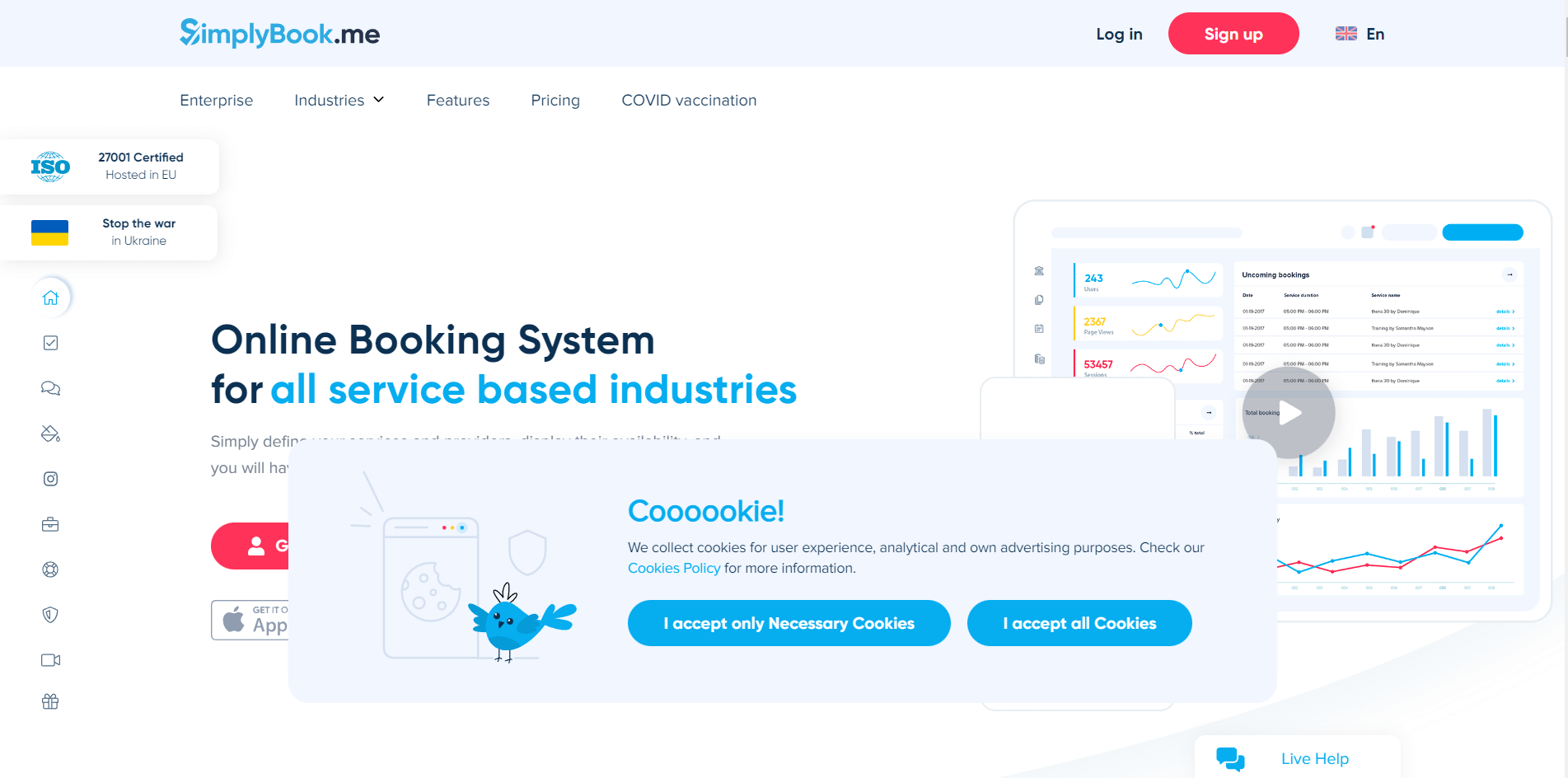 If you're looking for a web, android & iOS Appointment scheduling app, SimplyBook.me is the app for businesses large and small that need web and mobile appointment scheduling apps with other global access and payment options. And if you're not sure, take advantage of the free trial to explore all of SimplyBook.me's features for yourself.
While there are many great appointment scheduling apps on the market, I believe that SimplyBook.me is the best option for businesses large and small that need an app with global reach and payment options. With its easy-to-use interface, a wide range of supported languages and payment processors, and Zapier integrations, SimplyBook.me offers everything you need to streamline your business' scheduling needs.

👉 READ MORE: Calendly vs SimplyBook.me vs Acuity Scheduling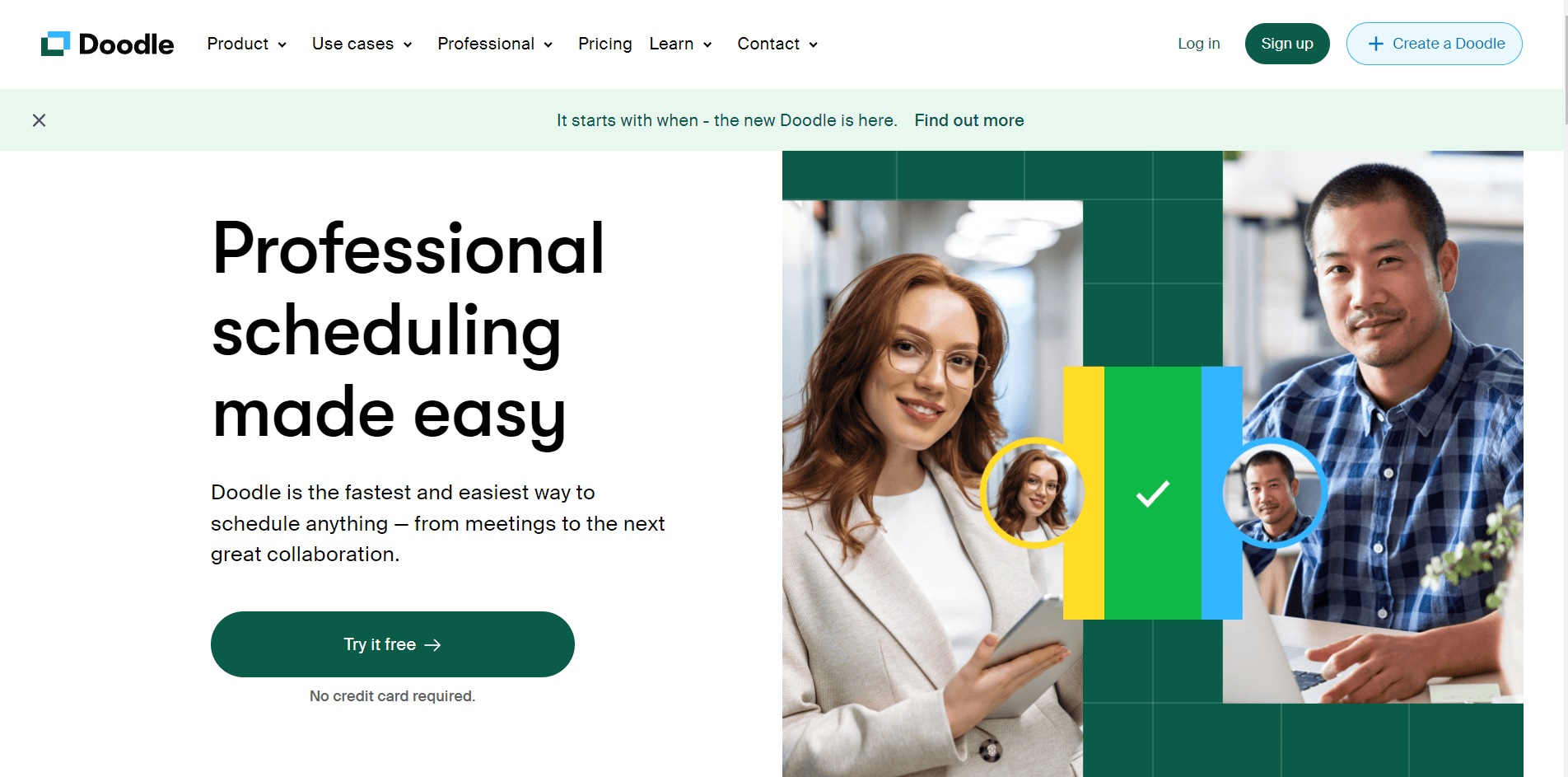 Doodle is the software for managing all of your meeting needs in one spot. With its easy online interface, you can find a date and time that works with everyone's schedule in just minutes. And if you need to set up meetings with individual clients, Doodle can help them out and also give you feedback on what they need.
Plus, it's mobile compatible and can be used easily on any platform. And with its time zone feature, you'll never have any problems coordinating meeting times with attendees from different parts of the world. Additionally, you can send updates to guests and notify them of changes from the Control panel.
Finally, attendees can schedule meetings with you and choose whether you're available or not. So go ahead and try Doodle today!
👉 READ MORE: Doodle vs Calendly vs WhenIsGood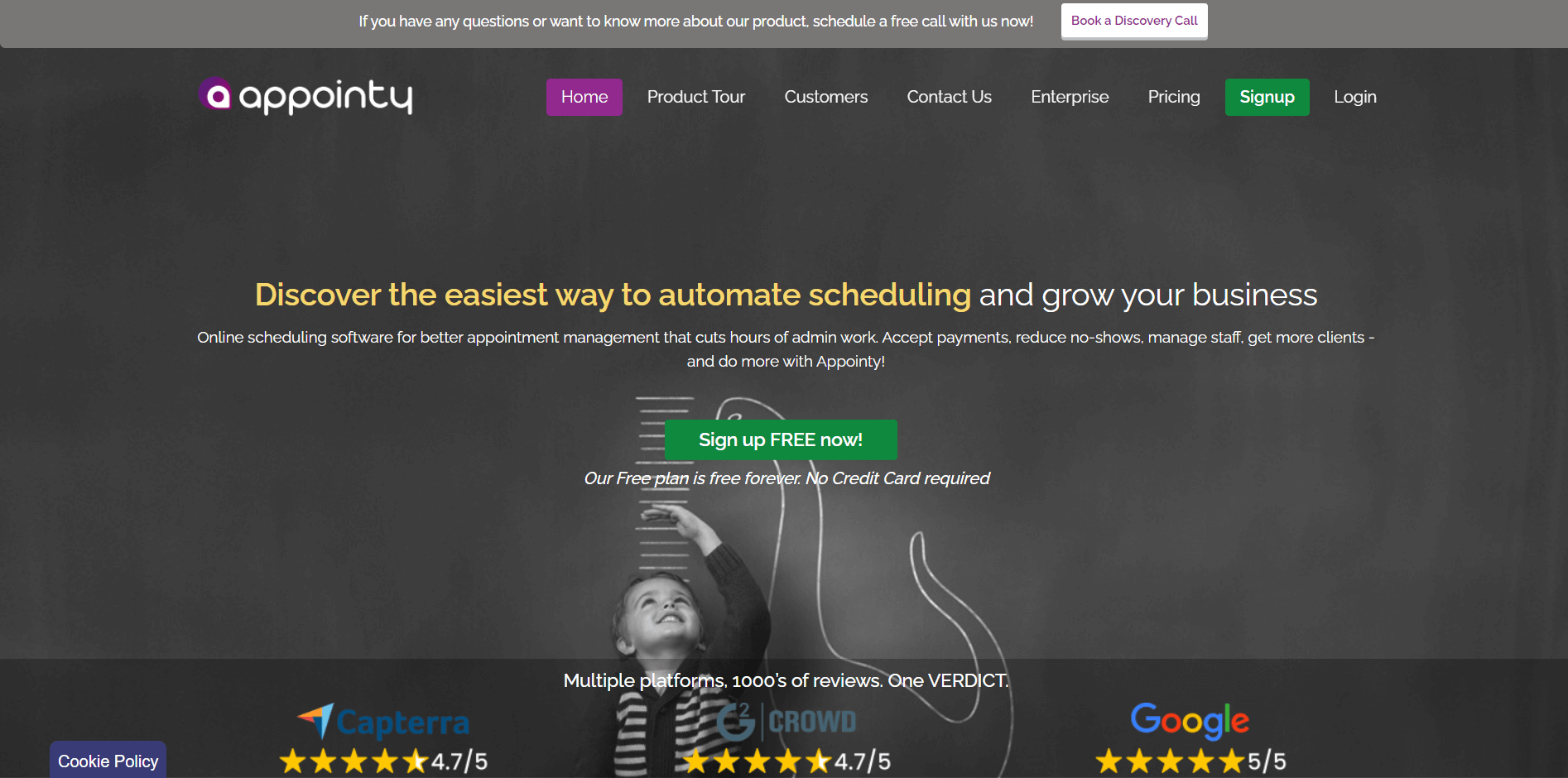 Appointy is an appointment scheduling app that offers four plans. The free plan integrates with Google Calendar and allows for 100 appointments per month. The Growth plan is $19.99 per month and allows for 2000 appointments per day as well as live chat and email support.
The Professional plan is $49.99 per month and expands usage to five team members while also allowing for gift certificate purchases and resource scheduling.
Finally, the Enterprise plan is $79.99 per month and removes all Appointy branding. Appointy works best for those with a lot of integrations that keep the workflow organized.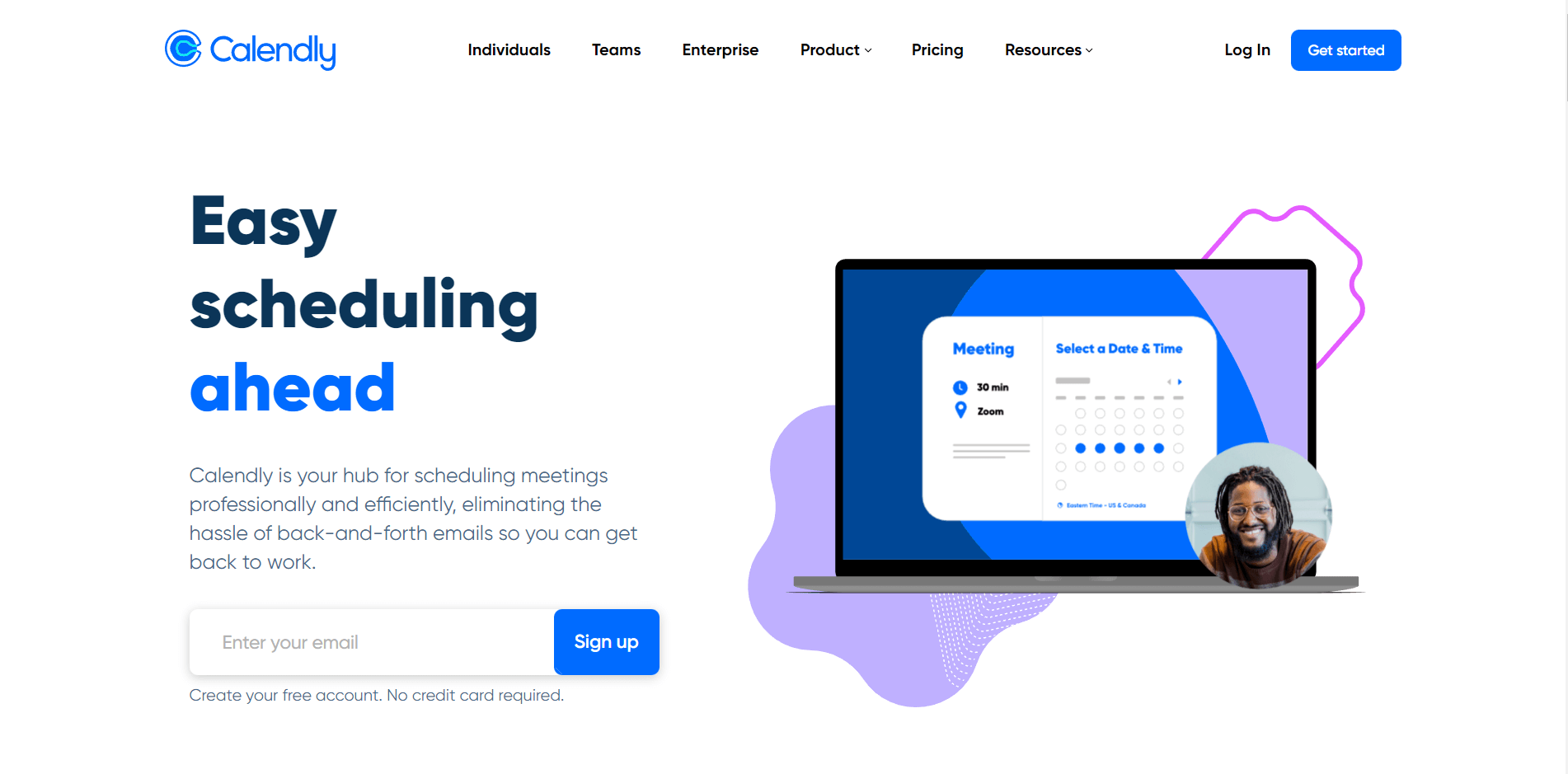 Calendly is the most user-friendly appointment scheduling apps. The drag-and-drop interface makes it easy to set up your calendar, and the visual layout makes it easy to see your schedule at a glance. You can also add custom fields, like location and notes, to each event.
Plus, Calendly integrates with Google Calendar, Outlook, and iCal, so you can keep your schedule synchronized across all of your devices
👉 Check out our Top 7 Calendly Alternatives WordPress to Use in 2023 comparison blog.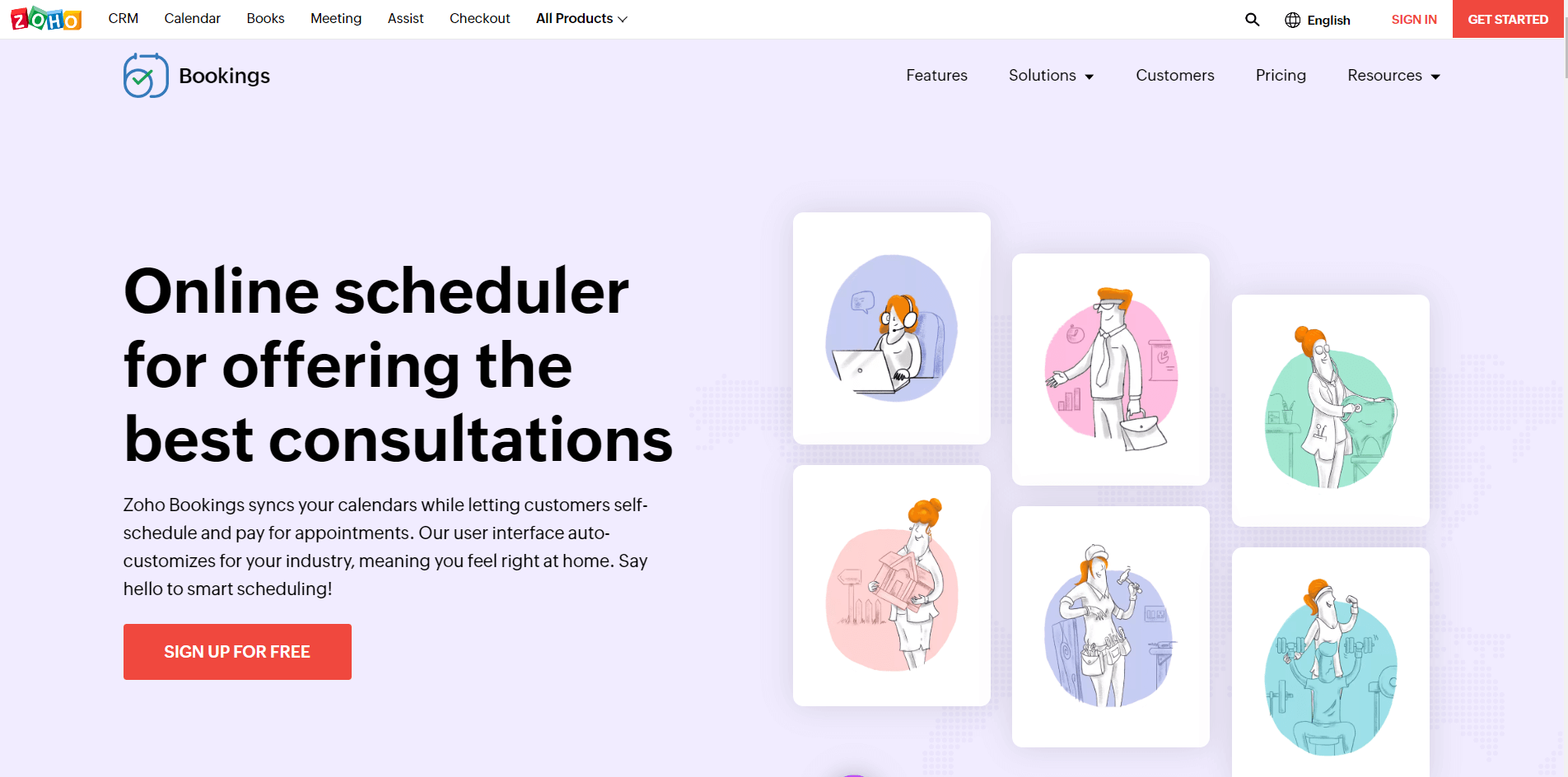 Zoho Bookings is a great choice for businesses that need to do more than just schedule appointments. If you need to book resources like equipment or rooms, Zoho Bookings can be a great option. The pricing is competitive, and the premium plans are feature-rich. I also like that it offers two-way calendar syncing and appointment qualification.
The only downside we could find is that it doesn't have a free trial, so you'll have to commit to at least the Basic plan to try it out. But considering how affordable the plans are, this shouldn't be a problem for most businesses.
Overall, we think Zoho Bookings is a great choice for businesses that need more than just appointment scheduling capabilities. The pricing is competitive, and the plans are packed with features. If you need to book resources like equipment or rooms, Zoho Bookings should be on your shortlist.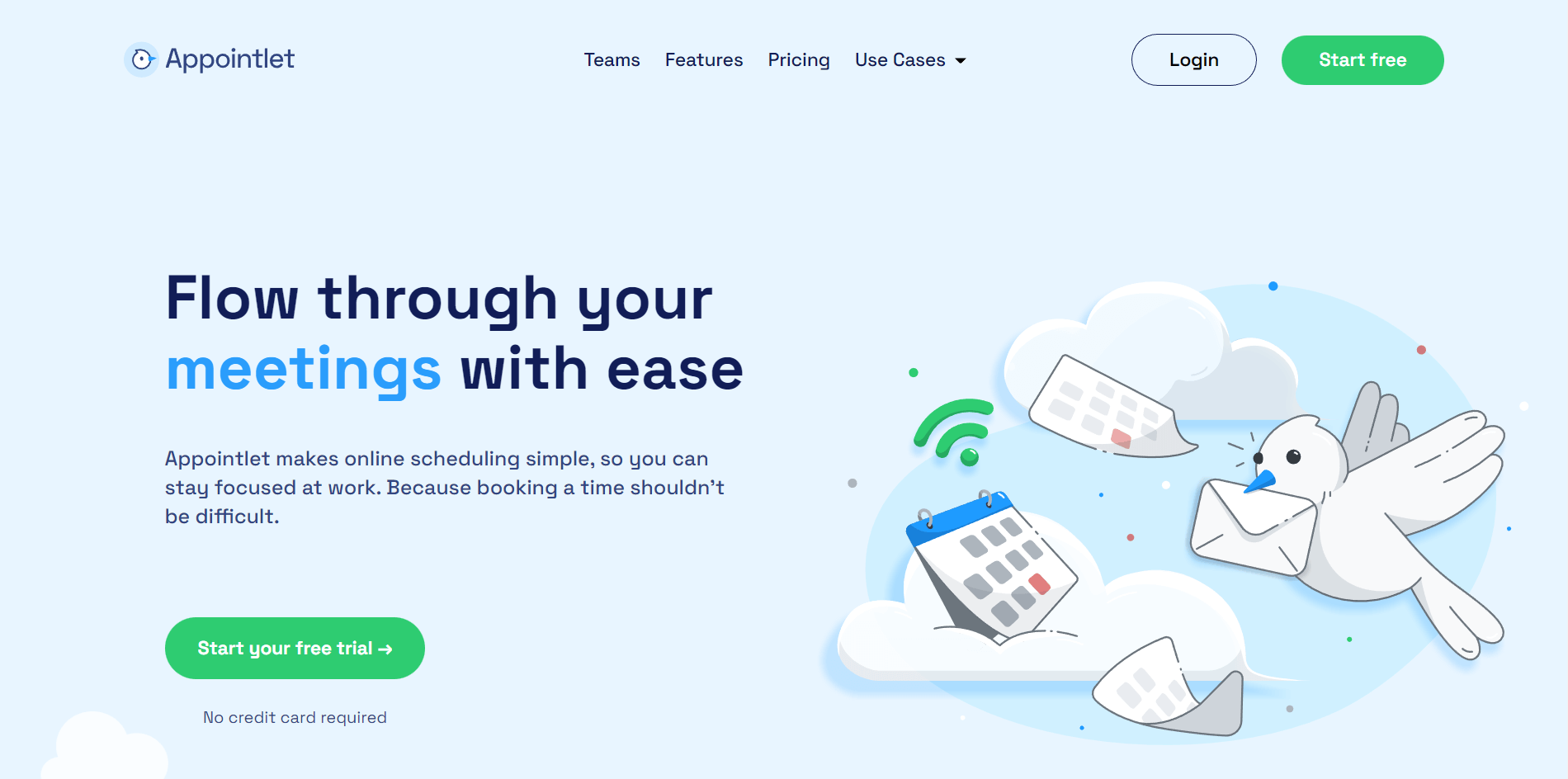 Appointlet offers a feature that allows you to book appointments for multiple team members at the same time. This can be a great way to keep your sales process organized and streamlined.
What sets Appointlet apart from other appointment scheduling software is its ease of use and integration with other programs. If you're looking for a simple, effective way to schedule appointments, this is the app for you.
If you need more features and customization, there are plenty of options available. And if the price is an issue, Appointlet's free forever plan might be just what you're looking for. Whatever your needs, Appointlet has a solution that will work for you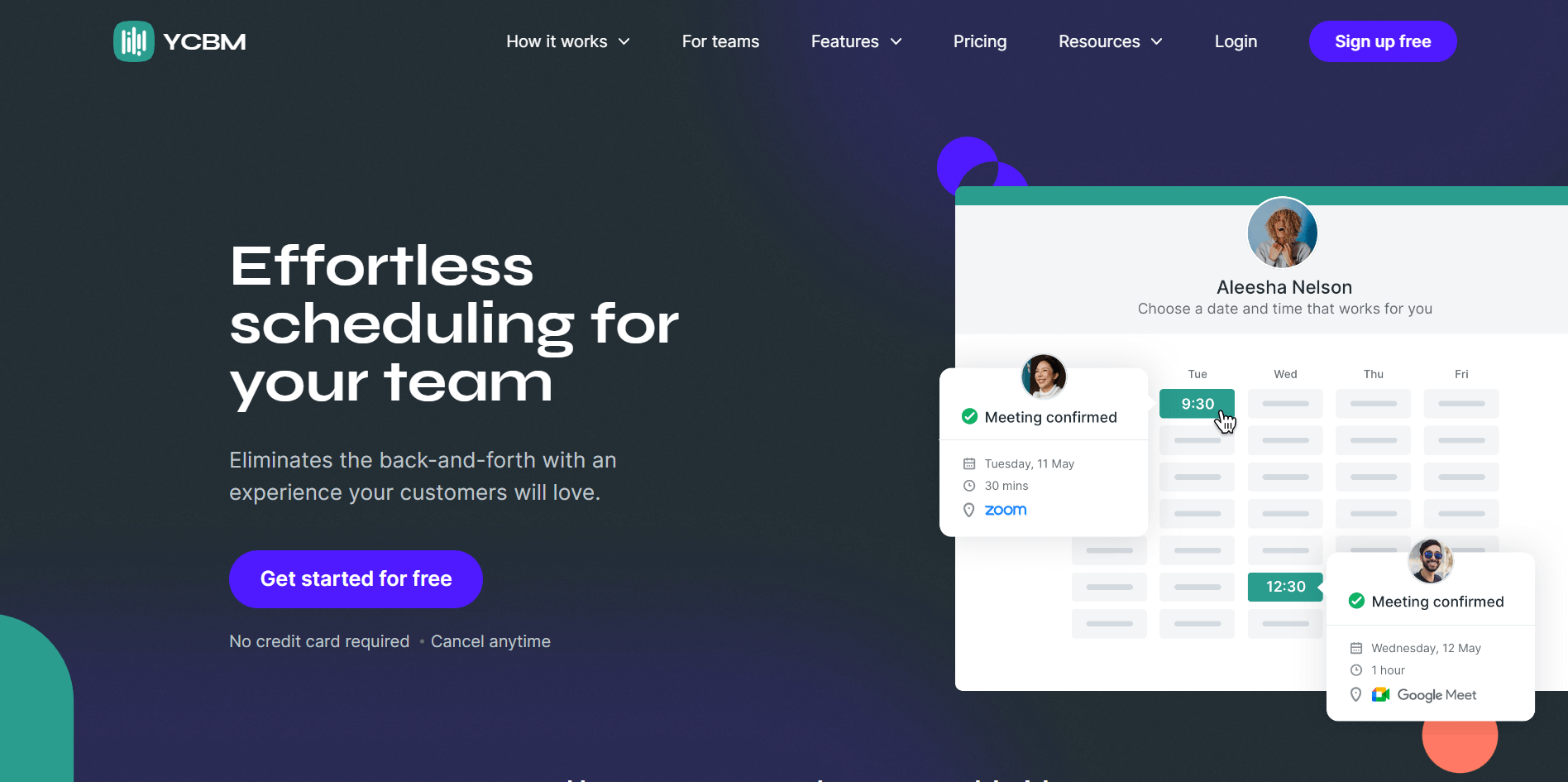 YouCanBook.me is one of the best appointment scheduling apps for small businesses. It integrates with your Google Calendar and allows you to send automatic reminders to your clients.
YouCanBook.me is great for small businesses or individuals who need to schedule appointments with clients on a regular basis. The app starts at $10 per month for the basic plan, which includes unlimited appointments and integrations with Gmail and Google Calendar.

Vagaro is a great option for appointment-based businesses that are looking for an easy way for customers to book appointments or sign up for classes. It offers a wide range of features, including integrations with Instagram, Facebook, and Yelp, as well as powerful reporting and app branding options.
However, it should be noted that there is no free plan available and that the base offering has limits on the number of appointments that can be made. Overall, Vagaro is a great option for businesses that need a comprehensive appointment scheduling solution.

Conclusion
Here you go – our top 10 picks for the best appointment scheduling apps. If you're looking for a comprehensive and easy-to-use solution, we recommend trying Calendly or Acuity Scheduling. If you're on a tight budget and don't need all the features, consider using Doodle. If you are looking for a comprehensive, easy-to-use, and affordable solution, I recommend using Booknetic.
Finally, we hope this article has been helpful, and you have found the perfect app for your needs! For more great content like this, visit our other blogs and site ?

Sign up for our newsletter
Be the first to know about releases and industry news and insights.
Let's

get started

on something great
Booknetic is a simple yet powerful plugin for accepting online bookings & payments on your WordPress site.