Doodle vs Calendly vs WhenIsGood | Which One is The Best?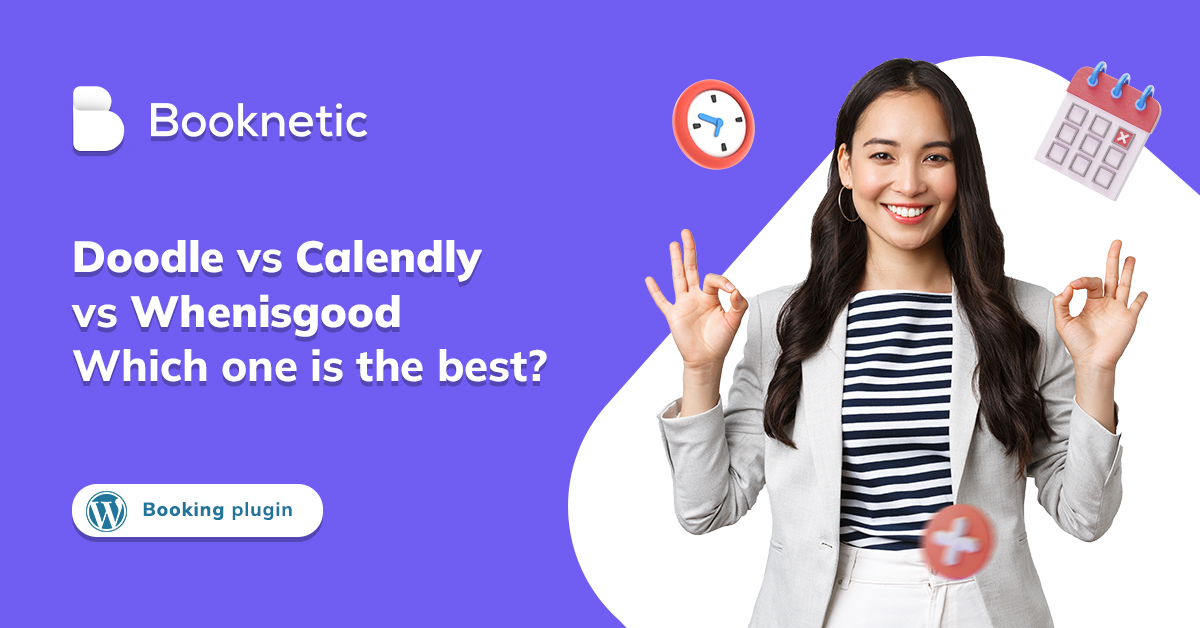 All of the information about Doodle vs Calendly vs WhenIsGood is available here, so you'll be able to make more informed decisions for your scheduling needs.
Businesses understand that having exceptional customer service isn't enough; they also want to interact with the best software. One method to improve user experience and ease the process for both sides is to use appointment scheduling software to facilitate online appointment bookings with current and potential clients.
It's hard to believe, but there are so many appointment booking plugins out in the wild. To help you sift through them quickly and effectively we've compiled this list of three popular systems. While comparing Doodle vs Calendly vs WhenIsGood you'll be aware of all the functionalities, as well as prices so that you can make your decision easier.
Doodle vs Calendly vs WhenIsGood | Overview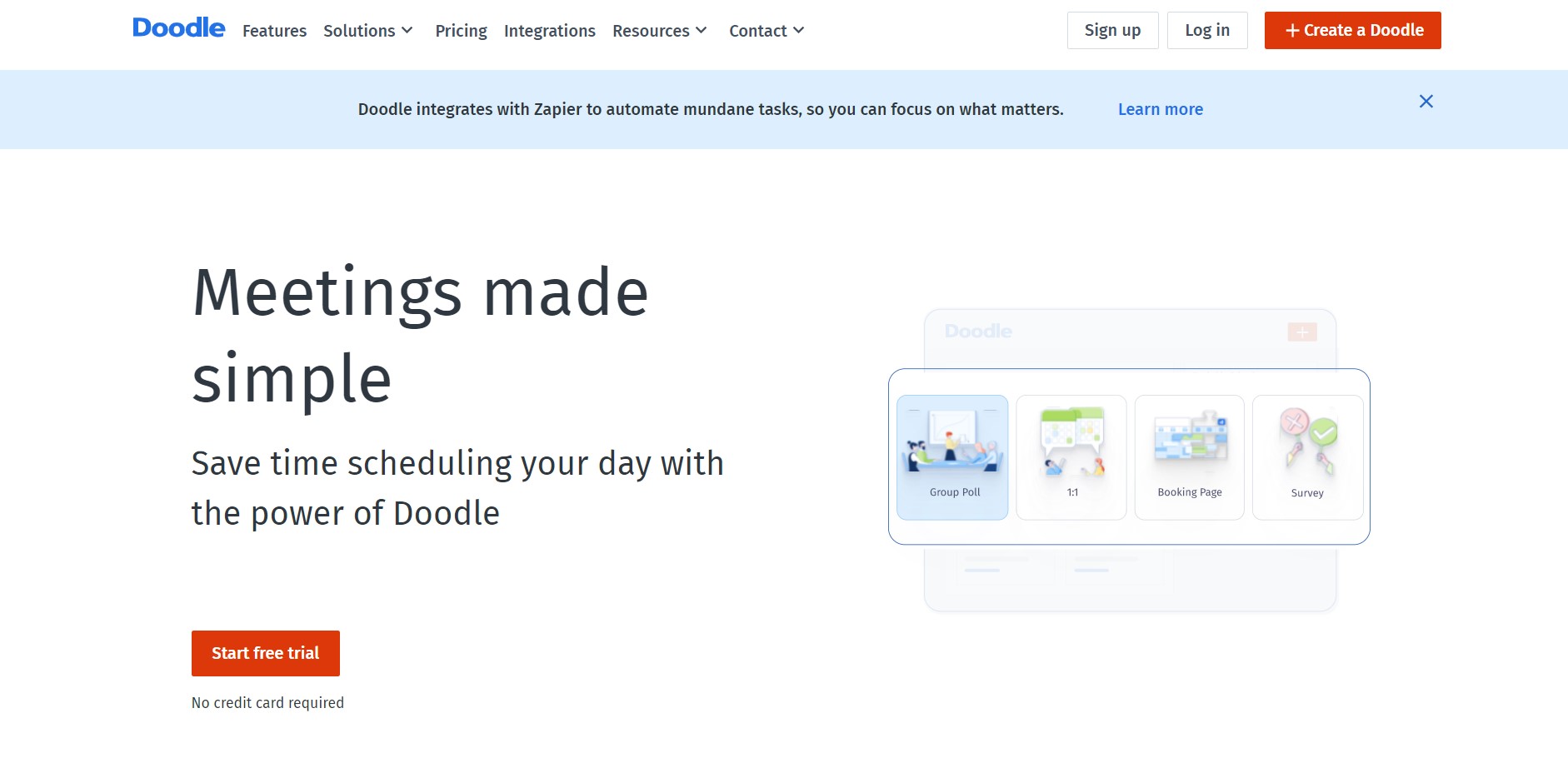 Doodle is a meeting scheduling software to manage all meetings in one spot. It is the most innovative, creative way to coordinate group events, 1:1 meetings, and team ups. With an easy online interface, it takes minutes to find a date and time that works with everyone's schedule. If you want to set up meetings with your individual clients, Doodle can help them and also give feedback on what they need.
Check out our WhenToMeet vs Doodle vs Calendly blog for a detailed comparison of the three software.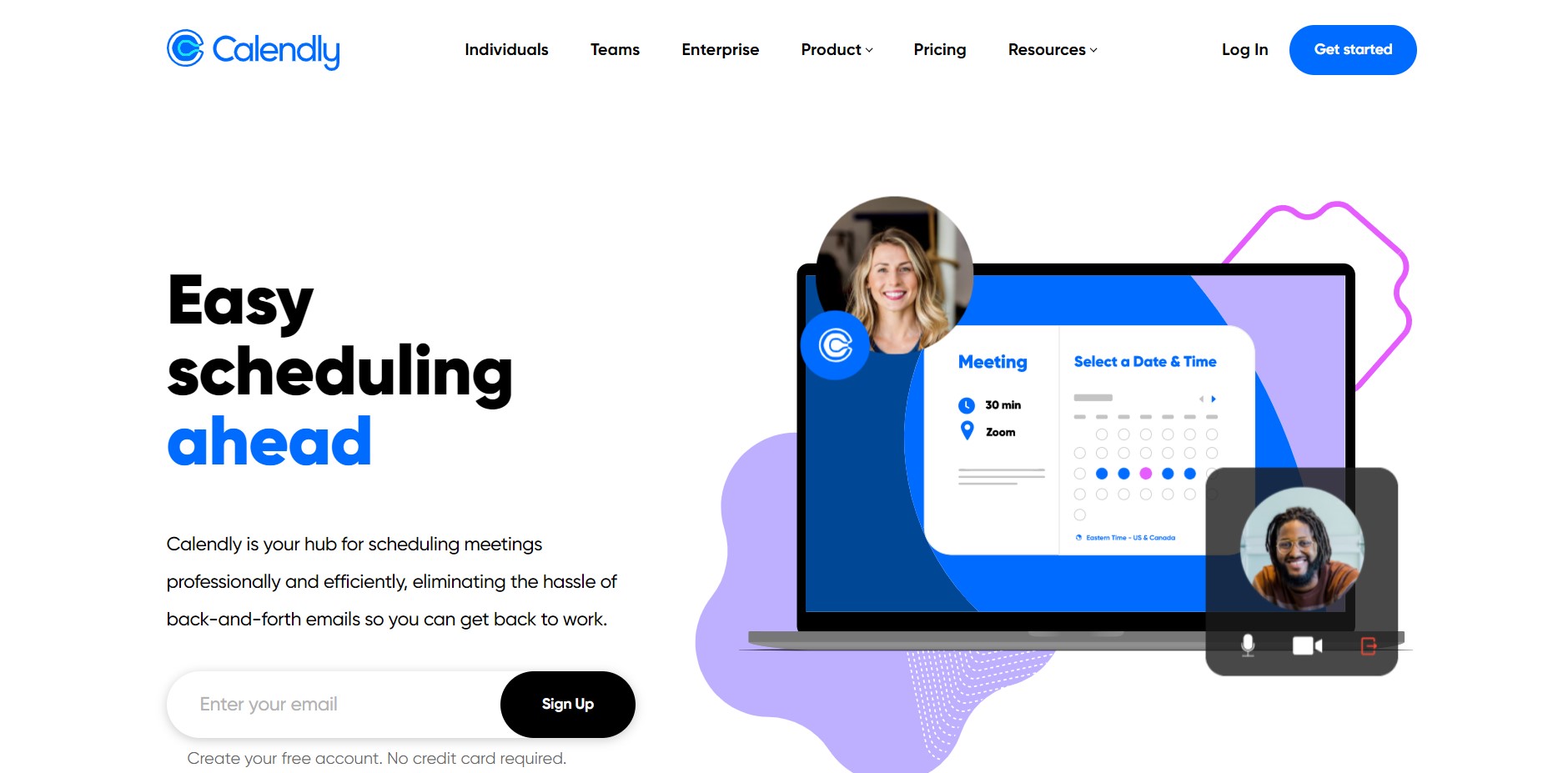 Calendly is multi-purpose booking software that allows to simplify all types of meetings. It provides an ideal way to schedule appointments without wasting time or creating extra work. Its powerful features allow you to save hours in sales lead generation or customer service because of the easy one-click response system for canceling meetings when they don't have enough space on their calendar.
It can be utilized to schedule meetings, webinars, group events, client meetings at ease. Teams that stuggle to keep up with client details, reminders, meeting schedules can remove hassle with Calendly. There are lots of schedulig tools that position themselves as Calendly alternatives.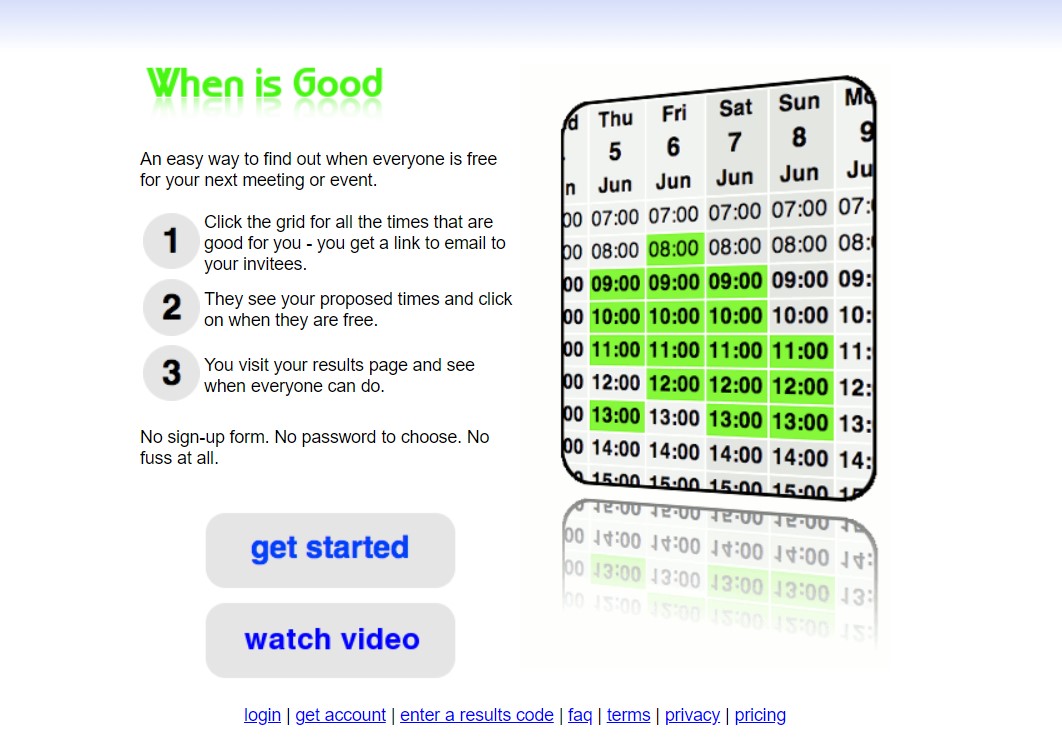 WhenIsGood is a simple yet intuitive meeting scheduler app for a multitude of businesses. Simplifying the process of scheduling meetings can be done in many different ways, but one simple option is WhenIsGood. This scheduler allows for easy group planning and fits right alongside other programs that offer more complex features you might need if your company's schedule changes often or there are lots of people who want their own time slots reserved specifically for meeting with each person individually at once.
Doodle vs WhenIsGood vs Calendly | Pros and Cons
Doodle
Pros
Most people like Doodle, because it is simple to coordinate, and easy to use. It offers a wide range of settings, characters, and gadgets. Doodle also allows you to sync Google Calendars with the availability options view to compare your availability with the times chosen. It is fully works as a booking Multiple calendar integrations minimizes double bookings and remove scheduling mistkaes.
Cons
People also think that the free edition features a crowded design since there is just too much space for advertisements and the sign-up form should include information such as name and email address, making it easy to determine who signed up.
WhenIsGood
Pros
WhenIsGood has a simple and straightforward dashboard. The features are both free, or cheap for your time with them.
Cons
On the other hand, it does not include so many features or integrations. That's why you can't really say that this system has all of your bases covered
Calendly
Pros
Calendly has a lot of really good features that make it one of the best scheduling systems available. It features outstanding integration, mobile support, and is simple for use. Meetings polls is a unique feature that lets invitees pick their available time from the suggested options.
With a plethora of capabilities, this program makes it simple to stay on track with your event preparations. It automatically adds new events and notifies you in advance of any changes or cancellations, ensuring that you never miss out.
Cons
The majority of people prefer Calendly, although there are some disadvantages. For example, you can only set this up for all users in your account; the basic version has limitations, no training guide or support website; and changing time zones might be tough.
Calendly vs WhenIsGood vs Doodle | Features:
Doodle
· Appointment Scheduling - With Booking Page you can now send a single link to anyone who wants to book time with your business. All they need is to pick from one of the many available times and dates.
· Reminders - Automatic reminders help no clients to miss the schedule. Also, manage reminders on auto-send or turn off completely.
· No time-zone - It auto-identifies guest time zones.
· 1:1, group, and collective meetings to manage and simplify all events
· Sync with iCal, Google Calendar, and Office 365 - Add your favorite calendars to remove any booking mistakes
· Simple updates - Broadcast updates to guests from the dashboard
· SLA customization - Personalized SLAs that suit the needs of global companies
· Multiple Calendars - Different types of appointments with only one account
· Multi-Location - Manage from which place you are
Calendly
· Notice of scheduling - For preparing scheduled tasks, as well as avoiding last-minute scheduling
· Embed calendar - add Calendly to your website to streamline scheduling
· Reminders - Notifies with texts and confirmation
· Team scheduling - know how and when you are booked
· Availability preferences - decide how and when to show your available time slots
· Workflow management to automate the communication before and after meetins
· Multi calendar - connect up to 6 calendars per user to see real time availability
· Time zone - Available in a various time zone with time zone detection
· Reporting - This enables interested individuals to acquire insight into campaign metrics related to scheduling and invitee participation
WhenIsGood
· Update link - People can use this 'update link' at any moment to check what they previously chose and make changes.
· Show durations - The duration of the event is displayed at the top of the grid.
· Export from Excel - It is for premium usage. You can export all of the results to an Excel spreadsheet.
· Stop seeing alerts - You can turn off alerts as an admin of your account when you create events.
· Hide dates - Simply select any matching start and end dates for your chosen range.
· Quick Sync - Give your calendar a simple name and fill out the form at the bottom of the 'your account' page.
· Share results - You may now quickly share the results page of an event, even if it is associated with an account. Simply check the box at the bottom of the grid.
Some similar features include Notifications, Calendar Sync, Mobile version (APP) and so on.
Doodle vs Calendly vs WhenIsGood | Integrations
Doodle
Doodle works with
· Zoom
Connect Zoom to Doodle and schedule virtual meetings
· Outlook Add-Inn
Schedule your email with the calendar
· Microsoft Teams
Make scheduling meetings
· Zapier
Connect Doodle with the tools that you are using
· Google Meet
Add video links to meetings
And also, you can connect Doodle with Google Calendar, Microsoft Exchange online, and so on.
Calendly
Calendly has the most integrations with up to different 126, from Apps to calendars, CRM to sales tools, or Marketing to Analytics tools as:
· Zoom
· Webex
· Slack
· Salesforce
· Hubspot
· Zapier
· PayPal
· Intercom
· Stripe
· GoToConnect & GoToMeeting
· Google Analytics, and so on.
WhenIsGood
WhenIsGood allows you to sync the results of your form into your calendars by utilizing the standard iCal format (.ics), which is supported by the majority of calendar software.
==> Also read: When2meet vs Doodle vs Calendly
Doodle vs WhenIsGood vs Calendly | Pricing
Doodle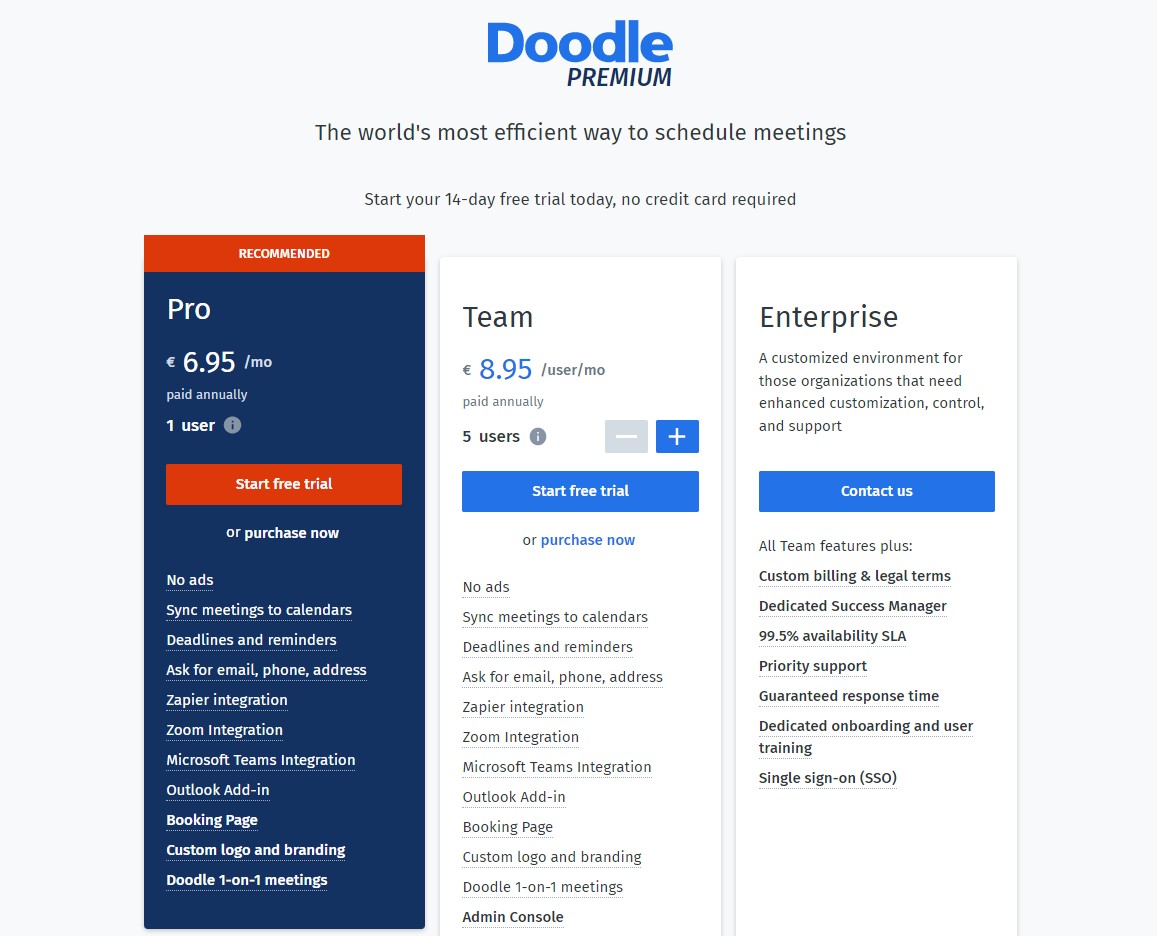 Doodle allows you to design your booking pages, link them with Slack for easy team management, and build several calendars to accommodate different sorts of appointments. Teams of 5 people may purchase for $9 and receive the Admin Console as well.
More detailed:
Pro - $6.95/monthly (1 user only)
Team - $8.95/user/monthly (5 users)
Enterprise – For organizations that need control, planning, and customization
WhenIsGood

Basic – Free
Without login, you can create events based on your needs
Account – Free
An account to manage, edit and delete events.
Premium - $20/yearly
No adverts, more options, export to Excel and so on.
Calendly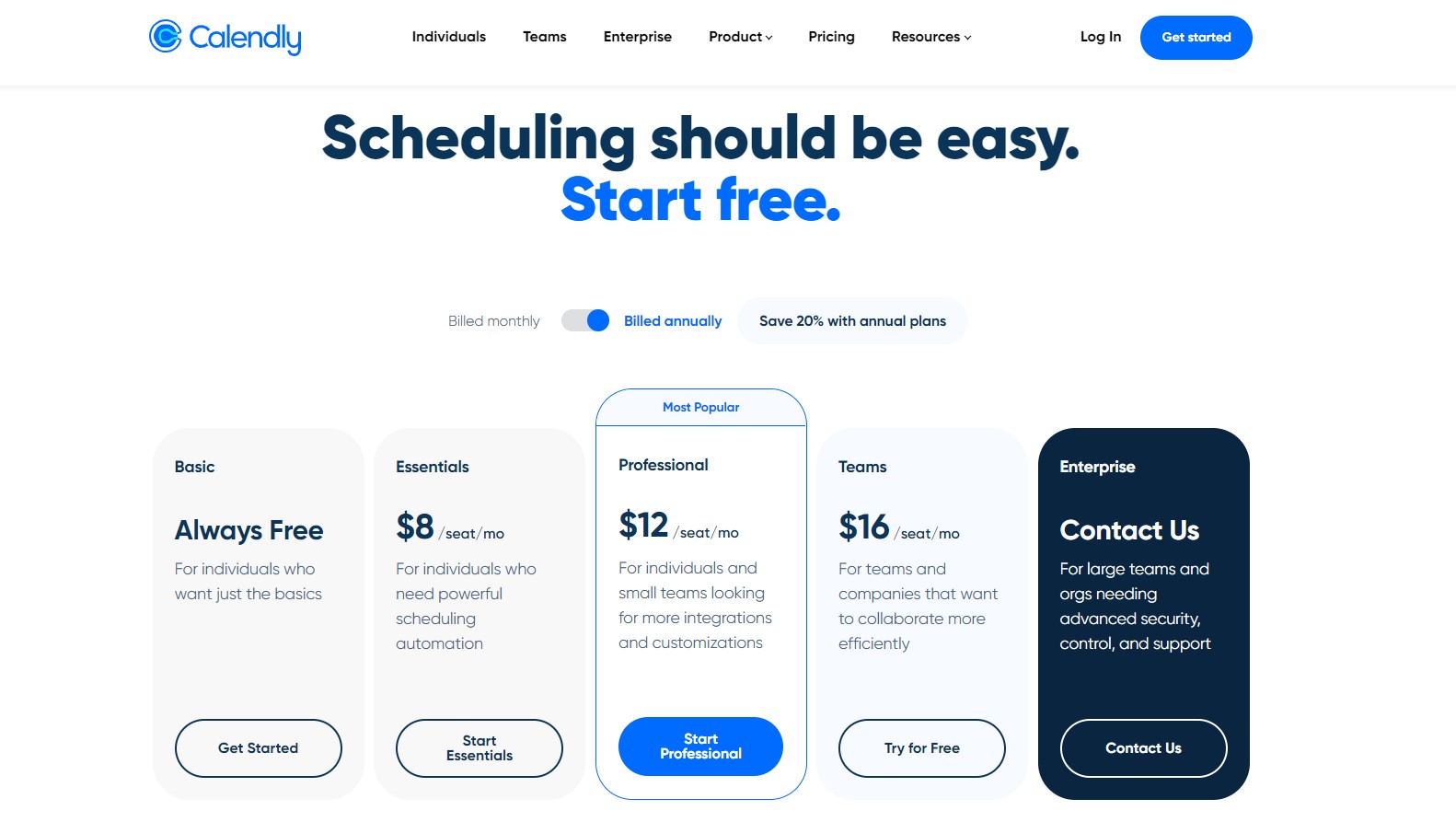 Calendly has four distinct plans to choose from. You will receive the following:
The Basic Plan is free (but only 1 calendar connection per person)
$8/month for essentials
$12/month for the Pro Plan
Teams pay $16 each month.
When you pay yearly, you save $24 on the Premium version and $36 on the Pro Plan.
Sign up for a 14-day trial of Calendly Pro and put it to the test. After then, if it isn't the best scheduling tool for your firm, you may opt-out.
Conclusion
We compared WhenIsGood vs Doodle vs Calendly today to find out which one is more worthy for your business needs. They all provide their own unique features that will fit into any type of company's strategy. It can be difficult to decide between them especially when you don't know what exactly it is about each service provider's product lineup that tickles your fancy best at first glance.
We have a bonus software, called Booknetic!
Because most platforms are built on WordPress, Booknetic should be your first choice if you want to avoid common missteps arising in appointments on WordPress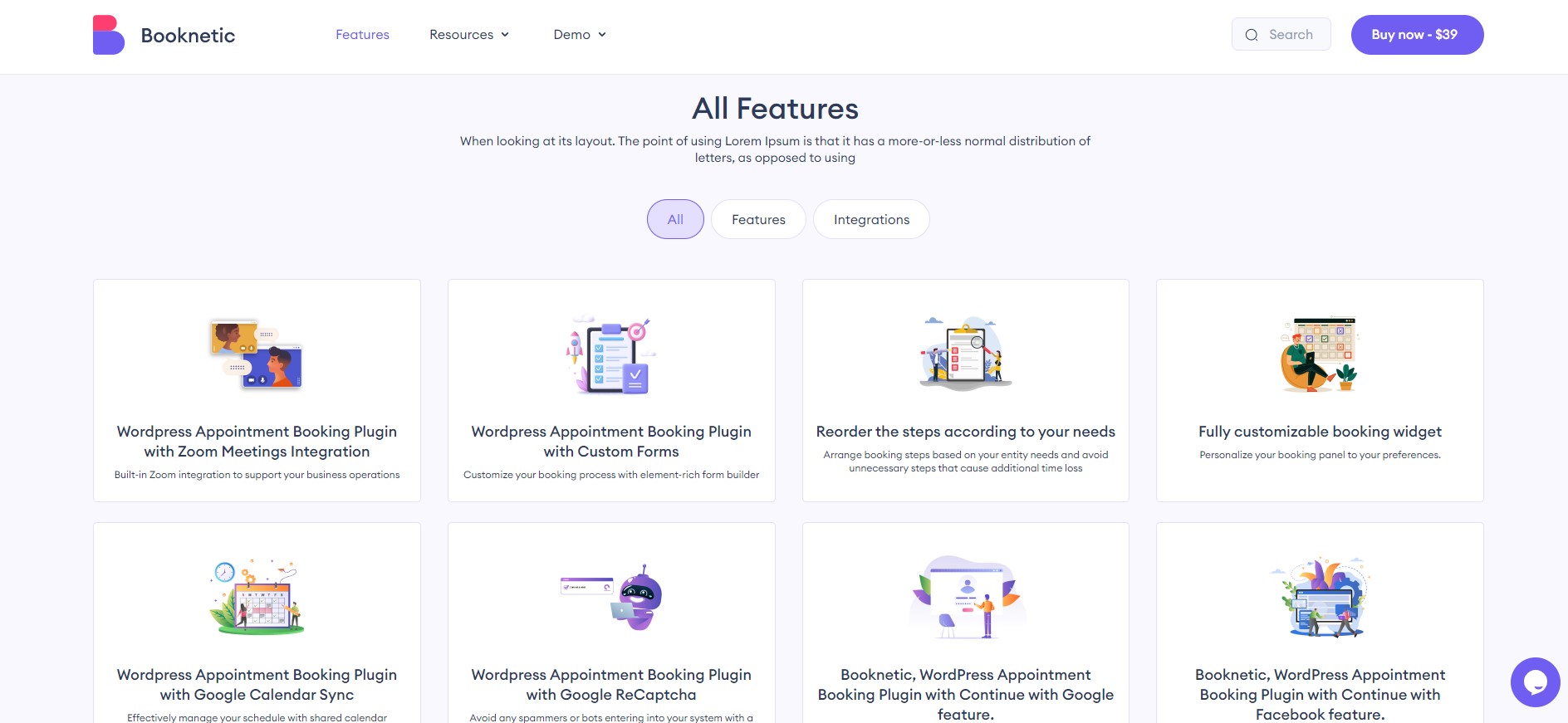 Booknetic is a plugin that provides you with all of the tools needed for quick and easy appointments. It includes everything from scheduling, to appointment reminders which puts it above other platforms in this area alone. With all of the Booknetic features, you'll never be lost when it comes time to organize an appointment again.
If you get curious, try demo to learn more!
Also, if you are looking for more alternatives or comparisons of appointment booking systems, check out our blog Calendly vs SimplyBook.me vs Acuity Scheduling. It will give you a lead in selecting the perfect option based on your business and individual needs.
So, which one would you choose over Doodle vs Calendly vs WhenIsGood?
Sign up for our newsletter
Be the first to know about releases and industry news and insights.
Let's

get started

on something great
Booknetic is a simple yet powerful plugin for accepting online bookings & payments on your WordPress site.