Top 11 Best Appointment Booking Plugins WordPress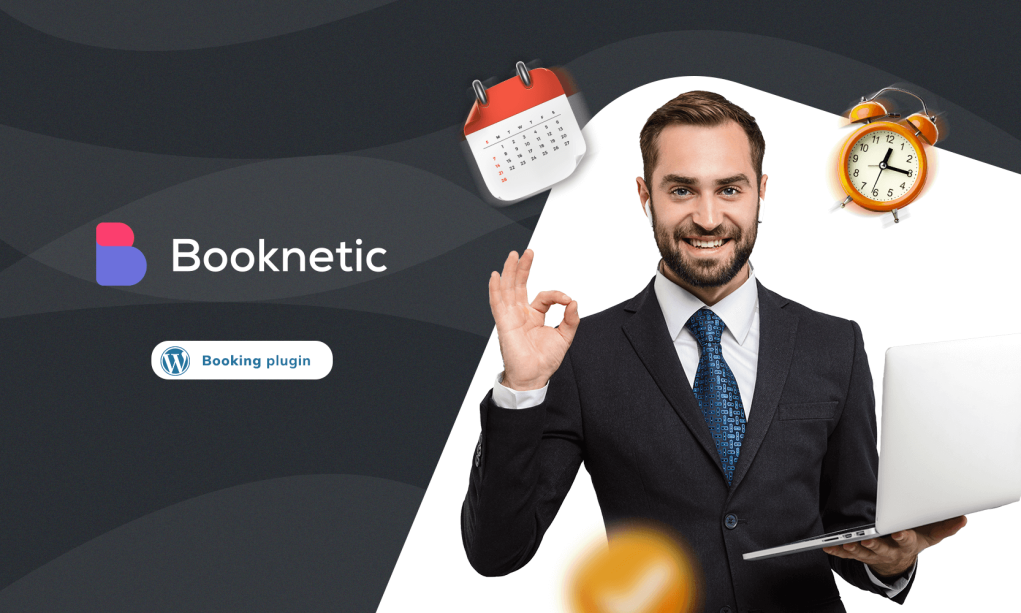 When going to the dentist or a hotel, you must first make a reservation. Making an appointment with a single click appears to be simple. On the other side, there is a tool that does everything under this click. Get ready to meet the top 10 best appointment booking plugins for WordPress in our blog post!
To ensure that you select the best plugin for your purposes, you must first define your company objectives and functions. It should be mobile-friendly, and secure, with so many integrations, contain group/team bookings, reminders, notifications, and so on and so forth.
Let's look at the top 10 best appointment booking plugins WordPress separately:
1. Booknetic
Booknetic is the best WordPress appointment scheduling plugin for automating and customizing bookings systems. It is suitable for a broad range of businesses due to its versatility, including hotels, salons, dentists, law offices, individual consultants, dance, fitness, and so on.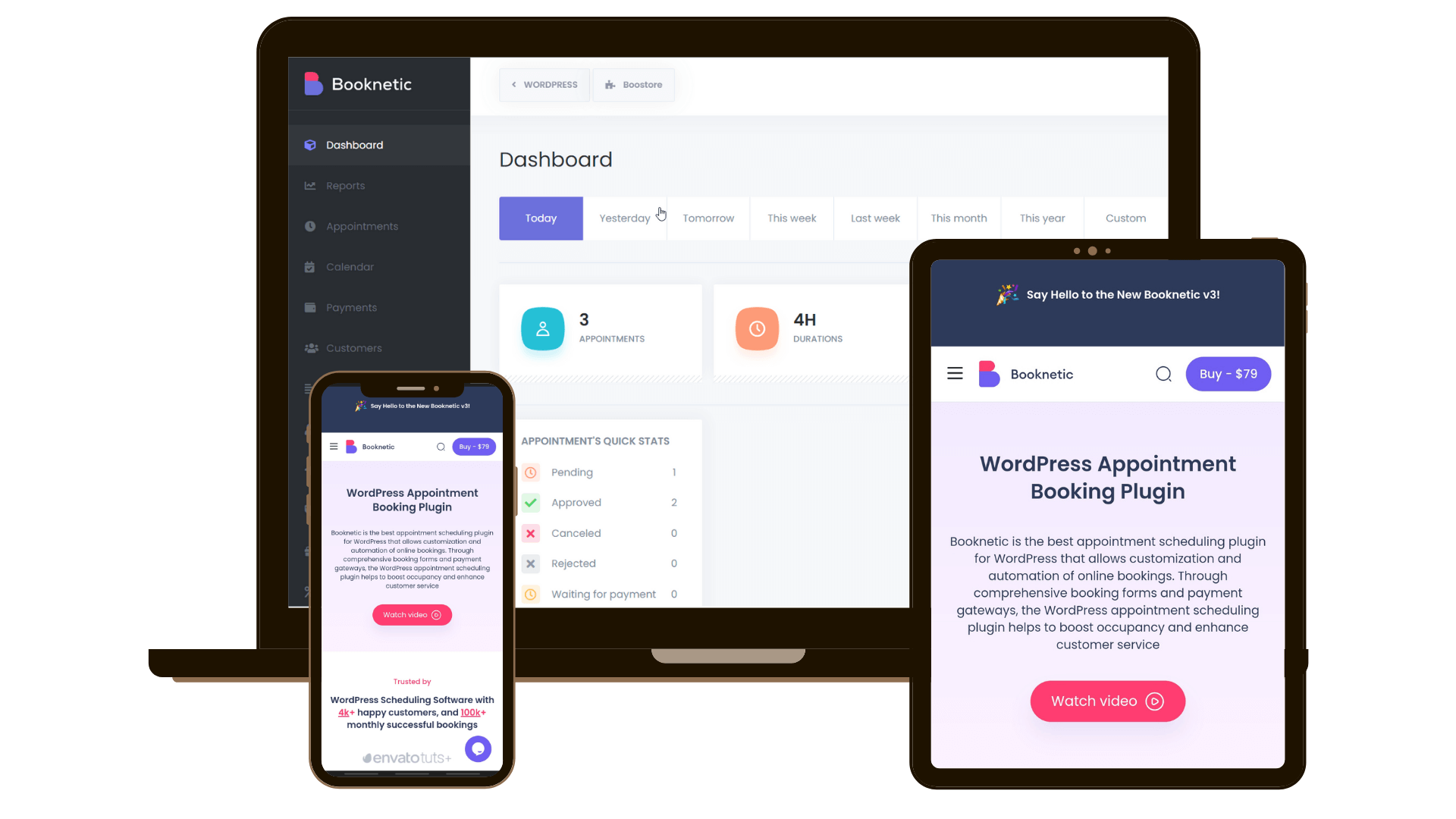 Its adaptable system allows all device users to access your services whenever and wherever they need them. Clients may look for open time slots, book appointments, check their calendars, and make adjustments to their schedules as needed. The common calendar also assists in team accountability.
Booknetic Features
- Continue With Google and Continue With Facebook functions, which allow your client's information to be automatically filled in at the stroke of a button.
- Modern front-end and back-end interfaces
- Drag-and-drop form builder
- Control appointment availability with custom working hours, buffer times, holidays, and more
- Add multiple services/employees/locations
- Charge for bookings with PayPal/Stripe or a WooCommerce integration
- Offer coupons/discounts
- Create group appointments or recurring appointments
- Two-way sync with Google Calendar
- Send customizable notifications via email or SMS.
- In addition to the capabilities listed above, it has WooCommerce and built-in CRM tools to help with lead generation and revenue growth.
Price: Booknetic offers two distinct packages based on the demands of enterprises. The Regular plan is a $79 one-time fee for unlimited feature usage. While the SaaS strategy is designed to create an online presence from the bottom up. This package begins at $9 per month for unlimited user business openings. To discover more about Booknetic, Try Demo.
2. SimplyBookMe
Simplybook.me is the best appointment booking wordpress plugin for international businesses for a few key reasons. Firstly, it offers an amazing 32 different languages to choose from- so you can really cater to your international clientele. It also has a beautiful and easy setup process, with clear instructions walking you through each step. Not to mention, it automatically identifies the features most relevant to you based on the information you added about your business category.
But that's not all- Simplybook.me also offers a great dashboard and reports feature so you can monitor your business progress easily. Plus, it integrates with Zapier so you can automate and customize your booking confirmations, add appointments to all your calendars, and more.
Related: Check out our Calendly vs SimplyBookMe vs Acuity Scheduling comparison blog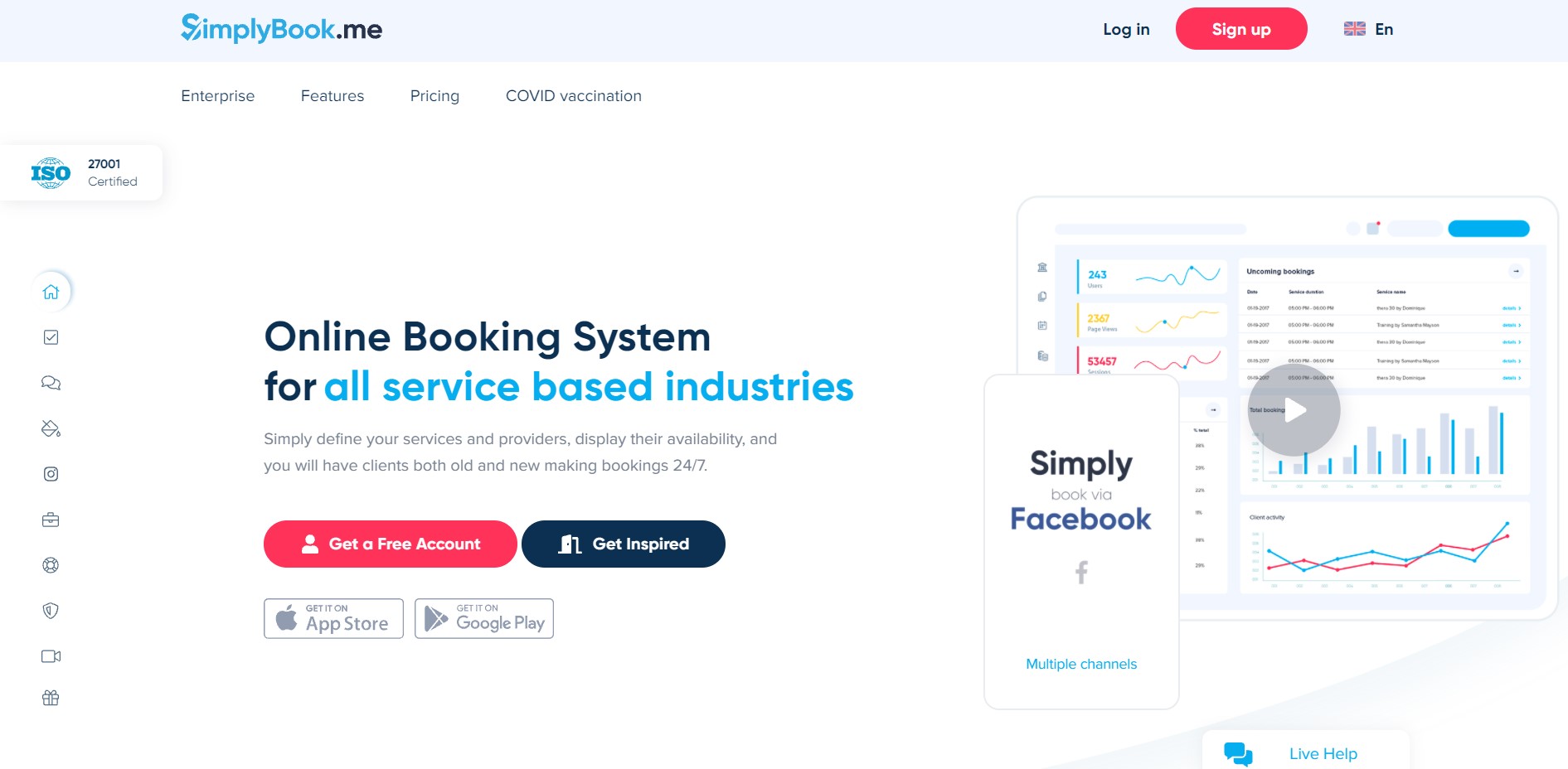 Some features:
- Integration with a Google business service that allows users to book straight from search results using Reserve with Google.
- Facebook and Instagram booking
- Drag & Drop email editor
- Outlook Calendar 2-way sync that sends notifications through email
- Google Meet integration for online bookings
It also offers a 14-day free trial with 50 appointments, continuing with $0 Free, $8.25 Basic, $24.9 Standard, and $49.9 Premium monthly subscriptions.
3. Hubspot
The booking software from HubSpot allows you to plan and coordinate events with colleagues, clients, and teams. HubSpot offers a range of meeting scheduling app capabilities that help sales teams save time when planning meetings. This allows your team to focus on establishing connections and gaining new business by scheduling more meetings.
With HubSpot's simple drag-and-drop form builder, you can quickly design booking forms. A streamlined chatbot that can collect vital information from visitors and assist enable appointment reservations 24 hours a day, 7 days a week. You may also send an automatic email anytime someone fills out a form or messages you via live chat to verify or follow up on their booking.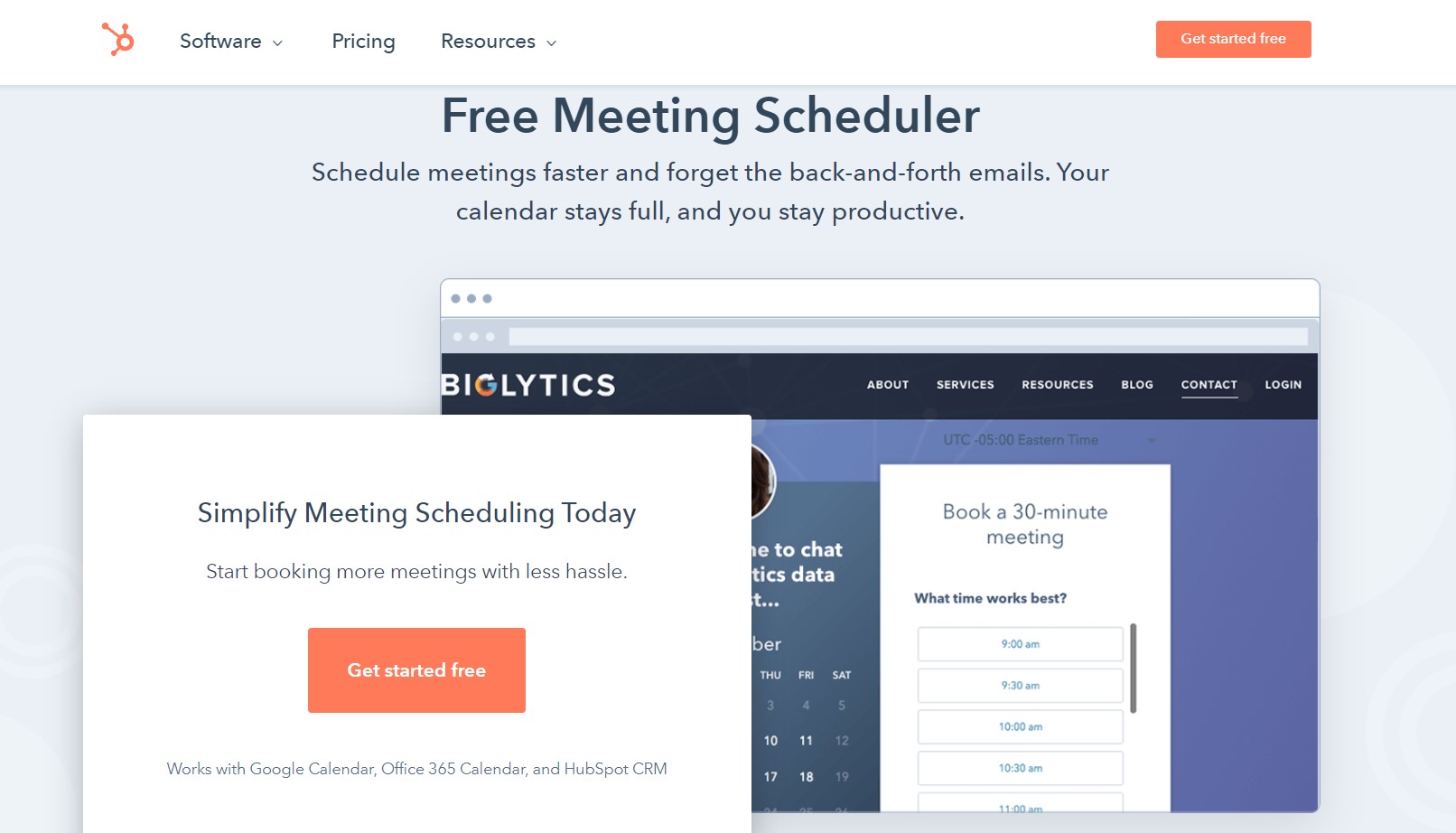 You may use the free scheduling software to connect to a calendar hosted by Google Apps (GSuite), Gmail (Google Free), or Office 365. If you have an event on your linked calendar, the meetings tool will indicate that you are unavailable during a specific time. Meetings scheduled using HubSpot will appear on your calendar automatically.
- Integrates with your CRM
- Built in marketing tools
- Intuitive drag and drop form builder
- Streamlined chatbot that can collect essential information from visitors
- Automated email confirmations or follow ups
It has a free plan, on the other hand, if you want more advanced features 3 options come as Starter ($45/monthly), Professional ($450/monthly) and Enterprise ($1200/monthly).
4. Picktime
Picktime is a simple platform that requires no coding or communication to utilize. If you do not currently have a website, you may construct a custom booking page or adapt booking forms to meet your needs.
A diverse set of connecting channels with payment channels, CRM systems, calendar software, and email marketing tools aid in the effective management of your business. You may begin by creating an online calendar and work your way up by adding administration, payment, and CRM capabilities.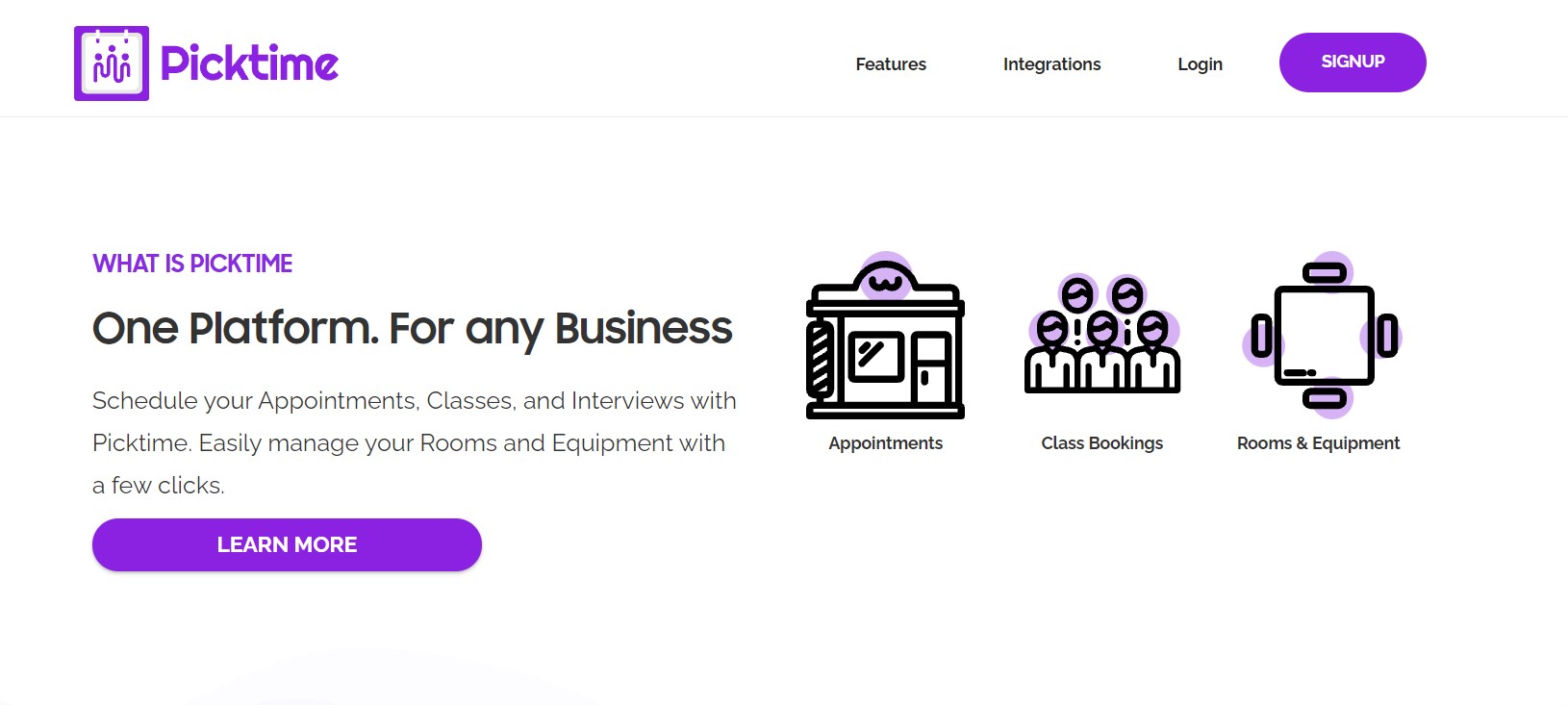 Picktime Features
- Invoice creation records all of your appointments, invoices, and reimbursements.
- Pre-booking your clients' sessions allows you to give them a more personalized experience.
- With PayPal and Stripe connection, accept cash and card payments.
- Email marketing functionality that works with Mailchimp and Constant Contact.
Another great part that distinguishes Picktime from the top 10 best appointment booking plugins WordPress, it is completely free!
5. Amelia
Amelia is a great choice for anyone looking for an appointment booking plugin with a lot of features. The plugin is lightweight and easy to use, but still has all the features you need to efficiently handle appointments, payments, and customers. You can easily modify the plugin to fit your business, and it even has a booking wizard to help guide clients through the process.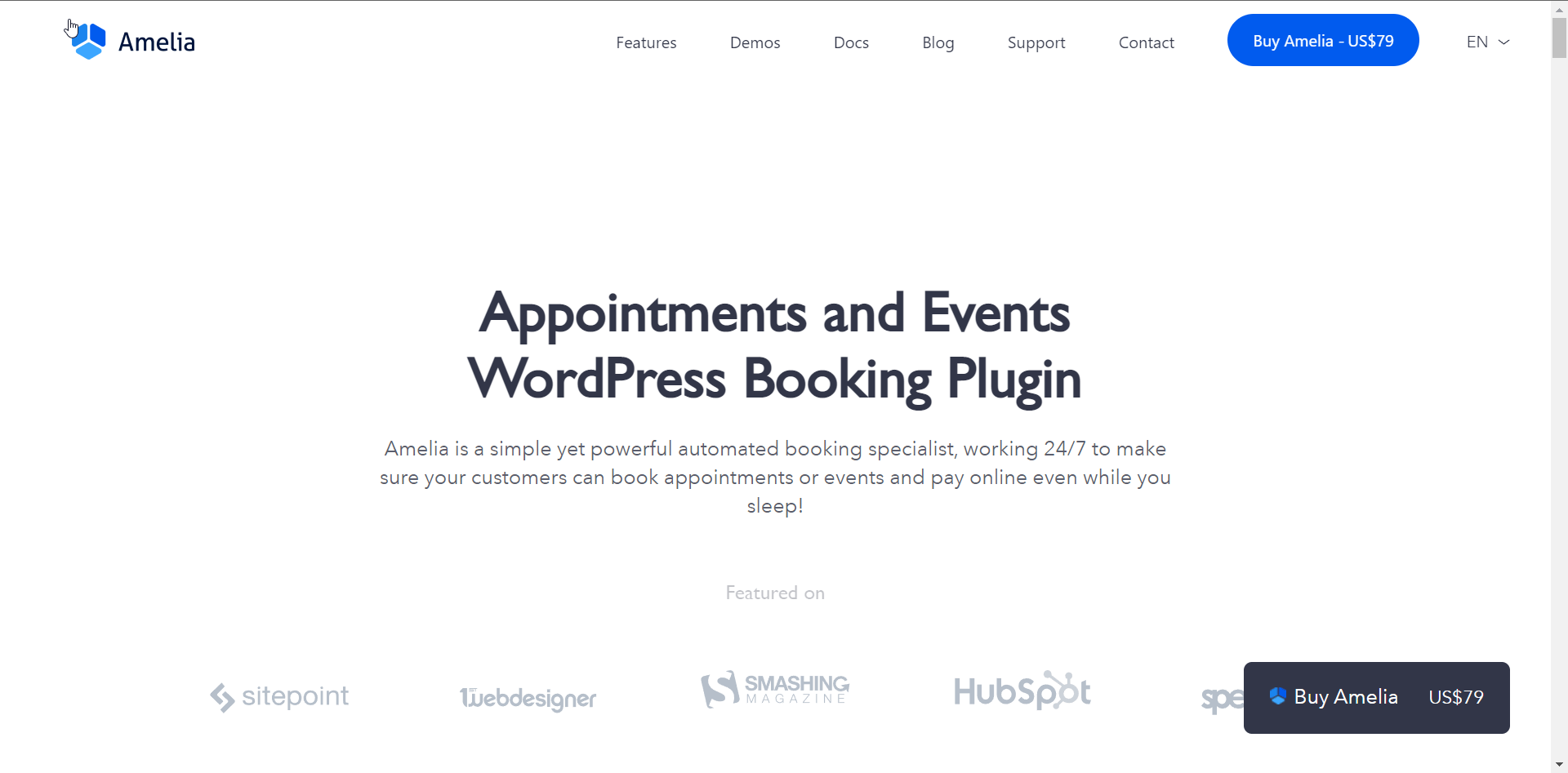 Amelia Features
- Develop plans on the admin panel
- For each proposal, entirely adjustable permission/Limits
- Subscription for monthly/yearly
- First month/year discounts for beginners
- PayPal payments
- Cash Portal Stripe
- Email Notifications for customers
- In the dashboard, full access to enrolled tenants
6. WP Forms
WP Forms is one of the most popular appointment booking plugins. It can be used for any kind of business, and type, for example, reservations, event registrations. Room bookings, in-person service bookings, and so forth.
Each template is mobile-friendly, ensuring that your form looks great on any screen. To begin, simply choose the appropriate template. There is a visual builder with drag and drop functionality that allows you to easily configure the form to suit your company.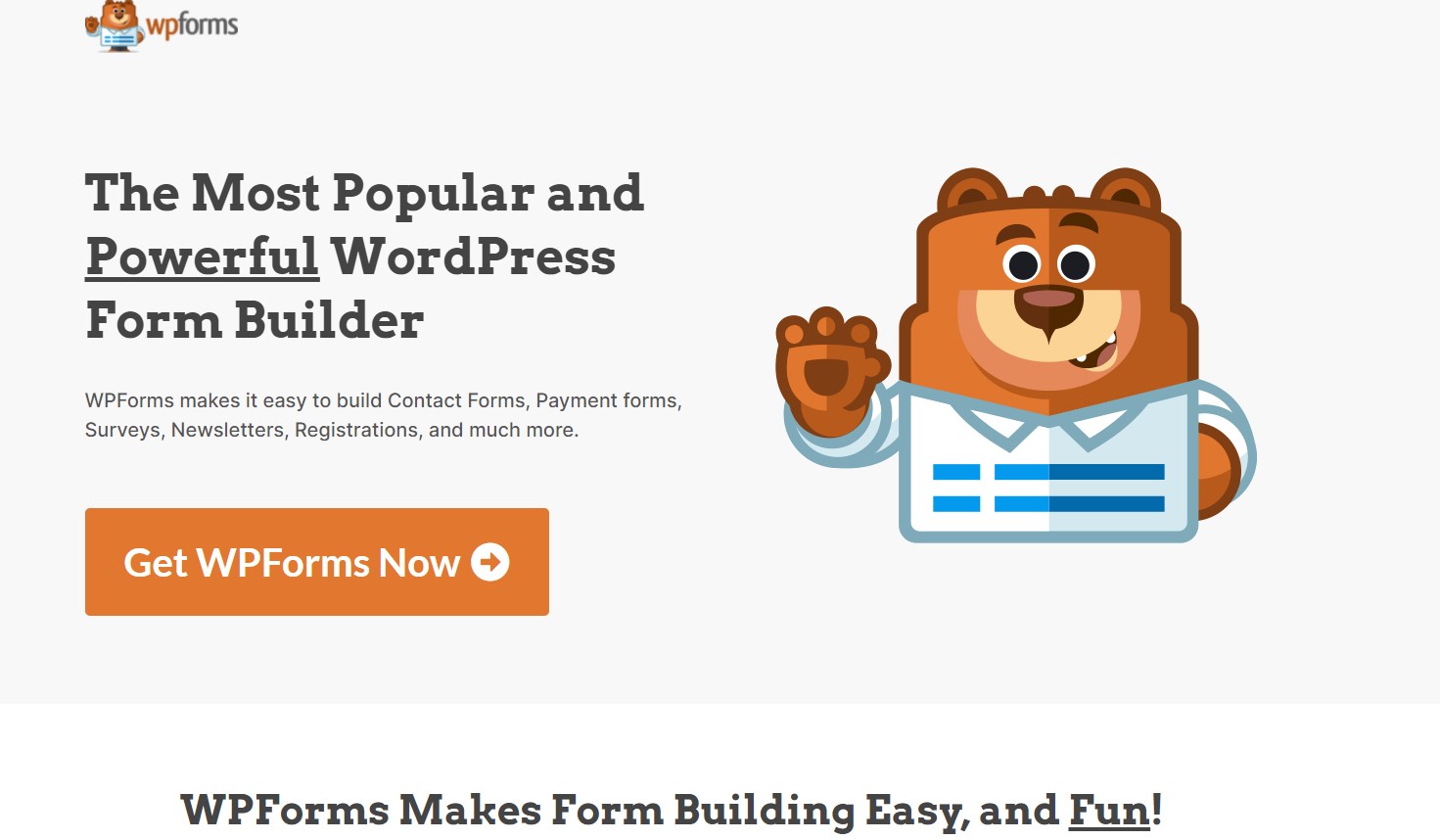 Afterward, WPForms has WordPress widgets and blocks that you can easily embed anywhere on your site with a single click. You'll also be able to insert your contact form on any page with an optimized title and depiction. With the speed and appropriate formatting, WPForms is additionally one of the foremost SEO-friendly contacts from the top 10 best appointment booking plugins WordPress.
WP Forms Features
- Easy to use drag-and-drop form builder that can build a simple form or a complex one with custom field types and edit it in real-time directly from your WordPress dashboard
- WPForms comes with a free version and a premium one, and you can customize your form on your WordPress site in the visual builder
- The free version called WPForms Lite offers all the essential features required to create a contact form using its easy drag-and-drop interface
- You can browse 300+ ready-made WordPress form templates, including many available to Lite customers
- You can build custom newsletter signup forms with branded styling and integrate them with tons of email marketing services or CRM software like Salesforce and HubSpot
- Get an automatic email notification when people filled out your form and can easily view your form entries to help automate sales workflows
- Speaking of automation, you can connect your forms to Uncanny Automator​to integrate with plugins like WooCommerce, Elementor, Sendfox, and MailPoet
- Create customized registration forms and multi-step forms for WordPress, or get even deeper with Webhooks
- Capture emails even when people don't finish filling out forms and reduce your form abandonment rate
Prices are starting at $32, and also come with a free option.
7. Setmore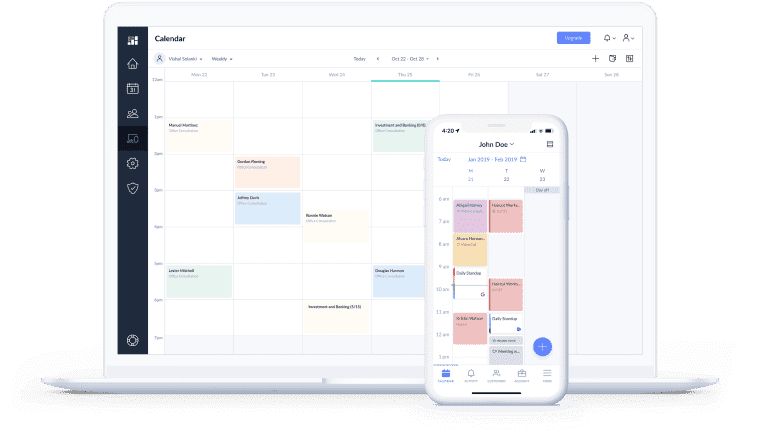 Via Setmore clients can arrange their own appointments, easing some of the strain on the service provider. Individuals, small businesses, and larger organizations are among its satisfied customers. You may manage a range of related operations in addition to scheduling. Online booking, consumer involvement, and payment are all part of this. It has a plethora of management features to assist you in optimizing your productivity and efficiency.
The following are the primary functions.
Setmore Features
- It is compatible with a variety of devices and platforms; you may access it at any time and from any location;
- Customers will receive text reminders if they do not keep their commitments. Allows employees to manage appointments.
- Online booking: Customers can easily book appointments online without having to call or email.
- Payment processing: Customers can pay for their appointments online, making it easy for service providers to get paid.
- Consumer involvement: With Setmore, customers have the ability to view their appointment history, cancel or reschedule appointments, and even leave reviews.
- Integrations: Setmore integrates with over 40 different apps and software, making it easy to manage all aspects of your business in one place.
- Mobile apps: There are Android and iOS apps available so you can manage your customer listings, bookings, calendar, and communication on the go.
A basic Setmore account provides you free access to a variety of services. The Pro edition costs $36 and comes with a 30-day money-back guarantee.
8. WooCommerce Appointments
The next one in our list of Top 10 best appointment booking plugins WordPress is the WooCommerce Appointments plugin is which is useful for managing appointments on your own website as well as WooCommerce, WordPress, and Google Calendar are all fully connected.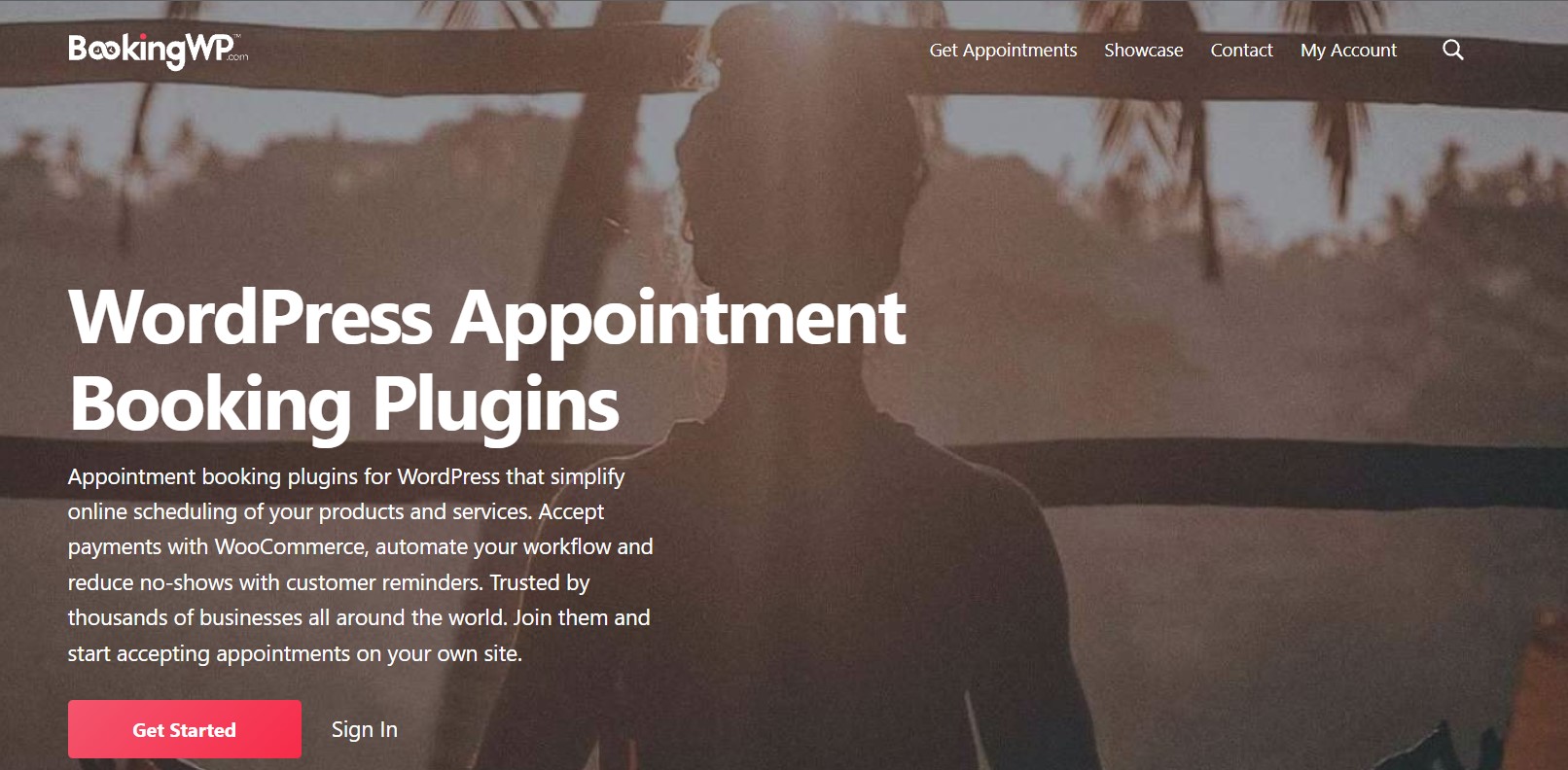 One of the primary benefits of this plugin is how quick and simple it is to install and administer. The interface is simple enough for beginners, but it still gives the versatility that an expert coder needs. Worse yet, your Google Calendar may be synchronized from your website, making it a two-way sync process.
You may also allow consumers to filter based on price or category. Furthermore, WooCommerce Appointments allows you to add additional form fields. You may also use variable availability and price criteria, as well as assign appointments to various staff members.
WooCommerce Appointments Features
- Offer bookings and appointments on your WooCommerce store
- Add an appointment manually and sync it with Google Calendar
- Define availability for appointments with an option to confirm later
- Email notifications with customizable templates
- Manage bookings with convenient calendar view
- Integration with several WooCommerce tools
The prices are starting from $89 for a single site, $129 up to 5, and $299 up to 25 sites.
9. Booking Calendar
The Booking Calendar plugin adds an amazing booking system to your website. Simply display availability and accept bookings for your home or business using an incredibly simple booking system with a neat and seamless interface. This plugin is ideal for so many professionals such as photographers, lawyers, makeup artists, massage therapists, physicians, gym trainers, and plenty more which lets it qualify to get included in our top 10 best appointment booking plugins WordPress.
You don't need a third-party account to manage appointments because all bookings and settings are saved in your WordPress database. But, if you wish to import data from third-party sources such as Airbnb, HomeAway, TripAdvisor, and so on, you may do so simply as well.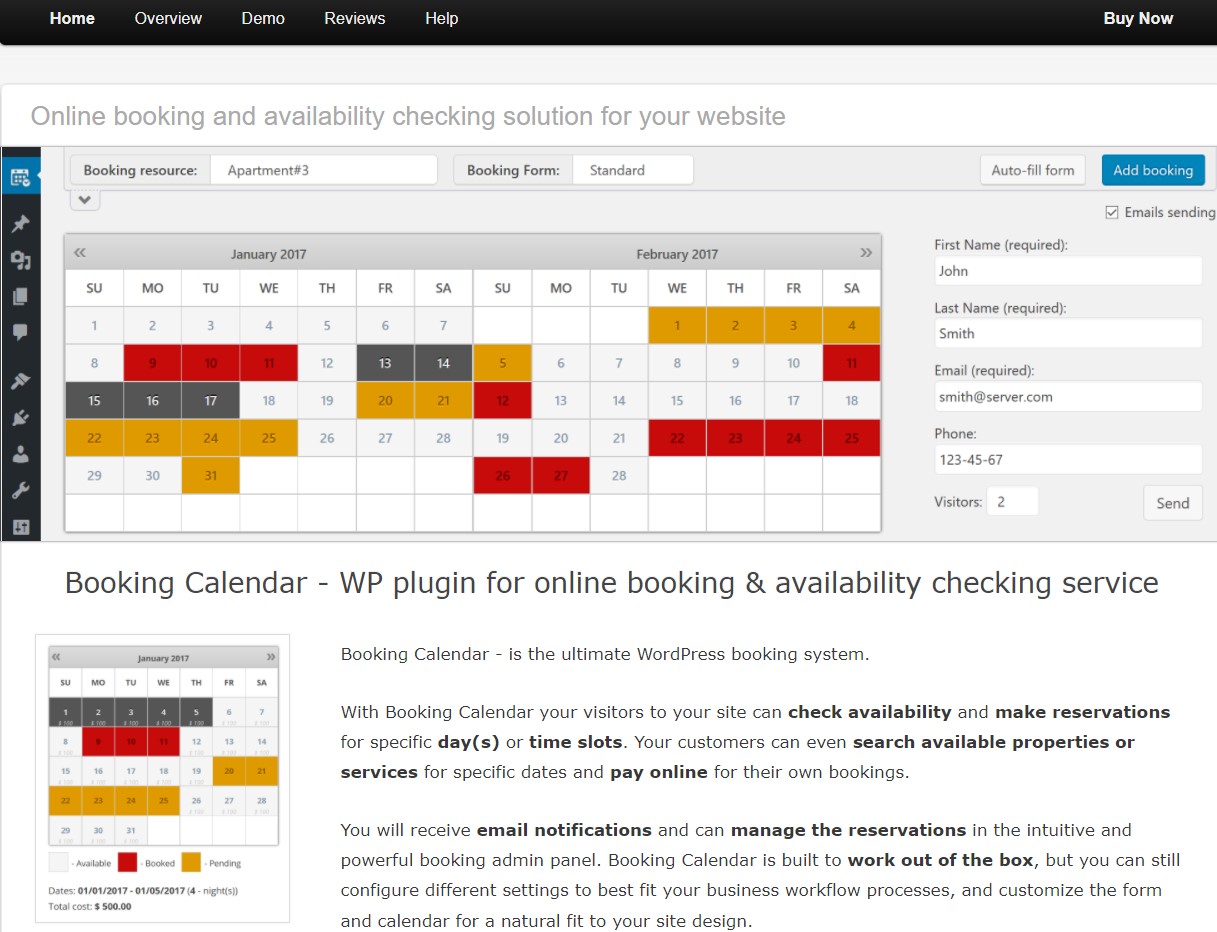 Booking Calendar Features
- The ability to add multiple calendars.
- The ability to add an unlimited number of booking forms.
- The ability to create your own themes.
- Fully customizing themes.
- Booking appointments by hours.
- More features for Extras fields.
- View reservations in monthly format.
- Multi-user functionality (Extended Version only).
- Different values for different days of the week (Extended Version only).
- (Extended Version only) Google reCAPTCHA support .
- (Extended Version only) Discount options for different days of the week .
Minimum and maximum values for hours and days (Extended Version only).
It has a free plan and the premium starts from $60 up to $112 and more depending on the number of users on the website.
10. Simply Schedule Appointments
Simply Schedule Appointments is ideal if you want your clients to be able to schedule phone calls, meetings, or mentoring programs. Tame your calendar so that you can simply control when you're available for appointments and when you don't want to be bothered. Set the minimum time between appointments and easily restrict how many daily appointments you accept.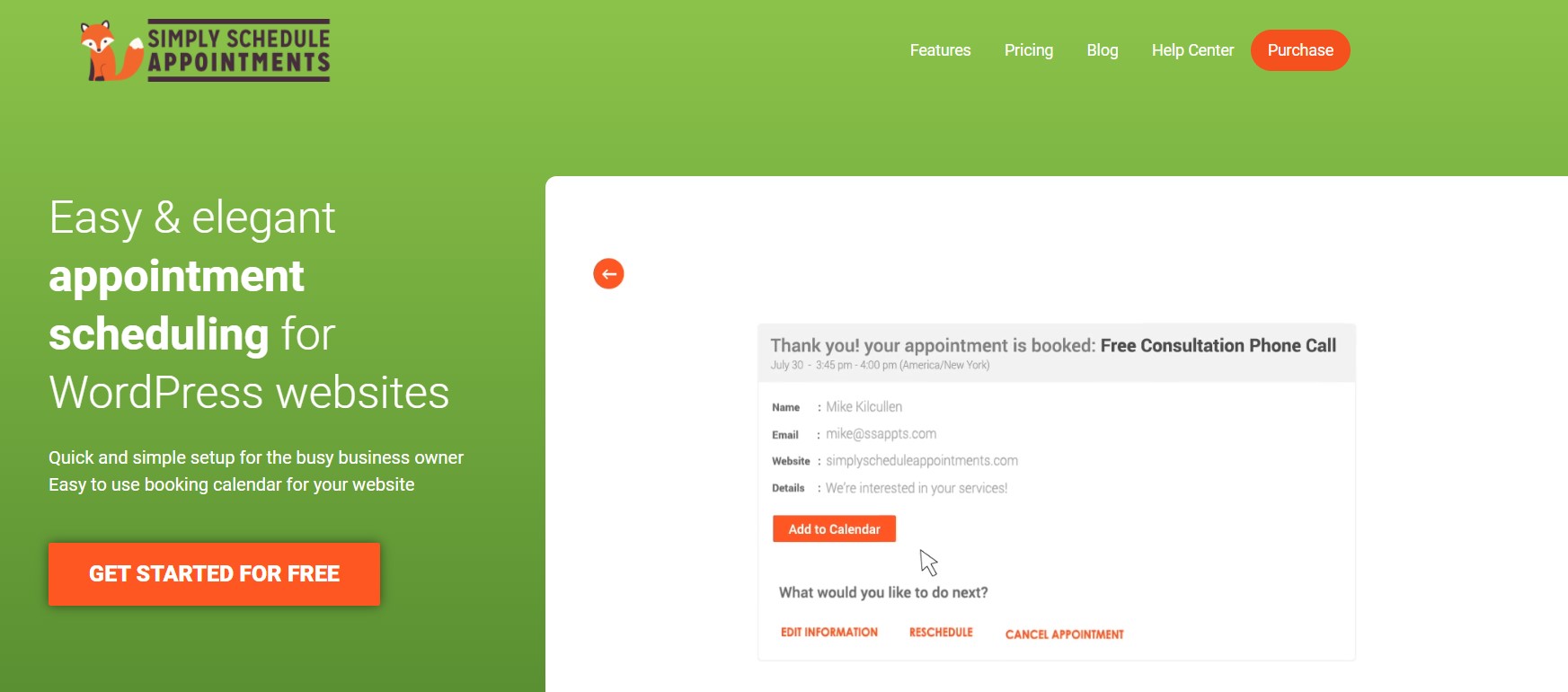 Simply Schedule Appointments Features
- User-friendly front-end booking forms
- Add custom fields to booking forms and customize styles
- Send customizable email and SMS notifications (such as appointment reminders)
- Accept payments via PayPal or Stripe
- Integrate with other plugins/tools, including a catch-all Zapier integration
- Sync with Google Calendar
- Set custom working hours/scheduling rules
- Blackout certain dates (such as holidays)
- Offer classes or group events
- Track conversions
- Manage multiple locations/staff members
Price: It has both free and premium options at $99
11. Rezervy
Rezervy, which supports nearly all sorts of service organizations, is another top-rated appointment booking plugin with multi-step and single-page booking form capabilities.
Rezervy can help you manage Categories-Services-Add-ons, SEO meta tags, and more. StepView Checkout on a Single Page The admin panel, customer panel, and staff panel are all straightforward and easy to use. Checkout for Registered and Guest Users, Auto Confirm Appointments, Weekly Schedule on Dashboard. Registered and unregistered users, as well as the dates and hours of their booked appointments, are also displayed.
Rezervy Features
- Fully responsive design that looks amazing on any device.
- Allows you to export CSV reports of appointments, services, clients, and payments.
- Allows you to track working and off days for your business.
- For notifications, Twilio, Plivo, Nexmo, and TextLocal SMS gateways are used.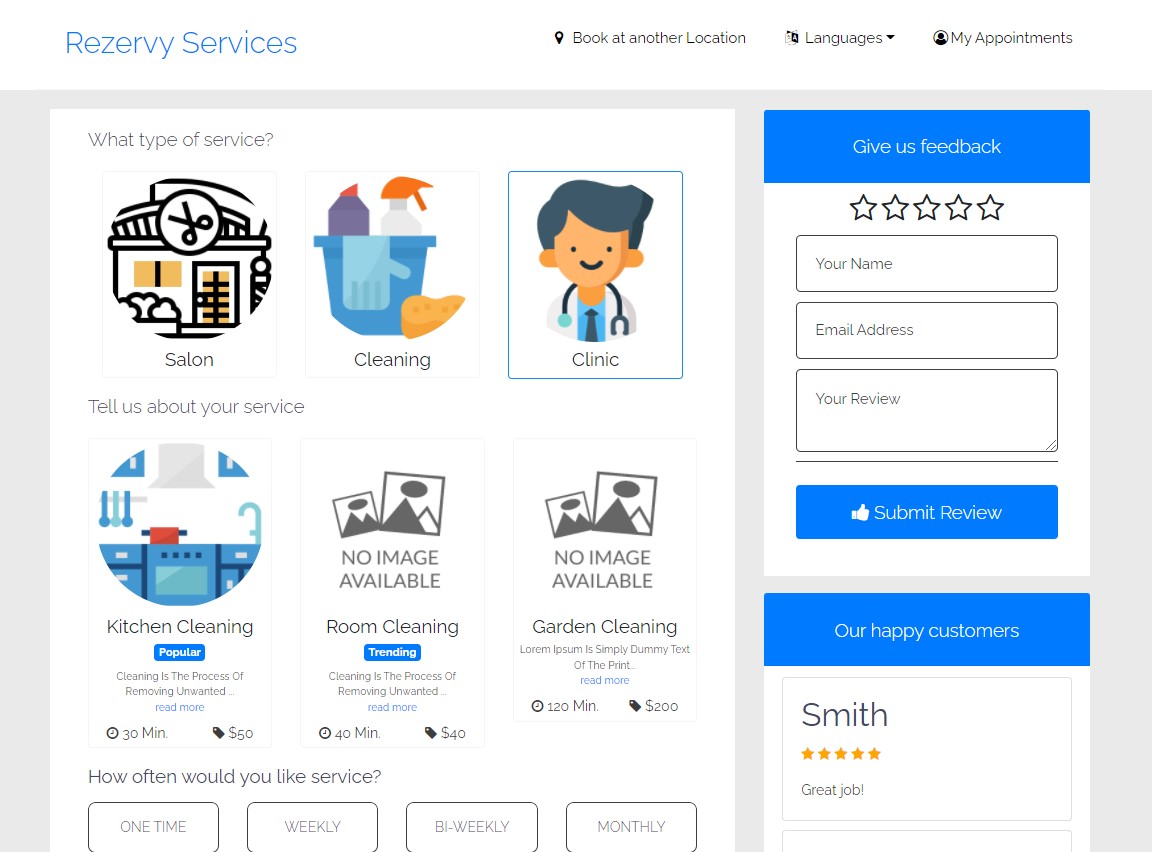 ==> Also read: Best Piercing Appointment Booking System for WordPress
To Conclude
To help you with the compare and contrast process while choosing your favorite, we've compiled a list of the top 10 best appointment booking plugins WordPress, which include both free and paid ones. Whatever method you need to use to manage bookings on your WordPress site, you should be able to find a suitable solution on this list. Hurry up, and add a booking plugin to your site!
Sign up for our newsletter
Be the first to know about releases and industry news and insights.
Let's

get started

on something great
Booknetic is a simple yet powerful plugin for accepting online bookings & payments on your WordPress site.