Calendly vs SimplyBook.me vs Acuity Scheduling | Which is better?
Trying to compare Calendly vs SimplyBook.Me vs Acuity Scheduling but still can't decide which one to go with?
To be a successful boss, you have two options: take care of everyone's schedules and do everything yourself or try using an online scheduling app. This process requires careful consideration because not all platforms offer what your business needs for success.
Today we have three well-known appointment booking plugins, Calendly vs. Simplybook.me vs. Acuity Scheduling. We will discuss all the same and different features, integrations, and prices to help you choose the best one for the needs of your business.
Calendly vs. SimplyBook.me vs. Acuity Scheduling: Overview
Calendly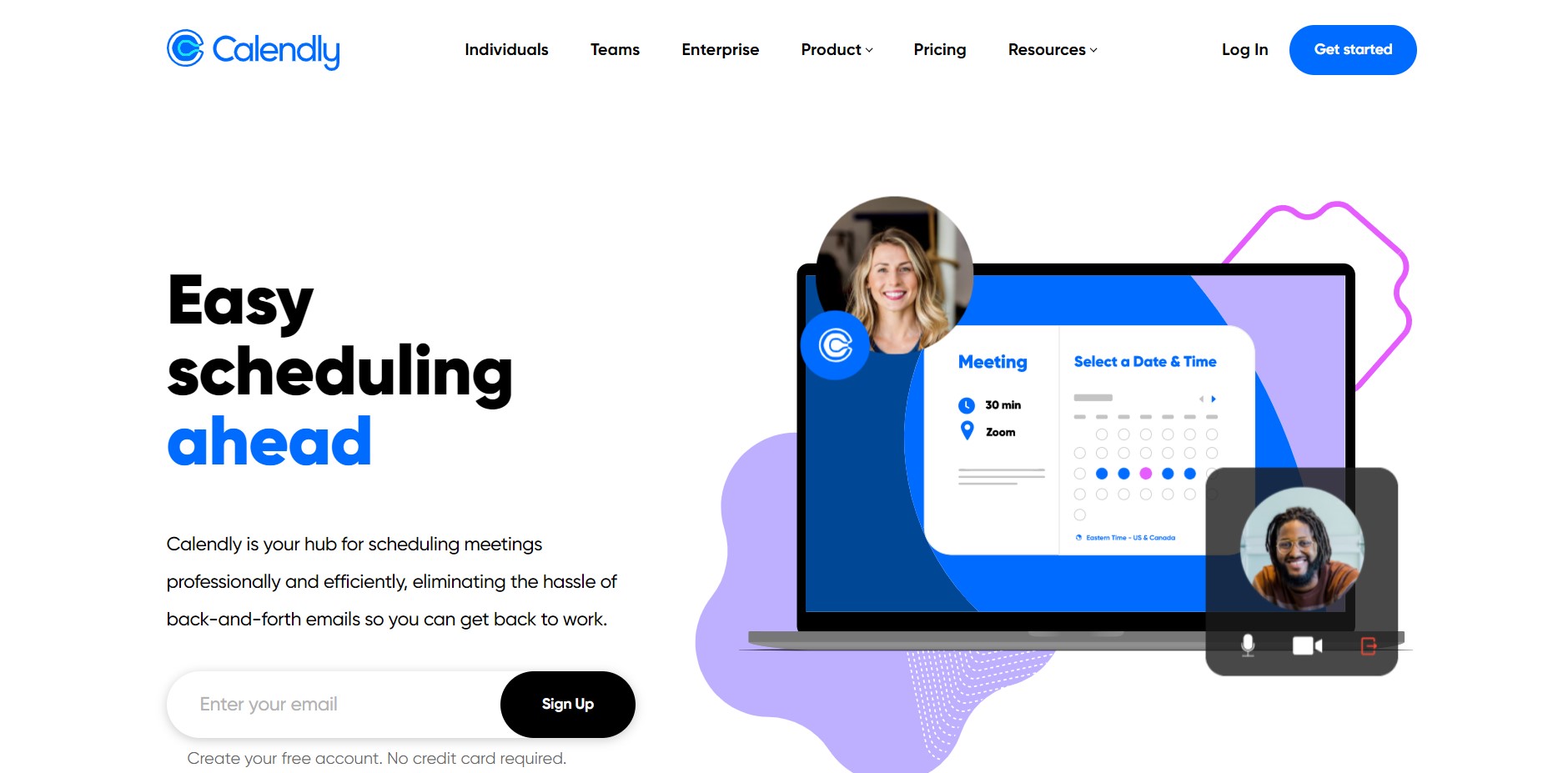 Calendly is a scheduling platform that appeals to a range of businesses. It allows you to plan group, one-on-one, and collective meetings without sending emails back and forth.
Calendly is a time-saving and more efficient way to schedule appointments. Its powerful features allow you to save time, speed up sales leads or improve service quality with no hassle. The tool reduces tedious tasks like emailing or calling people to reschedule meetings by automating simple responses with one click.
SimplyBook.me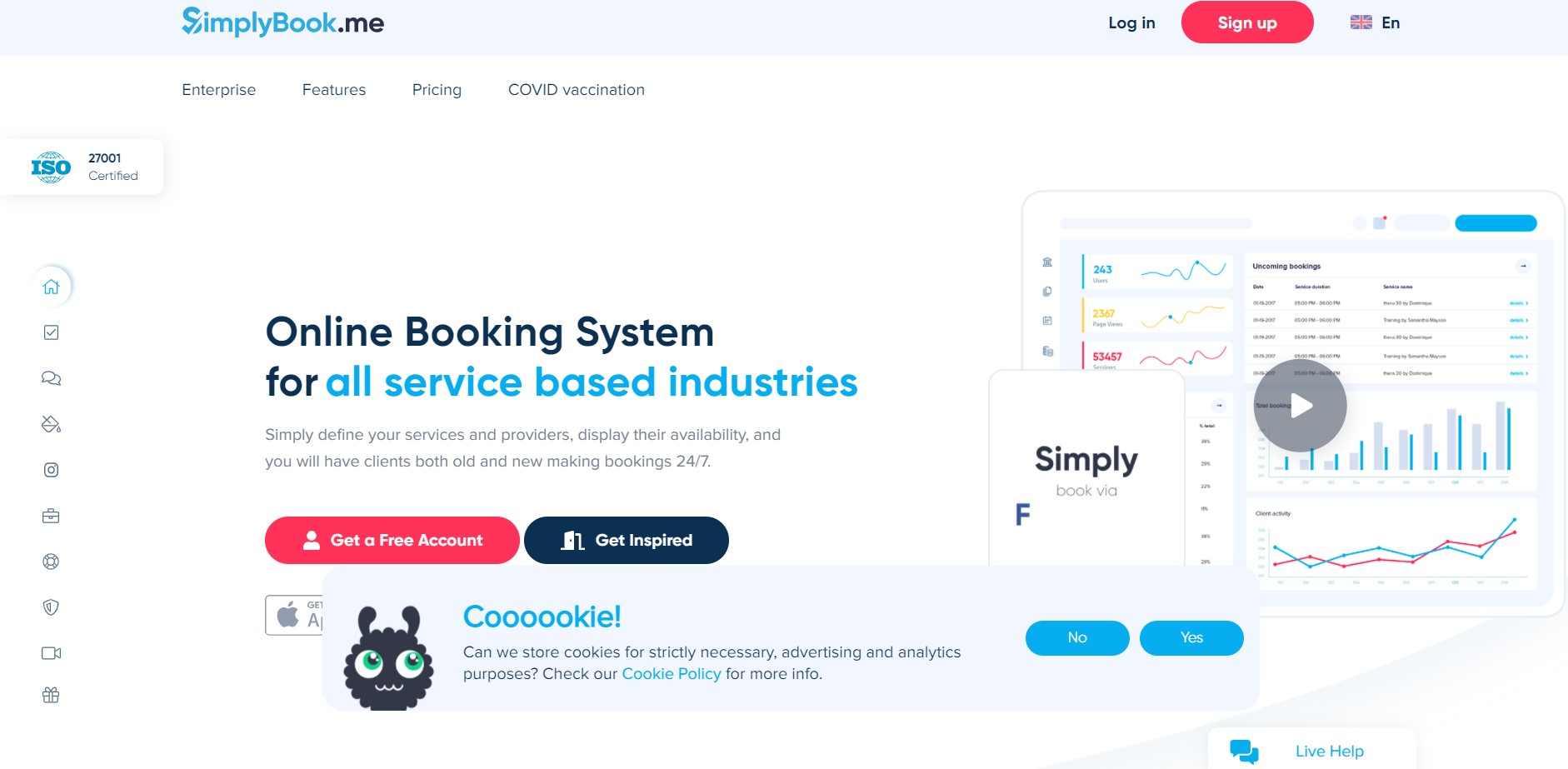 SimplyBookMe is an online booking system for all service providers. It is software that helps to automate and simplify scheduling procedures, making it easier than ever before for them to have an online booking system accessible from mobile devices or desktop computers at all times of the day.
Acuity Scheduling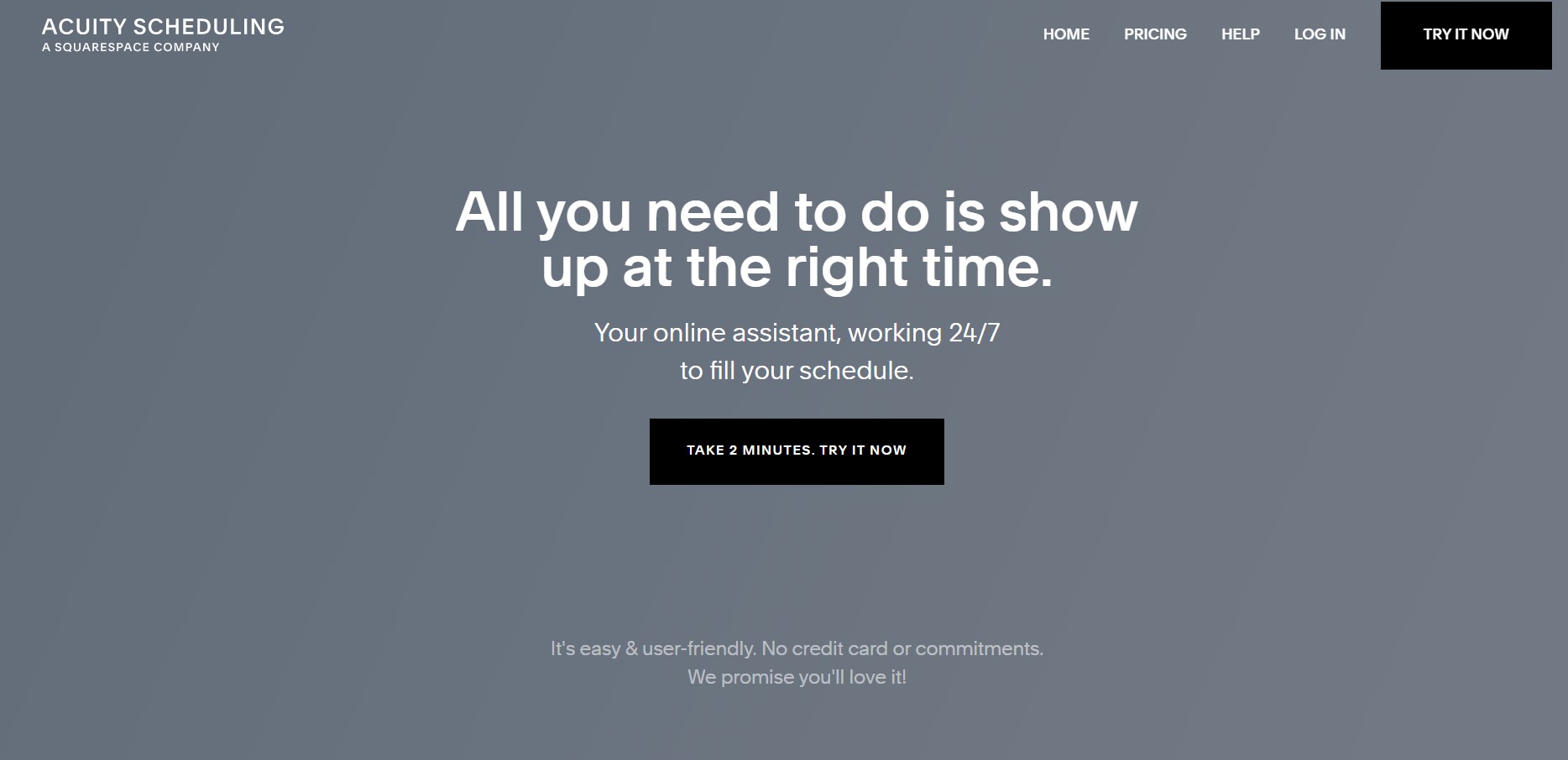 Acuity Scheduling is a booking system that helps to control your team's availability and organize client information. It comes conveniently equipped with all the features you need. It facilitates automated booking and payment processing while allowing users to easily schedule resources from multiple locations.
Calendly vs SimplyBook.me vs Acuity Scheduling: Which one is the best?
Calendly is a popular choice since its intended use is for anyone who needs scheduling software. You may configure it for single users, small and medium-sized businesses, and corporate clients with more than 1,000 users. Highly skilled for sales teams, recruiters, customer service representatives, educators, entrepreneurs, and anybody who organizes meetings.
SimplyBook.me is an online booking solution for SMEs and businesses in various service industries. SimplyBook.me is appropriate for all small and medium-sized businesses that accept bookings, such as beauty salons, schools, consultancies, and so on. Within the admin interface of the Enterprise solution, you may manage all modules. SimplyBook.me primarily serves the health and wellness industry.
Acuity is a company designed to meet the needs of small businesses, particularly those within service industries and with fewer than 1,000 users. It is ideal for small to medium-sized fitness businesses that provide classes and individual sessions.
And three of them serve freelancers the best they can do.
Calendly vs SimplyBook.me vs Acuity Scheduling: Pros & Cons
Calendly
Pros:
Calendly offers many great features that make it one of the best scheduling solutions on offer. It has excellent integration, and mobile support and is easy to use.
This software makes it easy to keep your event plans on track with a fantastic range of features. It automatically adds new events and provides notifications for any changes or cancellations in advance, so you never miss out.
The interface is simple with a modern design that ensures seamless use by everyone involved; confirmation emails can be sent directly from their inboxes, too, which helps streamline communication even more effectively than before.
Cons:
The majority of people like Calendly; however, there are some drawbacks. For example, you can only set this up for all users in your account; the basic version has limits, no training guide or help website; and it can be challenging to modify time zones.
SimplyBook.me
Pros:
The SimplyBook.me platform has a stable and flexible interface that's perfect for any business looking to grow their clientele, as well as mobile support.
SimplyBook.me is a plugin-based platform that we can integrate easily with other services offered online to allow users the opportunity of collecting clients' data using added field plugins.
This tool provides many advanced features which may not be available on competitors' sites. Users may make online payments using PayPal, Skrill, Dwolla, Bitcoin, Zooz, Mollie, CCAvenue, and PayFort using its payment plugins before the booking process is completed.
The Google Calendar Sync plugin can assist you in adequately synchronizing booking activities and time availability.
Cons:
People seem to believe that the prices are too high, that the add-ons are too expensive, that emails are not delivered in HTML, that there are no multi-buy possibilities, that the calendar dates are not locked, and so on.
Acuity Scheduling
Pros:
Acuity Scheduling includes many valuable features that make it suitable for company owners. Intelligent and secure scheduling, extensive revenue tracking with extensive customization options, and private transactions are all included in one package.
The features of Acuity Scheduling are sufficiently configurable to meet your current requirements. You may share the calendar on social media platforms like Twitter and Facebook. You can also send it via email. Additionally, the calendar may be incorporated into your website to facilitate a more streamlined booking procedure.
Cons:
Calendar displays are illegible, challenging to navigate, and inconsistent between platforms. The applications are riddled with bugs, and the views are poorly designed and useless. Some payment-related features are accessible exclusively on particular-priced plans.
==> Also read: Doodle vs Calendly vs WhenIsGood
Calendly vs. SimplyBook.me vs. Acuity Scheduling: Feature comparison
If we look at which one has the most features, SimplyBook.me is on the first ladder with 139 total features, the second one is Acuity Scheduling with 107, and the last one is Calendly with only 38 total characteristic features.
Similar features include:
· Appointment Scheduling
· API
· Automated Scheduling
· Alerts/Notifications
· Availability Indicator
· Client Portal
· Calendar Sync
· Class Scheduling
· Confirmation/Reminders
· Employee Scheduling
· Email Reminders
· Event Scheduling
· Email Management
· Group Scheduling
· Meeting Room Booking
· Online Scheduling
· Resource Scheduling
· Reporting & Statistics
· Payment Processing
· Third-Party Integrations
Varied Features:
Calendly:
· Collaboration Tools
· Quote based pricing model
· ‌Knowledge base management
· ‌Meeting management
SimplyBook.me
· Barcode / Ticket Scanning
· Before & After Pictures
· Call Reminders
· Customer History/Mobile App/Support/Surveys
· Gift Cards/Coupons
· Drag & Drop
· Email Marketing
· Live Chat
· Marketing Automation
· Member Communication
· Multi-Language
· Online Classes
· Ratings / Reviews
· Recurring Tasks
· SSL Security
· Wait List Management
Acuity Scheduling
· Accounting Integration
· Business Coaching
· Consent Management
· K-12
· Life Coaching
· Mobile App
· Multi-Provider Practice
· Multiple Appointment Types
· Online Scheduling
· Recruitment Management
· Virtual Meetings
· iCalendar Support
Calendly vs. Simplybook.me vs. Acuity Scheduling: Integrations
If we pass to the integrations, things have changed. SimplyBook.me has the minor integrations among all with 23, Acuity Scheduling has 104, and Calendly has the total integrations with 126.
Mutual integrations:
· Google Calendar
· Microsoft Outlook
· PayPal
· Zapier
Calendly and SimplyBook.me do not support iPaaS. You may utilize the 2-way calendar sync or the iPaaS integration in SimplyBook.me. These are bespoke features, and the Free plan only allows for one.
On the other hand, the Free plan of Acuity Scheduling does not provide two-way calendar sync, online meetings, or iPaaS connectivity. On the other hand, Acuity doesn't make much of the free plan. If you do not upgrade to a premium plan after the 7-day free trial, you will be switched to it.
Different integrations
Calendly:
· Salesforce Sales Cloud
· HubSpot CRM
· Zendesk
· ‌Microsoft Teams
· Intercom
SimplyBook.me
· Joomla
· Bitcoins
· Dwolla
· Skrill
Acuity Scheduling
· Constant Contact
· QuickBooks Online Advanced
· Shopify
· join.me
· Wix
· Xero
· Simplero
· Wufoo
· Pipedrive
With the landscape of scheduling services changing, we must note when specific features are missing. For example, both Acuity Scheduling and SimplyBook .me support Facebook, while Calendly only has integration partnerships with Mailchimp for email marketing purposes.
Calendly vs. Simplybook.me vs. Acuity Scheduling: Price
Calendly pricing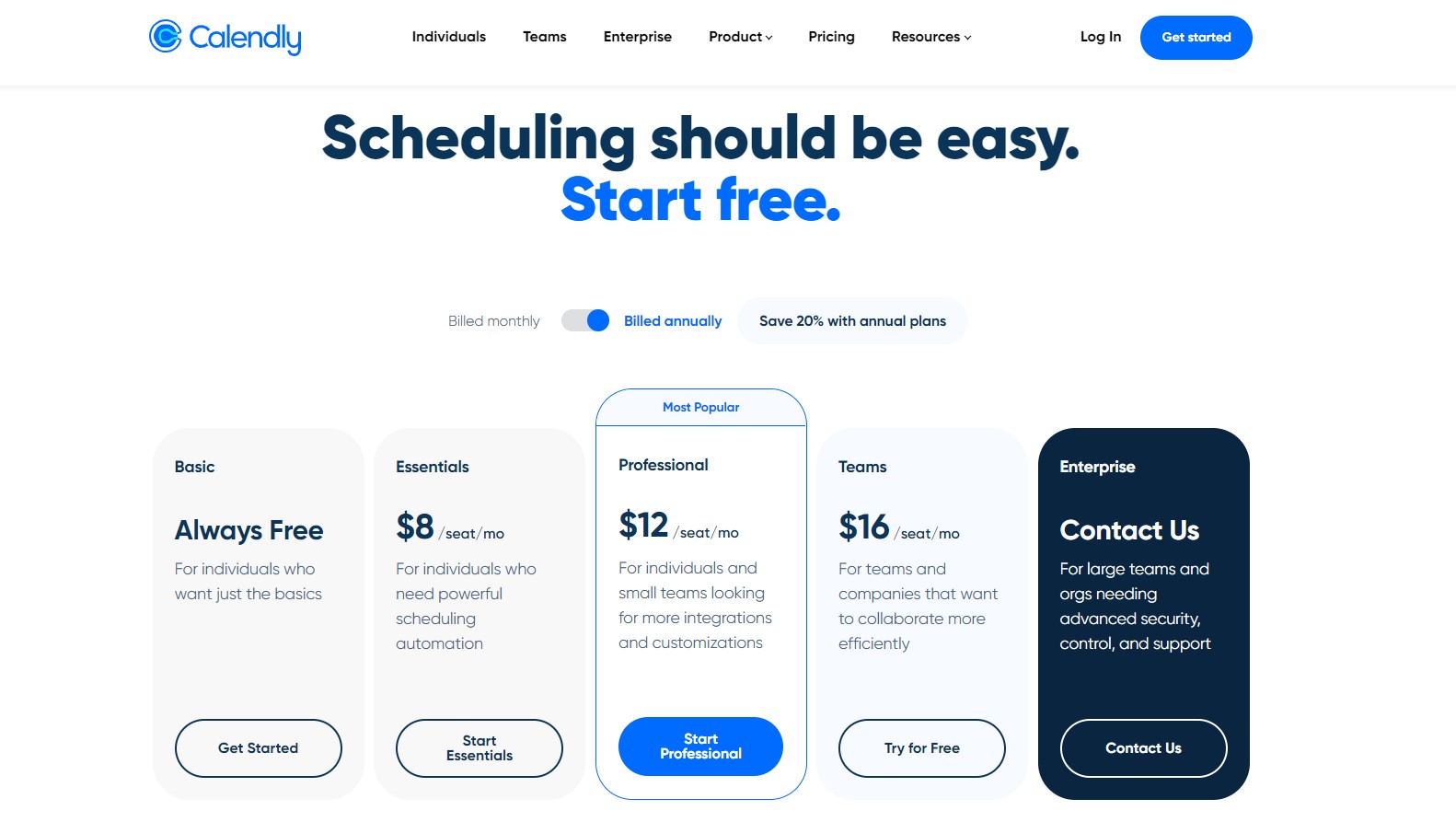 Calendly offers four different plans. You will receive:
Basic Plan - free (but only one calendar connection per person)
Essentials - $8/month
Pro Plan - $12/month
Teams - $16/month
You will save $24 on the Premium version and $36 on the Pro Plan if you pay every year.
Join up for a 14-day trial of Calendly Pro to test it out. After that, you may opt-out if it isn't the ideal scheduling tool for your company.
SimplyBook.me pricing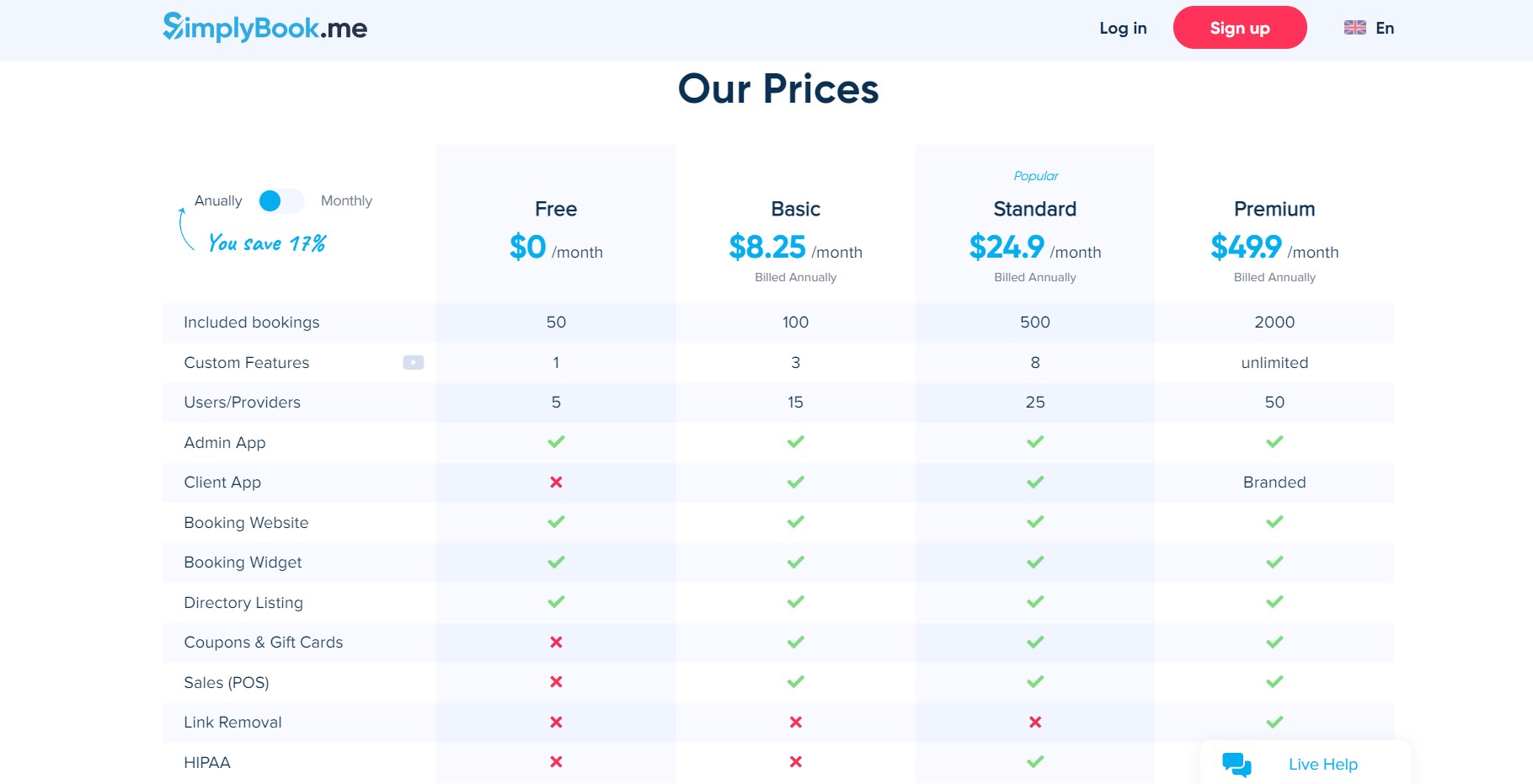 There are four plans available for the product: free, basic, standard, and premium. You may compare the various choices on the program's price page and sign up for a free 14-day trial.
Free - $0/month (includes only 50 appointments)
Basic - $8.25/month
Most popular Standard - $24.9/month
Premium - $49.9/month
Acuity Scheduling pricing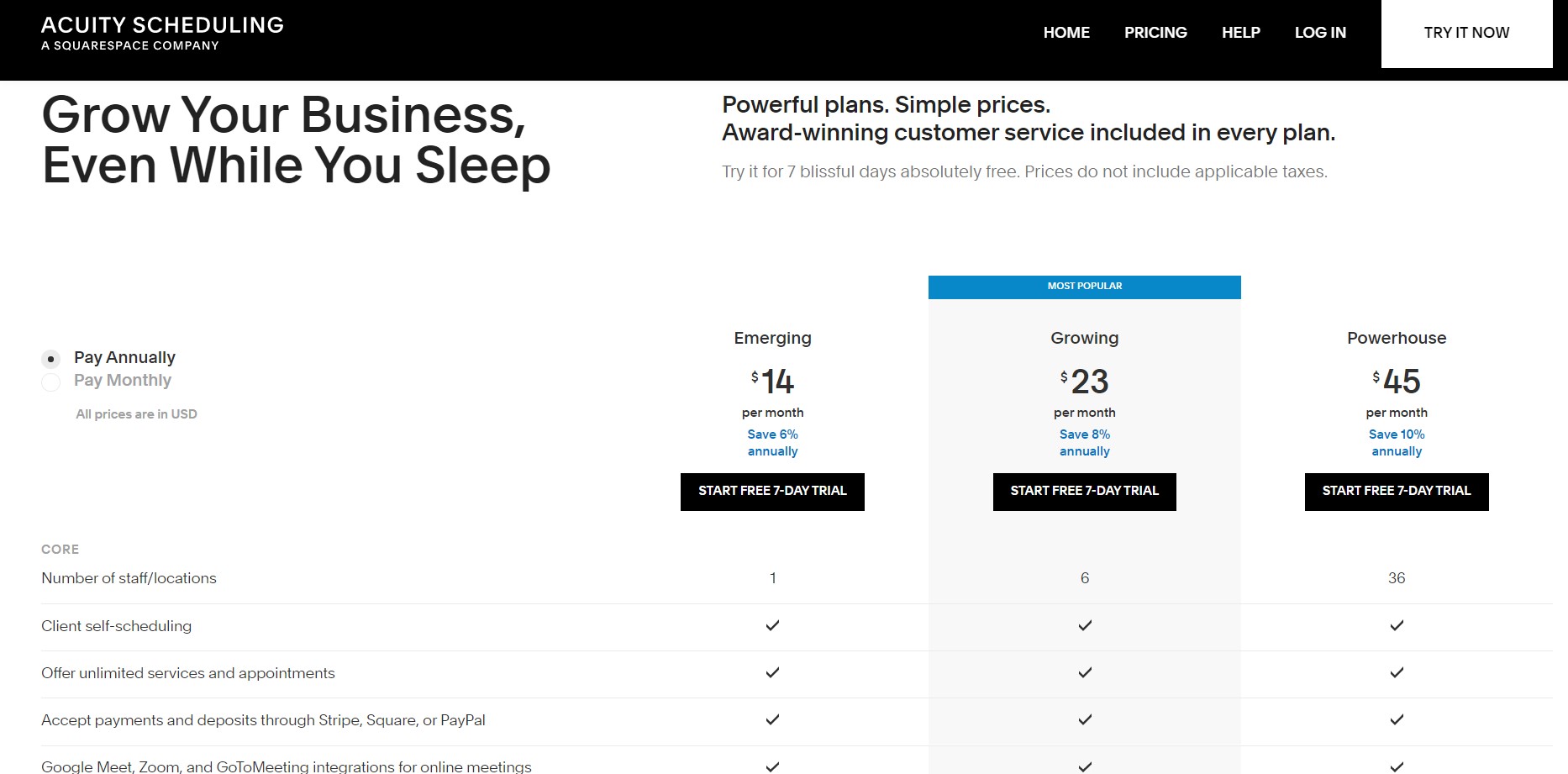 Acuity Scheduling provides a free trial; however, no free version is accessible. The most basic plan covers a single user or location, whereas the premium plan includes 36 staff members or sites. Pricing is based on yearly subscriptions and is as follows:
$14 per month for Emerging
Growing: $23 per month
$45 per month for the Powerhouse
Conclusion
We compared Calendly to SimplyBook.me and Acuity Scheduling today. They were presented with benefits and drawbacks, distinctive functions, integrations, and, of course, pricing. It isn't easy to define which is more worthy, but you might select based on your priorities and requirements. Hopefully, this blog will be of use to you.
Don't stop reading because we have a bonus appointment booking plugin for you. Most platforms are based on WordPress; therefore, if you're looking for the ideal plugin to prevent frequent blunders while scheduling an appointment, Booknetic should be your first pick. This plugin includes all you need for a simple appointment. All of the capabilities and more make it an excellent choice for any size business or person wanting to arrange their next meeting quickly and effortlessly from anywhere in the world.
We are sure that after trying, you will buy this great plugin, and even it is more affordable for such features as Zoom integration, Google Calendar Sync, various payment options (WooCommerce, PayPal, Stripe), Notifications (SMS, Whatsapp, Email), Group appointments, Translator, RTL, Form builder and so on.
Have your ultimate Calendly vs SimplyBook.me vs Acuity Scheduling comparison to decide which is the best solution for you.
Sign up for our newsletter
Be the first to know about releases and industry news and insights.
Let's

get started

on something great
Booknetic is a simple yet powerful plugin for accepting online bookings & payments on your WordPress site.