Features That Make Booknetic WordPress Plugin a Great Choice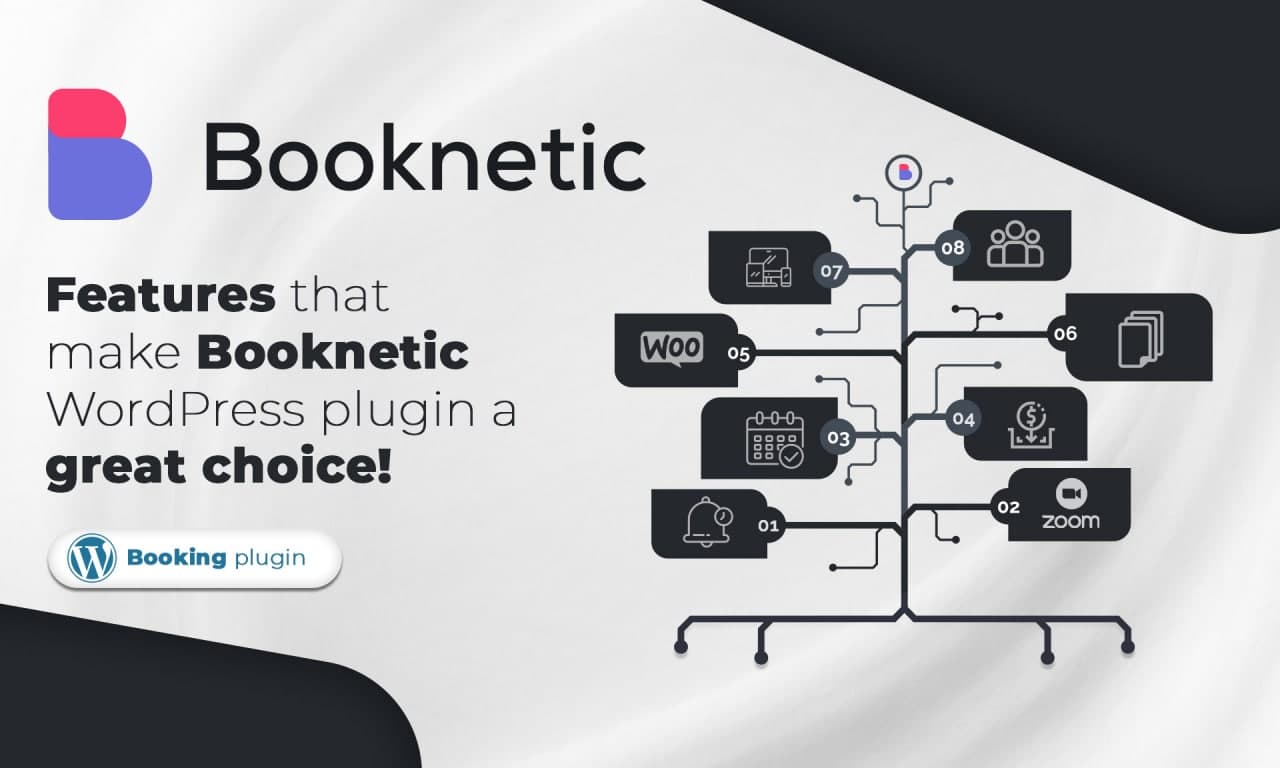 You need an online scheduling software if your company takes reservations or appointments, period. To evaluate the current method, take a moment. How does a client plan their appointment? Without any online booking scheme, the mechanism looks hard. The client finds your phone number and calls you. If they're fortunate, someone quickly replies. They wait on hold or hit your voicemail otherwise. The client identifies the service they are requesting and requests your availability. The customer scrambles to find a paper sheet for writing the time and date. It sounds like a long and complicated process. That's why you should use an online booking plugin.
In comparison, 36% of individuals said their most terrific pain point for arranging appointments was standing on hold too long while booking over the phone, and 20 percent of individuals said that the biggest hassle was having to wait to call to book during working hours.
You will remove more than half of the most significant pain points for customers by adding a booking system to your WordPress platform while also supplying them with their most desired booking alternative.
94% of customers say that when considering a new service provider, they are most likely to select one that provides online booking services compared to a provider that doesn't. Having an online booking system on your site will get your clients book online. In brief, adding your website with online booking options will:
Enhance your effectiveness
Strengthen the consumer service
Reduce the amount of time required to book appointments
Increase the chances of getting fresh clients
Bringing you a strategic edge
Now that you know the value of getting a booking plugin for WordPress, you need to add one to your website.
We're going to learn today about the Booknetic online booking plugin. One of the best plugins for your WordPress website is Booknetic. The Booknetic plugin can be installed and managed quickly. It is a mobile-friendly and fully customizable plugin. Booknetic has a lot of advantages and features.
Here are these features:
Following the worldwide pandemic, Zoom has developed a critical tool for all company teams that want to stay in touch and resume their everyday work with limited interruption. You can schedule meetings with your clients directly on Zoom due to its recent functionality.
You don't need to schedule and combine your appointments in multiple locations with our Zoom Integrated Appointment Booking system. A Booknetic plugin would be enough for this.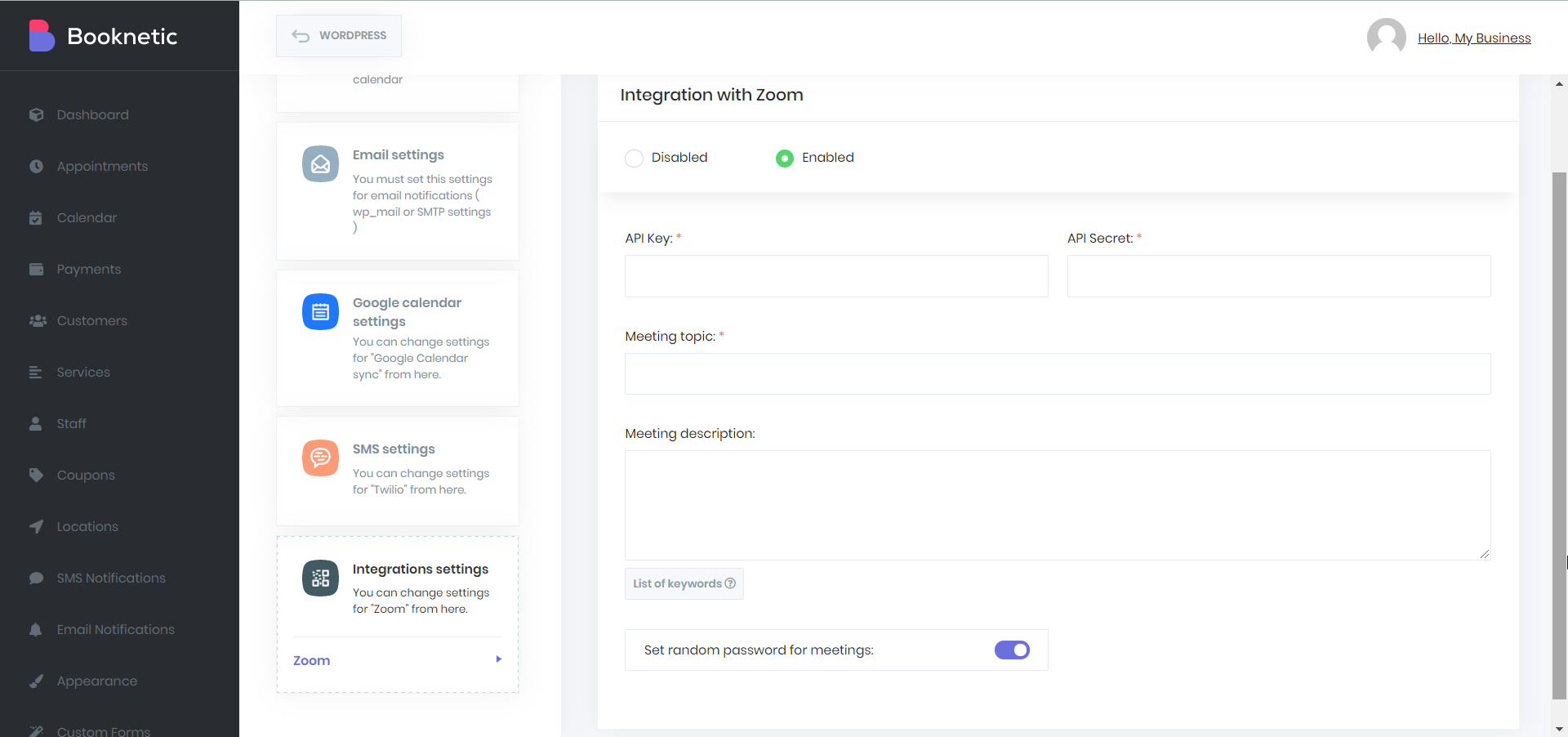 Google Calendar allows other Google users to be asked to share a calendar with you. This method is priceless if you are working with team members. When each member is working, all members of a team know.
All of this is automatically stored on your Google Calendar as you receive or approve new appointment requests. Thus, you can conveniently track all your appointments and collect updates from your mobile. This feature also performs well for clients.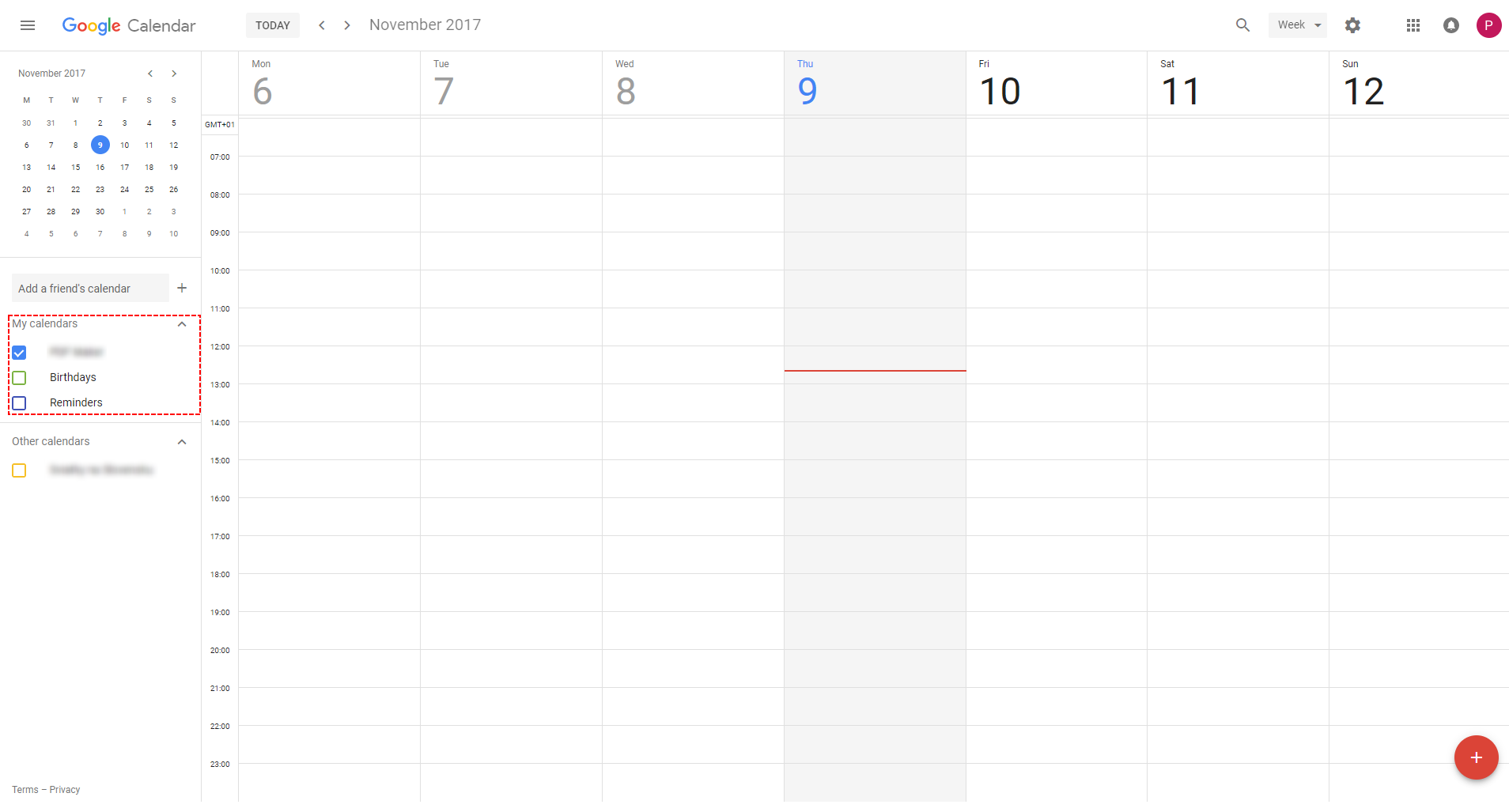 WooCommerce is one of the world's most-used websites for eCommerce. WooCommerce has expanded widely across the globe, with platforms compliant with WooCommerce in every country. For invoicing and charging clients, WooCommerce is really effective. But you can very quickly integrate WooCommerce and the Booknetic plugin. The built-in features of WooCommerce make the buying process for clients easy and stress-free.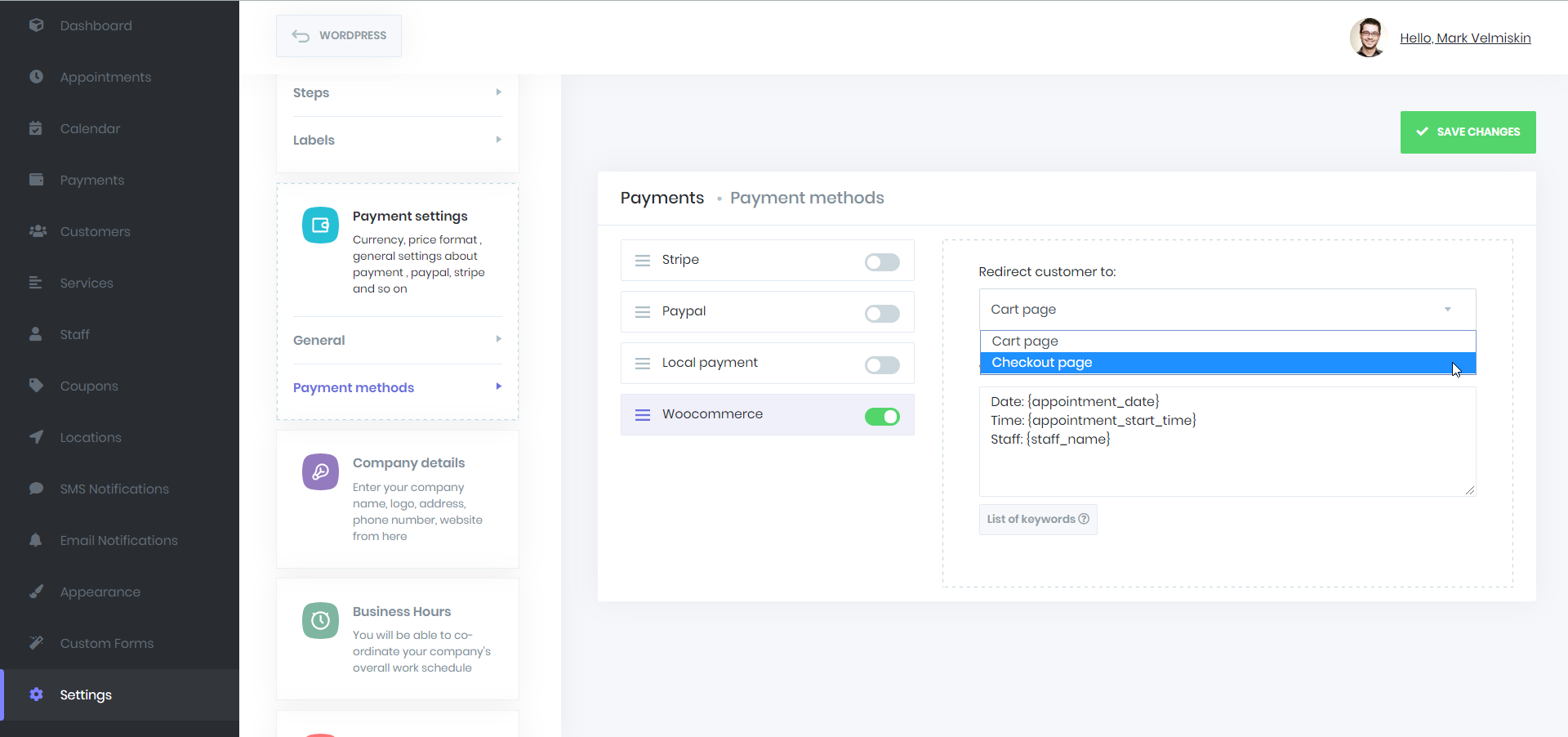 You can send alerts of any type to your customers via the Booknetic Plugin SMS Notifications system. When scheduling an appointment on the WordPress page, the client will get instant SMS updates about the appointment date and time. By can the level of service you offer, this service would help improve your communication with your clients.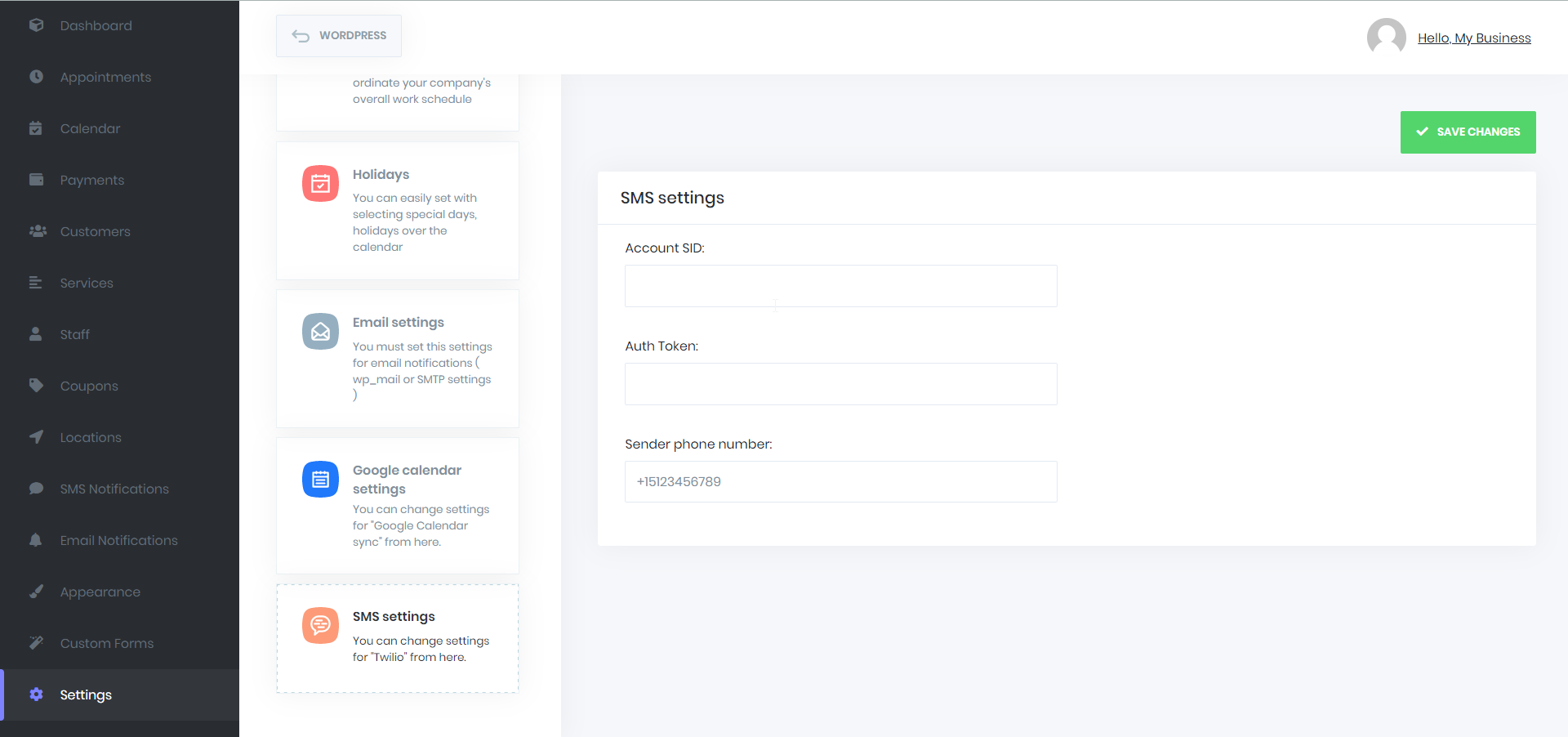 You will be able to send your customers updates via the Booknetic online booking plugin email notifications system. When scheduling an appointment on the WordPress page, the client can get email updates about the appointment date and time. By - the level of service you offer, this feature can help improve your connection with your clients.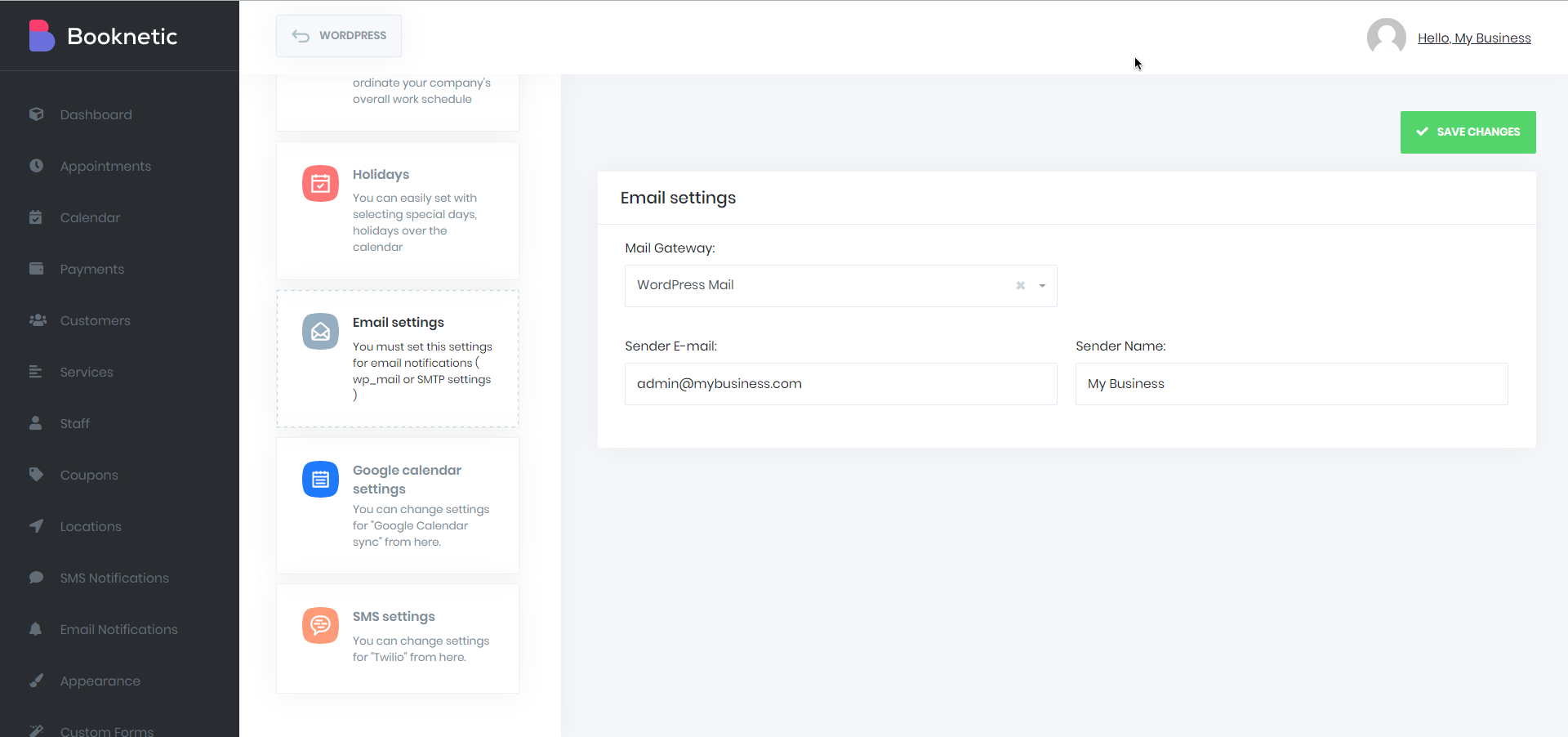 As a company owner, you need your customers to remember their appointments. Missed meetings cost you money and time.
The Booknetic Appointment Booking Plugin simplifies how you can connect with customers. You can now send text or email updates directly to receive a host of benefits for both you and your customers.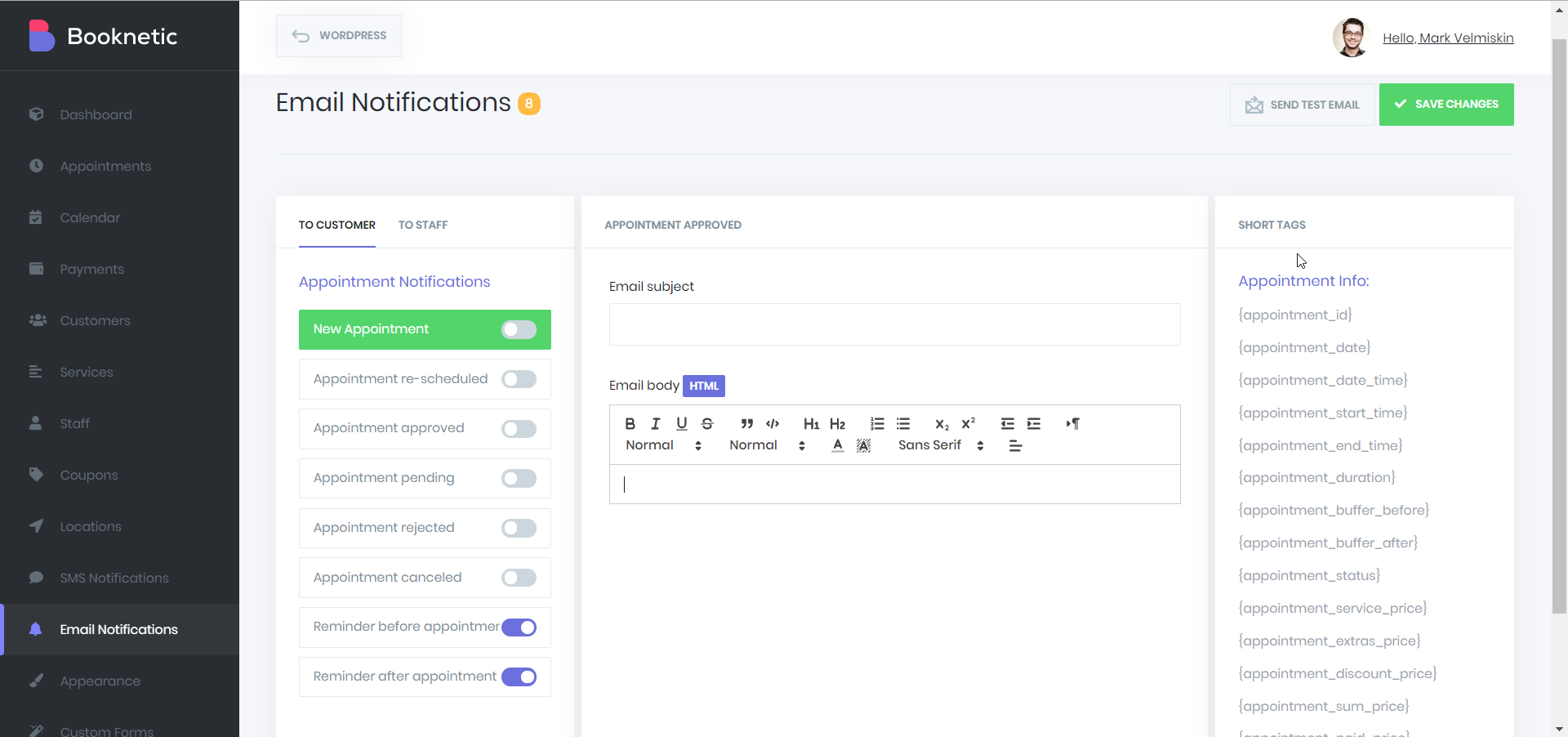 Since they are the world's most reliable payment instruments, Stripe, PayPal, Mollie, Razorpay, Square are the most used and most common payment mechanisms globally.
For your system's automation and the level of support, you offer to your clients, online payments are critical. As a result, the more secure and popular the online payment system you use, the greater the number of online payments you earn.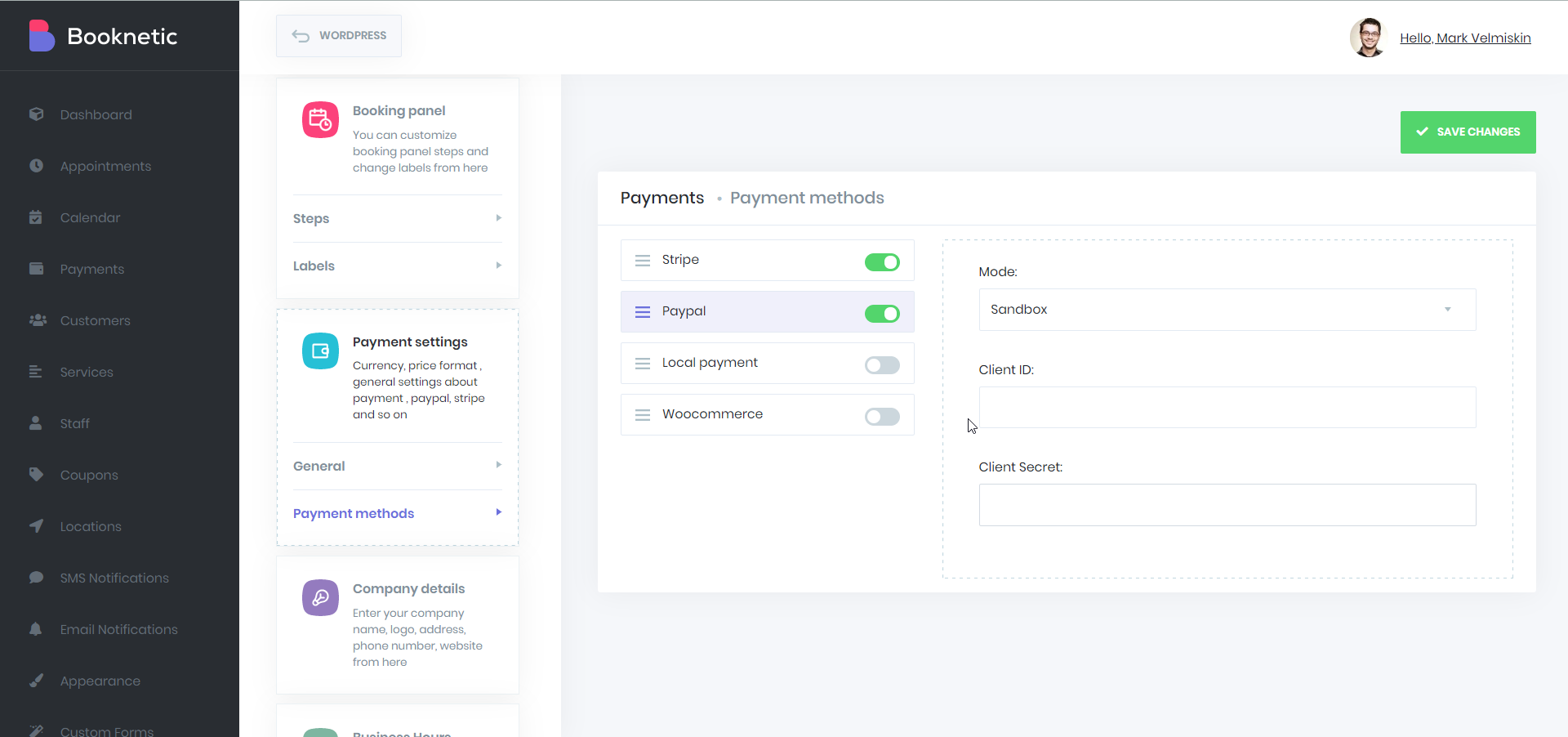 With this feature, the customer has to pay a deposit for an appointment while making a reservation. So if your customer doesn't come to a meeting, you will get some money. Stripe, PayPal payment methods encourage you to collect your deposit payments. Or you might use WooCommerce for your purchases if you like. You can easily accept online deposit deposits this way. You will not suffer financial loss because the clients do not come to appointments.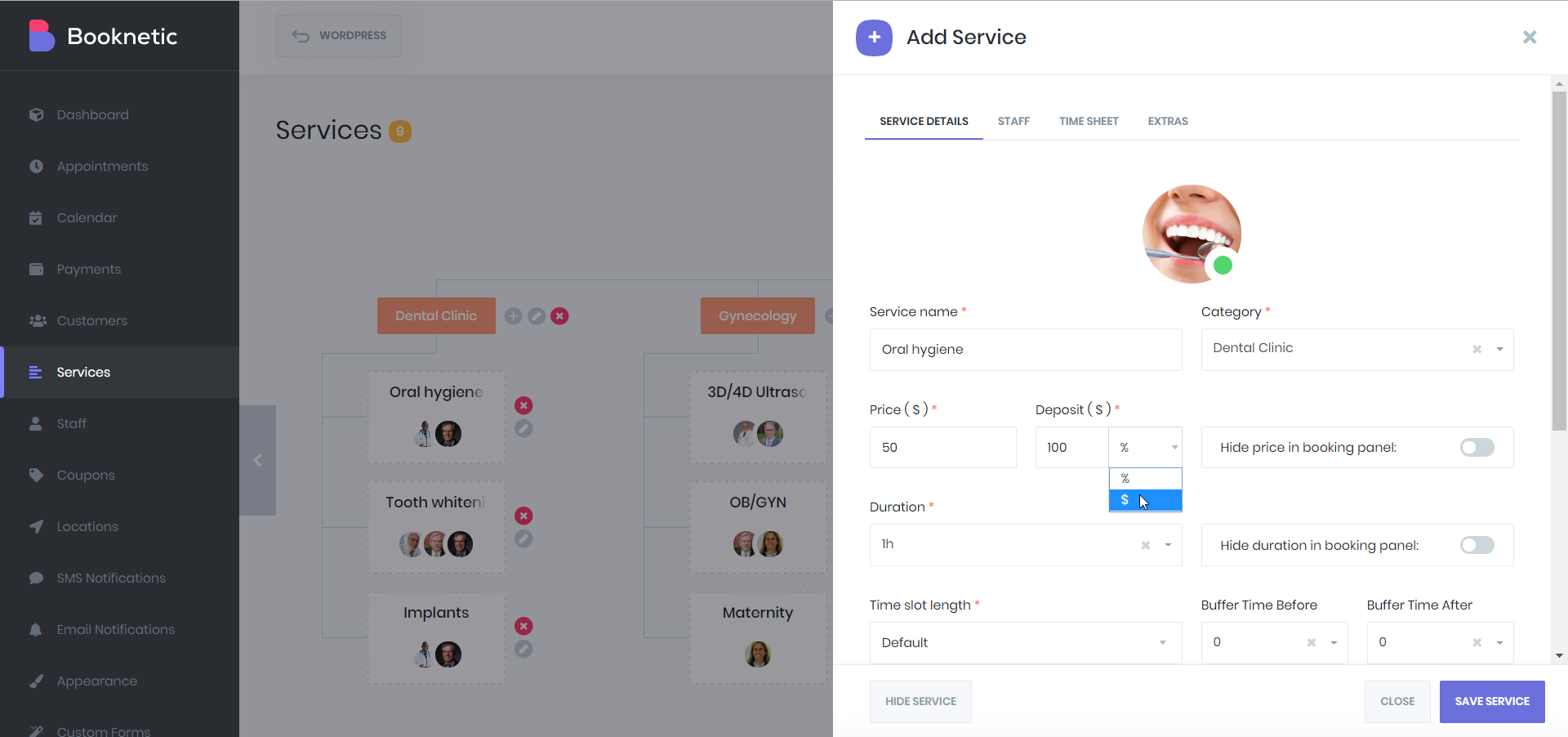 Booknetic Appointment Booking Plugin developed the Form Builder. Moreover, you don't need to know any coding or HTML for creating custom shapes. Using the multi-function Form Creator for your Front-end Booking Line, you can configure your company's custom fields using the Booknetic plugin app. At the same time, you will look at various forms and pick each document for multiple services.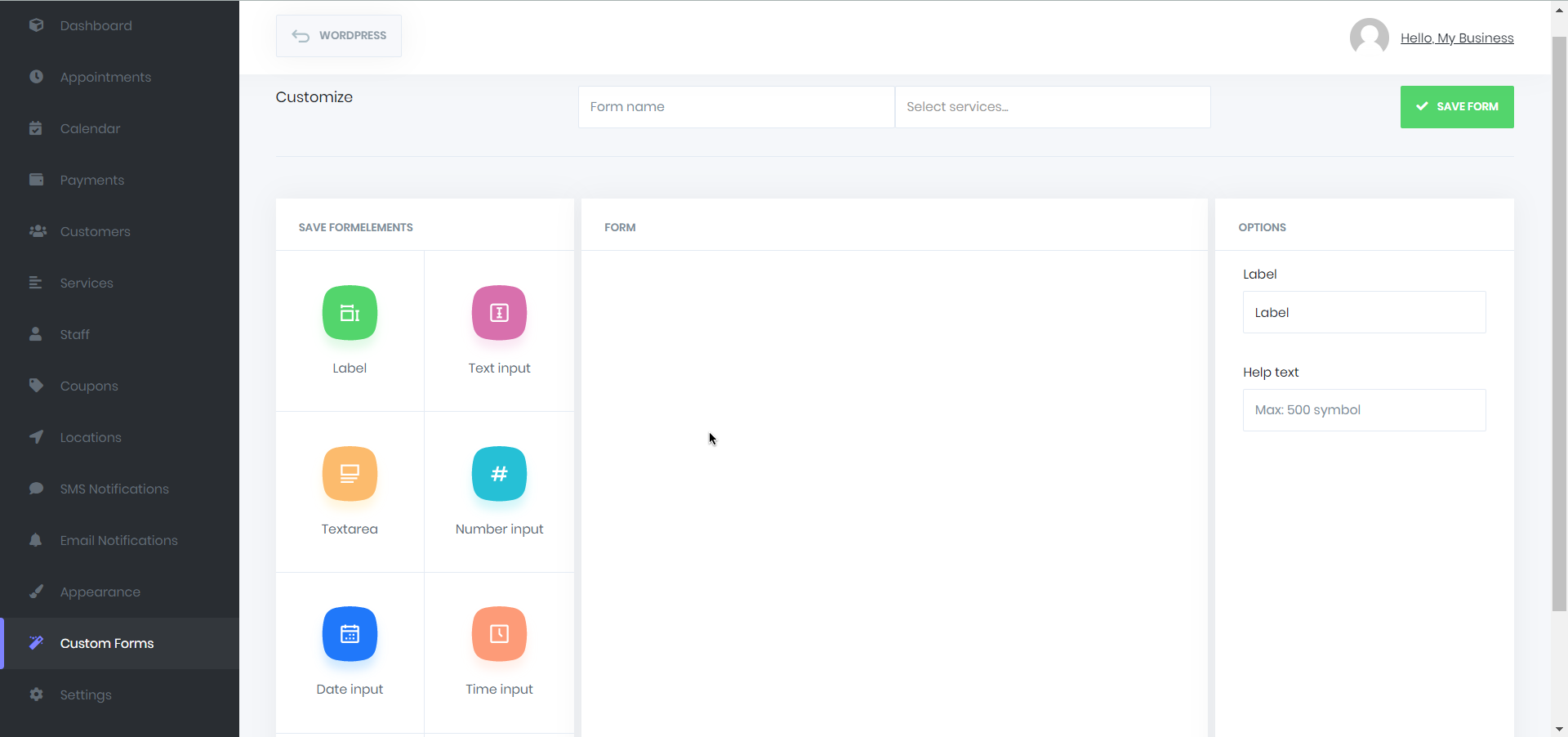 Through its latest update, Booknetic enables its customers to translate Appointment Scheduling systems into the language they want without requiring any other translation plugin.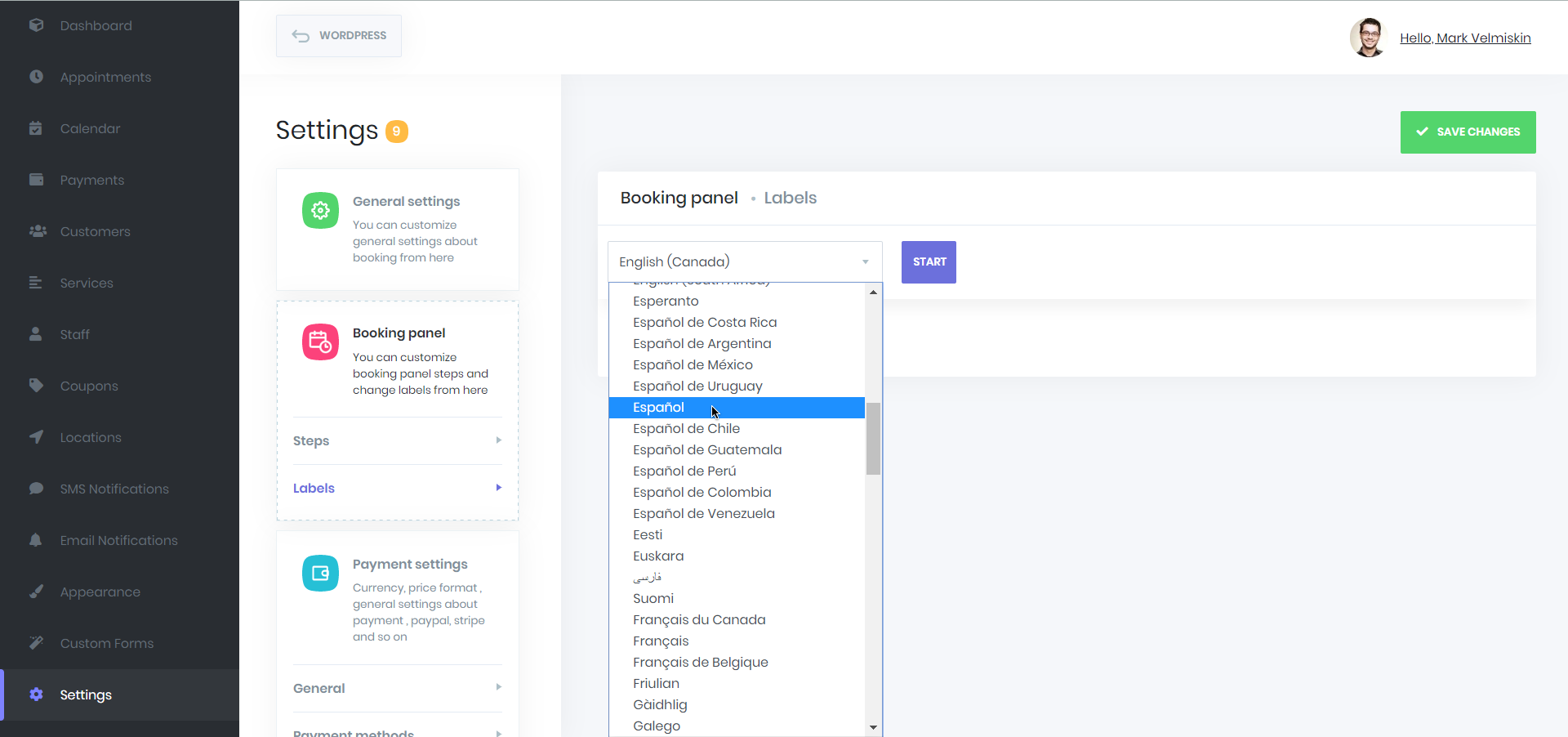 While appearance, design, and color selection seem ordinary, they have crucial significance for any organization. Booknetic Appointment Booking Pugin provides its users with a wide range of color options. The customizable design of Booknetic will let you choose the right colors for your business.
Responsive web design is the methodology that means that the creation and design of websites should adapt to the user's actions and environment. Screen height, platform, and orientation are included in this. The Booknetic Appointment Booking Plugin's responsive design will give your customers a good customer experience.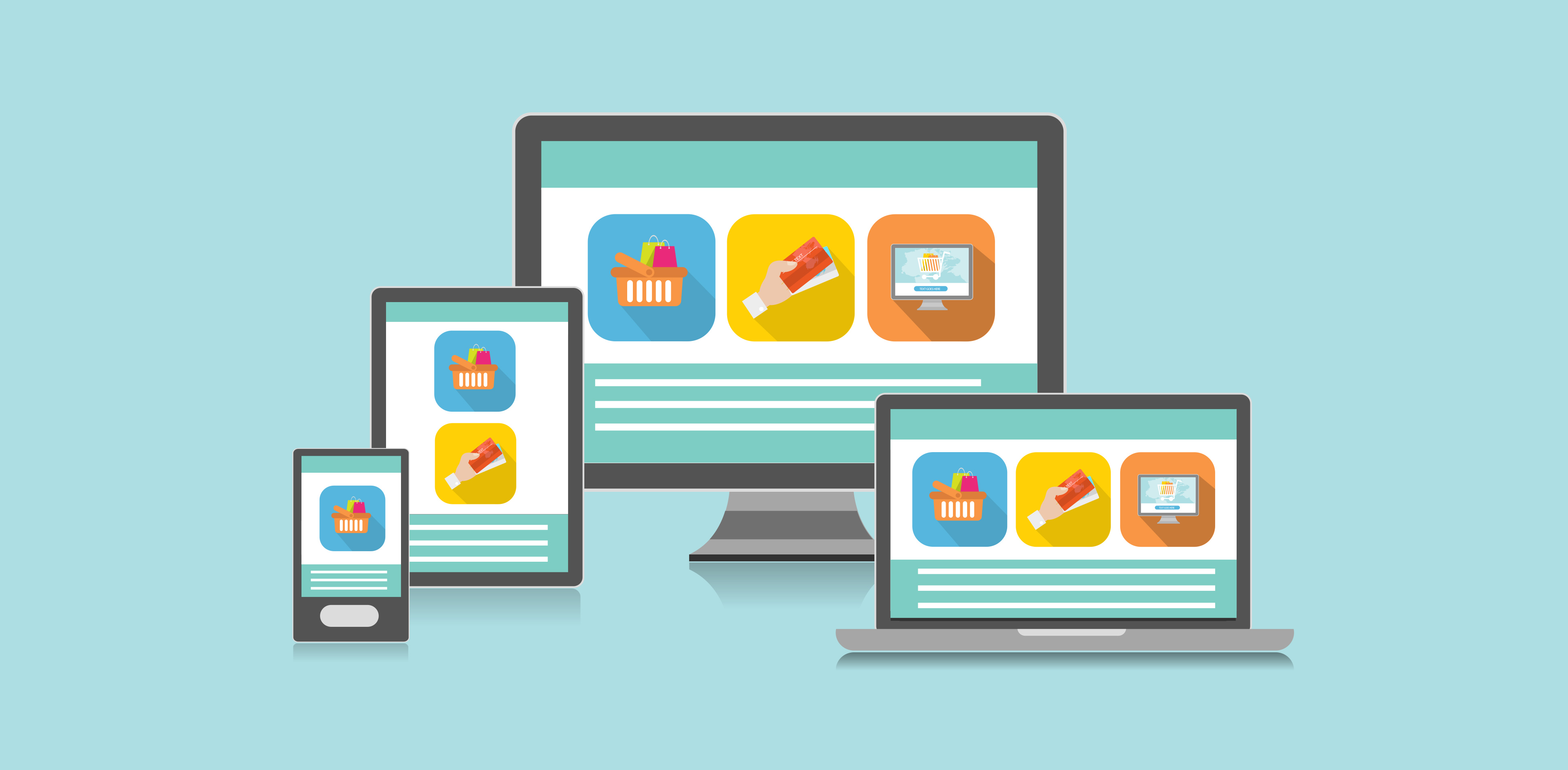 Perhaps you are a dentist, and your clients will have to schedule appointments over and over again once a week or more times. But you can get rid of this difficulty with Booknetic's Recurring Appointments functionality. They pick the repetition interval of the appointment when your customers make an appointment in your system and create occasional repeat appointments.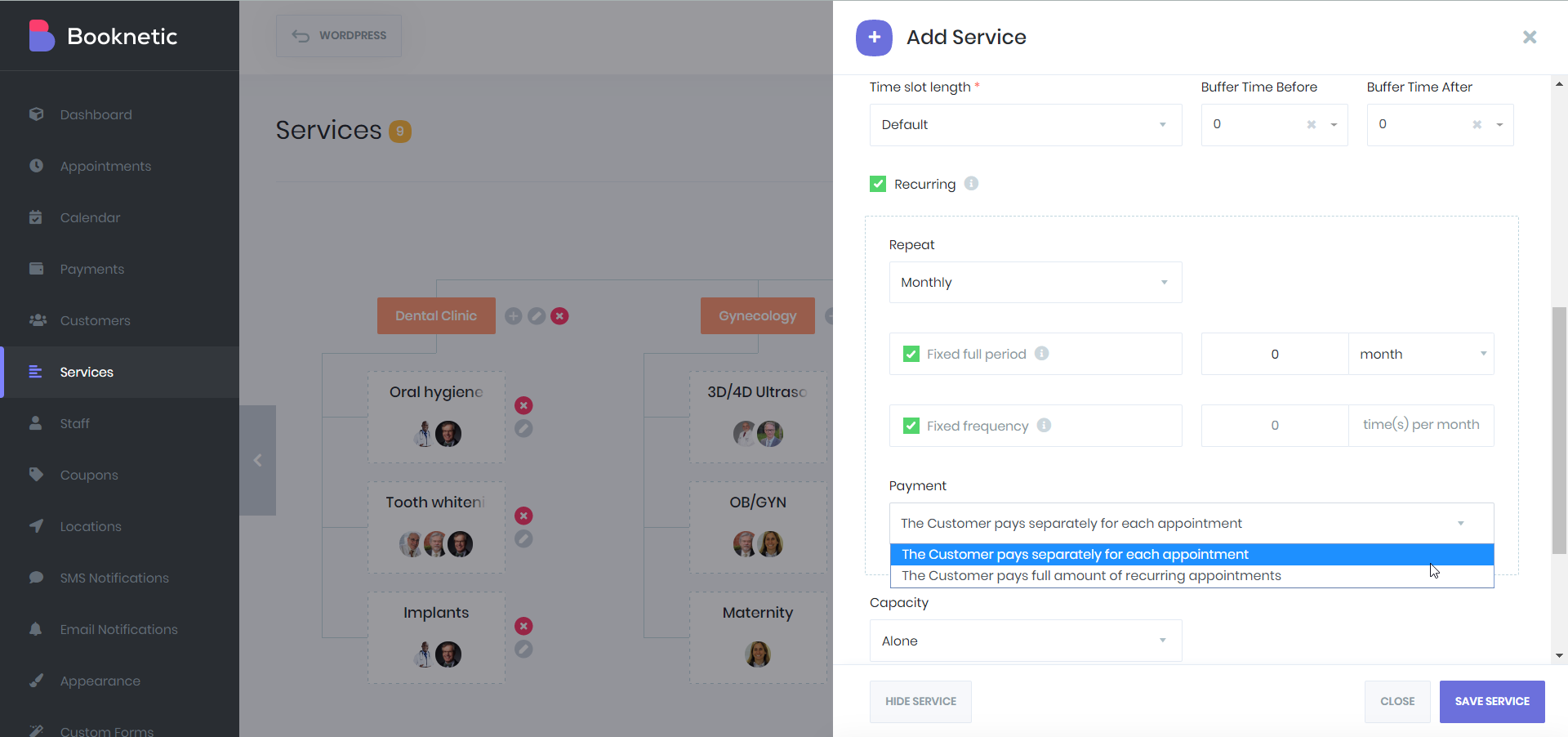 Maybe you and your friends want to go to the salon, and you don't want to make reservations one by one. This time, the Booknetic appointment booking plugin would encourage you to make group appointments.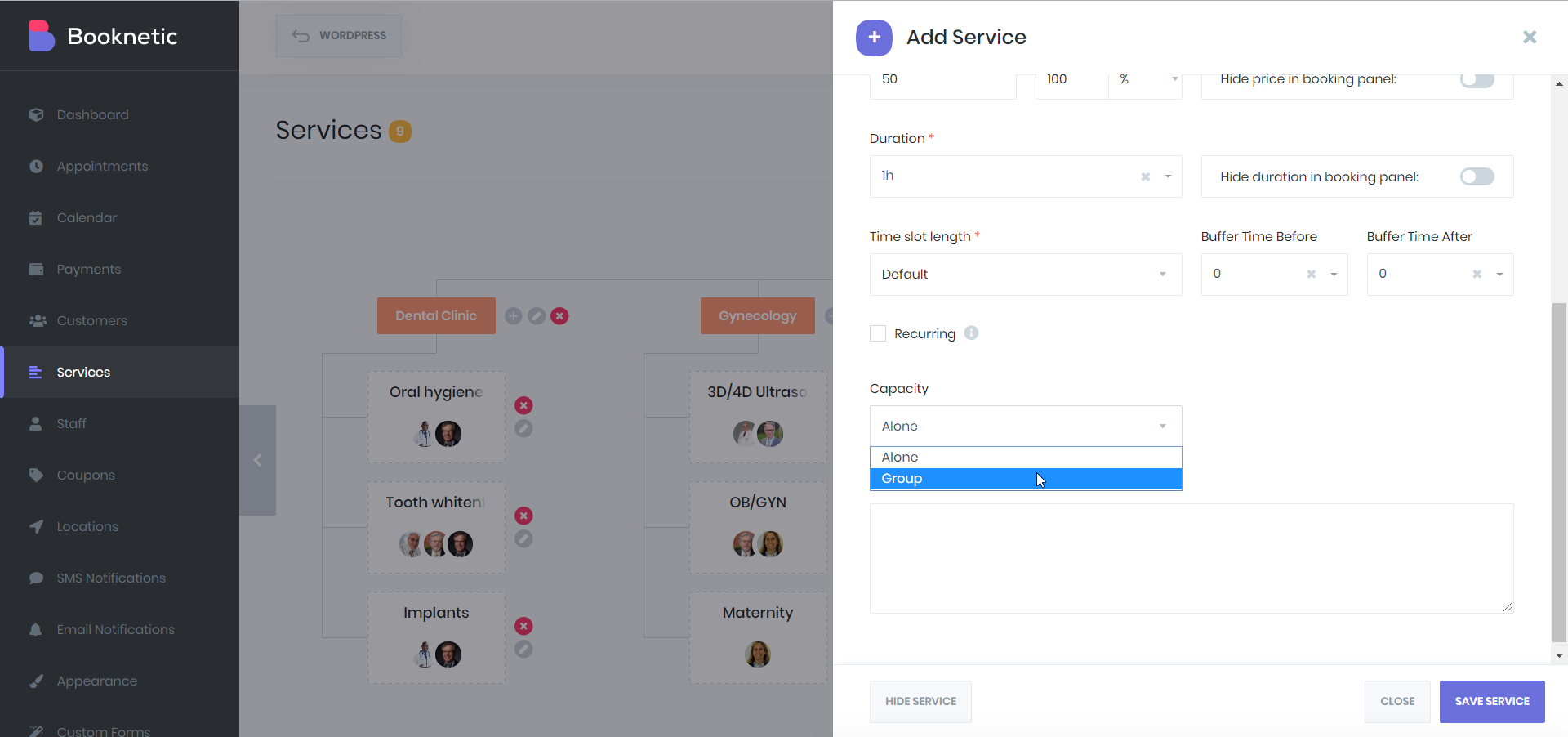 You will be able to handle several dealers of your brand with our Multiple Location functionality of the Booknetic Appointment Scheduling system. This ensures that each destination will be correctly mapped, and consumers will get updates that are unique to the location they reserved.
You can connect various resources and facilities to each location.
When your consumers make an online booking, they should order an appointment from your closest distributor first. After that, they will pick the workers working at their preferred position and request an appointment depending on the service they want from that person.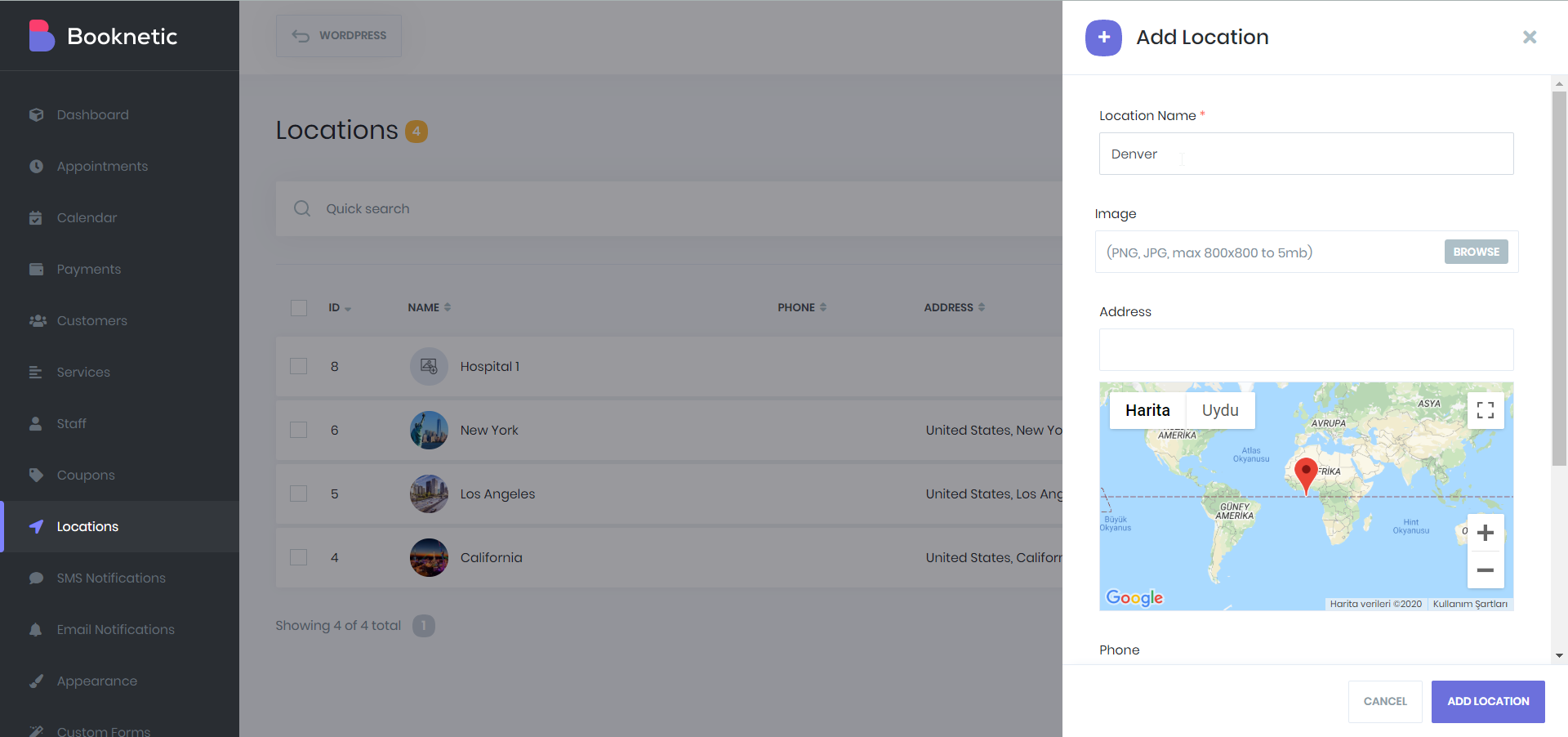 You'll be able to add breaks and days off to your calendar with this Booknetic plugin feature. Consumers won't choose these days-off.
Our WhatsApp update system also works well in cases relevant to appointment time shifts. When the appointment period varies, or whether your employee confirms the client's appointment order, or when the appointment is accepted or canceled, you may submit immediate WhatsApp updates to your clients.
The WhatsApp notification system from Booknetic provides you with just the system you need.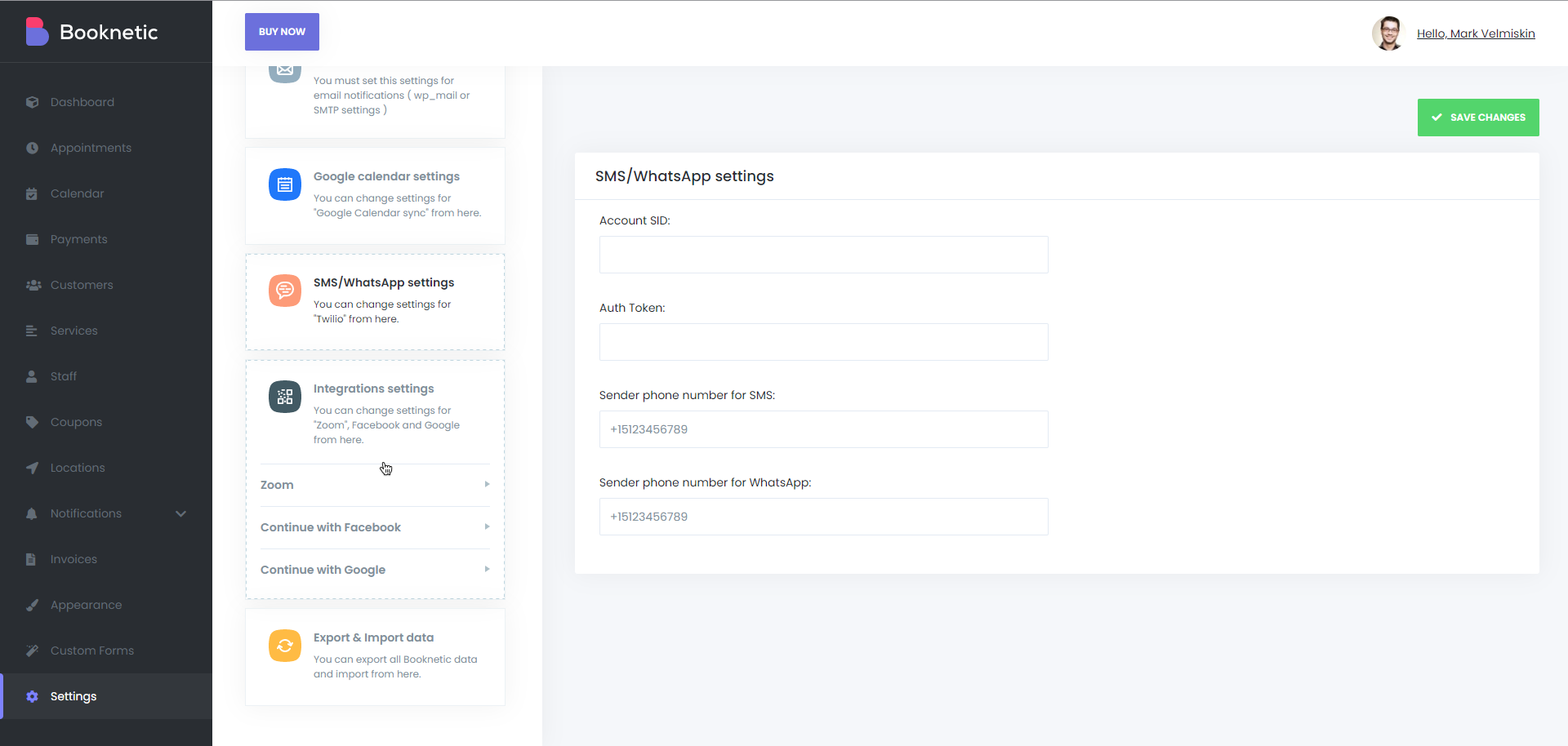 The majority of users of WordPress Scheduling Appointment Plugins complain of spam appointments. It causes significant issues, such as spam appointments, if their service is free. With the Booknetic WordPress Scheduling Appointment plugin functionality of Google ReCaptcha, such cases are no longer an issue. Booknetic consumers would have a chance to stop spam appointments by configuring Google ReCAPTCHA.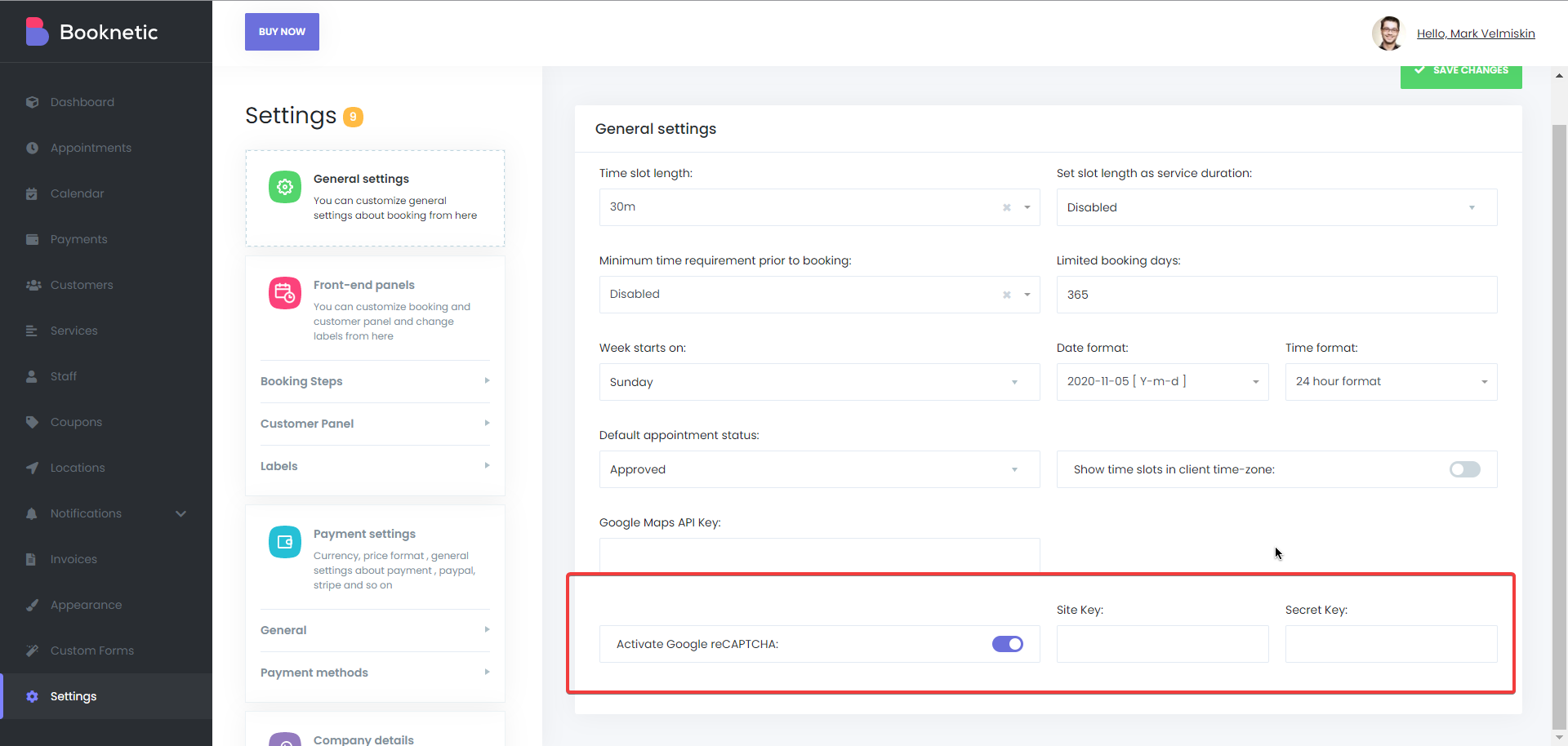 You will have a chance to submit invoices for your services with the Booknetic WordPress Appointment Plugin. However, it is challenging and time-consuming to prepare invoices, with the Booknetic Invoice feature can be automatically and quickly generated in PDF format.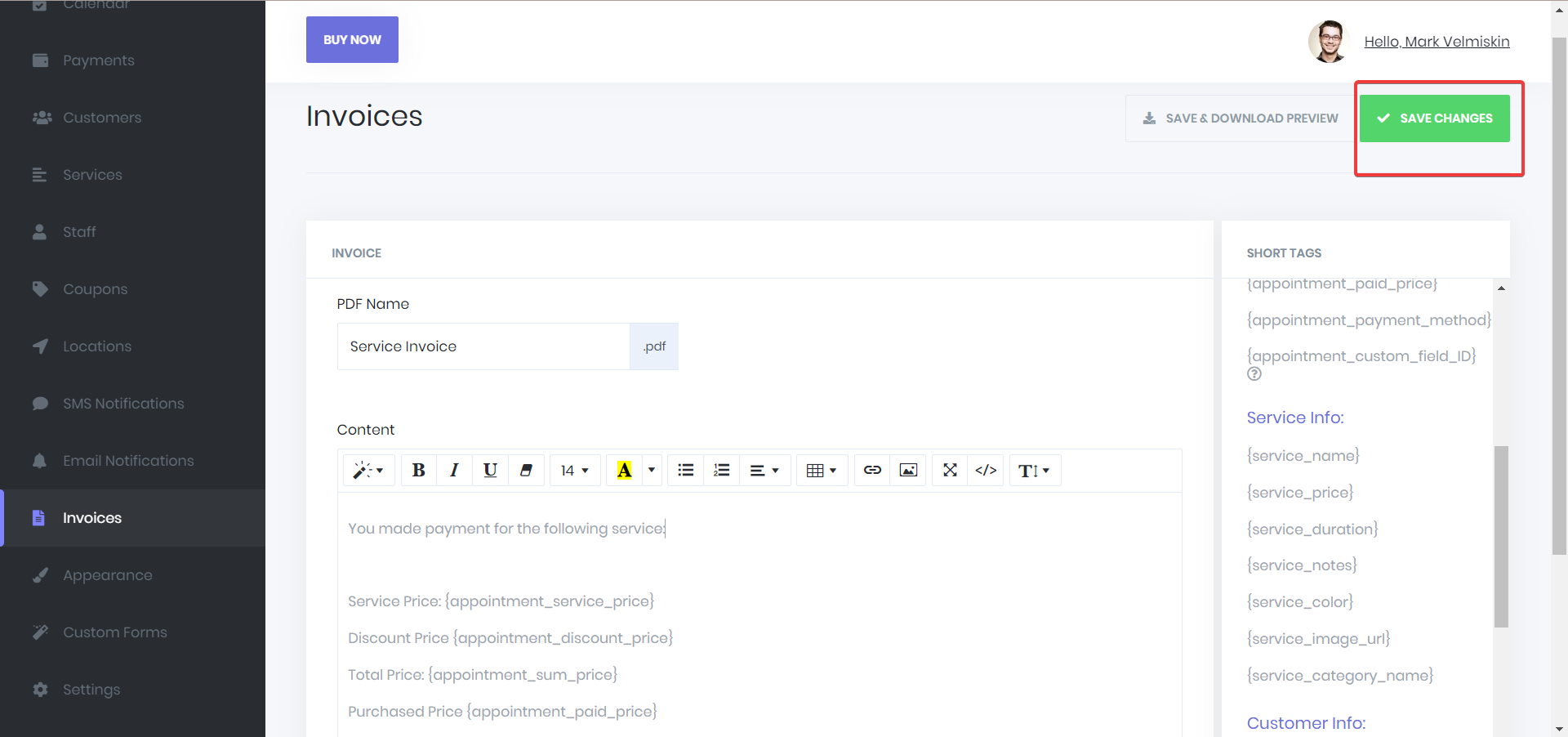 The Booknetic Appointment Scheduling system has a great feature that will allow you to offer additional services during the appointment process to your clients. With this feature, you can let your customers select any extra service upon reservation. This may be like making them incorporate medications that can be good for their health or self-care products.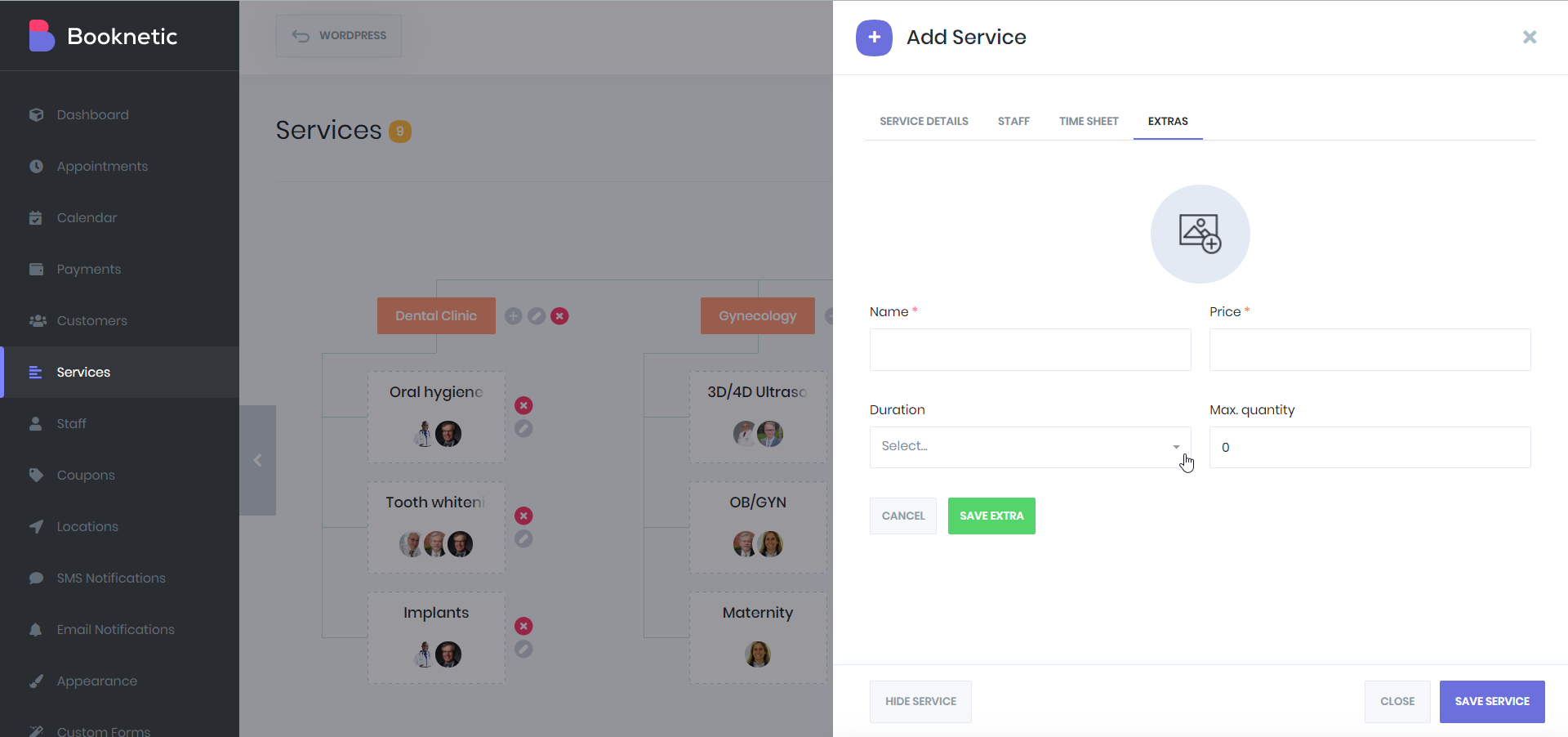 The Scheduling Appointment Booking System features multi-level divisions that provide its users the ability to order appointments from various workers that deliver different services.
You can gather resources rendered by team members under various headings thanks to the multi-level tier functionality. You pick the team members who will provide these services after deciding the services used in each division.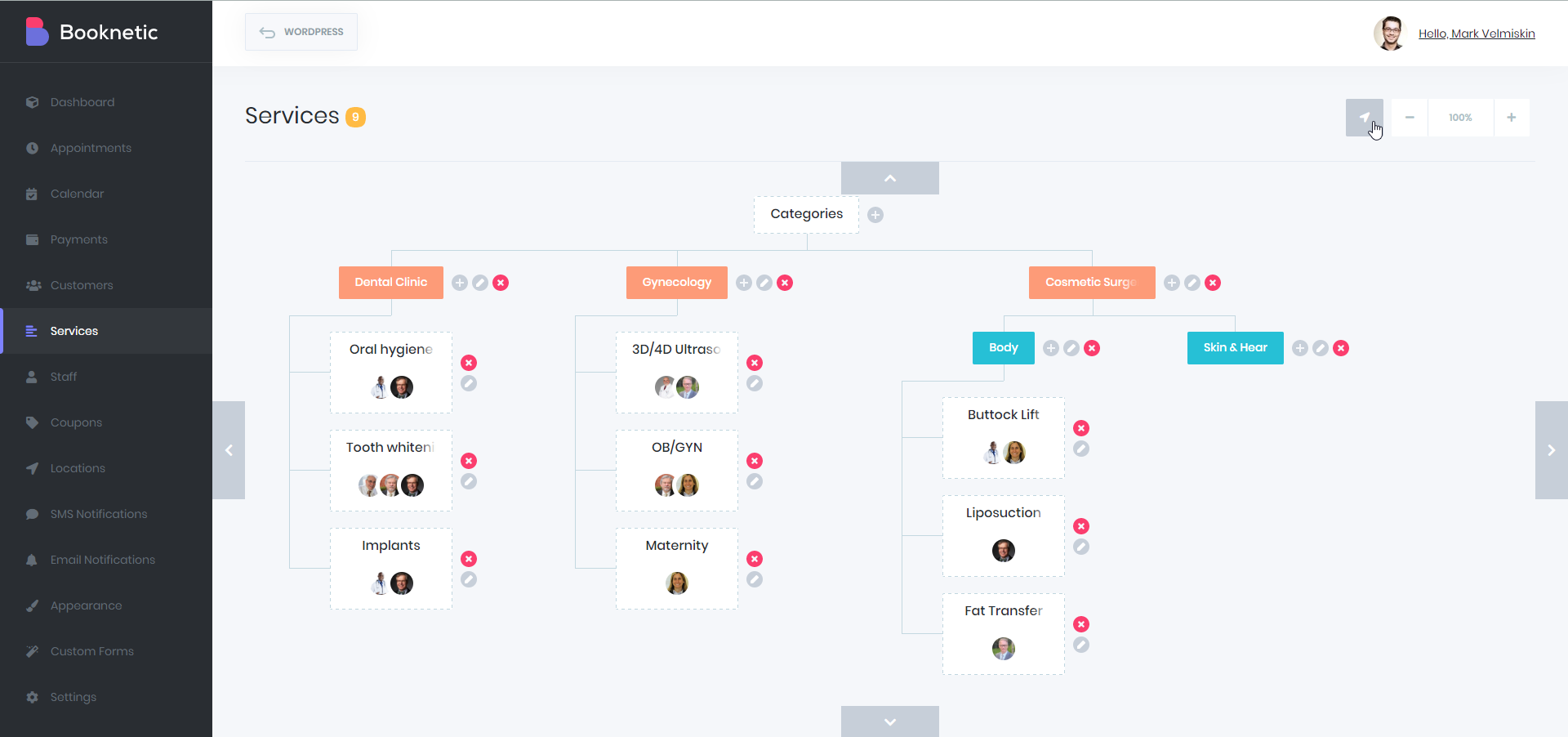 All of these features make Booknetic a great choice for online appointments. We have listed the functionality of the excellent Booknetic WordPress appointment plugin. If you want to know about our plugin, consider using Booknetic's demo.
Sign up for our newsletter
Be the first to know about releases and industry news and insights.
Let's

get started

on something great
Booknetic is a simple yet powerful plugin for accepting online bookings & payments on your WordPress site.