How to Add Booking System to WordPress?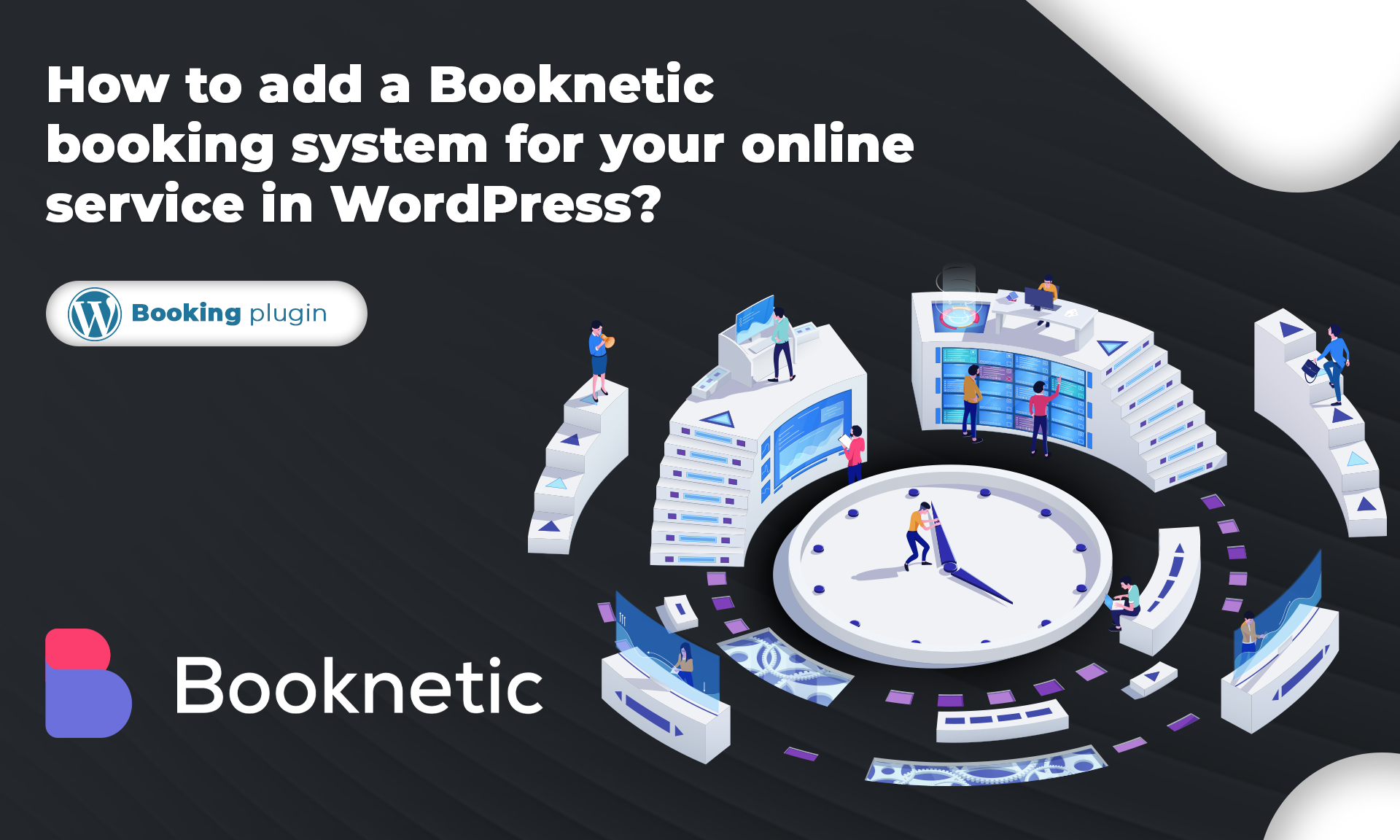 If you run a company that depends on customers scheduling appointments, you can make it as convenient as possible to do so online. If you are wondering how to add an online booking plugin to your WordPress website here in this blog we answered your questions.
Let's assume you have a stunning villa right on the beach you rent out through your website. Consider the ease you'd get your clients if they could book a room in the villa at any time of day, without having to stand in long lines or go through the trouble of reaching you by email.
That is why the website must have an online booking system.
Is it essential to add an online booking system to your website?
An online appointment management system is a must in the modern age. It will not only support your clients by removing the need for them to speak with others, but it will also benefit you, your staff, and your business.
Since computers don't get sleepy, online booking means less hassle and fewer errors.
Furthermore, since more customers can do so simultaneously, it opens up more options for making meetings, whereas you can only speak to one customer at a time.
There are many technical solutions available today to do this. But how do you integrate an online reservation system into your website? Besides, which form do you choose?
The reality is that there are disadvantages and advantages of online scheduling software. and which one you select will most likely be decided by considerations such as your budget, human capital, and so on.
We'll examine these approaches in-depth to help you balance the benefits and drawbacks against these considerations.
Ways to add an online booking system to your website
There are a lot of ways to add an online booking system to your WordPress website. Here are they:
Add an external link to your website
Inserting a connection to an external booking engine is the best way to include an online booking alternative. Everything you have to do is choose an online booking system that you like and add a link to your website.
Building your own personalized online booking platform takes no time or money with this process. It's also a good way to give your users a booking option. However, using the services of an external online booking website service provider would almost certainly cost you more.
The only downside to this approach is that your website traffic would be directed to another website. Customers may lose confidence if they have to go to a new website, or they may lose faith in making a reservation if anything goes wrong during the process.
Another thing to remember is that you're relying on another booking site's infrastructure, so you do not have any leverage over everything. The external connection will almost certainly have its own identity, and your reputation will be linked to the success of a third-party booking service. As a consequence, keep that in mind!
Incorporate a Booking System IFrame into Your Web
Another choice is to have a scheduling system on the website and the calendar or frame that users will use to make reservations. This is referred to as a "booking device IFrame," and it simply necessitates adding javascript to the page, much like embedding a video that plays on your site.
The advantages of such a method include the potential to do it with little time and effort commitment, as well as the fact that you don't need some technical skills to insert any code into your website's backend. Your customers remain on your page while making reservations, so there's no chance of them losing confidence or patience while making a reservation.
However, the disadvantage is that you're once again relying on the code and infrastructure of a third-party online booking system operator, which can be unreliable. Externally embedded code that you place on your web can be complicated for search engines to index at times. As a consequence, this solution may not be the right match for SEO.
Using online plugins, you can easily connect a booking system to your website. Booknetic is one such example. It's a WordPress online scheduling system plugin with many features. It sends appointment bookers confirmation updates and combines well enough to enable users to book appointments right from their mobile device.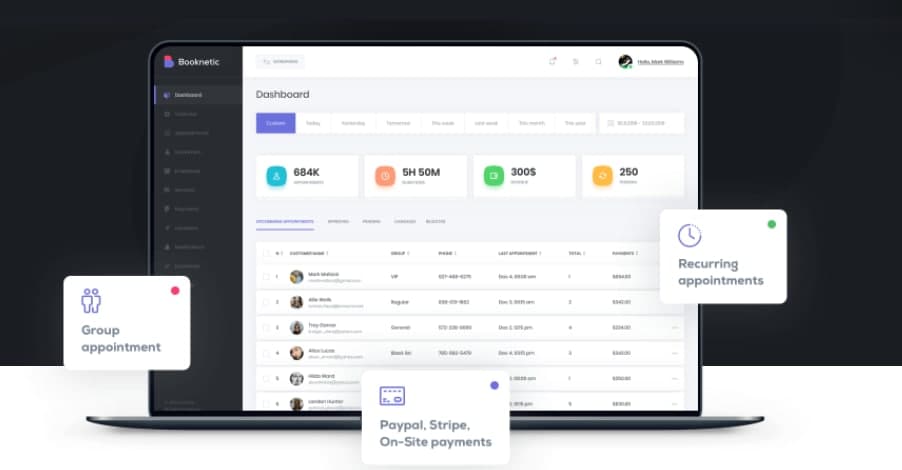 Small companies with WordPress pages such as art studios, asset management consulting services, and hair salons will benefit from this plugin. You can choose the lifetime version of Booknetic, which includes all the features except the option to allow online payments.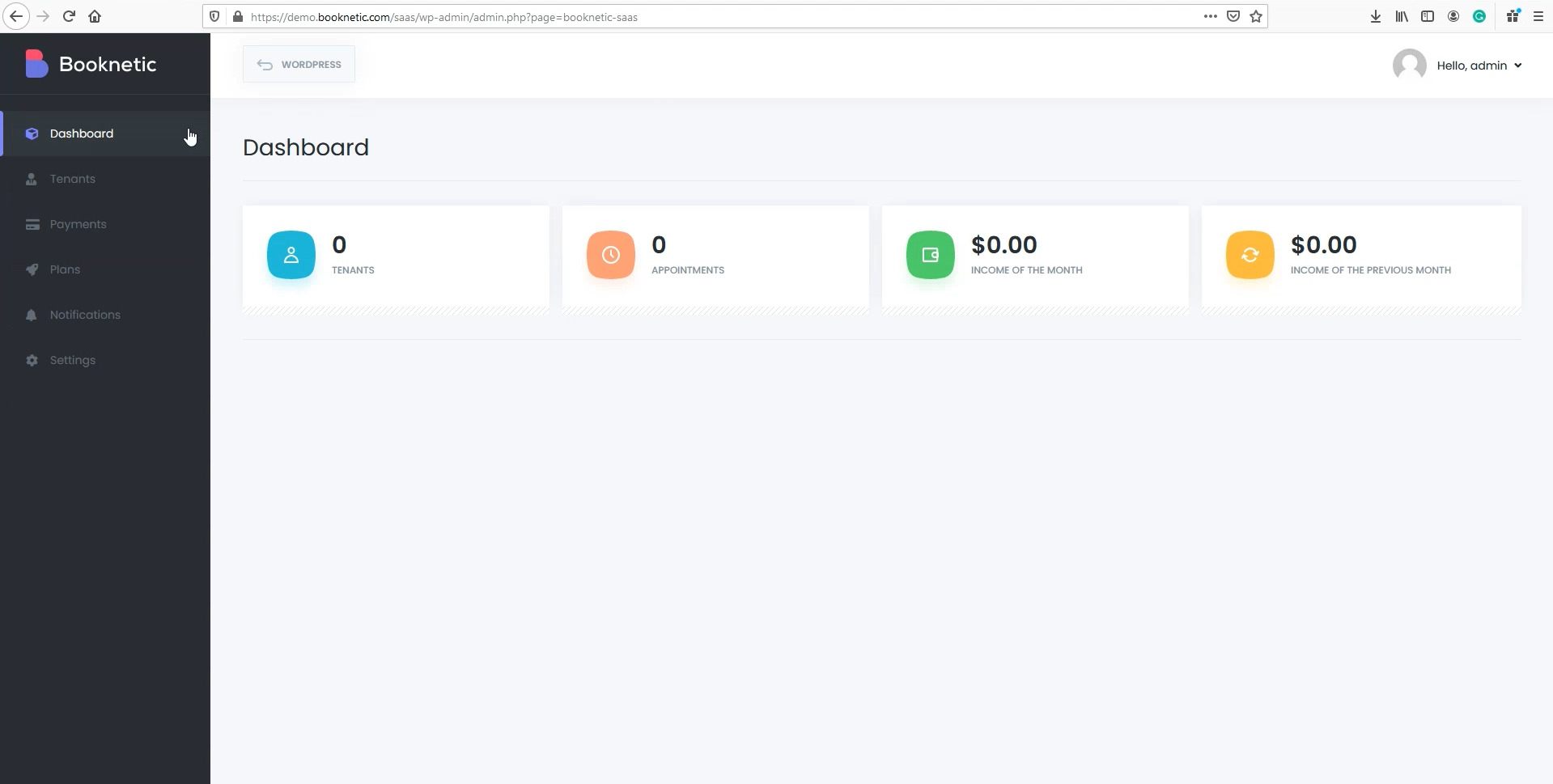 These plugins' online booking system is entirely mobile accessible and provides an admin panel that is easy to access. This plugin takes no coding skills to install and use, making it easy for any website administrator, regardless of their experience level.
Another advantage of using these plugins is that you can modify and customize the online booking mechanism to fit the design specifications. They also come with an analytics feature that offers details on all bookings, which can be used to enhance your services.
An API (application programming interface) for online booking systems is another alternative. Most CMS sites have an online booking framework API that you can use to your heart's content. It's typically the perfect fit as an online booking system when it comes to the CMS.
Since API-enabled booking systems are embedded into the website's CMS, search engines can quickly index them, making them incredibly SEO-friendly. In order to provide you with valuable insights, these booking mechanisms incorporate all external data obtained by the website and internal data collected from prior bookings. Open-source scheduling software lets users change how the proprietary software interacts with their own software.
Two things to know before using APIs: first, they can need technological skills, so if you're not very technical yourself, we recommend putting aside some resources to employ an expert. Second, to prevent your booking system from crashing and being outdated, we suggest that you keep your APIs up to date with the most recent update.
Create a custom-coded reservation system
Finally, if your company is complicated and heavily reliant on a booking system, creating a custom-coded online booking system for your website is the easiest, most reliable option. Bear in mind that you'll need to recruit a team to make this solution (a planner, a developer, and a product manager).
The advantage of choosing this method is that it is a long-term option. As a result, you'll feel like your money was well invested over time. If you have a significant number of bookings with complex data, we suggest using this approach so that your network investment is well-justified.
Backups are your insurance against anything that might happen. Regular WordPress backups provide protection and peace of mind by allowing you to quickly recover your website in case of accidents, hacks, or data loss. Backups ensure the safety of your valuable content, allow easy testing and development, and simplify website migration or cloning. That's why taking a WordPress backup is an essential part of any management process.
Conclusion
If you create a professional website with WordPress, well-developed plugins provide the highest value for money because they reduce production and maintenance costs.
That's why we created Booknetic, a premium online appointment scheduling plugin that combines best coding practices with a user-friendly and attractive interface. Try Booknetic's demo version.
Sign up for our newsletter
Be the first to know about releases and industry news and insights.
Let's

get started

on something great
Booknetic is a simple yet powerful plugin for accepting online bookings & payments on your WordPress site.