Top 11 Acuity Scheduling Alternatives for Your Appointments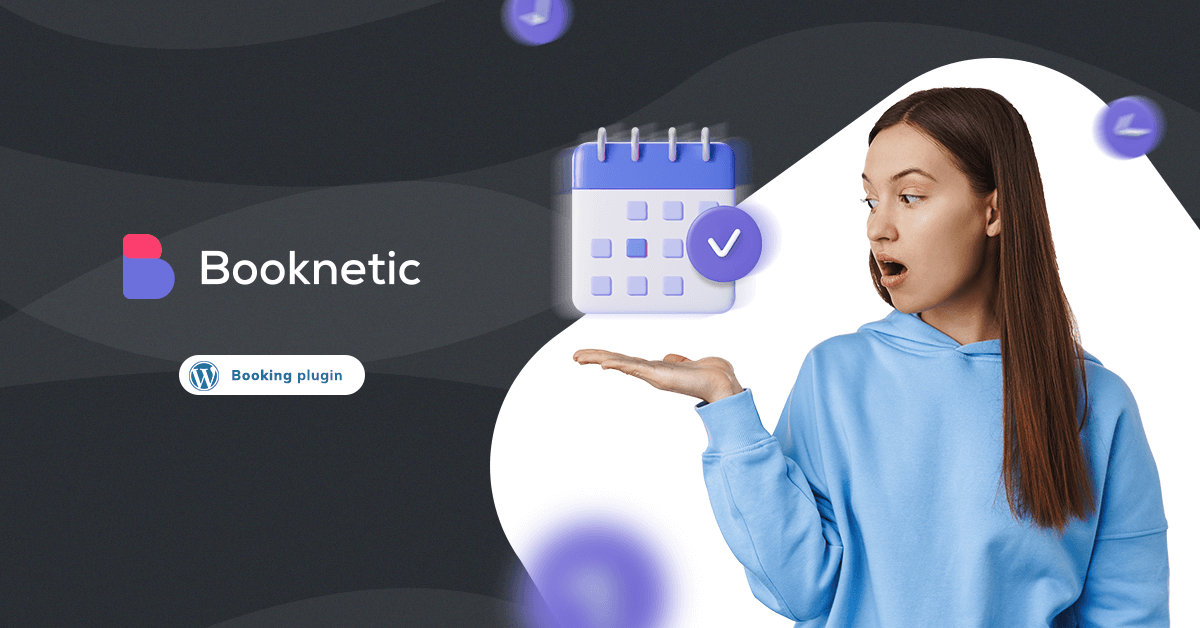 Businesses look for Acuity Scheduling alternatives to simplify the scheduling process with booking, rescheduling, and reminders features. Even some consider one-shop tools that comprise business, team, and customer management solutions. Among the plethora of advanced options, it is surprising that some service providers still rely on emails or even worse phone calls to manage their customer and in-house meetings.
What is Acuity Scheduling?
Acuity Scheduling is booking software that combines team management and customer management solutions within a booking calendar. Acuity Scheduling appointment types are interviews, classes, private sessions, workshops, new and returning events.
It lets you join virtual meetings through the software, invoice clients, run discount campaigns.
Online booking with Acuity is much easier. Acuity Scheduling login can be linked through website, emails, via Instagram or Facebook. This gives users a wider ranger bookings from different channels.
Acuity Google Calendar Sync, iCal, Outllook, Office 365, and Exchange calendars enable to receive notifications on booked appointments. Acuity online payment can be made via PayPal, Stripe, and Square gateways.
Acuity Scheduling time zones are flexible for clinets, staff and locations. Aside from autimatically converting to clients' time zones, you can add mulitple time zones for different employees and locations.
Is Acuity Scheduling free?
No. Acuity Scheduling pricing is three tier. One of the reason users look for its alternatives for is the absence of Acuity Scheduling free account. The cheapest plan costs $14 for a sinlge user \ location on a monthly basis. But it has very limited features.
In order to claim enough staff, you need to opt for its pricer plans. In case you do not find Acuity Scheduling the right match or your service, we compiled the list of free and paid alternatives to Acuity Scheduling to manage your online bookings.
Top 10 Acuity Scheduling alternatives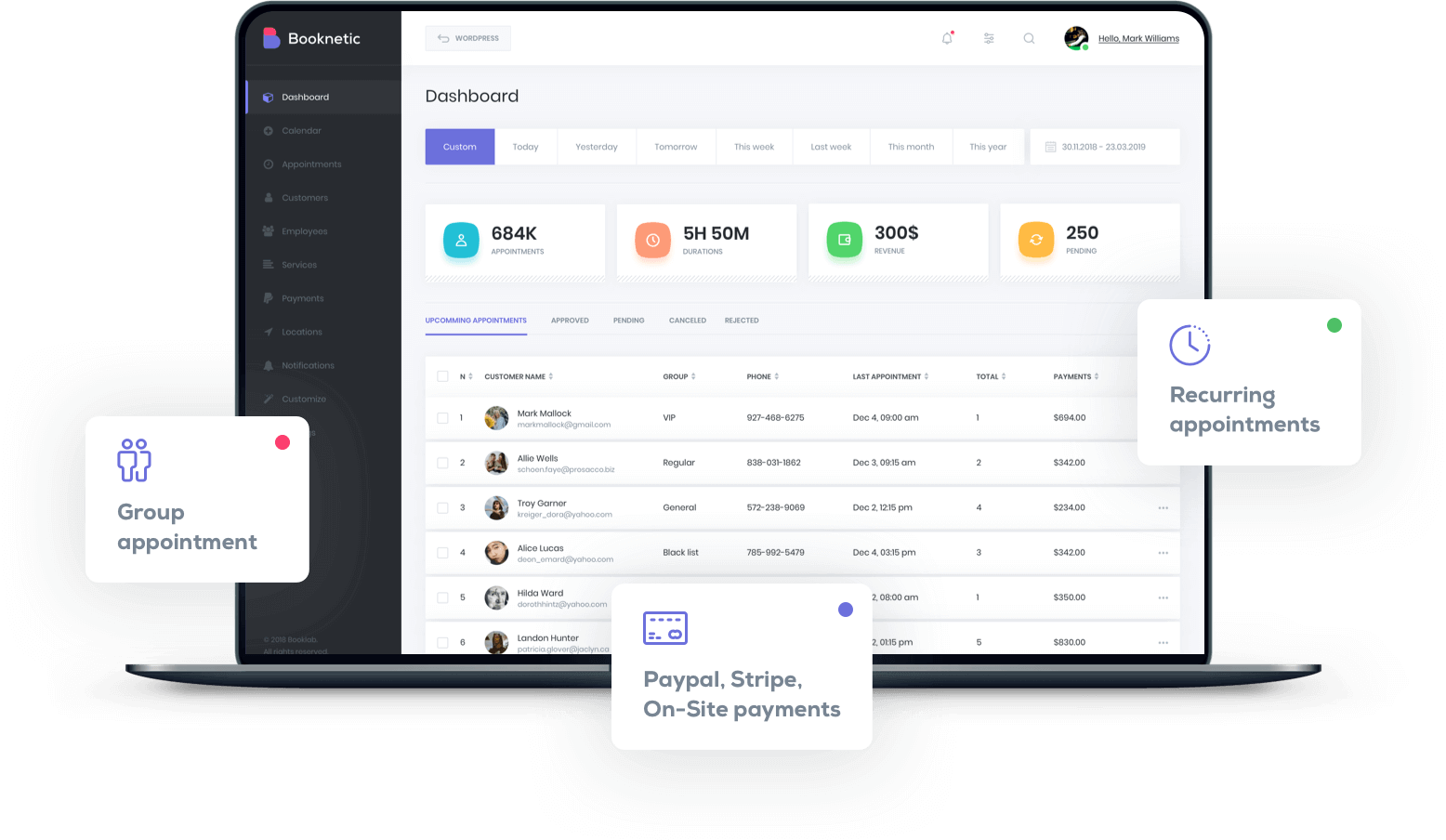 WordPress users can find favorable alternatives to Acuity scheduling that are affordable and functional like separate scheduling software. As an appointment booking plugin, Booknetic helps many businesses such as barbershops, clinics, education, automobile websites to scale their booking process.
As it syncs with Google Calendar, it lets you set your availability, share it with clients. You can define the type of appointments such as one-on-one, group, or recurring, set their time frames and buffer times between meetings. With Zoom Integration you can create video meetings, share their links, and join them from Booknetic.
To elevate user experience with your brand, you can customize your booking forms to brand color, adjust the order of booking steps, and place a booking widget anywhere on your website. Users can also access your booking page through a Facebook login.
Automated reminders and notifications help to create new and existing clients in line with your services. You can send confirmation, cancellation messages via SMS, WhatsApp, or emails.
Furthermore, it has online payment integrations letting you charge debit, credit card, or on-side payments. Plus, it has WooCommerce payment integration that lets you directly sell your products while clients look around your site.
With a built-in CRM feature, you gather and store customers data throughout the booking process. As clients book appointments, their booking data are automatically saved into your system. Lastly, you can use the reporting section to review your performance indicators and adjust further processes.
Booknetic offers $79 on a lifetime basis where you get access to future updates and advanced customer support. It has a Demo account you can try before making up your mind.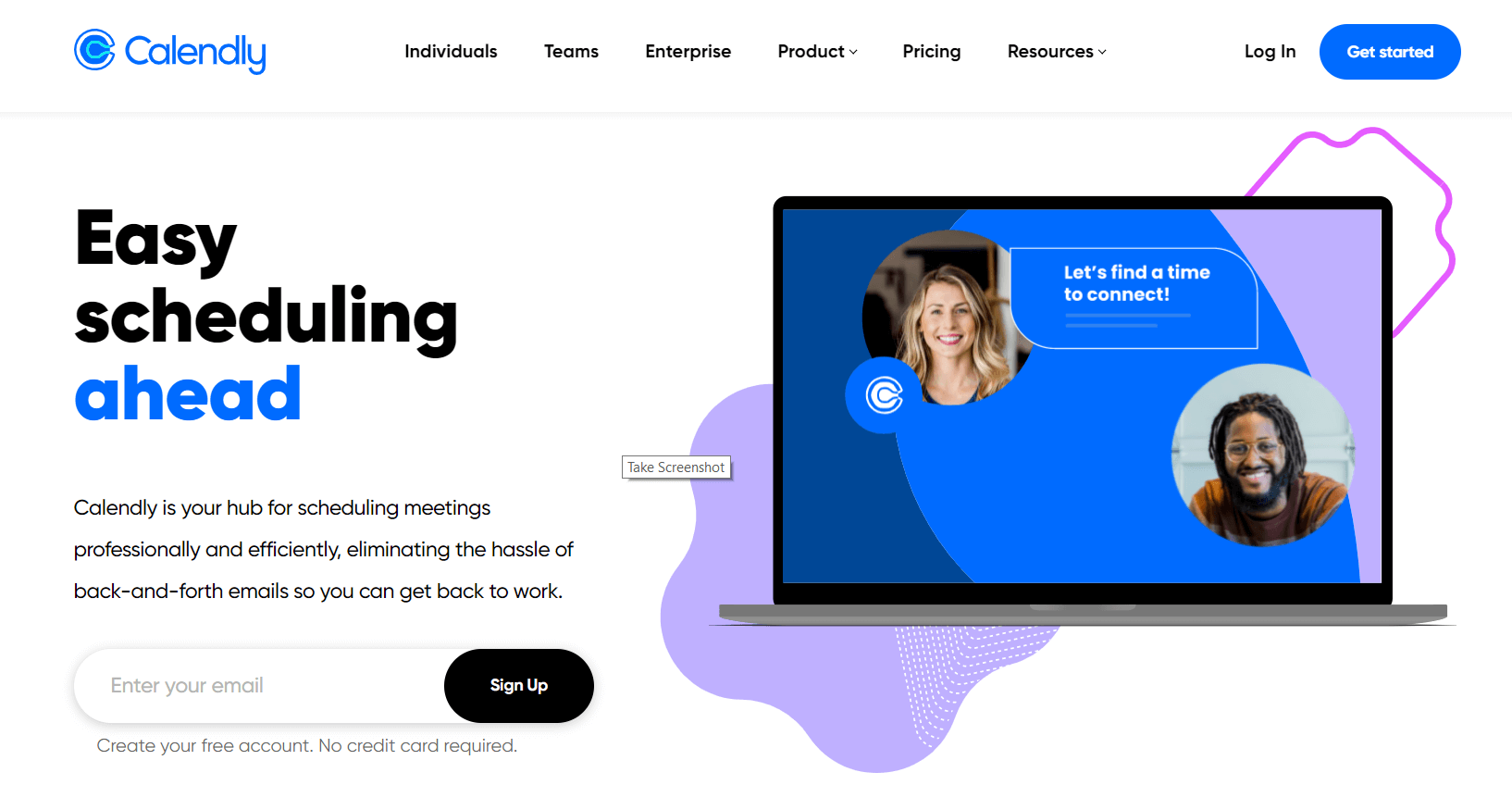 Calendly is a powerful Acuity alternative for individuals and teams of all sizes for organizing their meetings and appointments. It lets users connect different calendars, set their appointment preferences, and identify the type of events like one-on-one or group meetings.
Meetings can be auto-assigned to team members when the invitee books an appointment. You can also handle your online meetings from Calendly. Once you connect your Zoom or Microsoft Teams accounts, conference details are automatically saved to the Calendly events.
It also sends confirmation emails and appointment reminders to all event participants for maximum retention. Integration with business management tools like Slack, Zapier, HubSpot, Intercom helps to seamlessly coordinate workflow and customer relations.
Based on the size of companies, Calendly has four pricing packages. With the free plan, you can claim a single user for basic features.
The proper plan for small and mid-sized businesses costs $12 per month where you can connect 6 users and access all the available features.
We have a separate blog on Calendly alternatives you would like to read.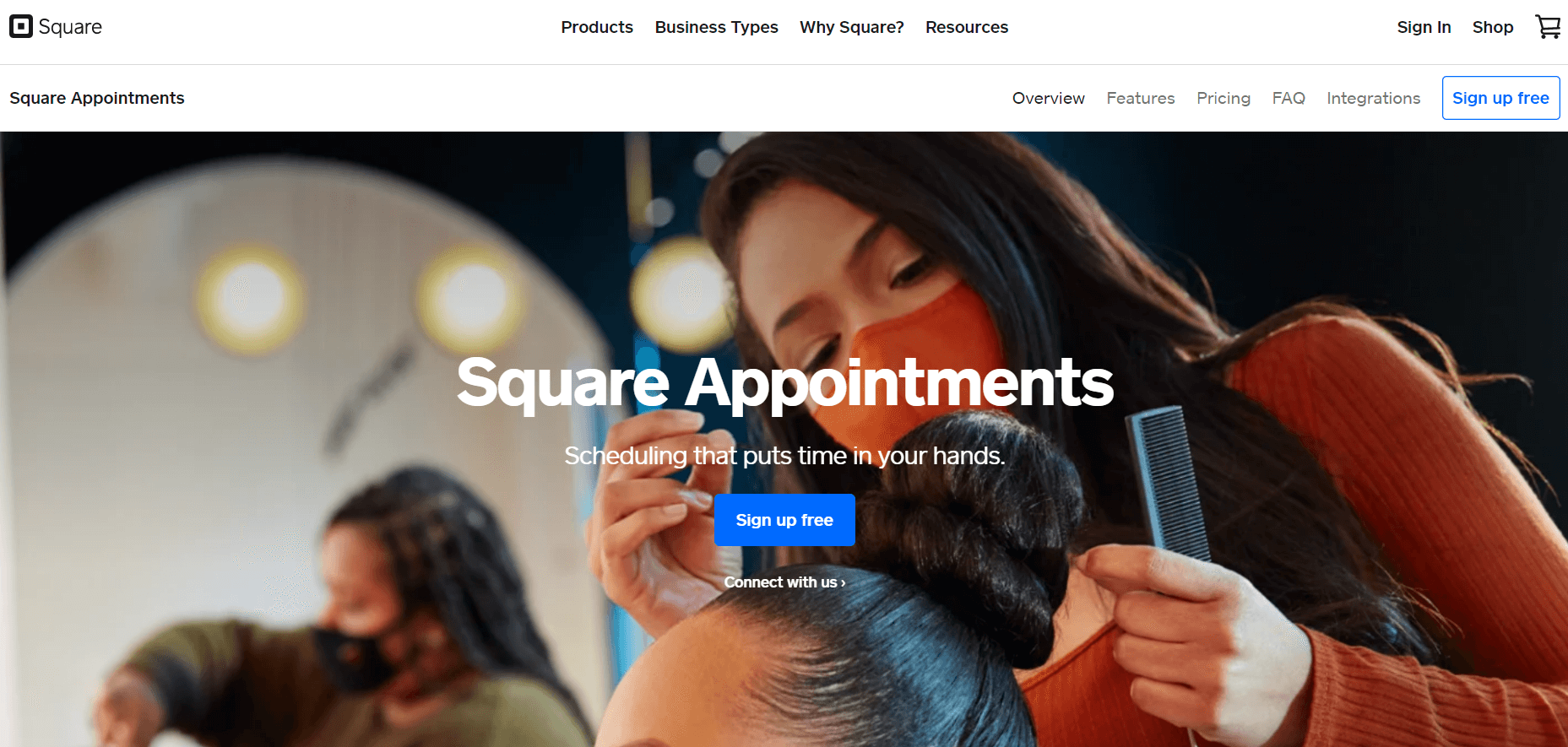 Square Appointment stands high among the business-oriented Acuity Scheduling alternatives. Web-based booking can be accessed through links, websites. Syncing with users' calendars ensures the accuracy of appointments.
You can request prior payments for scheduled appointments. The POS system allows you to complement your major sales with retail and inventory sales and receive secure payments.
Inside the team management, you can allow staff to manage their own calendars, set permissions for roles. By creating the profiles of customers, you can track customer transactions, add small notes in case needed.
It sends automated SMS or email reminders to customers upon the status of meetings or changes to them. Square Appointments API allows you to import your Square sales, refund, and transfers int your accounting software.
The common problem users find difficult with Square Appointments is the lack of flexibility. There is a small room for designing booking steps and customizing their appearance.
For a single-user calendar, Square Appointments do not charge any fee. Up to 10 users, you can pay $90 per month.
Appealing to various industries, Setmore is one of the most cheaper alternatives to Acuity Scheduling. Aside from available time slots, you can set booking details like appointment type and service provider.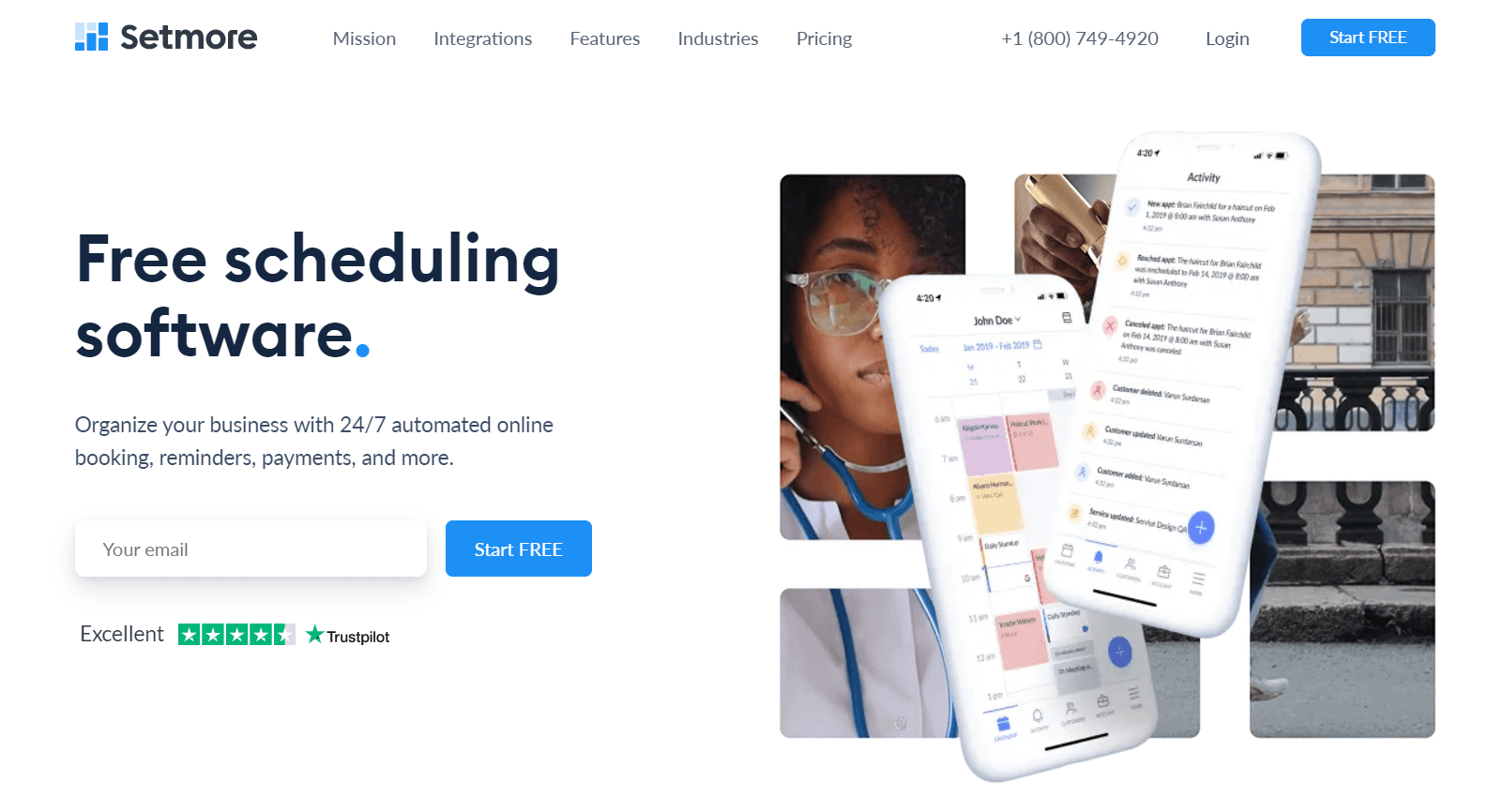 To keep customers in the appointment loop, it activates text and email reminders. Instant desktop, tablet, or mobile notifications ensure that employees are aware of the most recent updates.
Native integration with sales, marketing, and business apps helps to streamline diverse activities through the calendar. By using Setmore's API, enterprises can customize their solutions.
By connecting Zoom or Teleport accounts, you can access virtual meetings through Setmore's calendar. You can take debit or credit card advance payments via Square or Stripe.
Showcasing customer reviews is an on-top feature for Acuity Scheduler alternatives. Users gave a 9.1 rating score for Setmore on its ease of use and ease of setup. The free version provides the major features and is available for up to 4 users. You can try premium accounts for unlimited features and API support. The premium account starts at $9 per 2 users.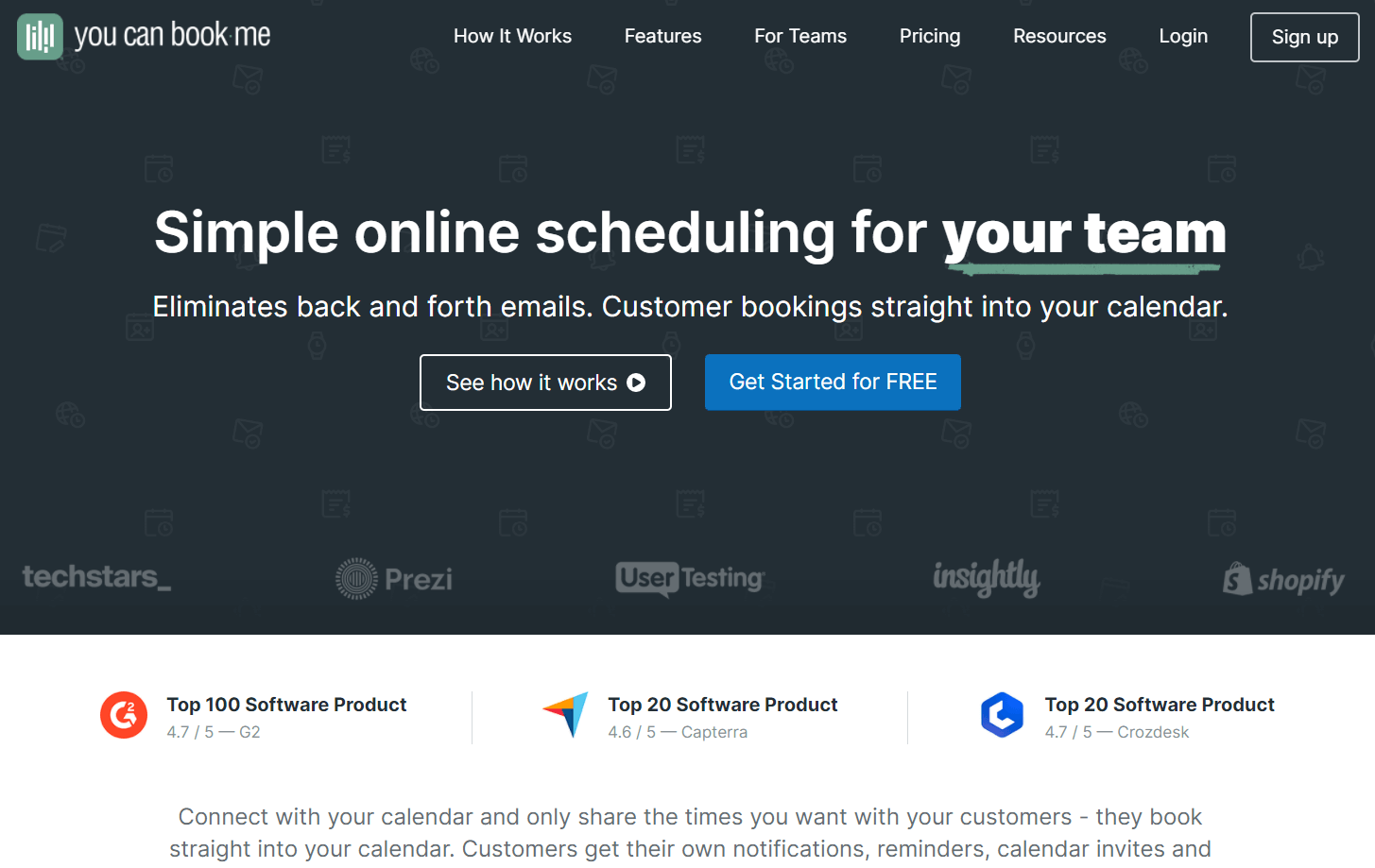 If you look for affordable alternatives to Acuity Scheduling, take a look at YouCanBook.me. Once you settle the booking flow, you can set appointment types and payment options. By providing tentative booking and passwords for appointments, it allows full control over the appointments.
There is also a flexible schedule, where you can set up your regular calendar for weekly activities. For detailed reporting and analysis, it lets you export booking details into CSV files.
By automatically detecting customers' time zones, YouCanBookme - an Acuity alternative ensures that everyone accesses the right time for meetings. You can determine the type of notifications, set their timings, and prove their text messages using shortcodes.
Apart from native integrations with Google Calendar, Zoom, Stripe, you can use Zapier to connect over 1K tools. The regular pricing is $10 per month but you can save 20% by purchasing on a 2-year basis.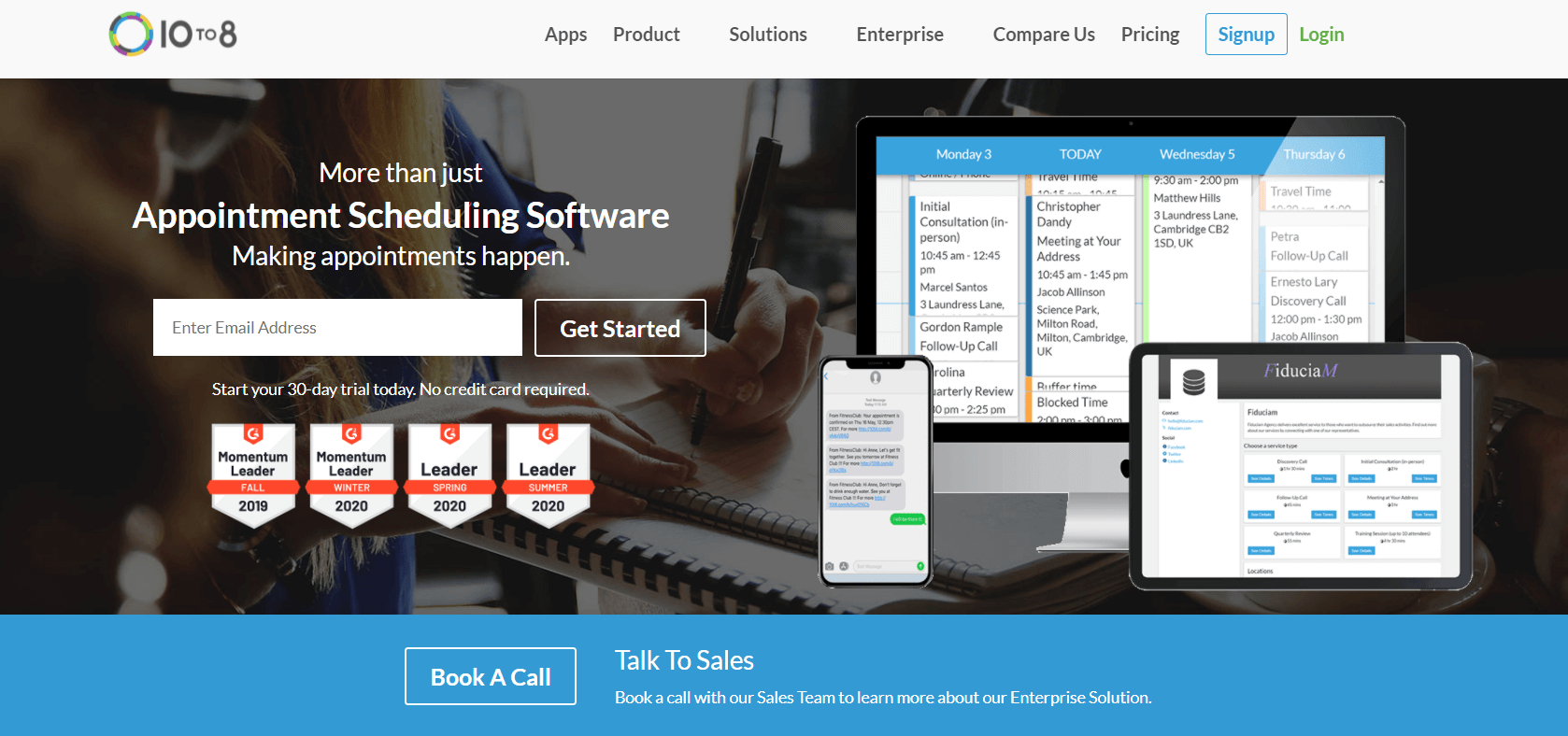 Appealing to healthcare, education, and sales teams, 10to8 is used by over 50K businesses worldwide. It provides a comprehensive list of appointment features to automate bookings. Integration with the most popular calendars ensures that any updates on clients' or staffs' calendars will be viewed on your screen. Yet, it gives you control over which services can be booked, about their timings, and request online payments via PayPal or Stripe.
You can create your own booking page, add logos and other branding elements with the help of customization elements. Native integration with Salesforce lets you set up private booking links for sales representatives, customer support teams. It also supports multiple time zones.
With enhanced management, you can coordinate multiple rooms, locations, calendars, and track all changes, transaction history at the same time.
For virtual meetings, you can create Zoom meetings from 10to8, share meeting links, and send reminders to all invitees. Advanced reminders feature elevates its position in the list of alternatives to Acuity Scheduling. It has SMS, email, and voice call reminders tracking when clients receive and read your messages.
As a budget-friendly Acuity alternative, it has free and multiple pricing plans including at least 100 appointments per month. For teams above 6 members can purchase a business account at $40 for more customizable features.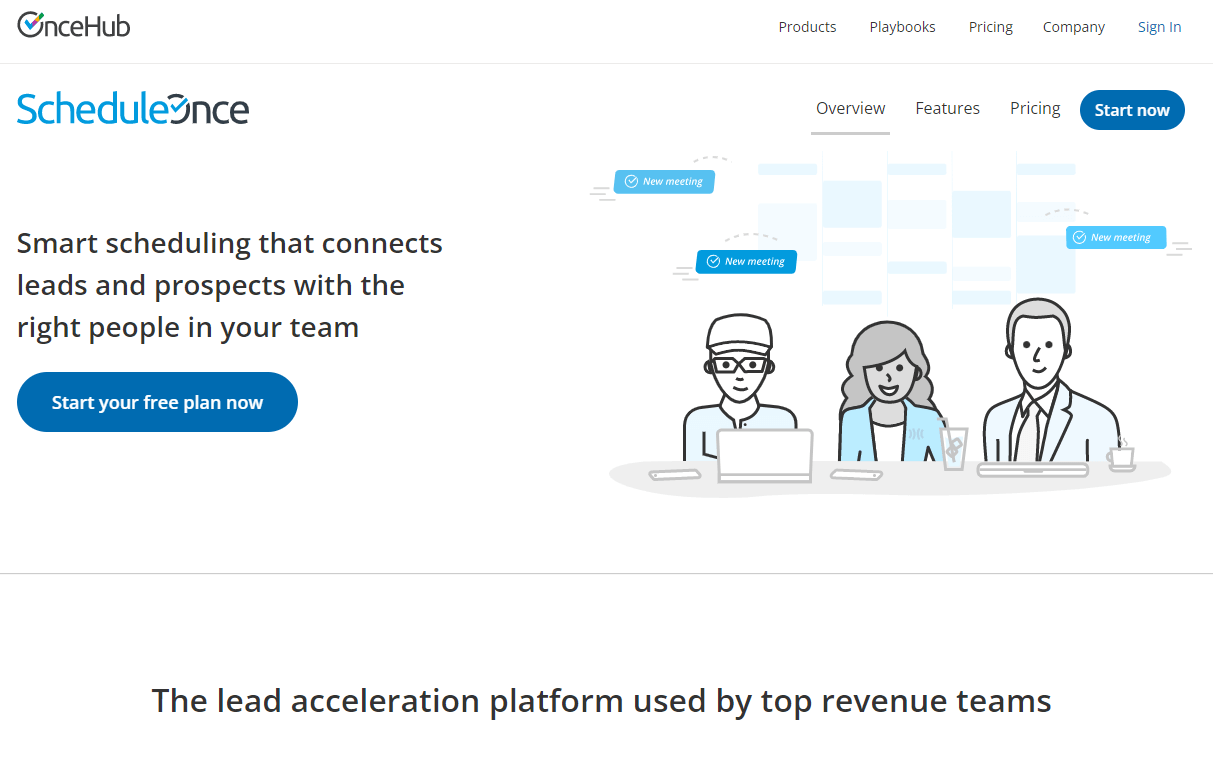 The complexity of ScheduleOnce allows it to carry out any type of appointment from group meetings to one-on-one calls, to in-person talks. To keep your booking panel private, you can create one-time links with customers. Panel meetings allow you to connect prospects with the right people in your team. Also, it has session packages which are basically recurring appointments ideal for coaching sessions or training packages.
You can connect your G Suite, Office 365, Outlook, or iCloud calendars to reduce your team's scheduling delays. Additionally, it lets you send calendar invitations and secured video links to Zoom, Google Meet, Teams, Cisco Webex.
It is one of the great alternatives to Acuity Scheduling that lets you control daily or weekly appointments for employees, time gaps between meetings, and reschedule \ cancellations policies.
You can customize your booking forms, personalize their design to match your branding and create custom domains for booking pages and emails.
As a lead acceleration platform, it has native and third-party integrations with CRM and sales tools. Teams of up to 25 users can get the free version including all meetings types and video meetings. By paying $10 monthly you can get API and advanced integrations and unlimited reporting.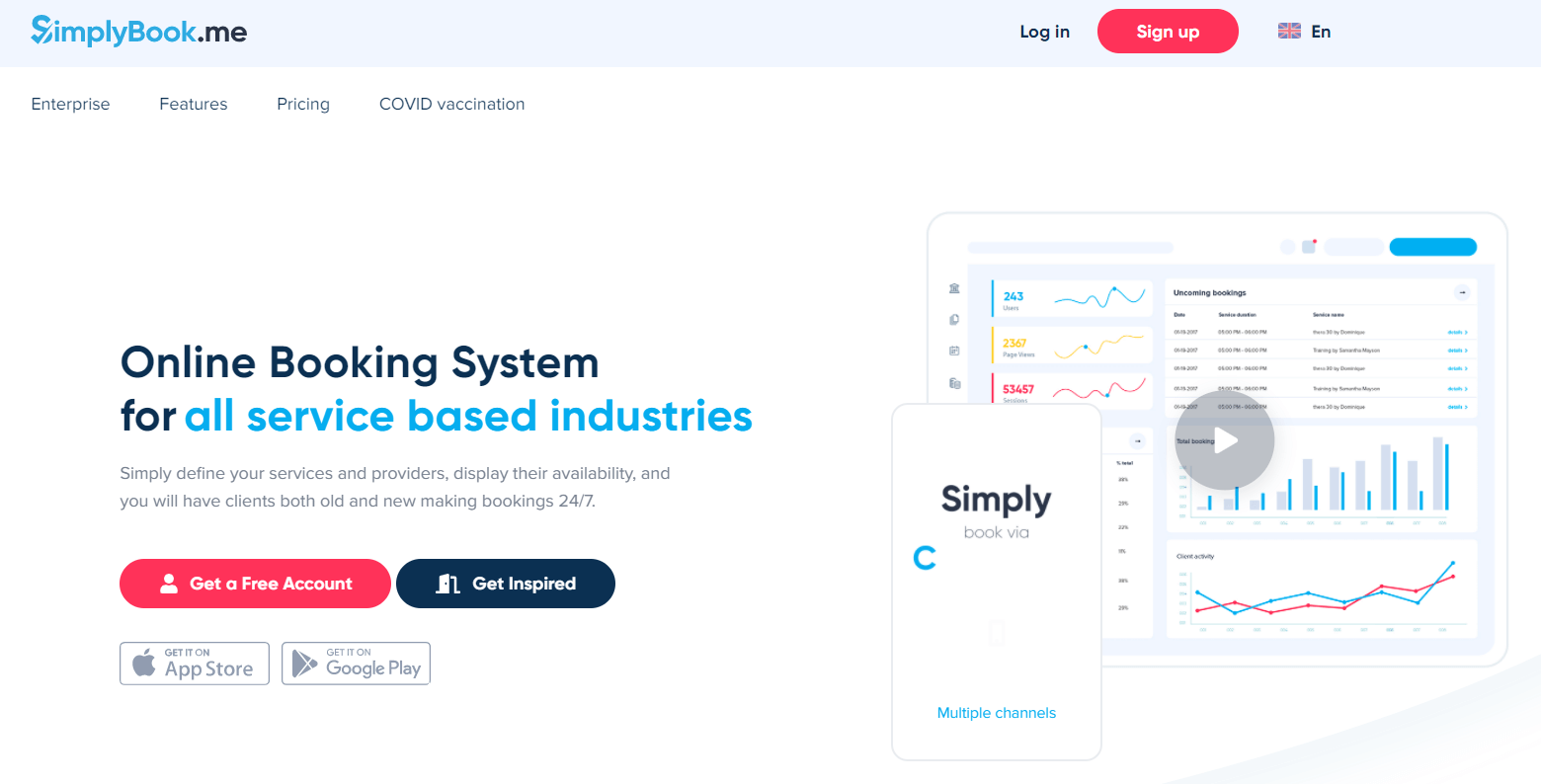 SimplyBook is an easy-to-use Acuity alternative for beauty salons, gyms, restaurants, and financial organizations. You can customize the design of your booking page using 20 different booking templates, color schemes, adding additional pages or images.
It lets you accept online bookings through Google Calendar, Facebook, Instagram, your business website, or a client service app.
You can send tailored notifications to staff and clients about whenever bookings are made, canceled, or rescheduled. With multiple payment terms, you can request deposits, full payment, or receive cash payments.
Upon your enablements, you can automatically send customer reviews and share them on your website. For businesses that operate on a membership basis, SimplyBookme offers subscription tickets for clients.
You can enable book soon notifications or use pre-built gifts features for sales offers. On the client's side, you can connect Google Tag Manager to compare site visits and booked appointments. To enhance its functionality, you can either add its API to your website or use Zapier to connect with other business apps.
By paying $9 on an annual basis, you can add 15 employees for all major functionalities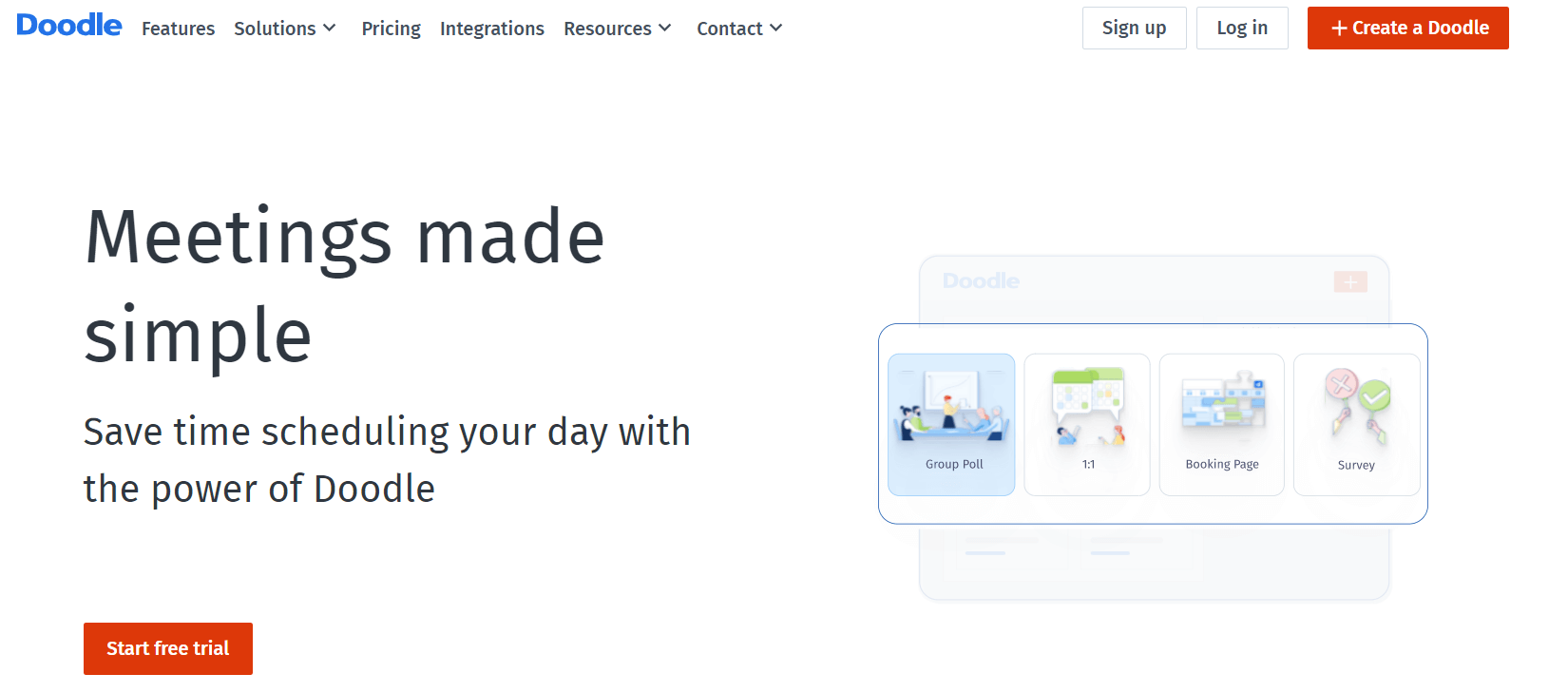 Doodle is a smart meeting scheduling software for teams, colleges, and businesses. It provides a customization facility to add company logos and brand colors.
By checking other people's calendars, it finds available to staff and suggests a proper time to schedule. It sends meeting polls to invitees suggesting dates and times and then lets them vote for their available timing. While the Team account has a poll deadline and allows the meeting host to pick the final time after voting. You can also manage meetings from the dashboard.
With Doodle, you can customize your booking pages, sync them with Slack for easier team management, and create multiple calendars to adjust different types of appointments. For teams of 5 users, can purchase at $9 and additionally get Admin Console.
Check out our detailed Doodle vs Calendy vs WhenIsGood comparison blog.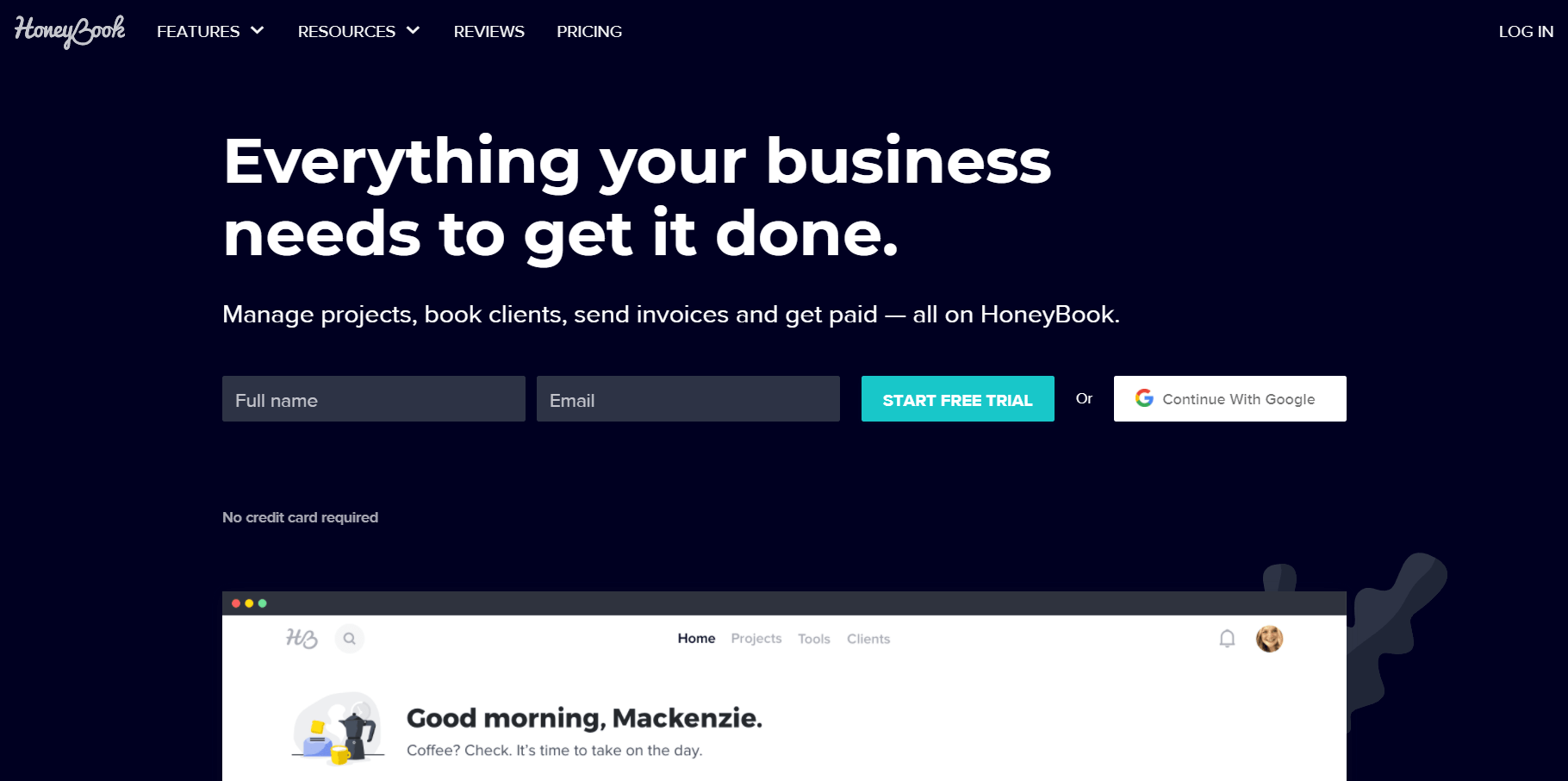 HoneyBook is a client management software handling various services from bookings to billing. The best part is you can customize the appearance and the content of the booking page and reminder emails to your branding style. To create a booking page, you need to set available hours, identify session details like video calls, phone calls, group meetings, put buffer time, and share the booking link with clients.
Plus to booking management, Acuity Scheduling is Honeybook's alternative to the client information management approach. It has ready and importable contact templates to collect and store client information.
As a CRM tool, it hands you online contracts, invoices, and invoices. For these activities, it supports credit, debit payments, and bank transfers.
To save time it has automatic follow-ups and triggers based on customer behavior. To organize your work, it creates tasks with due dates and sends notifications for each.
It starts at $9 per month and upgrades by the number of users and translations you have. It works well for freelancers and small businesses to streamline their business operations and client-based tasks without spending much.
11. Baluu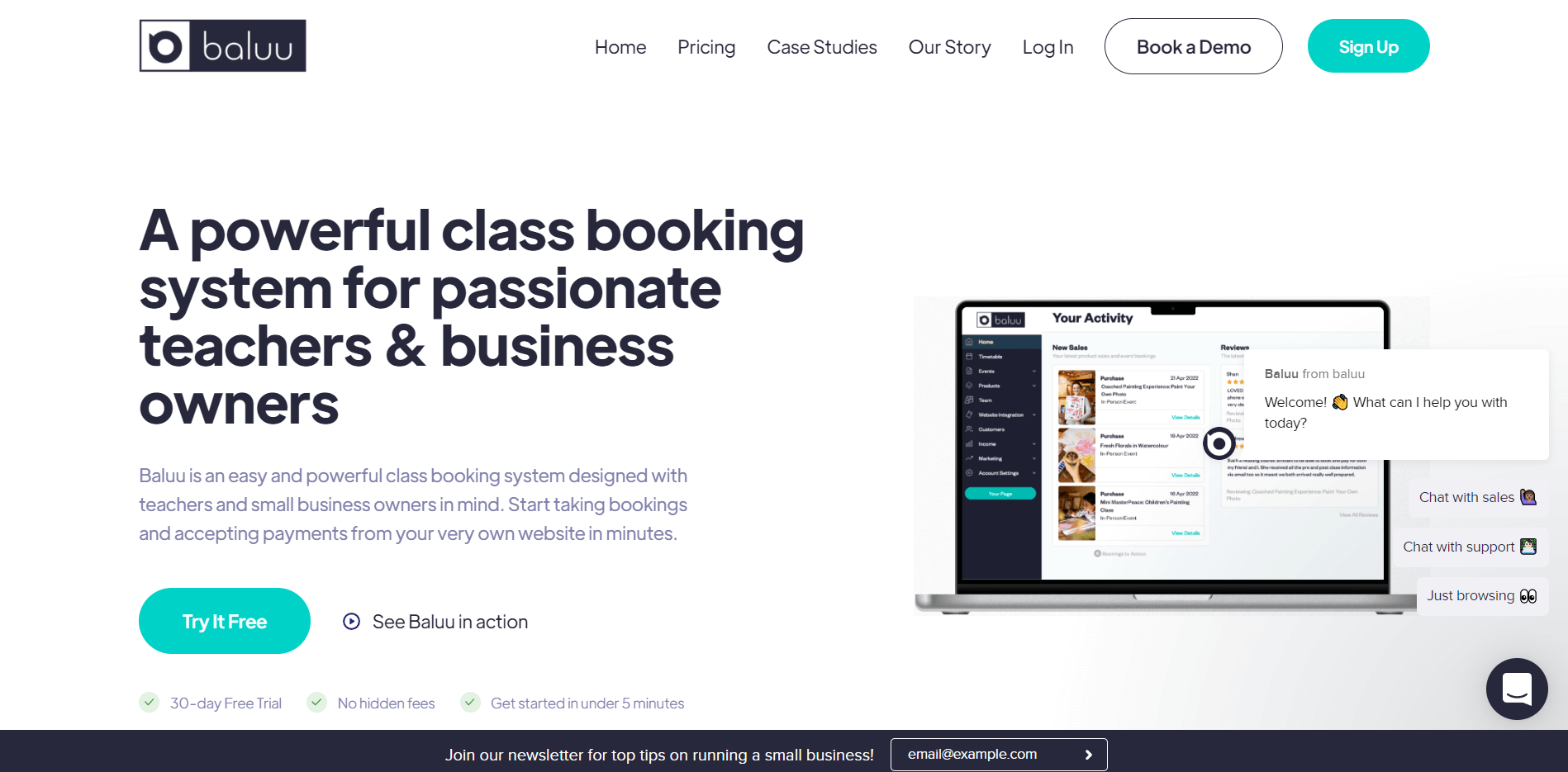 Baluu provides several intuitive tools to simplify the scheduling, booking, and appointment processes. With easy-to-follow instructions, you can quickly create a webpage that displays all the dates and times you are available. Customers can also pay on the spot and make bookings.
Baluu as a booking system is ideal for users who must accept group reservations as well as teachers or coaches who must accept booked classes. It also has an affordable pricing option and a comprehensive feature set. Creating branded pages, adding availability, and sharing links with customers and clients takes minutes with Baluu.
Baluu has a free plan with a monthly booking limit of 50, but if you exceed that limit, you must upgrade to their advanced plan.
Wrap up
The whole point of looking for scheduling software is to reduce the number of emails sent to clients and teams and ensure their accuracy. These were the top Acuity Scheduling alternatives based on the ease of use, affordability, and user ratings. All of these tools sync directly with your calendar and send automatic notifications to keep all parties on the same page.
In order to find the right Acuity Scheduling alternatives, you need to examine your key needs and run a price-performance analysis of the available options.
Sign up for our newsletter
Be the first to know about releases and industry news and insights.
Let's

get started

on something great
Booknetic is a simple yet powerful plugin for accepting online bookings & payments on your WordPress site.