Top 13 The Best Barbershop Website Template Examples (updated for 2023)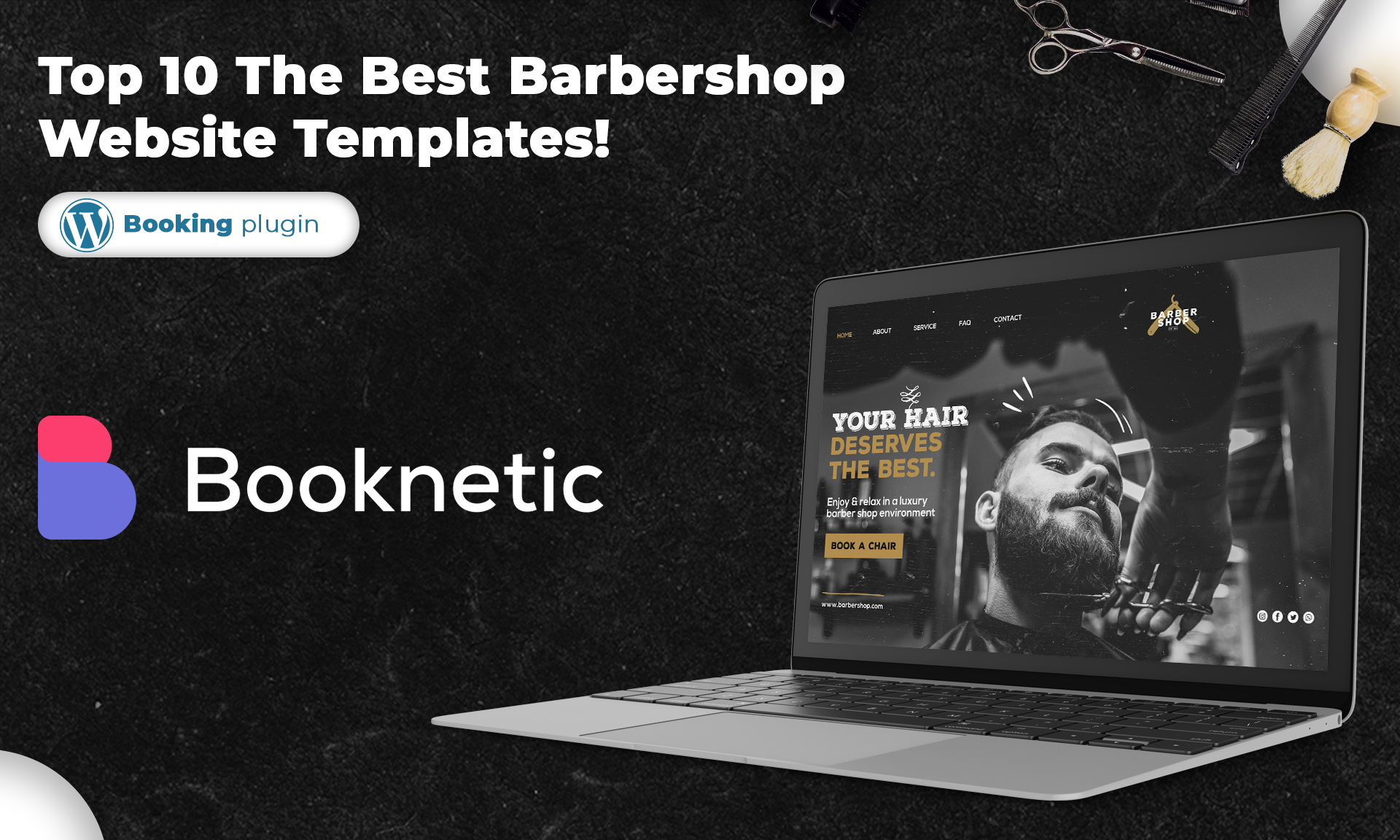 Where do you look for barbershop website template examples? From the market they are sold to the design elements, barbershop website templates carry great importance on the success of your website.
Barbershops are very popular on social media sites like Instagram. Because they're a service that everyone requires at least once a month, this market becomes an appealing target for software development and website design firms.
Suppose you're in charge of developing a website for a barbershop. In that case, you should know that you're dealing with a challenging client who won't accept any ordinary design because they know how much a website costs and what they can expect for the money they're paying. Prepare to dazzle them with an excellent design that satisfies their desires.
If you're looking for some website inspiration today, we'd like to show you a couple of designs that might suit your needs in this category. In this article, we'll show you the top 10 Barbershop website template examples available on the market.
What makes a great barber website?
We need to grasp the critical aspects of a barber shop website template before we begin our guide on building it. Here are some of the essential pages and parts for any barber website:
Homepage
The homepage gives visitors an initial impression of what the website for barbers looks like. A straightforward navigational menu that leads to other essential pages and visible call to action buttons that encourage users to do the desired action on the site should be included here.
You should also include some of your most significant work, information about your haircutting and styling services, and other important information about your salon.
Page "About Us"
A barbershop website is more than just a place to book appointments and get pricing; it's also a way to promote your salon and the talented hairstylists that work there. You may develop your brand and engage with customers personally with a well-crafted about us page. The page should include personal pictures and bios and links to their social media accounts, and information about the barbershop's history.
Online appointment booking
The website's primary purpose is to turn visitors into paying clients. As a result, an excellent barbershop web template must provide an appointment website template free for the website. Pricing details, no-show or cancellation fees, payment procedures, and any other pertinent information for clients should all be included on this page.
Furthermore, the page should include a calendar connection so that clients do not forget their appointments.
Online appointment booking is so crucial for barbershops. Your clients can book barber appointments with barbar appointment booking tools whenever they want. Also, your staff and you don't have to worry about planning. Appointment booking plugins will do all processes for you. There are a lot of booking plugins in the market. Booknetic is a smart appointment booking plugin appealing to a range of businesses.
Booknetic has a lot of features and a demo version for trying.
Services
This page should describe each service you offer. Potential clients use your website to see if you are the proper fit for their needs. To effectively display services and other features on the website, a website needs to have a great barbershop menu template.
Make sure your services are prominently advertised and easy to locate on the website.
The gallery
Consider barbershop website template examples that give you chance to show your portfolio. Customers are more likely to arrange their appointment if you have a gallery page with some of your best haircuts and styles. Client testimonials should also be included on this page.
Shop
If you sell hair styling items in your salon, you should think about selling them online. Create an online store, simplify payment processing, and customize the checkout procedure with the WooCommerce integration.
A blog
Although it isn't required, a blog can help your barbershop website rank higher in search results, engage with customers, and develop an online community. You can use this space to provide company updates, new haircutting product reviews, and styling tutorials. And to hold all these elements on the website, it needs to have a well-designed barber menu template. Eitiher way, visitors might be lost going back and forth between pages.
Top 13 the Best Barbershop Website Template Examples
BarberShop: Template For BarberShop & Hair Salon
MenzSaloon: Barber & Salon
The Shave: BarberShop
Trim
Hairy: Barbershop & Hair Salon
Perukar
Cutting Edge: Barber Template
Neo Salon
Shang
Haarino
Barber X - Free
Brber
Barber - Colorlib
1. BarberShop: Template For BarberShop & Hair Salon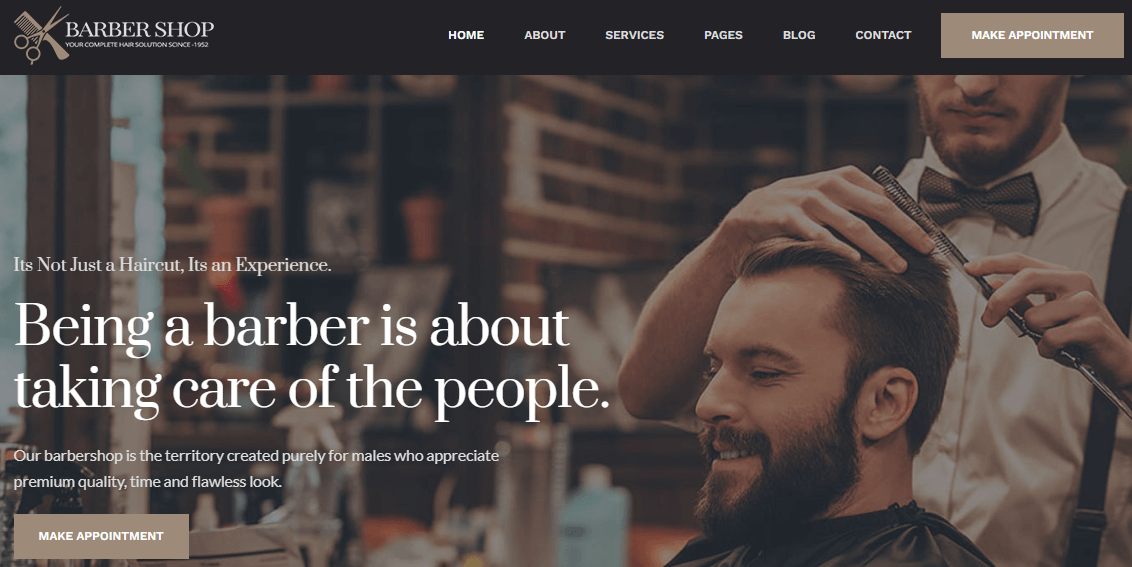 BarberShop is available in three different versions for adapting to your business style. The theme allows for easy and straightforward customization options.
BarberShop is follows a more practical approach to exhibit and advertise your barbershop, hair salon, tattoo design, haircut, hair design, and fashion store.
It is a mobile-friendly theme meaning it will accommodate all screen sizes, whether you're surfing on a mobile tablet or a desktop/laptop.
2. MenzSaloon: Barber & Salon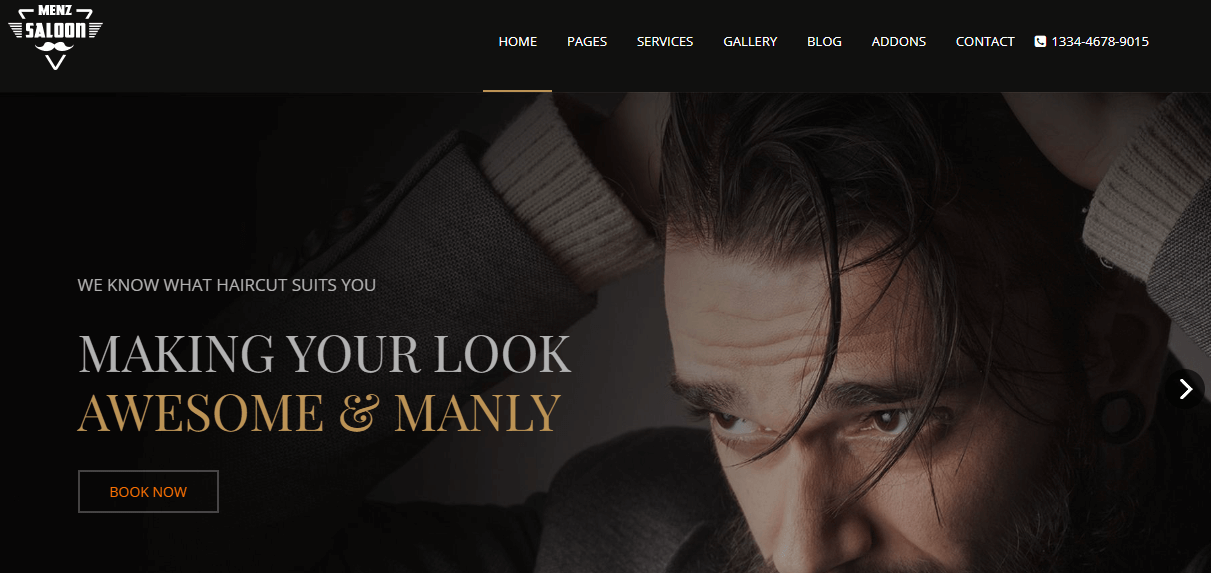 MenzSaloon has clean, vibrant, and ideal barbershop website template examples for a barber or hair shop. You can easily create a website for your barbershop or hair salon using this template and enhance the reach of your business.
MenzSaloon is available in two colors: light and dark. The template also has stunning galleries driven by Essential Grid that will help you professionally present your products and services.
The best thing about this plugin is its clear barber menu template allows visitors to land on individual service types.
3. The Shave: BarberShop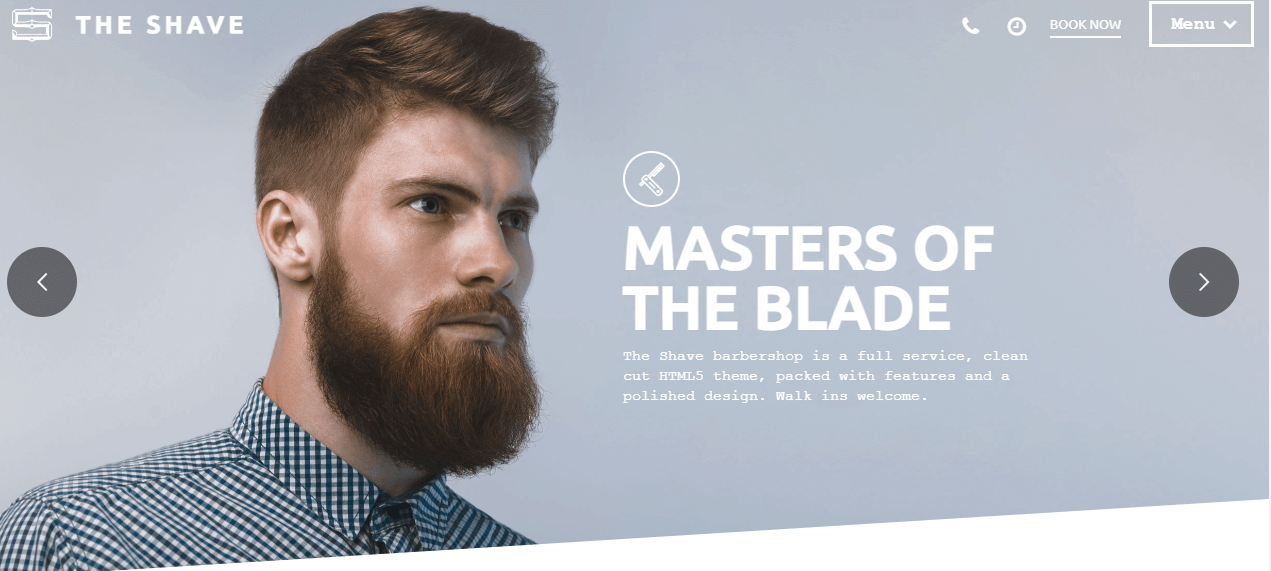 This theme is a stunning parallax template with a creative style. It's highly customizable, allowing you to construct an infinite number of pages and options.
With well-documented and ordered files, you can get up and running quickly. Although designed for barbershops, this barber shop website template is readily adaptable to agencies, small enterprises, and freelancer websites.
4. Trim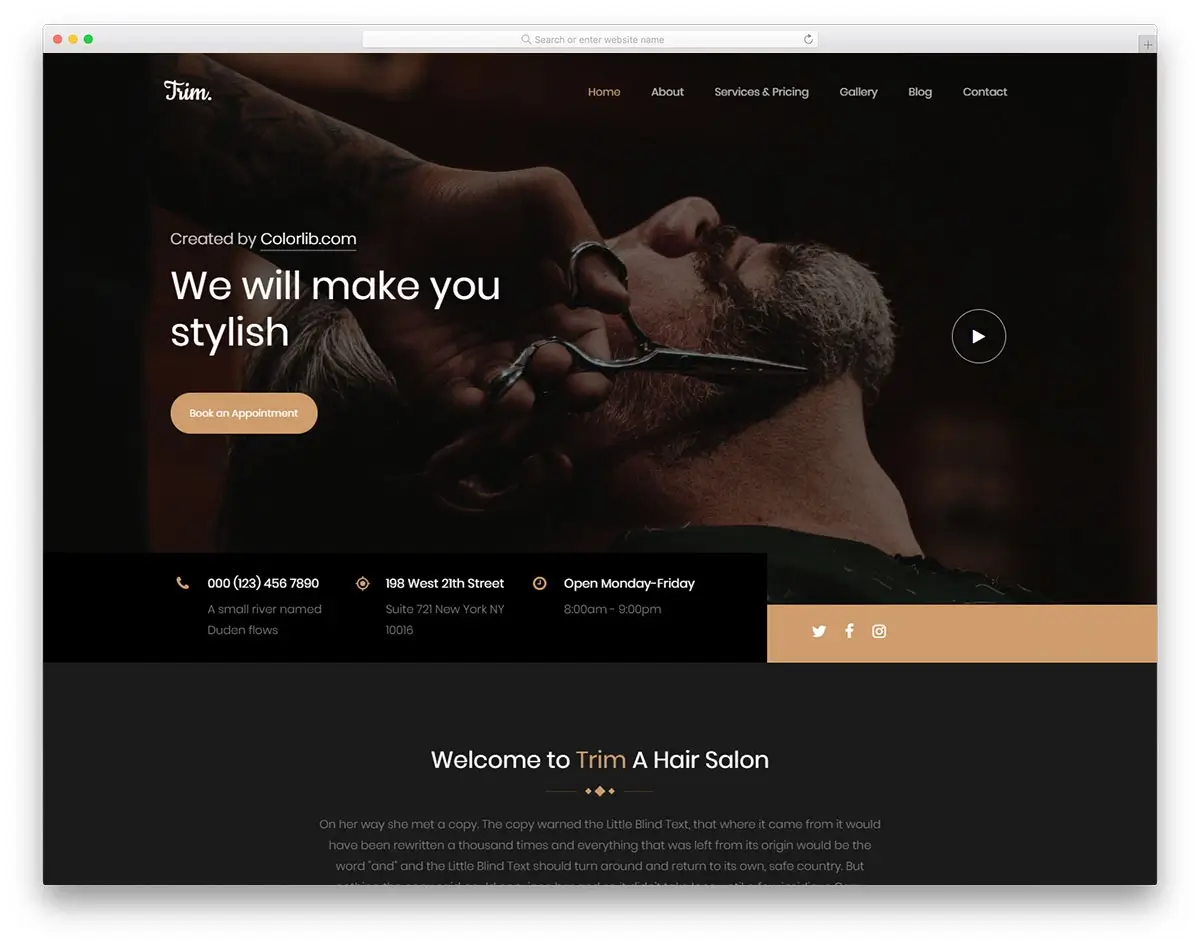 Trim is a free, mobile-friendly barbershop website template that you can use to showcase your company online. You can do a lot more for your barbershop than you realize with an excellent and cutting-edge internet presence. You can not only demonstrate professionalism and sell your irresistible services, but you can also schedule appointments and keep everything in order. They won't have to pick up the phone and dial any longer. All they have to do now is fill out the form.
The beautiful dark theme loads content as you navigate and adds fascinating hover and parallax effects to the experience. It supports videos, has built-in plans and pricing, and has a valuable gallery and an excellent blog. If that's something you're interested in, the latter would also function well as a separate page.
5. Hairy: Barbershop & Hair Salon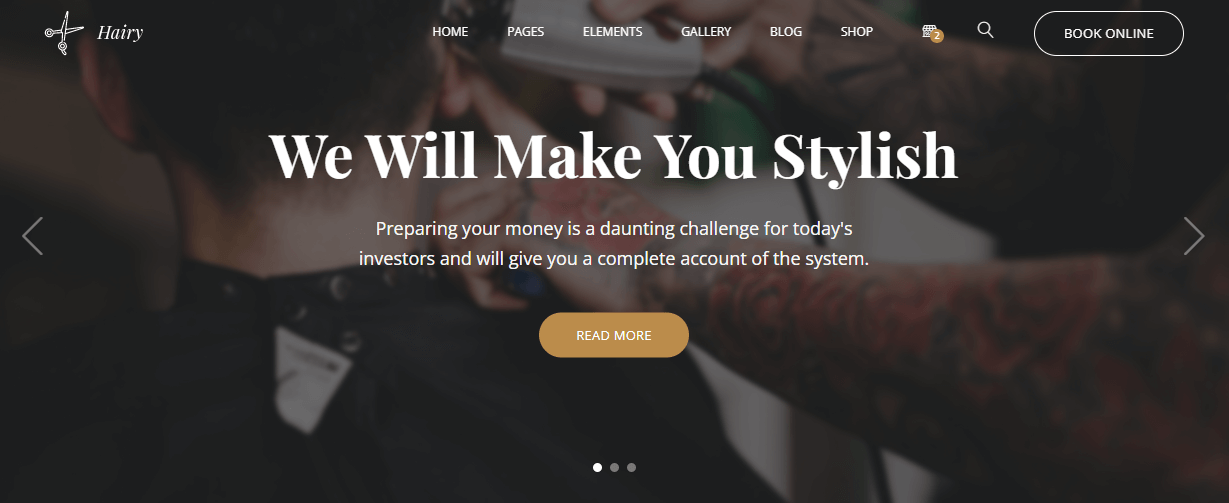 Hairy is one of the high-performance HTML5 barbershop website template examples ideal for haircuts, grooming, facials, trims, and other hair and barber services. Hairy is a professional font with a trendy and unique style. Hairy - Barbershop is the place to be if you're looking for:
Barbering salon
Salons that specialize in hair care
Artist in charge of makeup
Service for manicures
Service of treatment
Spa services are available
Hairstyling
Talent in the fashion industry
Showcase of hairstylist
Barbershop lead generation page
Professional consultation
Product launch for hair salons
6. Perukar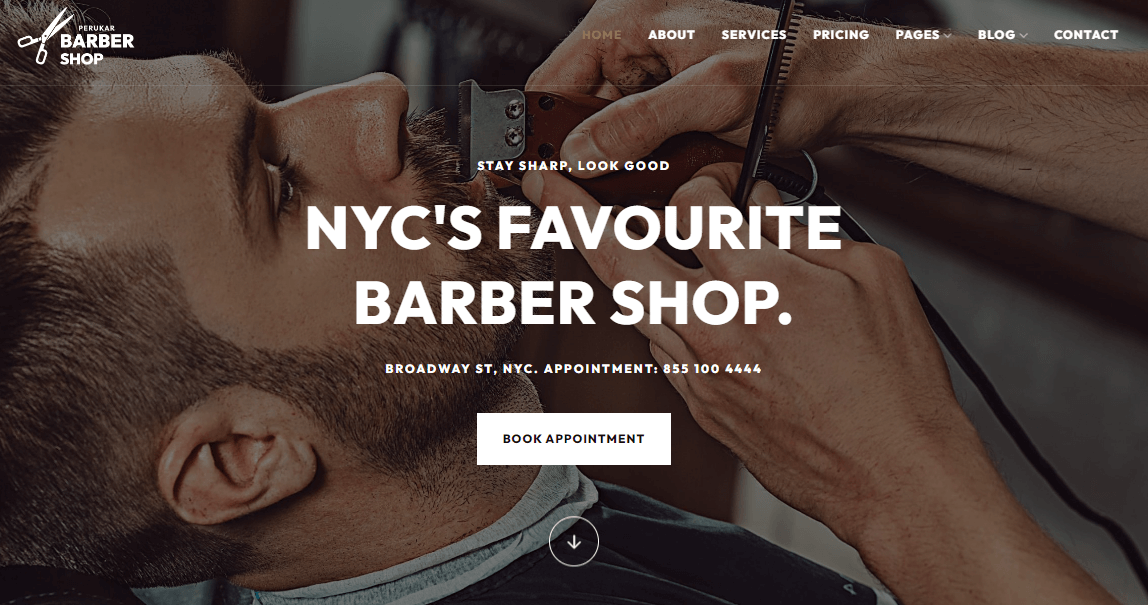 Perukar is a simple and elegant website template designed for professional barbershops, hair salons, and other related services. It's responsive, adapting to any device and screen size, and includes a live preview page. The template uses Bootstrap Framework, Owl Carousel, Animate, Themify Icons, and a whole other range of frameworks to create a stunning look.
You can use it to showcase your work and services in an attractive and effective way.
7. Cutting Edge: Barber Template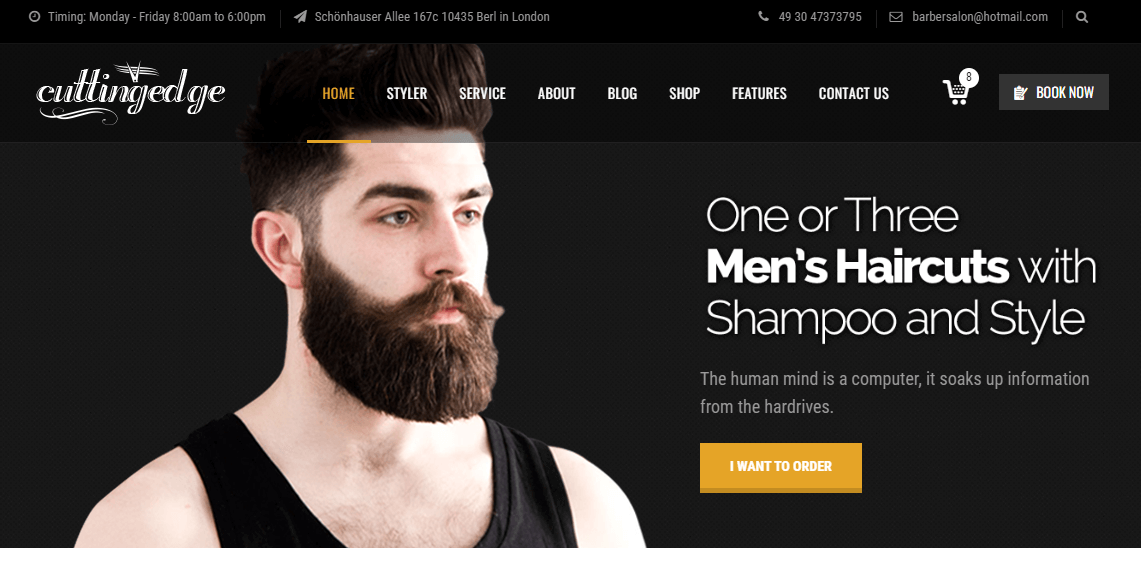 This template is ideal for creative barber shops, hair salons, and barbershops. As a barber HTML template, it has custom color schemes and 23 valid HTML files are included with the Cutting Edge template. The design is exquisite and modern, and the 1140px grid makes it extremely easy to customize. The Cutting Edge template comes with a fantastic color scheme, but you may customize it using our color.css file. The Cutting Edge also supported professional sliders, custom menus, shortcode elements, custom page designs, and HTML5 CSS3 technology.
8. Neo Salon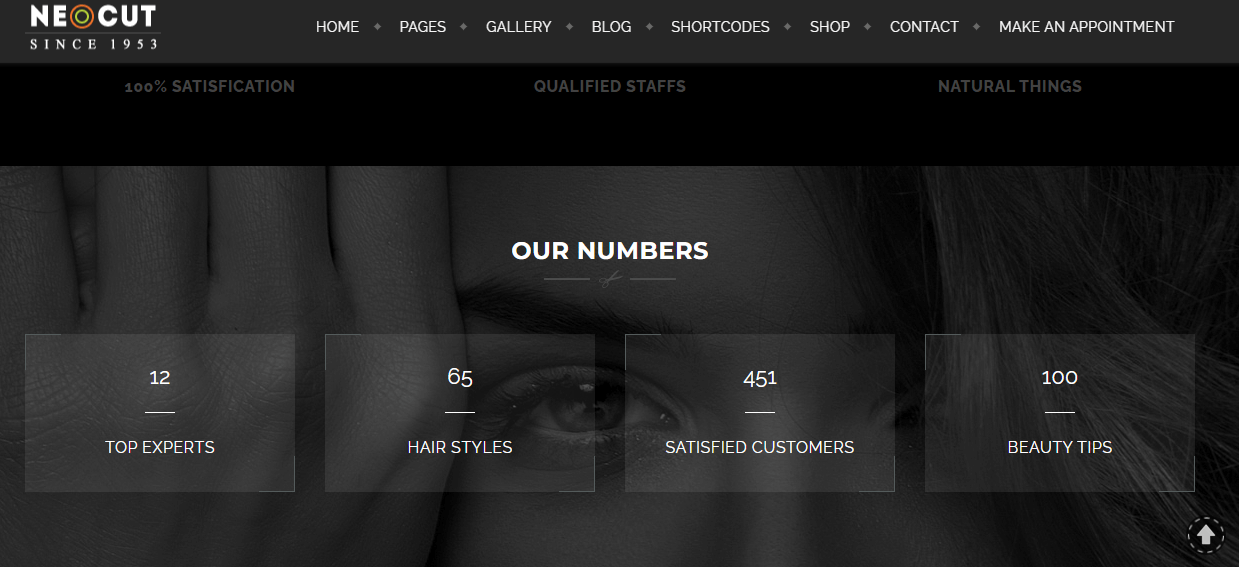 The Neo Salon is a customizable one-page template with parallax background, sticky menus, and modern elements suitable for both landing page and multipage websites. It has a beautiful and modern look and an appealing touch. The theme is also compatible with WooCommerce latest version and RTL languages. So if you want to operate in a vastly different region, this theme can help you do that.
9. Shang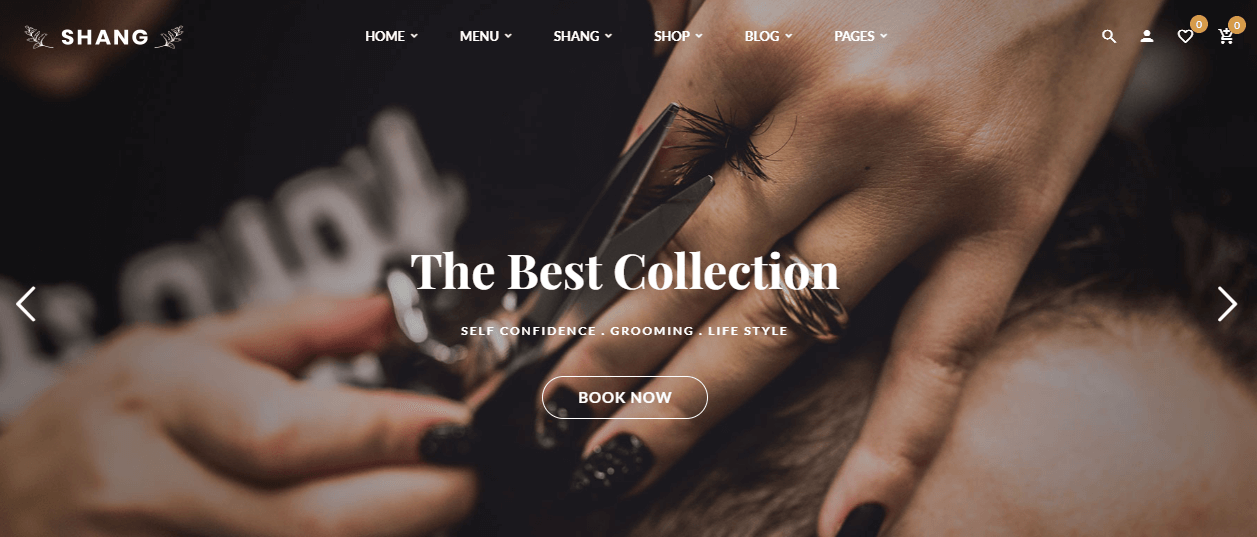 Shang is a WooCommerce WordPress theme designed specifically for barber shops and hair salons. It offers a booking system and a clean, elegant, and unique design that can help promote your business and showcase your work.
Some of the key features of Shang include a customizable booking system, responsive design, support for multiple languages, and compatibility with various popular WordPress plugins.
10. Haarino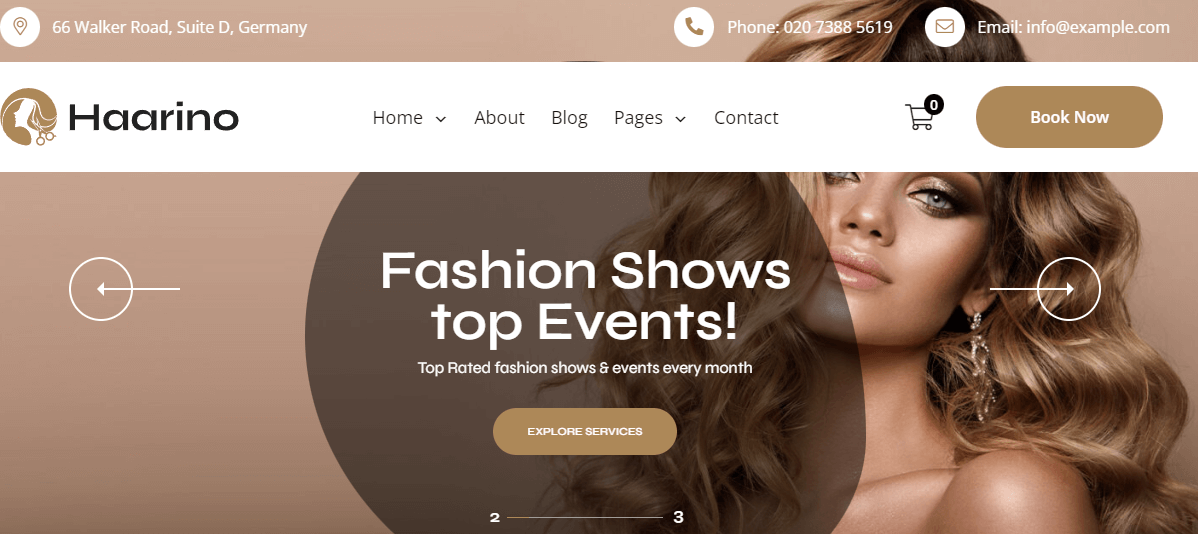 Haarino is a responsive WordPress theme with features like Elementor Page Builder, Revolution Slider and WooCommerce support. It's ideal for hair and beauty salons, and can be easily customized for any website. Compatible with popular WordPress plugins, Haarino is optimized for quick and easy customization.
Haarino also supports Internet Explorer, but we couldn't find how it can be helpful for anyone.
11. Barber X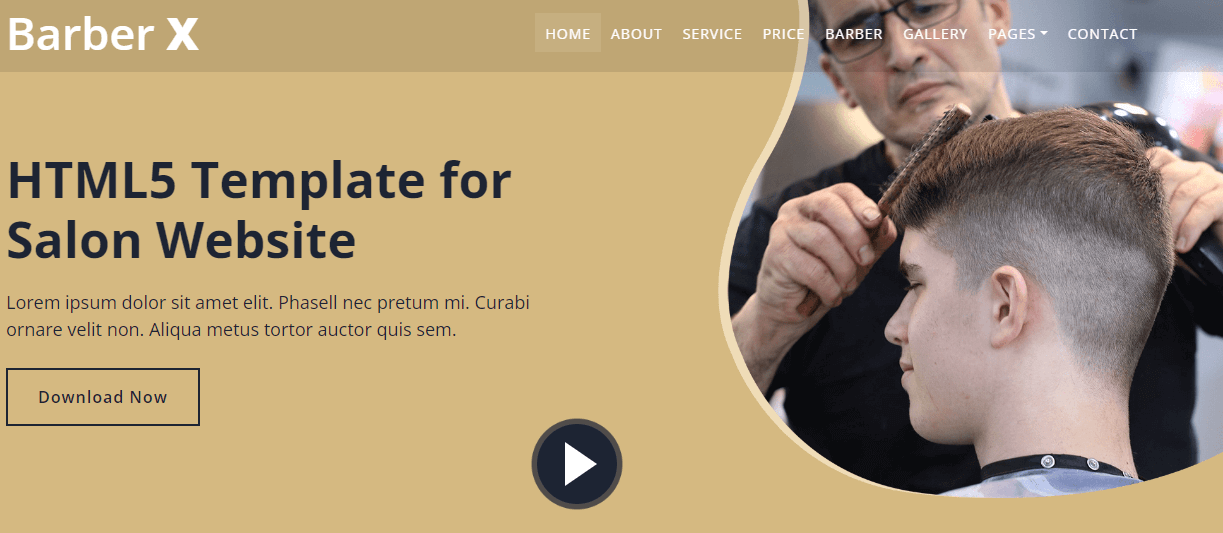 Barber X is a FREE template for barber shop websites. It has a modern design and 9 HTML files for different pages. You can use it to create a website for your salon, hair care, or hair styling business. The template has features such as galleries to display your haircuts and hairstyles.
It is a great choice if you want to get a clean look to your website without spending extra on getting a custom design.
12. Brber
Brber is a modern and impactful website template designed for barber and salon businesses. It's built with the Bootstrap Framework and includes premium-like features such as sliders, call-to-actions, sticky navigation, pricing, gallery, blog section, and contact page with a working form and Google Maps.
It's 100% cross-browser compatible and mobile-responsive, following all the latest trends and regulations. And it is also completely FREE to use.
13. Narosundar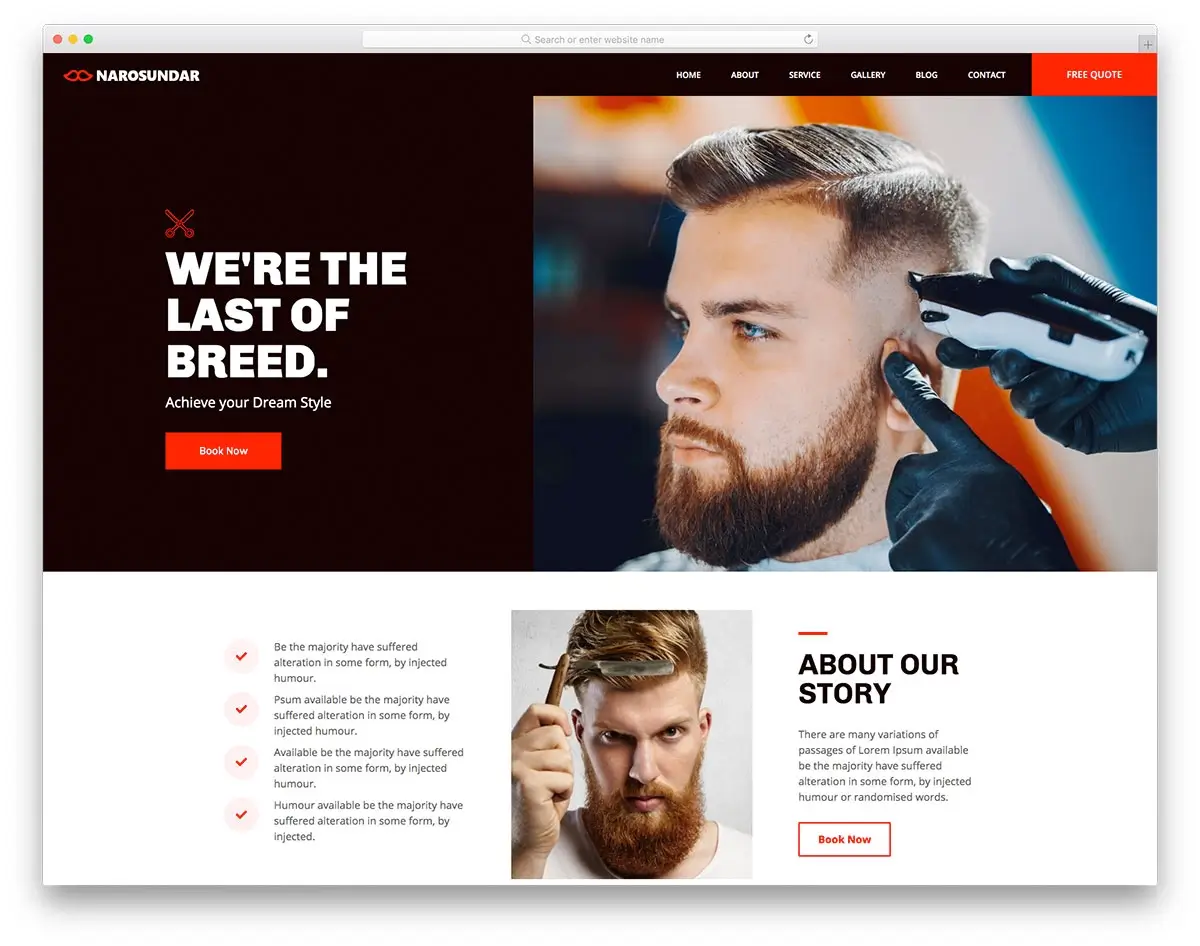 Narosundar is a mobile-friendly barber HTML website template that includes a back-to-top button, sticky header, pricing accordion, image feed, gallery, blog section, Google Maps, and a functional contact form.
The code has a user- and beginner-friendly structure and can be modified to suit your needs.
==> Also read: Best Law Firm Website Templates To Use For WordPress
Conclusion
We have listed the top 13 barbershop website template examples for you. The barbershop is a terrific business to be in, and it can be profitable if you find a suitable theme for your website. For many, it is still an experience in which personal touches are highly valued.
As you can see, there are plenty of personal website templates for barbershops that will help you get your business online. All of these templates are easy to use and customizable, so you can make them your own.
Gain new customers, establish a favorable reputation, and earn the loyalty of your most committed customers. A good website with a good theme will help you in this period. Share your favorite barbershop website templates with us in the comments below.
Sign up for our newsletter
Be the first to know about releases and industry news and insights.
Let's

get started

on something great
Booknetic is a simple yet powerful plugin for accepting online bookings & payments on your WordPress site.