Best Law Firm Website Templates To Use For WordPress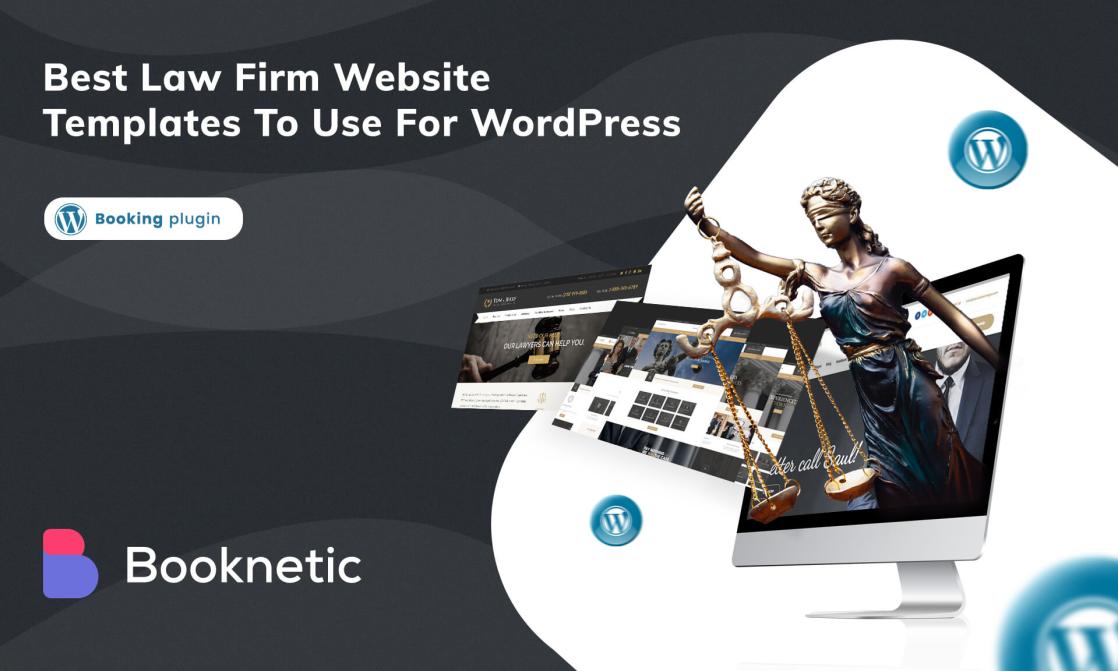 Are you looking to improve the look of your law firm website?
If your website is built in WordPress you can easily update your view of a website with general and customized WordPress themes. They are previously made themes to manage your website's overall view, including link colors, layout forms, and text alignment.
If you have not built your law firm website yet, we highly recommend you to opt for WordPress and benefit from it for your legal service. That's why before introducing the best law firm website templates for WordPress, we will list you the most common benefits of WordPress that will improve the overall performance of your website.
5 reasons to use WordPress law firm website?
Powering 37% of websites on the internet, WordPress is the most used content management system in the world. Although there are many benefits of law firm WordPress plugins for appointments that make it the best option for law firms.
Ease of use
Since no code-level deployment is required in WordPress, it is suitable for non-tech professionals like lawyers to maintain and update their websites. It just takes a few steps to create pages, and add text and photos to the required fields.
SEO friendly
SEO is key if you want to reach more prospects and increase revenue. According to Clio, search results are the second most-used method of reaching out to attorneys.
Since WordPress is the best CMS for blogging, you can improve the quality of your content with sophisticated blog structures, customized URLs, and SEO-friendly plugins like Yoast SEO. With auto-posting plugins like FS-Poster, you schedule your regular blogs in advance and boost them to different social media platforms to draw more attention to your legal services.
Scalable
The structure of WordPress allows you to easily upgrade your website. As you grow your business you may hire more attorneys, increase the number of services you provide or spread to new locations. With law firm WordPress, you can add unique features and optimize them without implementing complex coding.
Portability
Portability is another crucial subject that law firms need to pay attention to. If you are not happy with WordPress or your web hosting, you can switch to new hosting or another platform. Via built-in tools, you can download your files or export them into cloud-based storage and then, import them into a new web hosting or platform. With other web building services, you will lose lots of visual and written content if you want to switch to a new platform.
Flexible
With tens of thousands of templates and must-have plugins, the WordPress law firm website gives full flexibility to build a website at your will. You can pick your favorite template to design the front-end view of your website or choose to combine various templates to make the most out of them. Or, if you are not happy with the available options, you can hire a developer to create your own WordPress theme. But this is an advanced option, as you do need to build a complex law firm website for a legal service.
6 best law firm website templates for WordPress
You know by now that templates are great tools to impress your visitors and strengthen the look of WordPress law firm websites. You can use almost any theme and easily customize it for your law firm. Since there are more than 11K WordPress themes out there, it might be overwhelming to pick the most suitable ones.
We listed the 6 best WordPress law firm templates for building a professional legal service website.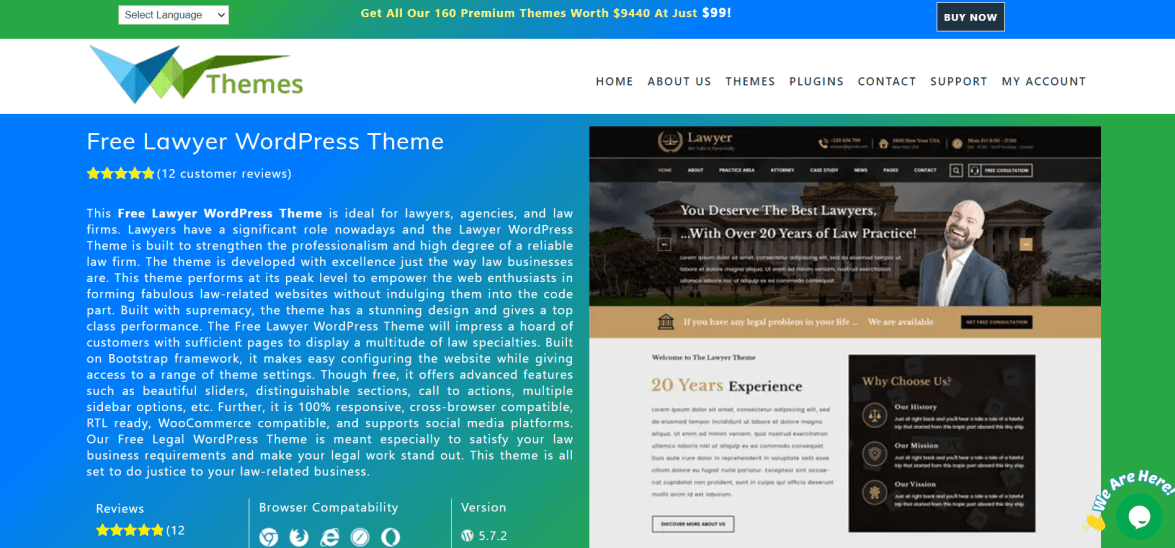 Starting with the affordable options, VW Lawyer Attorney is a free WordPress template designed for legal consultants, advocates, and law firms. It contains many functionalities that help to distinguish your service categories. You can personalize the view of your website with custom backgrounds, optimized codes, call-to-action buttons.
Responsive sliders, custom menus, and display options help to create a suitable law firm website for free. It also provides responsive sliders, SEO optimized structure, fast page load, and social media icons that will help receive organic traffic to your website.
It is the best choice for solo advisors or small law firms with a limited budget to bring up their portfolios to the online sphere. You can start designing your website with VW LAwyer Attorney and upgrade it to the Premium package once your legal business needs more sophisticated functionalities. Learn more about its features
2. Monochrome

If you want a simple yet elegant-looking law firm website, Monochrome is the one to go. The genesis-powered template allows you to quickly build your website design and optimize it for higher search rankings. With Gutenberg editor, mobile responsiveness, and theme customizers you will start building the best law firm website templates for WordPress in a few clicks.
With multi-page builders like home, landing, pricing, blog page templates, you can intensify your website development for a law firm.
If your website is built with Premium WordPress hosting you can get free access to 10 Genesis block themes, a seamless website set up, customer support, and easy migration of your existing website. Monochrome is a reliable template to build your law firm website from scratch or upgrade your existing look with modern and SEO-friendly content blocks. Check Demo to see the detailed design options.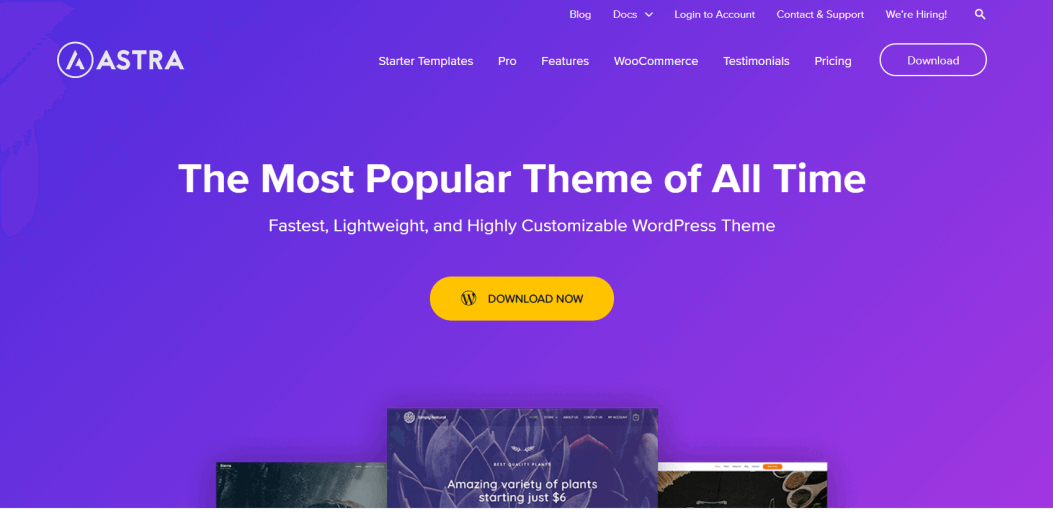 As a multi-purpose WordPress theme, Astra offers a number of enhanced features to go out of a typical law firm website and customize its look with your own will. Fast, easy-built setup and SEO friendliness make it compatible with law websites. Astra uses less than 50Kb resources to focus on performance and supports the best coding standards to ensure optimization of sites.
Extensive design layouts, typography, colors & background, and custom layouts allow providing UI\UX without hiring a professional designer.
With the Astra Pro plan at $47, you can get access to hundreds of customization options like Advance Header builder, Custom layouts, Blog layouts, and Advance color options that are essential for law firm websites. Visit the page to view more features.
4. OceanWP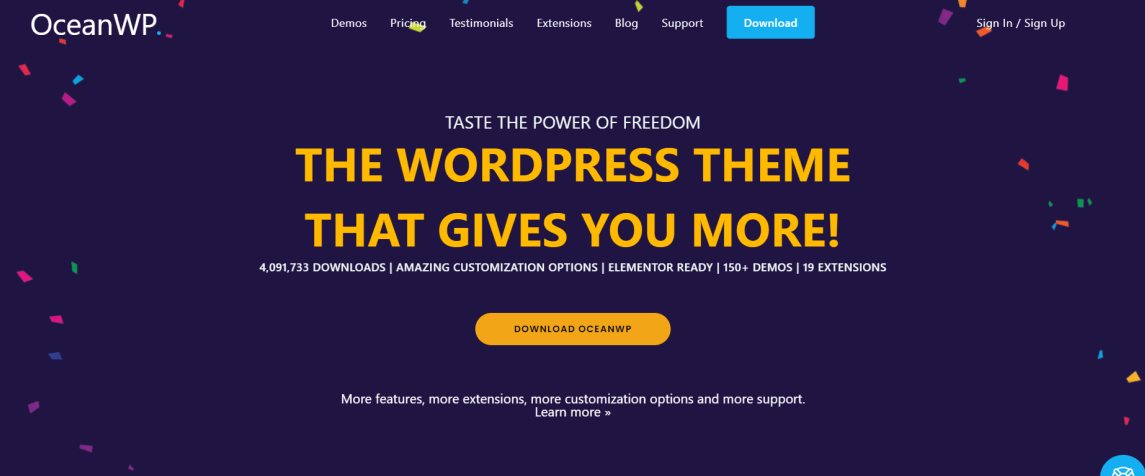 OceanWP is a multi-purpose WordPress theme that can be utilized for legal services. It offers free and paid features that help with the customization of pages, sections, and content.
Mobile-friendliness is the major advantage of this particular theme. OceanWP comes with 3 mobile menu styles regardless of the style of the main headers you pick. Easy setup structure, responsive design, regular updates, and customer support make it a reliable partner for your online presence.
OceanWP is especially good for a law firm that has a tight budget and does not need too much functionality. With Personal Plan at $39, you can get yearly updates and support, free and paid extensions, along with demos in hand. Try Demo to see more design options.
5. LawBusiness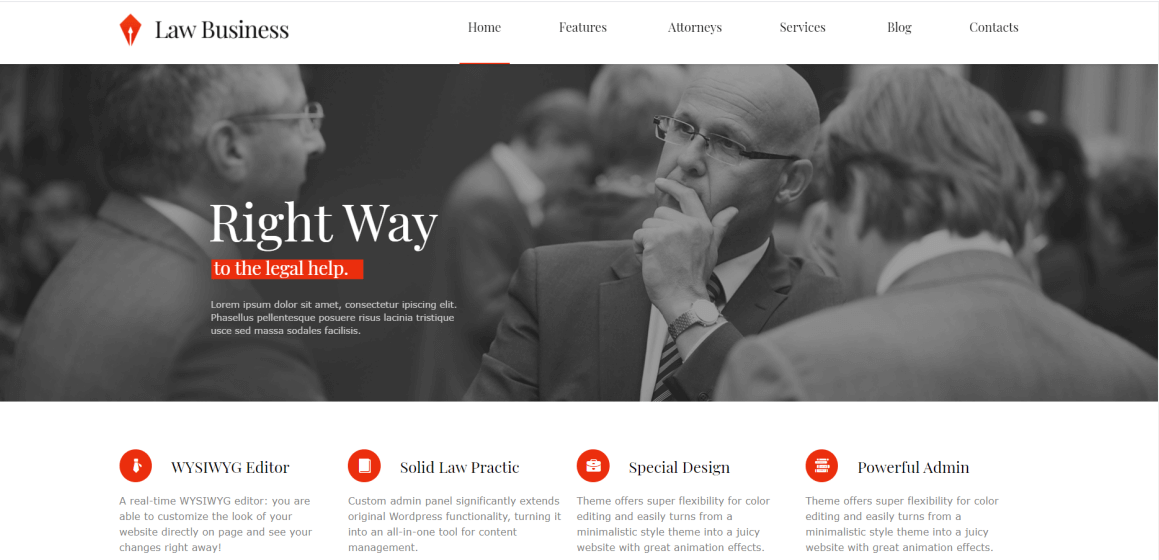 LawBusiness is a premium WordPress template specifically designed for legal service providers. The feature-rich structure allows customizing the website according to service categories.
Complete responsiveness and retina-readiness ensure that you provide the best online experience for all devices. Custom backgrounds, shortcodes, drag & drop content composers, and unlimited menu colors will make it easy to manage website content.
With the Regular plan starting at $49, you will get access to all mentioned features along with 6 months of customer support, and regular updates. If you want to push up your website with its sophisticated design and user-friendly enhancements, LawBusiness is the one to go. Visit the page to see more features.
6. Lawyer & Attorney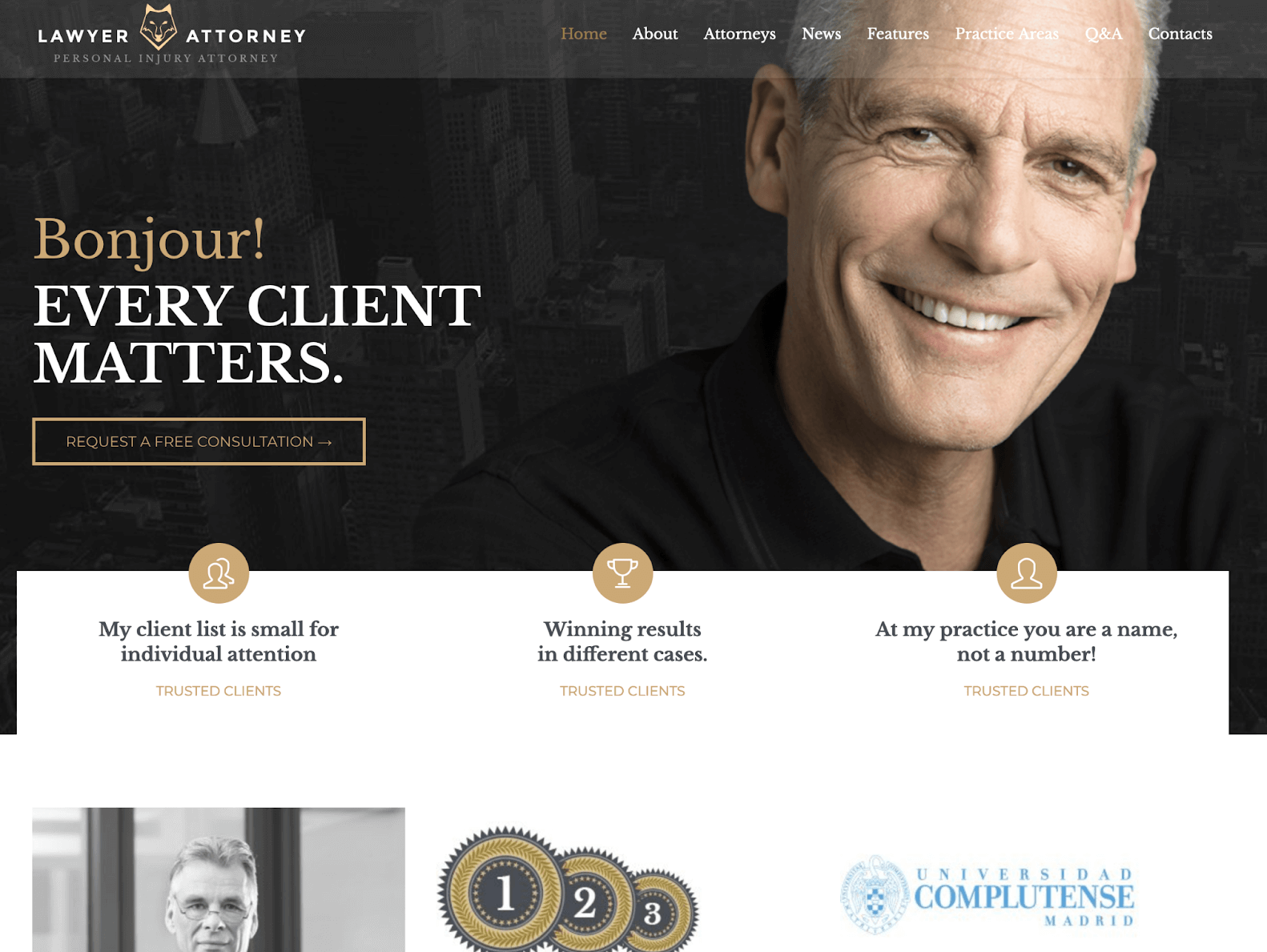 Lawyer & Attorney is another premium WordPress website template that is built specifically for law and legal services in mind. The drag & drop builders, custom sidebar manager, and shortcode generators serve to improve your website development for law firms.
The features like 600 + Google fonts, endless layout possibilities, and multi-footer styles make Law& Attorney stand out from other premium WordPress themes in our list. High-speed website performance and mobile support ensure you provide the best user experience to your visitors.
Considering the wide range of functionalities, Law & Attorney is one of the best law firm website templates for WordPress designed to ease the workload of legal services. $79 looks like a decent amount to pay for a professional law firm website. This is an optimal choice if you own a large legal business with tens of legal consultants and a group of corporate customers under your portfolio. Learn more about its features.
Extend your WordPress law firm website with plugins
Once you are done with picking the right WordPress template you can start to improve your booking management. A significant part of website development for law firms is incorporating plugins into the site.
WordPress plugins are excellent for developing more user-friendly and revenue-generating websites for law firms. They offer easy installation, security, low cost, and time-effectiveness that help to boost the administrative side of website management.
Booknetic is one of such plugins developed to facilitate the law firm website practice. It is a WordPress appointment booking plugin that is made for full customization and automation of online appointment bookings. Through a feature-rich platform, you can select your service and categories them, add your staff profiles, along with respective prices.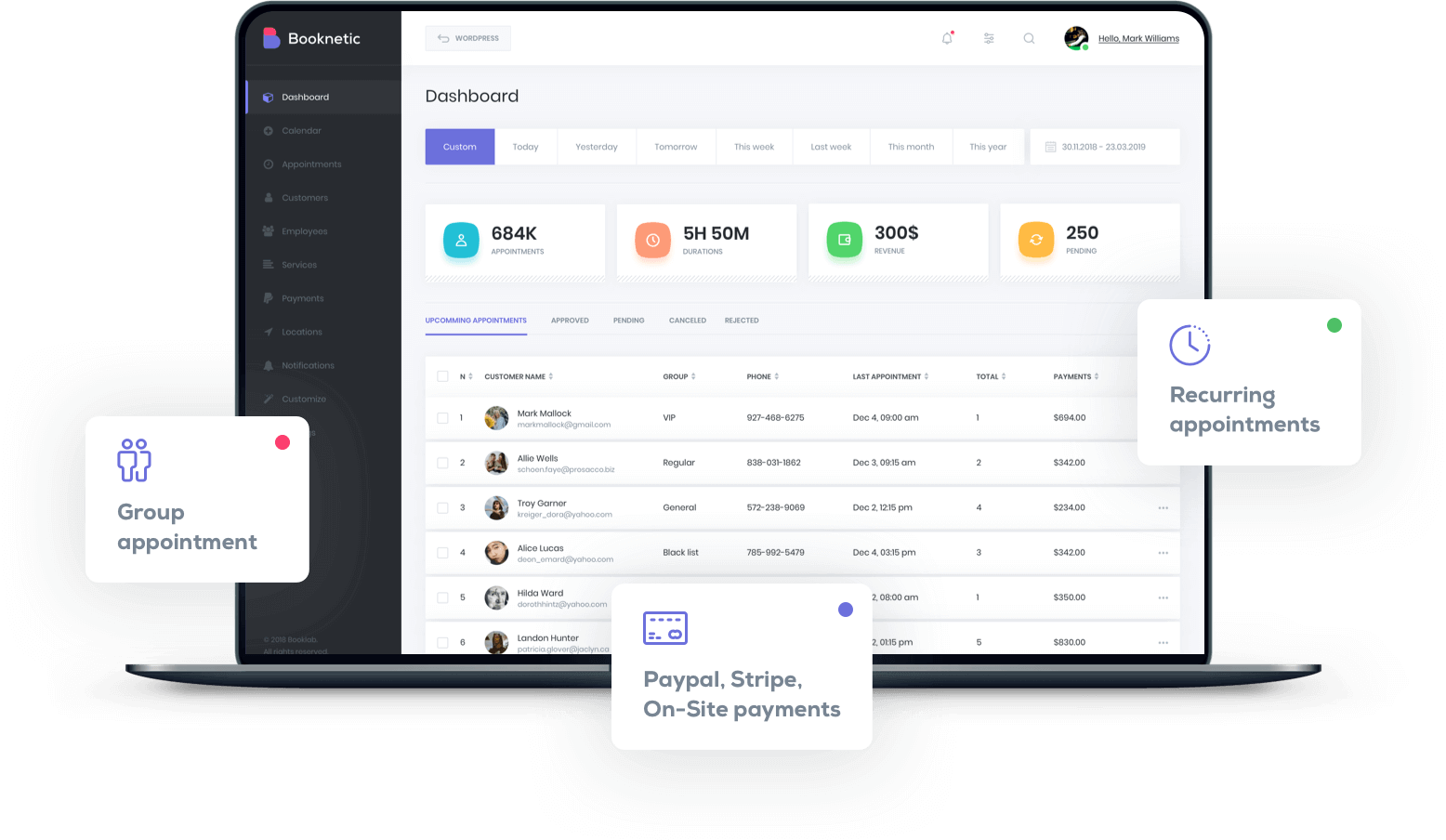 Features like Calendar sync and online payments allow providing a seamless customer experience. Via Zoom integration, you can sell your service regardless of the geolocation. At $79, you can get all the enhancements for taking your legal service business to the next level.
Try Demo to review more useful functionalities in practice.
==> Also read: Best Free WordPress Themes For Hotels To Use in Hospitality Sector
Final thoughts
If you're looking for a sleek, modern website template to use with WordPress, be sure to check out our selection of the best law firm website templates. We've compiled a list of some of the most stylish and user-friendly templates that will make your website look great and help you attract more clients. And if you need help setting up your site or customizing one of our templates, we can do that too! Visit our web site today to learn more about how we can help you create an amazing online presence for your law firm.
Sign up for our newsletter
Be the first to know about releases and industry news and insights.
Let's

get started

on something great
Booknetic is a simple yet powerful plugin for accepting online bookings & payments on your WordPress site.