Digital Transformation Strategy for Small Businesses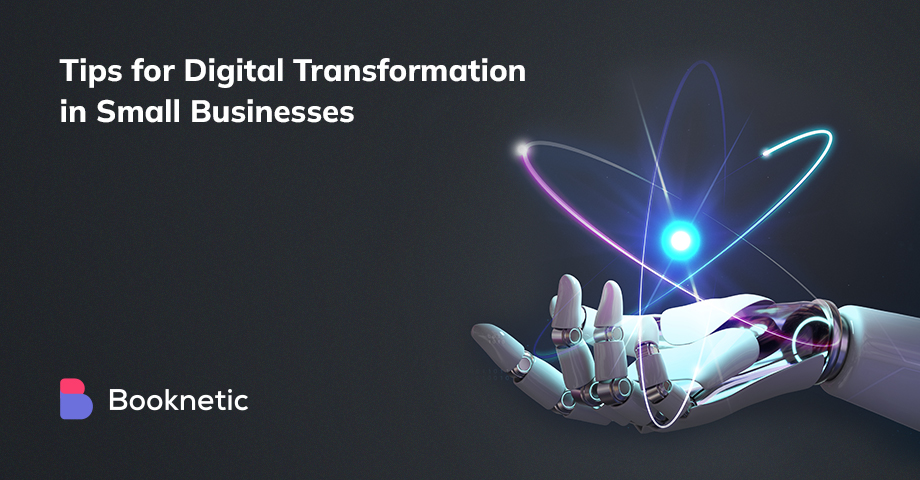 If you're a small business, it's more important than ever to have a digital transformation strategy. In this blog post, we'll discuss what that means and how you can go about implementing one. Having a strong online presence is essential for small businesses these days – it allows you to reach more customers and compete with bigger businesses. So read on to learn more about digital transformation and how it can help your small business grow!
What is digital transformation?

Digital transformation is the incorporation of digital technologies into an organization's products, processes and strategies.
Which digital technologies are used and why, how they are applied and what is gained from their application differ from company to company.
Each digital transformation project may have a different scope in line with the needs of the company.
It may require examining and re-engineering all aspects of the organization, from supply chains to workflow, from employee skill sets to customer interactions and organizational charts.
Whatever the scope, digital transformation has two main drivers: optimizing the company's workflow and expanding its market.

Planning a digital transformation strategy for small businesses
With technology being a very important part of digital transformation, it is important for businesses to be able to keep up with technology literacy and digital transformation of their employees.
While determining digital transformation strategies in enterprises, besides technology-oriented investment plans, studies should be carried out to instill a digitalization culture in employees, so that the most efficiency can be obtained from digitalization efforts.
SMEs must have a high-performance website compatible with all devices, suitable for user experience, considering today's customer masses in their digitalization processes. In this way, the potential and speed of reaching customers can be increased. Sales and marketing channels can therefore develop economically.
In addition, being active on social media channels and making posts that appeal to customer audiences will also make a great contribution.
In addition to reaching their customers more quickly and efficiently, SMEs should benefit from digital developments and use these developments for the benefit of their businesses in order to follow their own business processes. Today, one of the most important shortcomings of small and medium-sized enterprises is the inability to efficiently monitor their financial sustainability.
It will be beneficial for businesses to use applications that save time and facilitate processes, rather than traditional methods, in order to perform the most basic processes such as current account tracking and cash flow tracking more easily.
1. Assign tasks and responsibilities to your staff

We know that it is quite difficult to create dedicated teams to carry out the small business digital transformation project in a small company.
That's why it's extremely important to assign a member of your team a project management role, or at least temporarily hire a specialist.
So you can be sure that all relevant stakeholders are involved and understand the meaning of this transformation. Because, not only people responsible for information technologies, but also managers and decision makers should be involved in the process.
Working without sharing information can hinder innovation and your rapid focus.
Therefore, involving as many people as possible in the process will ensure that your small business digital transformation strategy meets the needs of the entire business from the start.
2. Do not underestimate the power of research

The second important step you need to take while creating your small business digital transformation strategy; is to research what your customers expect from a supplier.
Starting out without research will mean risking any investment you've made in integrating new technologies into your workflows.
A detailed research process, on the other hand, provides you with very valuable information such as what features your potential customers are looking for in the businesses they will work with, and what factors your current customers' loyalty to a manufacturer depends on.

3. Follow an effective purchasing policy

While drawing their digital roadmaps, businesses that prefer to outsource services at stages such as planning, research, technical support and integration may encounter pauses at some points. It is normal for such pauses to occur from time to time when it comes to large-scale processes such as the digitization process.
For this reason, when deciding on the external resources that will support you in creating an effective digital transformation policy and the budgets to be allocated to them, you should consider all of the criteria such as experience, expert opinions, trust and consensus within a reasonable balance.

4. Master the company culture
After taking the necessary steps about your competitors, your short and long-term goals, your current and potential customers, and your purchasing policies, what you need to do is to analyze your company culture in depth.

No matter how well planned and professionally thought the innovations you want to be made in your business are; If they go against your established company culture, you may face serious problems with integration.
Even the most effective digital transformation strategy is doomed to fail if it does not get the support of the managers who will transfer it to their employees and the employees who will implement it.

5. Get employee support for change
The first step is to make sure you have the support of your employees for any change you want to implement. They are the lifeblood of small businesses. It is also the key to successful digital transformation.
If they are not on board, it will be much more difficult to make progress.
Try to get them invested in the process by explaining how these changes will benefit them and the company as a whole.
You should also seek their feedback and ideas throughout the transformation process.
That's why it's so important for small business owners to get support from employees for any digital transformation initiative.
6. Develop performance tracking and verification methods
Digital transformation can mean different things to different businesses, but one common goal is improving performance. To do this, you'll need to establish metrics and KPIs to track progress against your objectives.
You'll also need a way to verify that the improvements are real and not just illusions created by changes in how you're measuring progress.
This can be a challenge for small businesses, which often don't have the same resources as larger companies. But there are ways to overcome these obstacles.
One is to partner with other small businesses that are going through similar transformations. This way, you can share resources and best practices.

7. Teach employees about new systems
One of the best ways to ensure a successful digital transformation is to teach your employees about the new systems.
By providing training and support, you can help them feel comfortable using the new technology. Additionally, keep communication open so they can provide feedback about their experience.
With proper planning and execution, your digital transformation strategy will be a success.
8. Regularly check the performance of systems in the focus of your business tasks
This is the only way to ensure that you are really reaping the benefits of digital transformation and not just wasting time and money.
Checking performance means looking at things like response times, system availability, data quality, etc. You should also keep an eye on changes in user behavior. If people are suddenly doing things differently, it might be an indication that something isn't working as it should.
Of course, you can't do all of this yourself. You will need to rely on tools and services to help you monitor performance and get insights into how your systems are being used.
But don't worry, there are plenty of options out there – both free and paid – that can fit any budget.


Conclusion
Want to know more about digital transformation for your small business?
Check out our website for more articles on the subject. We have a range of resources that can help you figure out what changes you need to make and how to make them. Our team is also available to answer any questions or provide advice, so don't hesitate to get in touch if you want some help getting started on your own small business digital transformation journey.
Sign up for our newsletter
Be the first to know about releases and industry news and insights.
Let's

get started

on something great
Booknetic is a simple yet powerful plugin for accepting online bookings & payments on your WordPress site.