How to Create Digital-First Strategy for Appointment Businesses?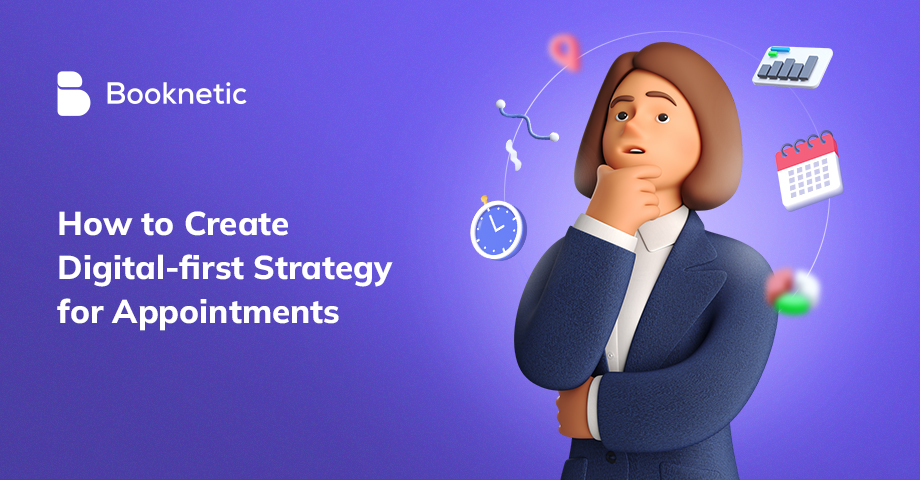 Many businesses look for ways to develop a digital-first strategy for appointment management. This may go through a business website, third-party online scheduling system, social media presence, influencer marketing, and many other ways.
Yet, many of them forget to optimize their appointment scheduling process to be cost-efficient for them and convenient for clients. Almost all business decisions are two-sided, meaning they will impact both you and your customers. Because whatever you change in your business will affect how customers interact with you, directly or indirectly. Before moving the purpose of building a digital-first strategy for appointment scheduling, let's quickly identify the concept.
What is a digital-first strategy?
Digital-first strategy is a business model for settling into the digital environment. Digital-first businesses snap up potential customers who are in need of immediate or further solutions.
What is the purpose of a digital-first strategy for appointments?
The two major reasons for pivoting into a digital-first business model are to maximize appointments and customer satisfaction. Maximizing appointments in traditional business would require too many human and physical resources.
It is important to mention now that the aim of pursuing a digital-first business strategy is not to eliminate traditional business models. But, with a well-thought digital transformation strategy, you can acquire more customers at a relatively low cost and time.
And customer satisfaction is equally important as your profit maximization strategy. You should spend time optimizing the online user experience to acquire and retain customers.
Pillars of digital-first strategy for appointment businesses
Enhanced branding
Simplified appointment booking
Improved data access
How to build a digital-first strategy for appointment businesses?
1. Build a reputable brand
Brand-building doesn't happen overnight. For this, you have to consistently work on your branding and marketing strategies that communicate your values and strengths. Remember, your digital-first business strategy should enhance your online branding.
If you are moving your business online, add customer stories to digital content and change customer perception.
If you just started to business, focus on the story that you want to tell, the facts that make sense to you.
2. Get your team involved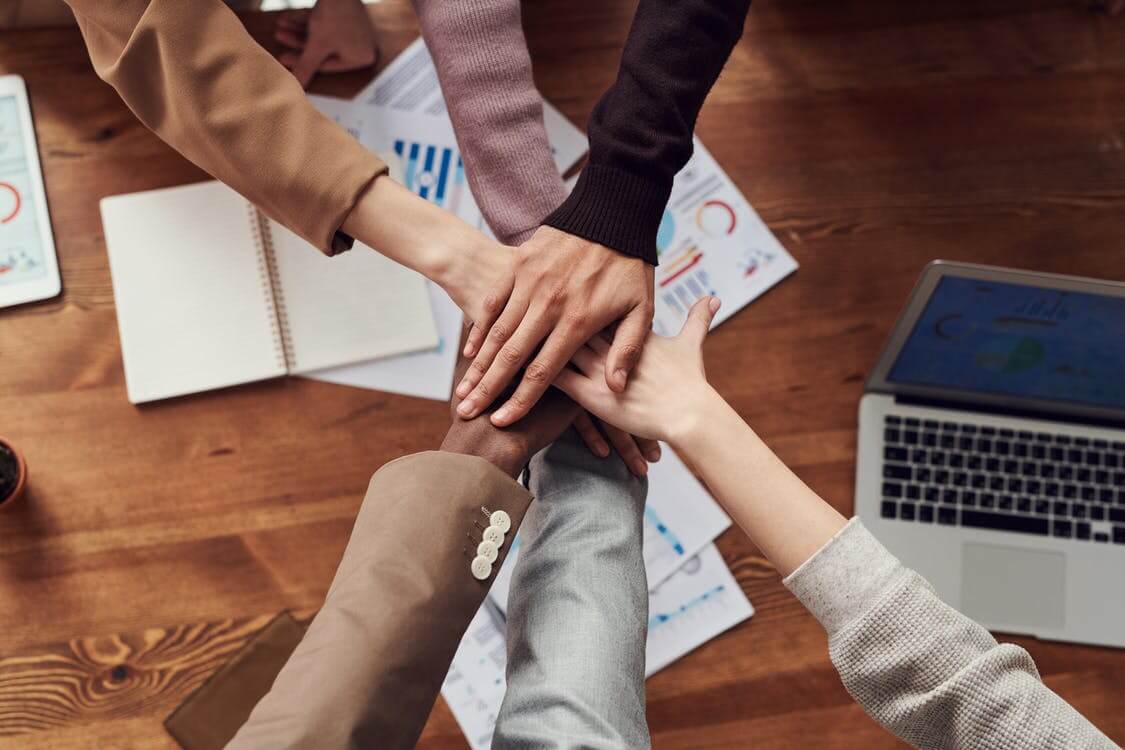 It'd be really difficult to make your business successful if the members of your team have separate views. Your team and you, as an owner or top manager, should have equal shares in creating your digital-first strategy for appointments.
In this regard, this starts from the top. Regardless of the quality of your services or the viability of your online business management, if the managerial level (executives) doesn't believe in the idea, neither your employees will. Leaders must follow up steps and get involved in the process to make the internal team dedicated to the goal: maximize appointments (customer satisfaction) âž¡make the business successful.
Avoid any ambiguity by getting your team involved in the endeavor you are working on.
3. Develop buyer personas
Small or big, every business has a buyer persona. A buyer persona represents the ideal customer profile with demographic and social details. The main element of a buyer persona is identifying her\his pain point and linking that to your unique selling point. The promise that your business stresses. Without that connection, there is no point in creating a buyer persona and even pursuing your digital-first strategy for appointments.
Depending on the size and nature of your appointment business, you may have multiple personas. For example, medium-sized law firms probably have individual and corporate customers that are segmented separately. Or hair salon may specialize in just hair coloring and all kinds of hair-related services.
Once you draw a picture of a buyer persona, it becomes much easier to market your services. Since you include personal, demographic details of personas such as age, income range, interest, and main problems, you get a real picture of whom you are talking to.
4. Create a digital-first marketing strategy
As we mentioned in the reputability part, you have to transfer your values and specificity in your digital marketing. For a winning digital-first marketing strategy, you have to go across different channels. The aim here is to appear in every possible place where the audience might find you. You can do this with paid and organic ways.
In both cases, you should concentrate on high-quality content that grabs the attention of the target audience. In this regard, your digital-first content strategy plays a crucial role. Just like your purpose for creating a digital-first strategy for appointments, the content should depict your and customers' needs and logical solutions.
Curating content around customer pain points, your solutions, and also integrating trendy topics will keep you in the view of the customers. As with other businesses, you can build an appointment booking funnel starting from relevant content.
5. Use an appointment scheduling tool
It may come as a surprise that we put this part to later. But we believe without a solid foundation, a scheduling tool wouldn't do much to your business.
Now, it is a must to appointment scheduling software to manage and increase appointments. It makes it thousand times easier to receive appointments for employees and customers as well. With self-scheduling, customers are free to choose the available time for them. All you need to do is to share the availability of your staff along with their off-times.
The majority of these tools are equipped with tertiary solutions that help you control your financing, taxes, employee management, and more. Once you start to increase your appointments, these solutions help to sustain the flow of customers.
You can either build your own scheduling app or use third-party software. With the first option, you have to dedicate a significant amount of resources and time. Since appointment-based businesses are non-technical this would be a very budget deficient approach.
While with third-party tools, you will reduce the time for development and maintenance. Booknetic provides appointment scheduling solutions for WordPress websites. By configuring the plugin, you can set up your appointment booking processes, and add unlimited services, locations, and staff. We have multiple payment integrations where you can receive online payments across different payment processors. Try demo to see Booknetic in practice.
6. Optimize your appointment booking page
Once you get an appointment booking app, you will need to optimize the appointment booking page for search engines. For this, your business domain, website content, and on-site SEO play a crucial role. With website content, you can add as many inbound links to your booking page as possible.
Mobile optimization and visual appeal are technical parts that you also have to keep an eye on. Local search optimization and getting listed on online directories will also help to increase online bookings organically.
Applying all these will make your appointment booking page appear more on search results and be visible to potential customers.
7. Minimize the number of steps for bookings
As we stressed above, the purpose of a digital-first strategy for appointments is to maximize customer satisfaction. Customers have a different levels of availability or technology. It is always good to offer appointment scheduling in multiple ways.
Here is a good tip in appointment setting that will benefit you all the way. You need to receive appointment bookings 24/7. Hence, to take this further you can reduce the number of steps required to book appointments. For example, by providing social login, you let customers register and book appointments with your social media accounts. In Booknetic, we have Continue with Facebook and Continue with Google features.
Your customers won't all have access to the same types of technology or the availability in the same number of hours, so it's a good idea to offer appointment scheduling in multiple ways.
Although customers are in need of help, they are also hesitant about whether to book an appointment or wait for a while. Once you land customers on your booking page, you can intrigue them to book other services.
8. Move your management systems online
Even if you are a sole proprietor, you will still use some other tools plus a booking app. The tools become extensive when you have a number of employees and various services.
Instead of keeping the management paper-based, try to move as many systems online as possible. This includes team collaboration, communication, and project management. The rest is usually given by the appointment scheduling software. Through integration systems, you can reduce the number of steps to log in to those tools and get the job. The fewer you log in and log out the fewer you will be frustrated.
9. Define your KPIs
Key Performance Indicators refer to measurable indicators that let you gauge the performance of your business in a given time. KPIs in a digital-first strategy for appointments should reflect your transition into the digital space. They don't focus on the entire business performance if you have a traditional way of appointment bookings.
Instead, they solely focus on the amount of data stored in your digital store, the number of appointments booked online, the number of transitions you get online, and maybe the cost of implementing a digital-first business strategy.
Once you settle down with these KPIs, they have to be replaced with other metrics that reflect growth for that period.
10. Follow-up customers
All appointment booking systems provide reminders and notifications features. But you need to use them carefully. Once they scheduled an appointment, you need to follow up with them with confirmation and reminder messages.
This not only helps to minimize the last-minute cancellations and no-shows but also removes the burden of remembering appointments from customers' shoulders. Add automated notifications and reminders to a digital-first strategy for appointments.
Bottom line
As you can see, creating a digital-first strategy for appointments goes through a holistic approach. You are not done when you get an appointment booking app. For a streamlined delegation process, you need to have all team invested in going digital.
Sign up for our newsletter
Be the first to know about releases and industry news and insights.
Let's

get started

on something great
Booknetic is a simple yet powerful plugin for accepting online bookings & payments on your WordPress site.