Appointment Setting Tips for Software Companies
Are you a software company that is looking to increase leads and sales? If so, you are in luck! In this blog post, we will be discussing appointment-setting tips that will help you achieve your goals. The first step is to create a lead generation strategy. This involves creating a process that will allow you to identify and qualify potential customers. Once you have qualified leads, it is time to set appointments with them. In the final section ofI in this blog post, we will discuss how to close more sales during appointment and appointment setting tips for software companies.
Why does Appointment Setting Work?
An appointment setting is a process of making contact with potential customers to offer a product or service. The goal is to secure a meeting or appointment in which to present the proposal.
This type of selling requires heavy research, as you'll be working off of a script most likely. You need to understand what you're selling and who your target market is. Once you have that figured out, the next step is creating an irresistible offer.
Your offer has to be something that will make the potential customer want to meet with you. The first step of setting a virtual appointment is not the actual implementation, but the creation of a value propostion that can gather customers. It could be a free consultation, demo, or estimate. Whatever it is, make sure it's something of value.
The last tip I have for appointment setting is don't give up. It can be easy to get discouraged, especially if you're getting a lot of rejections. Just remember that for every no, there's a yes waiting around the corner.
Schedule Your Way to Success: Tips for appointment-based Businesses
When it comes to appointment setting, software companies have a few options to choose from. The most popular option is an online system that can be used to schedule appointments with customers or clients. There are also many software companies that use a traditional paper-based system for their appointment setting needs. While both of these methods have their own advantages and disadvantages, the best option for most software companies is an online appointment scheduling system. Here are some tips on how to choose the best online appointment scheduler booking system for your business:
The first thing you need to do when choosing an online appointment scheduler booking system is to decide what features you need. There are many different features that these systems offer, so you need to make sure that you choose a system that has the features you need. For example, some systems allow you to set up recurring appointments, while others do not. If you need this feature, then make sure that the system you choose has it.
Another important factor to consider when choosing an online appointment scheduler booking system is the price. There are many different pricing models for these systems, so you need to make sure that you choose a system that is within your budget. In addition, you also need to make sure that the system offers a free trial period so that you can try it out before committing to it.
Once you have decided on the features and price of the online appointment scheduler booking system, the next step is to find a reputable provider. There are many different providers of these systems, so you need to make sure that you choose a provider that has a good reputation. You can check out online reviews of different providers to see what other customers have to say about their experiences.
Once you have found a reputable provider, the next step is to sign up for an account and start using the system. Make sure that you test out all of the features of the system before you start using it for your business. This will help you ensure that the system is right for your needs. In addition, you should also make sure that you keep your appointments and customer information safe by setting up a password-protected account.
Here are our top tips for setting appointments:
- Choose the right time for your customer. Consider their time zone and schedule when choosing a meeting time.
- Book in advance. This gives your customer time to plan and prepare for the meeting.
- Be flexible with timing. If your customer can't make the original time you booked, offer alternative times that work better for them.
- Send a confirmation email. This helps to remind your customer of the meeting details and ensures they have all the information they need beforehand.
B2B Appointment Setting Tips for Software Companies
You know that the key to success is getting in front of the right decision-makers with your product. But how do you go about setting appointments with these high-level executives? Here are some appointment setting tips for software companies:
First, research your target market and find out who the decision-makers are. Then, get in touch with them and try to establish a rapport. Once you have established a relationship, you can start asking for appointments. Remember to be respectful of their time and only ask for an appointment when you have something specific to discuss. Finally, follow up after the meeting to see if there are any next steps that need to be taken.
Once you have qualified leads, it is time to start setting appointments. The best way to do this is by using an automated appointment setting system. This type of system will allow you to quickly and easily set appointments with your leads. Additionally, it will also help you keep track of your appointments so that you can follow up with them in.
Best Appointment Scheduler Booking System
Booknetic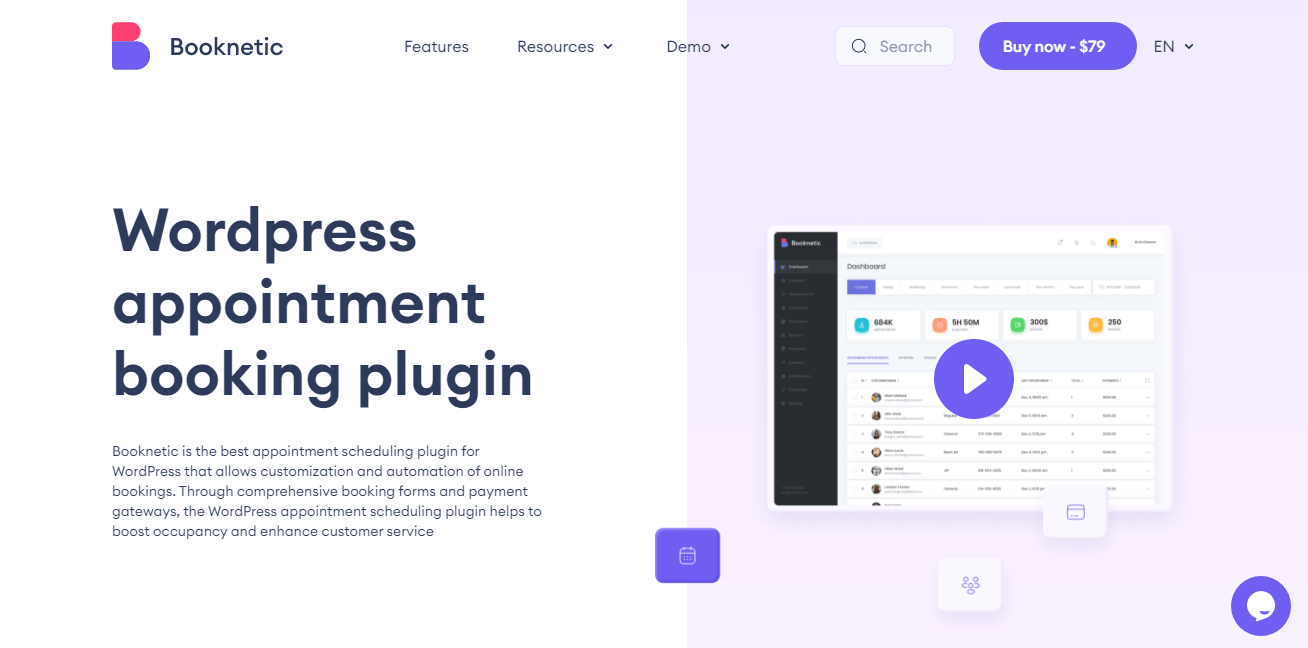 Booknetic is one of the best appointment scheduling plugins for WordPress available in today's market. It is packed with features and it is very user-friendly. With Booknetic, you can easily schedule appointments, manage your calendar, and track your client's information.
With Google Calendar integration, you can easily check all your appointments directly.
WhatsApp, Telegram, Email and SMS notification feature sends notifications about appointments to your customers and ensures that your customers do not miss your appointments.
With PayPal and Stripe & Mollie & Square & Razorpay integration, your payments become easier.
It is not always possible to create active reservations for the dates requested by the customer, and customers cannot always find the time slot they want free of charge. For example, the time slot may be full, or the customer's preferred time slot may not be available at the time the customer wants to stay. With the Waiting List feature, reservations are accepted if the desired time frame is available for the desired dates.
Booknetic has all its great features as well as affordable. You can buy it for just $79 with a one-time payment.
Conclusion
Appointment setting is an essential process for software companies. By understanding the best ways to go about it, you can set your business up for success. Have you tried any of these tips? Let us know how they worked out for you in the comments below! If you're looking for more appointment setting advice or want to learn about other aspects of running a software company, be sure to visit our blog regularly. We have tons of great content that will help you grow your business.
Sign up for our newsletter
Be the first to know about releases and industry news and insights.
Let's

get started

on something great
Booknetic is a simple yet powerful plugin for accepting online bookings & payments on your WordPress site.