Spa & Salon Appointment Booking Solution with Booknetic (Full Guide)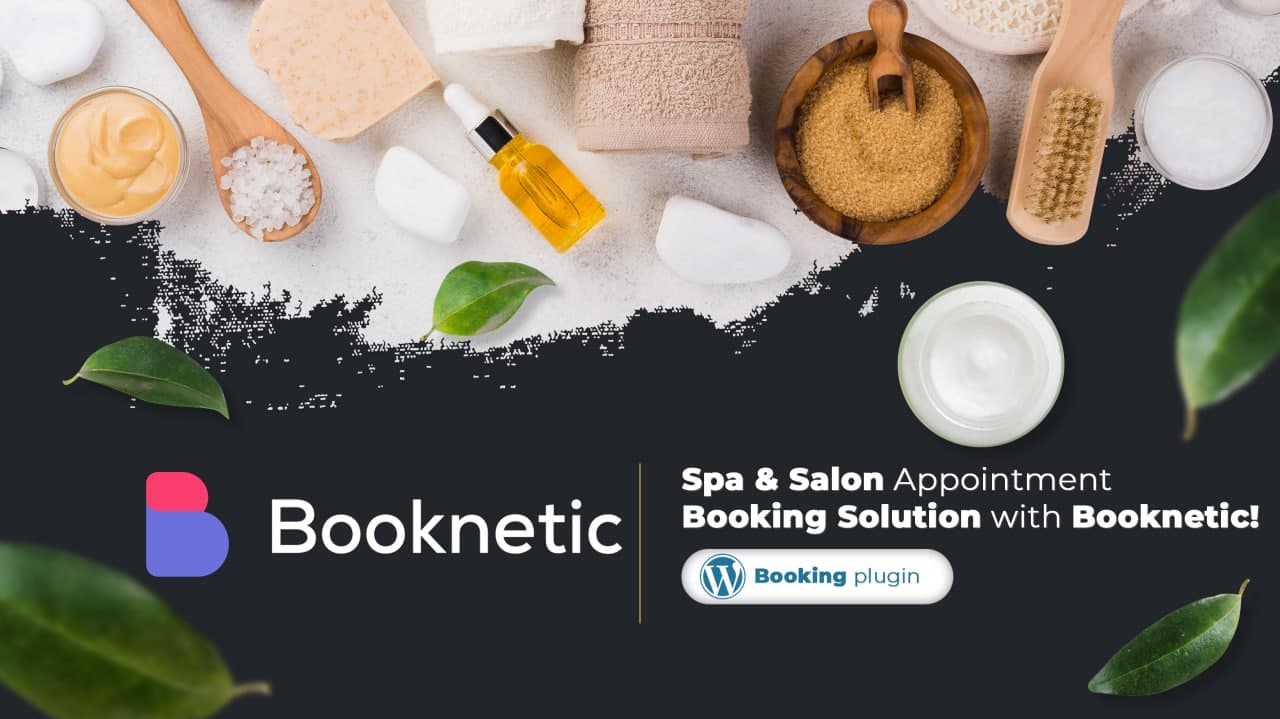 Having an appointment for the last-minute spa is what we all fear. The arranging of a beauty salon appointment book over the phone is not necessarily the nicest of activities, from finding the contact number to chatting to a not-so-friendly receptionist.
Fortunately, the way clients should arrange their meetings has been modified by technology. Today, technology continues to play a vital part in our daily lives. We do it all at the click of a button, from booking a cab to work to buy groceries. The salon and spa sector is not different from them.
Customers today continue to use 24/7 spa & salon appointment booking applications. Rather than a rigid one, they choose a fluid booking system. According to a survey, 70% of salon and spa clients choose online booking over calling in.
If you are still not sure turn to an online salon booking system and prefer to use old-fashioned telephone-based services. Here are:
The advantages of beauty salon appointment booking systems
Customers who book online pay more
They prefer to spend more because customers can schedule their salon or spa services online. This is mainly because of their favorite stylist, and they get a chance to carefully look over the salon menu and pick the services they need. When a salon provides online booking, clients appear to come more frequently. It can sound convenient enough to use conventional approaches to make an appointment; however, consumers may have to wait in the queue before a specific stylist is available for checking by the receptionist.
Customers get access to real-time calendar updates with spa & salon appointment booking plugins. Adding a payment gateway to WordPress will please customers in this case. This way, they will see when their favorite stylists are available and immediately make a reservation. With an online booking system, the increased booking volume is that customers find the channel simple, intuitive, and versatile. A significant element that drives interaction is usability. In short, this automated method, which converts into improved sales for your company, is enjoyed by clients.
Improves client service and income from the salon
Spa & Salon appointment booking plugins are a vital tool for organizations. One of the most significant advantages of an online booking site is that it removes human error chances: no more bookings have been forgotten, no-shows, and cancellations. In reality, online booking increases the experience of consumers. Outside of shop hours, 32 percent of salon bookings are made.
You will miss many chances if your salon or spa already doesn't have an online booking system. You are eliminating some challenge that occurs by supplying your clients with the possibility of booking their appointment electronically. It also offers a good understanding of the offerings you provide and the pricing to your first-time consumers and future clients.
Online booking is also a perfect means of showing your customers your service menu. It also increases the experience of rebooking for clients. All of these help to increase spa & salon revenue.
Online booking is a beautiful way to keep clients
Are you a salon that fails to retain customers? If so, turn to book online. Usually, clients are afraid to do anything new for the first time. However, they will still stick to this channel for potential bookings until they get used to make appointments online. This is primarily because of the simplicity provided by online booking. Whether it's locating the best rooms, favorite therapist or stylist, or last-minute availability, online salon appointment scheduling will elegantly and systematically support a customer's unique request thus building lasting customer relations.
Give more time to the staff to work on customers
Maybe the front desk used to balance calls when checking out guests, taking care of maintenance complaints, and supporting other workers. That isn't the case now. Instead, the team wants to concentrate its efforts squarely on targeting the most dedicated (and highest spending) consumers, handling the space's customer traffic and social distance, and enforcing sanitization policies.
Although it can take just five minutes to make an appointment, as consumers flock to their phones to book post-quarantine haircuts, facials, and massages, it won't be long before the staff devotes hours to fielding and tracking appointments.
Your team will concentrate less on the phone and focus on what matters right now. Integrating an online booking system will make your employees enjoy their work.
Enable your company to be run everywhere, 24/7
With online booking, you can take your company on the go wherever you are. Every functional online scheduling system can be cloud-based, ensuring that your appointment book can be accessed and updated anywhere, on any laptop, all in real-time.
Does a planned meeting need to be changed while you or your colleagues are away from the front desk? Only access your phone timetable and adapt accordingly. Want to run couch numbers? From your tablet or computer, log into your software. It can be a little disturbing for a devoted owner to be removed from the business, particularly during a time of uncertainty. Thankfully, you never have to feel that way again with online booking.
Keeping consumers and staff safe during the post-pandemic period
Online booking helps you to see who will come when. It is simply too challenging to continue to handle walk-ins with this new standard. For your clients and your staff, you want to minimize risk, and the first move is online booking. 85% of shoppers say a significant consideration in choosing to attend a revived beauty company is reducing the number of customers approved at a time. Online booking will help to simplify your efforts to consolidate power.
You will have to ensure enough time for cleaning your salon or spa by letting your customers book ahead of time.
Minimizing last-minute cancellation
Last-minute cancellations and no-shows, particularly now, are the scourge of any spa and salon owner's life. Empty gaps will add up and be debilitating for business in the timetable.
Any decent online booking system can have certain automatic alert functionality to dramatically minimize the number of empty seats in your spa or salon. Booknetic has a reminder feature for solving this problem. You can also configure and submit client forms, pre-appointment for modified policies. You will be able to send SMS, WhatsApp, and email notifications to your customers with the Booknetic WordPress plugin. Also with the deposit payment feature, customers will pay some amount of deposit while making an appointment. If your customer doesn't show off you will be able to compensate for your money.
With technology, you and your colleagues do not have to think about manual appointment updates. Again, less time can be spent doing admin duties and more time producing a memorable welcome-back appointment.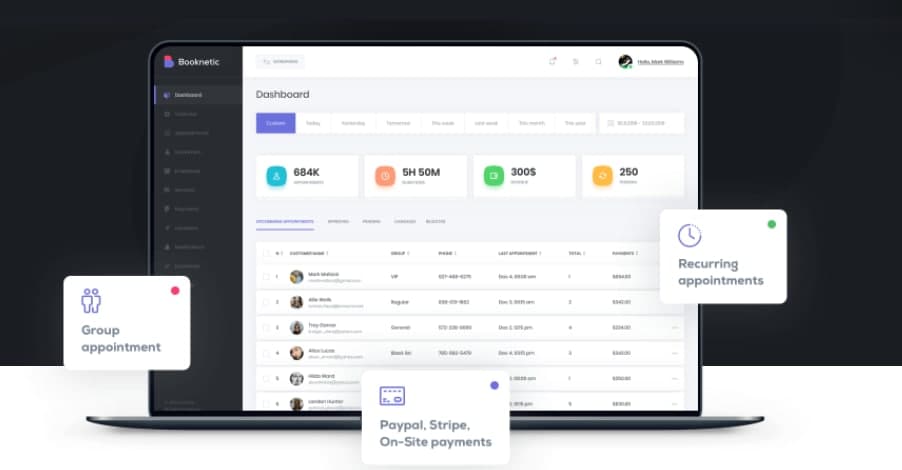 When you provide ease of spa & salon appointment booking using technologies to assist in the process, understand how your brand is viewed. Applying spa & salon advertising ideas will elevate your brand and bring more customers to your door.
Do you think your company will be seen as a cutting-edge salon operation that is forward-focused, and business savvy? Yes. And it is all about staying present and cutting edge in the beauty salon business.
You must use a spa & salon appointment booking plugin to automate business processes. All the booking, payment, and customer handling problems will be taken care of by this plugin while focusing on enhancing the service.
Conclusion
There are a lot of advantages of spa & salon appointment booking plugins for your business. We have listed some of the above and hope that this blog will help you while making the decision.
Booknetic is one of the best solutions for a beauty salon appointment booking process. It has a lot of features that will let you control your business. Try Booknetic's demo version.

Sign up for our newsletter
Be the first to know about releases and industry news and insights.
Let's

get started

on something great
Booknetic is a simple yet powerful plugin for accepting online bookings & payments on your WordPress site.