Moving your business online: Digital transformation guide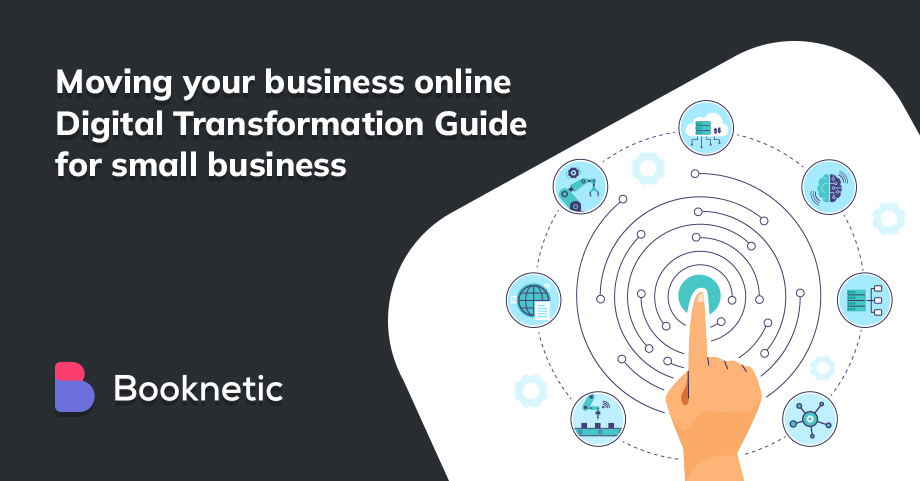 Are you thinking of moving your business online but not sure where to start? Are you wary of the high costs and complex processes involved in digital transformation? Don't worry, we're here to help. In this guide, we'll walk you through the key steps involved in making the move to a digital-first business. From setting your goals and assessing your current state, to designing your new digital architecture and mobilizing your team, we'll cover everything you need to know. So read on and let's get started!
In this guide, we will discuss the different ways of moving your business online and its benefits for your business. We'll also provide tips for making the transition as smooth as possible.
But if you've never built an online business, you probably have some questions:
Where to start? What kind of tools and technologies will you need? How do you keep your customer data safe and secure?
In this digital transformation guide, we'll answer all those questions and more. We'll give you an overview of the process of moving your business online, from start to finish. And we'll provide some resources to help you along the way.
Are you ready to make the switch?
So let's get started!
What is Digital Transformation?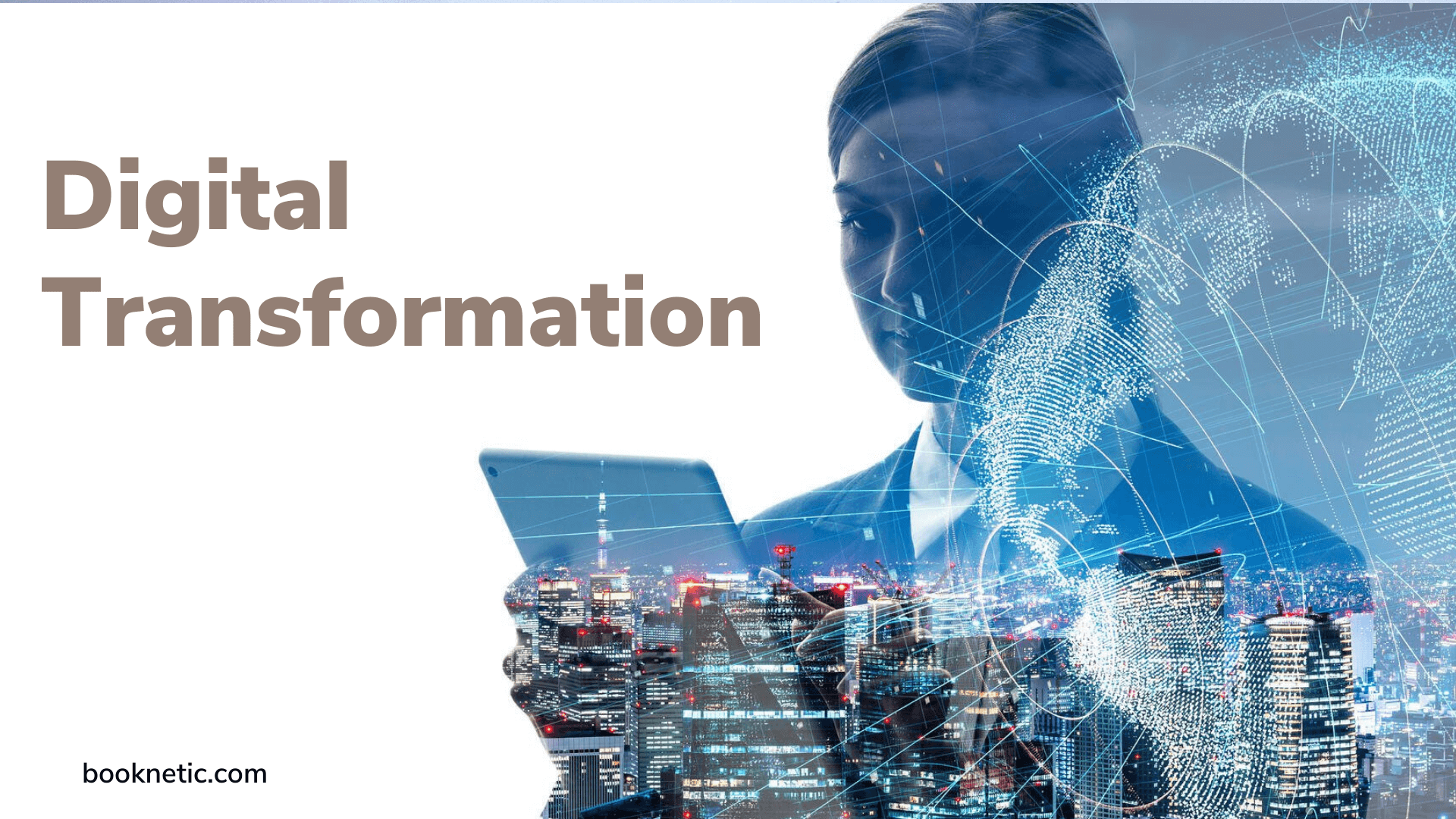 Digital transformation entails the use of technology to improve the performance and competitiveness of businesses. It is the process through which companies adopt new technologies to enable them to achieve their desired goals. Digital transformation helps organizations keep up with changing customer needs and preferences, as well as compete in a digital world.
There are various components that make up digital transformation. They include:
- Improving customer experience
- Adopting new technology
- Automating business processes
- Harnessing data analytics
Each of these components plays an important role in helping businesses achieve success in the digital age. Let's take a closer look at each one:
Let's take a closer look at each one:
- Creating a website is no longer enough. You need to have a presence across digital channels, including search engines, social media, and your own website.
- Utilize online tools such as Google AdWords, LinkedIn Ads, Facebook ads, and other Ad platforms to reach new customers.
- Automate your marketing efforts with email marketing automation tools like MailChimp or Constant Contact.
- Use eCommerce platforms like Shopify or BigCommerce to sell products and services online.
- Make sure your website is mobile-friendly and can be easily navigated on smartphones and tablets.
Now that you understand the basics of digital transformation, it's time to get started! But where do you start? Here are a few tips:
- Define your goals: What do you want to achieve by moving your business online? Write down your goals and target metrics so you can track your progress.
- Identify which processes can be moving business infrastructure online: Not all businesses are created equal. This is why not all so not businesses moving online completely. For example, if you're a brick-and-mortar retailer, moving your sales process online is a no-brainer.
But if you're a service provider that relies on face-to-face interactions with clients, you'll need to think carefully about which processes can be done virtually.
The next step is to assess what parts of your infrastructure are ready for businesses moving online. This will vary from business to business, but common areas include:
- your website
- customer relationship management (CRM)
- enterprise resource planning (ERP)
- accounting and financial software
- collaboration tools
Digital Transformation Strategy for Small Businesses
1. Assign roles and responsibilities to your staff
The successful implementation of digital transformation for your small business starts with assigning roles and responsibilities to your staff. Moving business infrastructure online can be a daunting task, but by breaking it down into smaller tasks and delegating those tasks to specific employees, you can make the process much less overwhelming.
2. Set your budget and time
Now that you know the steps necessary to move your business online, it is important to set a budget and timeline. Moving an entire infrastructure can be costly and time-consuming if not planned properly. Planning ahead will help ensure a smooth transition and avoid any unnecessary stress.
When setting your budget, consider the following factors:
-The cost of moving services
-Domain name registration or renewal
-Web hosting fees
-Software costs (if applicable)
-Employee training (if needed)
-Additional hardware or technology investments (if needed)
Taking these into account, create a realistic budget that accounts for all associated expenses.
3. Identify areas that need to be digitized
There are many advantages of online business infrastructure, but it's not always a simple process. Here are some tips to help you get started:
-Identify the areas of your business that need to be digitized. This can include things like customer ordering and tracking, inventory management, or marketing and sales operations, where identity resolution plays a crucial role.
-Develop a plan for how these processes will be transitioned over to an online platform. Be sure to consider things like security and backup plans in case of system failure.
-Create user accounts and passwords for all employees who will need access to the new system. Train everyone on how to use the new tools and software.
4. Consult and inform your staff about digital transformation changes
As a business owner, it's important to consult with your staff about any changes that will be happening within the company. This is especially true when you're planning on digitizing your business infrastructure. By keeping everyone in the loop, you can avoid any potential disruptions or issues that could arise.
Additionally, it's important to inform your staff about how these changes will benefit them and the company as a whole. With proper communication, you can ensure that your digital transformation goes smoothly and successfully.
One of the most important aspects of moving your business online is having a clear plan and strategy for digital transformation. Without a plan, it'll be difficult to know what needs to be done and how to go about doing it.
5. Think long term and plan for it
Don't just digitize for the sake of it or because everyone else is doing it. Consider what will make your business more efficient and effective both now and in the future.
There are many factors to consider when moving your business infrastructure online. One important factor is how visible you want your business to be online. Customers today expect businesses to have an online presence, and if you don't have one, you're missing out on potential customers.
Another factor to consider is whether or not your competitors are online. If they are, you may need to be as well in order to remain competitive. But even if they aren't, being online can give you a competitive advantage.
6. Build the right technology and service partnerships
The cloud has become the new normal for business applications and services. To keep up with the competition, your small business needs to move to the cloud too.
But what does that mean?
Essentially, it means leveraging technology to improve all aspects of your business, from how you communicate with customers to how you manage your finances. It's a process of digital transformation that can be daunting, but it doesn't have to be.
Start by identifying which areas of your business need improvement. Do you need a better way to track inventory? Are your marketing efforts falling flat? Once you know where you want to make changes, you can start building the right partnerships with technology and service providers who can help you make.
Bottom line
So, are you ready to move your business online? Whether you're just starting out or are a small business that's been around for a while, this digital transformation guide will help get you started. We'll cover the basics of what you need to do to make the switch and provide some resources to help you on your way. Thanks for reading!
If you're still on the fence about online appointment booking, hopefully, this article has helped sway you in favor of giving it a try. The benefits are many and varied, as we've outlined here, and the technology is only getting more sophisticated.
Sign up for our newsletter
Be the first to know about releases and industry news and insights.
Let's

get started

on something great
Booknetic is a simple yet powerful plugin for accepting online bookings & payments on your WordPress site.