Top 12 Best Web Hosting Services For WordPress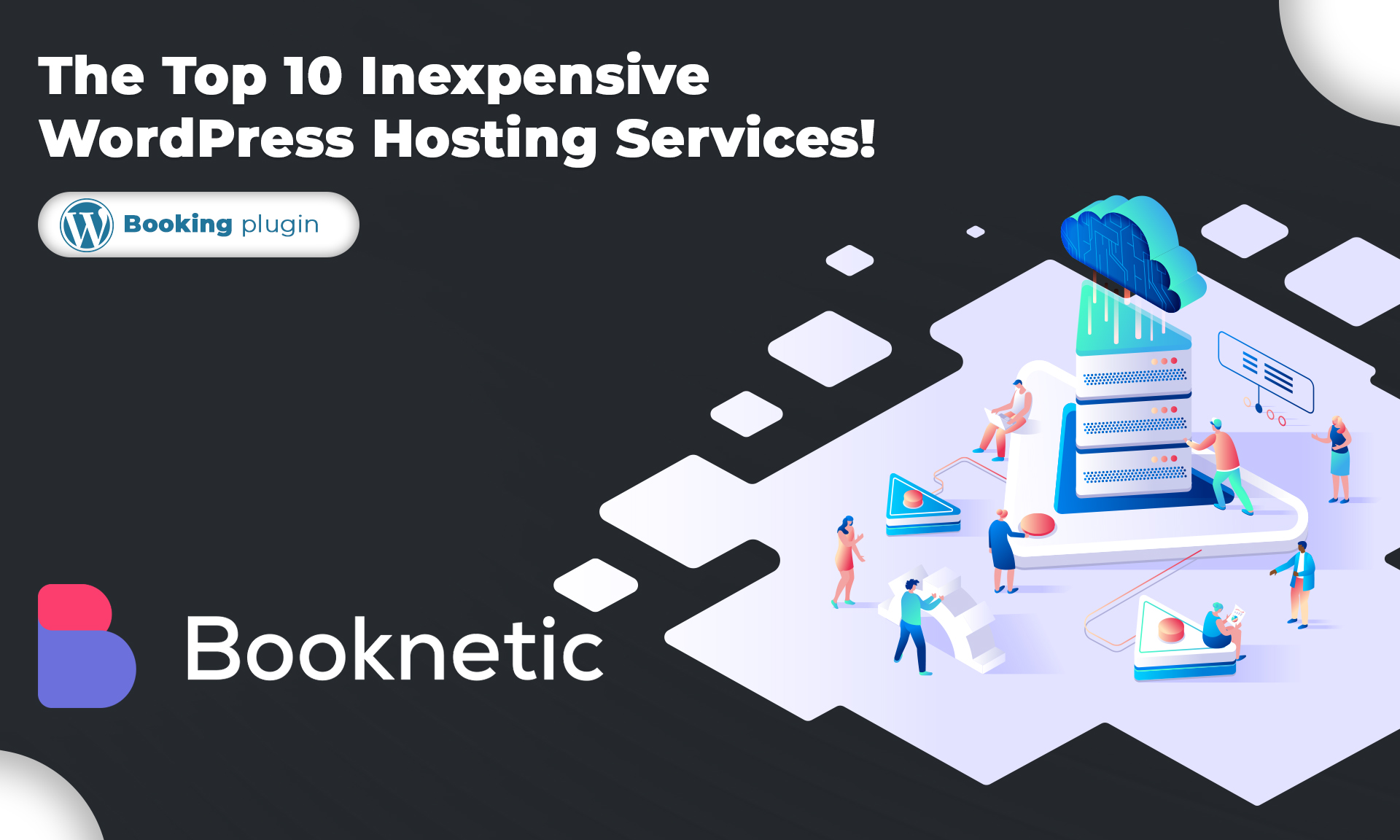 Do you have a tight budget and you are looking for the best web hosting services for WordPress? Being on a budget doesn't have to mean sacrificing quick and efficient web hosting, whether you're maintaining a personal website or one for a small company. And if you don't have a tight budget, there's no need to pay for a hosting service that you won't use to its full potential — after all, controlled WordPress hosting isn't for everybody. So, if you need the best hosting offer, keep reading for some of the inexpensive WordPress hosting plans from top companies that won't sacrifice efficiency, support, or features.
Top 12 Best Web Hosting Services for WordPress
Hostinger
DreamHost
GoDaddy
A2 Hosting
HostGator
iPage
InMotion Hosting
SiteGround
Namecheap
10Web
How to Pick the Best Low-Cost Website Hosting
Monthly payments aren't the only costs to consider when looking for the best WordPress hosting. Extras, including a free domain name and an SSL certificate, will also help you save money. If you want to develop a WordPress website without cost overruns, you should be careful at every step.
Introductory discounts and up-front payments
Figure out how many months you'll need to pay upfront to get the best offers — and don't forget to double-check the price you'll be charged when you renew your subscription after any promotional discounts have expired.
What does it mean to be unlimited?
Choosing a plan with unlimited storage will prevent you from upgrading too fast, but be sure to read the fine print to precisely understand what each host means by total. SiteGround, for example, recommends their entry-level plan for sites that get less than 10,000 unique visitors per month regularly.
These entry-level plans, on the other hand, should suffice for anyone just getting started.
If you're migrating an existing website or have any questions, use the live chat feature to ask any hosts you're interested in whether their cheapest plan can meet your current traffic and storage needs.
Extras That Aren't Needed
Some features are good extras, such as automated backups and WordPress app updates, and website migrations. If the cheap web hosting WordPress doesn't cover them, you're interested in; however, they are stuff you can easily take care of and introduce with the right software.
Now that you know what to look for in a cheap WordPress hosting package let's look at the best options available today.
Types of WordPress Hosting Plans
WordPress is the most common CMS, with a 64.2 percent market share. Joomla is the second most successful CMS, with 3.4 percent of the market share.
Choosing the best hosting company for your website isn't difficult. You'll need to know a few things about them, such as how they operate and whether or not they'd be a great match for your business.
Web hosting services for WordPress are typically divided into three categories: shared, dedicated, and cloud.
Shared Hosting (the Cheapest)
This is the most common hosting plan on the market today. It's both inexpensive and simple to manage.
Hosting services usually house multiple websites on a single server for shared hosting plans. The benefits you can use, such as storage space, bandwidth, protection, and other features, are frequently restricted or limited under this plan.
Shared hosting is the most cost-effective alternative for individuals on a tight budget, and it's ideal for beginners with little experience.
Dedicated Hosting (Expensive)
You get a dedicated server to host your website with dedicated hosting. You don't get to share the server services with other people, as the name suggests.
Since you won't be sharing domain capacity with other websites, dedicated hosting speeds up your website dramatically. It's also really secure because you're the only one that uses the server.
If you prefer a high volume of traffic on your web, dedicated hosting is an excellent option. The amount of website traffic that shared hosting can handle is restricted.
The only drawbacks to this strategy are the high costs and technological skills required to maintain a dedicated server. As a result, you'll either need to hire an IT team or be technically adept enough to manage a hosting server.
Cloud Hosting (Flexible Cost)
Cloud hosting is a new technology that incorporates shared and dedicated hosting benefits in one package. It's what you'd call a hybrid.
The service distributes the physical load through multiple machines for multiple locations. This method allows your website to provide its server resources without the need for specialized hardware. You won't get dedicated hosting hardware, but you will be able to scale up your requirements as needed.
Cloud hosting is the answer if you want to combine the benefits of shared and dedicated hosting. It does, however, have drawbacks, such as
Support can take longer to resolve any problems that arise. You may have to deal with security problems and scaling means more costly hosting.
Top 10 Best Web Hosting Services for WordPress
Kinsta hosting is one of the best WordPress hosting providers for e-commerce websites, agencies, or other business types who need fast and secure website operations. Powered by Google Cloud Platform it has over 28 data centers where you can store your content close to your website visitors.
Kinsta has a built-in Application Performance Monitoring which you can use to identify reasons slowing down your website. IP-based and firewall protection allows to detect any types of malicious attacks and ensure the security of the website running.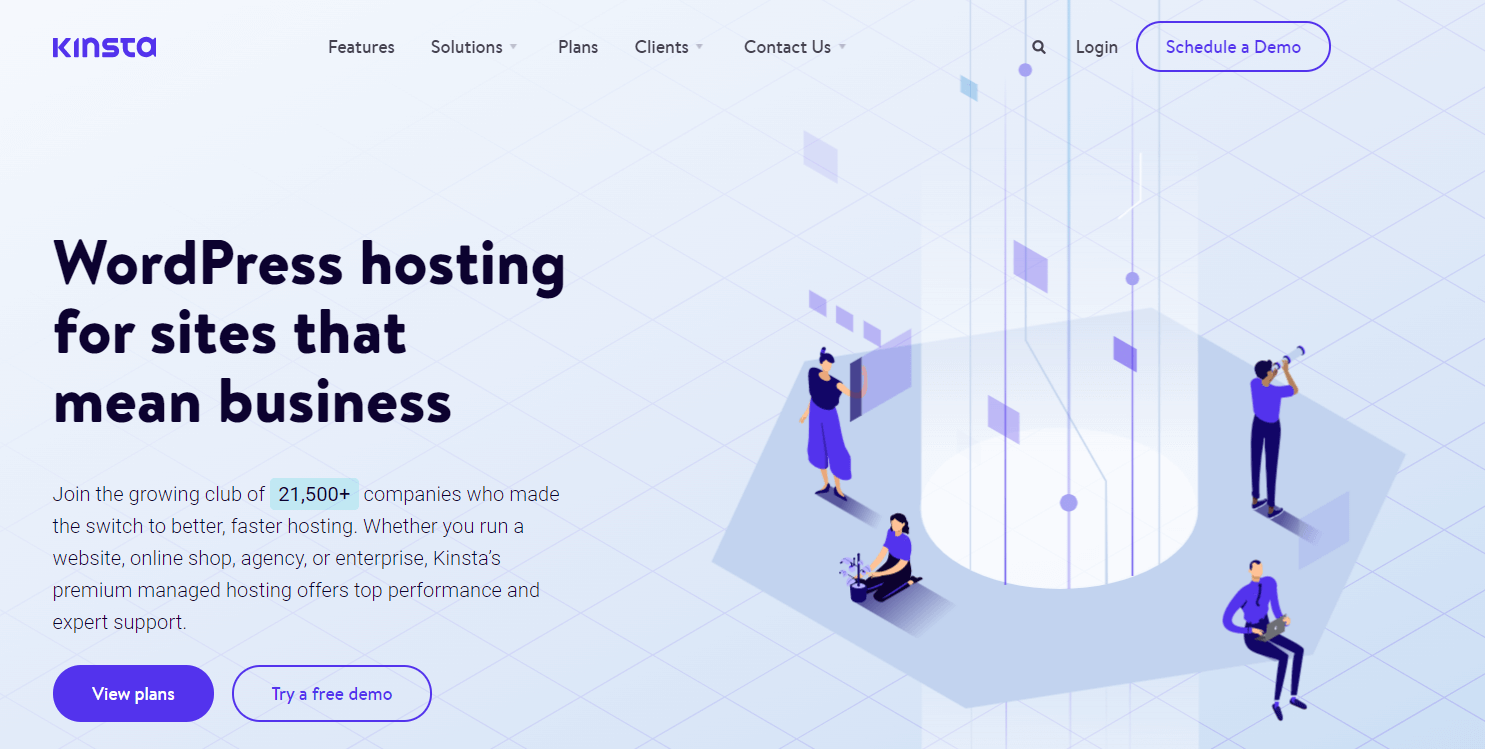 Costing:
To match every business's needs Kinsta offers 6 different plans each with upper-tier features:
The Starter - $30\ month includes 1 website, 25K visits, 10 GB disc space, free SSL, CDN, and Staging, and free migrations

The Pro - $60\ month includes 2 websites, 50K visits, 20 GB disc space, free SSL, CDN, and Staging, and free migrations

The Business - $100\ month includes 5 websites, 100K visits, 30 GB disc space, free SSL, CDN, and Staging, and free migrations

The Enterprise - $600\ month includes 60 websites, 1M visits, 100 GB disc space, free SSL, CDN, and Staging, and free migrations
Bluehost
Bluehost is one of those hosting firms that WordPress.org has officially recommended. This makes it one of the more practical options available. Bluehost has a custom panel to handle your hosting setup, as well as all of the functionality you'll need to create and launch your WordPress account. In our hosting survey, Bluehost received hundreds of votes, making it one of the most popular WordPress hosting.
Even if it has a low price, you get a free domain name and links to free site builders and 1-click WordPress installs as part of your contract.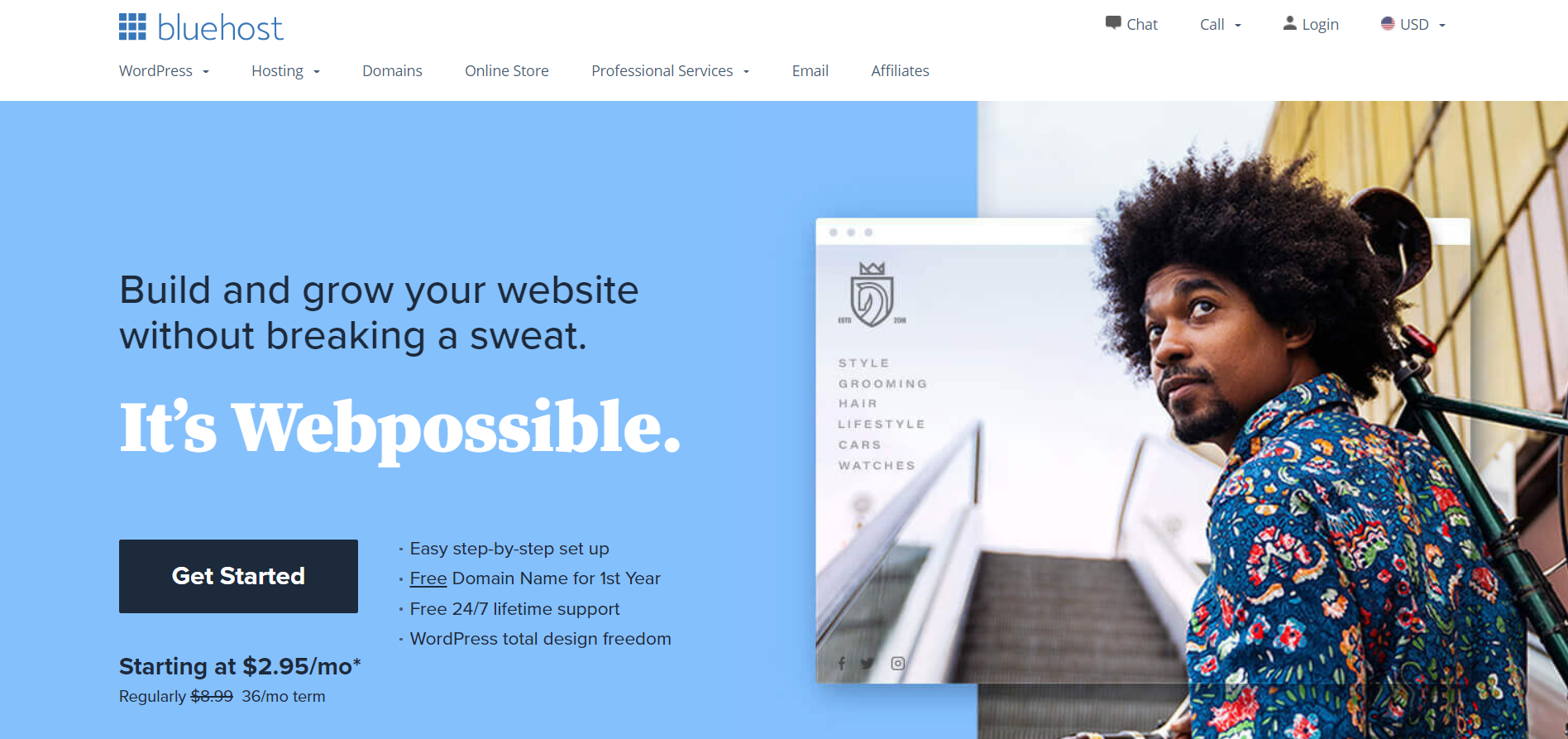 Costing
Basic ($2.95 a month): Supports one website, which includes 50GB of disk space and one free domain name. This isn't something you'll find in several plans at this price point.
Plus ($5.45 a month), you can have an unlimited number of websites, unmetered website space, and unmetered email accounts and storage.
Choice Plus ($5.45 a month) covers everything in the Plus plan, plus domain privacy and automatic web backups. This is currently the same price as Option, making it a better deal.
Hostinger
Hostinger has been in the industry for quite some time, and they've always been known for their low prices. Nonetheless! What they're doing with this deal is well beyond reasonable.
Their most inexpensive WordPress hosting plan is just $1.39 a month!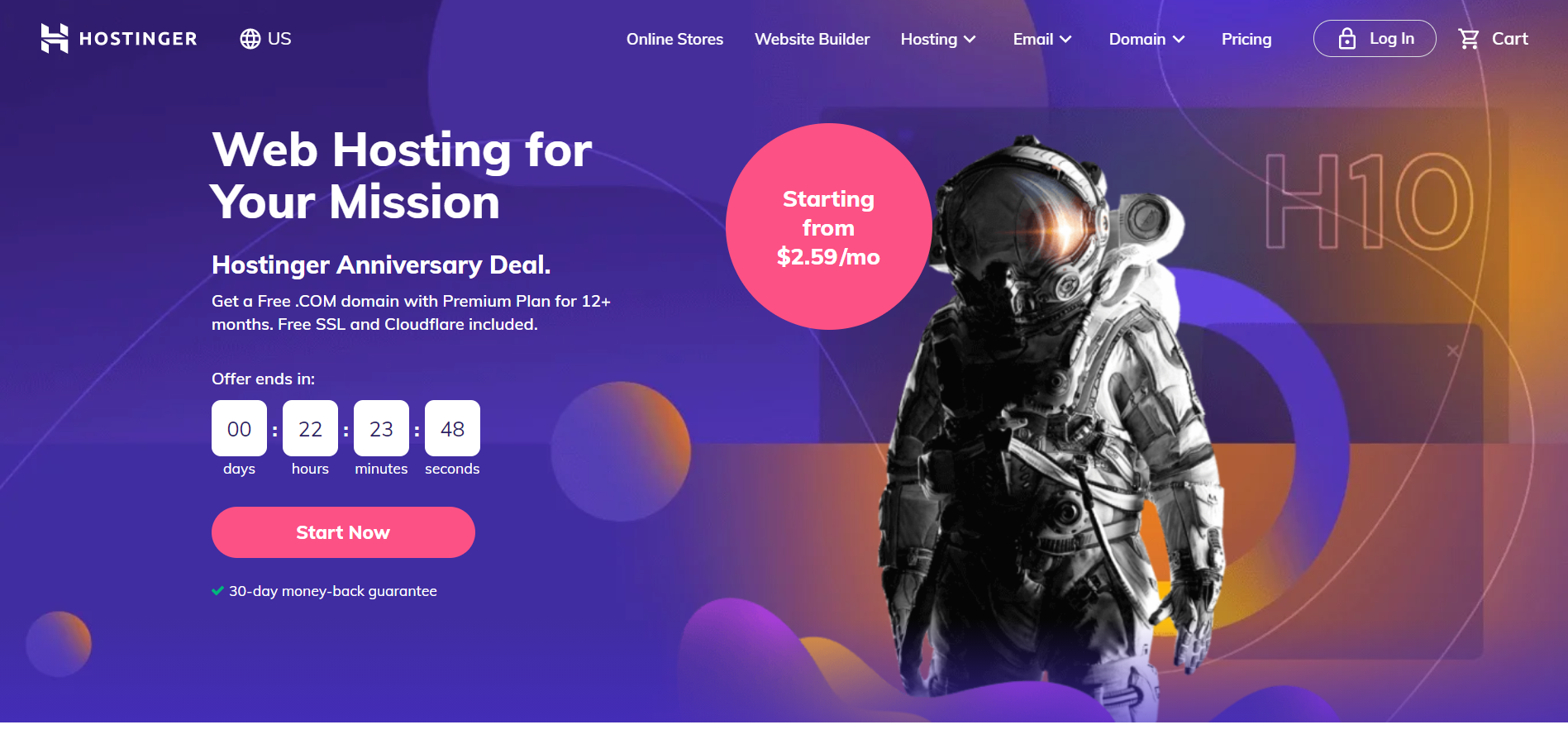 This offer is only valid for the first month; after that, you'll have to pay $7.99 a month, but it's still a great way to get a host for a simple website project.
On the cheapest plan, you're required to host one website and receive one email address. There's also 100GB of bandwidth available, which should suffice.
You don't get a free SSL license on the negative side, which is a bummer, and you don't get regular backups.
DreamHost
DreamHost has been one of the best web hosting services for WordPress since its inception in 1996. DreamHost is an excellent all-around option, with low rates, high reviews, and a long track record.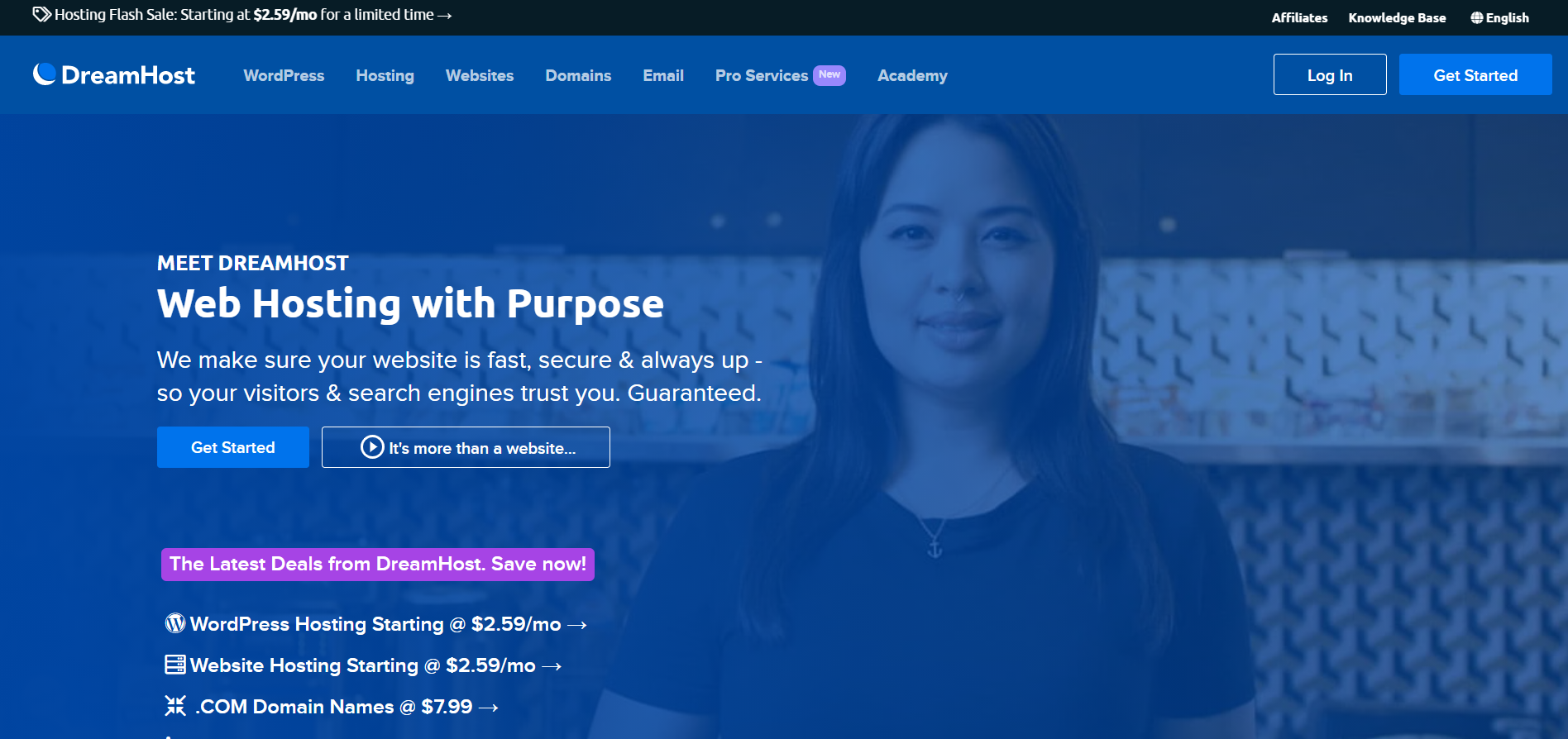 Costing
WordPress Starter ($2.59 a month): Includes unlimited traffic and regular backups for a single website.
Unlimited websites, unlimited traffic, and regular backups are all included in WordPress Unlimited ($3.95 a month).
GoDaddy
GoDaddy is a well-known hosting company. Their WordPress plans combine a low entry-level price, a free domain name, and automatic backups in one package. One-click staging sites are included in all tiers except the cheapest.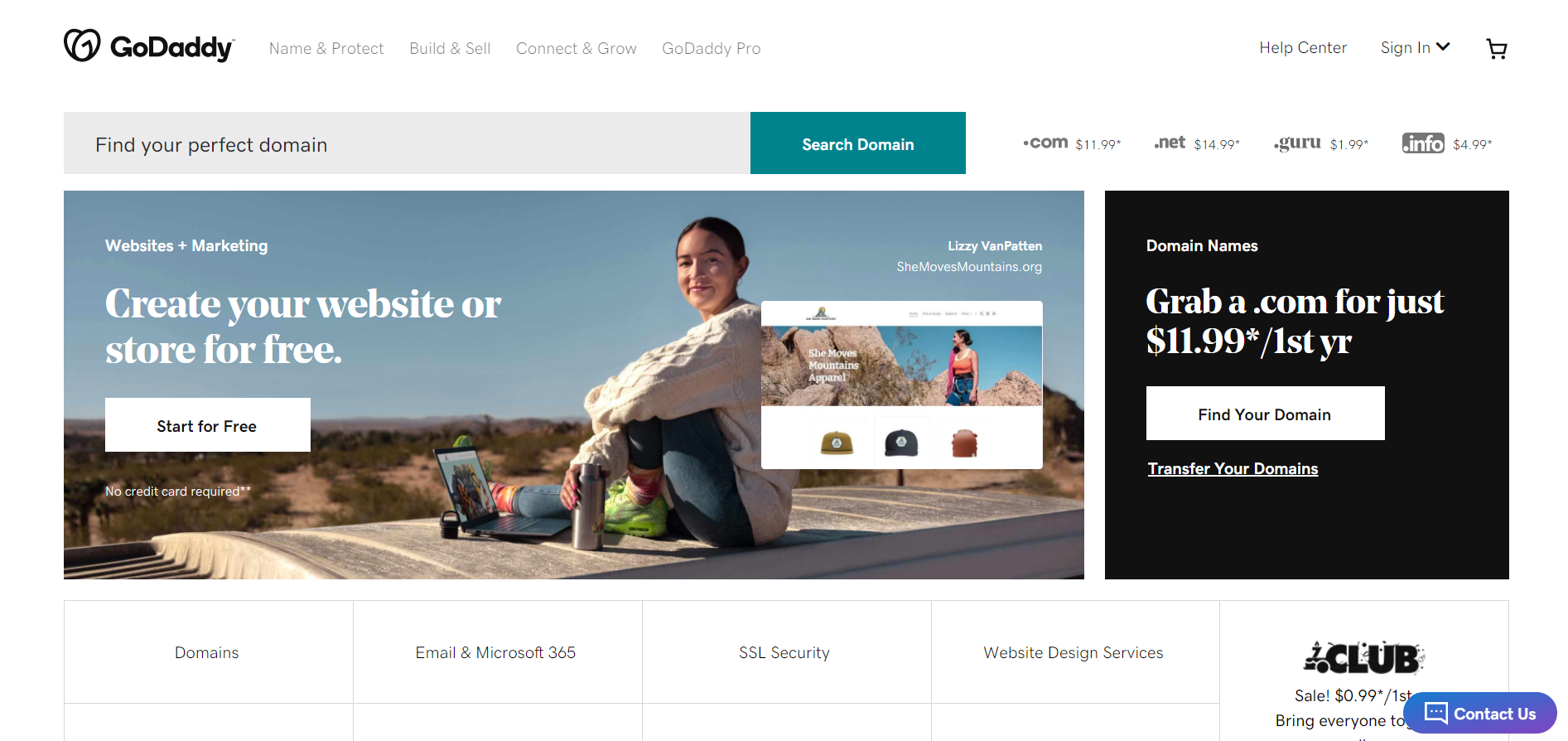 Costing
Basic ($1 per month): Supports up to 25,000 monthly visitors on a single website.
Deluxe ($9.99 per month): Supports up to 100,000 monthly visitors on a single website.
Ultimate ($12.99 per month): Supports up to 400,000 monthly visitors and two websites.
A2 Hosting
A2 Hosting is a very well-known independent web hosting for WordPress that strikes a good balance between performance and price. Even on their lowest hosting tiers, A2 Hosting offers pay-monthly hosting, which is a unique feature. You can also get WordPress pre-installed and a free SSL certificate pre-configured.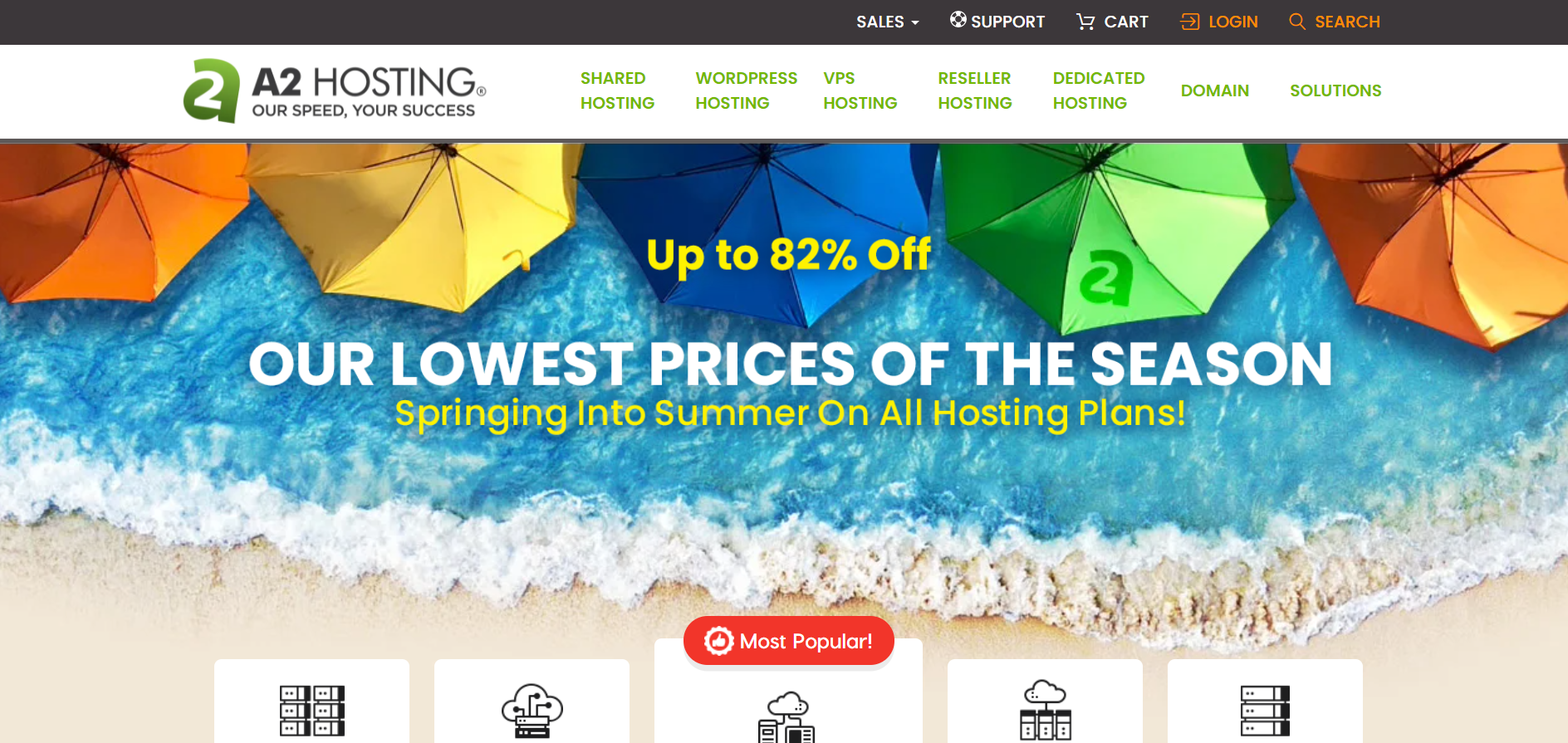 Costing
Lite ($2.99 a month): Supports one website which provides unrestricted storage and data transfer. For simple sites, this is a good option.
Swift ($4.90 a month): Hosts an infinite number of websites and has double the resources, resulting in quicker page loads. It's a good choice for places with a moderate amount of traffic or small businesses.
Turbo ($9.31 a month): Supports an infinite number of pages and includes A2 Hosting's Turbo technology for even quicker page loads. For performance-conscious users on a budget, this is a good choice.
HostGator
Despite its low prices, HostGator has a lousy reputation among WordPress hosts. However, with their WordPress cloud hosting plans, which include free auto-backups and Secure Sockets Layer (SSL) certificates, they seem to have recently made a turnaround.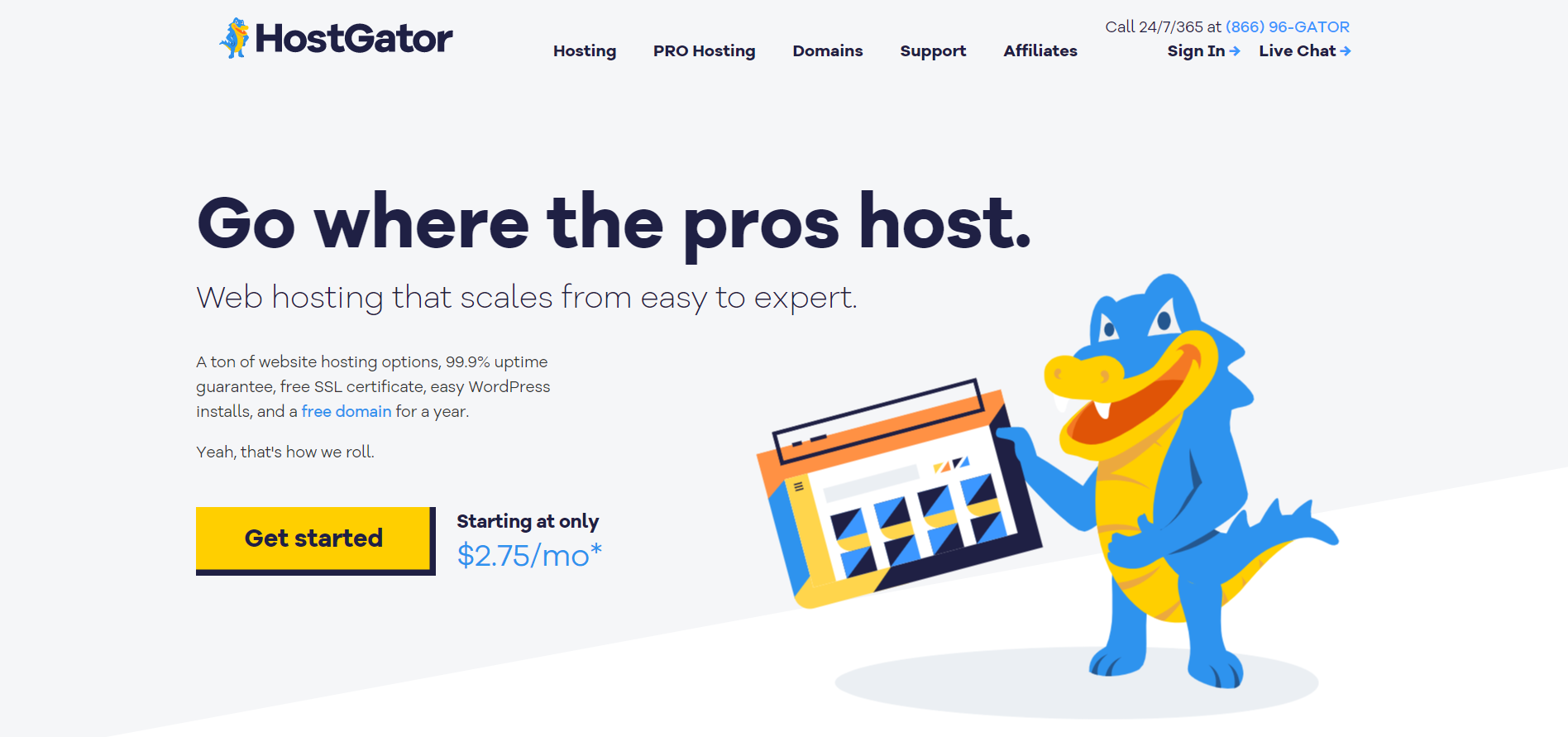 Costing
Hatchling ($2.75): Supports a single website with moderate traffic, making it ideal for small blogs.
Baby ($3.95 a month): Hosts an infinite number of moderately trafficked websites. It's an excellent choice for small online retailers and service providers.
Company ($5.95 a month, no typo): Supports an infinite number of sites and is a good choice for existing companies and enterprises with demanding needs.
iPage
Although iPage doesn't have as many WordPress plans as its competitors, it does offer other valuable features like standard pre-installed plugins and a personalized control panel. In general, they remain appealing in the world of low-cost web hosting services for WordPress.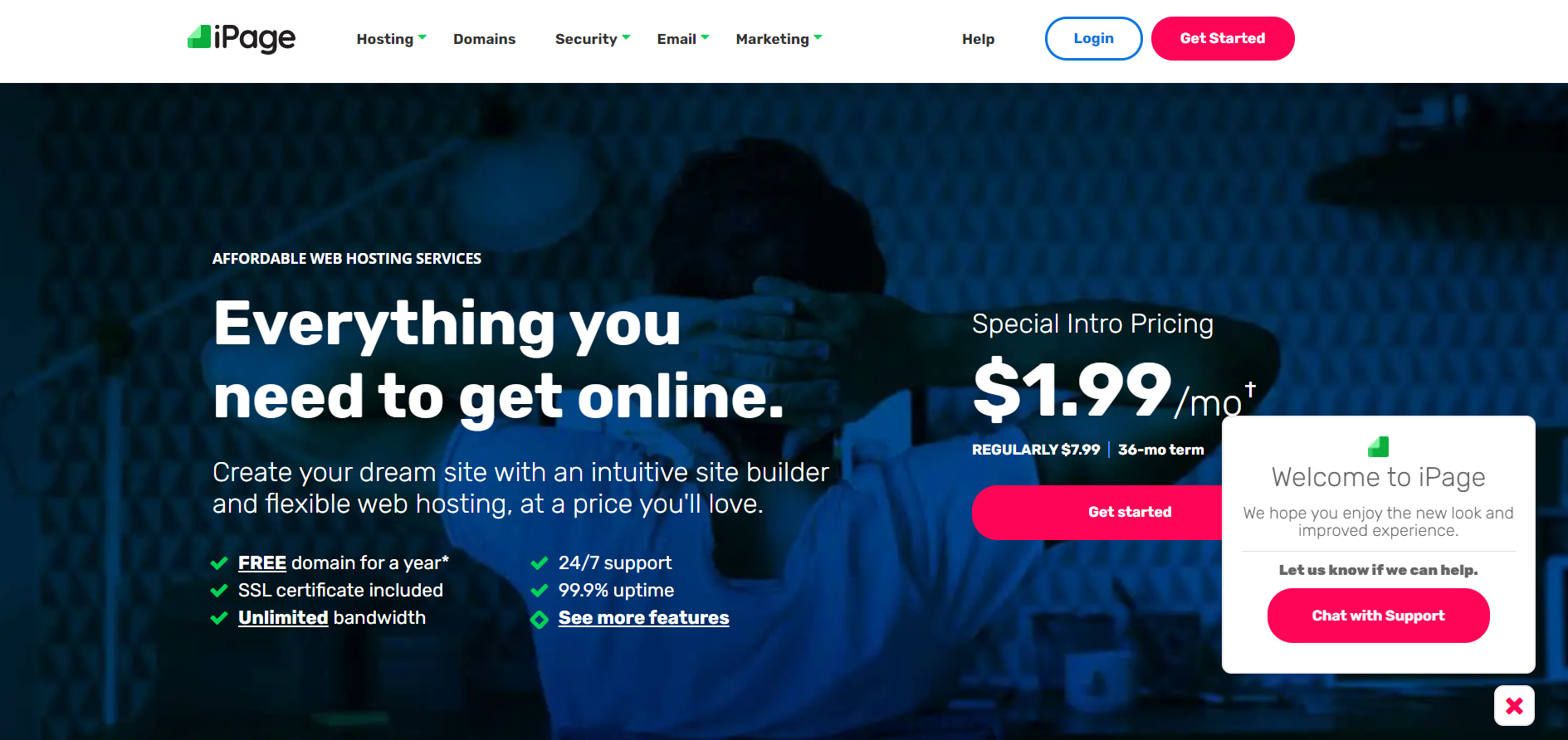 Costing
WP Starter ($3.75 a month): This plan is ideal for small websites, including unlimited storage and bandwidth.
WP Essential ($6.95 per month): Improves protection and efficiency, making it more suitable for businesses.
InMotion Hosting
As one of the best web hosting services for WordPress, InMotion provides inexpensive plans with a slew of advanced features, including WP-CLI support and free website transfers.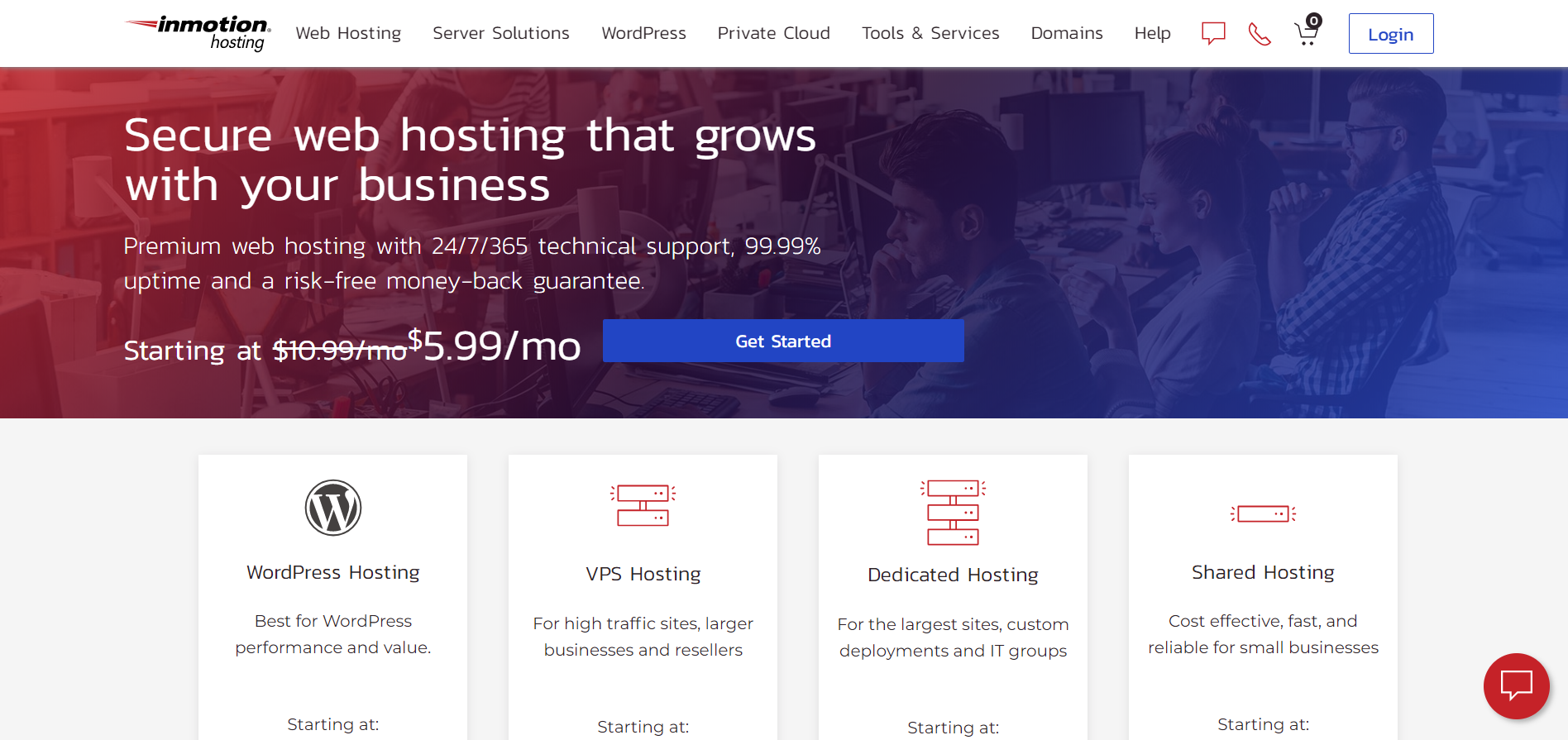 Costing
Launch ($2.49/month): Supports up to two websites and is ideal for small businesses.
Power ($5.99 a month): Supports up to six websites and is an excellent option for small website portfolios.
Pro ($13.99 a month): Includes advanced service options and the ability to manage an infinite number of websites. It's an excellent choice for power users.
SiteGround
You can see why SiteGround is consistently ranked as one of the best WordPress hosts available. Their WordPress plans include:
Free site transfers.
Git support on higher plans.
Their SuperCacher tool for faster loading times.
Costing
Startup ($6.99 a month): This plan is ideal for small businesses and startups that only need to host one website.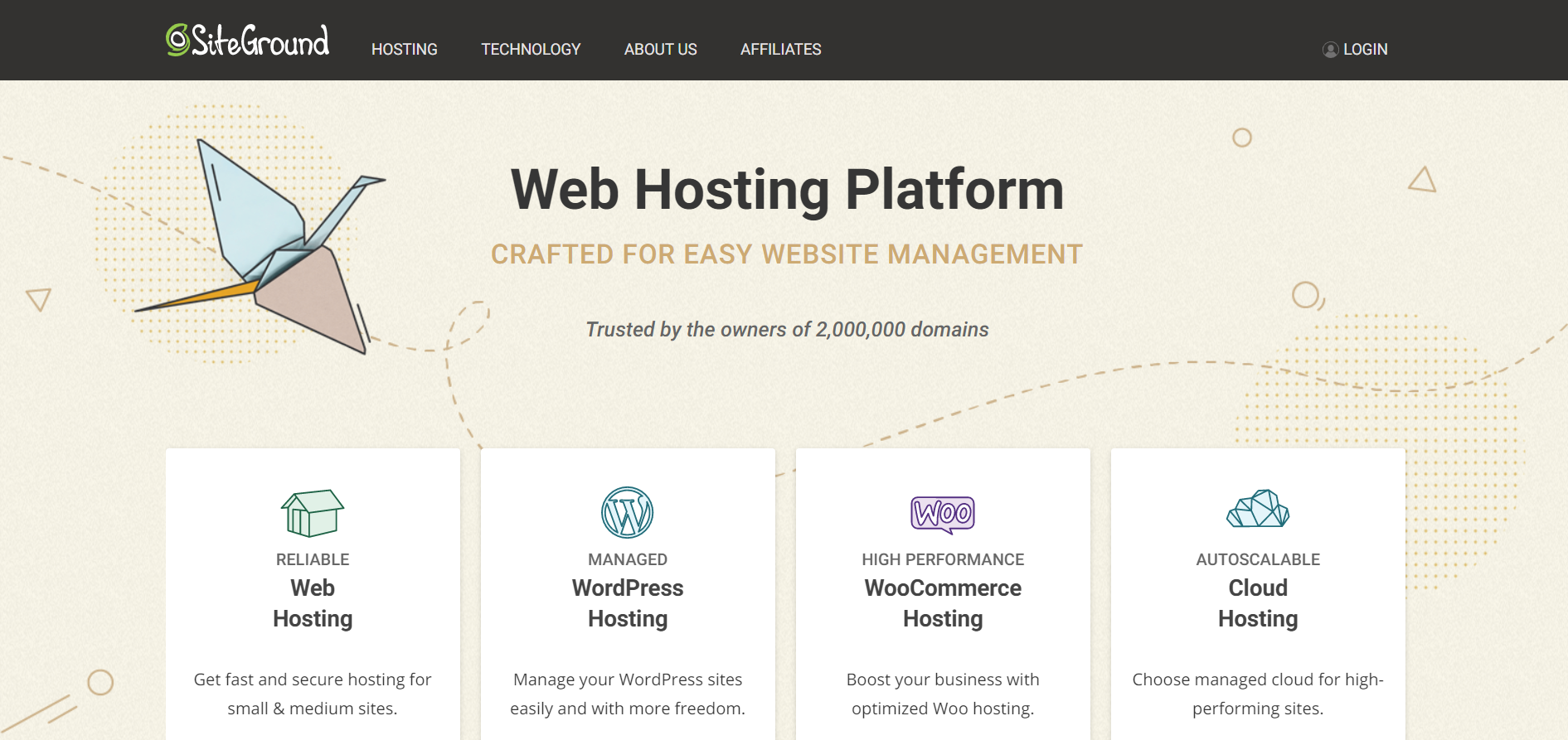 GrowBig ($9.99 a month) is ideal for companies that have several WordPress pages.
GoGeek ($14.99 a month): For large businesses with a high volume of traffic.
BONUS
Namecheap
Though Namecheap no longer has sub-$1 monthly rates, they are still among the affordable and best web hosting services for WordPress with cheap monthly subscription.
They offer you the choice of using a data center in the United States or the United Kingdom. You get up to 20GB of SSD-accelerated disk space and unrestricted bandwidth, as well as the ability to run up to three websites (all on the cheapest plan).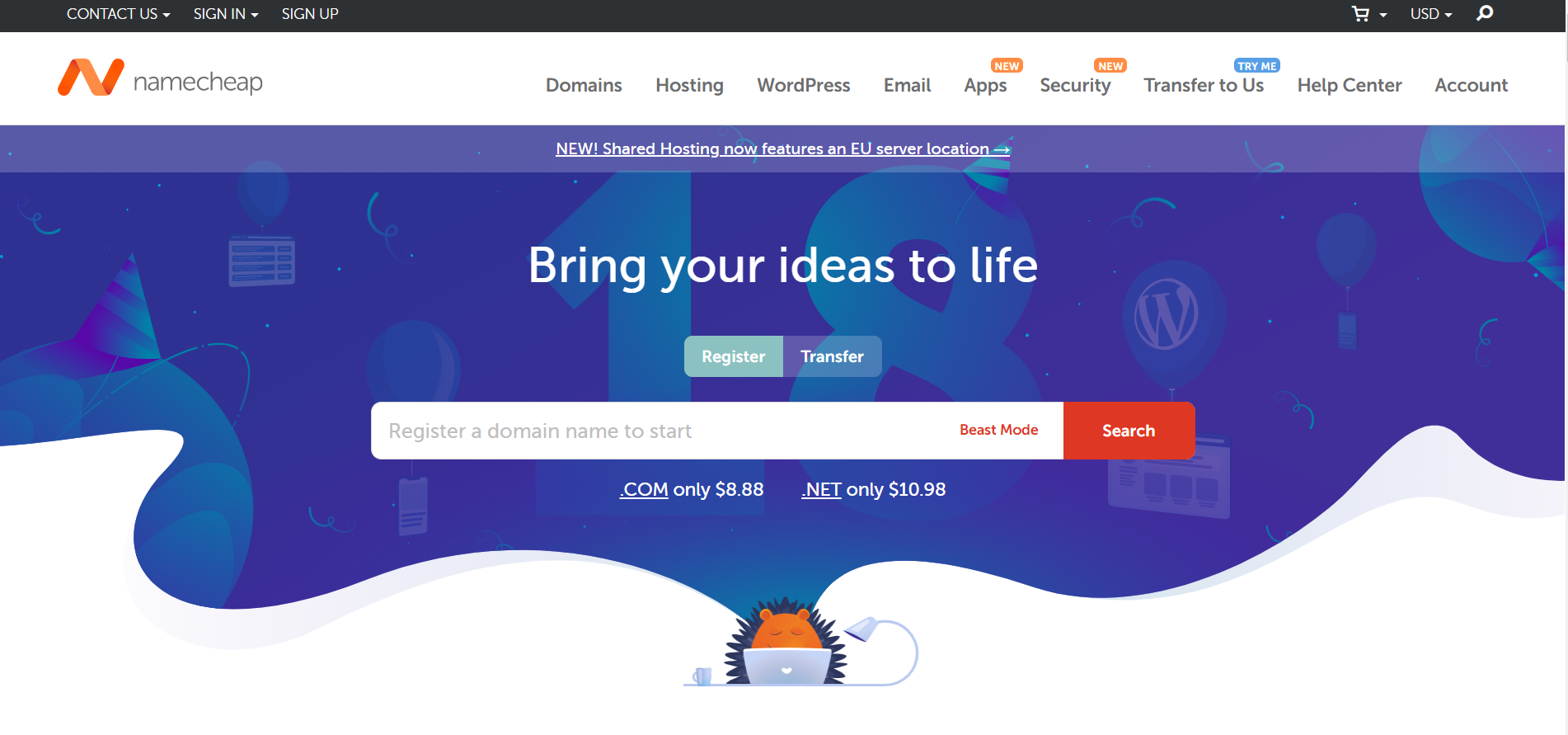 Costing
Stellar ($1.44 per month) provides 20GB of SSD-accelerated disk space and the ability to host up to three websites.
Unmetered SSD-accelerated storage, bandwidth, and websites are available with Stellar Plus ($4.88 per month).
Stellar Business ($8.88 a month) includes 50 GB of SSD storage, unrestricted bandwidth, and unmetered websites.
10Web
10Web has experience making website building and hosting easier through integrated automation. It perfectly works for WordPress-built websites. 10Web's automated WordPress hosting provides users free SSL certificates, a genuine dashboard, and 24/7 customer support through live chat.
It is an excellent option in case you want efficient website management, a high level of data protection from cybersecurity, and always-there-for-you support.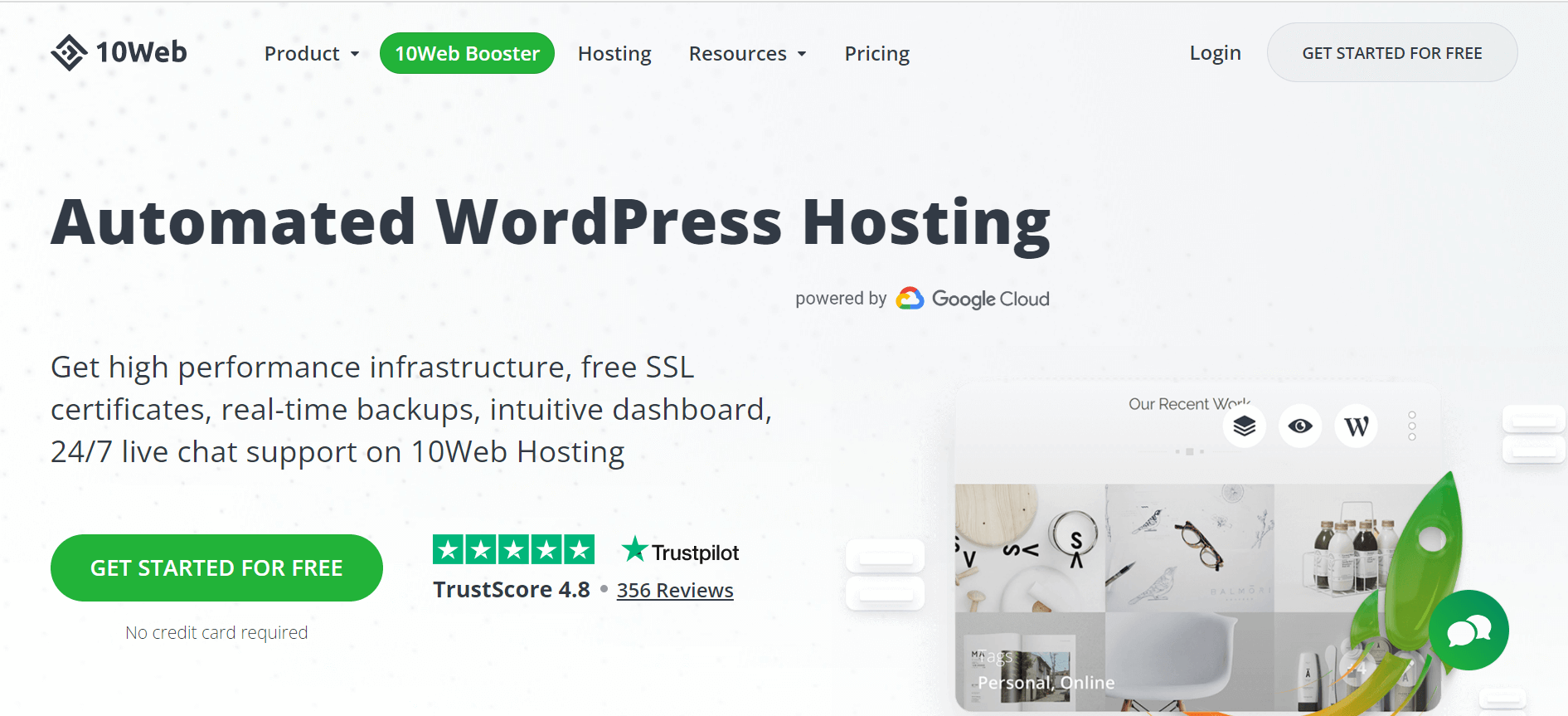 Costing

10Web offers to get started for free without the requirement of a card attachment. Moreover, it provides you with a 30-day money-back guarantee, and there are no hidden fees. Further, it offers you a price list based on subscription type (monthly or annually) and the number of websites.
For a monthly subscription, the Personal plan costs $14, the Premium plan costs $35, and the Agency plan costs $85. You can save 30% with an annual subscription for each plan type.

Conclusion
Typically, you don't equate low-cost providers with high quality. WordPress hosting, on the other hand, is a bit of an outlier. Since the market is so competitive, providers can deliver low rates to attract new customers. As a buyer, this is fantastic news.
In practice, this means that the best web hosting services for WordPress starting at less than $5 a month are available. Furthermore, they are frequently capable of handling sites with high traffic volumes. All of the providers in this roundup are highly recommended by us.
You may also want to read these blogs too:
Sign up for our newsletter
Be the first to know about releases and industry news and insights.
Let's

get started

on something great
Booknetic is a simple yet powerful plugin for accepting online bookings & payments on your WordPress site.