17 Must Have WordPress Plugins for a New Website in 2023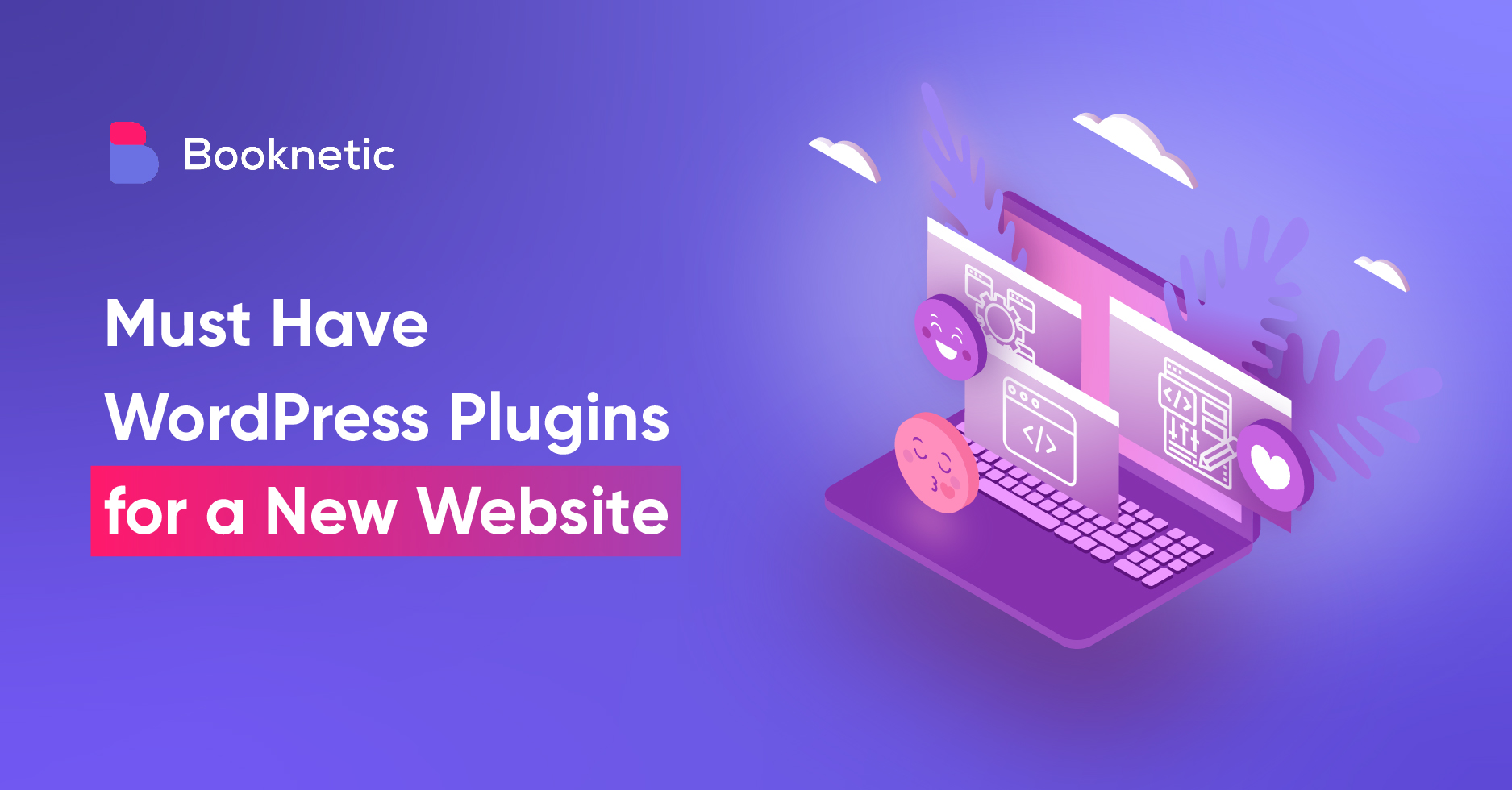 It can be challenging for site owners to find the right plugins to upgrade their WordPress websites with over 50,000 plugins in the WordPress plugin registry, not to mention thousands more on third-party websites.
The right plugins are critical for your website's speed up, security, and user-friendliness. Fortunately, a few simple winners will support almost every WordPress account. We'll take a closer look at 17 must have WordPress plugins for a new website in 2023 in the sections below.
Table of Contents
17 Must Have WordPress Plugins
1. Yoast SEO
2. WPForms
3. MonsterInsights
4.WooCommerce
5. Elementor
6. All in One SEO
7. FS Poster
8. Sucuri
9. WPML
10. Google XML Sitemaps
11. WP Mail SMTP
12. Smush Image Compression and Optimization
13. Simple SSL
14. WP Rocket
15. Rank Math
16. OptinMonster
17. Wordfence Security

What is the significance of plugins?
The building blocks of your WordPress platform are plugins. They add vital features to your website if you need to add contact forms, boost SEO, speed up your site, set up an online shop, or have email opt-ins. A plugin can do almost anything you want for your website.
Plugins assist you in optimizing your site for search engines, preventing spam, and improving user experience.
Every company has unique requirements, but there are a few plugins that every WordPress website, regardless of industry, should have.
There are thousands of free and paid WordPress plugins available to download and install — here are the best plugins for WordPress, regardless of the type of website you're creating.
17 must have WordPress plugins for a new website
1. Yoast SEO
Yoast SEO is by far the most common SEO plugin for WordPress, and it's easy to see why it's one of our must-have plugins. It can not only help you boost your SEO, but it can also assess the readability of your content. Since 79 percent of users skim your posts and forums, the more open your copy is, the more likely you will keep their attention.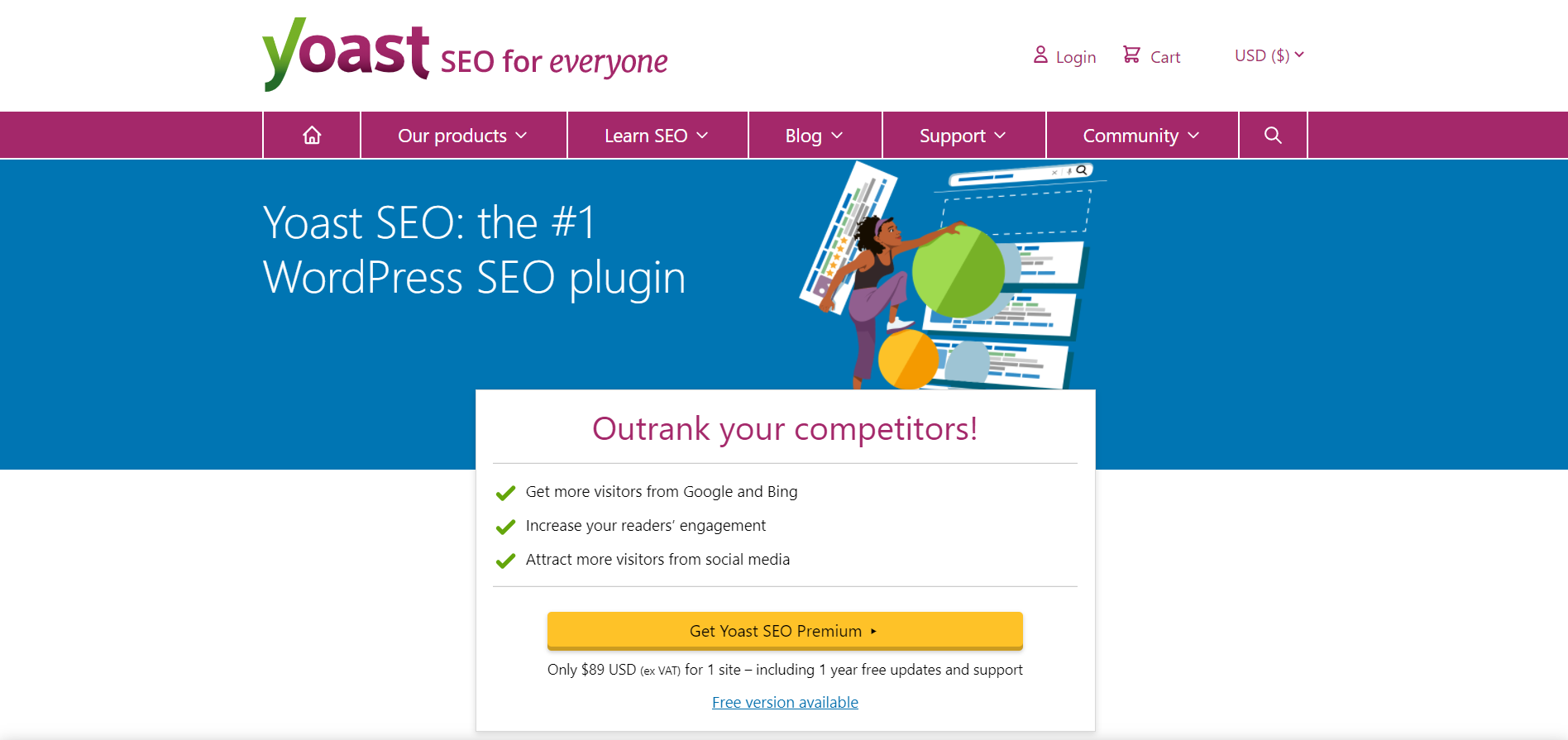 There are many ways to push traffic to your website in terms of SEO. None, however, have the same potential as search engines. Because Google alone processes over nine billion requests a day. It's no exaggeration to suggest that organic traffic can make or break a website, and in most cases, you can't buy your way to the top. Just 5% of search engine traffic leads users to paid results, to emphasize the point. As a result, optimizing your keyword strategy is crucial for every website.
Yoast SEO Features
Focus on keyword and content analysis

Page analysis

Readability check

Meta and link elements

XML sitemaps
Pros:
Comprehensive SEO optimization
Structured data integration
Yoast SEO Academy access
Cons:
Language limitations
Level of dependency on Yoast's updates
Price:You can easily use the free version of Yoast SEO but you will not be able to use the main features. Premium plan starts from $99 for one year. It includes link and keyword suggestions, optimizing the website, and full access to Yoast SEO Academy.
2. WPForms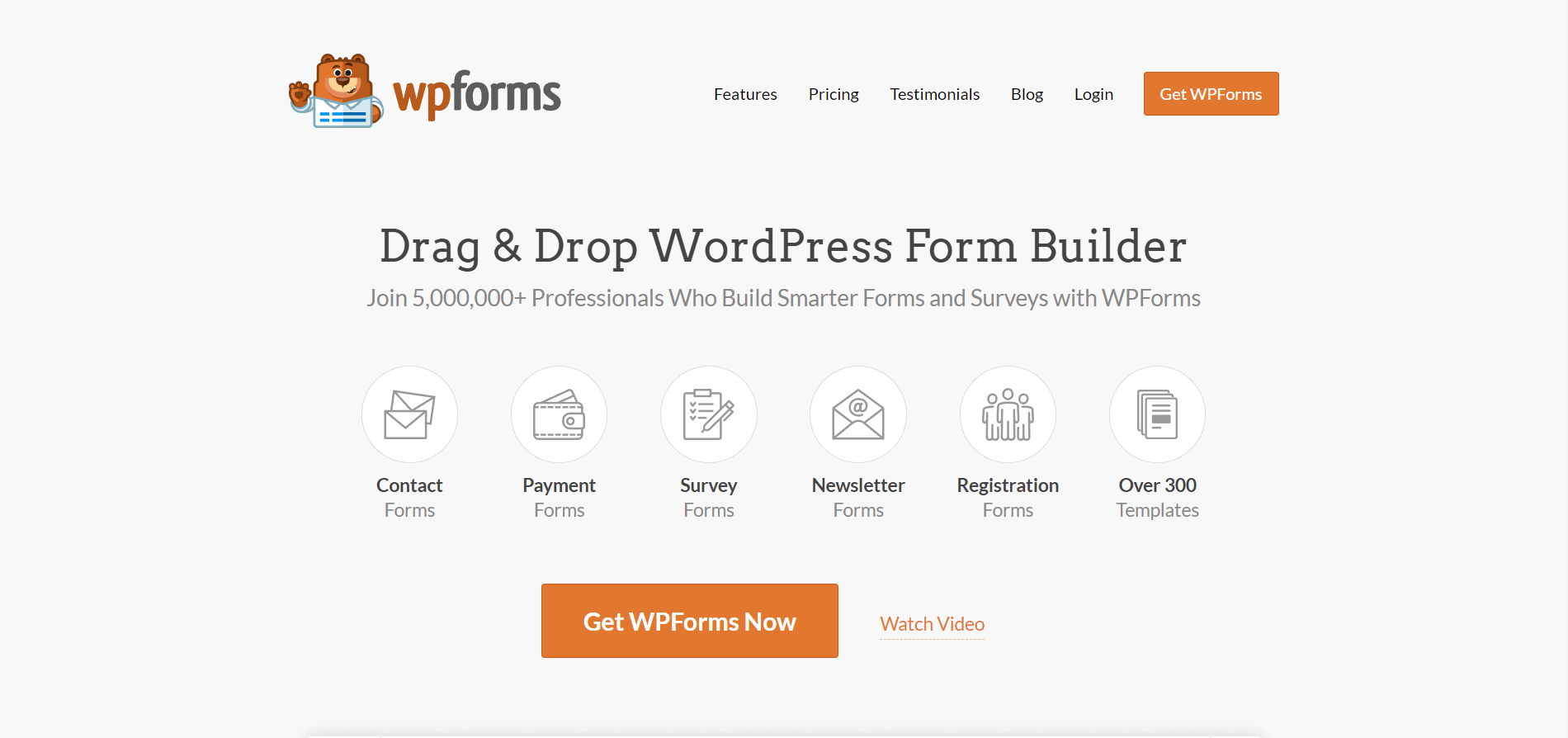 WPForms is the best WordPress forms plugin. It allows you to create custom forms and surveys and manage submissions. WPForms is perfect for contact forms, order forms, registration forms, and any other type of form you need on your website.
WPForms Features
User-friendly drag-and-drop interface.
Over 300 pre-built form templates.
Integrates with all popular marketing and payment platforms.
Powerful features such as conversational forms, form landing pages, user journey tracking, form abandonment, geolocation tracking, GDPR friendly, custom WordPress user registration and login forms, etc.
Maintains a consistent average rating of over four stars for five years.
Comes with a free WPForms Lite version for simple solutions.
Pro version is available for those who are looking to grow their business with powerful features to boost lead generation efforts.
Pros:
Payment integration
Responsive and mobile-friendly design
Entry management system
Cons:
Learning curve for customization
No trial is available
Price: Unfortunately WP Form does not have trial or demo versions. Plugin has different packages for your needs. Basic plan starts from $39 with all the essential features and customizations. There are plus, pro, and elite plans according to your requests.
3. MonsterInsights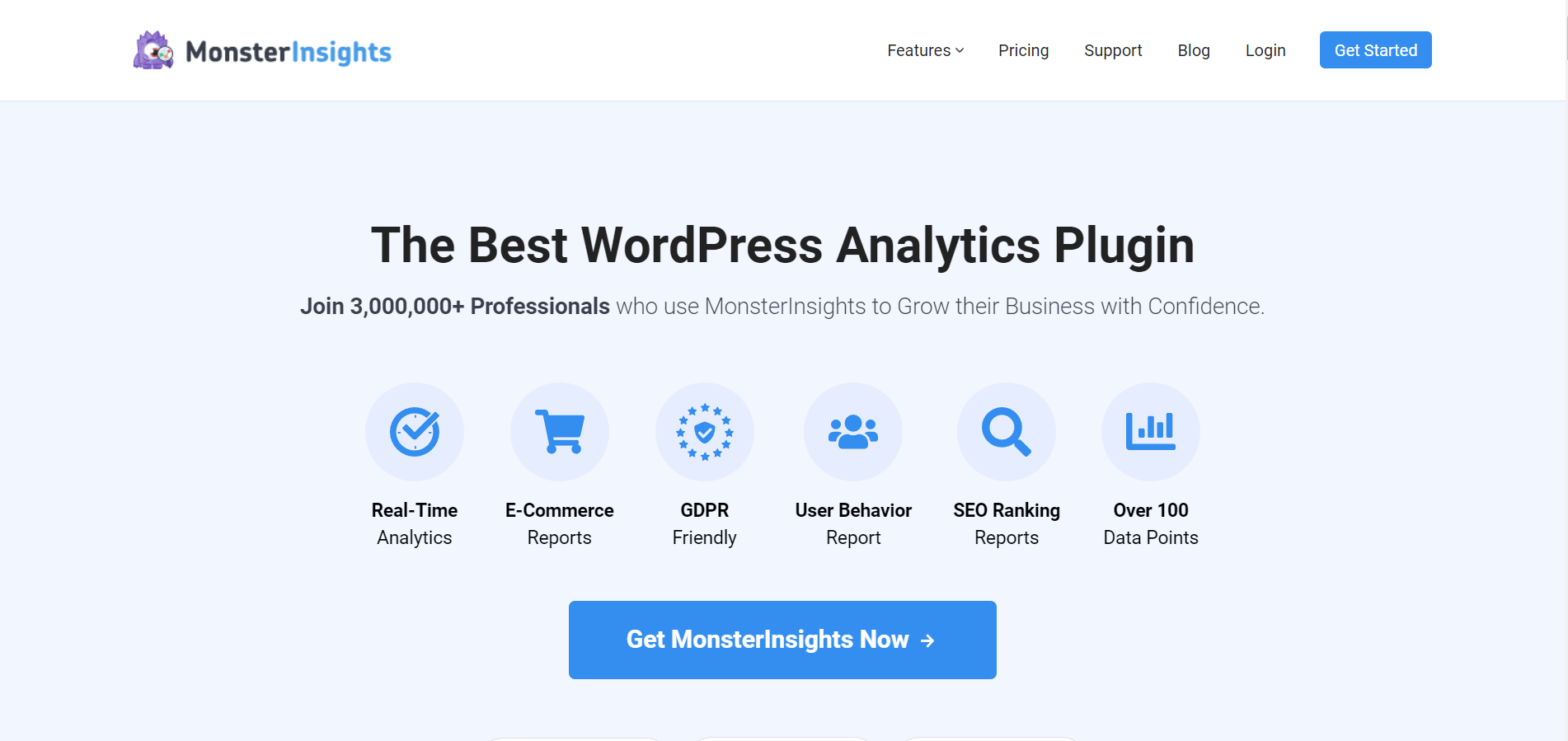 MonsterInsights is the best WordPress analytics plugin.
There is no denying that MonsterInsights is the best WordPress analytics plugin. It's feature-rich, easy to use, and comes with world-class support. Most importantly, it allows you to collect the data you need to make informed decisions about your website.
If you're serious about using WordPress to grow your business, then MonsterInsights is a must-have plugin.
MonsterInsights Features
Detailed Reports: You can see exactly how people find and use your website with MonsterInsights' detailed reports.

Real-time Stats: Monitor your website's traffic in real-time, so you can quickly make changes if needed.

eCommerce Tracking: See how your eCommerce store is performing and optimize it for more conversions.

User Engagement Tracking: Track user engagement to see what content is most popular on your site.
Pros:
Simple setup process
No coding is required
Obtain cutting-edge tracking
Cons:
Might cause your website to lag
No support for Google Tag Manager
Price: The pricing of Monster Insight may be a bit expensive for you. Plus, known as the lowest plan, is set at $99 per year. It will allow you to track and analyze the reports of your website.
4.WooCommerce

WooCommerce is a plugin that extends the functionality of WordPress, turning it into an eCommerce platform. It's extremely popular, with over five million websites using it to run their online stores.
WooCommerce is built by the team behind Automattic, which also created WordPress.com, Jetpack, and other popular services.
If you're looking to start an online store, we recommend using SiteGround or Bluehost—both offer great plans specifically for WooCommerce users. With either of these providers, you'll get access to premium WooCommerce extensions worth over $1000+.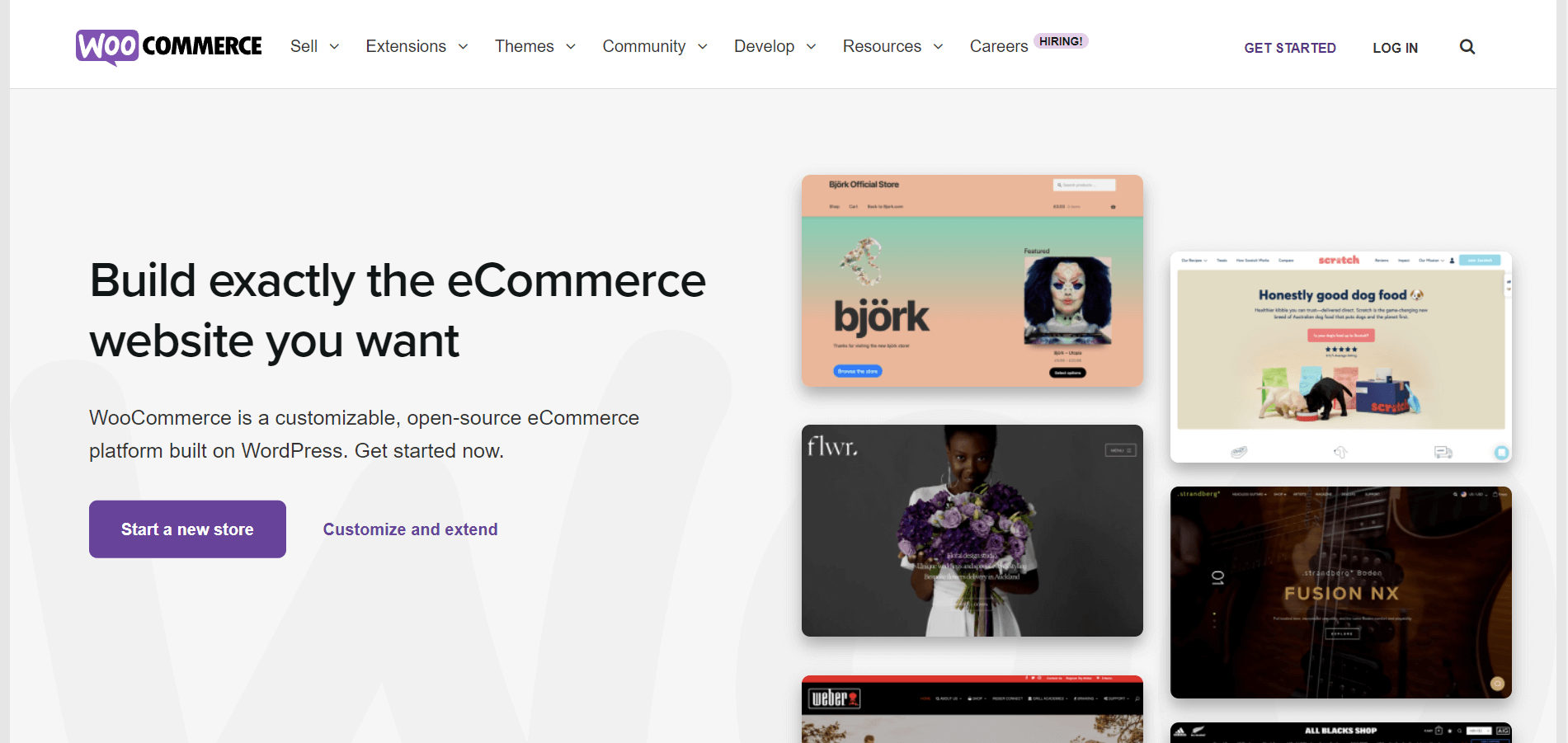 WooCommerce Features
It's free to download and use
You can sell physical, digital, or downloadable products
There are no transaction fees (unless you use a third-party payment processor)
You can choose from a wide range of themes and plugins to customize your store
It's easy to set up and use, even for beginners
Pros:
More advanced features for bigger companies
Free and paid WooCommerce themes
Cons:
Setup process might be complicated for for inexperienced users
Lack of support
Price:WooCommerce is a free and open-source plugin for WordPress, meaning you can download and use it without any initial cost. But it has plans for those who want to step up their store next level. $25/month billed annually, $45/month billed annually.
5. Elementor
Elementor is one of the most fabulous additions to our must-have WordPress plugins list, with over 5,000,000 active installs. It's a visual page builder that allows you to create unique page designs that aren't entirely reliant on your current theme.
This means you don't need to be a web developer to add fun effects like background overlays, hover effects, transitions, and more; anything can be achieved with just a few clicks. It runs well with the Gutenberg editor and the rest of the WordPress plugins on this list.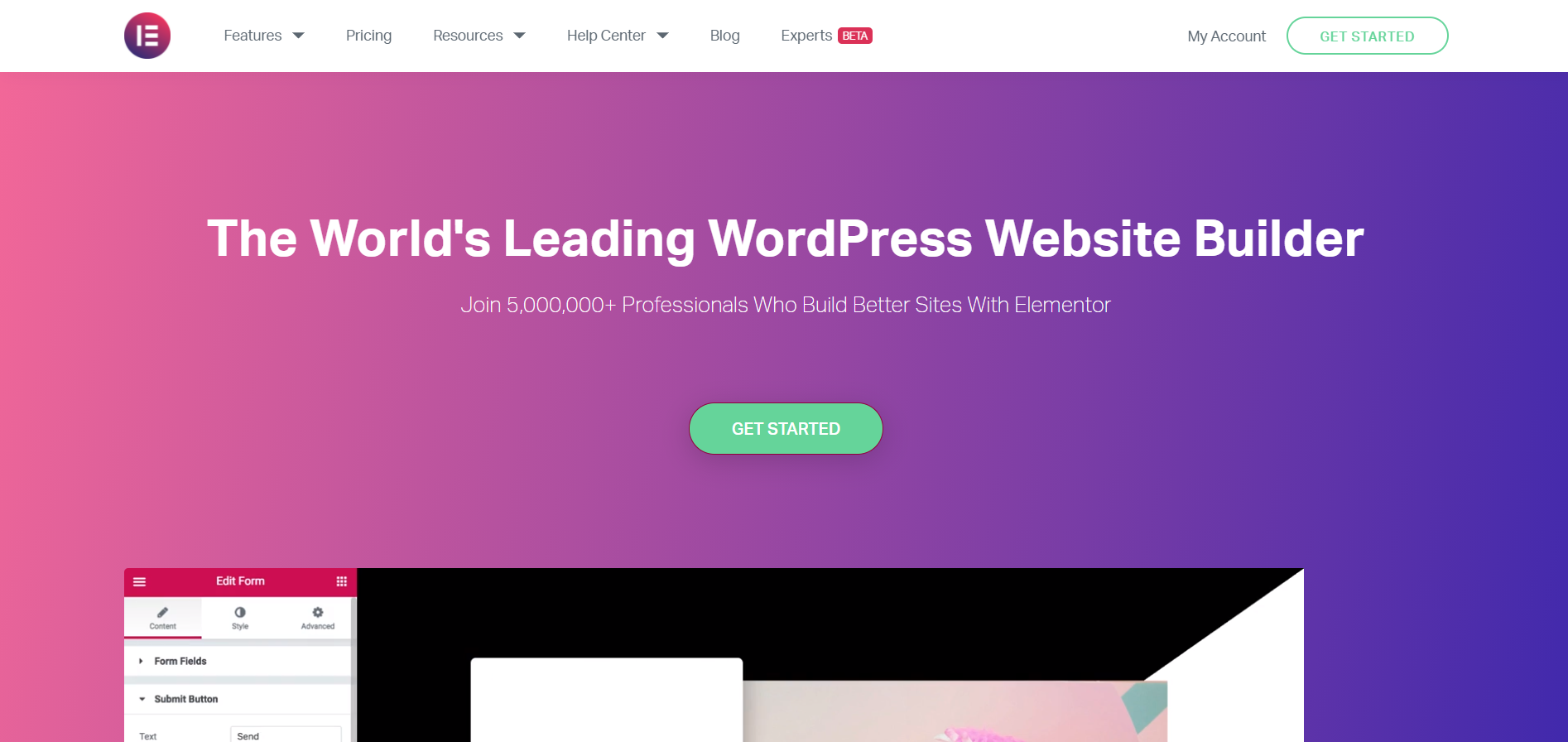 Elementor (read review) is a valuable tool for those who want to build a stunning landing page for their business. It's also the best choice for those who want a custom design for a website section but don't want to hire a developer.
Key features of Elementor:
Choose from the Elementor library's 150+ beautifully designed models
With a quick feature drag and drop, you can build a value proposition
Create unique templates for your website.

Global Blocks

Custom CSS
Pros:
Real-time Preview
Integration Capabilities
Extensive Widget Library
Cons:
Customization Limitations
Occasional Compatibility Issues
Price:Elementor offers both free and premium versions. Premium plans start from $59/annually (1 Pro Website). It includes 100+ Website designs, Form builder, WooCommerce builder, and so on.
6. All in One SEO
Search engine optimization (SEO) aids in increasing the number of visits to your website. WordPress is SEO-friendly out of the box; there is more you can do with SEO best practices to boost your website traffic.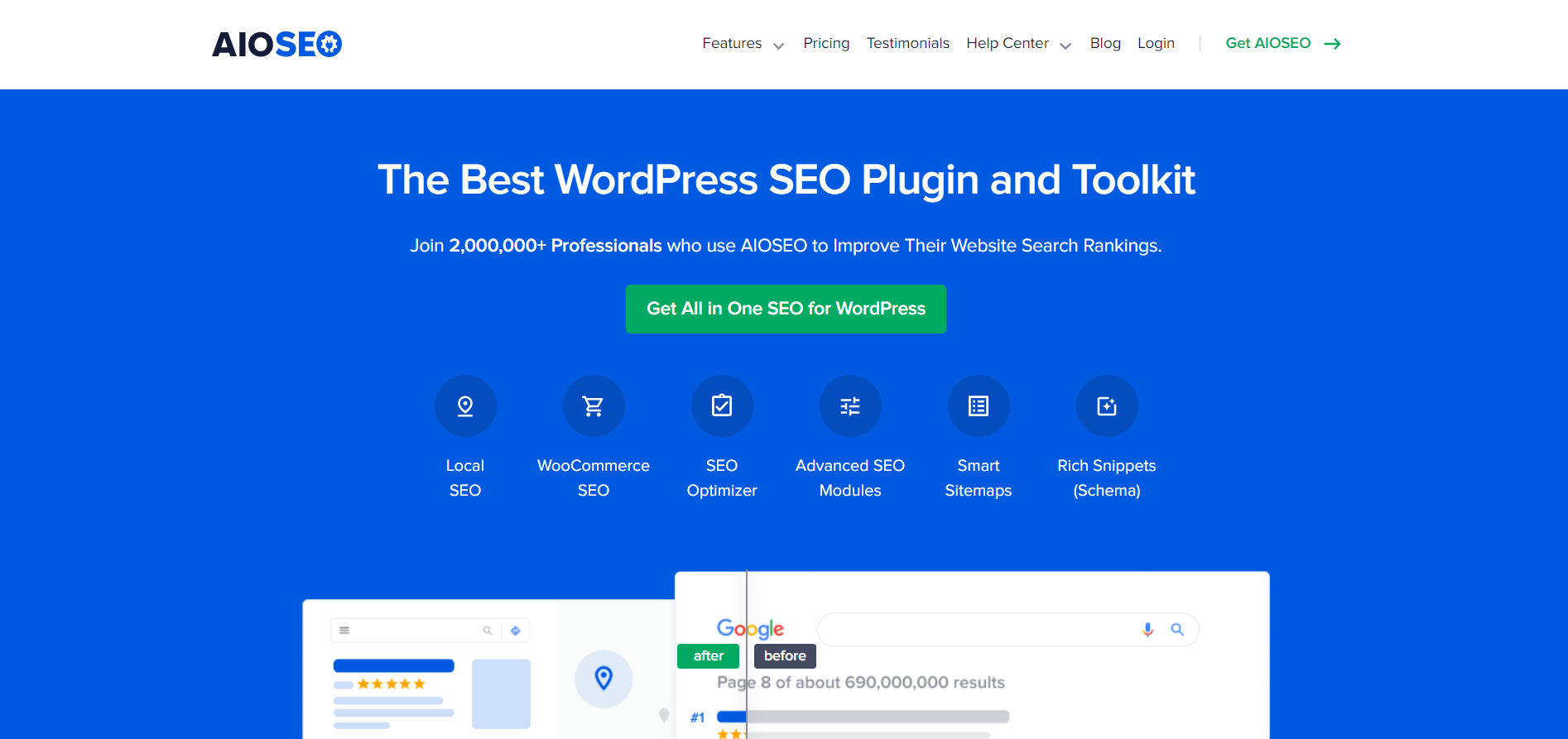 AIOSEO (All in One SEO) is one of the most common WordPress plugins. Over 2 million websites make use of it. AIOSEO is the most robust WordPress SEO plugin, including all of the functionality and resources you'll need to boost your on-page SEO. It assists you in adding meta tags, creating sitemaps, connecting your site to Google Search Console, social media optimization, and more. Their team is still coming up with new SEO features to help you boost your search engine rankings.'
All in One SEO
Comprehensive solution with all the features and tools that you need to improve your on-page SEO

Properly add SEO title, meta description, keywords, generate XML sitemaps, connect your site to Google Search Console, optimize it for social media

Content optimizer with TruSEO score, headline analyzer

Free version available
Pros:
Simple setup process
Easy to edit title and description
Offers lots of features in the free version
Cons:
No support in the free version
No content analysis or SEO scoring
Price:The All in One SEO plugin is available in both free and paid versions. Premium version of All in One SEO is available on four pricing plans and it starts from $49,60/year.
7. FS Poster
FS Poster is a fantastic tool for automatically publishing WordPress posts to most social media platforms. You can also use FS Poster to schedule posts, republish previously generated posts, and so on.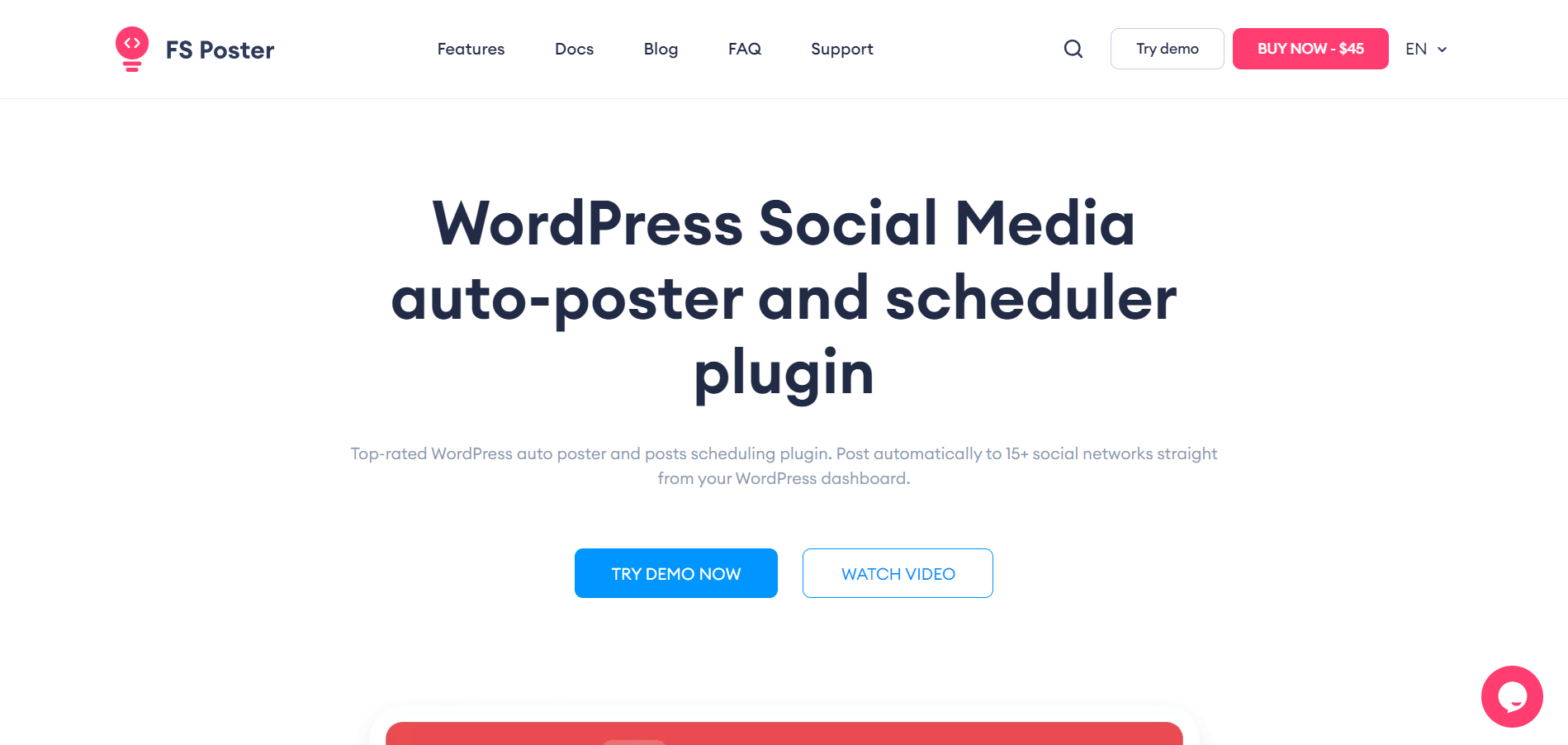 Critical features of FS Poster auto-posting plugin:
Make the most of your time. You will save time by automatically sharing your WordPress posts.
This plugin improves the site's search engine optimization. You would be able to increase the number of social media connections to your website.
By using the plugin's Schedule feature, you'll be able to keep your social profiles fresh by posting regularly.
You will increase the number of visits to your website with this plugin.
FS Poster has a lot of features, and here are some of them:
Custom Post Types
URL Shortener
13+1 Social Network interaction
Insights
Logs
Calendar view
Proxy Support
Hashtags and emojis
WordPress Multisite
Pros:
Analytical reporting features and thorough insights
Easy scheduling and direct sharing of posts on social media
Cons:
Might be overwhelming or complex for some users
Price:
Regular License: $45 USD (One-time Payment).
Extended License: $279 USD (One-time Payment).
8. Sucuri
Sucuri is definitely the best security plugin for WordPress, and we highly recommend it to our users.
Sucuri is a must-have for your website if you're serious about online security. It offers comprehensive protection against all sorts of attacks, and it's very easy to set up and use. We highly recommend it to all our users.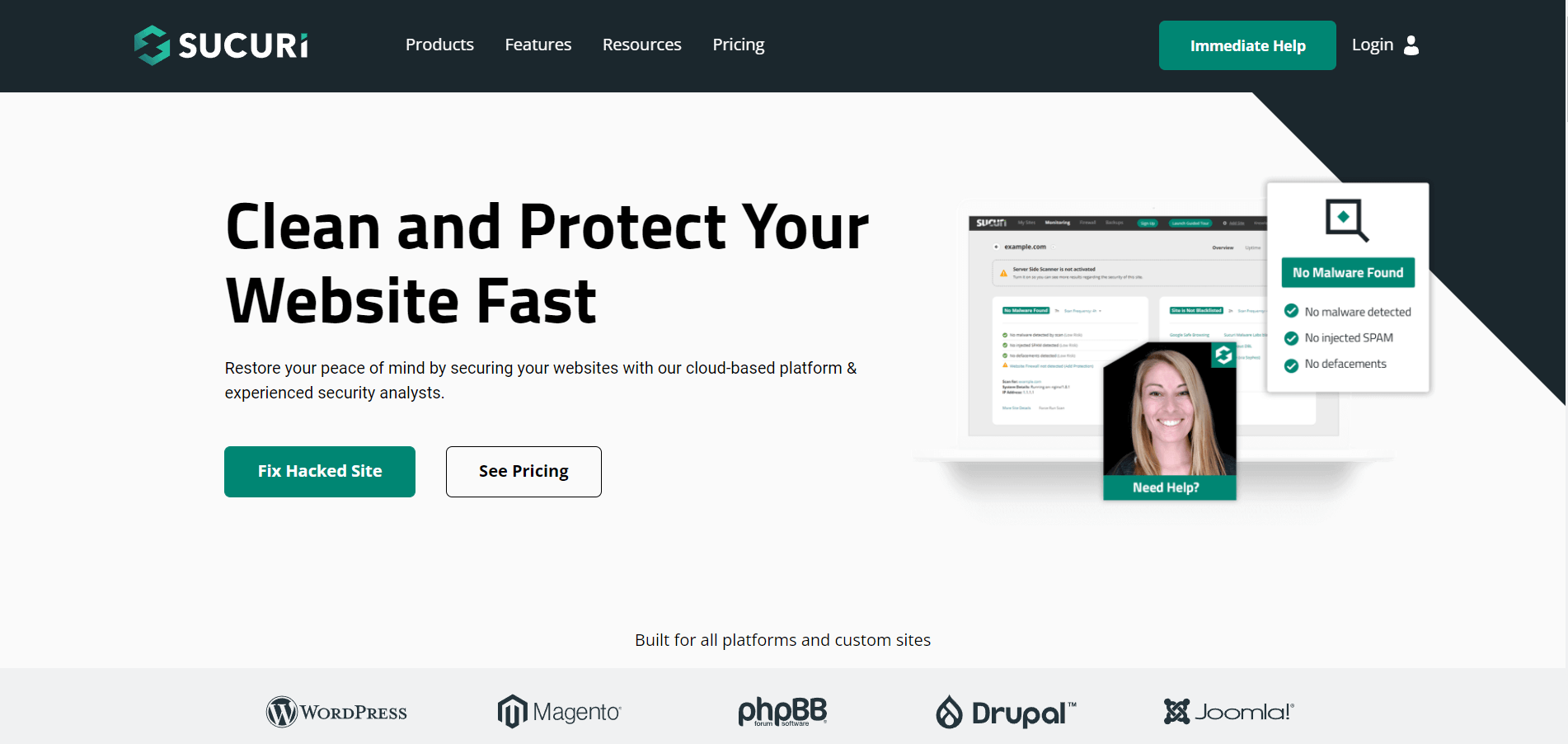 Sucuri Features
Web Application Firewall (WAF)
DDoS Protection
Malware Removal
XSS Protection
Brute Force Protection
Spam Comment Attack Protection
Security Activity Auditing
Performance (CDN, Caching, Image Optimization)
Protects Against Hackers and Malicious Code Injections.
Pros:
Firewall Protection
Malware Cleanup
Easy to Use
Cons:
Limited Customization
Overlapping Features
Price:For personal-to-business websites, Sucuri offers three pricing packages. Each of these plans has a unique price and set of features. Basic, Pro, and Business categories are used to categorize the three plans. Basic plan costs $199.99 a year and comes with a Let's Encrypt SSL certificate.
9. WPML
WPML is a WordPress plugin that allows you to create a multilingual website. You can use it to translate your content into over 40 languages.
If you want to create a professional website, then you need a plugin like WPML. It will help you reach a wider audience and make your site more user-friendly.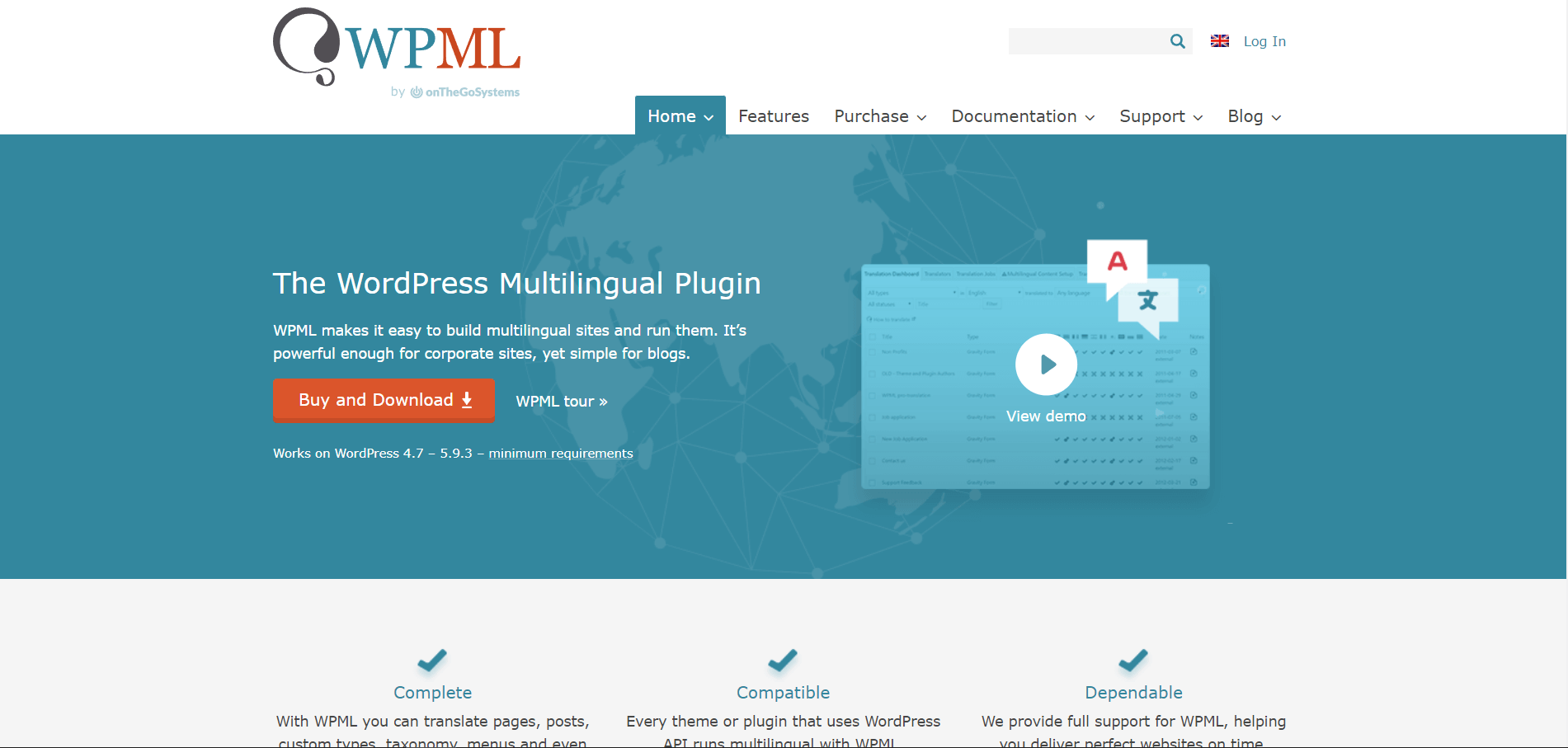 WPML Features
Allows you to create multi-lingual websites with WordPress easily
SEO friendly
Allows you to create content in different languages easily
An excellent alternative that's growing fast.
Pros:
Powerful Multilingual Support
Integration with Professional Translation Services
Stability and Security
Cons:
Dependency on Third-Party Services
Limited Free versions
Price:
Multilingual Blog: €39.00
Multilingual CMS: €99.00
Multilingual Agency: €199.00
10. Google XML Sitemaps
WordPress sitemaps are critical, making it easier for search engine crawlers to locate and retrieve the relevant pages and articles on your WordPress blog. The Google XML Sitemaps plugin supports WordPress-generated pages and custom URLs.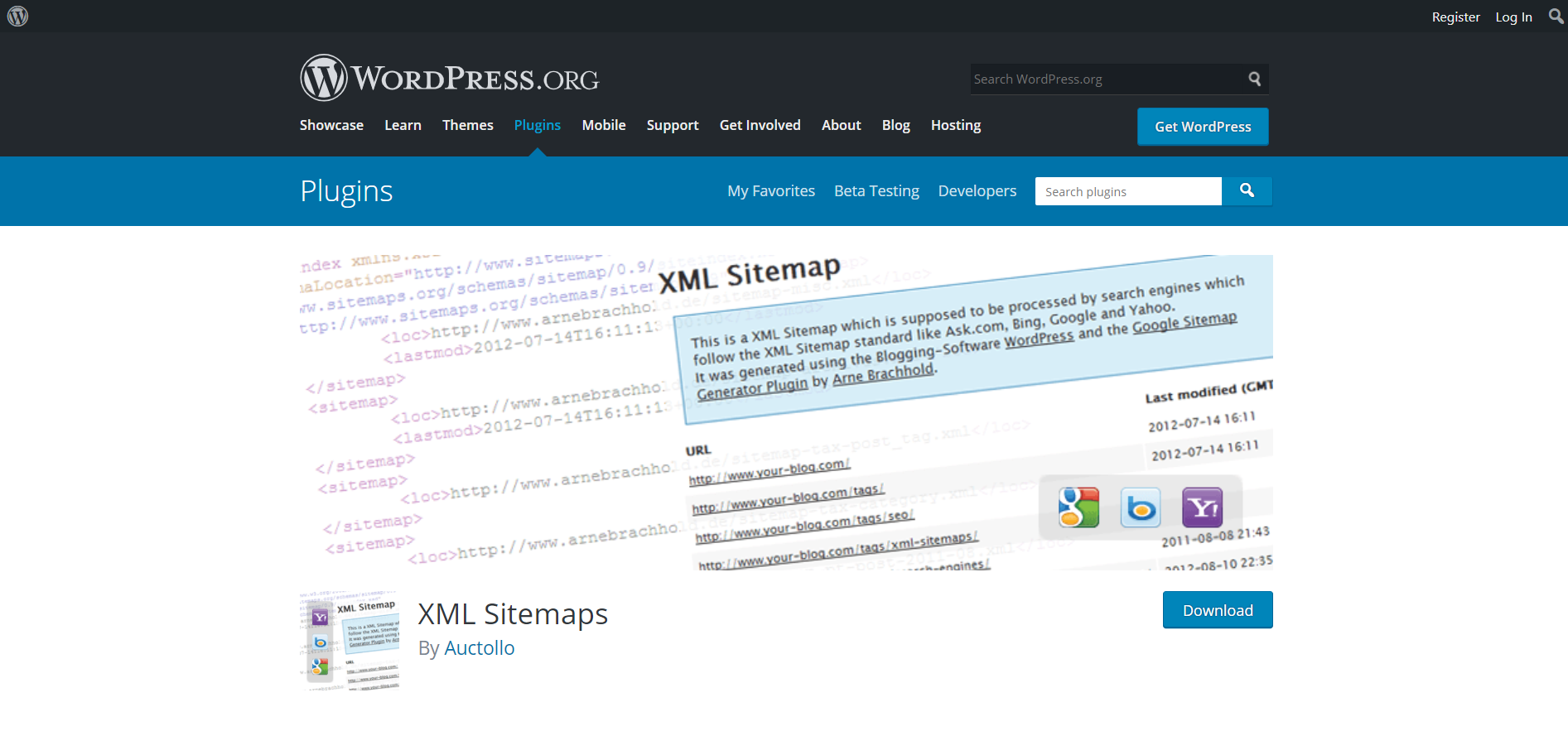 Google XML Sitemaps Features
Automatically generates a sitemap for your WordPress site
Supports all kinds of WordPress generated pages and custom URLs
Notifies all major search engines whenever you create a new post or page
Pros:
Provides Sitemap Generation
Open Source
Compatible with Various Versions of WordPress
Cons:
Plugin doesn't Explicitly Mention Support for Schema Markup
Configuration might be challenging
Price:This plugin is completely free for all users.
11. WP Mail SMTP
WP Mail SMTP by WPForms is the best WordPress SMTP plugin. It fixes your email deliverability by reconfiguring WordPress to use a proper SMTP provider. This results in your emails being delivered straight to inboxes, rather than getting caught in spam filters.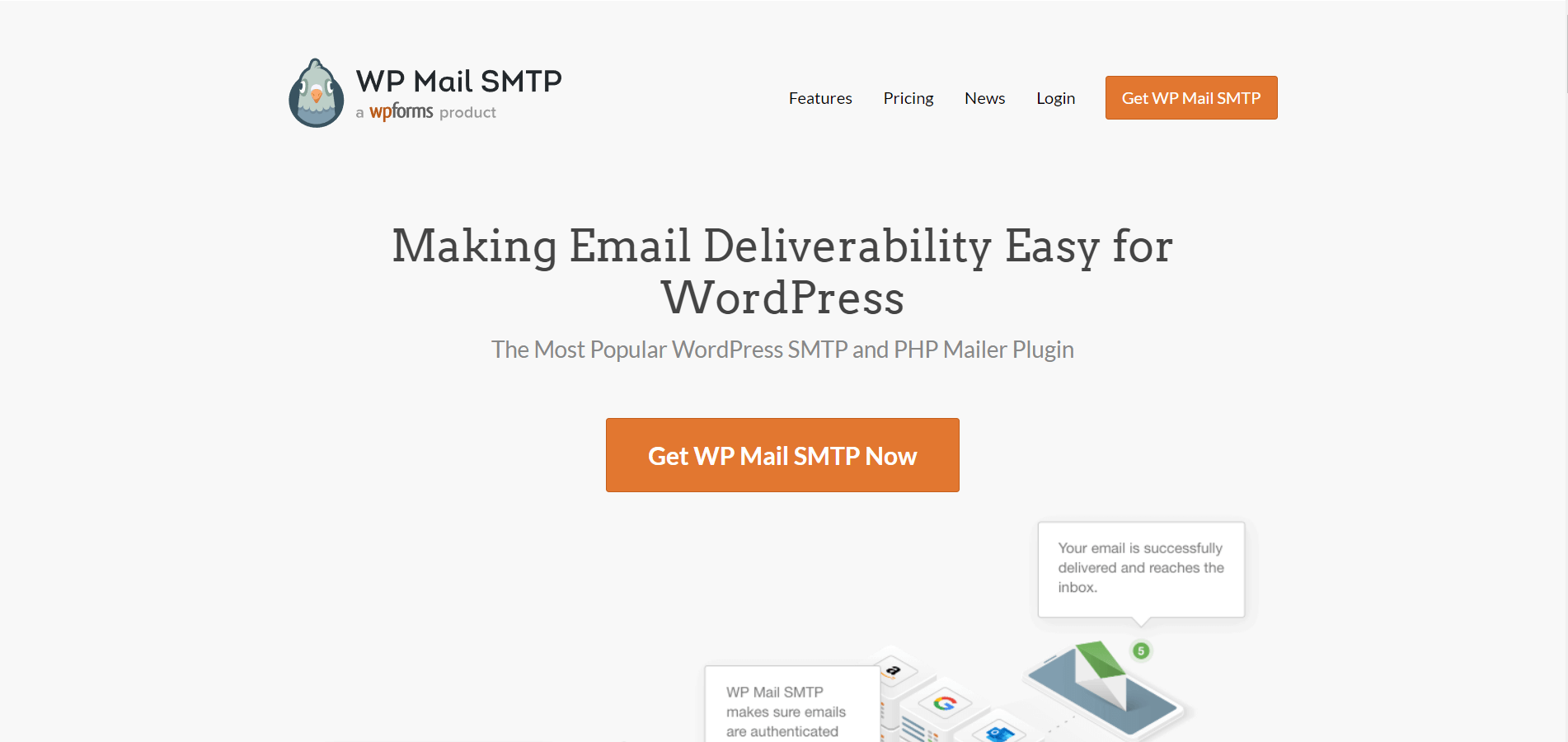 WP Mail SMTP Features
Easily connect to any SMTP service like Gmail, Mailgun, SendGrid, or Amazon SES.
Schedule Email Delivery: You can now choose the best time to send your emails. This is perfect for sites that have a lot of international users.
Logs: Track email delivery with detailed logs and see if there were any issues.
Form Notifications: Connect forms created with WPForms, so you never miss a lead or customer inquiry.
Easy Installation and Setup: It takes less than two minutes to install and set up. No technical knowledge is required.
Supports SSL/TLS Connection: Choose between an encrypted SSL or TLS connection for added security.
Pros:
Offers Open and Click-Through Tracking
Enables You To Send Emails More Securely
Cons:
Initial Setup May Require Technical Knowledge
It doesn't Cover All Aspects of Email Marketing,
Price:
Pro: $49/annually
Business: $99/annually
Developer: $199/annually
Agency: $399/annually
12. Smush Image Compression and Optimization
It's critical to optimize each image file on your web. Manually doing this for each picture, on the other hand, can be a time-consuming and tedious process. This plugin automatically compresses and optimizes your files. Smush is an image optimization plugin that can help you out by compressing images around your web automatically. Our website will load quickly for users if you use compressed files.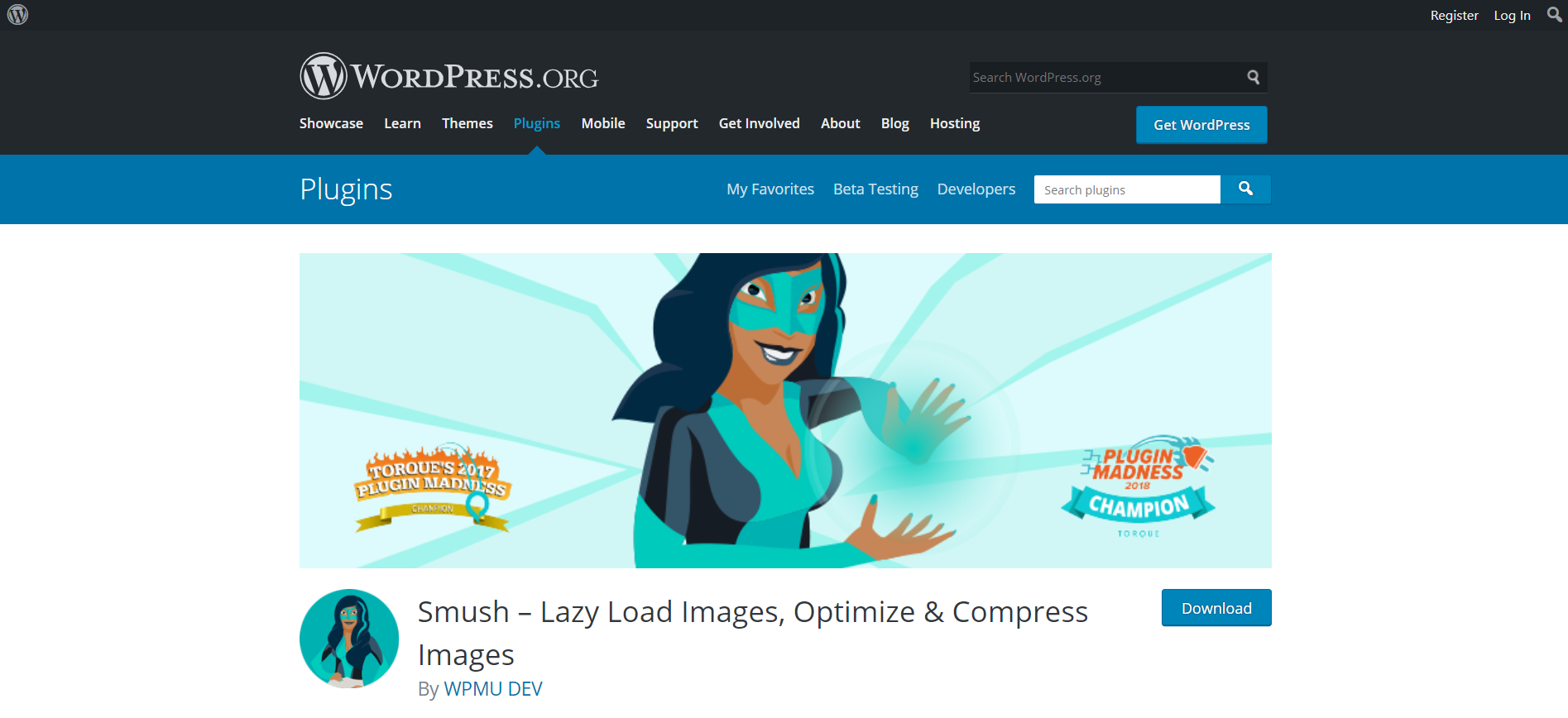 Smush Image Compression and Optimization Features
Compress all images with lossless compression
Process JPEG, GIF, and PNG image files
Bulk smush option to optimize a large number of files at once
Automatically compress new images that are added to your website
Resize large image files
Pros:
Provides different compression levels
Making it convenient To Enhance The Performance Entire Media Library
Cons:
Dependency on WPMU DEV Servers
Might Raise Privacy Concerns for Some Users
Price:
Smush Pro: $3/monthly (24/7/365 expert live support)
13. Simple SSL
The Google Chrome browser penalizes HTTP pages by informing Internet users that they surf an insecure website. Knowing that Chrome is used by 46% of people in the United States (as of January 2021), you can see why switching to HTTPS is essential. TTPS is a protocol that appears at the start of your URLs. Guarantees that any data you send to a website is encrypted, which increases your site security. You can install HTTPS manually, but it is not a simple task for a novice. For more details, see our blog post.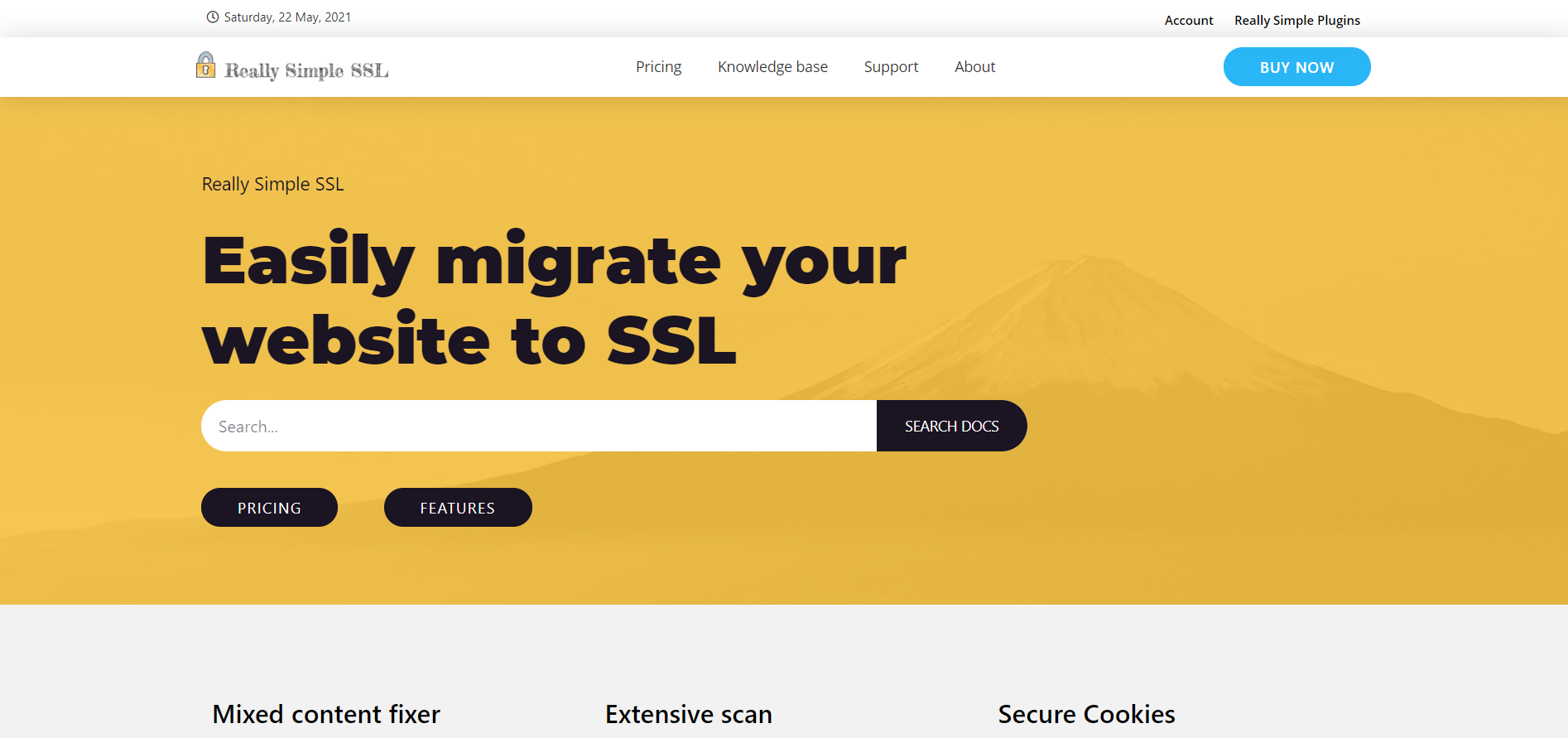 We suggest a very Simple SSL for your security. Automatically detects your settings and configures your website to run over HTTPS," according to the plugin. It's easy to use, and all are completed with a single click.
Very Simple SSL is especially helpful when dealing with mixed content. When a site transitions from HTTP to HTTPS, some of its resources (images, CSS files, JavaScript, and so on) will still load in HTTP rather than HTTPS; furthermore, the page will not be entirely stable.
Simple SSL Features
Automatically detects your settings and configures your website to run over HTTPS.
Easy to use, with a single click.
Especially helpful when dealing with mixed content.
Fixes insecure content on your WordPress site without having to edit any code.
Redirects all incoming traffic from your site's non-secure (HTTTP) version to the secure (HTTPS) version.
Keeps search engine rankings by avoiding duplicate content penalties.
Pros:
Compatibility with Multiple Themes and Plugins
Improved Security
Helps To Implement Essential Security Headers
Cons:
Possible Conflicts with Other Plugins
No Direct SEO Benefits
Price:
Personal: $49/annually
Professional: $99/annually
Agency: $199/annually (Includes Multisite Plugin)
14. WP Rocket
WP Rocket is one of the most helpful WordPress caching plugins available. It helps you quickly increase your WordPress website's pace and efficiency without requiring technical knowledge.
It activates suggested WordPress caching features such as gzip compression, page caching, and cache pre-loading. O boost page load times, even more, you can enable optional features like lazy loading images, CDN support, DNS prefetching, minification, and more.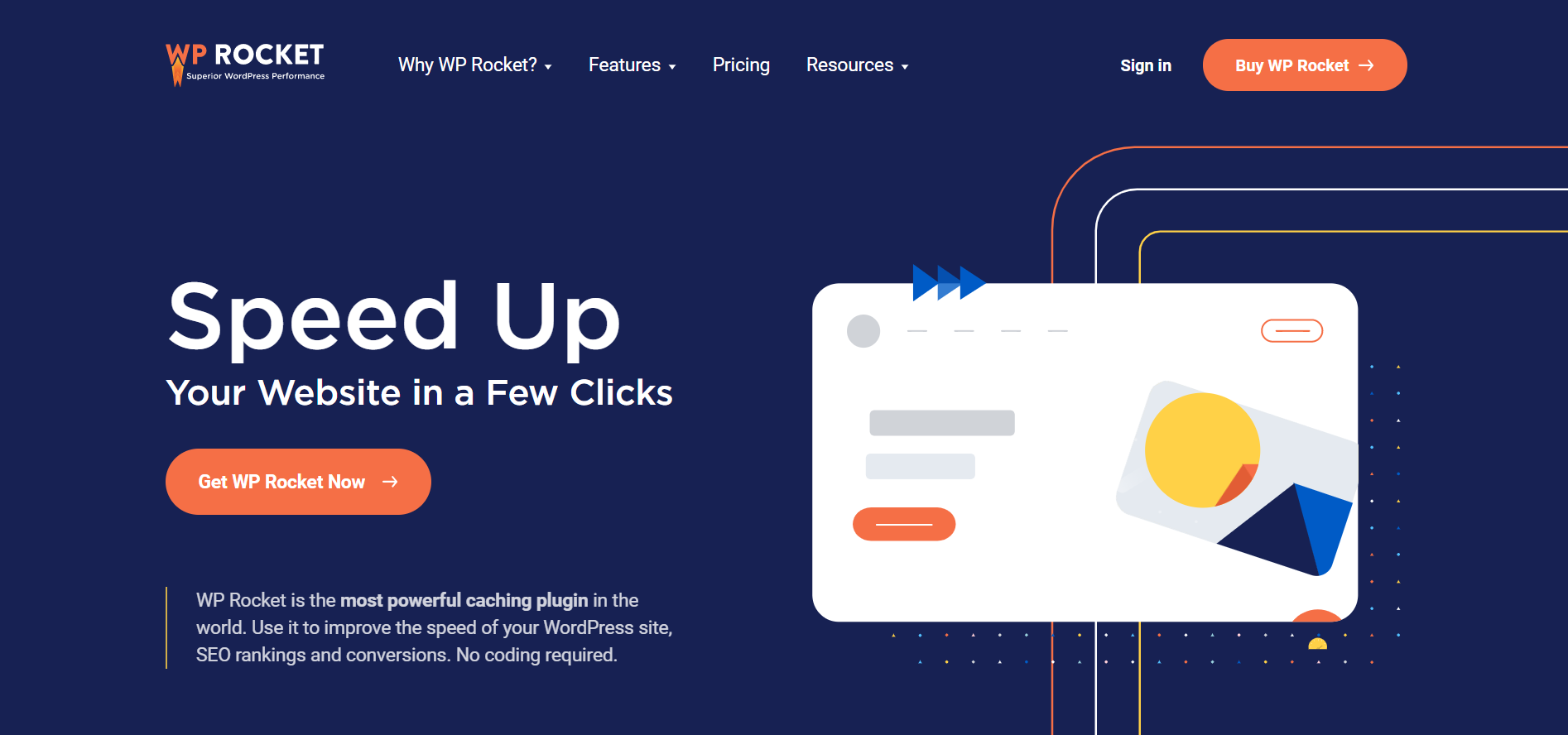 WP Rocket does not save pages in the cache until requested. It automatically crawls and builds your website cache, resulting in an immediate performance boost.
WP Rocket also includes Imagify, a free image optimization tool that can help your website load even faster.
This is by far the most user-friendly and beginner-friendly caching plugin available. The only drawback is that it is a paid-only service.
WP Rocket Features:
Cache pre-loading
Gzip compression
Page caching
Browser caching
Lazy loading images
CDN support
DNS prefetching
Minification
Pros:
Easy Setup Process
Optimized To Improve Important Metrics for Search Engine Ranking and User Satisfaction
Recommended by WordPress Experts
Cons:
No Trial or Demo
No Opportunity for Instant Customer Support via Chat.
Price:
Single: $59/year
Plus: $119/year
Infinite: $299/year
15. Rank Math
Rank Math is new to the SEO plugins scene, but it has quickly established itself. Rank Math uses a game-like algorithm to help you optimize your content for search engines, as the name suggests. On a scale of 0-100, each post is ranked according to its degree of optimization.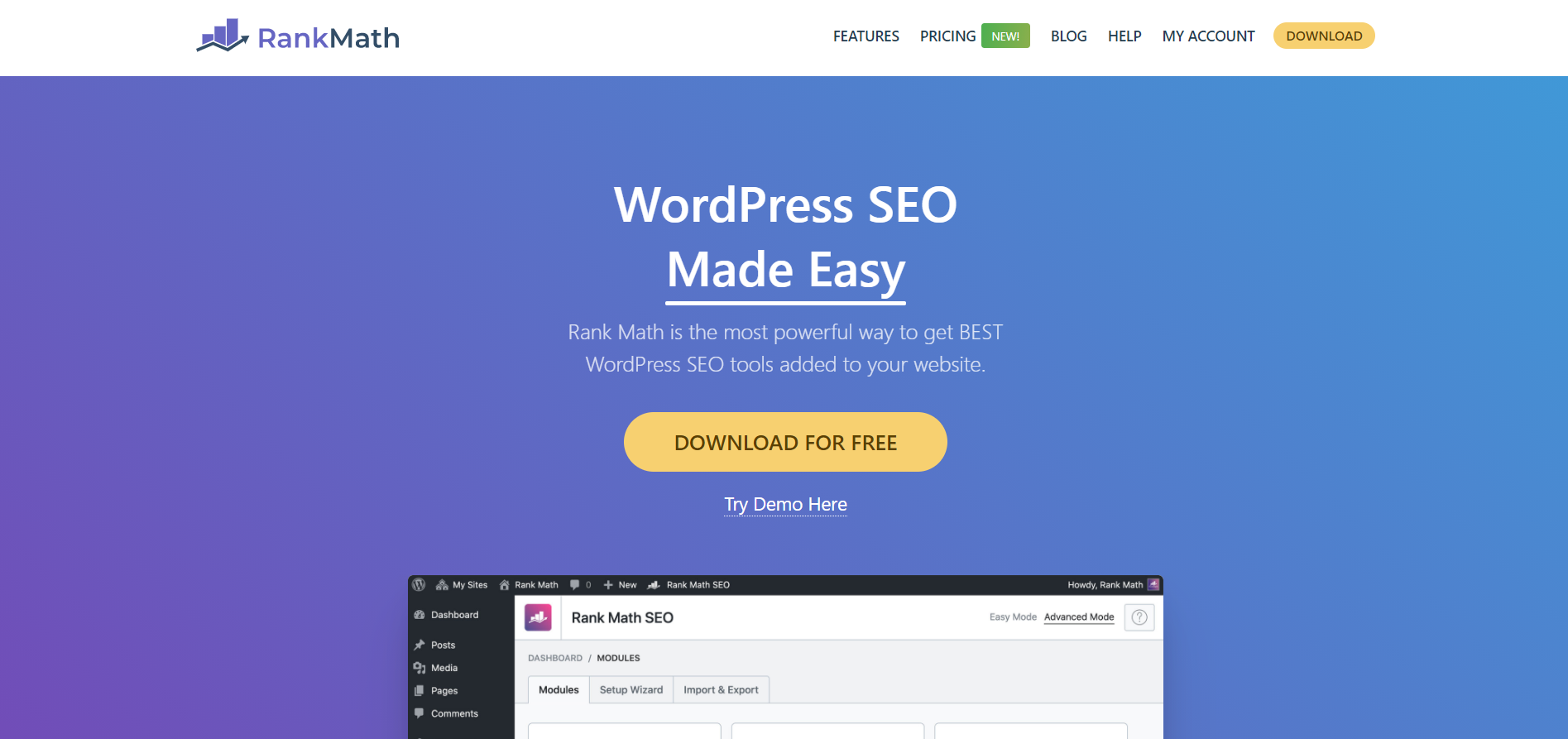 Aside from that, the plugin includes built-in SEO modules that you can enable or disable depending on your needs. Rank Math will help you with local SEO, WooCommerce SEO, picture SEO, and more, as well as integrate your site with Search Console.
Rank Math Features:
100 point SEO optimization score
Built-in SEO modules
Local SEO, WooCommerce SEO, picture SEO, etc.
Search Console integration
Pros:
Collection of SEO Metrics and Data
Excellent Page SEO Optimization
Effective Social Media Integration
Cons:
Might be overwhelming for inexperienced users
The clarity of some visual elements can be lacking
Price:
Pro: $69/annually
Business: $229/annually
Agency: $549/annually
16. OptinMonster
OptinMonster is a powerful plugin that allows you to create beautiful opt-in forms and popups. It comes with a wide range of features, including A/B testing, which helps you optimize your forms for conversion.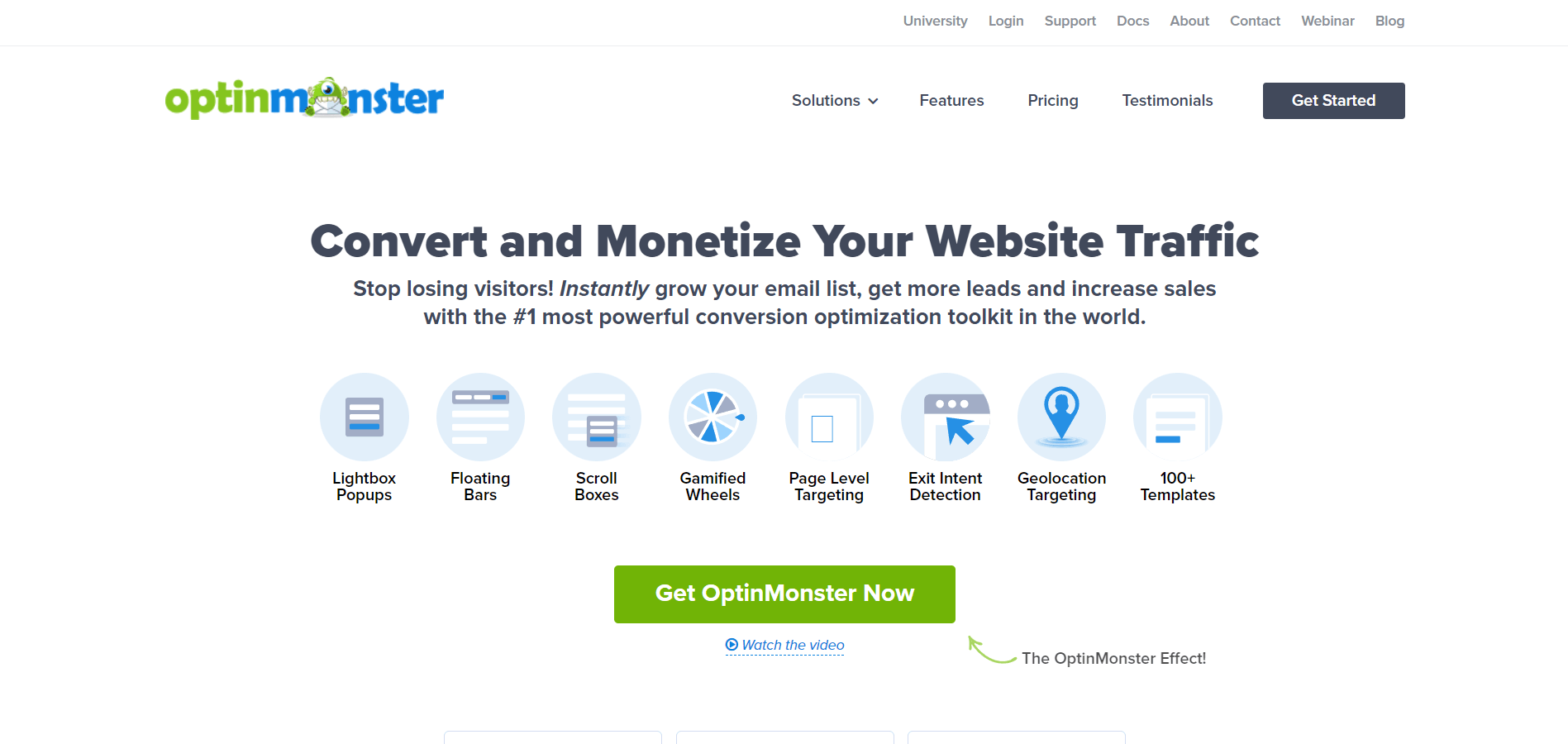 OptinMonster Features
A/B Testing
Geotargeting
Exit Intent Technology
Onsite Retargeting
Page Level Targeting
Referrer Detection
Advanced Analytics & Reporting
Pros:
Powerful Conversion Tools
Easy Setup
Provides Robust Targeting and Segmentation Options
Cons:
Needs Constant Optimization
Might Be Expensive for Some Users
Price:
Basic: $9/billed annually
Plus: $19/billed annually
Pro: $29/billed annually
Growth: $49/billed annually
17. Wordfence Security
WordPress is one of the highly used platforms, and it is also the most commonly hacked platform. WordPress is a high-profile target, but that doesn't mean we can't reduce the risks and keep attackers at bay. This is where Wordfence comes in – it's the best WordPress security plugin.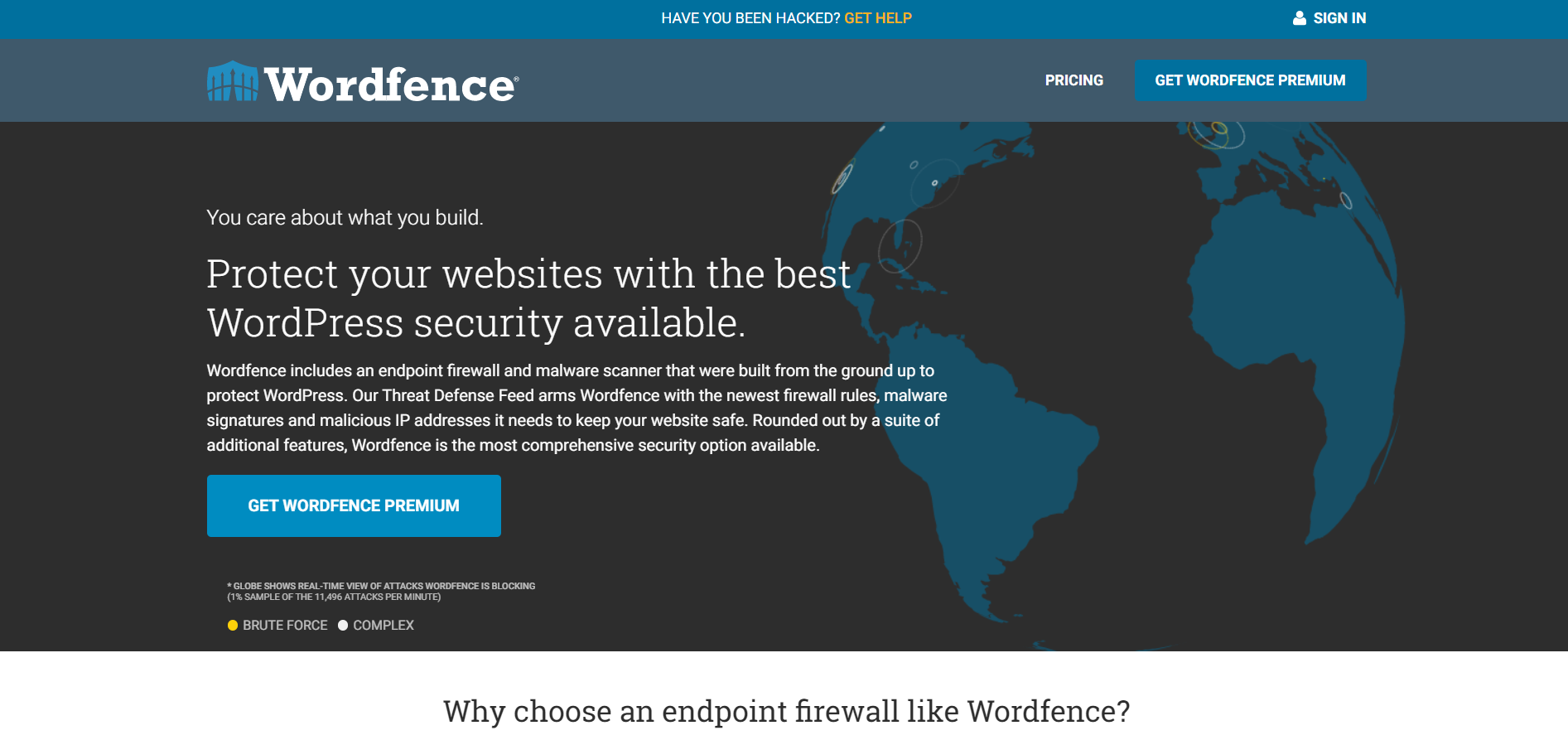 Wordfence can take care of many things for your WordPress safe, and it does most of it on autopilot. First, it installs a firewall to protect your site from widespread attacks such as login break-ins. Then there are security tests that you can run to make your site even more attack-proof. It will also protect your WordPress users by removing malware.
Wordfence Security Features
Firewall
Security Tests
Malware Removal
Pros:
Allows for Centralized Security Event Monitoring and Template-Based Security Configuration Management
Offers Real-Time Updates To Protection and Detection Rules
Offers a Range of Security Features
Cons:
Might Require Some Technical Knowledge
Updates Might Conflict with Other Plugins or Themes, Leading To Compatibility Issues
Price:
Wordfence Premium: $119/per year
Wordfence Care: $490/per year
Wordfence Response: $950/per year
Bonus Plugin
Booknetic
Booknetic, an online appointment booking plugin, is our bonus plugin. You might own a beauty or nail salon, a clinic, or a fitness center, and you want your clients to book appointments online. Then our plugin is a must-have for your website. The features of Booknetic will assist you in managing the entire booking process. Try our demo version.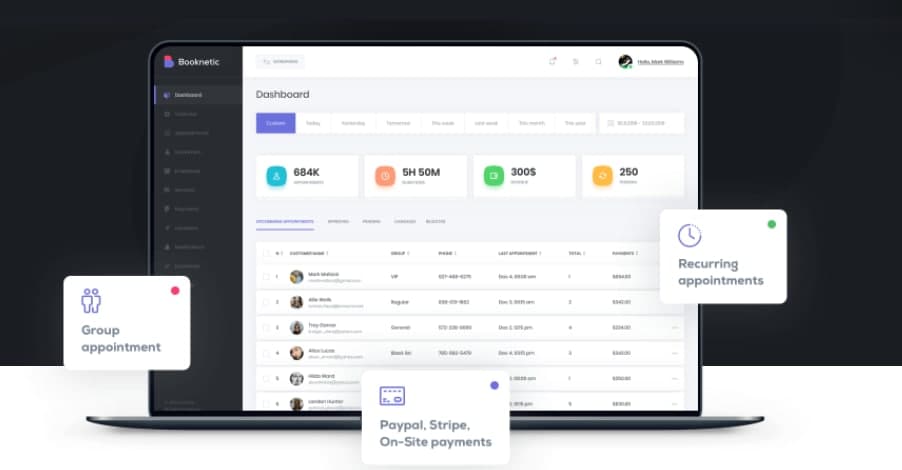 Conclusion
It's almost impossible to run a WordPress website without using plugins to add features. If you want to engage users via email opt-in forms, add social networking buttons, compress photos to increase website speed, or optimize your content to ranking, you have to use plugins.
Plugins enhance the user experience, resulting in increased interaction and a greater chance of attracting a larger audience.
If you're unsure which plugins to install first, these well-known and must-have WordPress plugins will get you started.
Sign up for our newsletter
Be the first to know about releases and industry news and insights.
Let's

get started

on something great
Booknetic is a simple yet powerful plugin for accepting online bookings & payments on your WordPress site.