10 Best WordPress Google Analytics plugins to try in 2023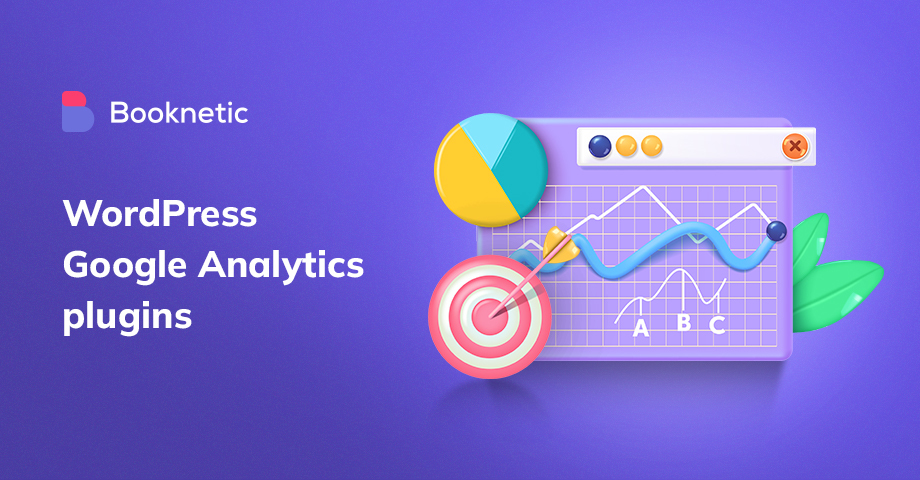 When you are just starting out, managing a website may seem easy and straightforward. But there are many topics that you have to pay attention to if you want to have a successful website. One of which is analytics.
Finding information about website analytics is child's play thanks to Google Analytics. But understanding and utilizing this powerful tool can, sometimes, be hard to accomplish. In this blog, we will talk about Google Analytics, why it is useful and several WordPress Google Analytics plugins which can link your website to Google Analytics to make it even more useful.
What is Google Analytics?
Google Analytics is an extremely useful tool that lets you measure almost all the activity on your website. It is developed by Google and it is completely free of charge. With this tool, you can measure the bounce rate, how much time users spend on your website, which parts of your website the user engage with most and many others.
Why is Google Analytics useful?
Google Analytics provides you with the most important resource on the web, information. Information can be quite useful for managers who are looking for answers to why a website is underperforming. Google Analytics collects and reports data in many categories, it also has a lot of features and suggestions to develop your website even more.
Using these features you can measure how your site ranks in organic search results, how your marketing campaigns are going and how much traffic you got from pay-per-click ads.
10 Best WordPress Google Analytics Plugins
Booknetic
1) Monsterinsigths
2) Analytify
3) GA Google Analytics
4) Google Site Kit
5) Analytics Cat
6) Exactmetrics
7) WP Google Analytics events
8) WooCommerce Google Analytics
9) WP Statistics
10) Conversios.os
Booknetic is an automated WordPress appointment booking plugin. At face, it might not seem like this plugin offers much functionality with Google Analytics. However, thanks to its Conversion tracking feature, you can get invaluable data about your bookings and reservations.
By creating triggers in the booking panel, you can track and analyze each action your customers take in your appointment booking panel. It is particularly useful if you seem to have problems in a certain part of your sales funnel.
In addition to Google Analytics, Conversion tracking also integrates with Google Tag Manager, where you track actions in the platform as well. If you have other analytics like Facebook Pixel integrated into Google Tag Manager, you will be indirectly interested in them as well.
General triggers you can set with conversion tracking are:
Booking Panel loaded
Location selected
Service selected
Staff selected
Date selected
Time Selected
Information steps complete
Booking completed (Local payment method)
Booking completed with payment
Payment error
With this information, you can learn about your overall user experience and develop a better design to guide users to the end goal of making a sale.
If you are operating on a booking-based business model, Booknetic will be an exceptional tool for you.
Price:$79 for a one-time deal
1. MonsterInsights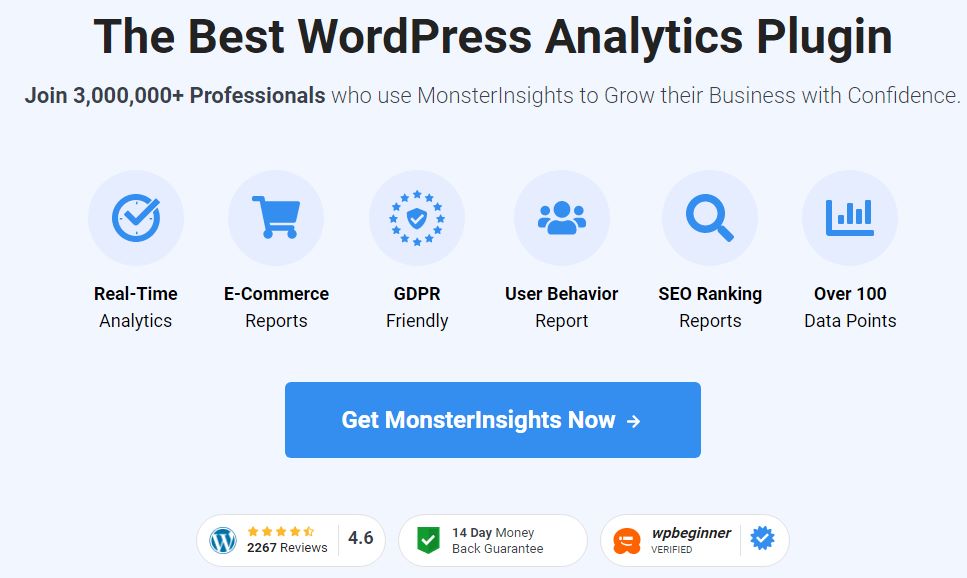 MonsterInsights is one of the most comprehensive WordPress Google Analytics plugins that provide you with any data and report you can imagine as a website owner. You do not need to write or know any code to install it on your website, MonsterInsights handles it automatically. With its broad and useful features, it is clear why it is the most popular Google Analytics WordPress plugin.
Features:
Universal tracking to know how the users found your website, which keywords they searched for
Tag and keyword tracking to learn which topics are the most engaging for visitors
eCommerce tracking, report and integration with big players such as WooCommerce
Affiliate and outbound link tracking
Analytics overviews that shows the most important details from Google Analytics
Weekly email summaries about crucial metrics on your website
Real-time report to watch what visitors of your website are doing in real-time
Content and author tracking for multi-author websites and bloggers
Contextual insights to get more out of your website
Pros:
Broad feature list
Extremely detailed information
Easy installation
Cons:
Too expensive
No individual statistics on separate content
Price: $99.50/Year for Plus, $199.50/Year for Pro plan
2. Analytify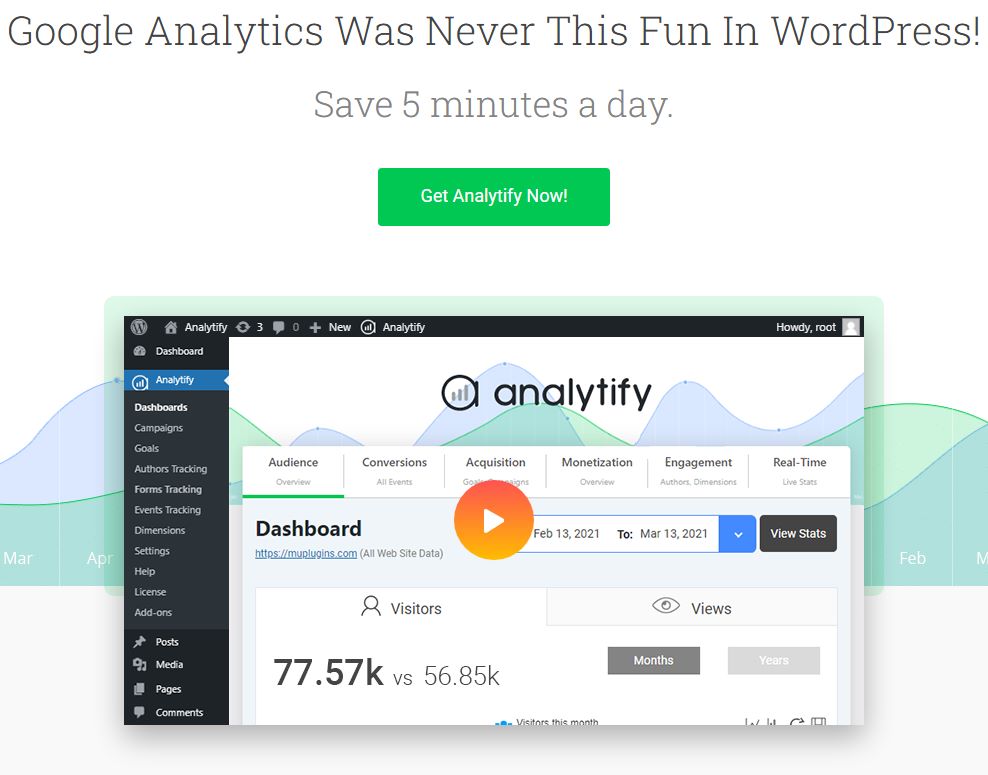 Analytify is another great WordPress plugin with Google Analytics that offers great functionality for your website. Just like the previous plugin MonsterInsights, this plugin doesn't require any code on your part as a 1-click installation of Analytify handles all of the tedious stuff on your behalf.
This particular WordPress Google Analytics plugin is extremely useful if your website offers a lot of eCommerce functionality as its main focus is on eCommerce tracking and reports. Thanks to its enhanced eCommerce tracking feature, you can see what products people added to their carts, how long they stayed in their carts when they removed them and if they added another product before removing them.
Features:
Enhanced eCommerce tracking
Real-time tracking to know what each visitor is doing at any given time
Social media statistics to measure how much traffic you are getting from ad campaigns
Shortcodes to easily customize your website
Weekly email reports that include all the important metrics
Tracking for individual pieces of content on your website
Geotracking to see where your content generates from
Pros:
1-click installation
eCommerce focused
Easy to understand
Cons:
Lacking features in free version
Bugs and known errors
Price: $99/Year for pro plan, $199/Year for conversion plan
3. GA Google Analytics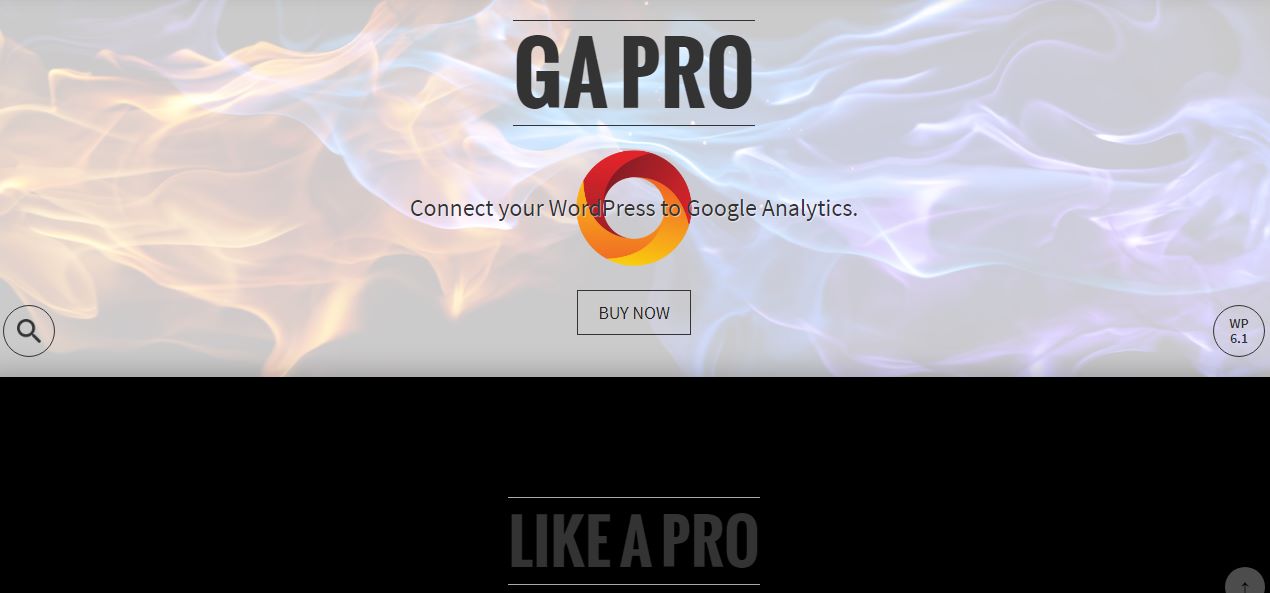 What makes this Google analytics plugin for WordPress unique is the fact that it doesn't overwhelm you with a lot of features. You get just what you need. This plugin adds Google Analytics tracking code (code that enables Google Analytics to work) to every page of your website, so you can track the performance of each page individually if you want to.
You also can choose who to track and when to track. With a lot of customization options, you can give your user the ability to opt-out of tracking altogether, which is a distinct feature that creates trust in your user.
As this plugin prioritizes ease of use and lightweight design, it does not take much space on your website and runs smoothly. The developer of this plugin is a security expert with over 15 years of experience in developing WordPress plugins, so you can trust his work.
Features:
Universal Analytics and Global Site Tag support
Custom tracking object support
Google Analytics 4 support
Ability to disable all sorts of tracking features offered by Google Analytics
Custom tracking code adaptation
Pros:
Secure and fast
Cheaper than its competitors with a great free version
Broad customization options
Free version is pretty good
Cons:
Limited functionality
No exclusive dashboard
Price: $25 single payment for one site, $15/Year for one site
4. Google Site Kit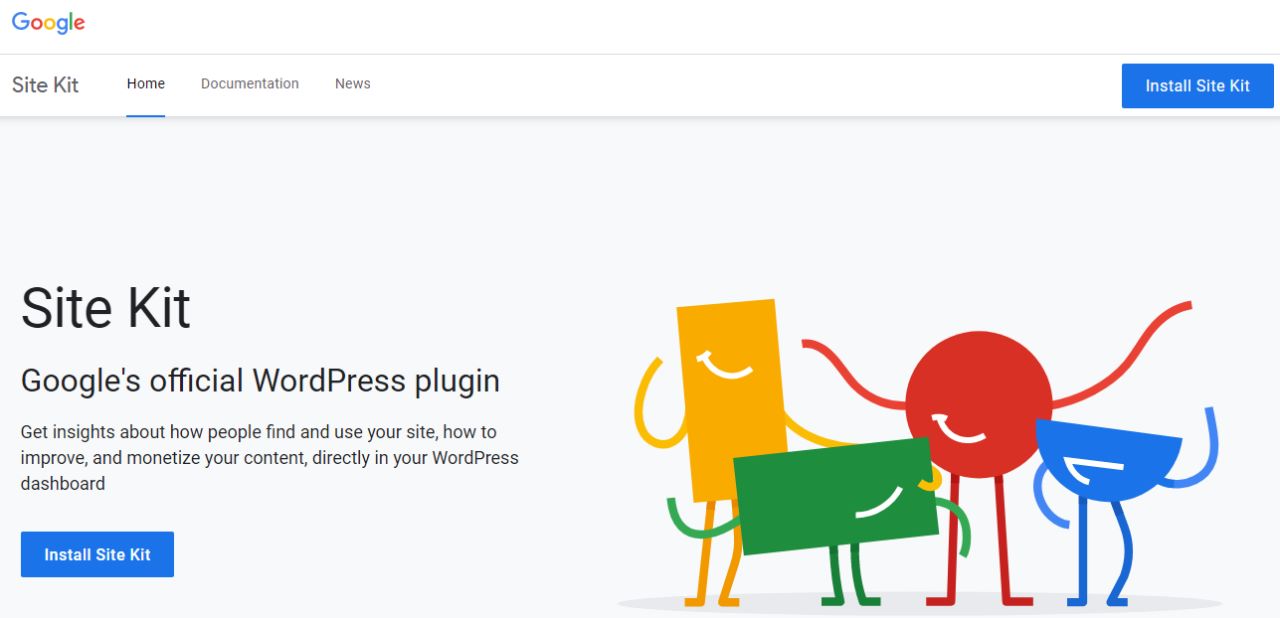 Google Analytics WordPress plugins can add a great deal of value to your business. Google's official Google Site Kit plugin can add even more value!
There is not much to say about this plugin except that it is developed by Google and is easy to use. You do not need to know any code to install it and combine it with other Google tools. You can see Google Analytics, Search Console, Page Insights and Adsense from the same place thanks to this WordPress Google Analytics plugin.
Although it doesn't have much functionality to offer, looking at its development history we can see that it is constantly growing with many features being added in every new update. So choosing Google Site Kit to use on your website is an investment in future usability. It is also completely free and open source and Google intends to keep it that way.
Features:
Integration with Google services
Ability to disconnect any Google feature you don't want on your website
Easy to understand and comprehensive documentation
Broad and helpful community
Tag manager
Troubleshooting tool to help you fix problems yourself
Pros:
Officially developed by Google
Open-source and free
Fast and lightweight
Cons:
Limited functionality and no support for forms and eCommerce tracking
Price: Free
5. Analytics Cat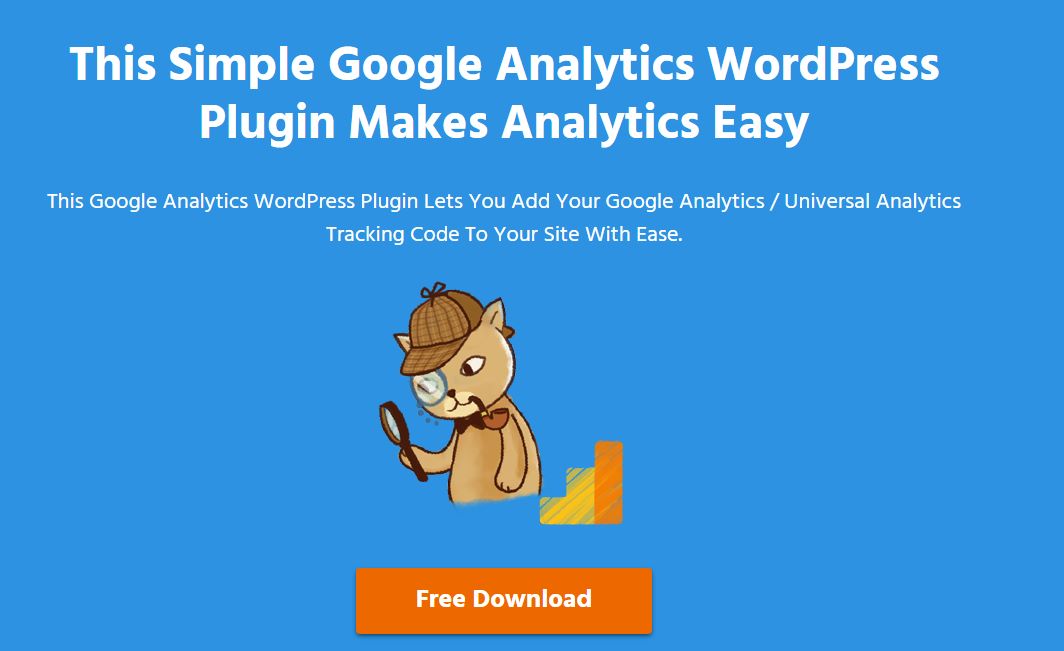 This plugin is among the top-rated Google Analytics WordPress plugins. It doesn't slow down your website and adds tracking features to your website. You can also disable tracking for logged-in users to get useful data about visitors to your site. With this separation feature, you can measure how many visitors turn into actual users on your website.
This plugin is also open-source and completely free, just like Google Site Kit. As it is lightweight, it works at incredible speeds and saves you a lot of time.
Features:
Shutting down tracking for logged-in users
Simple installation and bloatware-free design
Universal Tracking and Google Analytics support
Easy translation into different languages
Pros:
Open-source and free
Lightweight
Simple to use, no learning required to use
Cons:
Limited functionality
No dashboard support
Price: Free
6. Exactmetrics

Exactmetrics is another popular software among WordPress plugins with the Google Analytics field. It is one of the most downloaded and used analytics plugins and offers tons of functionality. Exacmetrics has a 1-click installation process and easy integrations to check the important metrics for your website.
Thanks to its enhanced eCommerce support and WooCommerce integration you can manage your eCommerce platform with ease.
Features:
Real-time statistics to know what visitors are doing on your website
Google Optimize integration to A/B test your website and increase its speed
Weekly email summaries and content reports
Behaviour reports to learn how visitors found your website and where did they come from
eCommerce and forms report to learn more about your conversion statistics
Published content tracking to see which blogs are getting views from visitors
Wide array of integrations for forms and eCommerce
Pros:
Information rich reports
Beginner-friendly
Integrations with the top eCommerce and forms plugins
Analytics are shown in WordPress dashboard
Cons:
A little bit expensive
Can slow down your website sometimes
Price: $199/Year for plus plan, $399/Year for pro plan
7. WP Google Analytics Events

As a WordPress plugin with Google Analytics integration, WP Google Analytics Events offers plenty of options when customizing your website and setting up a tracking system. This plugin tracks data under a variety of categories and reports it in an easy-to-understand manner.
It is a highly advanced and comprehensive tool with support for scrolling tracking that shows how many people actually read your blog until the end or if they didn't where they stopped.
Features:
Event tracking for getting richer data
Ability to see what visitors are doing in real-time
Scroll tracking
CTA performance tracking
Forms integration
Link tracking
Pros:
Detailed tracking options
Lets you understand which information is important for visitors
Cons:
Can be hard to set up and use
No eCommerce integration
Unusual approach that can be unattractive to users of other options
Price: $79/Year for personal plan, $149/Year for business plan with 5 sites support, $199/Year for agency plan with 20 sites support
8. WooCommerce Google Analytics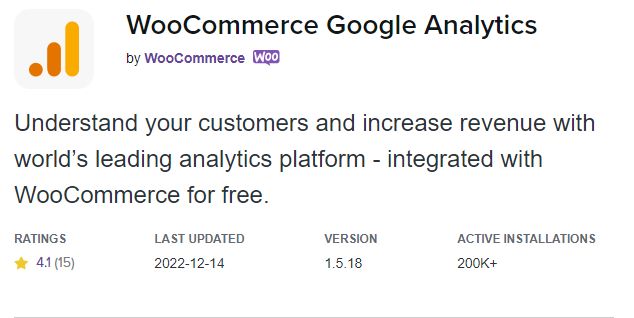 If you want to create a link between WooCommerce plugins and Google Analytics, but you don't trust third-party WordPress Google Analytics plugins, this option is for you. Before this plugin was a part of WooCommerce itself but after WooCommerce 2.1, it was separated and improved greatly.
Now, this Google Analytics plugin for WordPress is much more useful than before and it works seamlessly with WooCommerce itself.
Features:
Tracking code integration to your website
Display Advertising support
Enhanced eCommerce tracking with thank you and cart tracking
Channel analysis to know which of them are more successful
Shopping behavior and checkout behavior analysis
Advanced eCommerce report that details like payment methods customers used
Pros:
First party plugin
Extensive eCommerce features
Detailed reporting
Cons:
Free version lacks many features
No GA4 support
Price: $79/Year
9. WP Statistics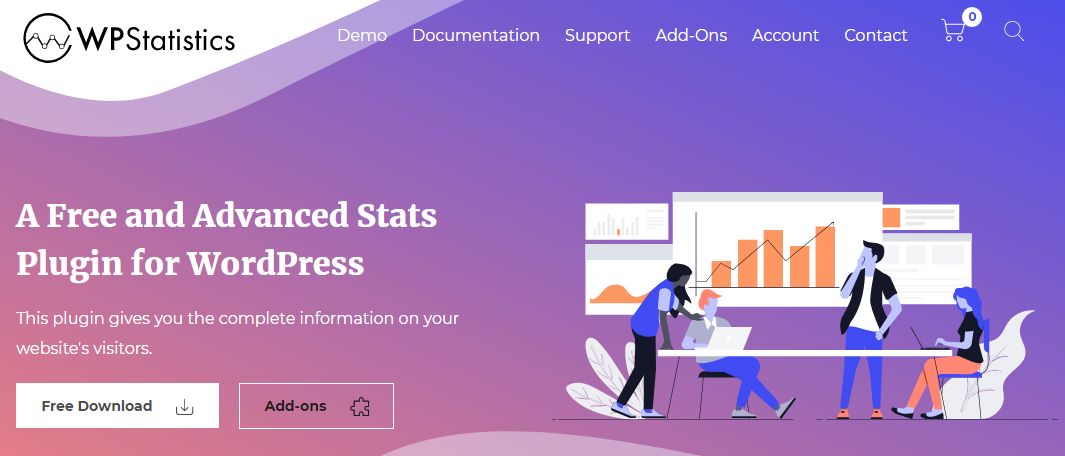 WP Statistics is a great option for beginners and people who want a completely private option to use. It is one of the most secure Google Analytics WordPress plugins with its strong privacy approach in data collection. Even though they don't collect data, you, as a website owner do collect under many categories.
You can look at real-time site data and see what visitors are doing, alongside geographical data and detailed visitor information. The best part about this plugin is that it is completely free to use.
Features:
Locally stores information
Geotracking
Keyword tracking
REST API support
Easy to understand graphs and visuals
Weekly status reports
Content tracking options
Pros:
Free to use
Beginner-friendly
Graphs are a pleasure to look at
Cons:
Limited functionality for eCommerce options
Price: Free, Add-ons starting at $99/Year
10. Conversios.os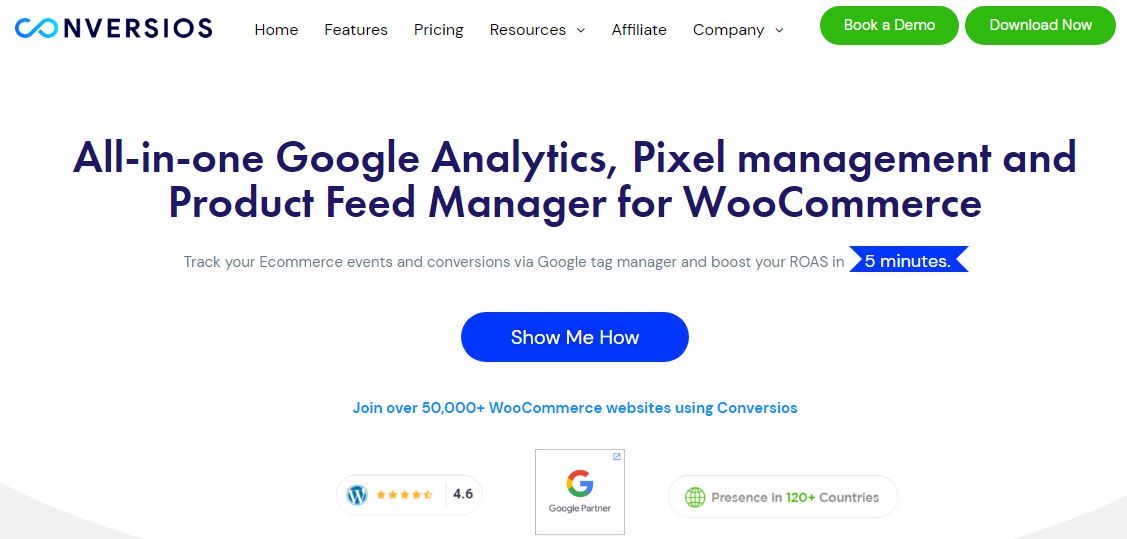 Conversios.os is one of the alternatives for WordPress plugins with Google Analytics that also offers a variety of eCommerce tracking options. With this powerful tool, you can track your campaigns in terms of eCommerce metrics.
This plugin goes into extreme detail to provide you with as much eCommerce detail as possible. As seen from the plugin's name, you get every metric that is slightly related to the conversion part of your business.
Features:
Ability to create automatic campaigns for your products
Google Shopping integration
Customer behavior tracking and sales funnel audit
Checkout behavior tracking
Active dashboard to manage all the important parts without going anywhere
Highly specialized eCommerce data reporting
Pros:
Seamless integration with WooCommerce
Let's you dive deep into eCommerce metrics
Great performance and ad tracking support
Cons:
Limited functionality in the free version
Lacks customization options
Price: $160/Year for single website
Bonus: 11. Matomo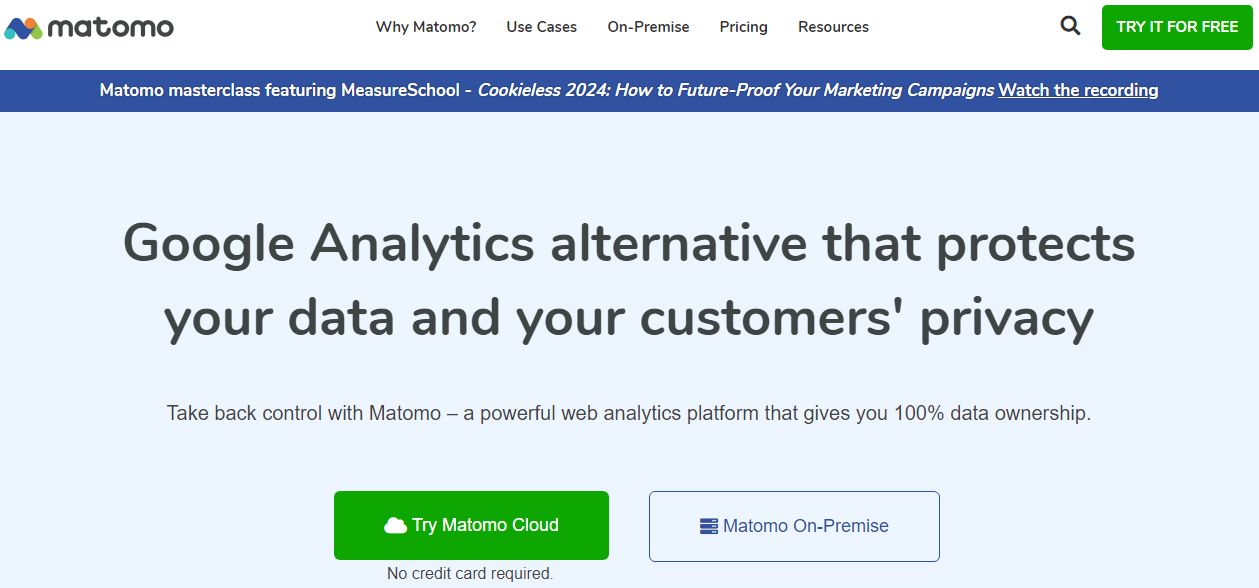 If you don't want to use Google's analytics features but still want to get important metrics to not fall behind the competition, Matomo is what you need. It offers all of the functionalities of Google Analytics with a much simpler process and easier learning curve.
Matomo also has a mobile app to access all the tracking features while on the go, which can save a lot of time for businesses. Matomo also puts the data back into its customers' hands thanks to its privacy policy.
Features:
eCommerce and transition tracking
Detailed visitor profile with heatmaps
Real-time stats and visitor tracking
Geotracking
Segmentation
Event, content and campaign tracking
Pros:
Alternative to Google Analytics
Privacy king
Mobile app to see on the go
Cons:
Free version is not beginner friendly
A lot of advanced features are locked behind a paywall
Costs and increase pretty fast
Price: Free, €19 per month for the simplest plan. Price increases as your site get more traffic.
Bottom line
Google Analytics is a great free tool that can help you boost your site traffic. Thanks to the WordPress Google Analytics plugins you can add this powerful tool to your WordPress sites as well.
Choosing one among all of the options can be hard and there is no one size fits all approach to applying in this situation. In any case, you should make a decision based on your specific needs and wants.
To help you even more we tried to include plugins that offer a free version that you can check before committing to one option. So, list your main needs, compare them with the plugins mentioned above and give them a shot with their free versions!
Sign up for our newsletter
Be the first to know about releases and industry news and insights.
Let's

get started

on something great
Booknetic is a simple yet powerful plugin for accepting online bookings & payments on your WordPress site.