Top 12 Wellness Booking Software to Automate Reservations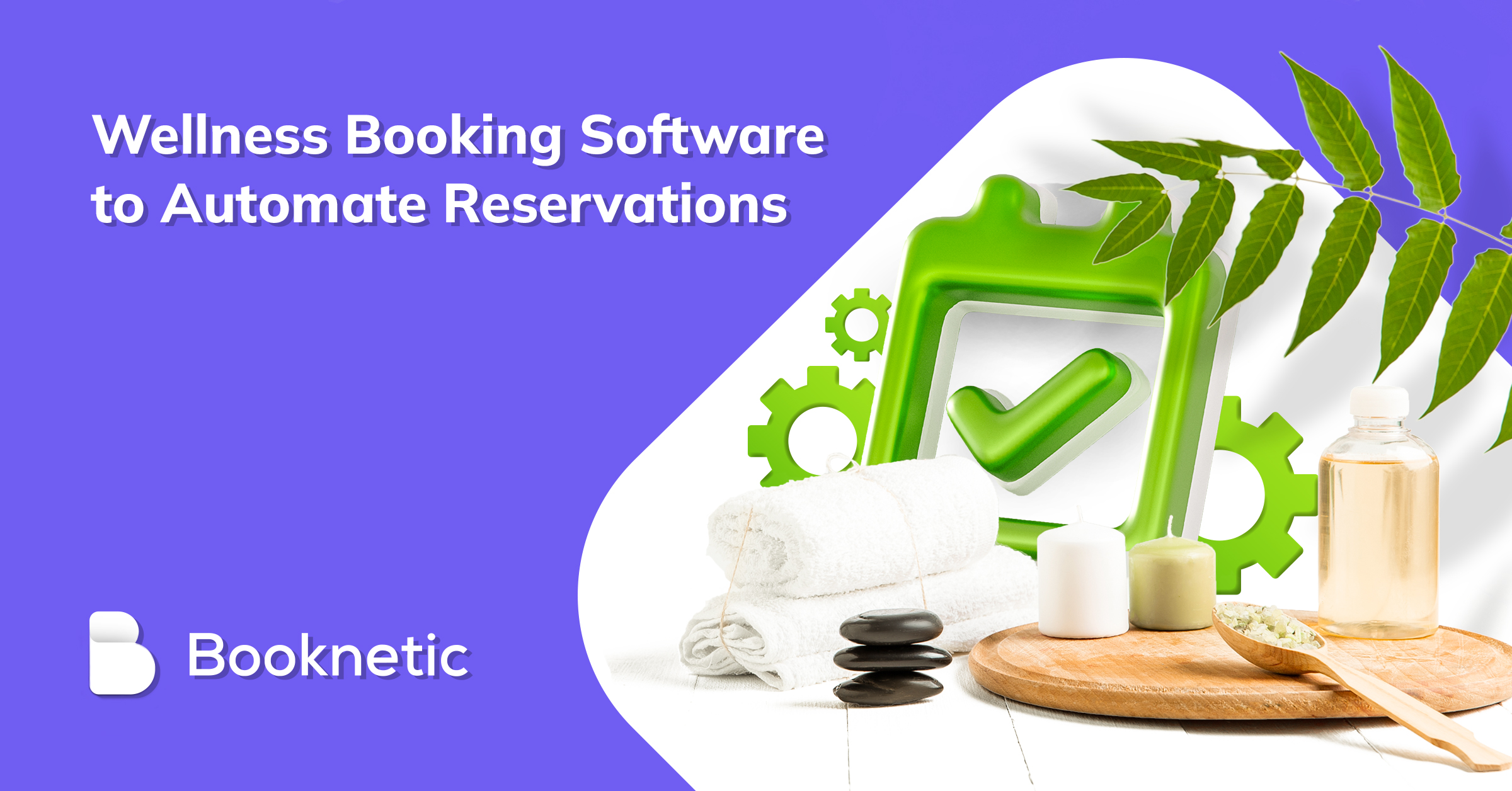 Reliable wellness booking software can uplift your booking experience and generate positive ROI. But finding such a tool may cost a lot of money and research. Read this blog to minimize the effort you'd spent otherwise.
What is wellness booking software?
Wellness booking software is built to meet the appointment needs of spas, resorts, or more specifically, wellness businesses. Offering a range of services causes trouble in managing the flow of bookings in traditional businesses. It gets especially difficult when these services have multiple locations or large customer databases.
Integrated booking systems, such as appointment, rental, event, and hotel booking systems, help to streamline the process of receiving online and mobile bookings, making it easier to manage them. With the help of the software's API, you can create a personalized and branded booking experience for your customers.
Wellness management software is often supplied with appointment booking, customer management, membership management, payment collection features. These help wellness businesses to maintain inventory, staff, and clients systems under the control of the same system.
This blog will list down the names of the best wellness appointment booking software with other wellness management features.
12 best wellness booking software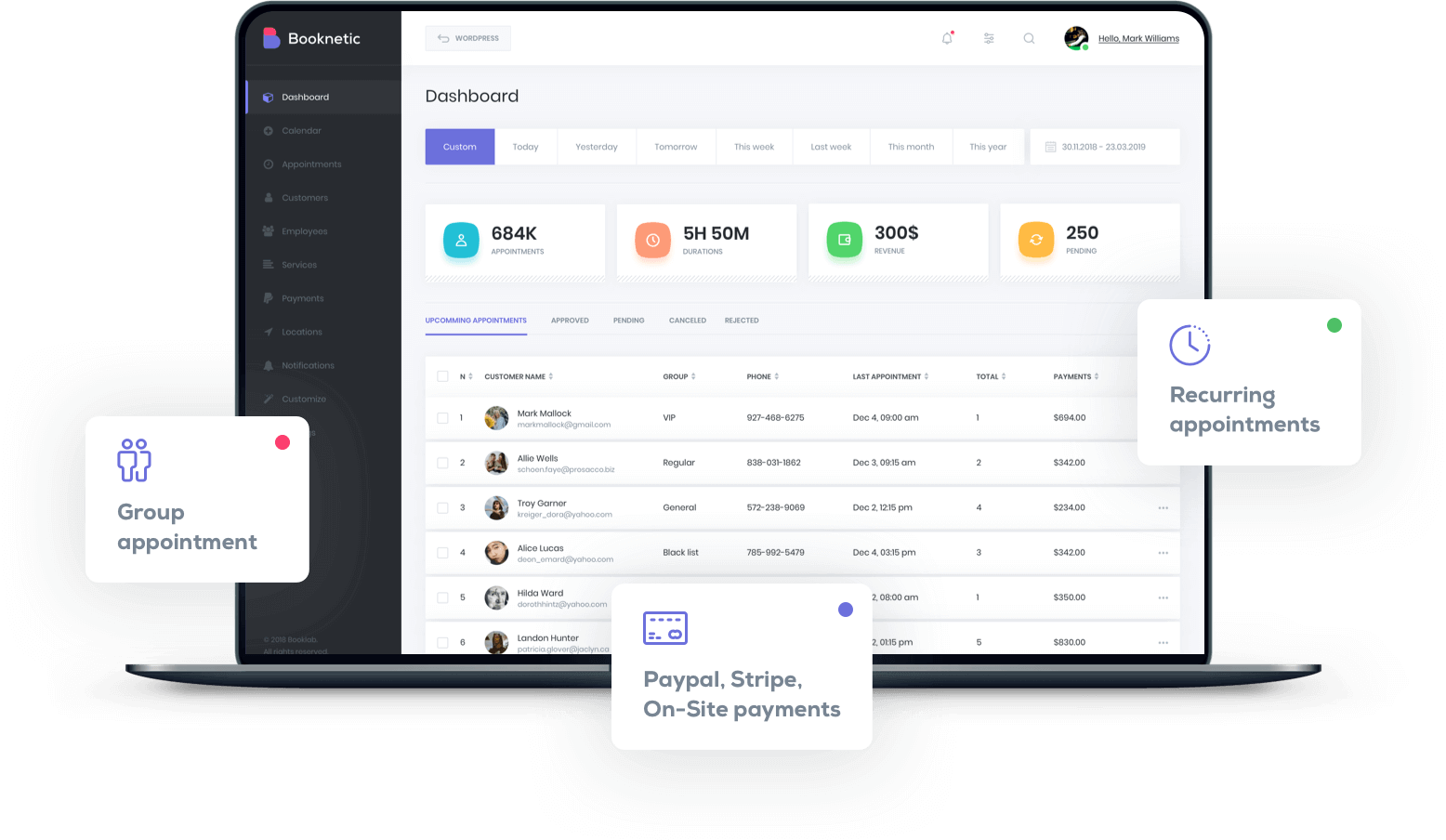 Booknetic is a multi-purpose WordPress appointment booking plugin for wellness, beauty, medical clinic, fitness, coaching, car repair services. Its extensive list of features allows users to streamline different management features from a WordPress admin.
Once installed, you can set up a booking calendar, add work hours, and block certain times for holidays or day offs. By connecting the booking calendar with Google Calendar, you can reflect events on both calendars and accept bookings for only available time slots.
You can also create coupon cards, gifts from the admin dashboard.
Zoom integration is a unique feature that lets you host virtual events or consultations for your wellness service. Booknetic has a comprehensive notification system where you can send automated reminders for any change within the appointment booking loop.
Payment integrations with the most secure and popular payment gateways allow you to accept online payments and charge upfront fees. This also helps to reduce cancellations and no-shows.
Price: Booknetic has two pricing options based on the control of the plugin. The Regular plan costs a $79 one-time payment for all features. While Booknetic SaaS costs $489 for one-time payments where you can create multiple booking vendors within your website. You can get Booknetic plans at Envato Market.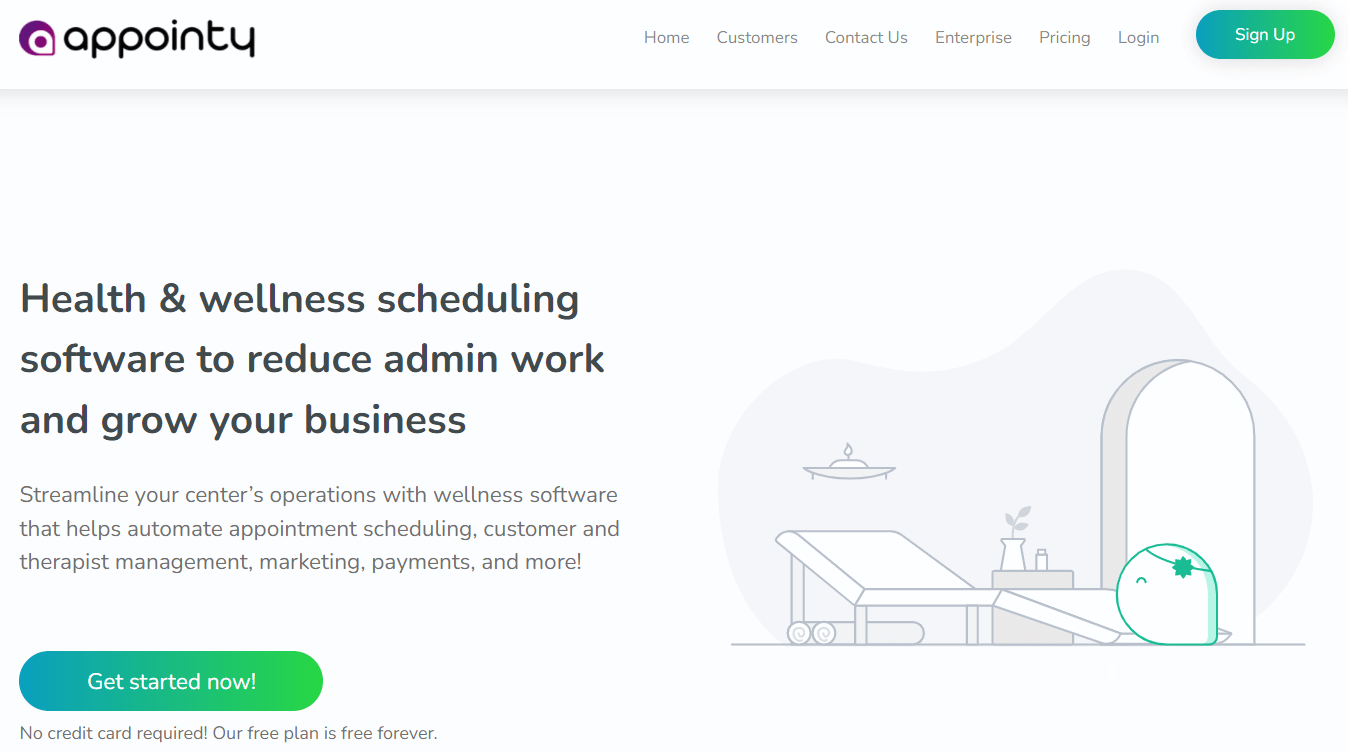 Appointy is an online scheduling software to automate scheduling. By automating payment and staff management, it lets wellness businesses grow their operations.
The software is compatible with all types of wellness businesses including nutrition, massage centers, yoga studios, speech therapy, life coaches, and more.
Apart from integrating into your website, Appointy has two other booking platform options. One is a Facebook sign-in process, where you can convert your Facebook page visitors into customers. And second is a unique sub-domain to create your won booking page. This is created for businesses that do not have a website.
In the booking calendar, you can set work hours, flexible time slots, recurring bookings, and back-to-back service bookings.
Google calendar sync, automatic notifications, and a fully-compatible mobile admin panel enable you to run your control your business on the go. While the dashboard provides analytics of ongoing operations and lets your compare reuslts with the previous period.
Price: Appointy has 4 pricing plans including a free option. The cheapest plan costs $20 for one staff with core features.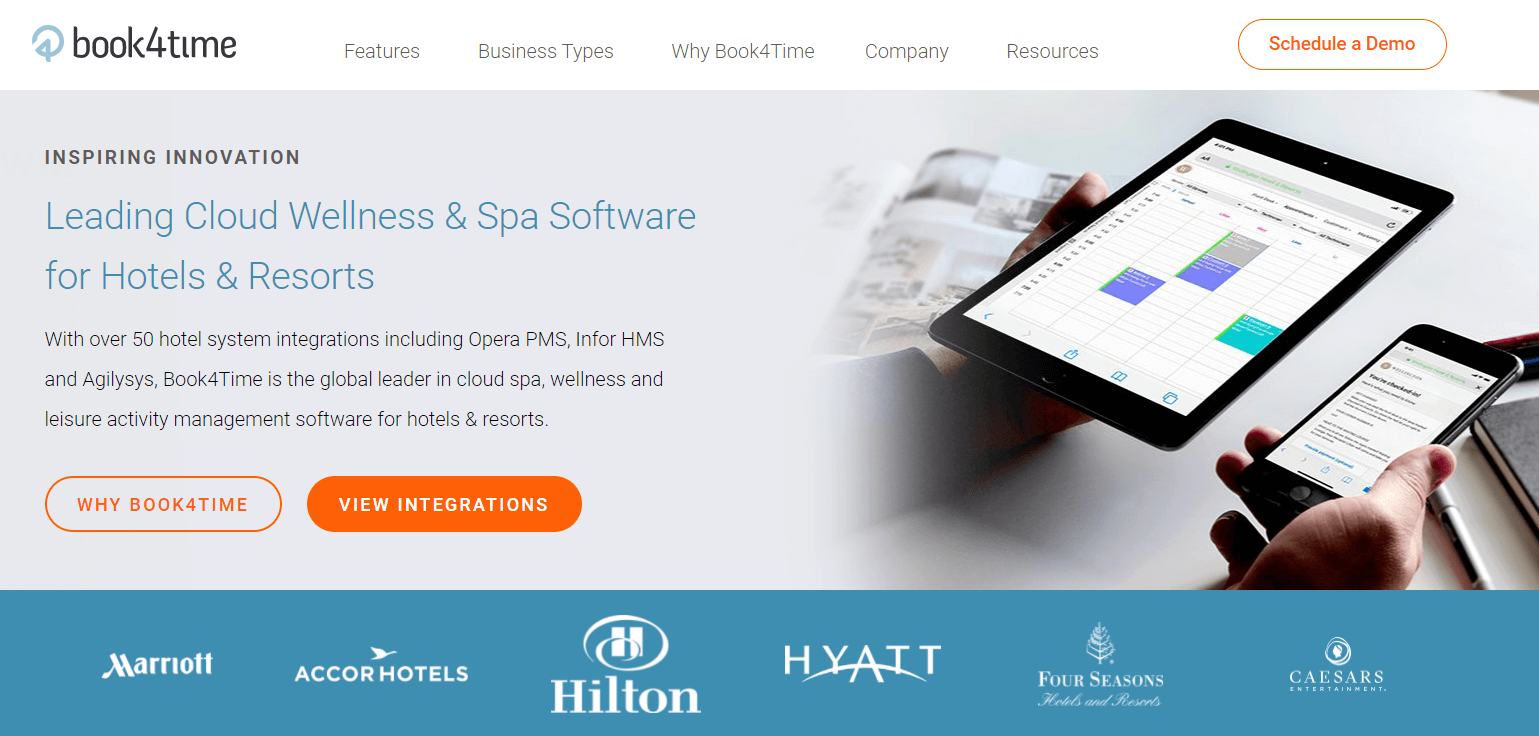 Book4time is spa, wellness, leisure management software. As a SaaS in the hospitality industry, it combines different features such as online payments, customer management, online wellness booking software in a single platform.
The integrated booking system helps to receive online and mobile bookings and easily manage them. The software also provides its API to build your branded booking experience. The booking panel can be utilized for large events as group bookings or corporate events. It lets customers pay from corporate and individual accounts for group bookings.
A central reservation system is also provided with this wellness booking software. This allows customers to schedule multiple visits at one go.
Combined with marketing, inventory management, CRM tools, it lets you unite all your operations from a single admin panel.
Price: As a SaaS product, Book4time offers customized pricing for each customer. You can contact their sales team to know the fitting price for your needs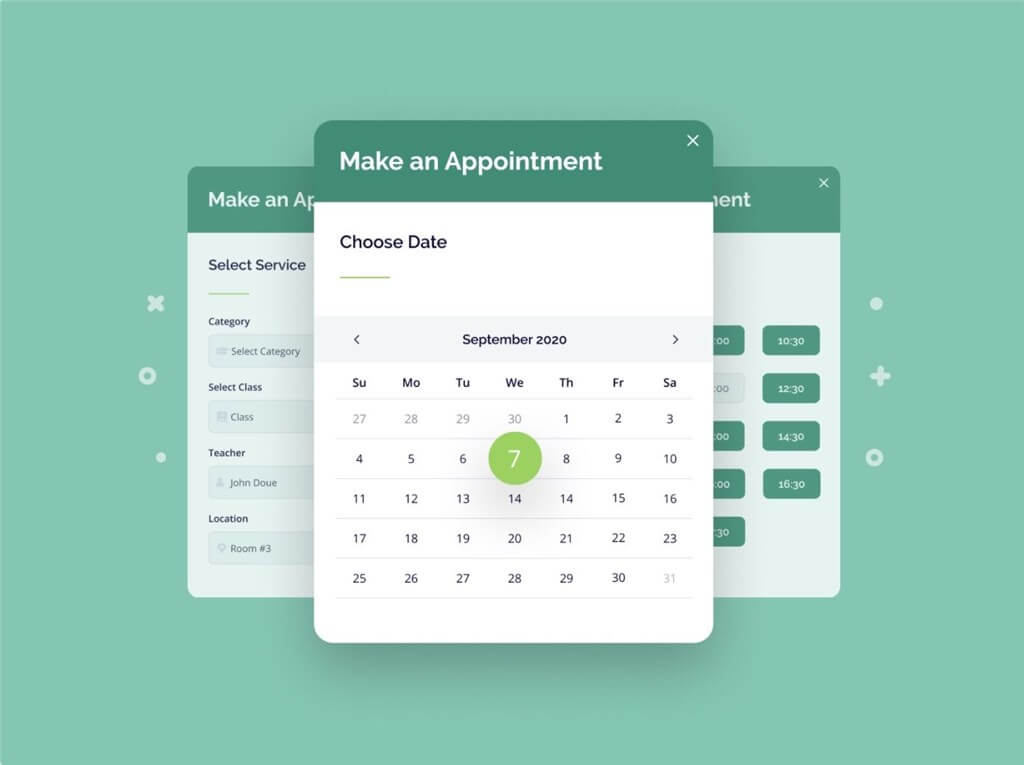 The MotoPress Appointment Booking plugin is a top solution for any hourly-based business including the wellness niche.

The plugin enables you to include unlimited custom services and staff members with their personal schedules. It's easy to add breaks, holidays, or days off to these schedules.

There are multiple payment methods available (PayPal, Stripe, a direct bank transfer, on-site or deposit online payments). You can provide discounts by adding coupon codes. If you need more payment gateways, you may purchase the WooCommerce Appointment Booking addon.

You will be able to view bookings in a centralized admin calendar and define user roles. It's possible to sync employees' Google Calendar to bookings. This plugin works with Gutenberg, Divi, and Elementor page builders. It features a well-developed system of notifications.

Price: starts at $59 for use on a single site and $199 for unlimited sites.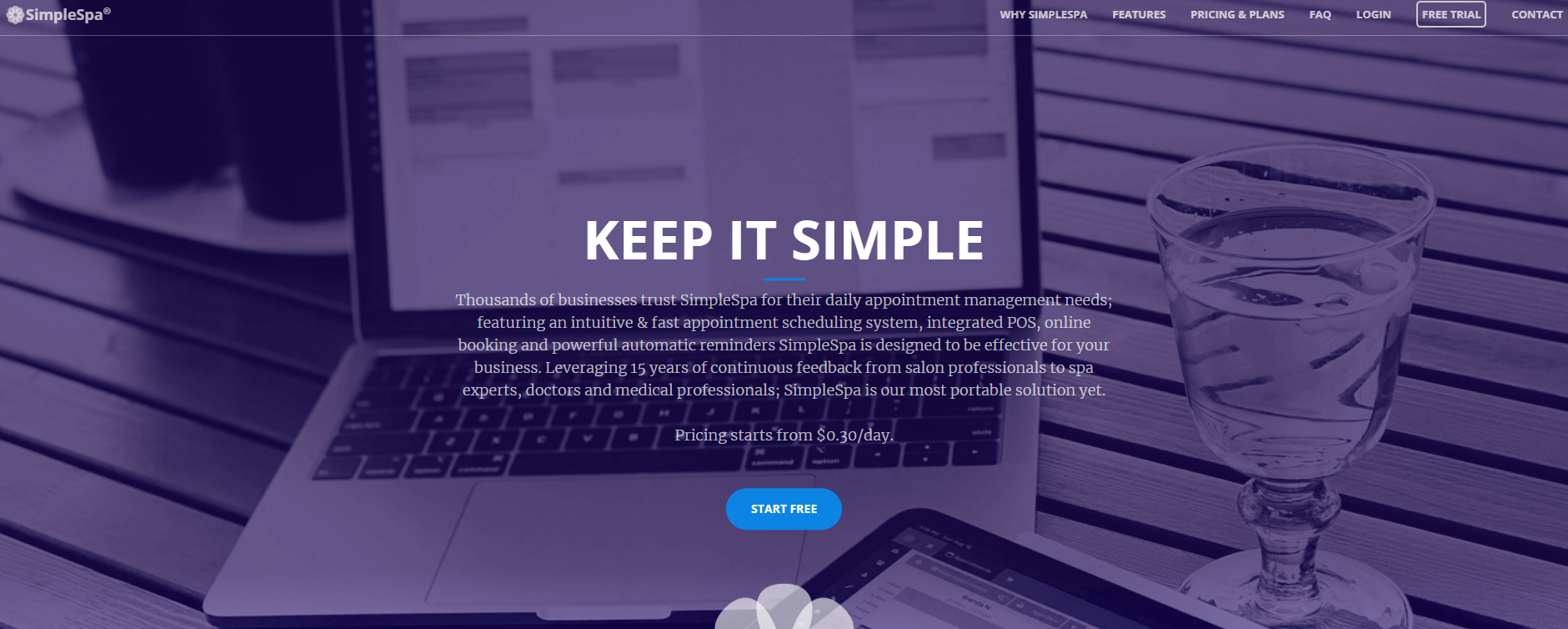 SimpleSpa is another software dedicated to wellness and spa businesses. It allows you to manage daily schedules, staff, online bookings, and inventory in one place.
It is a multi-system appointment booking software with a separate booking calendar for each location, staff, and service. Its appointment manager lets you view multiple staff calendars and use color-coding to differentiate events and staff from each other.
eCommerce functionality is also supported with this wellness booking software. You can record these transactions and automatically adjust your inventory. As part of this feature, you can offer product or service bundles or let visitors book multiple therapies at one time. Using the built-in POS system you can receive debit\ credit card payments.
Furthermore, it comes with gift card\discount features and automated notifications to make it 360-degree wellness software.
Price: SimpleSpa has 4 different price options based on staff number and photo storage capacity. The basic plan costs $10 for single staff and 1GB of photo storage. A good thing about this wellness booking software is that all features are available in 4 plans.
Zenoti is a cloud-based management software for medical spas, fitness centers, cosmetology clinics, and more. It is equipped with POS, inventory management, appointment booking, employee management feature to provide holistic business management software.
Compared to other wellness booking software in this list, Zenoti comes with multiple appointment booking options. It has a mobile guest app, web scheduling, virtual assistant as well as call center & front desk to book client appointments. This gives your customers flexibility and ease to book appointments.
Automate text & email notifications reduce front desk tasks and ensure precise management. It also has group appointments feature for large events.
Price: To know about the price for your business, you can book a demo meeting.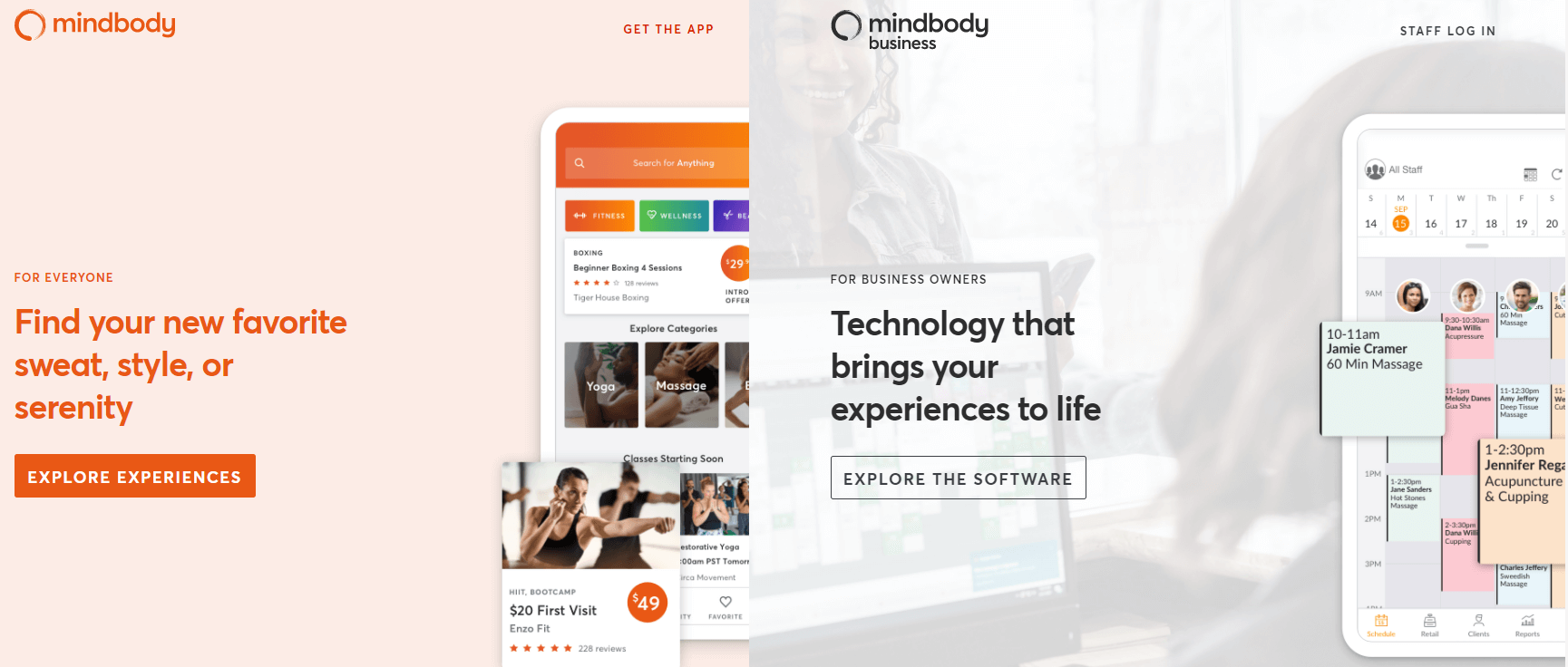 Mindbody is AI-based management software for spa fitness, beauty, and health businesses. A separate client app and business app separation is a distinct feature to this wellness booking software.
Having your business listed on Mindbody lets customers easily discover you and book for your services. It supports businesses with marketing templates, lead management facilities to create branded wellness software for you.
It also lets you create your branded mobile app to streamline real-time scheduling, membership management, improve client loyalty.
It AI receptionist helps to provide real-time customer service with relatively less time and human intervention.
Price: Mindbody has 4 subscription plans based on the extent of their features. The cheapest option costs €119 per month.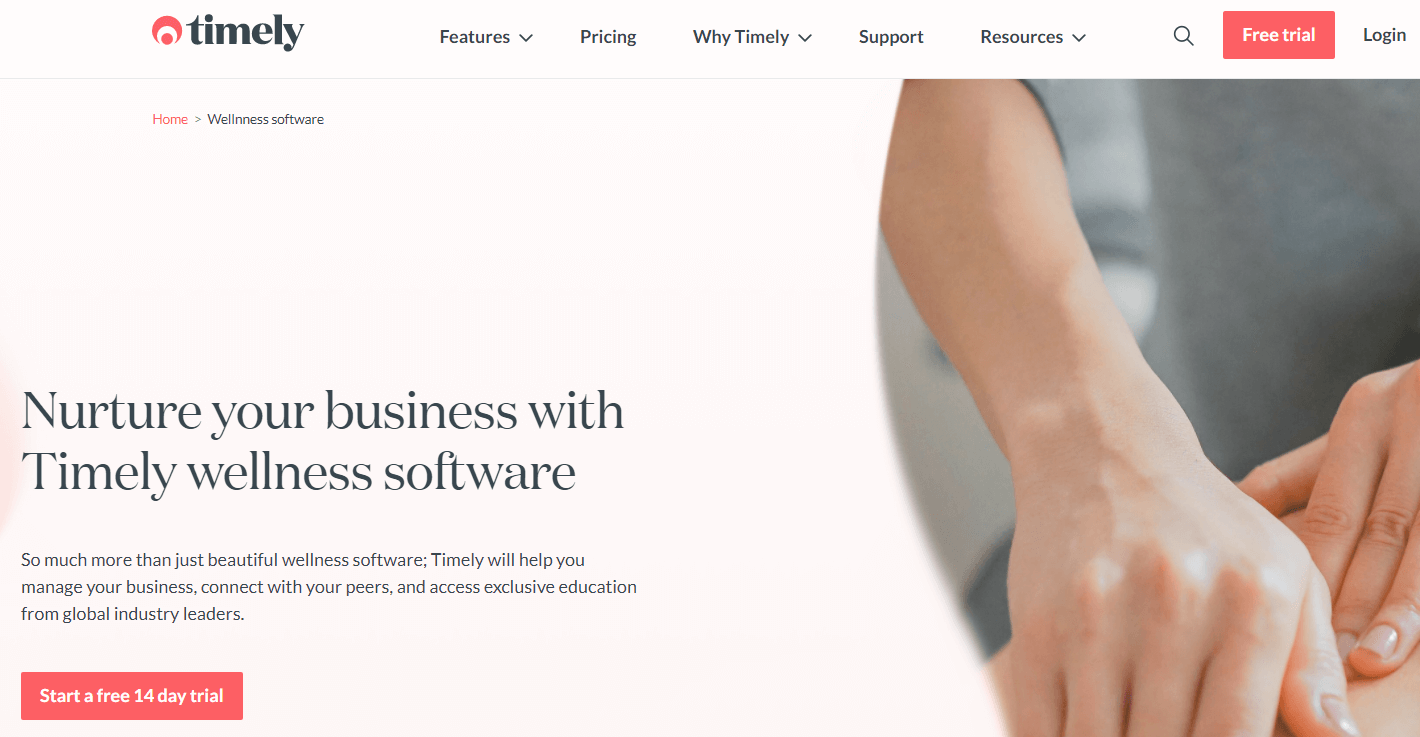 Timely is 360-degree wellness management software with built-in client management, appointment booking, POS systems, and several other add-ons.
Using its 24\7 booking system, you can decide which services to be booked online, allocate resources, and send automated reminders to clients to finalize bookings.
Online payments allow you to charge deposit payments for bookings. This also helps to reduce no-shows and cancellations.
This wellness booking software also has a client reward system to increase customer retention and grow the customer base. Its marketing capabilities can be embraced to invite clients to rebook services or send product updates.
Price: Timely has 4 subscription plans based on the feature coverage. The basic plan costs $15 per month with confirmation messages and an appointment calendar feature. However, to get an online booking, payment options you need to purchase the Build plan at $20 per month.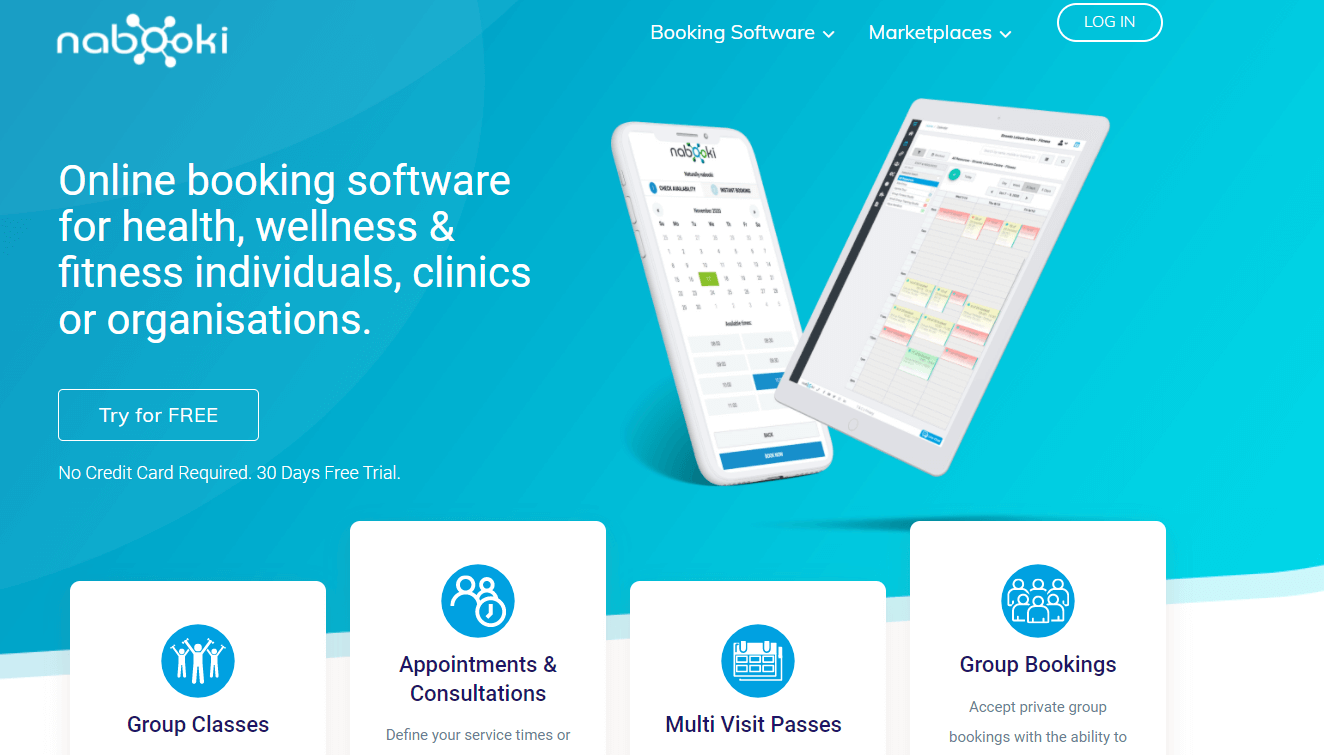 Nabooki is another booking software for wellness, fitness, health clinic organizations. It provides booking and marketing functionalities to scale businesses. You can set your booking calendar and let clients book available time slots.
The Multi-booking system lets you accept bookings from your website, social media, and third-party channels all updated in real-time. Using the custom fields feature, you can add checkboxes, dates, or dropdown fields to request additional information from customers.
It has a multi-visit passes feature to take upfront payment for a select number of visits. Group bookings and group classes are also available in this wellness booking software.
You can use reminders and instant booking confirmation to keep customers informed about upcoming appointments. It has several integrations and payment systems to automate bookings.
Price: Nabooki offers a $35 monthly payment for all features. Yet, you can try its free version to how it works.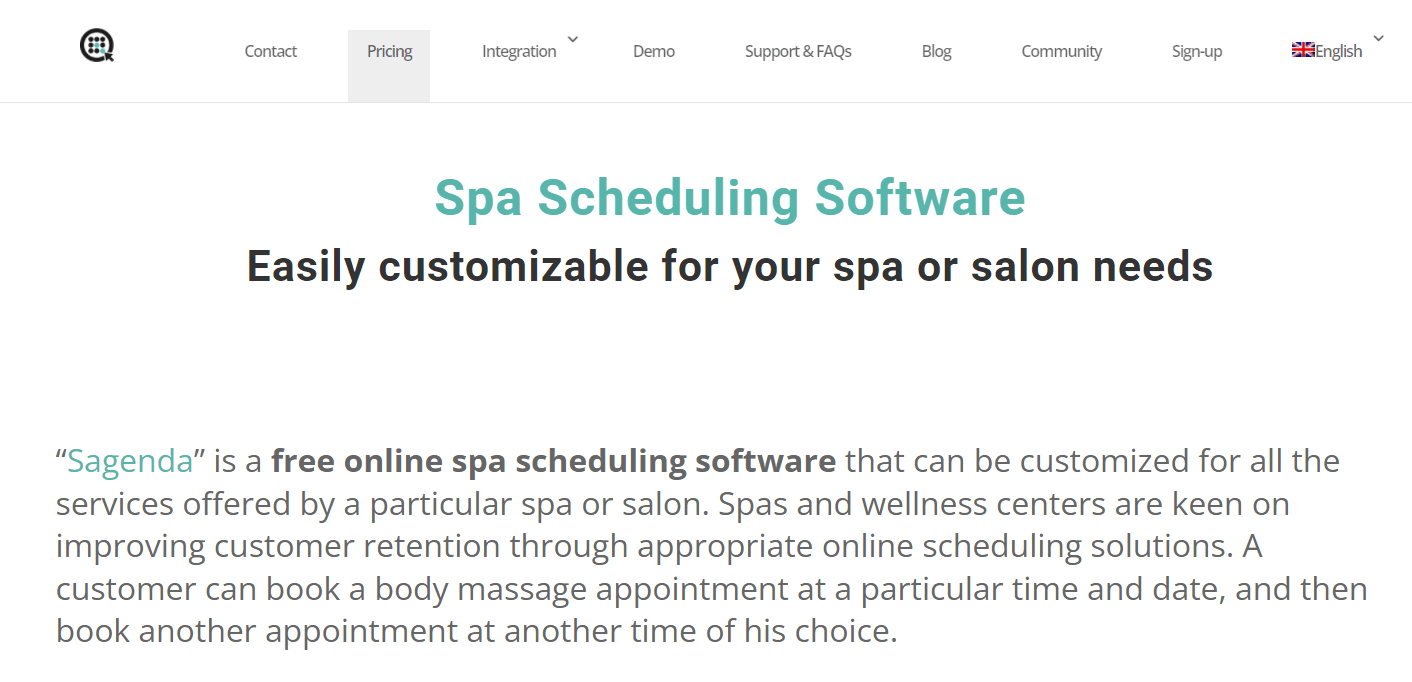 Sagenda is free booking software for spa and wellness businesses. The scheduling software can be easily added to your existing website. It has free integrations with Joomla, SquareSpace, WordPress, Weebly, and many more hosting services which allows users of all hosting services to use this tool.
With Facebook integration, you can convert Facebook page viewers into customers. Yet, this free wellness booking software has API integration letting you create a customized booking experience.
Whilst, it has a free mobile app for Android and iOS devices. Since it is a completely free wellness booking tool, you can use it by installing it on your website or downloading it to your mobile device.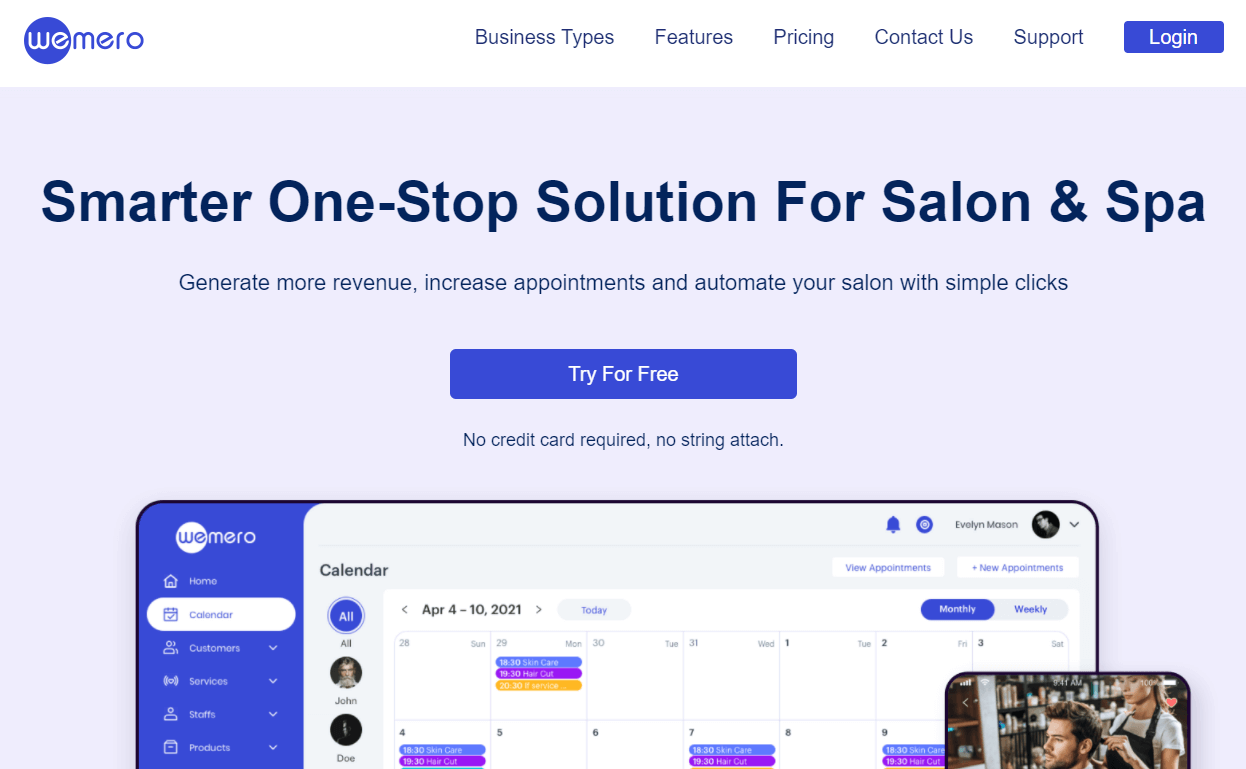 Wemero is an AI-based management software for a range of health and wellness businesses. It provides a set of marketing, client management, payment, inventory, booking solutions within a single wellness management software.
With a real-time booking, you can manage self-scheduled appointments, control check-in, and check-outs. When connected with your website, you can customize bookings with your brand identity.
Along with online payments, membership management, and reporting features, it has direct marketing solutions that let you advertise your business on social media.
Price: Wemero has free and several paid plans. The free plan allows 1 staff and 1 location with limited feature access. While the basic plan allows 5 staff, 50 messages, 100 emails, and unlimited location features.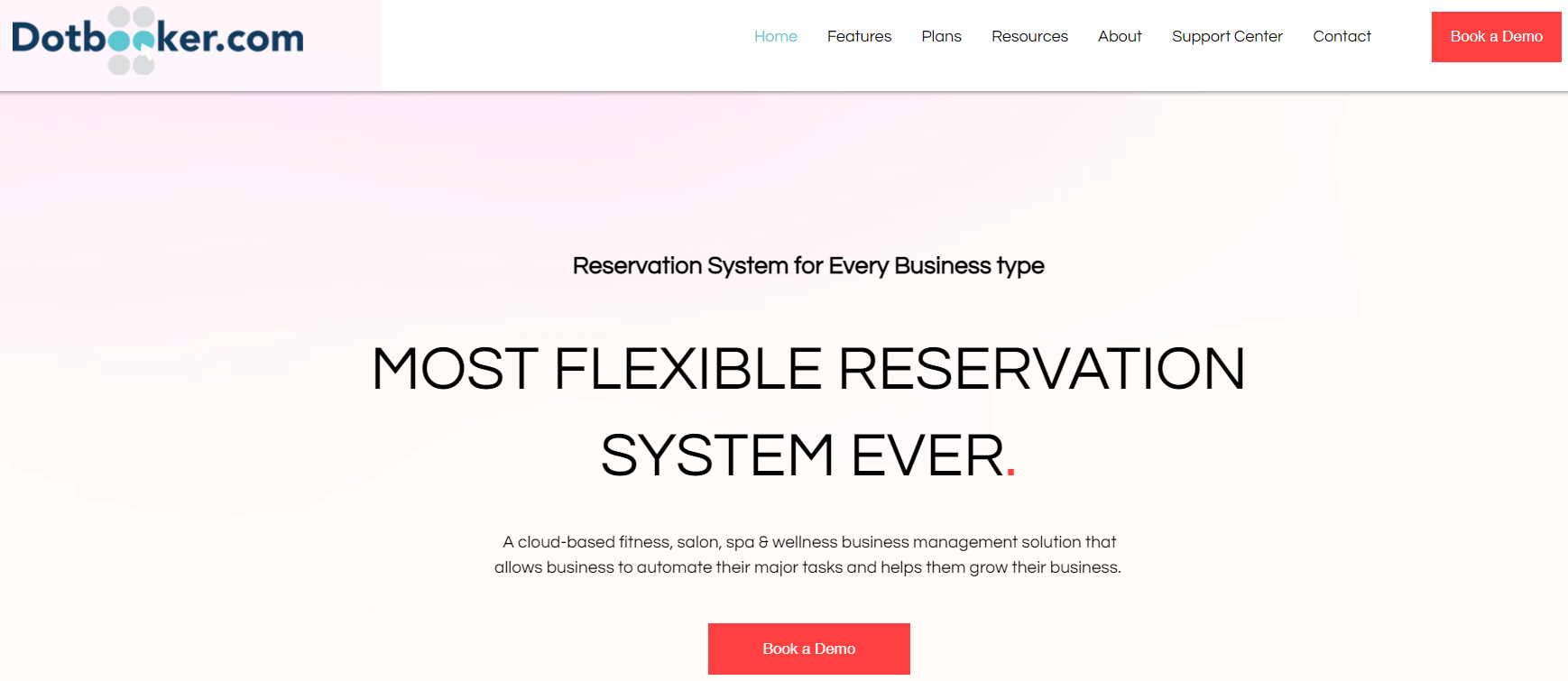 Dotbooker is a flexible booking software for wellness-based businesses. You can host any type of appointment including individual, groups, or classes. As with many wellness booking software, it has coupons, gift card features to retent customers. Also, you can streamline membership systems to attract new customers.
With the multi-location feature, you can manage all your offices including their staff \ inventory \ service facilities. POS system lets you receive online payments and also on a multi-currency basis.
With API integration, you can easily migrate data or connect the booking panel with any other product.
Price: Compared to other booking systems in this list, Dotbooker is slightly pricier. They offer $199 per month for all basic features. While to get advanced reporting, POS, eCommerce, and mobile app features, you need to pay a $299 monthly payment.
==> Also read: 11 Best Booking Software for Personal Trainers
Bottom line
Wellness management software can run robust features such as appointment scheduling, POS, inventory management, marketing solutions, membership management to run sustainable operations of the business.
While some of the mentioned tools are specifically made for spa, health, or wellness businesses, some of them are made for broader industries. This is why their feature coverage and appointment booking solutions may differ from each other.
Full-scale wellness management teams diversify their focus by adding HR, inventory, financial management features to keep the overall health of their customers' businesses.
On the other side, booking software focuses more on providing solid booking features and adding initiatives features like gifts, virtual appointments, CRM to make the software attractive.
It is up to you to pick the wellness booking software that meets your booking and business needs at a reasonable price.
Sign up for our newsletter
Be the first to know about releases and industry news and insights.
Let's

get started

on something great
Booknetic is a simple yet powerful plugin for accepting online bookings & payments on your WordPress site.