11 Best Booking Software for Personal Trainers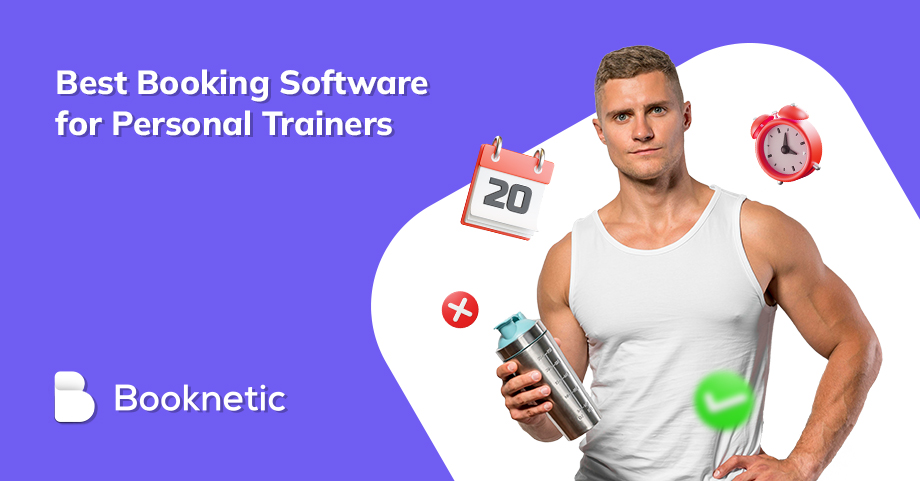 Fiding online booking software for personal trainers can be a real challenge. Reliable software should combine your several other features with the booking page to provide joined and managed customer management.
This blog will list online booking software for personal trainers that simplifies the booking and management process.
11 best booking software for personal trainers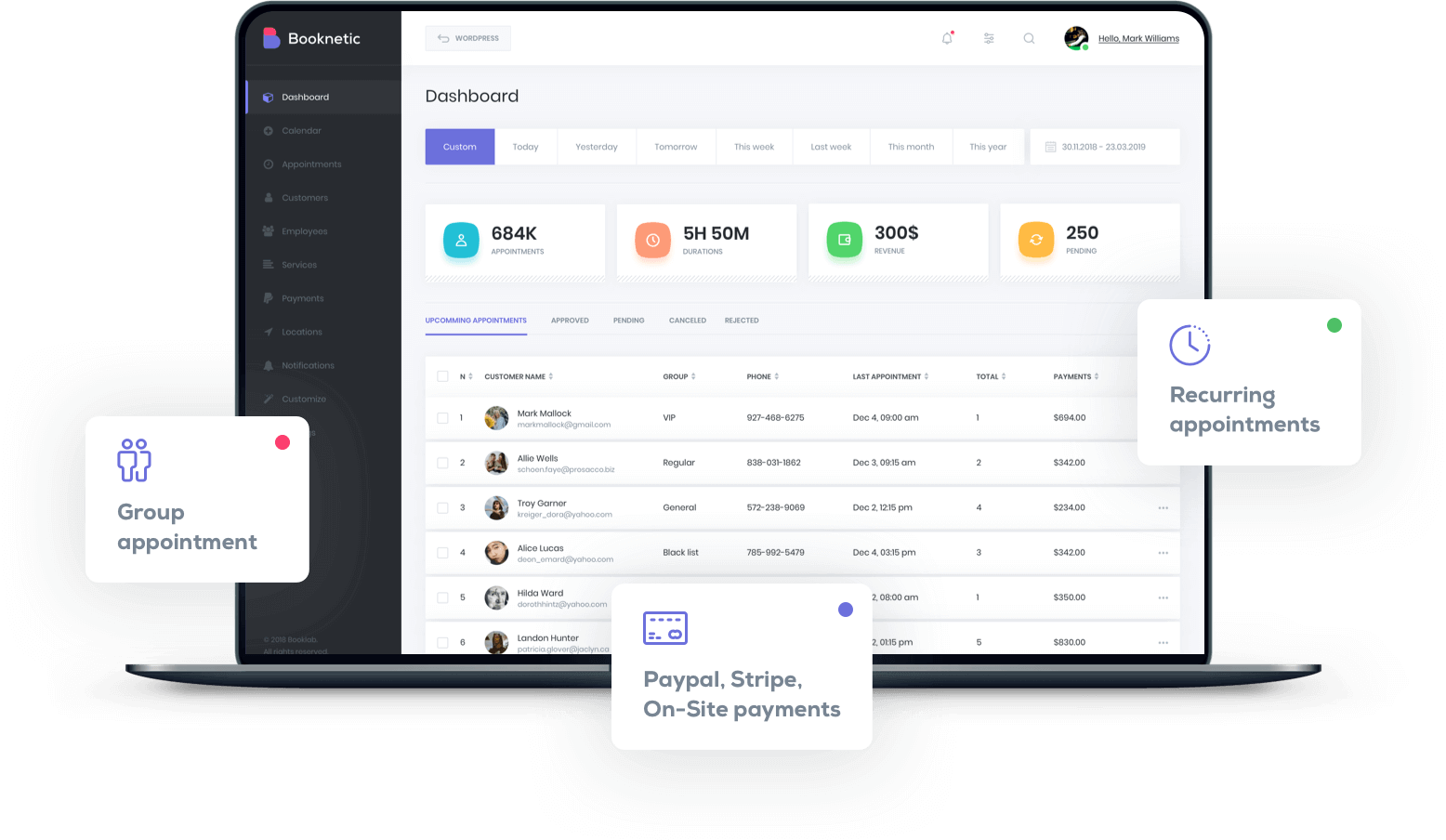 Booknetic is a multi-purpose appointment booking plugin for appointment-based businesses. Its features can be utilized for individual trainers and fitness studios.
With Google Calendar Sync, you can connect your booking calendar with Google to display busy hordes and avoid double bookings. It allows coaches to fully customize their booking page to the design of their WordPress websites.
You can manage all client databases, staff calendars, locations, and services from the booking page. Zoom integration lets you host virtual training from the booking admin.
With integrated payment gateways, you can receive online payments and charge deposits for booked training. Using comprehensive workflow notifications management system, you can send notifications and reminders for any change about the status of appointments and payments.
Price: Booknetic has two pricing plans based on the number of site compatibility. The Regular plan costs a $79 one-time payment including future updates. If you want to connect to many websites, you can get the SaaS version at $459

Mypthub is all-in-software for personal trainers, coaches, and clubs. With desktop and mobile apps, trainers and clients can easily check their calendars and get instructions. You can create customizable training and nutrition programs. Clients also can easily track their progress and achievements.
You can set public or private calendars and enable clients to book classes. Calendar sync enables you to connect external calendars and avoid double bookings. It includes waitlist management, attendance checking, and recurring appointments features that are necessary in fitness classes.
You can also create credit packages for your services. It also integrates with several health tracking apps like Apple Health, Fitbit + Google fit to connect all of the client data with the training program.
Price: Mypthub has two plans that offer the same features. The difference is based on a subscription basis. You can either pay $49 each month in a flexible term or purchase annually at $42 for a monthly payment.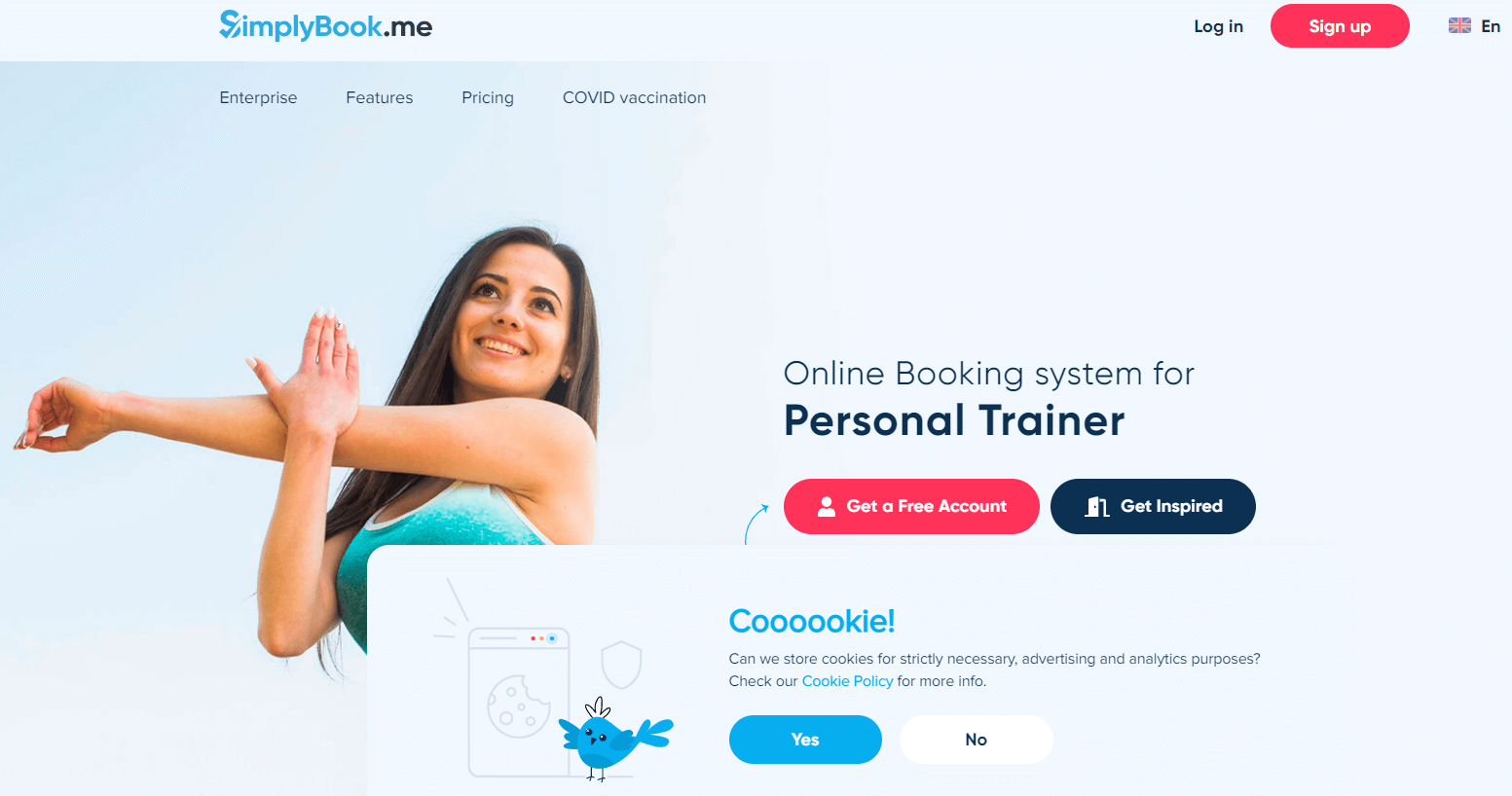 SimplyBookme provides an online booking system for all service-based industries. From a variety of available options, you can choose a mobile responsive template to design your booking page.
It is convenient to receive private lessons and classes for individual trainers or multiple staff. You can add photos of your team services, to the booking page and create galleries on your booking page.
It has multi-login options such as Facebook, Instagram, website widget, Google Maps, booking page, and booking website by SimplyBookme. Furthermore, you can make use of reporting, notifications, gift cards, marketing, POS features to power up your booking experience.
Price: SimplyBookme has free and paid plans the cheapest starting at $9 per month.
You can also check our in-depth comparison of Calendly vs SimplyBook.me vs Acuity Scheduling blog to know more about it.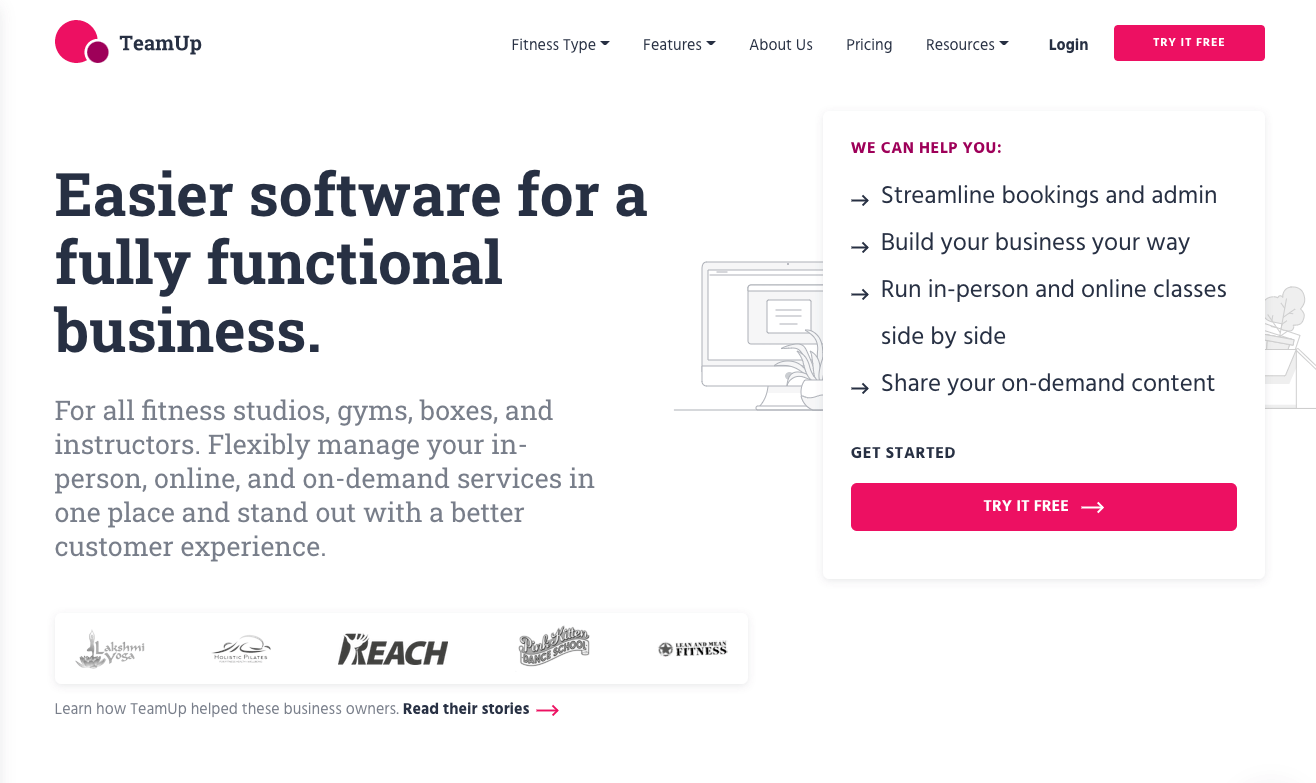 Designed for both gyms and studios and personal trainers to run the best version of their business, TeamUp launched in 2012, is the most recommended choice for fitness business owners. Designed and built with flexibility in mind TeamUp's leading PT management software system stands out for its unlimited customer service, online, in-person, and on-demand abilities, dedication to its clients' success and needs, and constant evolution of its system, without upselling its customers. Personal trainers have a full feature set of appointment and class bookings, the ability to manage multiple availability schedules, CRM, payments, and detailed reports to help you make the best decisions for your business and integrate with the best marketing integrations such as Zapier to bring all the parts of your business together.
Clients of TeamUp customers love how easy it is to manage class and appointment bookings on the go, refer their friends, purchase memberships, and enjoy a full range of in-person, online, and on-demand services. If you want a flexible system that grows with your business, doesn't involve hefty fees and allows you to manage your personal training business in a facility or on the go, TeamUp is the best choice for you and your clients.
Price: TeamUp's packages are based on the number of active customers you have not the features you need. Pricing starts at $35/month for 0-50 customers with a 50% discount for the first 6 months. You can see pricing here: https://goteamup.com/pricing/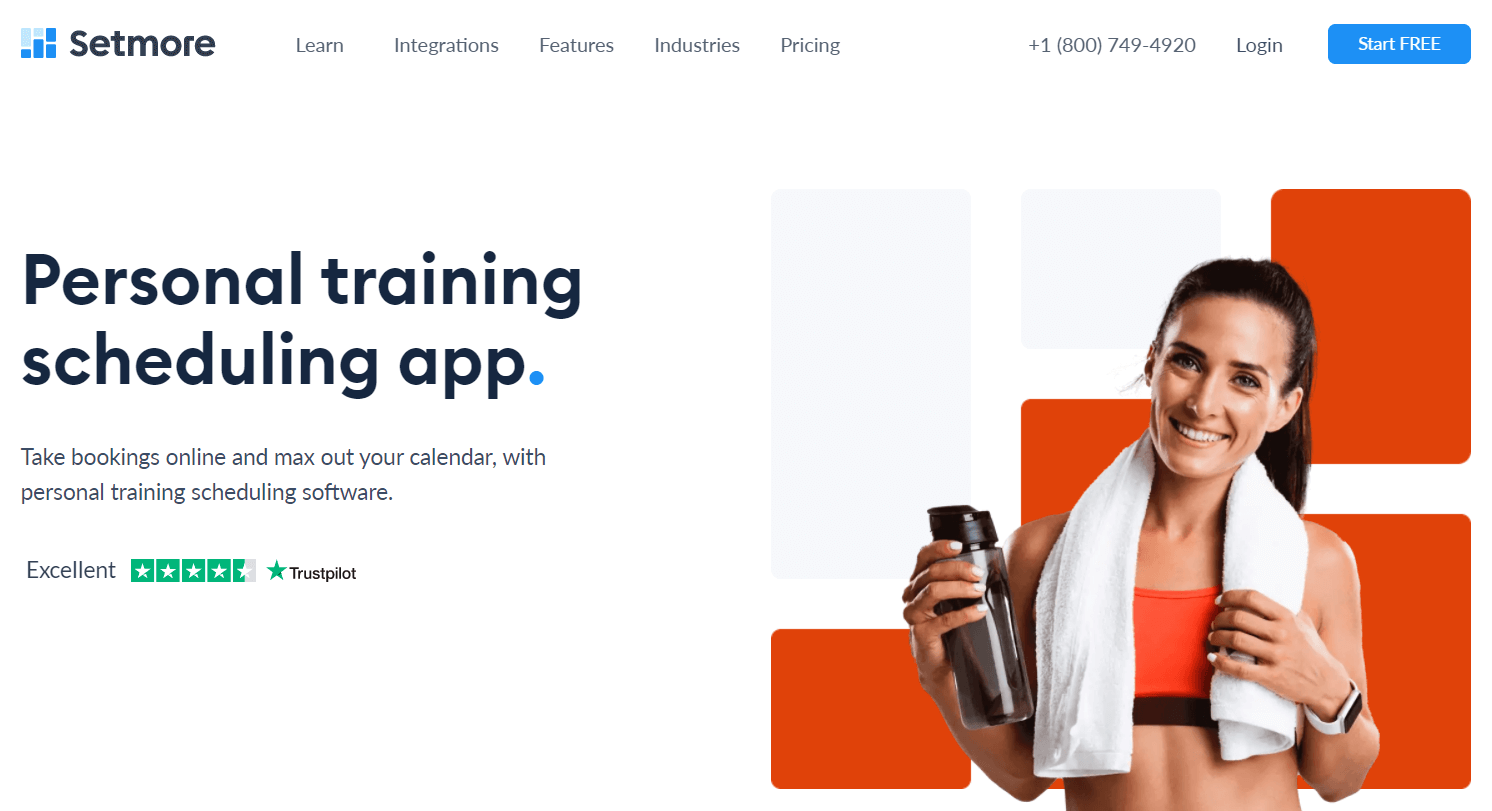 As a multi-purpose booking tool, Setmore has separate booking software for personal trainers.
On the scheduling side, it has a customizable booking widget, that can be integrated into your website. You can let clients to self-book individual classes or schedule group classes.
As mobile compatibility is a top priority for training apps, Setmore is fully compatible with Android and iOS devices. Plus, it has native integration with Zoom and Teleport where clients can book and join virtual appointments from Setmore's admin.
Price: If you are a solo trainer or team up with fellow trainers, you can get its free account with 4 users. To get different payment options and other integrations channels, you can get it at $9.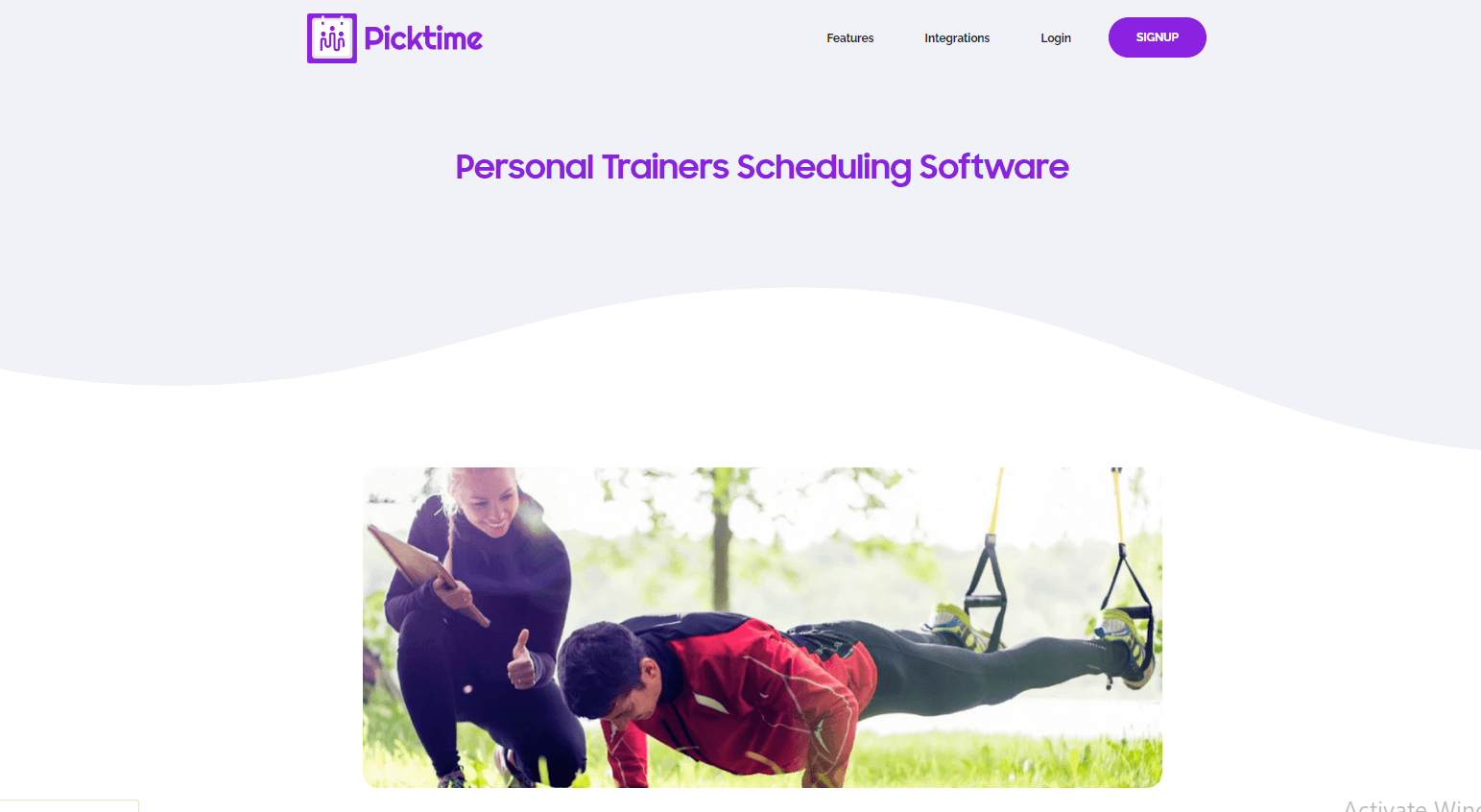 Picktime is appointment scheduling software for appointments, interviews, and classes. You can connect all your external calendars to the bookable calendar to avoid double bookings and balance busy hours with personal work hours.
Square, PayPal, and Stripe payment integrations let you perceive online payments and generate an invoice on time. Furthermore, it integrates with several online meeting apps like Zoom, Meet, Teams, GoToMeeting, and Jitsi where you can connect virtual appointments from its admin.
You can add multiple locations, services, and staff calendars to easily manage them.
Price: There are free and paid accounts. The free version allows you to add 3 staff, 2 locations, and resources along with several integration features. While the starter plan at $10 offers timezone conversion, attendance checker, notifications, and over 15 integrations.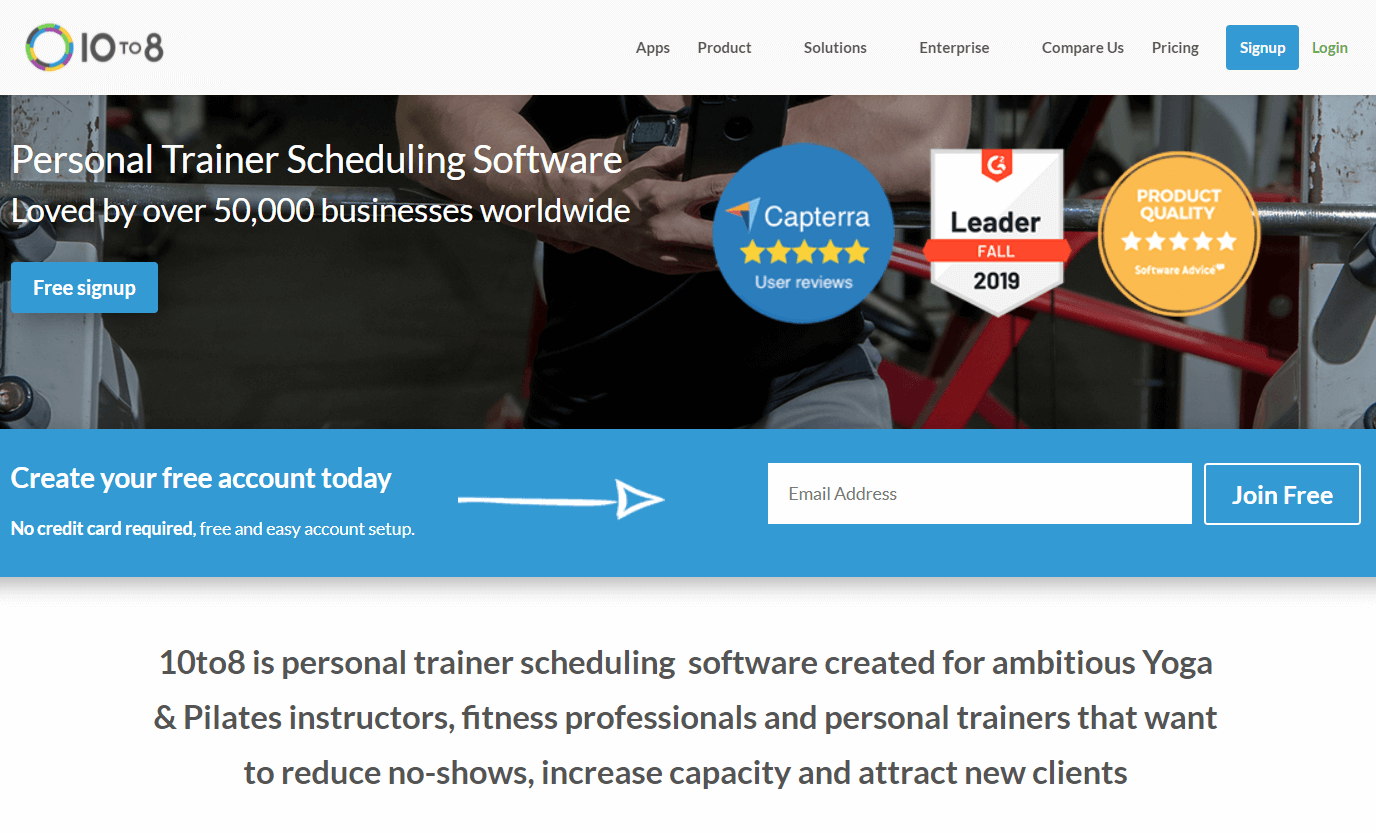 10to8 is an appointment booking app for healthcare, wellness, fitness professionals, enterprises, remote and on-site team to manage their schedules. Its online booking software for personal trainers can be used by yoga instructors, fitness and personal trainers to increase their clients.
With its online booking page, you can receive 1:1 or group bookings from your site, emails, or Facebook page. You can add multiple staff calendars, rooms from a single calendar, and connect the external calendar with the bookable calendar.
You can take private notes, appointment details to attached to schedule to prepare for appointments. Automated reminders and confirmations help you to boost interactive communication and reduce no-shows.
Price: 10to8 has free and paid options. The free account lets you add 2 staff and receive 100 appointments per month. With the basic account, you can add 3 staff, receive 100 appointments, and add your branding options.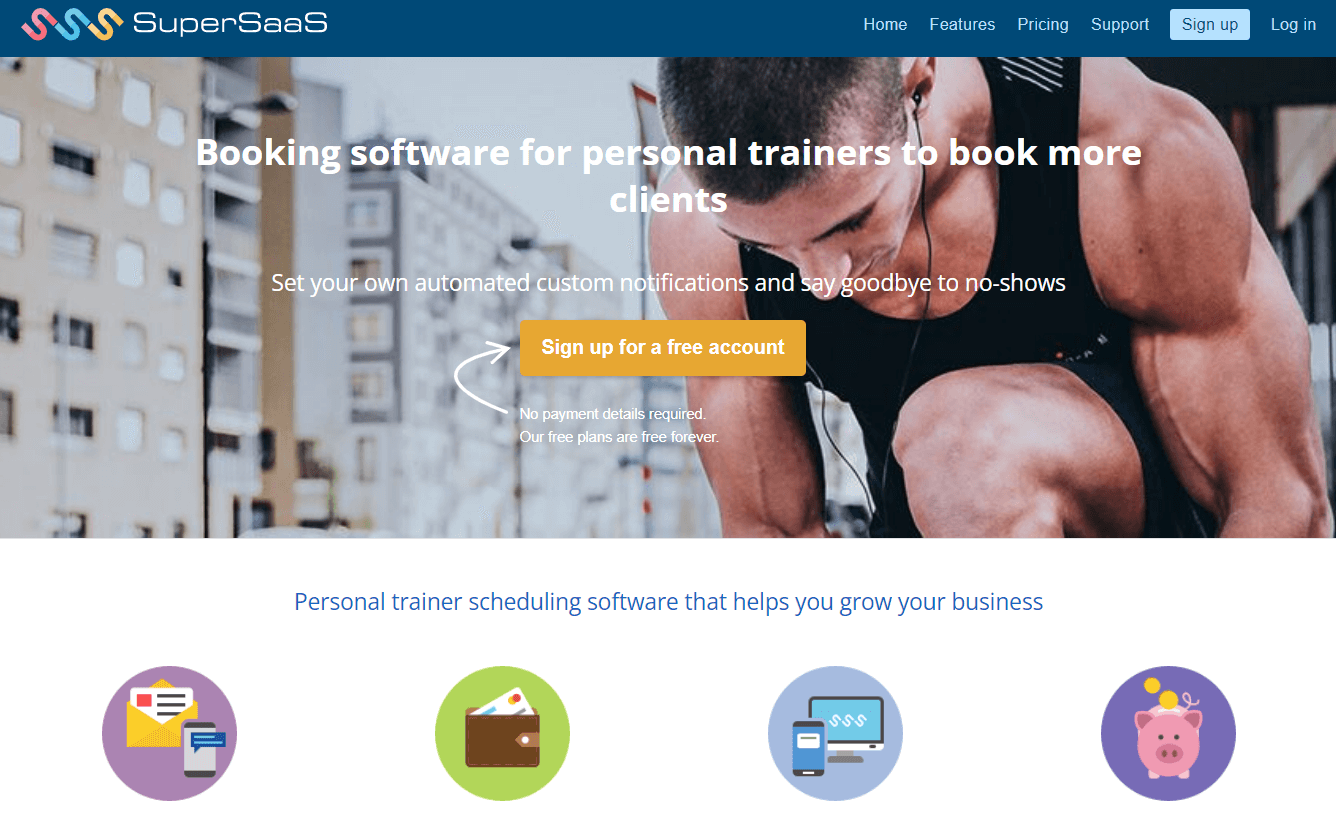 SuperSaas is appointment scheduling software and reservation system for varieties of industries. It works for individuals or fitness clubs who work in the personal training field.
Outlook and Google Calendar sync lets you manage multiple resources on the same platform. You can add the booking system to your websites or Facebook page if you don't have a website yet. With custom form builder, you can create your own booking form.
It has SMS and email notifications for confirming events that also help to reduce no-shows. Role management is a distinct feature of this booking software for personal trainers. Admins can assign roles to manage the schedules.
It also has a PayPal and Stripe integration where you can accept online payments. With integration possibilities, it lets you connect your favorite apps to your website.
Price: SuperSaaS has various pricing plans based on the number of upcoming events. With its Free plan, you can receive a max of 50 appointments and 50 registered users. While the cheapest package costs $8 per 100 appointments and unlimited users.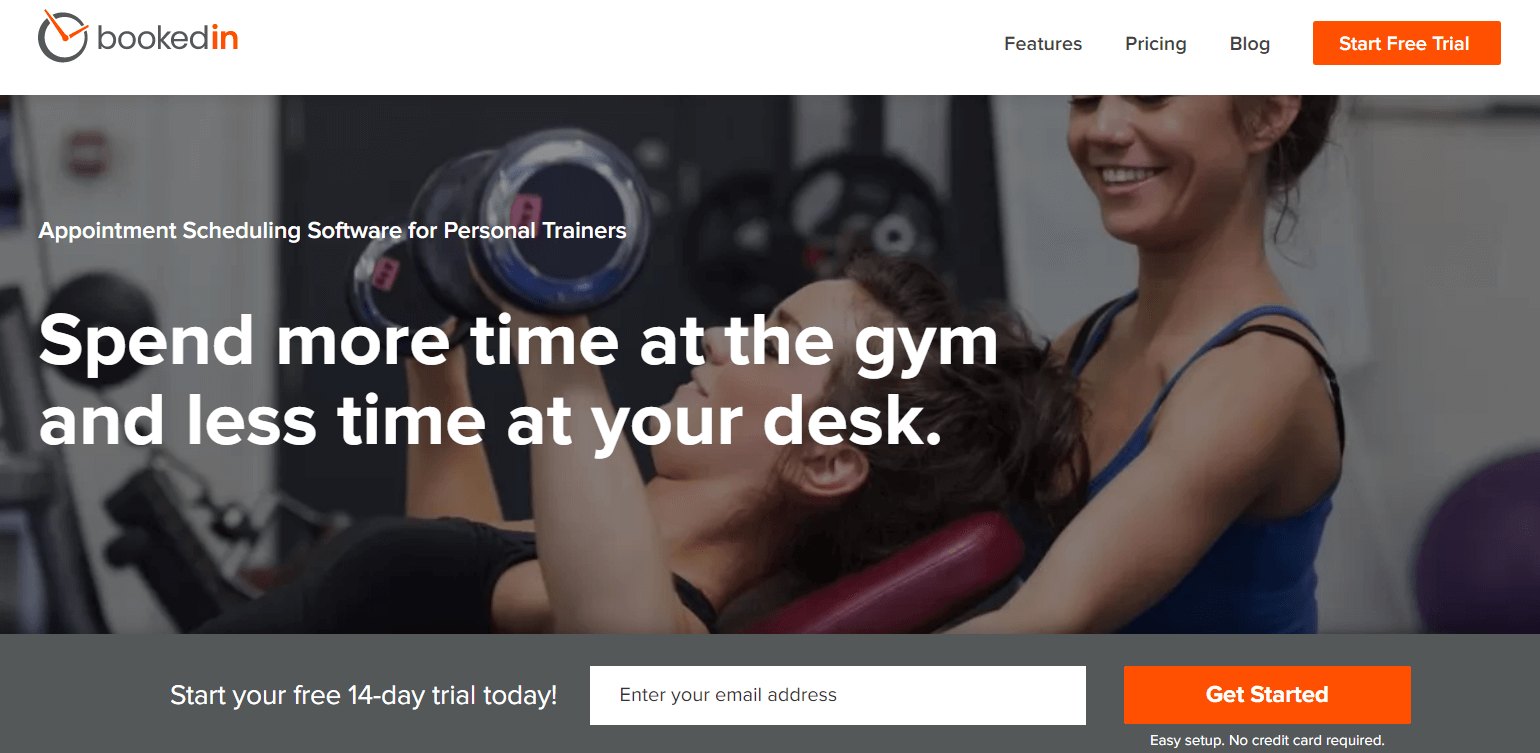 Bookedin is online appointment scheduling software for the wellness, beauty, and fitness industries. Its appointment booking page can be added to your website, social media pages, or emails to get clients from wider areas.
It also has recurring appointments feature and custom booking forms where you can request specific client information. The ad analytics feature is unique given by this booking software personal trainers. By adding pixels to your booking page, you track your clients and get insights into their details.
Customers can either pay while booking or on-site. The system notifies you whenever you get new bookings. You can also use this feature to remind clients about their bookings, confirmations, and changes.
Price: Bookedin offers free and paid plans for users. With its free version, you can add unlimited calendars, put your branding and logo, and get a max of 5 appointments for a month. While its premium version starts at $29 with unlimited appointments, ads, calendar sync features.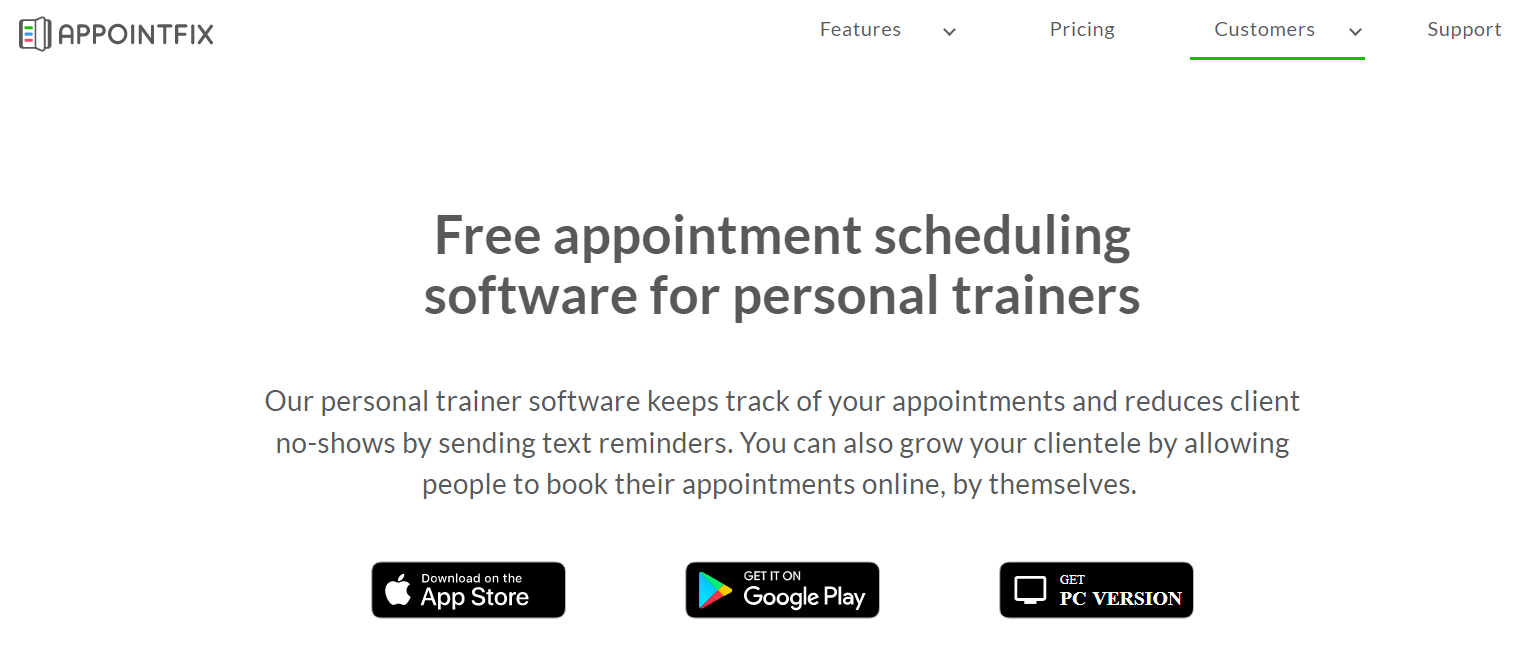 Appointfix is an appointment scheduling app for wellness, fitness, and beauty professionals. You can get the app on Google Play, App Store, or download it for PC.
With full control over your booking system, it lets you manage how you will accept payments, confirm appointments, release your cancellation policy, etc. Furthermore, it allows you to connect Book Now buttons on Facebook and Instagram to your booking page. It has different calendar views like days, three days, weeks so that you can get clear information about each booked day.
With client management solutions, you can collect customer information and contact them directly from Appointfix system.
Voice commanding is a very unique feature that is presented by this booking software for personal trainers. While doing your regular activities, you can ask a voice assistant to tell you about your schedule.
Price: Appointfix is free booking software for personal trainers. But if you want to get marketing, reporting features, you can get it at $10 per month or pay $30 for 10 staff.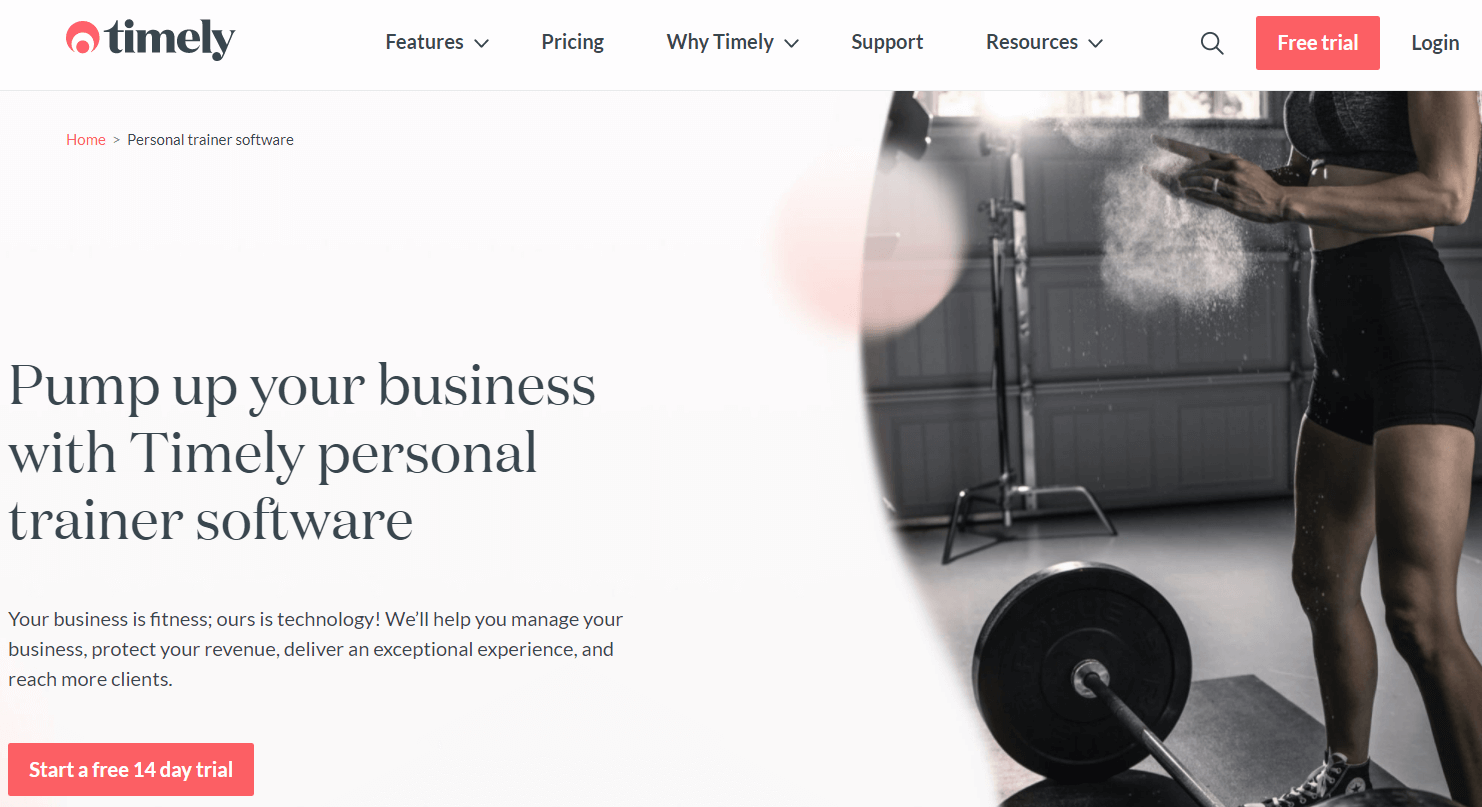 Timely is business management software weighted on appointment booking features. You can enable online bookings on your website, Facebook, or Instagram page.
With color-coded calendars, you can see your daily schedule at a glance. Appointment reminders can bed used to instantly confirm appointments, clients follow-ups, or aftercare instructions.
By using its client management feature, you can create client profiles, store their appointment history, and add VIP tags for your clients.
The system also is designed to keep track of resources like reserve rooms and also employee schedules. Waitlist management is another advanced feature given by this booking software for personal trainers.
Price: Timely has 4 price packages based on offered features and integrations. The cheapest plan costs $15 per month where you can set up an online booking system for your fitness.
Wrap up
Finding the best booking software is up to the way host your training and manage operations:
Whether you are individual or team up with fellow trainers
1:1 or group classes
On-site training or virtual training
Whether you have an existing website or need to create one with a booking page
You prefer online payments or on-site payments
Whether you prioritize branding or not
The number of appointments you regularly receive, and more.
There is the appropriate software for every budget and business need in this list. Choose online booking software for personal trainers that matches your needs at a reasonable price.
==> Also read: Top 10 Elementor Appointment Booking Plugins in 2023
Sign up for our newsletter
Be the first to know about releases and industry news and insights.
Let's

get started

on something great
Booknetic is a simple yet powerful plugin for accepting online bookings & payments on your WordPress site.