Best Vehicle Booking Software for Car Rentals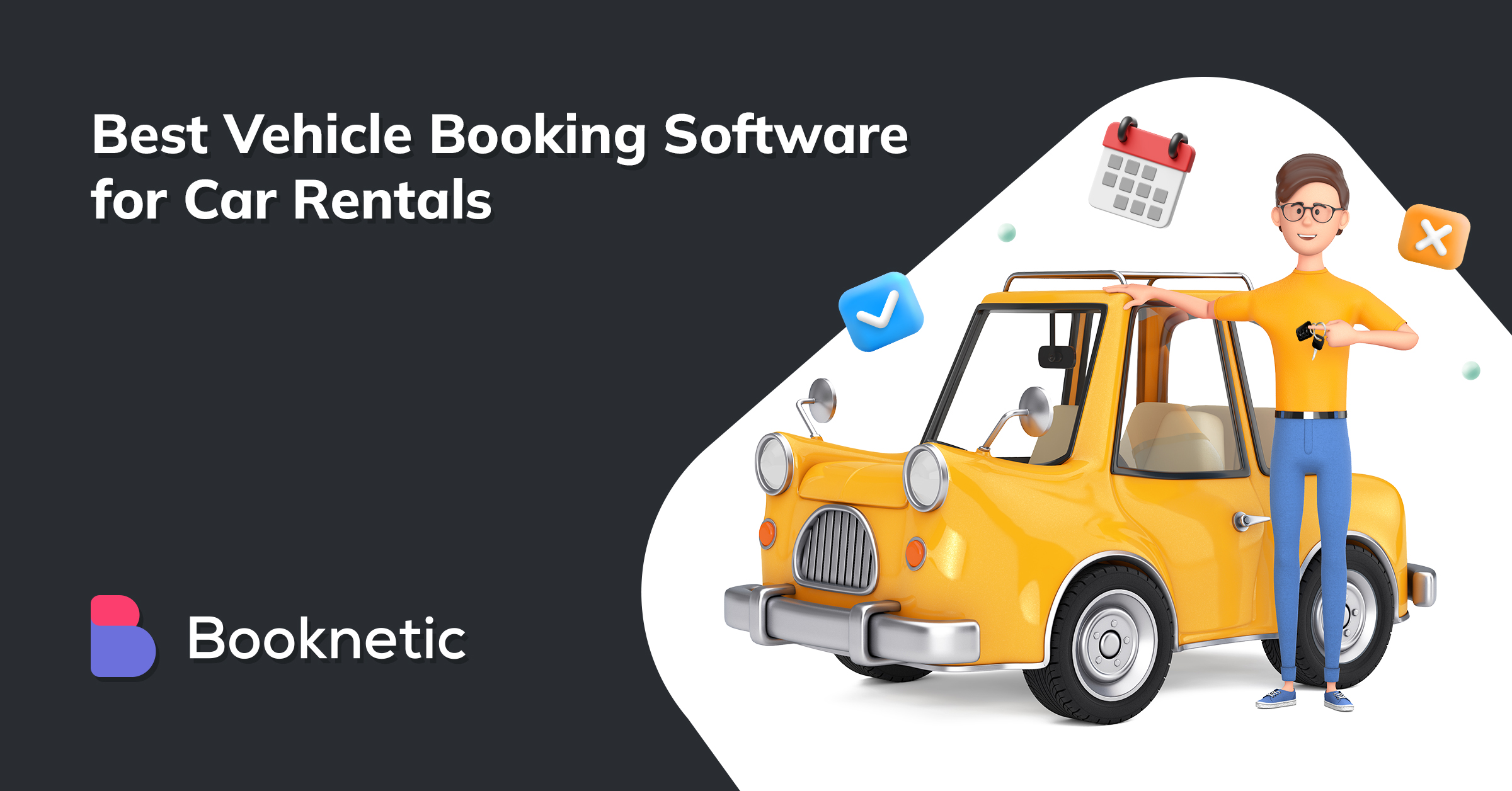 Finding reliable and all-on-one vehicle booking software can be a real challenge for car dealers. This blog will help you to find the best car rental reservation software based on your budget and needs.
What is vehicle booking software?
Vehicle booking software is a web-based booking system that allows the end-user to check the availability of a vehicle and book it in real-time. As software solutions, they can be integrated into an existing website, a web portal, or used as a mobile application.
It helps car rental providers, rental operators, or taxi rental agencies to manage their daily operations including bookings. Also used by travel companies, these tools help car rentals to store customer data, combine location mapping technologies, and also display availability forecasts.
Many vehicle booking software providers offer integrations with payment processing or alert systems. Their built-in booking management solutions work in partnership with contactless agreements, billing and invoicing, inventory management, fines management solutions to provide precise booking information.
Top 10 car rental booking software to use
Some of these tools are full-scale car rental software that provides booking solutions. While some tools are multi-purpose booking providers that can be used as vehicle booking software inside your car rental management software.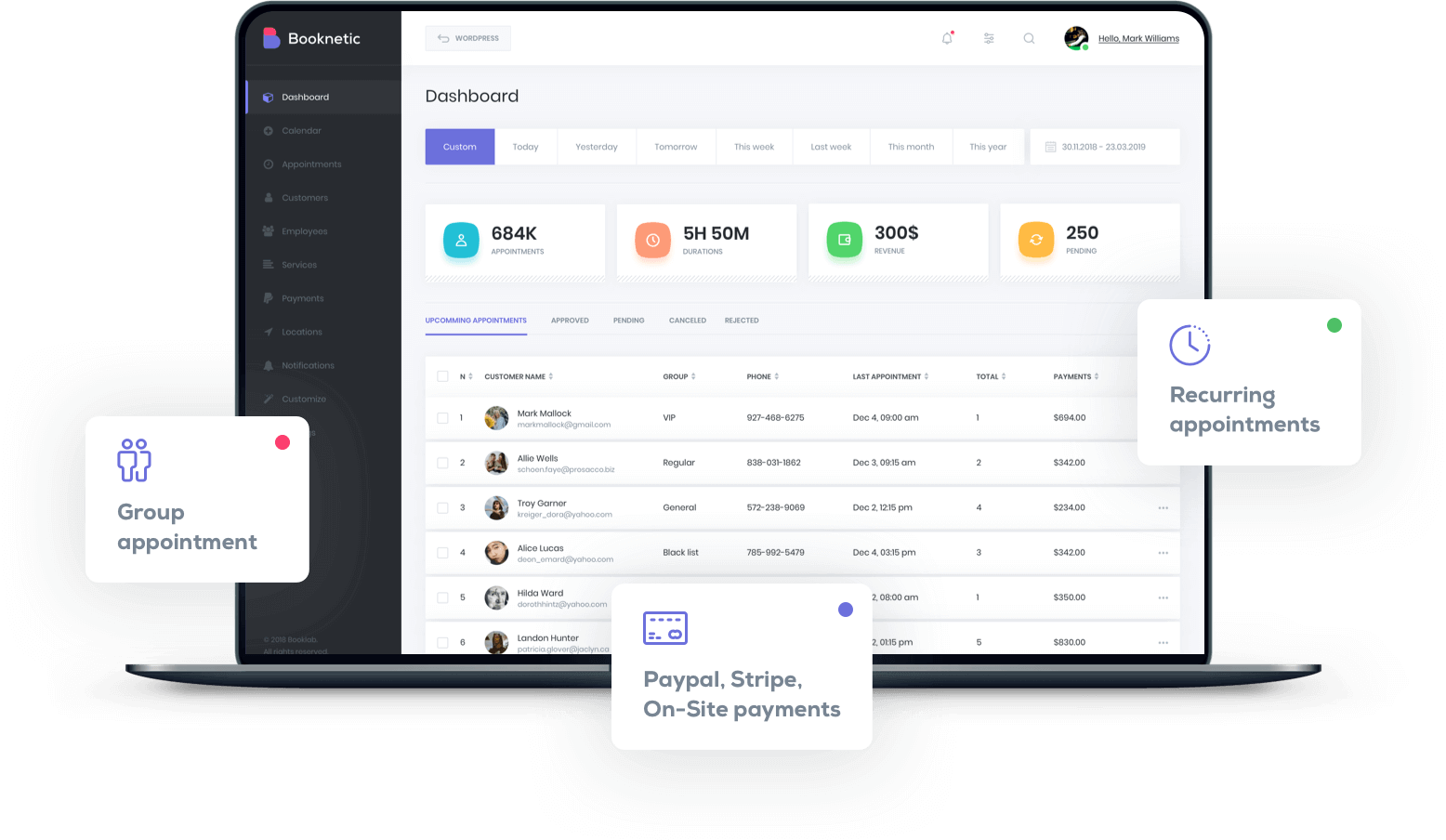 Essentially being a multi-purpose appointment booking plugin for WordPress, Booknetic works for car rental businesses. You can add an unlimited number of staff calendars, connect the booking calendar with Google Calendar.
The multi-service category lets you add an unlimited number of service categories and locations. The creation of a customer base lets you automatically store client details, contact information, payment history.
Using car dealer WordPress themes, you can design your website and connect Booknetic with your template. You can also use its customizable form builder to personalize the booking panel for your site appearance and display only preselected fields in the booking panel.
Payment gateways allow you to receive online payments and charge upfront payments.
Its automated notification and reminder feature, lets your customers and staff keep track of ongoing appointments. The comprehensive reporting panel provides analytics of scheduled appointments, their fees, and enables you to run a comparison of different locations and services.
Bootnetic has two pricing plans. You can either purchase the regular version for a single site at $79. Or opt for the Booknetic SaaS to create your car dealer booking vendor. You can get Booknetic Saas at $489. You can check the Demo to see how it works in practice.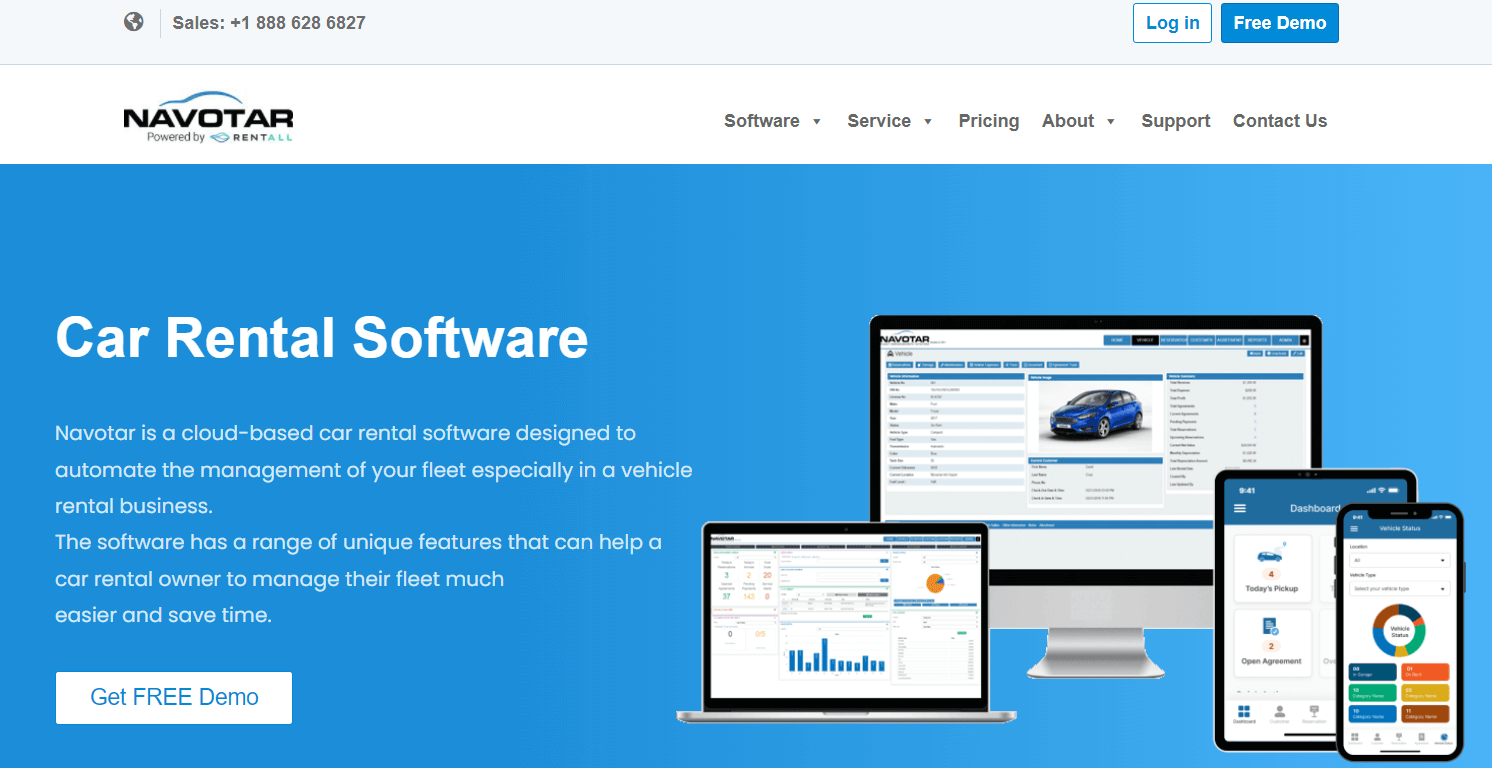 Novator is cloud-based car rental software with a booking facility. Its user-friendly interface allows you to manage your fleet, customers, online reservations, contactless agreements, and online transactions. You can easily integrate the car rental reservation software with your website. Yet, it has a mobile app compatible with Android and iOS devices.
Booking confirmations and payment collection are also included within this vehicle booking software. You can send instant confirmation emails to customers and staff through automated emails.
The best part about this vehicle booking software is its API support. You can connect Novator with any tools using Novator API.
Novator offers custom-based pricing based on the number of rented vehicles and the number of locations. This allows you to use the booking software for your budget and business data. It works best for small and medium-sized rental companies who rent out cars for customers and claim insurance.

Planyo is multi-purpose booking software that also works for car rental companies. It is one of the most flexible vehicle booking software with a variety of integrations. It has native integrations with calendar, virtual meeting, email, customer support, payment processor software providers, and Zapier for third-party tools.
Its customizable booking panel lets you set up bookings at your will. You can set one-time or recurring events, match the booking panel to your site, choose which customer data to ask for in bookings, and remove or add additional fields from there.
Flexibility also includes payment modes. You can choose obligatory or optional payments, manual or automated email verification for the admin panel. Mobile compatibility enables you to manage the admin dashboard on the go and customers to book online.
Planyo has two pricing packages. The cheapest starts at €28\month + 7.7 The first 30 days of usage are always free without any obligations. Planyo can be used for any size of business that receives online reservations.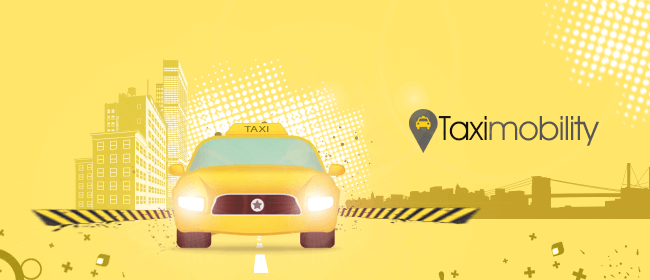 TaxiMobility is a taxi suite for taxi and limo companies to simplify operations. It provides a reliable and ready-to-use interface to easily book and make taxi dispatch time. The major features are GPS tracking, online payments, real-time trip updates.
Despite being cloud-based software, TaxiMobility can be used in Android and iOS devices. In addition to online scheduling, it provides, emergency dispatch, GPS, customer management, invoicing, and billing, order management facilities within rental service.
There is a free trial for this car rental booking software. TaxiMobility is specifically designed for taxi and limo companies.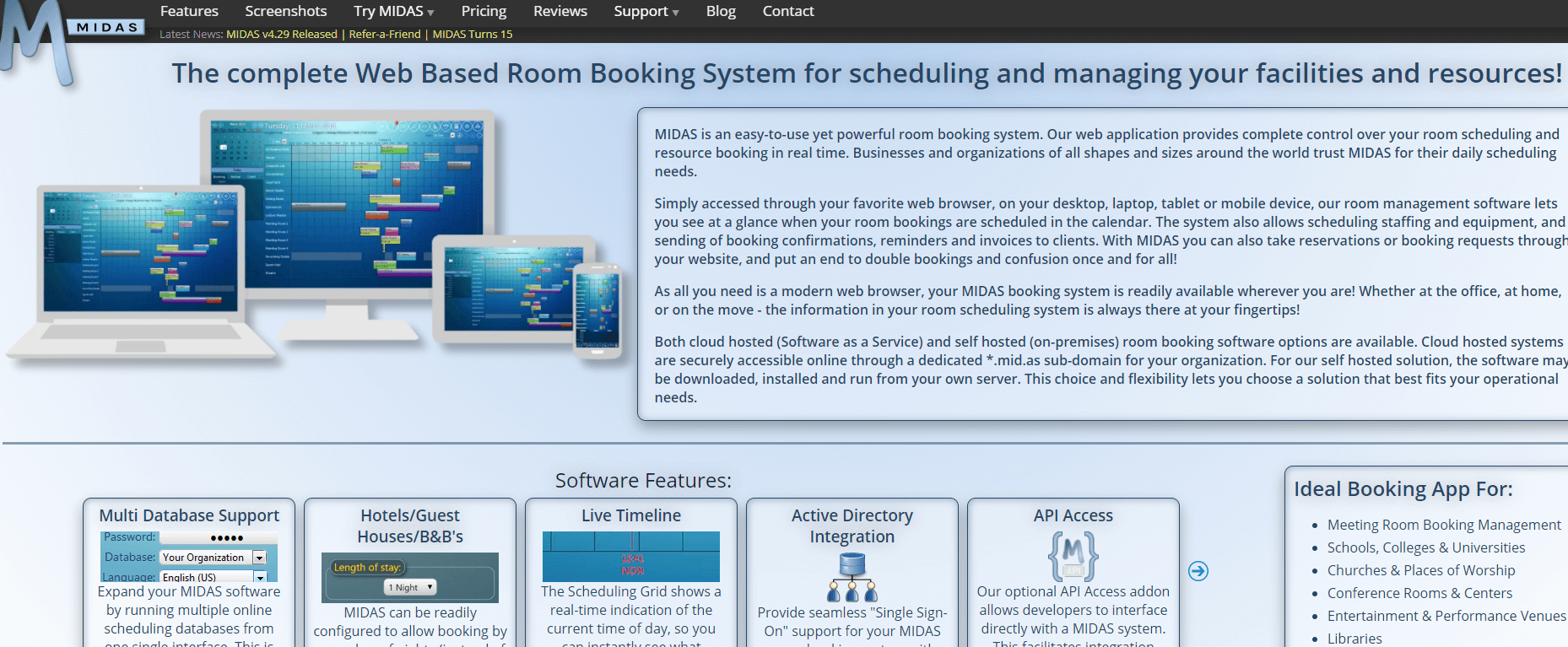 Yet another full-scale booking software for a variety of businesses is Midas. It provides a web-based car rental booking for car dealerships and vehicle bookings. It provides effective fleet management by decreasing the administrative staff's work and increasing the turnover via productivity.
The vehicle booking software lets you easily import customer data from iCal, Google Calendar, spreadsheets, or other sources into Midas's database. You can use by default setting or set bookable time-slots by identifying their start and end times.
Document attachment is an advanced feature not offered by many car rental booking software. You can require customers additional files or documents to upload to bookings. Also, it lets you receive payments from debit and credit cards.
Its multi-user support allows you to add a number of workers to the system such as admin, moderator, a user whose roles can be different from each other.
Midas has two subscriptions for cloud and self-hosted platforms. Cloud platform costs a $31 monthly payment up to 10 venues. While self-hosted platform costs $651 one-time payment to install to your server.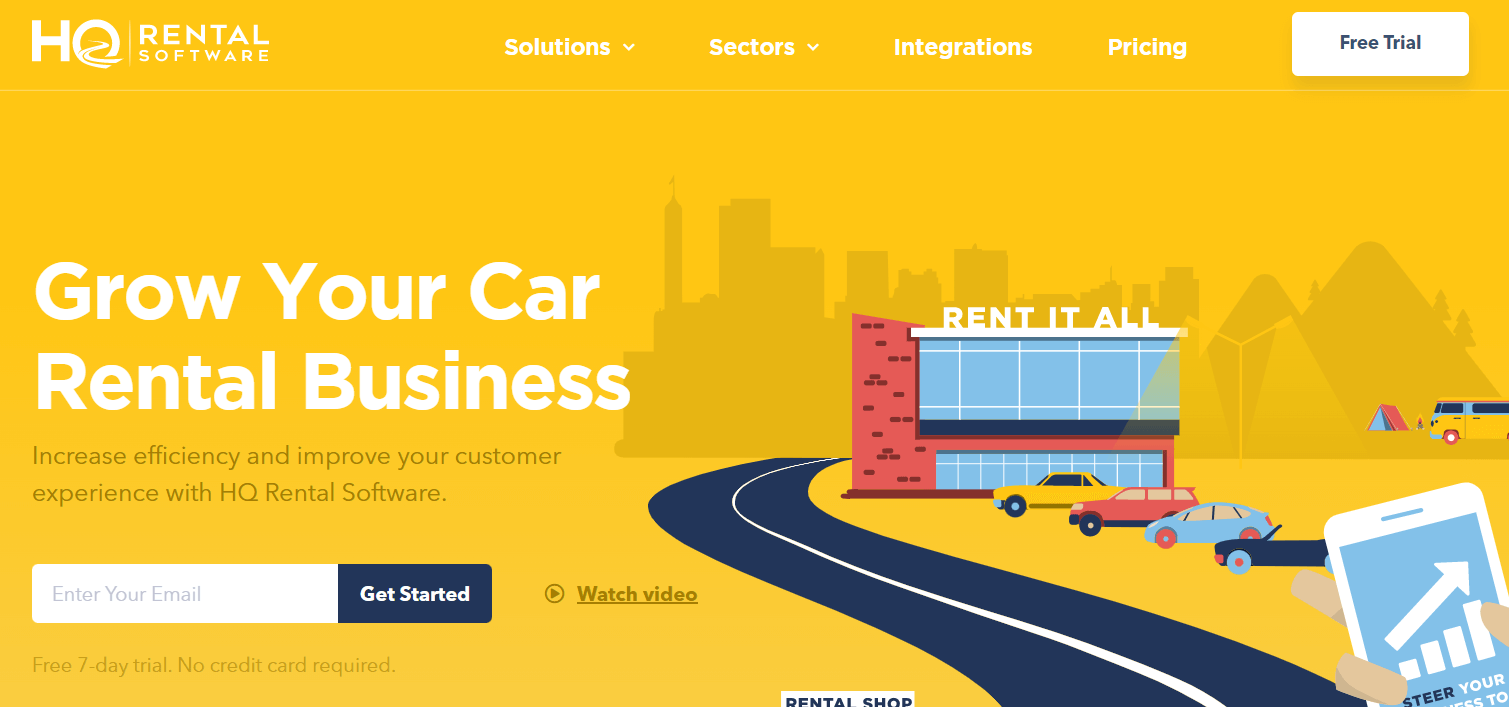 HQ Rental Software is an all-in-one rental booking software with customer and fleet management services. As a cloud software, it can be accessed using any browser or downloaded as an app on iOS or Android.
In addition to regular customer and fleet management functions, HQ Rental Software makes it simple to adjust your prices, verify real-time availability, and track vehicle maintenance expenses. Depending on your package, you'll get a variety of services to help your rental business expand.
Its vehicle booking software can be integrated with your site via a plugin. It lets you generate customizable confirmation emails, custom rental agreements, and use e-signature capabilities. It has KPI reports to display your finance, asset, or conversions.
HQ Rental Software provides subscription-based pricing dependent on your fleet size. The cheapest plan costs $65 per single location and 10 vehicles. However, to get advanced features like mobile app, API support, bookkeeping facilities you need to get higher plans.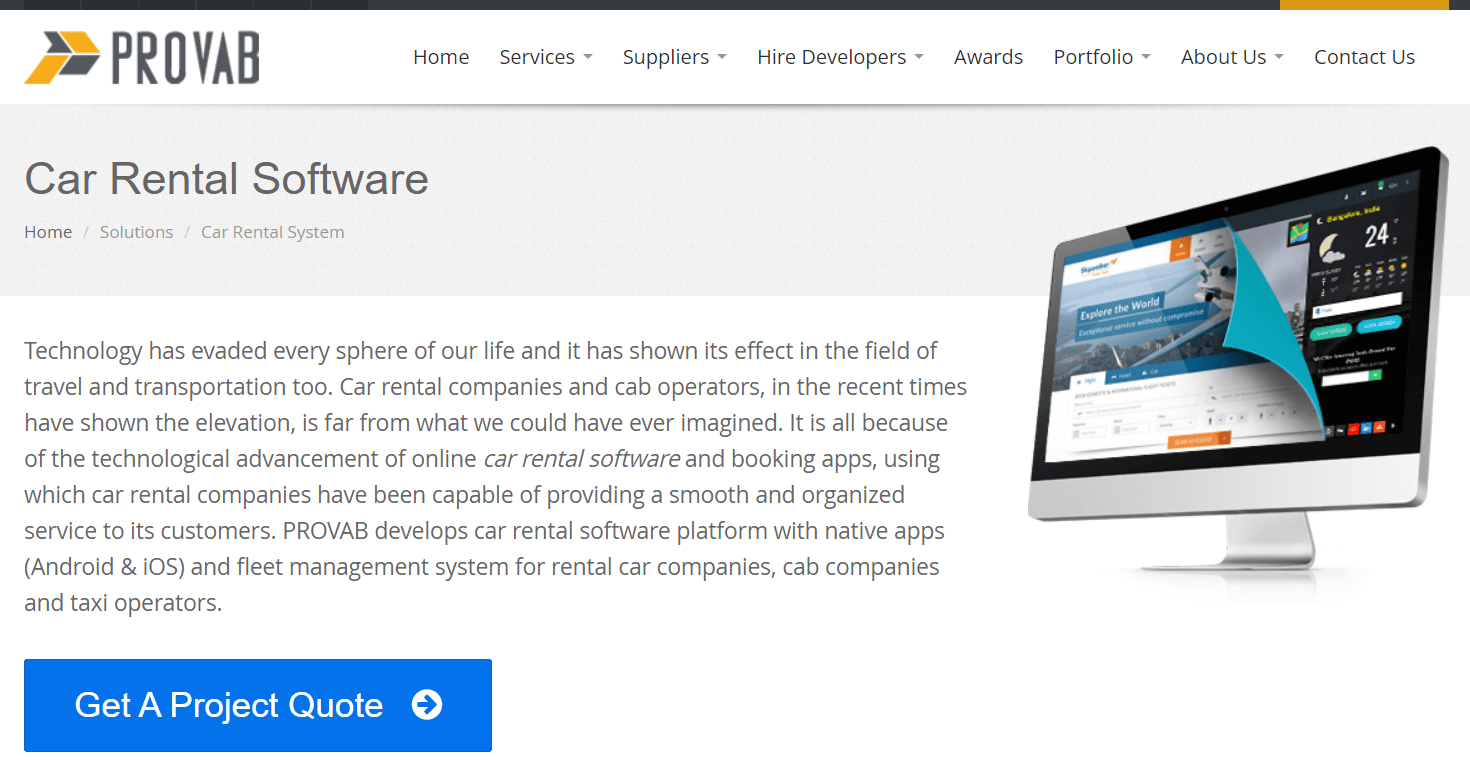 PROVAB Technosoft is a fully-featured Property Management Software offering CRM, bookkeeping, car rental, flight booking software in one place. It has car rental reservation software with native Android and iOS apps and a fleet management system.
Its vehicle booking software is a complete package with a car rental website, booking panel, end-user and driver mobile apps, and fleet management system.
As a cloud-based vehicle booking system, it can be integrated into your website and give your clients the ability to search the real-time availability of cars with the pricing and instant booking confirmation. This booking system combines scheduling, dispatch, and payment processing solutions into one.
It has an intuitive customer model with a 3-step booking system along with budget management and coupons. While the driver module has GPS, alerts on the ride, Google API for location tracking, etc. Its core admin panel consists of several admins such as driver, support, customer modules. PROVAB lets you extend the core admin with PROVAB API.
PROVAB has a customizable price plan. To see the product demo and relevant pricing you need to contact the sales team.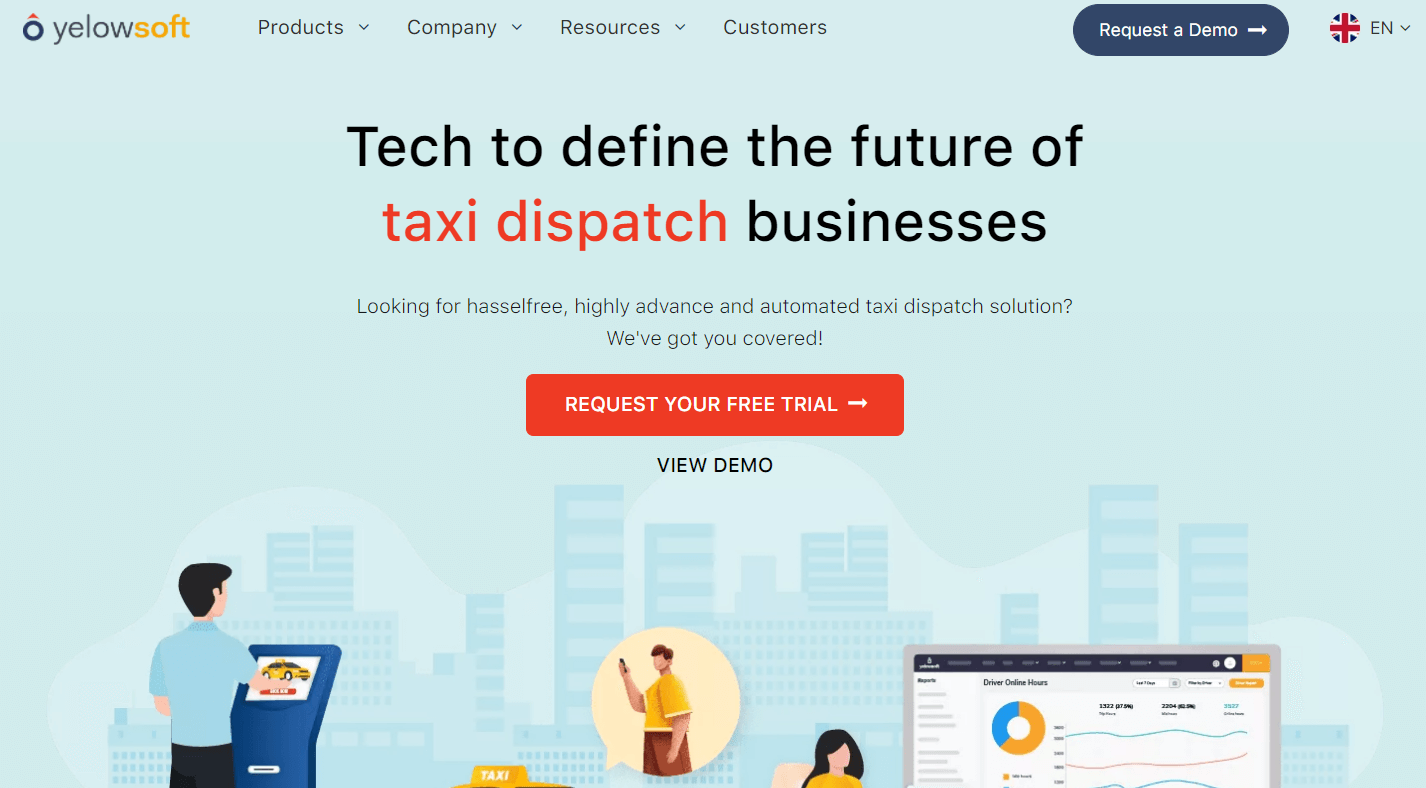 YellowTaxi is another full-scale car rental software with car reservation capabilities. Provided by Yellosoft, this is a suite of software solutions for taxi booking and dispatch.
The suite includes native apps for drivers and customers on Android and iOS. While the admin can use the web-based dashboard to manage customers, drivers, and fleet vehicles.
The ready-to-use platform can be easily integrated into your existing website. By integrating ints API into your website, you can receive bookings from your website. From the booking panel, you can filter scheduled, confirmed, or pending bookings, by days, weeks, or months.
YellowTaxi offers a 14-day free trial. To learn the price you need to contact the sales team.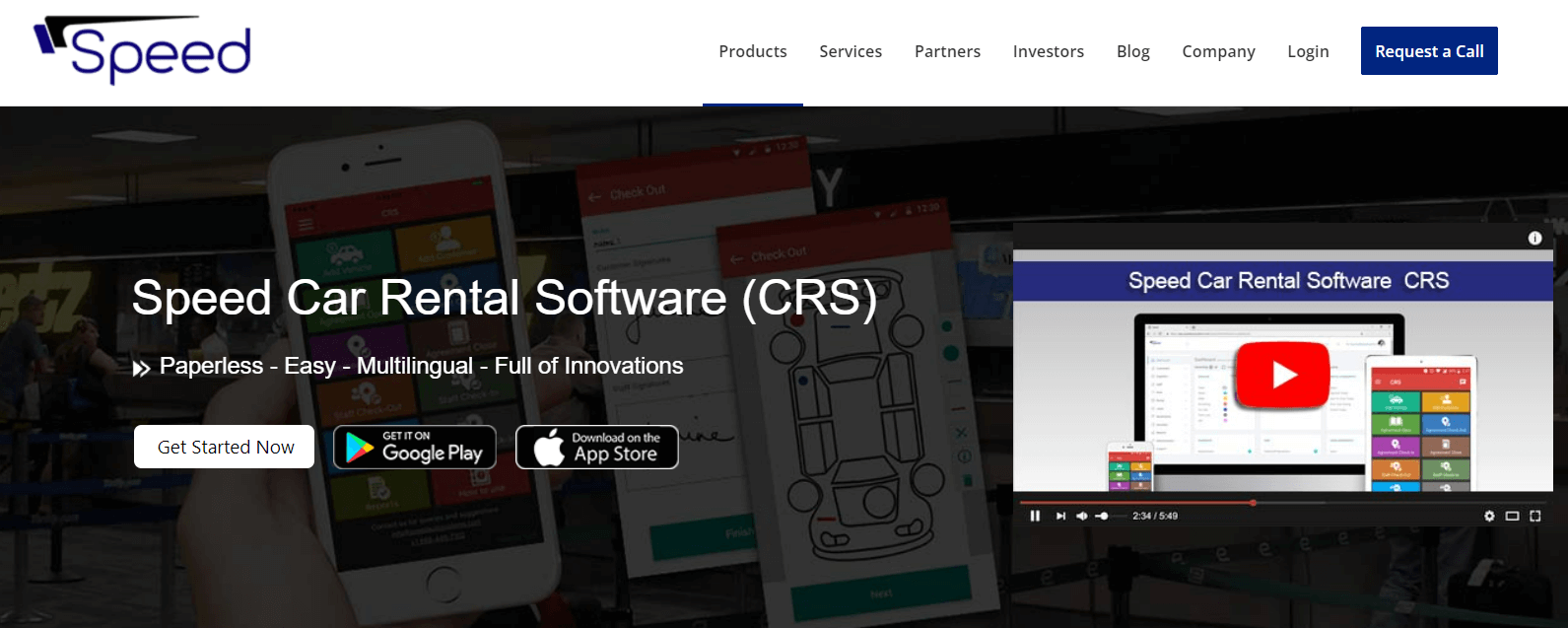 Speed Car Rental System (CRS) is fully-featured software for car rental enterprises and agencies. It offers bookings, rate tables, billing, fleet management, quotes solutions in one place.
This vehicle booking software provides end-to-end solutions for web and mobile apps. You can download iOS and Android apps for free and open rental agreements on mobile. You can also track vehicles, take customer signatures, perform delivery, collection, vehicle replacement features on mobile.
Document store is also available with this car rental booking software. You can store driving licenses, client IDs, passports, and other documents in your virtual car dealership office.
Speed CRS provides 30-day free trial. To know the subscription price, you need to schedule a meeting with them.

CarPro is a web-based suite of applications that provide end-to-end control of vehicles, fleet management, car reservation in one platform.
It offers CRM, BI reporting, reservation management, rate tables, split billing, fines management, and additional services. CarPro can be easily integrated into your website, or software services such as web hookers, payment systems to real-time operations.
The software can be used in cloud, web, or mobile-based deployment. CarPro offers different means of customer support channels including a training course, online support, remote support, and more.
To get more information about the price and feature, you can contact CarPro.
==> Also read: Top 12 Wellness Booking Software to Automate Reservations
Final thoughts
With more consumers getting cars, more businesses are gravitating towards opening a car rental business. Offering a secure place for users to get a car and pay for service is important in this term.
It is also important to provide a secure platform to manage your fleet, customers, billing, bookings in a single place. Car rental booking software helps to oversee your reservations while taking care of your vehicles and inventory.
The embark booking system provides you with a flexible and easy way to make bookings from any part of the world. Pick the best vehicle booking software to integrate the requirements of your business for enhanced quality and performance.
Sign up for our newsletter
Be the first to know about releases and industry news and insights.
Let's

get started

on something great
Booknetic is a simple yet powerful plugin for accepting online bookings & payments on your WordPress site.