How to Manage a Hair Salon Business? 6 Key Takeaways!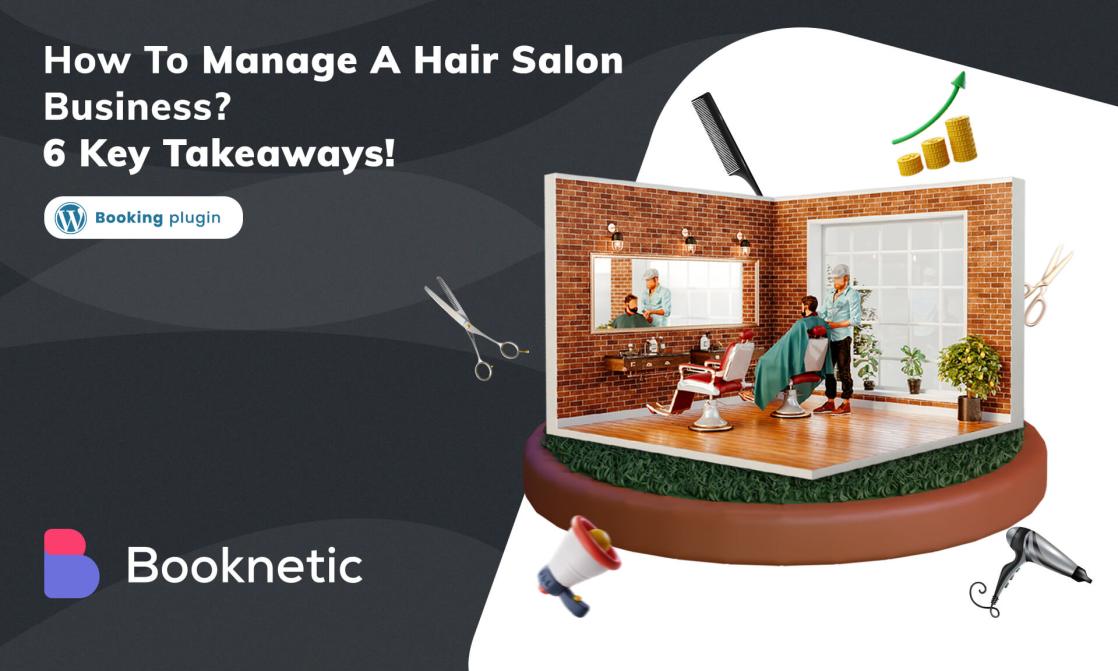 The hair salon business is more than putting fancy brushes and glittered cosmetics under your hand. You may have the latest equipment, hairstyling techniques, best-trained employees, but if you do not know how to successfully manage a hair salon you will fail to keep your clients and employees under the roof.
Your personality, creativity, and individualism should be perfectly blended to give what your customers want to see when they look at the mirror.
In this blog, we are going to reveal the best ways to manage a hair salon and take your business to the next level. But, first, let's figure out
How to manage a hair salon?
1. Build your brand
2. Listen to customers
3. Talk to your staff
4. Observe the procedures
5. Open to innovations
6. Use an appointment booking system to manage your time effectively
What is salon management?
Beauty salon management is the process of managing and overseeing the daily operations of a hair, nail, beauty, or spa salon, managing the team of the hair salon, and creating a cozy environment for clients.
A salon manager takes the responsibility of recruiting employees, ordering supplies, ensuring the health and safety of the hair salon, marketing and sales process, and customer records. Effective salon management ensures smooth business operations and growth opportunities for staff and salon owners.
It is a complex affair encompassing:
Employee management,
Inventory management
Clients management
Budget optimization
Business planning
Salon marketing
How to manage a hair salon?
1. Build your brand
Sounds easy. The first and foremost part of successful salon management is building your brand. It is like developing a personality and knowing who you are.
What we mean by building your brand is first to identify your services and your target customers for yourself. What do you offer and what differentiates you from the average hair salons that your target can get from?
It requires critical thinking, competitor analysis, and even financial modeling to glimpse the business operations for the next six months.
Then, you need to clearly convey your business and its values to the public. By what? Brand voice. It is how you communicate with your clients through words. Your tone can be funny, intellectual, serious, and poetic as long as it is true to your values and your target.
In the beauty industry, you sell a service that helps people to build their self-esteem and personal identity. So, the way you express yourself and relate to it is crucial to retain customers. Your salon advertising & marketing ideas have a great impact on how customers perceive your brand identity.
2. Listen to customers
Customers are always right may not be 100% true. But you have to listen to your customers to take your business where you want to be.
Always look for customer feedback and work on them. Sometimes, customer feedback is the first impression they give through entering your building. But, customer management is not only dealing with unhappy clients and resolving their complaints. Delivering a customer experience is more than just giving a haircut to the customers. Instead, it is a whole journey starting from appointment booking to aftercare.
Collect and process customer reviews, and statistics to create a customer base. Ask them about how they found you, their daily hair care routine, their favorite hair products, hair-related problems, and birthday data. This will give an idea of what areas of service need improvement, and provide personalized service.
For example, through a customer survey, you found out that 37% of your customers are curly-haired. Considering their common problems, you decide to hire a curly hair specialist and purchase hair products that are specifically designed for curly hair.
3. Talk to your staff
A big part of hair salon management is employee management. Hiring the right employees, and training them is the first step of employee management. As the profitability of your salon is directly linked to the proficiency of your staff, you need to constantly train them about your brand values, and customer management, or give professional classes on techniques.
Hold individual and team meetings to ask about their opinion, and discuss the problems. Team building is good for going outside of business discussions and building strong relations. Team building is a secret of successful salon owners. Remember, you should put the same weight on your client and staff if you want to stay in the market.
Set goals for each employee. This way everyone will be clear about their job and focus on delivering their responsibility.
4. Observe the procedures
If you wonder how to successfully manage a hair salon or any business you have to play the detective. This particular part requires to keep eye on inside and outside your business
Holding regular meetings with employees, and talking to clients are cool things that you add to your agenda. But, there might be missing points or cases that you may not get from one-on-one conversations.
To better understand what is going on in the office you can work as part of the team. For example, you can stay at the reception, help the hairstylist throughout the appointments, spend some time in the hall, and join customer conversations to get an idea of how your salon is running daily.
You will come to realize how to spend your budget and invest in which inventories. Let's say that after physically investigating the office, you found out that hiring secondary staff will reduce time spent on each customer and eventually allow you to receive more customers. Or you found out that clients are not comfortable with the chairs. As a result, you decide to replace the equipment.
Apart from in-house observation, you may have to leave your building to improve your salon management. What we mean by that, actually going outside of your office and visiting other salons. See how they interact with clients and reveal why they prefer rival salons over yours. It might not be related to the quality of your service but for some tertiary reasons. Such as the location of your office, proximity to business office buildings, salon atmosphere, or maybe just due to a better advertisement. Understanding clients' needs especially undiscovered ones is the way to increase the profitability of the salon business.
By defining the reasons, you will know which direction to pursue and increase your sales at long last.
5. Open to innovations
If you want to be ahead of your competitors, then seek innovations. It includes investing in equipment, getting certificates, training your workers, and pretty much everything that will scale your operations.
There are lots of technological and thought enhancements that you may implement while answering the question of how to manage a hair salon. Worthwhile innovations that you can invest in are:
Scalp analyzer
Smart serums
Skin type analyzer
Personalized hair shampoos for individual needs
Hair steamer, microfiber hair towel, or wraps
Another field of being innovative in the hair salon business is online presence. In the age of technology, it has to be easy for clients to get information about you, your staff, locations, and available services. Building a hair salon website is one part of being innovative in your hair salon management. It will help people to find your website through search engine results.
Once you have a website built can also optimize your business for the local search results. By registering on tools like Google my business, you can ease the process of reaching out to your service. When your customers look for nearby hair salon services they will see your business and know how to find you.
Important thing is to put the right information in local search directories. Your business name, website URL, business hours, contact details, and physical address are key elements that you should add to listings.
Being innovative does not only entail product or service improvements. As a beauty industry expert, your work needs to be presented to larger communities. Social media is another field you can boost your online presence and reach the target at ease.
For small hair salon businesses, it is the primary marketing channel. You can use social media to educate people about common hair issues, share your experience, and inform them about your prices, or sales.
6. Use an appointment booking system to manage your time effectively
Successful management of a hair salon is challenging work. But with the help of software management and automation, you can create seamless business operations for your salon. Salon management software will help you easily organize daily tasks.
The best way to manage a hair salon is to invest in smart salon software that handles appointment scheduling, online billing, customer management, and employee management.
According to the Search Engine Journal, nearly 40% of websites are built on WordPress. Easy interface, affordable pricing, SEO friendliness, integrations, and flexibility make it the best choice for a hair salon website. With the help of third-party tools like plugins, you can automate overall hair salon management.
If your website is built in WordPress with an appointment booking plugin, you can run your business from anywhere without physically being in the office.
The first advantage of appointment booking plugins is the ease of use. In traditional appointment booking, clients should call your office, and ask about available timing, their hairstylist, price changes, and other procedures. Plugins allow customers to view your salon calendar and book the available slot right from the calendar.
Shifting appointment booking online also means 24/7 customer service. Your clients will not have to wait for business hours to book an appointment, see the price.
It is also a secured system as every part is aware of their upcoming appointments. The features like notifications or reminders help to keep customers and employees alerted about their calendars.
Streamlining online payment gateways will instantly make hair salon customers a favorite. Availability of online billing implies secured service and also builds positive sentiment among customers.
Booking plugins are also great for keeping track of employee performance, service performance, and overall business growth. Reporting panel gives an extensive visualization of your current operations, and revenues.
Booknetic is the best WordPress appointment scheduling plugin that allows full customization and automation of the online appointment booking process. Through the feature-rich platform, you can develop a seamless customer experience.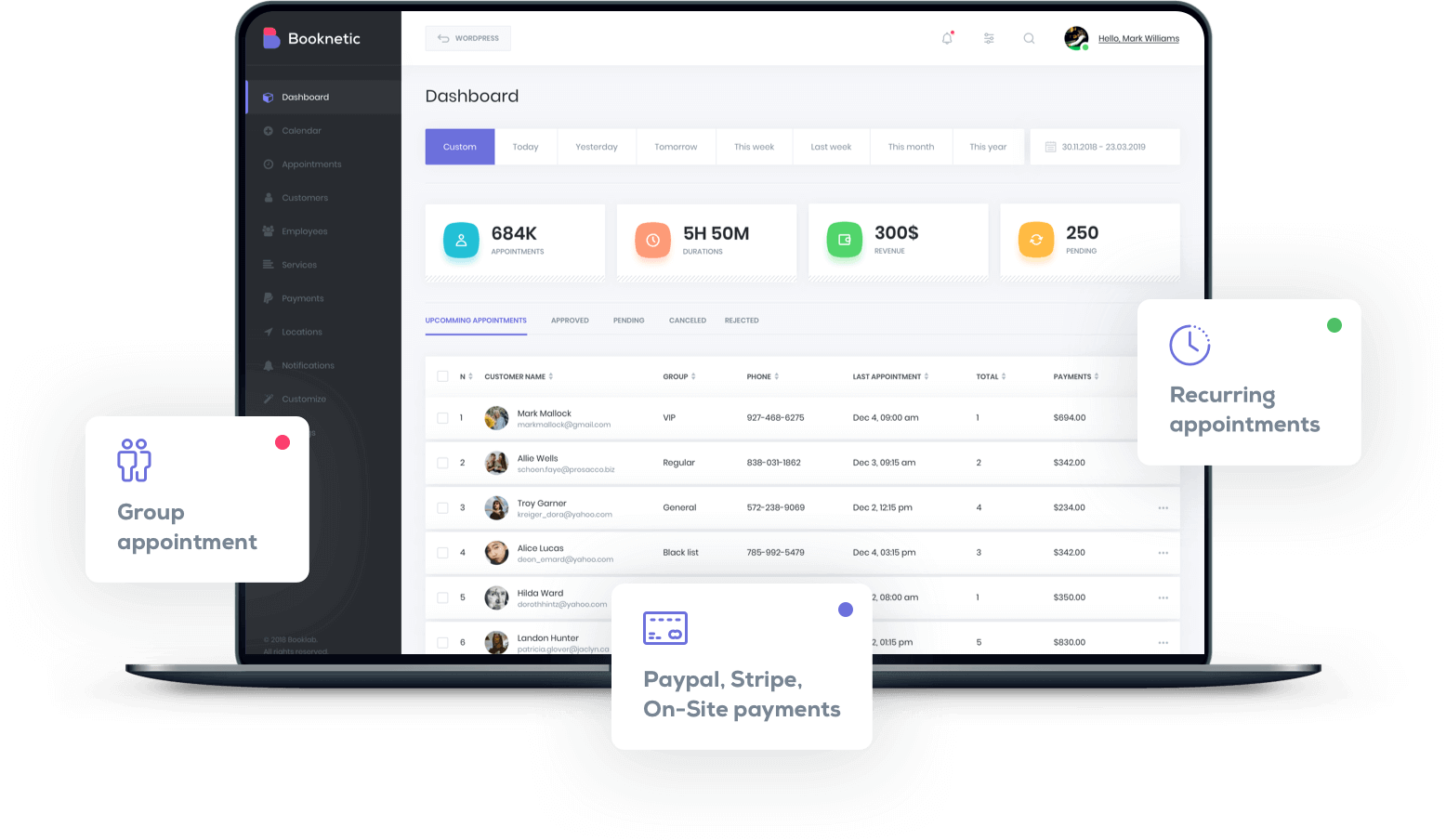 Along with appointment scheduling, Booknetic offers other features that will feed the needs of your hair salon. The features like gift cards, coupons, and built-in forms are exceptional for running promotional campaigns on-site and retaining customers. Visit the website to find more features fitting your hair salon management.
Final thoughts
If you are looking for more tips on hair salon business management, be sure to check out our other blog posts. We offer a wide range of advice and resources that can help you succeed in this industry. Stay tuned for future blog post topics, such as how to create an effective marketing strategy for your hair salon or how to increase customer loyalty. In the meantime, what are your thoughts on the key takeaways from this post? Leave us a comment below!
Sign up for our newsletter
Be the first to know about releases and industry news and insights.
Let's

get started

on something great
Booknetic is a simple yet powerful plugin for accepting online bookings & payments on your WordPress site.