How to Improve Your Upsells With an Online Appointment Booking System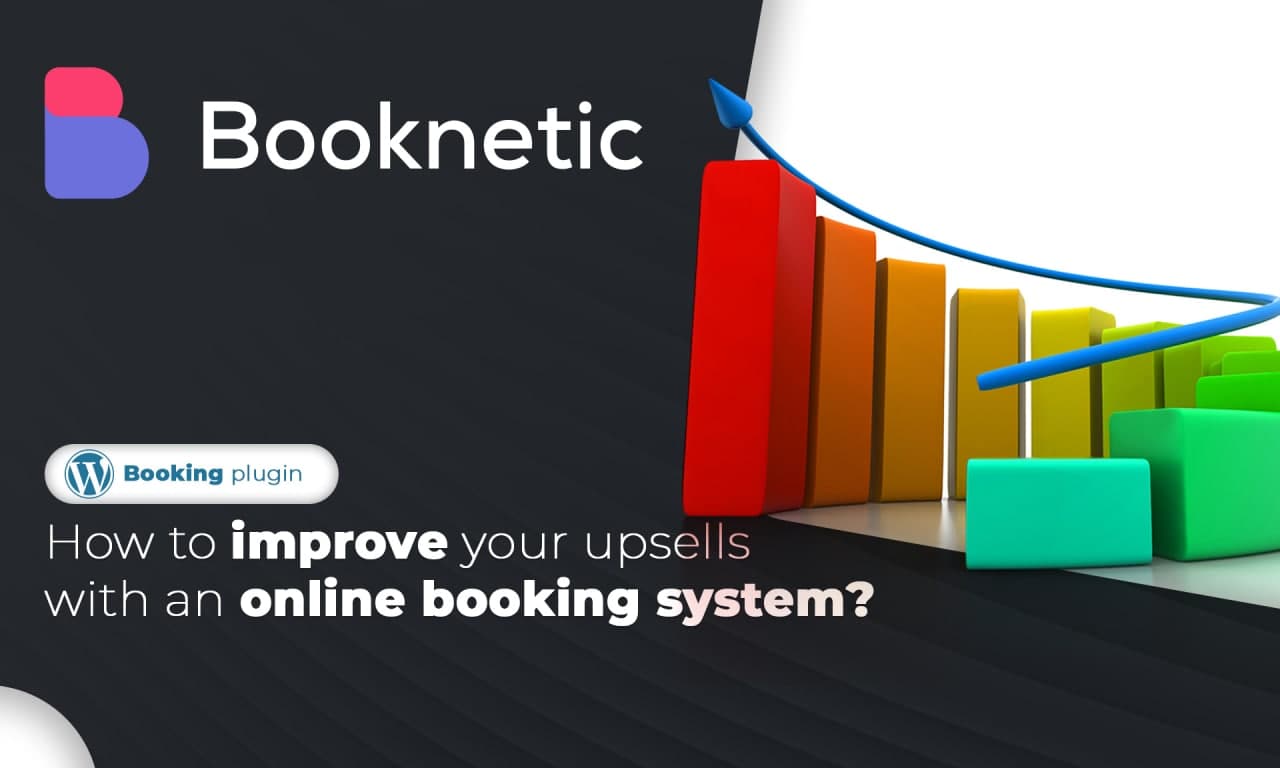 Most people buy stuff and book appointments online nowadays. Why not use the online appointment booking system if you have an appointment-based business? There are many advantages of online booking systems offer that you can benefit from. Your company will be available 24/7, you and your team will not waste their time on a cell phone.
Data reveals that 90% choose to make appointments online. Read studies about it if you are not sure about appointment reservation systems. You can be sure that you lose a lot of money every year without using these systems. Companies that began using online reservations also increased their company sales by 50%.
You must install a plugin on your WordPress website to use online appointment booking systems. A good alternative for the beginning is Booknetic. About why? Because Booknetic has an easy beginner's dashboard. You can use it on your own, even though you don't have a lot of knowledge about WordPress websites. Check our plugin's demo version to see how it works.
Why use an online appointment booking system?
The significant advantage of moving your business online is that it can boost your organization in many aspects. One convenient approach is to make the organization better by requiring less paper—no more need to take notes or plan stuff manually by ear. That's why you will get more appointments and improve your business. There will not be a misunderstanding between clients and workers. Your business will be online 24/7.
Time-saving is one of the most important reasons employees love online booking system. They will be free to get those things done by not arranging all the meetings on the internet or in person. If you find that the person in charge of arranging appointments is continually getting behind on their other responsibilities, transferring the reservation system online is a safer choice than hiring a new employee. It needs time and energy to arrange appointments over the phone. Even the most effective workers would fail to keep up without any support.
You are also saving the business money and keeping the workers' time. Your workers will focus on the things they have to do. The cost of an online reservation service is also much cheaper than the price of time for your employee. Each owner of an organization is continuously searching for ways to cut costs and boost bottom line of your business.
You can achieve better visibility into your company by booking online. You will discover stuff like what the most famous utilities are. Or the most popular day when individuals choose to schedule appointments. You will make more intelligent choices to help your company with this useful knowledge. For instance, if you find that most meetings happen on the weekends to compensate, you should change the schedules of your staff.
Classic booking systems such as telephone booking may get the job done to a degree, but to remain correct and up-to-date, they need a significant maintenance amount.
In addition to maintaining your telephone lines and other contact networks, you need workers to set aside time to monitor and monitor your booking schedule, collect deposits, search for irregularities, notify clients of their booking plan. These are also time-consuming practices and need an expert eye to ensure there are no failures that fall in.
You're automating the whole thing by running an online appointment booking system. Customers should only book days with available spaces and pay upfront for their reservation, requiring them not to intervene and appreciate automated booking alerts.
For any organization these days, an excellent digital marketing campaign is essential. You need to meet your clients through search engines, social media, and email inboxes to remain competitive. You are giving your digital marketing activities a boost by adding online bookings to your company.
Let's assume you are posting an update about a new service on Facebook for starters. Instead a quick link to the website is included. It would be best if you had a connection to your online booking site that goes straight to it. Customers can see this and know as they press your link exactly where they are headed. It takes a few steps from the process and offers a direct link to your booking page.
So how can you improve upsell with an online appointment booking system?
With an online appointment scheduling system, there are several options to improve the upsells. We prepared a list of these methods:
There are plenty of options for plugins. That is why it isn't easy to find the best plugin. So, what functionality does the plugin must-have? Here are significant features to look for in booking plugin:
Customizable design
SMS notification
Synchronizing Google Calendar
Email notifications
Deposit payments
Paypal payments
Mobile-friendly
Appointments for Group
Multiple locations
WhatsApp notifications
Booknetic has all of the above features we have mentioned. Within it, Booknetic has more specific elements. We recommend that you try our plugin for such features.
Let your past and future potential clients know that you have an online reservation system
Maybe you've decided to use online booking services, and your previous clients don't have information about it. That's why you must send a message or an email to provide information. You have to share posts on social media sites and add call-to-action to your posts. Make sure to avoid costly CTA mistakes and make use of retention strategies for maximum conversion.
Always check website errors
Make sure everything about your booking system is okay. You may lose future clients due to any errors on your website. That's why a successful analysis is essential before picking the correct plugin. Pick a plugin that has 24/7 support.
This strategy will boost sales. People like using coupons. So, find the plugin that has a coupon feature. Booknetic's got it. It's nice that you pay Booknetic cash for a lifetime and start growing your organization and making more money.
For example, mention a particular code on your voice message and another one in your email messages. As they book online, consumers will type those in. You will see how many people have migrated over and how much money and time you save in the process.
Offer memberships to your clients
If you have a fitness business, this is the best solution. In this strategy, you'll earn more money than you do now.
Update your email signatures
You can get questions about pricing while also sharing details about online bookings. Change the email signature and add a website link for booking. Change your business card as well and add your website to it. Try to pick a simple domain to remember. Your customers won't quickly forget the name of your website. Pay attention to all details of the email in order to write reminder text for a meeting.
Ask Clients for Google Reviews
Reviews are so valuable. Because, for most people, they are significant. When your customers post positive feedback about your business, you can get more customers. Try not to get negative ratings. These reviews would impact your progress.
Try to find a partner to create your advertisements
Suppose you know someone who can advocate for your business, partner with them. Ask them to share some of your products' details. You can also post about your online booking system.
Conclusions
As we listed above, there are many methods for improving your upsells with online appointment booking systems. Follow our list for these methods.
You must find the most reliable and successful way of doing things to get ahead. Booknetic provides an online appointment booking system that can modify your company's runs. Your company will start to run more successfully as you get started with it, and your clients will be happier.
Sign up for our newsletter
Be the first to know about releases and industry news and insights.
Let's

get started

on something great
Booknetic is a simple yet powerful plugin for accepting online bookings & payments on your WordPress site.