Creating a Professional Services Website with WordPress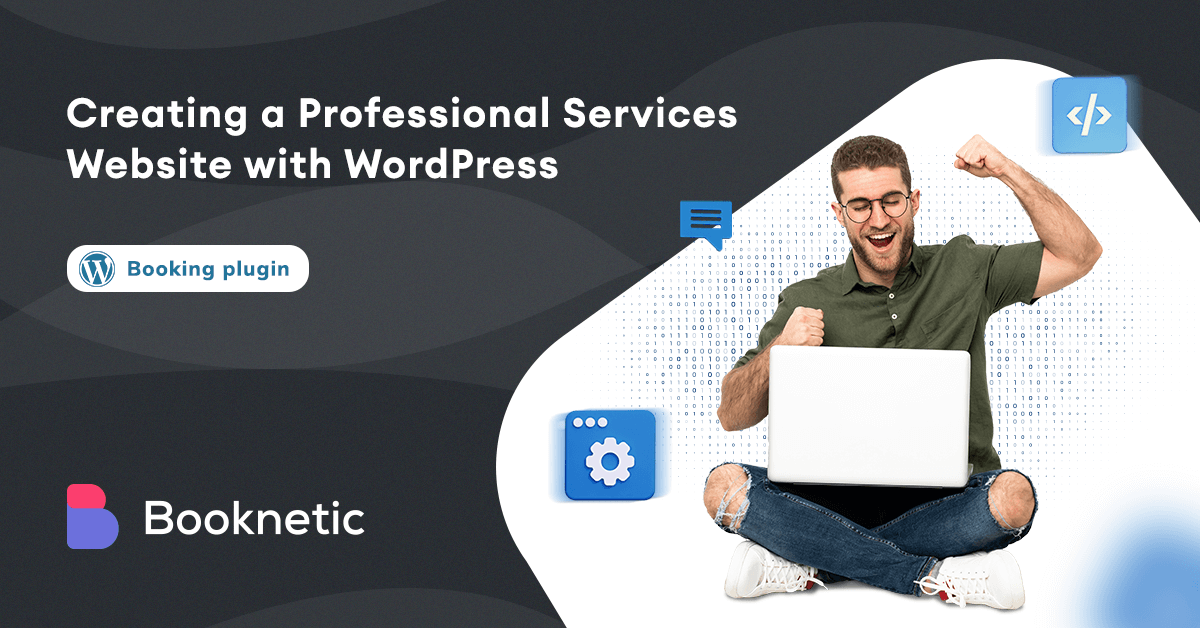 Are you a professional services provider looking to create a website for your business? WordPress is the perfect platform for you! In this blog post, we will discuss the basics of setting up a Professional Services Website with WordPress. We will cover everything from choosing a domain name to installing plugins. Let's get started!
What is WordPress?
Make a website yourself or get the profession of a freelancer creating custom WordPress sites. WordPress is one of the most popular CMS for building websites. One of the easiest ways to start building a site is to use WordPress.com.
With the help of WordPress, you can create sites from scratch of varying complexity and functionality - simple one-page landing sites, business card sites, personal blogs, service sites, or complex multi-page online stores.
Alternatively, you can set up your first site here for free. WordPress is a master at this.
In this article, we will explain to you step by step how to build a WordPress site:
Step #1: Start Creating a New Website with Your Domain and Hosting
A domain name is the name of a site that visitors will type into a web browser to access your site.
There are many hosting services that also provide domain name registration services. You can get a domain from websites like GoDaddy and Namecheap.
Most domains are very cheap and are usually renewed every year, but you can choose a longer-term when you buy.
How can I choose the right domain?
3 recommendations
The shorter the word, the better;
If the area you need is busy, logical, and continues to be
Read clearly, try adding a number or hyphen;
If the domain name you bought has English letters, you do not need to use letter combinations, otherwise, you need to write the combinations in this form (ÅŸ-sh, etc.)
GoDaddy has an easy assessment tool that can meet all your needs. Just enter any existing (or hypothetical) URL to get a free domain estimate.
If GoDaddy determines that it is valuable, it will provide you with a rating and some reasons.
This information is derived from data that they have access to like a large secondary market for domains. Not all of this data may be available elsewhere.
Namecheap has been in the business for almost two decades and has built its name from the bottom up. Today, it is one of the most recognized web service providers in the world, selling over nine million domains.
Next Up: MySQL Database
The WordPress system needs a database to store information and data. It allows the system to run smoothly by keeping various data in various tables in the database. You do not need to have the MySQL database service extra.
👉 READ MORE: Create a Multi Vendor Booking System with No Coding Required
Step #2: Choosing a Service Website Theme
Choosing the right theme is the key to a website
If you are building a trading site, you can choose from WordPress themes to suit your trade.
You do not need to pay to start Woocommerce topics
If your budget is suitable and you want to enter the e-commerce business with solid and correct steps, I would definitely recommend you to buy a paid WordPress e-commerce theme.
The smaller the amount you spend on e-commerce, the more you will earn later. A good WordPress e-commerce theme should be SEO friendly, fast, and user friendly. We have created this list in accordance with the criteria and are constantly updating it.
And you want to spend less investment. We must not forget that e-commerce prices are very expensive.
With WordPress, you will not have such an expense. Here you can get a quality theme at a cheaper price. We've added a nice theme for those looking for a free WordPress eCommerce theme and beginners.
During the WordPress site construction phase, you also need to consider the appearance of your site. Different types of blogs or websites may need different layouts or themes. An e-commerce site will need a more sophisticated design than a blog. The best part about WordPress is that there are tons of premium and affordable WordPress themes to choose from.
Some of the free WordPress themes are Vilva, HoneyPress Dark, and Elegant Portfolio. Rara Theme, Divi, and X are some of the paid themes.
1. Divi
If you are looking for a theme that you will use for multiple purposes, Divi is the choice for you. Divi is much more than a WordPress theme, it is a completely new website building platform that replaces the standard WordPress post editor with a far superior visual editor.
2. Bono
Template for an online store on any topic, made in the style of minimalism, emphasis on products, nothing superfluous, fast loading. Bono is ideal for creating an online store in WordPress.
3. Imperion
Imperion is the perfect WordPress theme for marketing, carefully crafted for your success. You have a lot of freedom and customization possibilities here if you decide to adapt it to your needs. Adaptive design, WooCommerce package, Cherry projects, etc. It includes everything you need to build a powerful web resource.
4. Flash
Flash is a multi-purpose WordPress WooCommerce theme. More than 12 widget supports. With the ThemeGrill Demo Importer plugin, you can start using any of the 6 themes by streaming any of them. You can search for demos with a single click. Some features are also available in the Pro version. But if you don't use Pro, it's a completely free theme.
5. Max Store
If you need an extra recommendation for a simple e-commerce theme with smooth WooCommerce integration, you can choose Max Store. Whatever your job, Max Store will suit you. Max Store's default look is perfect. Product categories are displayed on the main page. With a flat animation, the product presentation will look more modern and stylish.
However, if you want to increase the beauty of Max Store with some effort, Max Store is highly customizable. This theme is also a good option if you want to get better Google Rankings because it supports Yoast SEO, the most powerful WordPress plugin. Finally, Max Store can make your online store run faster by compressing and optimizing all files.
Step #3: Plugin
The WordPress plugin is essential for system development. With plugins you can fill anything, even a blank design. Slides, member forms, banners, products, interface design fonts, etc. Thanks to the plugin developers, you can find millions of plugins for WordPress on the site. Plugins are produced to provide more functionality and ease of use to systems. The same is true for WordPress.
And let me show you a few must-have WordPress plugins:
Booknetic is an elegant yet powerful booking plugin for WordPress websites. It is the invention of the FS Code (with the popular FS Poster autorelease plugin) by experienced developers.
Booknetic is a great appointment and booking plugin for WordPress sites. It is the perfect solution for hotels, gyms, salons, spas, law firms, repair shops, and other service-based businesses. The plugin allows your potential customers to book appointments and pay easily.
A mobile-ready responsive design that means your booking website will look great on multiple devices
Beginner-friendly: Booknetic is incredibly easy to set up and customize for any business
A drag and drop form builder that lets you add additional fields to the default booking form
Detailed reports with actionable data to help you keep track of your business
Customizable email and SMS notifications for your customers and staff
PayPal, Stripe, and WooCommerce payments support
Detailed documentation and excellent personalized support.
Simplified booking page that reduces bounce rates
Fully automatic – install once and save hours
Add unlimited staff
Multiple currency options
Unlimited categories
Add unlimited services
Excellent comprehensive user interface etc
👉 READ MORE: SaaS Online Booking System
2. Yoast SEO
It is one of the best Search Engine Optimization (SEO) plugins. It helps you publish high-quality, search-optimized content. If you want your site to be in the forefront, this plugin is for you
Key Features: Analyzes WordPress pages and posts, finds SEO weaknesses. Generates XML sitemaps. Generates breadcrumbs in compatible WordPress themes
3. WooCommerce
WooCommerce is the world's most popular open-source e-commerce solution. This completely free plugin integrates easily with WordPress-based websites.
With WooCommerce, you can make transactions like meetings, reservations, subscriptions, and increase WooCommerce sales.
4. Contact Form 7
Contact Form 7 is the most popular contact form plugin that enables the creation of contact forms for websites using WordPress infrastructure.
Many WordPress sites use this plugin
Key Features:
It allows you to manage multiple WordPress contact forms.
It allows you to customize the contact form.
Blocks SPAM messages using CAPTCHA and Akismet.
Who is recommended:
Recommended for site owners who want to display stylish contact forms without sacrificing functionality and security.
Use an effective caching plugin
Every WordPress site needs a nice caching plugin. You ask why?
Cache plugins increase your site speed immensely.
It reduces the load on your server.
It raises your rank. (High speed means high ranking in search engines.
It increases the user experience.
The most effective caching plugins on the market are:
WP Fastest Cache
WP Rocket
Cache Enabler
Optimize your database
Optimizing the WordPress database is one of the things you need to do to speed up your site, and it's not as difficult as you might think.
There are many quality and free plugins available to do this. What I recommend is the WP-Optimize plugin.
Use Latest PHP Version
PHP is the programming language WordPress is written in. And there are versions of this software language too. However, most hosting companies do not use the latest version due to compatibility issues. You may need to do this yourself.
You can check and change the PHP version from your hosting panel. In the observations made, it was seen that PHP 7 version is 150% faster than version 5 by an astronomical percentage.
Step #4: Add ads to your site
1. Google Ads:
Formerly Google AdWords, Google's online marketing tool that allows you to show your ads in search results, partner sites, or YouTube. Google ads are the channel where the most budget is used in the internet advertising ecosystem. Google ads started operating in November 2000. It currently has more than 1 million users.

Why Ads (Adwords)?
You will attract more visitors. When you start advertising with Google AdWords, you will receive more phone calls and e-mails you will gain more new customers and you will immediately feel their contribution to your business.
Everyone searches the Internet. 73% of online sales start with a search. You will now be more visible when people search for your products or services.
Gives fast results. Google AdWords ads give quick results. You start seeing results as soon as your ads start running.
Increases brand awareness. Google AdWords ads play an important role in increasing brand awareness. Long-term campaigns create loyal customers.
Corner Post. It is an invasive, often overlooked feature of an ad. Invasive ads not only turn users away, but they can also make your website worse. That's why more and more website owners are looking for ways to make their ads as unobtrusive and "appropriate" as possible.
Corner Ad is a plugin that helps with this purpose. In its simplest form, it allows you to place ads in corners of your website where they are visible but not in the way of the content. Once they are there, you have incredible control over the details of the ad. It even works with other popular ad revenue plugins that offer more options.
This may sound like a relatively minor add-on, but when it comes to online advertising, the little things can start to add up.
Step #5: How to Speed Up Your Website
Let's first answer the question of why it opens slowly
There are many reasons why a website may load slowly. The important thing is to identify the problem correctly and provide a quick solution.
htaccess file optimization
Server optimization
Heavy traffic to the site
Unnecessary redirects
Referral spam or attack
Code optimization
Converting PNG Images to JPEG
Most images on the internet are either png or jpg images. PNG images are used for images that contain text, clear graphics, charts, logos, or architectural plans. It is usually the default format for screenshots. However, PNG images are at least 3-4 times larger than JPEG images. JPEG images are the default format for digital photography. All images from digital cameras and mobile phones are stored in JPEG format. The advantage of JPEG over PNG is file size. The advantage of PNG over JPEG is that there is no loss in image quality. PNG is a lossless file format, meaning an image is transferred from person to person without loss of image quality. JPEG is a lossy compression format and therefore suffers a minor loss of quality when an image is saved.
It takes time to resize each individual image, especially if you have a folder full of them. You can also use BeFunky's Batch Image Resizer to make your procedure more efficient and save the images in the format you want.
The balance between speed and image quality helps to drastically reduce page weight.
We recommend EWWW Image Optimizer Plugin
EWWW Image Optimizer is the best WordPress image compression plugin. It is easy to use and can automatically optimize images you upload on the fly.
It can also compress and optimize your previously uploaded images in bulk. Best of all, the EWWW Image Optimizer is very affordable. Included in your plan is a caching engine, CSS/JS optimization, and Google Font optimization to help your site load even faster.
CDN Usage
It is possible to speed up your WordPress site by using a CDN. The use of CDN is one of the critical things that affect the WordPress site acceleration process. Especially if you have an image-heavy website, using a CDN is a must for high WordPress speed.
Do Not Upload Video and Audio Files to Your Server
Uploading audio and video files directly weakens your site. It would be better to use Youtube.
👉 READ MORE:How to Make a Spa Website with WordPress?
Conclusion
Creating a website can be daunting, but it doesn't have to be. With the right tools and resources, like those we've provided for you in this blog post series, you can create a beautiful and functional website on your own – even if you don't have any coding experience! If you are in the professional services industry and need a website, WordPress is a great option. It offers plenty of features and flexibility to create a site that represents your business well. And if you need help getting started, our team can assist you. Visit our website today to read more about creating a professional website with WordPress. We hope this series has helped give you the information and confidence you need to create a stunning website that represents your business well online.
Sign up for our newsletter
Be the first to know about releases and industry news and insights.
Let's

get started

on something great
Booknetic is a simple yet powerful plugin for accepting online bookings & payments on your WordPress site.