How to Make a Spa Website with WordPress?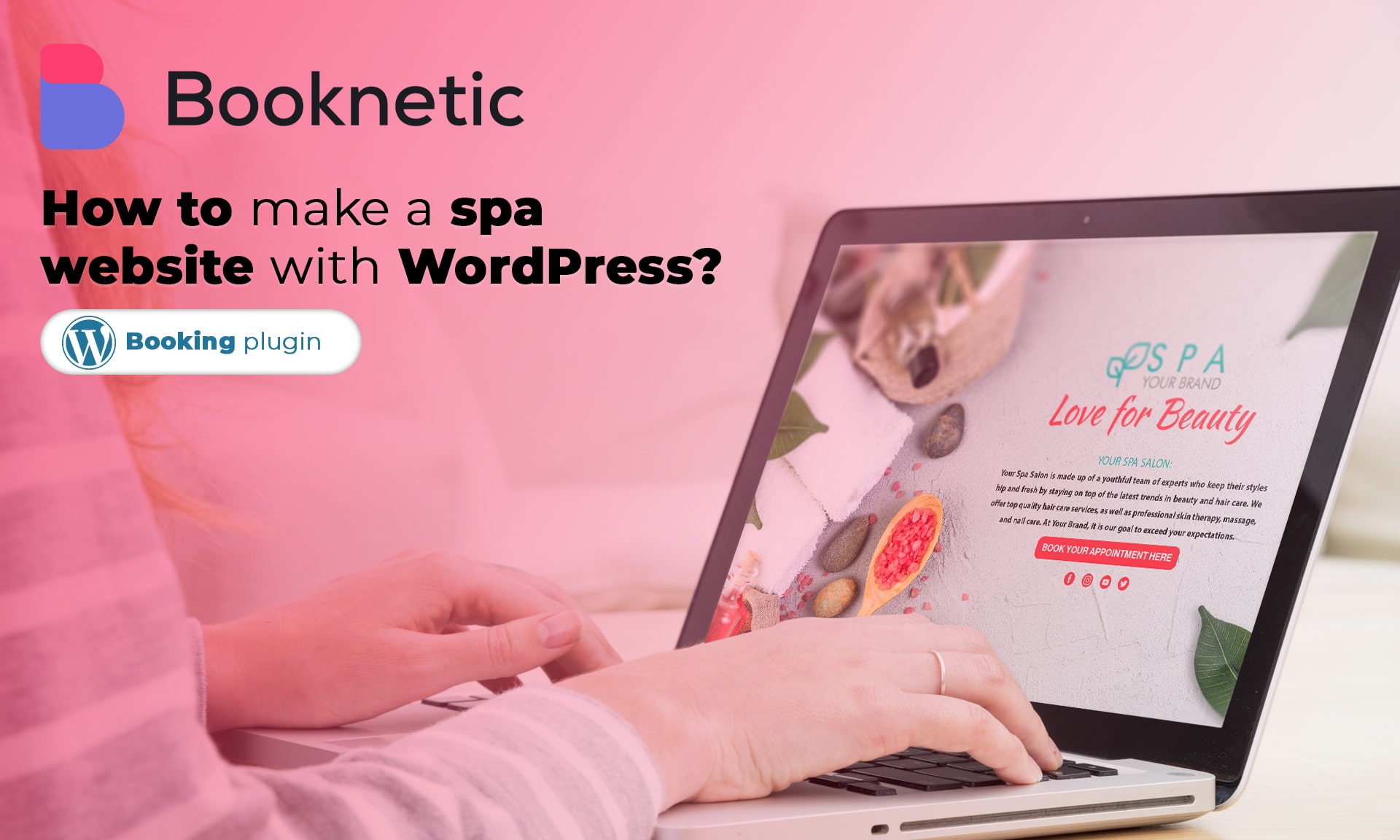 If you want to know the best spa and salon advertising & marketing ideas to get you more customers and maximize the number of bookings, you are in the right place. One of these ways is an enticing website. A website is the most valuable networking tool, and it allows you to be searched online. The greatest thing about getting a website is that everyone can get up and running quickly with a CMS like WordPress, even though they don't know how to code. You will also waste less time scheduling clients over the phone by letting your website do the work for you, thanks to a multitude of stunning themes for spa and beauty salon websites. If you don't know how to make a spa website with WordPress themes, here is our guide:
Why would you use WordPress?
Below are some of the most powerful arguments to use WordPress for your spa and beauty salon website:
WordPress is easy to use and ideal for newcomers. You can add content using a post or page editor that looks like Microsoft Word, and you can use a drag-and-drop uploader to add images, audio, and video files. There's no need to code anything because changing colors, fonts, and other features are typically accomplished by modifying sliders and selecting a part from drop-down menus.
WordPress is free to download on your preferred hosting server. You can also change your mind at any moment and quickly switch from one host to another.
There are thousands of templates and plugins to choose from
Because of the success of WordPress, there is a multitude of themes available for just about every niche. Thousands of plugins, including social media buttons, SEO apps, list building plugins, page builders, membership, form plugins, and more, are available to help you take the beauty salon website to the next level.
Finally, WordPress will scale to meet the demands of your website.
How to make a beautiful spa website with WordPress?
To get started on your website, you'll need to get a domain name and a hosting contract, as well as decide on a theme.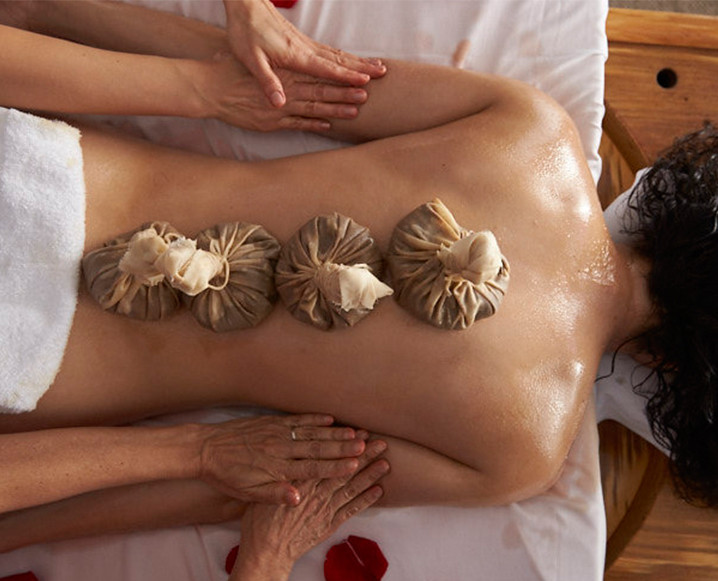 Purchase a Domain Name
Potential clients will be able to search the website online if you have a domain name. As a result, it's a brilliant idea to go for the same domain name as your business. Try to get an a.COM domain if you can, as it is the most common, but you can also go with extensions like.US CO or newer extensions.SITE. The choice of a domain registrar is also important.
Your domain name can be purchased independently or in conjunction with your hosting contract, which takes us to the next chapter.
Choose a Hosting Plan
You'll also need a hosting contract in addition to the domain since this is what will allow people to access your site. There are flexible hosting services starting at $5 a month and more costly controlled WordPress hosting plans.
The good news is that virtually every hosting provider can offer you a free domain name if you buy a hosting service from them, making it simple to do anything from one location.
Prepare written and visual content
The written and visual material for your website are the last things on our list. Because most trendy themes come with sample material pre-installed, having those two things ready before you start building your beauty website saves you time. This assumes you can download the demo material and then easily overwrite it by copying and pasting the text for your pages and substituting your images for the demo images.
You should install WordPress
You'll need to install WordPress to build your beauty website. The good news is that most hosting providers now provide a one-click WordPress download, making the procedure fast and painless.
First, go to your cPanel or hosting dashboard by clicking the connection and entering the username and password you got in your hosting company's welcome email.
Look for a button that says One-Click WordPress or Website Installers, Softaculous Installers, or something similar when you log in. Then, to install WordPress, click on the icon and follow the on-screen instructions.
When WordPress is finished downloading, you'll see a connection that will take you to your beauty website's WordPress login page, where you'll need to enter the username and password you just developed. You can also use the WordPress dashboard at any time by going to yourdomainame.com/wp-admin.
Install your WordPress theme
Navigate to Appearance > Themes > Add new in your WordPress dashboard now. Select Upload Theme from the drop-down menu.
Locate and upload the theme's zip archive that you bought and downloaded. Click Activate until the theme has finished downloading.
Install the Plugins You'll Need
The theme includes the installation and activation of many plugins. When the theme has been triggered, you'll see a message on your dashboard telling you to add these plugins.
Now that your spa website is up and running, you can boost your search engine ranking and increase the number of online bookings by adding a few additional plugins:
Yoast SEO- Yoast SEO is a search engine optimization plugin. You'll want to add this extension if you wish to leverage full over the visibility of your articles and pages in search engines. It helps you apply SEO-friendly titles and meta details to your content and increase the readability of your content.
Appointment Scheduling and Booking Software- Using Booknetic to make it easy for your clients to schedule appointments online. This plugin is entirely customizable and provides online purchases, updates, and Google Calendar sync. Spa & Salon Appointment Booking Solution with Booknetic is one of the best ways of using appointment booking plugins.
FS Poster- FS Poster is an auto-posting plugin. Sharing your posts on social media sites and inviting users to do the same is a perfect way to boost traffic to your blog. This plugin allows you to post your content on 15 different social media platforms.
Ninja Popups- Ninja Popups are a form of popup that appears out of nowhere. Finally, Ninja Popups should be installed so that you can build beautiful opt-in forms and gather visitors' email addresses to grow your email list.
The visual appearance has to be customized
The final move is to personalize the look of your beauty salon website. Select Appearance > Customize from the drop-down menu. You can upload your logo, pick fonts, customize the header and footer, and much more.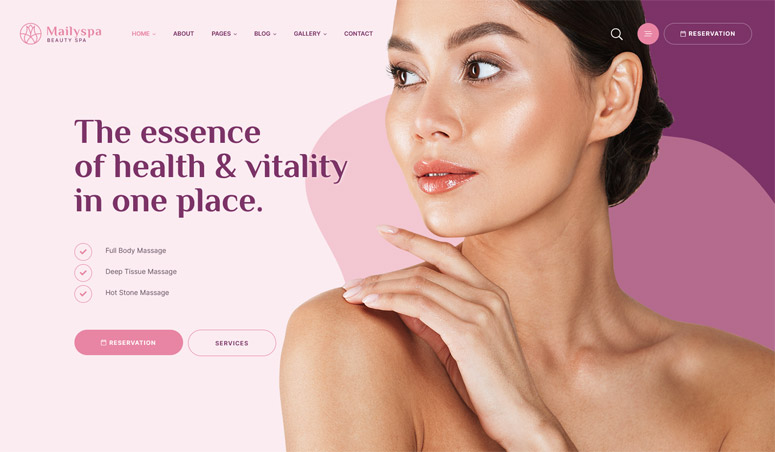 Here are a few quick tips to keep in mind when editing the styles that will give your site a polished, high-end feel:
Select high-resolution pictures
Use photographs that aren't fuzzy or pixelated as much as possible, as bad images will give the beauty website a wrong first impression.
Make sure the shades don't clash
You'll want to give your brand's colors some attitude, but make sure they work well together and don't clash.
Allow for a lot of white space around the page's components
Have plenty of "breathing room" for individual items on the website. To make the content more scannable, avoid cramming too many things together and instead use photos, headings, and short phrases to break up the content.
Best practices and web design tips to make a beautiful spa website
Here are some web design tips, especially creating professional WordPress websites, and best practices to aid you in your efforts to create a visually appealing website for your spa or salon company.
Increase sales by implementing a service menu
Often spa websites fail to provide or have their service menu easily accessible on their website. They usually offer their service packages in a PDF format, which is a headache for many users since they need a reader to view their services.
However, there is still a workaround. Incorporating your service offering as an HTML page into your website is just what you need to improve your site's accessibility and visual appeal.
Try to incorporate customer feedback
Positive feedback from previous clients is the most effective marketing method for generating new sales. Customer ratings are still present on visually enticing pages, and happy consumers are the best marketers globally, regardless of the form of the company.
Use one of the many frameworks or tools that enable you to post reviews on your website automatically. Customer ratings are still present on attractive spa blogs.
Highlight Your Exclusive Selling Points
Keep the offers current, which ensures all Christmas special offers can be removed by Valentine's Day. Websites that are appealing to the eye pay attention to keeping their specials page up to date. Old specials send the message to your clients that you don't care what they see on your website.
People adore bargains. We call "evergreen" promotional offers, which are offered regularly, such as discounts for service personnel, discounts for new guests, and discounts for buyers who recommend a friend.
Make it easy for your customers to get in touch with you
Incorporating your contact information cleverly in your website design is one of the things that makes every website effective. The most accessible place to put your contact details on your website is in the header, ensuring it will appear at the top of every post.
Of course, you can include your phone number and address in your contact information, but don't forget to include social media buttons on your website. When it comes to making the website beautifully attractive, relevant social media icons displayed at the top of each page will work wonders.
Pay special attention to making the website mobile-friendly
There are user-friendly website templates that concentrate on providing consumers with a mobile-friendly experience. A sensitive website design adapts to any computer that accesses the website and displays it in a beautifully pleasing way on all of them.
Implement an online booking system
An online booking software's most significant advantage is that it helps the front desk network and interact with clients at your actual location in a much more convenient way, resulting in superior customer service ratings. If you don't know how to choose your WordPress appointment and booking plugin, our blogs will help you to choose the best plugin.
Booknetic is a cost-effective way to save hours of coding time and provide a stunning appointment scheduling interface if you're looking for experts to help you set up a top-notch spa website with an online booking feature. Try our demo version.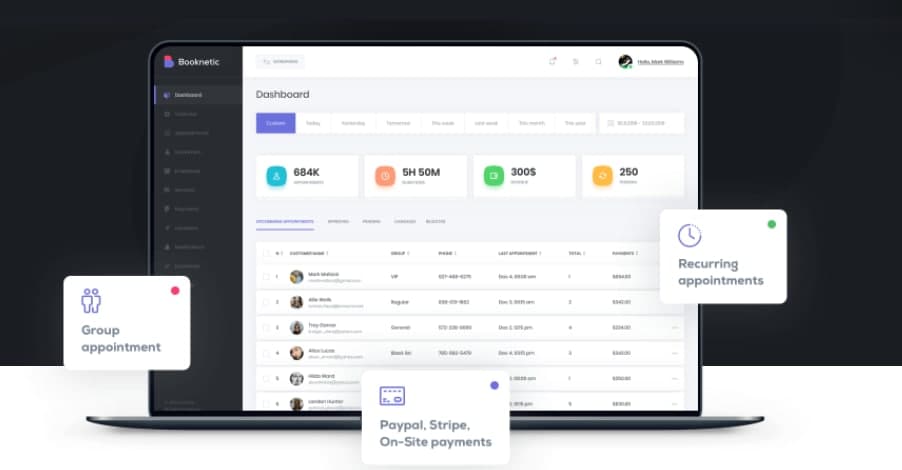 Create a gift card option on your spa's website
Gift cards are fantastic assets, particularly if they're available in an online shop where people can get them quickly when they're stuck for a gift idea. Selling gift cards online will increase your sales and allow you to keep and gain new customers.
Add photos to the website that are relevant to your website
Clients will be able to easily recognize your location when they see photos of the exterior of your house. Users, on the other hand, anticipate being viewed inside. When it comes to spa and salon websites, images are essential.
In terms of your spa market, photographs are your chance to highlight the best of what you have to offer: a relaxing atmosphere, comfortable interior decor, cleanliness, well-organized space, attention to detail, and a client-centric approach in every way.
Before-and-After Photos and Testimonials
Keep in mind that your goal as a spa is to give customers a makeover. As a result, prospective customers anticipate seeing before and after photos on your website. Users can relate to past consumers' perceptions and body image issues when looking at before-and-after pictures.
Have bios of your employees on your website
Create a separate page to show your employees to new clients, which will give your beautifully pleasing website a more intimate touch. Allow clients to hear more about the circumstances, and send photos of your stylist and other team members, and you've got yourself a star.
Create a web design that is both modern and relaxing
A company website aims to create and maintain a strong brand. Putting so much effort into creating a modern and comfortable spa isn't enough to run a profitable company. You must also be able to express the ambiance and feel across your website accurately.
When it comes to layout, keep it simple
Many web developers believe that a visually pleasing template is crammed with many details in an unnecessarily complex structure. Clients prefer simplicity, not boring simplicity, but simple simplicity.
==> Also read: How to Create a B2B Website WordPress? | A complete guide
Final Thoughts
If you were wondering how to make a spa website, our blog would answer your questions. Creating a website from the beginning can seem overwhelming, but thanks to various WordPress themes, even novices can quickly launch their beauty website. Begin by selecting the best spa salon theme for your website and following our guide to set it up quickly. We've been about beauty salon websites, but the measures in this guide can also be applied to fashion and beauty websites and fitness and well-being websites.
You can read our other articles too
Sign up for our newsletter
Be the first to know about releases and industry news and insights.
Let's

get started

on something great
Booknetic is a simple yet powerful plugin for accepting online bookings & payments on your WordPress site.