SaaS Online Booking System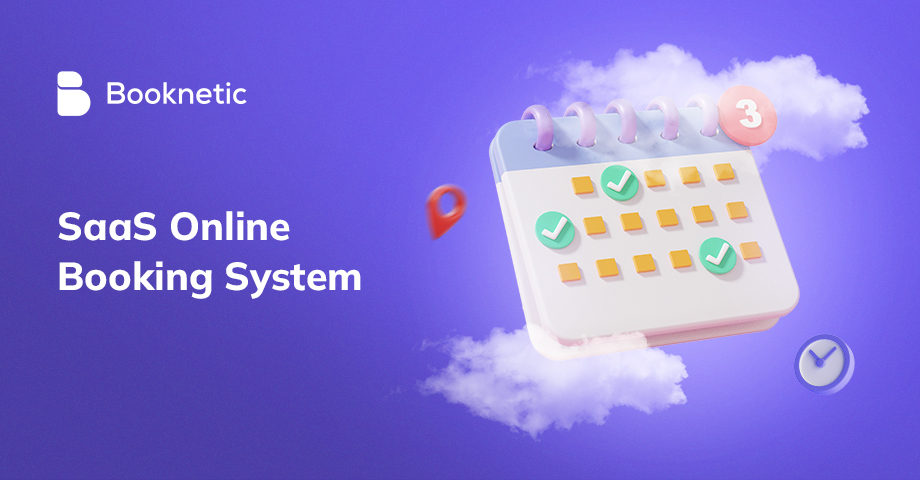 Multi-vendor marketplaces are on the rise. More and more businesses are realizing the benefits of selling through a marketplace model, and consumers are loving it because they have access to a wider variety of products than ever before. If you're thinking about starting a multi-vendor marketplace, or if you're just curious about what they are, keep reading. In this blog post, we'll discuss the basics of multi vendor marketplaces and answer some common questions.
All you Need to Know About Multi Vendor Marketplaces
What is a Multi Vendor System?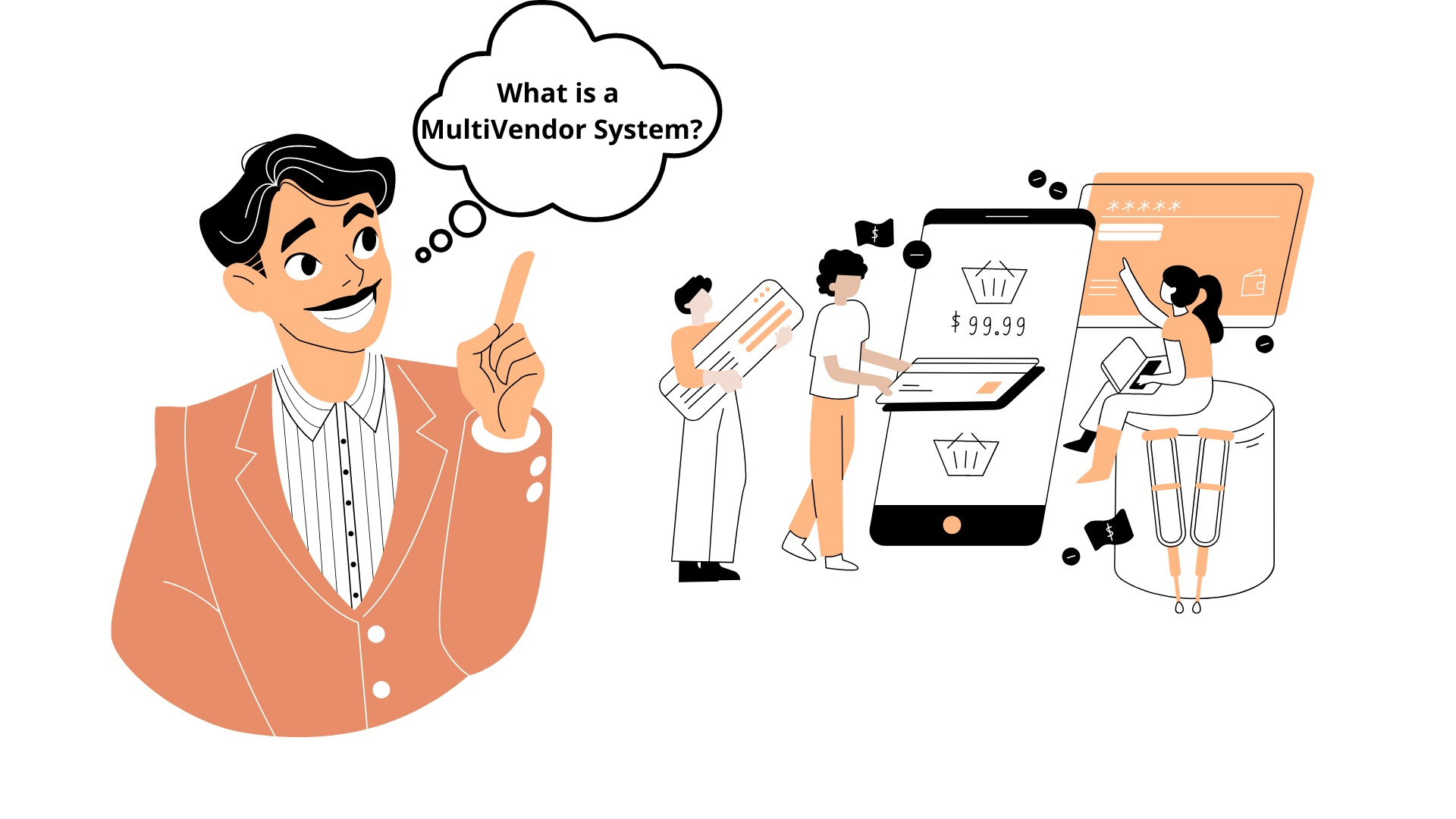 A multi-vendor marketplace platform is a type of eCommerce software that allows multiple vendors to sell their products through a single online store. The platform typically provides the necessary tools and features for managing inventory, processing orders, and accepting payments from customers.
Multi-vendor marketplace platforms are often used by businesses that want to offer a wide selection of products from different vendors, or by businesses that want to outsource their eCommerce operations to third-party sellers.
How does a multi-vendor website work?
The eCommerce marketplace website works as an intermediary between the buyers and sellers. The site owner or administrator creates a platform where the buyers and sellers can interact with each other to buy or sell products/services.
A typical marketplace website has three types of users – administrators, buyers, and sellers. The administrator manages the website, while the buyers browse through various product listings offered by different sellers and purchase them. On the other hand, the seller lists their products on the marketplace website and ships them to the buyer once a sale is made.
What should I consider before creating a multi-vendor marketplace?
There are various things you should consider before creating a multi-vendor marketplace. Below are some key factors:

- The type of marketplace you want to create
- The target audience for your marketplace
- The products or services you want to offer on your marketplace
- The fees you will charge sellers and buyers
- The platform you will use to create your marketplace (restaurant, eCommerce, SaaS online booking system, review sites.)
And today we focus on the multi-vendor booking marketplace for you.
What Features to Look for in a Multi-Vendor Booking Platform?

When it comes to understanding the features of a good multi-vendor booking plugin, it is important to look out for a user-friendly front-end. This will help you navigate the multiple dashboards and features offered by the plugin. In addition, a vendor dashboard that is easy to use can help with tasks such as uploading products and managing coupons and orders.
Another key feature to look for is a flexible payment solution. This will depend on the commission structure and other payment terms between the owner and vendors. For example, some plugins offer flexible options for setting commission rules and withdrawals for vendors.
Price is also an important factor to consider when choosing a SaaS online booking system. The cost of the plugin will determine the overall expense of your online business. Most plugins come with a freemium or lite plan to help you get started. However, these lite plans lack the advanced features which you will need down the road.
Support is also an important aspect to consider when choosing a multi-vendor plugin. Make sure to check out the support offered by the plugin and the customer reviews. It is also important that the plugin developers roll out timely updates, fixes, and new features to overcome potential challenges.
Other useful features to look for include the ability to sell different types of products such as appointments, groups, 1:1, virtual meetings, holidays, and coupons. In addition, look for features like custom tax collection where vendors can set the tax concerning their state or location.
What's the best and cheapest solution to create a multi-vendor booking Marketplace?
The best and cheapest solution for creating a multi-vendor marketplace is to use a WordPress SAAS online booking system.
If you want to create a booking system that can be used by multiple vendors, then using a WordPress plugin is a great option. There are many benefits of using a WordPress plugin for a multi-vendor booking system:
It is very easy to use. You don't need any coding knowledge or experience to use a WordPress plugin. All you need to do is install the plugin and activate it.
It is very flexible. You can easily customize the plugin to suit your specific needs. You can add or remove features as needed.
t is very affordable. Most WordPress plugins are available for free or at a very low cost. This makes them an excellent choice for small businesses or individuals who don't have a lot of money to spend.
It is very reliable. WordPress plugins are developed by experienced developers who know what they are doing. This means that you can trust them to provide a high-quality product.
It is very easy to find support if you need it. There are many online resources and forums where you can get help using the plugin if you have any problems.
If you are looking for a booking system that is easy to use, flexible, affordable, and reliable, then using a WordPress plugin is a great option. There are many benefits of using a WordPress plugin for this purpose.
Multi-Vendor Appointment Booking Plugin for WordPress
Booknetic SaaS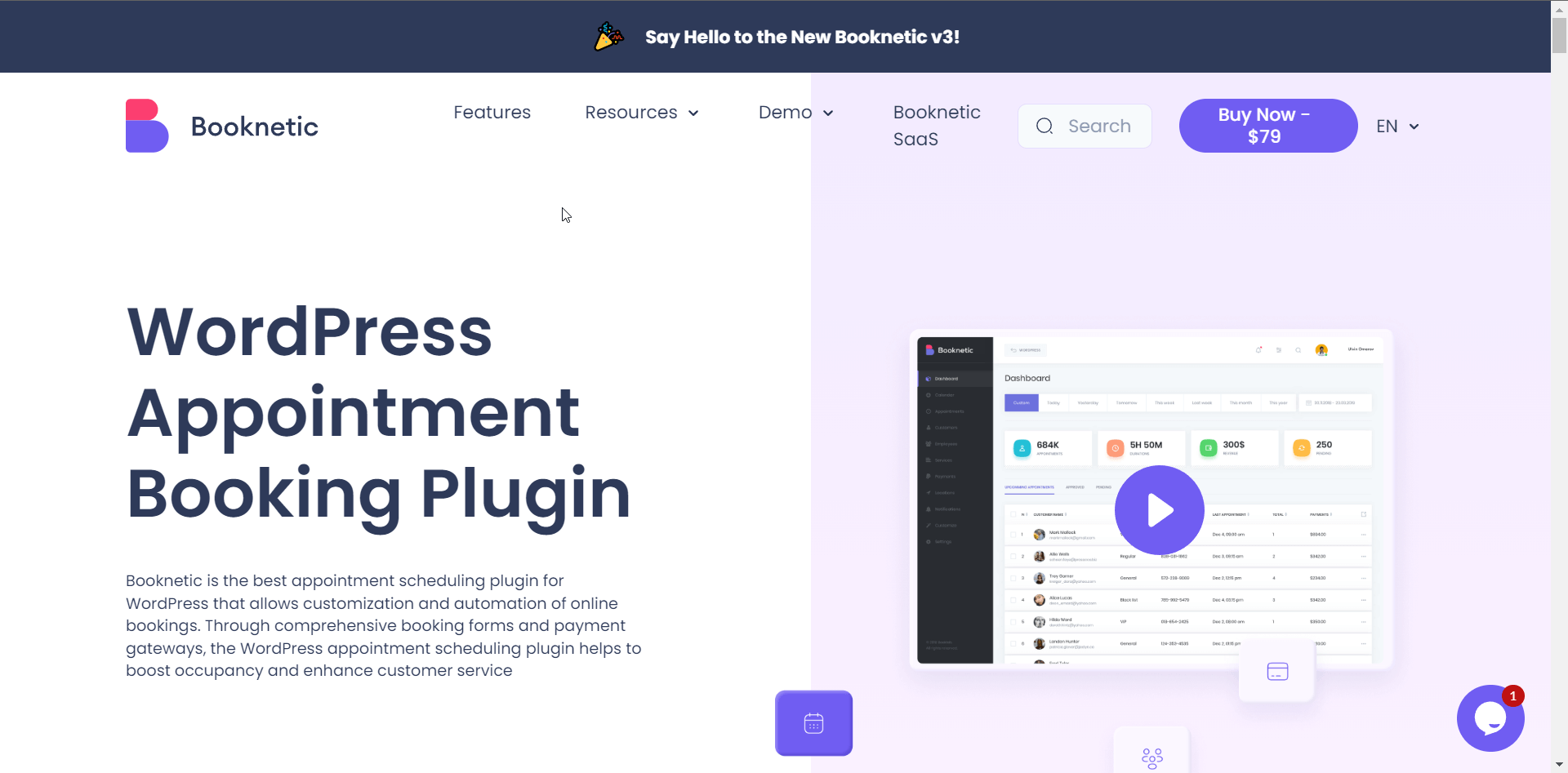 Booknetic SaaS is a plugin that allows you to create a booking platform. You can use this plugin to create a multi-vendor marketplace platform. With Booknetic SaaS, you can easily set up a booking system and take advantage of its many features to make money. Booknetic SaaS is also optimally designed for security and scalability, so you can be sure that your business will grow along with your customer base.
Why Booknetic SaaS?

Booknetic SaaS is the most comprehensive and modern solution for providing online appointment booking. Thanks to Booknetic SaaS, you can start making money by providing appointment booking services to your customers with a few clicks.
In addition, Booknetic SaaS offers many features that will help you grow your business. For example, you will not have to worry about customer growth through the optimally designed database structure. Also, your customers will be offered a dedicated Booknetic dashboard that is not relevant to the WordPress dashboard, which will make your customers feel more confident.
Finally, thanks to the ability to pay online through Paypal, Stripe, Square, SMollie, Razorpay, and WooCommerce, your customers will be able to subscribe to your system online monthly/annually.
So if you are looking for a complete solution for providing online appointment booking services, Booknetic SaaS is the right choice for you.
Booknetic SaaS Features
Fully flexible permissions and limits for each plan
Monthly/yearly subscription
Payments via PayPal or Stripe
Customers email updates
Enrolled tenants have direct access to their dashboard
The registration form for tenants is editable
A billing tab for each tenant
Each tenant has her\his own URL and QR code feature
Cozy and intuitive super admin panel
Sign in/sign up pages for tenants

Multi-Vendor Booking WordPress Theme
Avada | Website Builder For WordPress & WooCommerce
Avada is a multi vendor WordPress theme suitable for building any type of website. The theme is packed with features and options, making it extremely flexible and customizable. If you're looking for a theme that can help you build any type of website.
ThemeFusion's Avada WordPress Theme is the best-selling theme of all time and has been used to build over half a million websites. The theme is packed with features and options, making it extremely flexible and customizable. If you're looking for a theme that can help you build any type of website, Avada is definitely worth considering.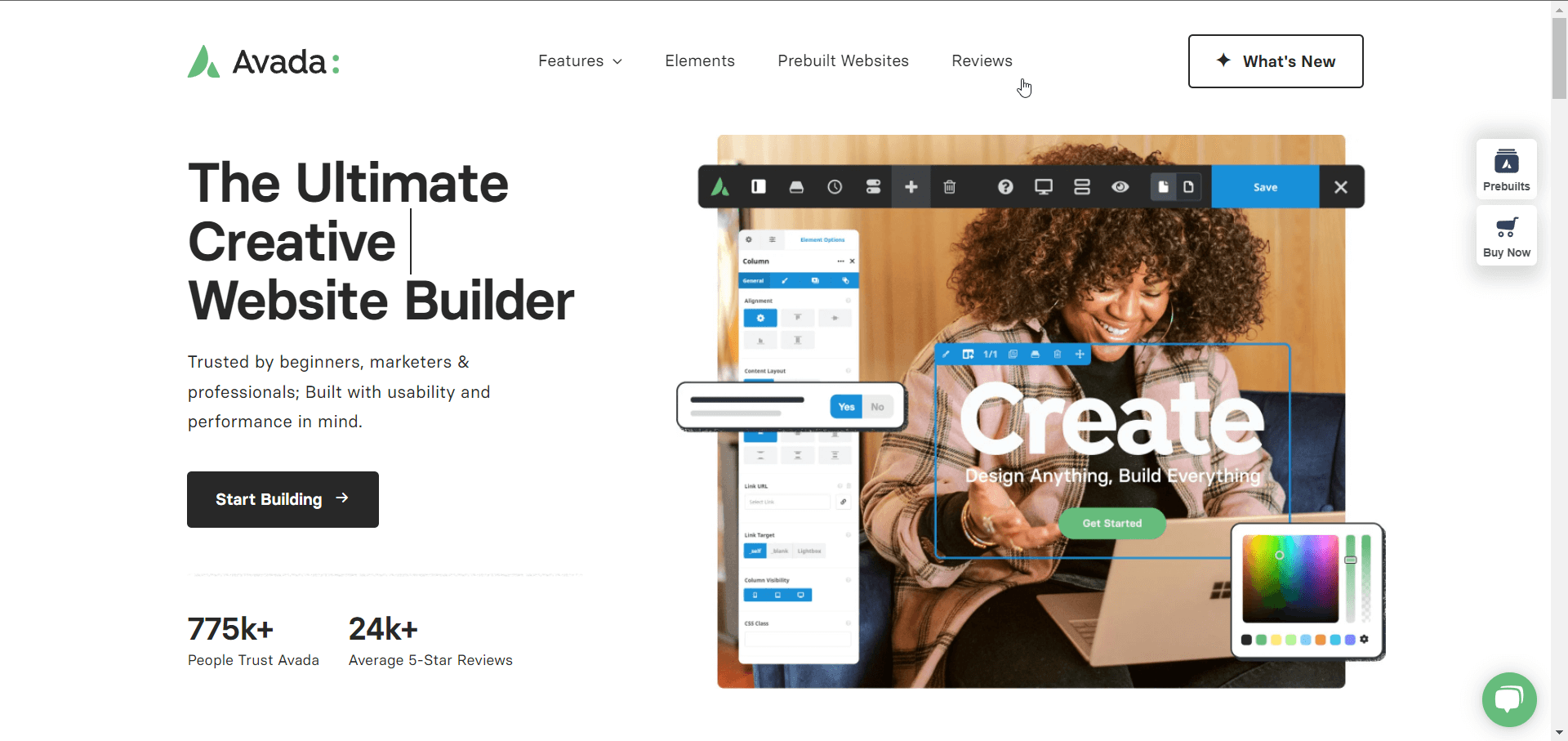 Avada Features
Fully responsive design

Retina ready

Built on the latest Bootstrap technology

Advanced Theme Options Panel

Various header and footer options

Custom widgets included

Includes Font Awesome icons

SEO Optimized

Translation Ready (.po/.mo files included)

WPML compatible

RTL Support

Gravity Forms Support

Yoast SEO Plugin Compatibility
What Plugins are needed for a Multi Vendor WordPress Website?

We talked about Booknetic SaaS, but I want to talk to you about other plugins with different features that you can use on WordPress sites and make it a more perfect product.
1. Akismet
Akismet is a plugin that helps you protect your WordPress website from spam. It does this by scanning through your blogs, comments, and contact forms and then eliminating the ones that include spam. Akismet also allows users to filter out comments manually, and it has a discard feature to block significant spam messages.
Akismet Features
Reliable: the plugin has blocked more than 500 million spam comments up to this day. With such a vast database, it's getting better at distinguishing which comments are spam.
Jetpack and Contact Form integration: by combining these two platforms, the Akismet service can further improve your site's security and block spam from contact form submissions.
Statistics monitor: this feature provides data on your site's spam activities. It displays both monthly and annual spam charts.
Easy to use: the plugin comes as a default plugin for WordPress websites. This allows you to set it up and activate it easily.
2. AffiliateWP

AffiliateWP is a WordPress plugin that makes it easy to set up and manage your affiliate program. With AffiliateWP, you can quickly set up your affiliate program, recruit affiliates, track referrals, and payout commissions. AffiliateWP also offers integration with popular WordPress plugins like WooCommerce, Easy Digital Downloads, Stripe (through WP Simple Pay), PayPal, Restrict Content Pro, Gravity Forms, Ninja Forms, WP Forms, and many more. Plus, AffiliateWP offers real-time reporting so you can see how your affiliate program is performing. And with the optional PayPal Payouts add-on, you can even pay your affiliates via PayPal.
AffiliateWP Features
Unlimited affiliates
Integration with popular WordPress plugins
Affiliate coupon tracking
Unlimited creatives
Real-time reporting
Affiliate dashboard for your affiliates
Referral rate types such as percentage, flat rate, and opt-in
Set cookie expiration
Customizable emails
Payout logs
Optional add-ons include PayPal Payouts, Tiered Affiliate Rates, Recurring Referrals, Lifetime Commissions, Direct Link Tracking, Custom Affiliate Slugs, Affiliate Landing Pages, and Zapier for AffiliateWP
3. WPML

WPML is the best WordPress translation plugin on the market. It is easy to use, has a large number of features, and is highly customizable.
If you are looking for a WordPress translation plugin, WPML is the best option. It is easy to use and has a lot of features that make it perfect for any website. WPML also offers a lot of customization options so you can tailor them to your needs.
Many other WordPress translation plugins are available, but WPML is the best one. If you want an easy-to-use plugin with a lot of features, WPML is the right choice for you.
WPML Features
WPML is fully compatible with the WordPress code and follows the WordPress coding standards. This makes WPML easy to use with other plugins and themes.
With WPML, you can manage your translations in one place. You can assign translators, add translation memories, check to spell, and more.
The Advanced Translation Editor includes a glossary, spell checker, and translation memory. This makes it easy for your team of translators to produce high-quality translations.
WPML partners with many professional translation services. This makes it easy to send your site's content to a professional translator and get it back quickly translated into any language.

Finally,

While we could go on and on about the features and benefits of our SAAS online booking system, we think it would be best if you just gave it a try yourself. We have plenty of blog posts that can walk you through how to book appointments, manage your customers, set up staff accounts, and more. So what are you waiting for? Visit our website today and read up on all the ways our online booking system can benefit your business!
Sign up for our newsletter
Be the first to know about releases and industry news and insights.
Let's

get started

on something great
Booknetic is a simple yet powerful plugin for accepting online bookings & payments on your WordPress site.