8 Best WordPress Photography Plugins to Use for Your Business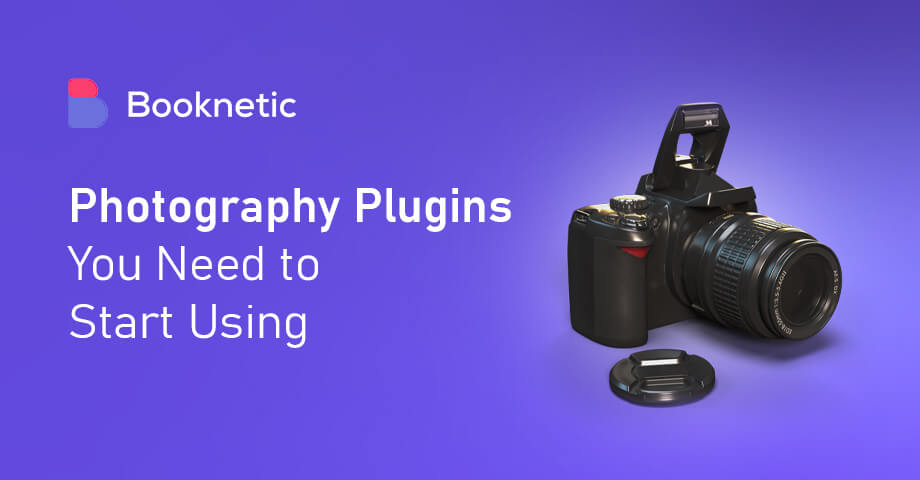 What does professional photographer needs? A camera? A Tripod? Flash and lightning? A Laptop? A website?
At first, of course, as a photographer, you really would like to choose a network that allows a user to view your cart. WordPress is a powerful and effective platform, and by using it to construct your website, you have access to a plethora of features, modification adaptability, and SEO possibilities. When you combine WordPress with plugins for photographers, you have the right combination to turn your photography website into a strong and high-converting advertising tool.
There are several WordPress photography plugins that might assist you in achieving the performance you need for your website. They will assist you with automating processes such as arranging appointments, sending invoices, and optimizing your pictures. Controlling these tasks will allow you to deliver exceptional services for your clients while also ranking higher in search engine results.
There are dozens of WordPress plugins for photographers, but we've narrowed it down to a few.
8 best WordPress plugins for photographers:
Booknetic
Yoast SEO
CatFolders
Picu
W3 Total Cache
Envira Gallery
Easy Watermark
Imsanity
1. Booknetic
In the event that you need to improve the usefulness of your WordPress site, consider Booknetic appointment booking plugin. Photography booking software makes a difference to broaden your services by including multi-level categories with their particular costs.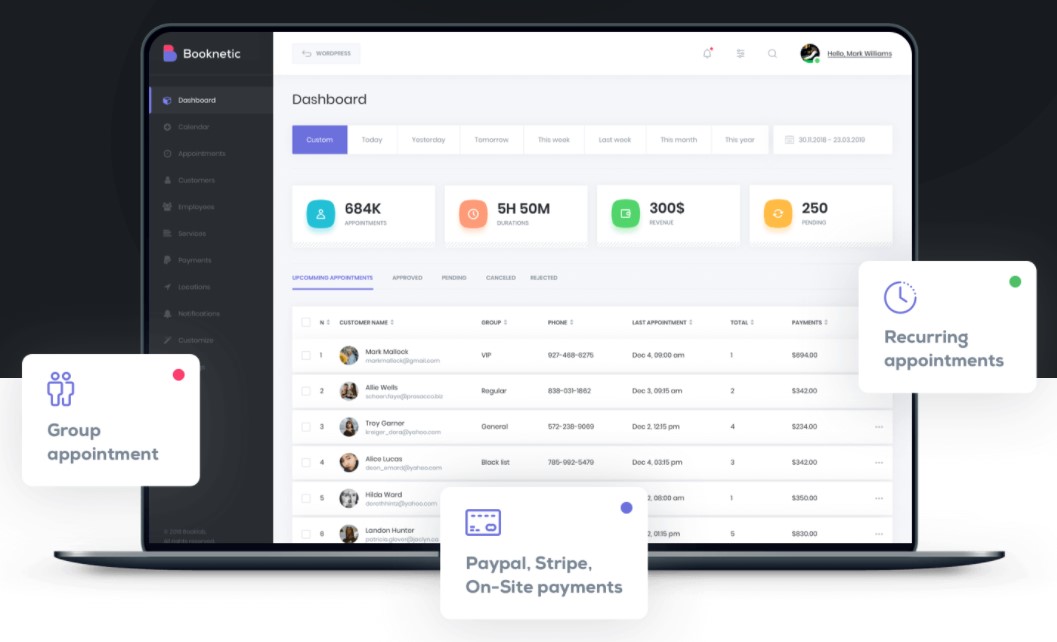 Photographers may use sophisticated calendar optimization to create artistic-looking calendars with classified events and color-coding. The greatest feature among WordPress photography plugins is reminders which you can choose the mode of notification, such as SMS, email, or WhatsApp, as well as choose what sort of news to send to employees and clients, and automate it.
You can utilize all of the features, receive updates, and receive 6-month customer support for a one-time purchase of $79. The plugin's integration makes it a suitable fit for both private photographers and major picture studios. Check Demo to learn more about its highlights.
2. Yoast SEO
SEO is critical for any photography website, and Yoast SEO is one of the must-have and popular WordPress photography plugins available. Yoast SEO is a WordPress plugin that supports you in optimizing your website's blog content for search terms so that you may rank higher in search results and receive more website traffic.
Yoast SEO plugin will make beyond any doubt your pictures are legitimately optimized by making a difference with the SEO aspect of picture optimization. It does not only guide you with your photos, but also demonstrates how to create a completely relevant, search engine-ready webpage.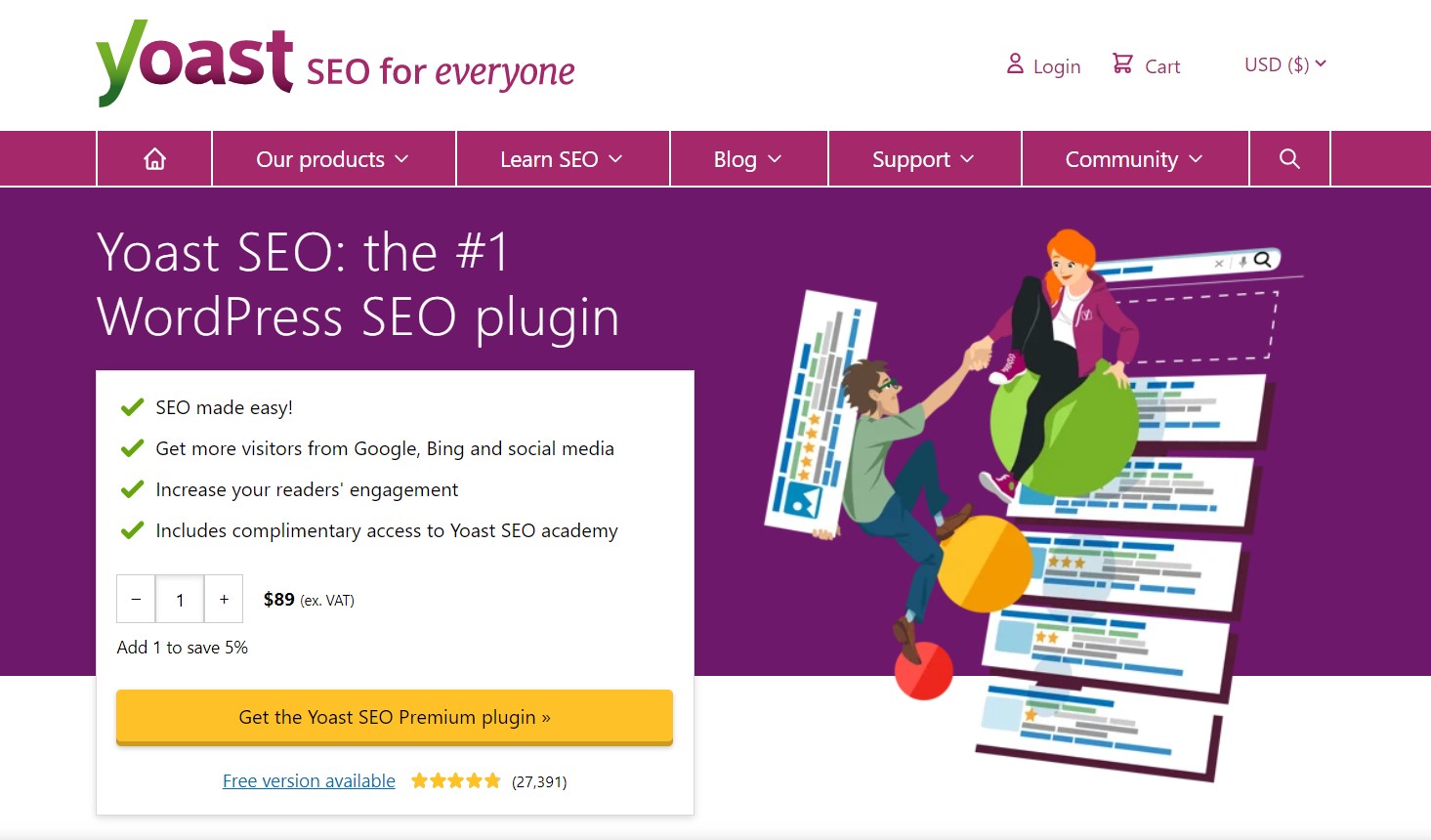 Yoast will evaluate your pages and articles and provide you recommendations on how to enhance your content for maximum performance, in addition to optimizing your website for search engines and social media.
The price? There is no price, it is free to use.
3. CatFolders – WP Media Folders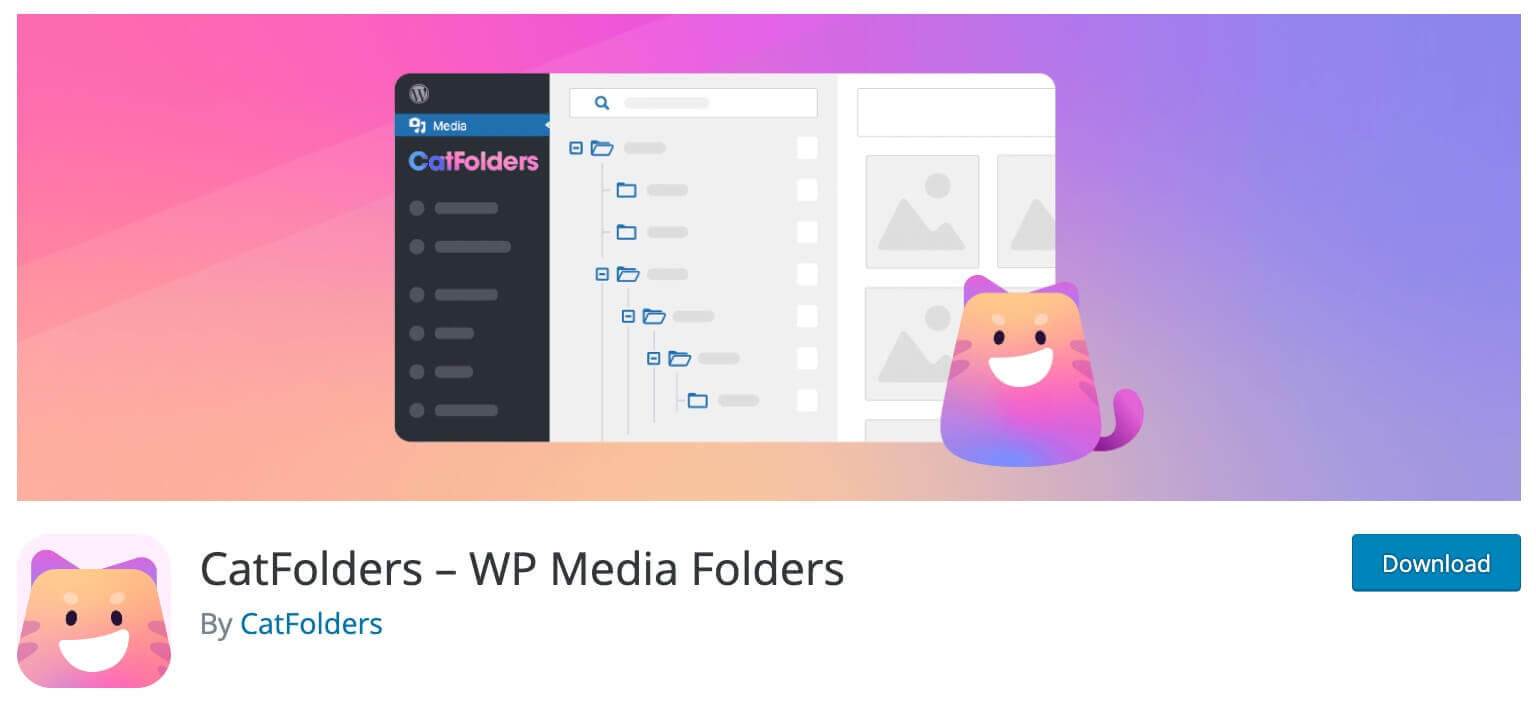 Obviously, it's not suitable if you run a photography business without using folders to categorize the pictures in your computer's storage. Likewise, your WordPress media library should also reflect the organized structure not only by date and time, but also based on the projects, clients, or events.
To help you organize thousands of images in WordPress, CatFolders provides a drag-and-drop user interface to allow you to create an unlimited number of folders. You can also group folders and create as many subfolders as you need.
With such a well-managed media library, it takes just a few clicks to publish WordPress dynamic galleries to showcase your works!
The plugin comes with a free version on WordPress.org and is compatible with dozens of popular visual page builders and image optimization plugins.
4. Picu – Client Proofing
Picu allows you to create galleries of images from your photoshoots. All you have to do is compile a collection of photos and email the link to your customers. Once the customer has approved the photo collection, you will receive an email notification.
There are no numerical limitations on the number of collections, pictures, or file sizes that can be submitted with the free plugin. This does not imply that you should use the plugin to send hundreds of photos to clients, but to each their own. It is a customer verification that is extremely simplified for those who urgently need approval, introduction, and review by the customer.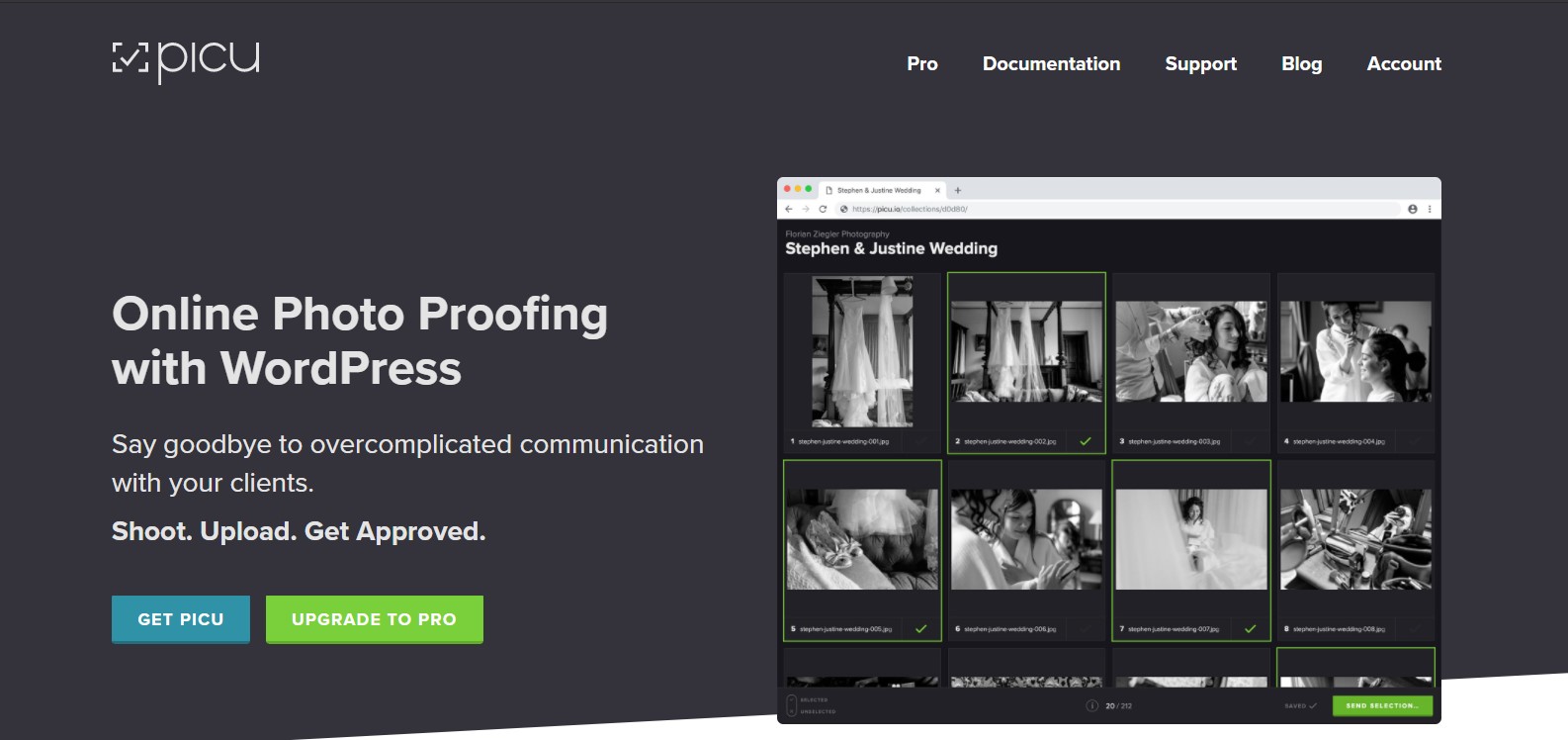 It enables you to provide clients with the option of downloading the group photos as a .zip file. You may also specify an external link. Another bonus of this plugin is the ability to upload big numbers of pictures through FTP and import them straight from your web server.
Picu users can select between a free and a paid edition. However, this plugin has a single-price plan with a single site license for $149.
5. W3 Total Cache
Unless you're a photographer who works with a large number of photos on a website, select W3 Total Cache from the ranking of best wordpress plugins for photographers. The plugin makes use of a Content Delivery Network (CDN), which is a group of networks that caches your pictures and site data to deliver online content quickly. It also makes your HTML, CSS, and JavaScript file less in size.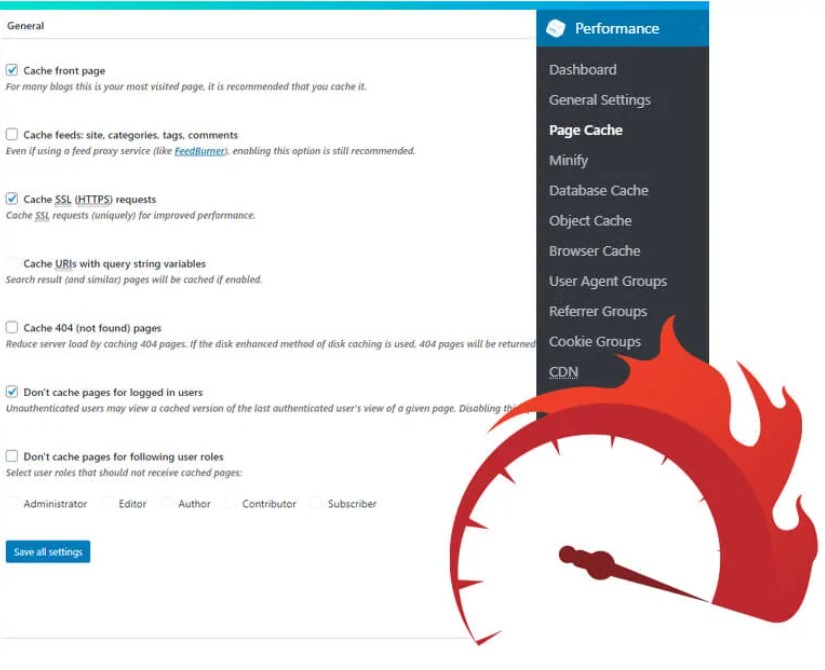 Once set, delivers at least a 10x boost in overall site speed, as demonstrated by Google PageSpeed Insights. Control the cache timings for comments, eCommerce, and other multimedia elements to assist in guaranteeing that speed is maintained while visitors view the most up-to-date material available.
It is also one of the free-to-use best WordPress plugins for photographers with a complete caching solution.
6. Envira Gallery
Another one of the most excellent plugins that can enable you to take your photos to another step by displaying them in made-to-order galleries that are mobile-friendly and SEO-friendly.
Envira Gallery's strongest point is its drag-and-drop builder, which allows you to quickly design picture and video galleries. It also has a collection of pre-built themes for easily creating professional photo galleries.
Envira includes over 25 different extensions to let you create the most stunning picture gallery suited to your needs using WordPress. Envira Gallery allows you to import photos from Instagram, Dropbox, and a number of other sources.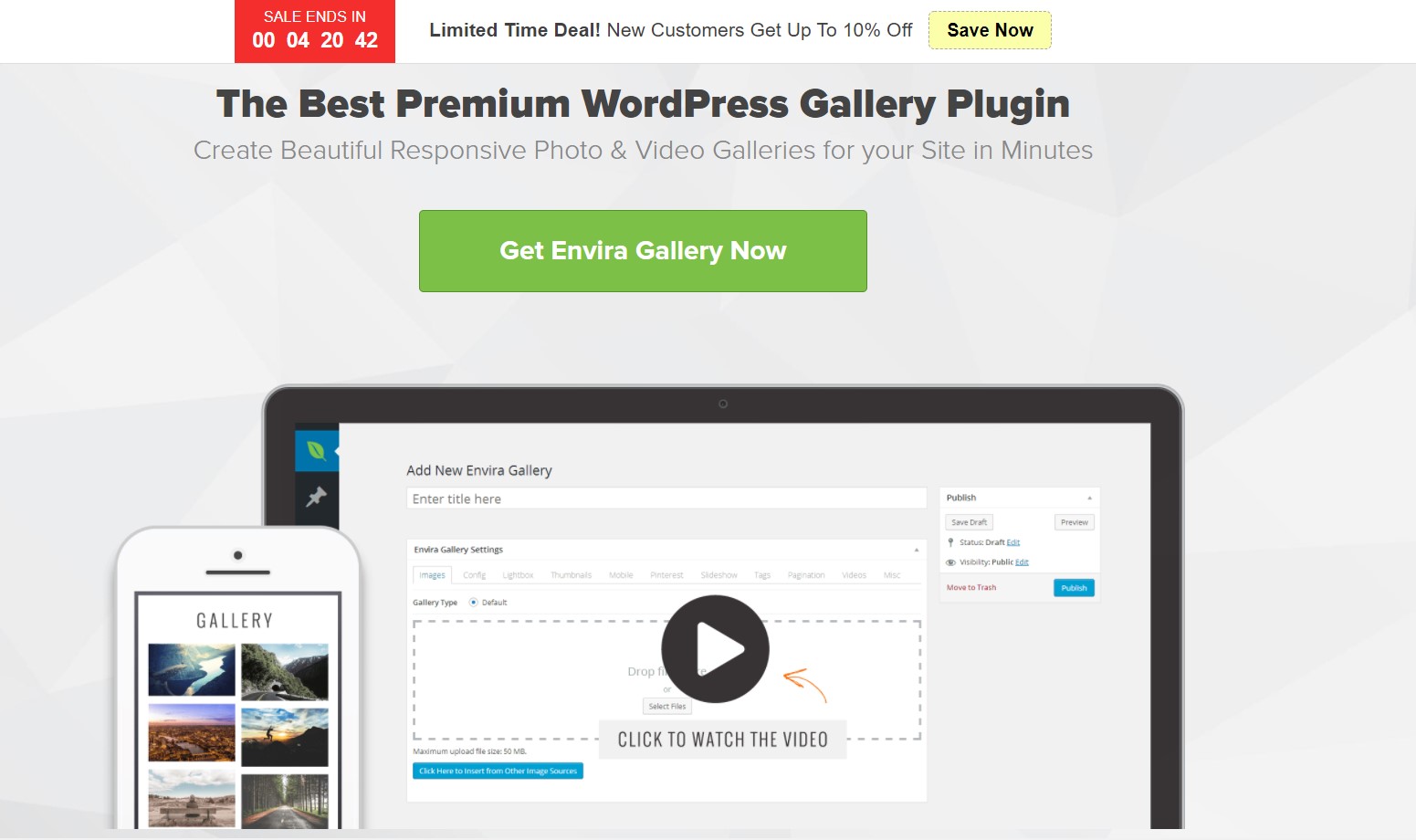 Envira can handle anything from social media integration to photo checking to WooCommerce integration. Developers may also use a plethora of hooks and filters to expand Envira Gallery.
It starts with $26 of Basic, $62 of Plus, most preferably $89 Pro per year each and a $269 Lifetime plan.
7. Easy Watermark
Easy Watermark makes it incredibly simple to apply your chosen watermark to any picture you submit. When you set things up, all photos are automatically watermarked at the area you choose as they are added, making the process even simpler.

This plugin may also apply watermarks to existing photos in your WordPress Media Library, which is incredibly handy if you've only lately discovered that someone has been duplicating and exploiting your work as if it were their own.
The plugin supports picture watermarks in jpg, png, and gif formats, as well as textual watermarks. You may also choose the opacity level of the watermark that shows on your pictures.
This plugin is also one of the free and best WordPress plugins for photographers.
8. Imsanity
Imsanity is a sophisticated plugin that dynamically resizes pictures you publish to your WordPress website. Imsanity relieves you of the burden of selectively compressing your photographs. Rather, merely upload images of every size onto your site and then let Imsanity handle the rest.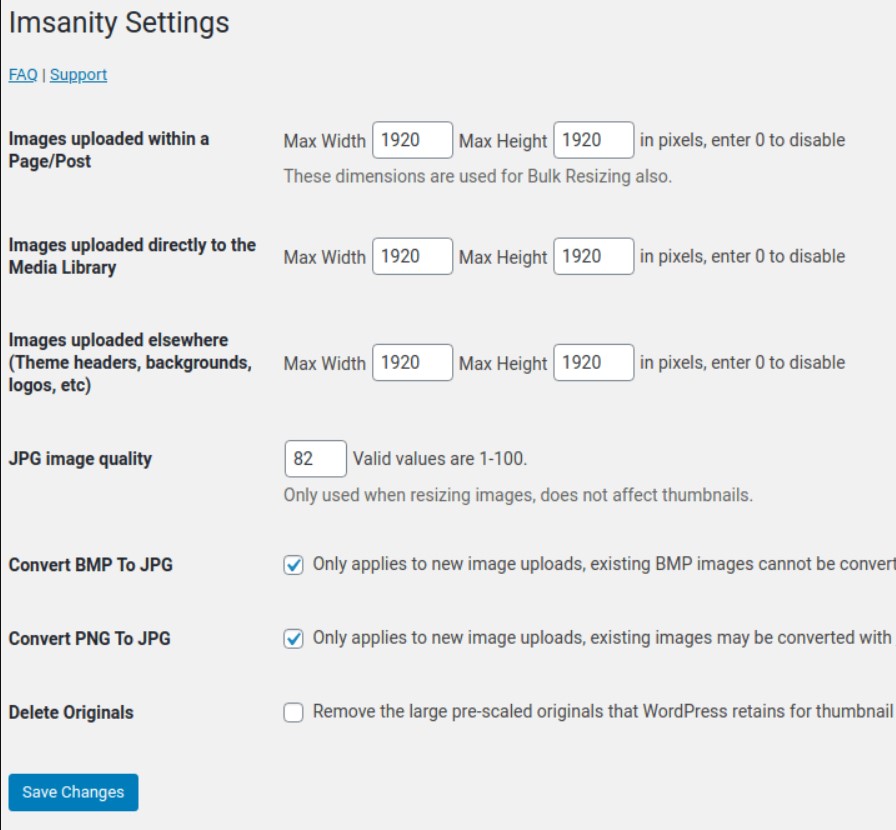 You won't have to worry about uploading larger photographs if Imsanity is loaded on your website. The plugin will downsize photos to a smaller size while maintaining their quality.
Imsanity allows you to provide your own custom maximum width, height, and quality to govern how the plugin resizes your photos. It also has a bulk-resize option that allows you to swiftly resize photos that you've already posted to your website.
The last one of our best WordPress plugins for photographers list, Imsanity is also free to use. Horray!
==> Also read: WordPress Rating Plugins
To wrap up
You can begin creating your website and looking for WordPress photography plugins after you have a hosting and domain plan in place. These plugins for photographers assist you in adding additional features to your webpage, managing your images more effectively, and keeping your site loaded quickly. Go through all these and choose your faves. Good luck!
Sign up for our newsletter
Be the first to know about releases and industry news and insights.
Let's

get started

on something great
Booknetic is a simple yet powerful plugin for accepting online bookings & payments on your WordPress site.