Best Photography Booking Software To Use For Your Appointments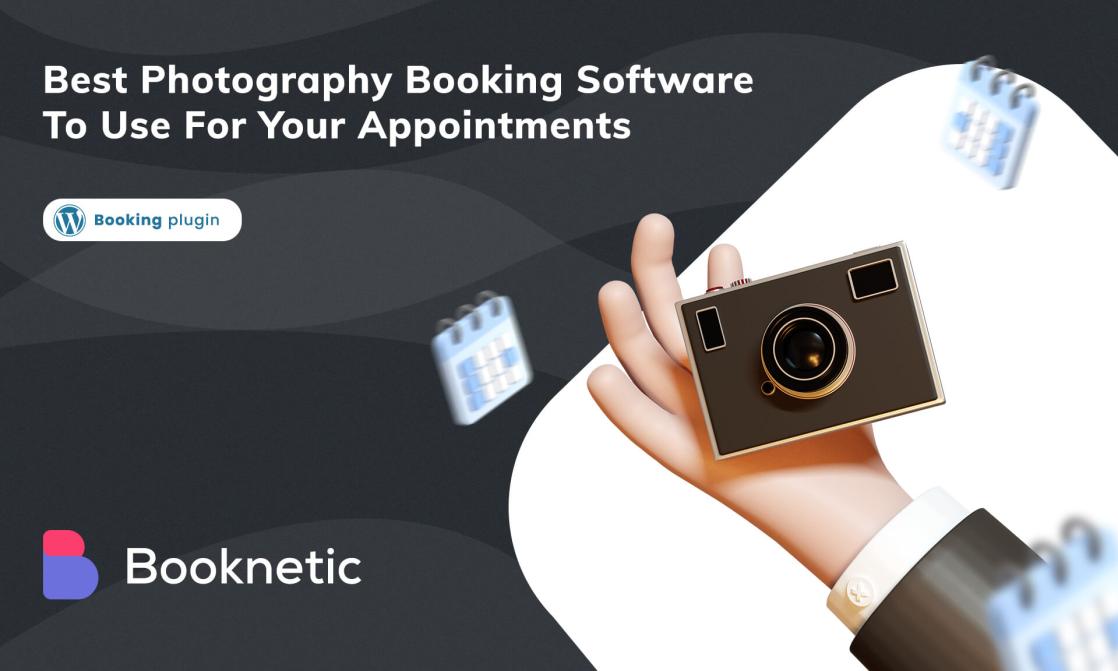 Photographers need to invest in best photography booking software to manage their workload, catch up with clients and establish a professional profile.
Owning a photography business seems like a fun job where you join the happiness of your clients and make them eternal. While backstage, it takes so much effort to prepare the background, catch the lights to immortalize a single moment. On top of that, you also spend time responding to client emails, sending price offers, and asking for detailed information. It creates urgent demand to incorporate management systems into the work. This is when photography booking software comes to help.
There are literally hundreds of photographer booking plugins and apps that promise to lighten the work of photographers. We gathered essential features that every photography booking software should own to provide the best customer experience.
Must-have features for photography booking software
Calendar sync
Having a shared calendar in photography booking software is as important as the composition of your photo. Calendar integration allows your calendar and booking system to sync together avoiding any overlapping appointments. It helps to move workflow smoothly by managing employee performance and sharing calendars open to customers.
This enables the client-side event scheduling right from the software at the available time for themselves and the photographers. Most free photography booking software is integrated with MS Outlook, Google Calendar, or iCal to automate scheduling.
Finance management
Handling payment is one of the main challenges photographers face. Some photographers receive payment late because of limited payment options. Photography booking software enables them to charge bills at their own will. You can choose to receive deposit payment, cancellation fee, or require full advance payment.
It does not only saves against any pitfall but also simplifies the customer experience with easy payment. Several payment options like credit or debit cards, bank transfer, and PayPal should be found in best booking software for photographers to serve wider customer groups.
Automated notifications
Reminders are essential to reduce the chances of delays or no-shows during the shooting session. They are effective to counteract client memory failure through on-time notifications. Automated messages save time for both photographers and clients reducing one-on-one communication.
Automating your messages makes bookings more intuitive for clients and also maximizes your business operations by organizing your schedule. Setting automated reminders for days, even hours to shooting ensures that each side never misses the appointment.
Apart from reminder messages, best photography booking software should have automated notifications for appointment confirmation, cancellation, or payment delivery. This avoids any misunderstanding between sides and enhances efficiency.
Integrated customer database
Whether you are a freelance photographer or own a large photo studio, dealing with lots of emails, and calls is a daunting job, especially when you are in the middle of busy shooting sessions. You can track your customer inquiries through submitted applications using the best booking software for photographers.
An integrated CRM system helps to collect email addresses and develop questionnaire templates that can also be used as part of a lead generation strategy. You can store clients' emails for wedding shootings and send discount offers or coupons for new baby shootings or family shootings. This helps to build lasting relations with customers and increase customer retention.
Analytics
Analytics is a must-have tool while looking for best photography booking software for your photography business. They display your photography studio's business performance through insightful graphs and charts. It might be client demographics, best-selling photo services, busiest photographer, or most visited location.
Data collected from bookings produce statistics to assess the best part of your management, identify lacking sides or consider making modifications at some points. It will also affect the way you promote your service.
Blog page
You may try to guess the relation between blogging and booking software, we will make it clear. Blogs give you an opportunity to explain who you are, how you perceive photography, and how you treat clients. Whether you are a fresh starter or a wizard of a camera, it lets you establish your personal brand by transforming your visual expertise into narrative style.
Photography is the art of living life and blogging makes it easy to leverage your philosophy thoroughly. On top of everything, blogging and content sharing at all, are one of the most effective photography marketing ideas worth trying.
It is also a great marketing tool allowing organically to increase website traffic, and engage with clients. Highlighting your vendors, clients in those blogs will make them share your content and thus boost word-of-mouth marketing. Apart from showcasing your works, you can cover a range of topics that interest clients like what to consider for an outdoor wedding ceremony and incorporate your works into the content. It will make visitors understand the value of your work and encourage them to book right away.
6 best photography booking software
Stop stressing about a messy workload. We will introduce to you some photography booking software that will help you stop juggling multiple works and focus on capturing the art of life.
1. Picktime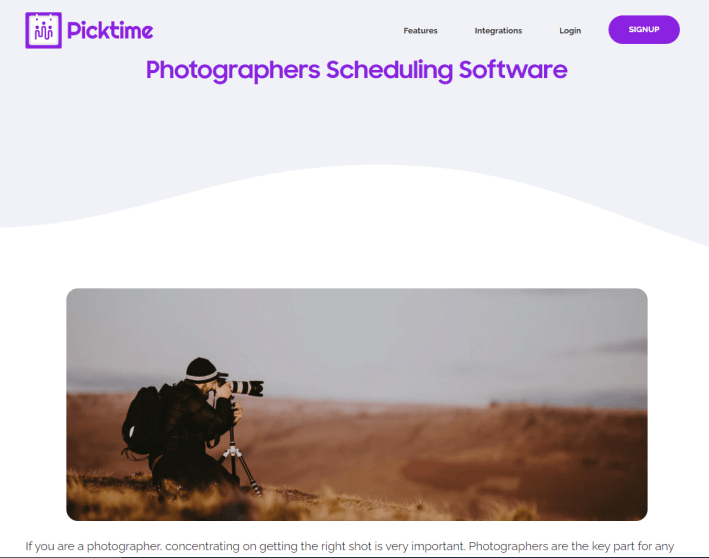 If you are looking for free photography booking software, consider Picktime. It is full-stack appointment booking software with payment, customer management, and reporting tools in it.
A wide array of integration channels with payment gateways, CRM systems, calendar software, email marketing tools help to efficiently manage your photo studio without any issue. You can start setting up your booking with an online calendar and make your way up by adding management, payment, CRM features.
It is an easy-to-use platform with no coding or contact requirement for its usage. You can customize booking forms according to your requirements or create a personalized booking page if you do not have a website yet.
2. Simplybook.me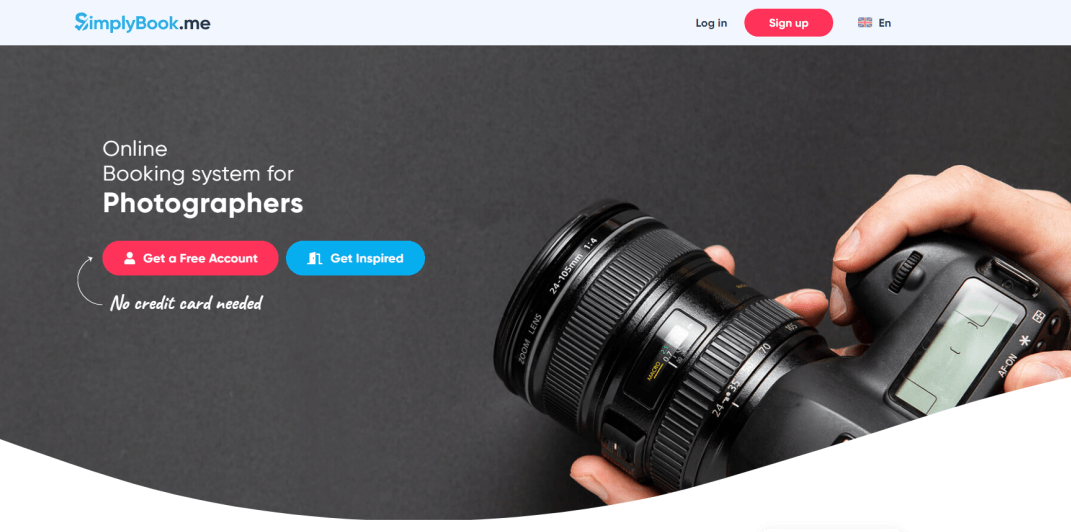 Simplybook.me is an advanced photography booking software that compiles management solutions and integration options. Its broad finance management allows accepting deposit payments, deploy online payment gateways for the convenience of photo studios and clients.
Moreover, it has client profiles that help to store new and existing customer data in your system. Simplybook.me allows the integration of social media accounts for direct scheduling. The complexity of features makes it appropriate for large photo studios to structure and manage their large-scale operations.
With a free trial, you can register 5 users and host up to 50 bookings.
3. 10to8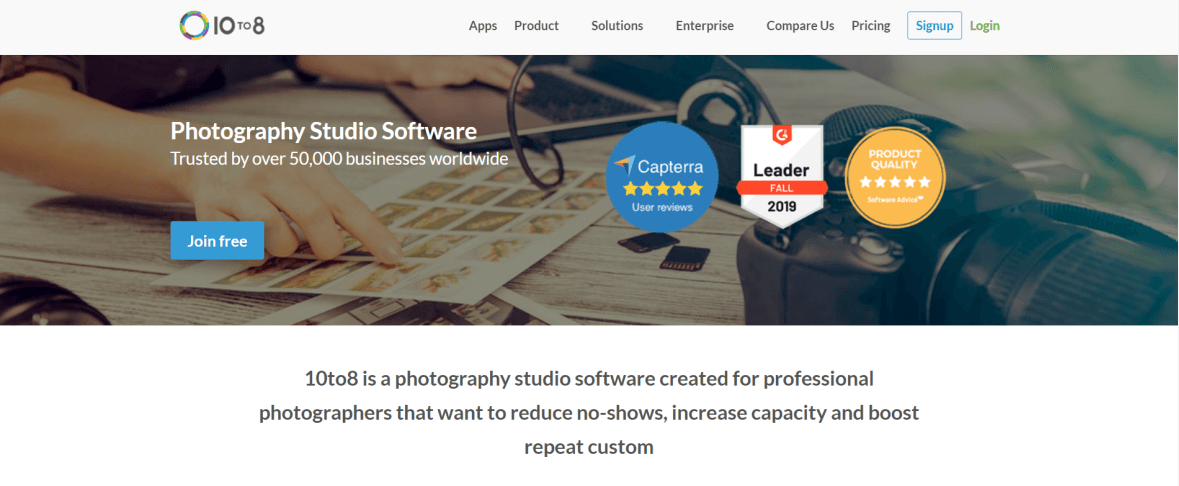 The next photography booking software in our collection is 10to8. It is all-in-one scheduling software helping clients to schedule time slots from the calendar, make online payments with any device they want. Targeting small and medium-sized enterprises, 10to8 developed all the necessary features for the efficient management of photography businesses.
Plus to scheduling features, it has staff coordination for management for multiple offices or calendars. With a reporting dashboard, you can review the real-time performance of your studio, also design custom reports for employees, services, or locations.
It is a great tool with multi-tier pricing options. You can use its free photography booking software and receive 100 appointments per month or pick the pro versions based on your needs.
4. Bookedin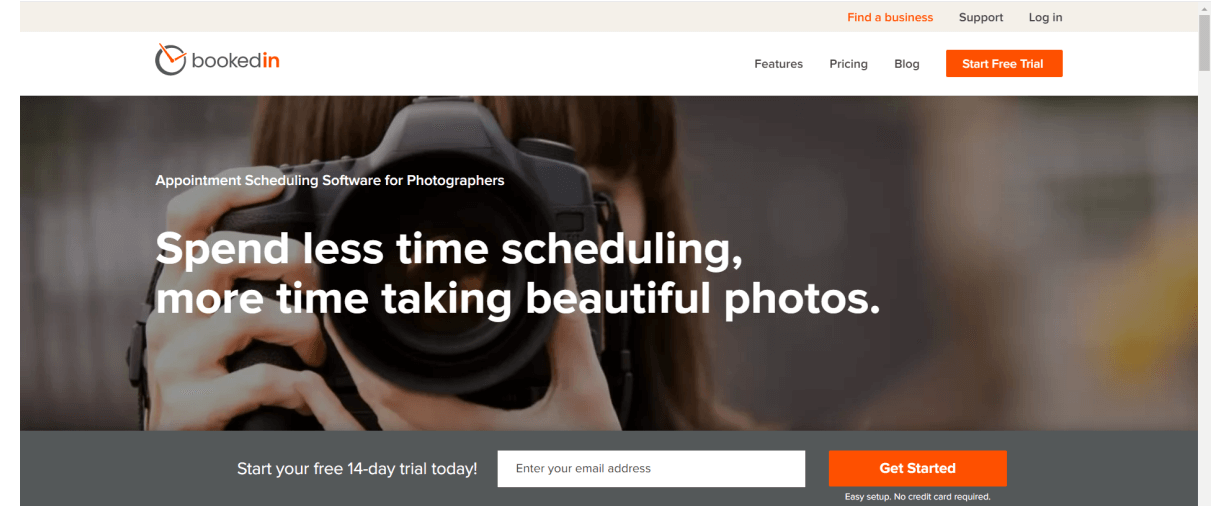 Appreciating the time of photographers, Bookedin leverages time effectiveness as their core feature. Clients can get instant notifications about the status of their appointments, change their availability, make online payments within the photography booking software.
Bookedin enables photographers to convert viewers all over the places with lots of booking links through social media and website integrations. Site responsiveness makes it compatible for desktop and mobile users to easily navigate booking software and book appointments.
Though the free plan allows only 5 appointments per month, it includes several useful features. You can check how well the software fits your preferences with the free account and upgrade to a Pro account with unlimited appointment and staff logins.
5. Checkcerry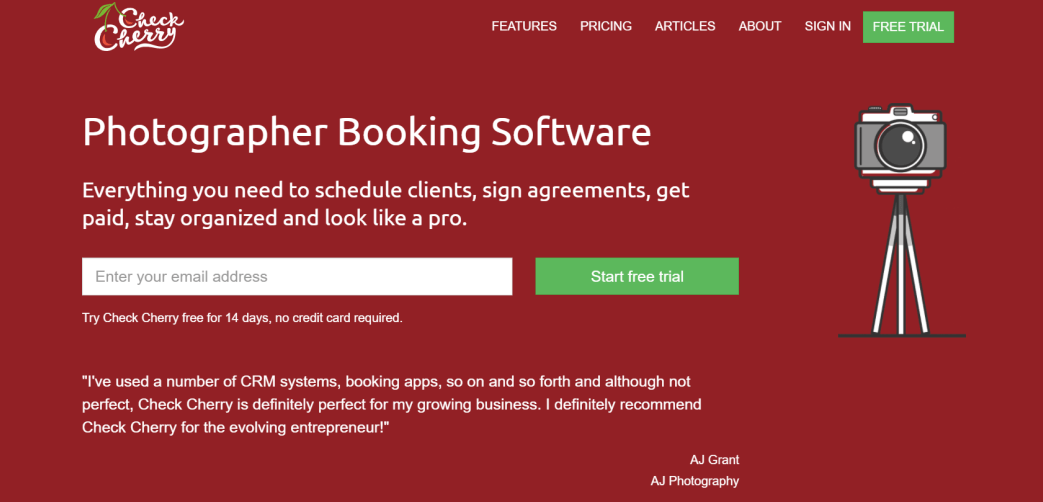 With its intuitive interface, Checkcerry is the next one among best booking software for photographers indicated on our list. It helps to build a business website by combining modern e-commerce style with CRM software. You can maintain company or individual calendars and display them for clients' visibility. Design custom forms, add payment per session, and create invoices from the photography booking software itself.
A distinct feature Checkcerry offers is mini-sessions where photographers can set up time slots for a limited number of photos for each session. As part of CRM management, you can create contact forms, send invitations or coupons. It has a variety of payment options enabling on-site payments.
With $24, you can receive 30 monthly appointments, add 2 admin accounts, and get access to all the available features. It is good for freelance or small-sized photo studios that provide professional photography services.
6. Booknetic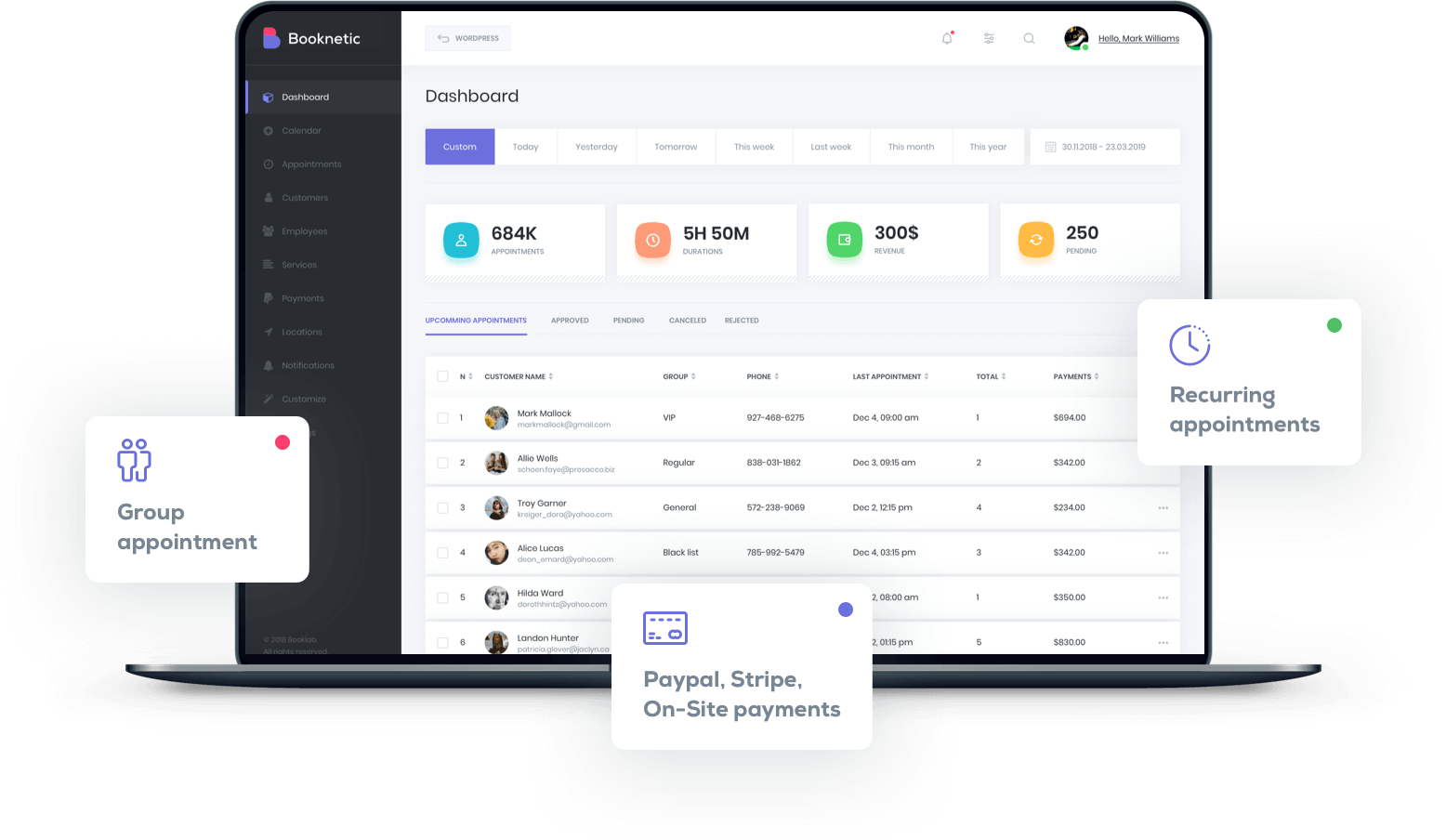 If you want to enhance the functionality of your WordPress website, consider the Booknetic appointment booking plugin. The photographer booking plugin helps to diversify your services by adding multi-level categories with their respective prices.
The advanced calendar synchronization allows photographers to design artistic-looking calendars with categorized events and color-coding. The best thing about the photographer booking plugin is that you can customize the means of notifications like SMS, email, or WhatsApp, select what type of updates to send to clients and staff, and automate it.
With multi-level form builders, you can address the key questions for each type of photography session like the event date, concept, preferred locations. Integration with the safest online payment gateways puts you and your clients at convenience. With recurring appointments, you will facilitate the work of clients and automate the whole procedure. Full automation and customization will simplify your business management and boost the quality of your work.
For a one-time payment of $79, you can make use of all the features, access updates, and receive 6-month customer support. The comprehensiveness of the plugin makes it a good fit for individual photographers and professional photo studios. Try Demo to know more about its features.
Wrap up
Now you know the necessity of having a photographer booking plugin in your hands. Choose your best photography booking software that will handle all nitty-gritty parts of your studio management. Take your camera and capture the moments that will last till the end.
Sign up for our newsletter
Be the first to know about releases and industry news and insights.
Let's

get started

on something great
Booknetic is a simple yet powerful plugin for accepting online bookings & payments on your WordPress site.