10 Best WordPress Rating Plugin (Free and Paid)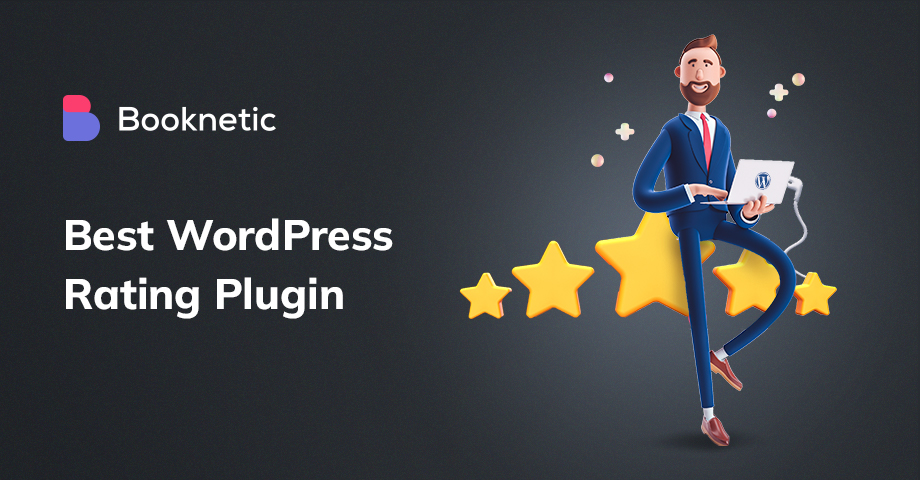 Are you looking for an easy solution to add product and service ratings to your site?
Well, in that case, WordPress review and rating plugins will make it easy to add product ratings and reviews to your content. In fact, it's a great way to get feedback from your readers about your products.
However, there are so many rating plugins available, so it's important to find one that meets your specific needs. That's what we are here to help you figure out. Read on to learn more about the best WordPress rating plugin to display your product rating across your wordpress site posts.
10 Best WordPress Rating Plugin
Ratings always work as social proof to users and it also helps customers to determine the product and service quality instantly. On the other hand, people are more likely to read real reviews of other consumers before buying something. And, according to studies, almost 9 out of 10 consumers read reviews before buying products online.
So, if you run a review website or looking to get your users to rate your product or services, a rating plugin is a must for your website. With that in mind, here is the top best WordPress rating plugin list from which you can get the most suitable one for your website.
1. Editorial WordPress Review System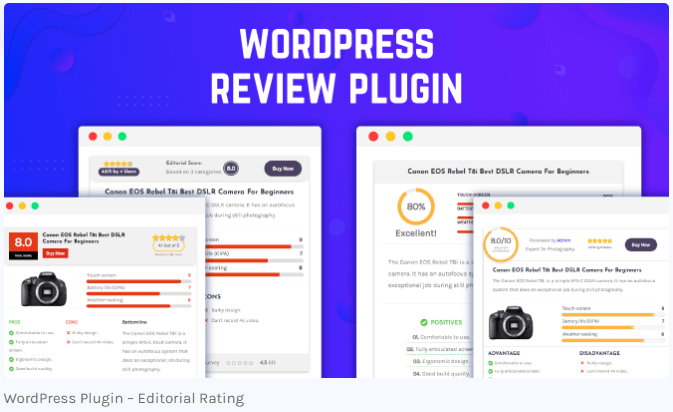 The editorial WordPress review plugin has grabbed the top spot on our list with its interactive smart reviews with rating features. Using this plugin you can review your post's products on your own and in fact, your customers can also do the same conveniently. If this is your first time with ratings and reviews and you have no previous experience, use this plugin to add an appealing review and rating box and improve the overall design and content structure.
Undoubtedly, it doesn't get easier than this user-friendly rating plugin as this plugin is fully customizable. With this one, you can add your product features and rate all of them individually. And that's not all, you can even display a total score rating of your product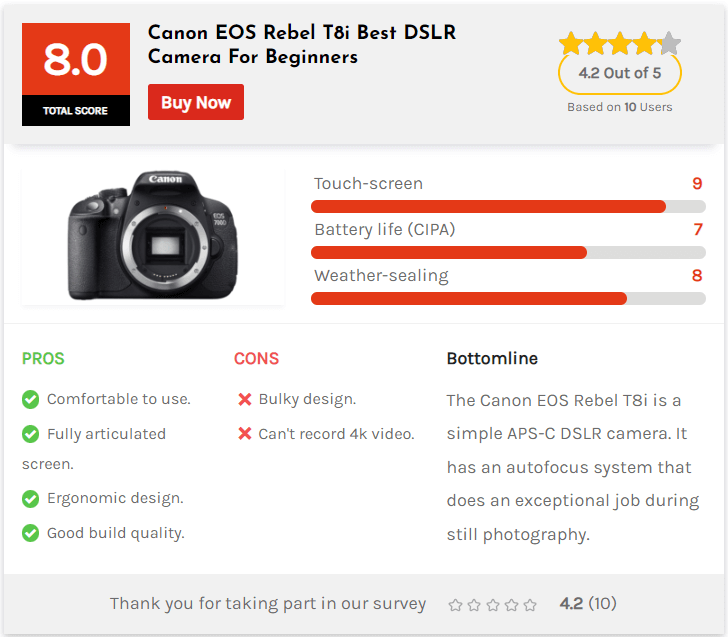 The best part about this plugin is that you can add a rating widget on your post's sidebar or footer to take the page view experience to the next level as well as improve your user experience.
Moreover, with this plugin, you can allow your website visitors to rate your products or services on individual criteria, including reviews. In turn, your website visitors are kept more engaged with the website.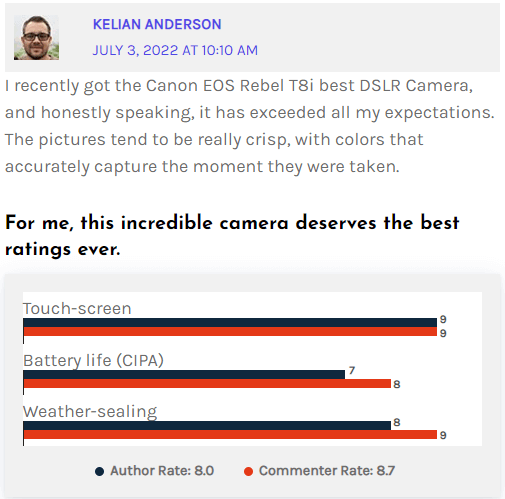 This plugin is fully responsive, customizable, and, best of all, an SEO-friendly solution for your website. This means this plugin will work with any device without affecting the site's speed and performance.
In fact, with its various designed rating boxes, you can ensure a professional look plus make your content more organized and enhance the UI/UX as well. This is a plugin every website owner needs to have to empower their website users with the ability to provide reviews on all content within site, among many other features, without any programming knowledge.
Editorial WordPress Review System Features:
Offers editorial Rating on the website's single posts
Category-wise rating system and range bar
Product links as a button
Pros and Cons section for the author
Supports schema markup for individual reviews and ratings
Intuitive and user-friendly shortcode generator
Editorial WordPress Review System Pricing:
You can make the most out of this plugin with its free version. However, to get full access to its premade designs, advanced global settings, and all other advanced features, you need to get the paid version of this plugin. Pricing options are like this:
Personal (1 Site) – $39.99/Year
Business (5 Site) – $74.99/Year
Agency (Unlimited Site) – $149.99/Year
2. YASR (Yet Another Stars Rating)

The next up on our list is Yasr, which turns your wordpress into a complete review site by allowing you to include user ratings, reviews, and testimonials to your posts and pages.
This plugin is useful for both the editor and the visitors to rate the products and services in an effortless manner. All you need to do is paste the shortcode and your ranking will be done in minutes.

Besides this, YASR supports rich snippets, which means your star rating will be shown in the SERP. This will boost your SEO and increase the number of visits to your site. One of the most amazing benefits of using this plugin is that it allows you to migrate ratings from other plugins like WP-Post Ratings, KK Star Ratings, Rate My Post, and Multi Rating.
YASR Features:
Supports 50+ rich snippet or schema types
10+ shortcodes and Gutenberg blocks to add ratings on posts or pages
Multi-criteria rating for both editor and users
Allow users to leave a review in the comment form (pro)
Helps in migrating ratings from other plugins
YASR Pricing:
You can use this plugin for free. But, if you want to use the custom ranking, custom star set, and all the other advanced features, you can get its paid version, which comes with the following packages.
Plus (5 websites) - $9.99/month
Single (1 website) - $4.99/month
Enterprise (30 websites) - $14.99/month
3. Rate My Post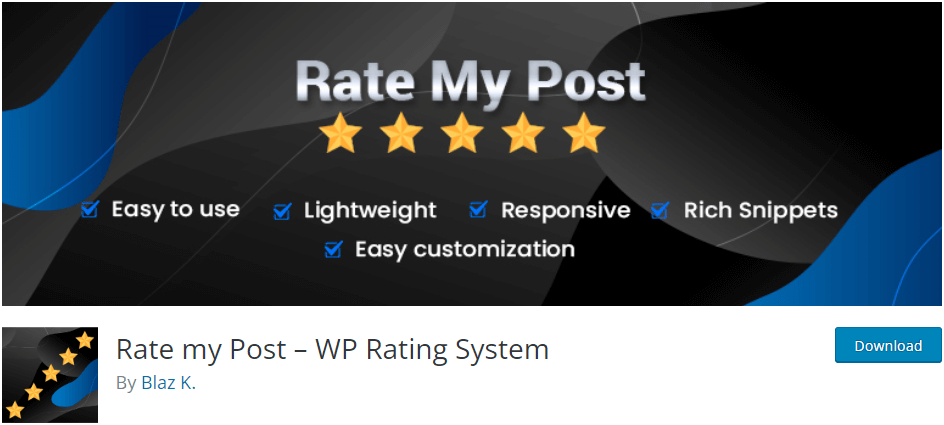 Another simplest yet one of the most customizable WordPress plugins to add rating functionality to your site is the rate my post plugin. It creates an easy way for website owners to have visitors rate their posts/pages and share their feedback.
The Custom Rating system allows websites of all sizes to integrate rating functionality without having to alter their site. Since this plugin doesn't require any manual coding, this convenient approach has eliminated plenty of extra time and headaches for website owners who need this plugin again and again.
This plugin provides a wide range of widgets to enhance visitor engagement and improve the experience of your site visitors, from rating widgets to results widgets, top-rated posts widgets, social widgets, and feedback widgets.
Rate My Post Features:
Show ratings before the content of each post visually
Uses AJAX to ensure a super fast experience
Allows changing ratings in the admin panel
Several rating widgets like Stars, Thumbs, Hearts, Smileys, and Trophies
Includes rating widget to custom post types automatically
Insert custom rationing widget anywhere with the shortcode
Rate My Post Pricing:
You can use this awesome plugin absolutely free. However, if you want the advanced features like schema selector and custom rating widgets, and others you need to get the pro version, which includes the following 2 packages.
Personal 1 Website - $49 /yr
Freelancer 5 Websites - $149 /yr
4. WP Review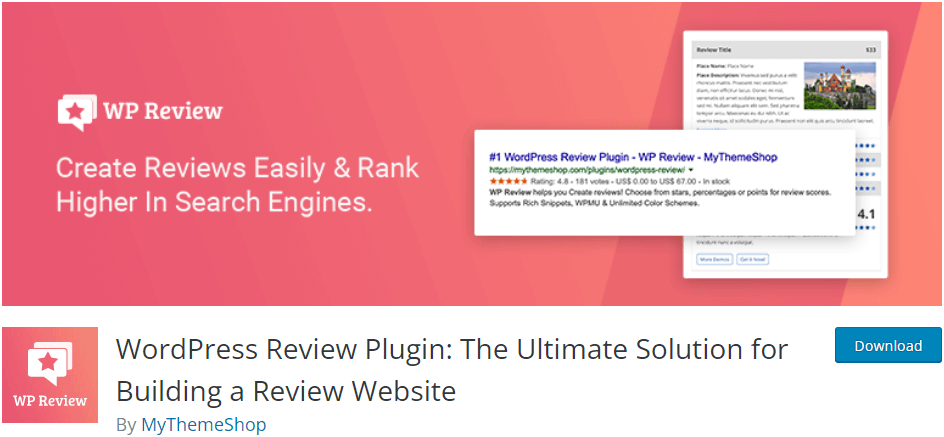 If you are looking for a plugin with premium features and an all-inclusive solution to build a review site, but for free, this plugin can be your best choice. WP review is an all-in-one plugin developed by MyThermeShop to run a full-fledged review website without even requiring any technical skill. With this plugin, you can create some high-converting and information-packed reviews and allow your customers to rate your products.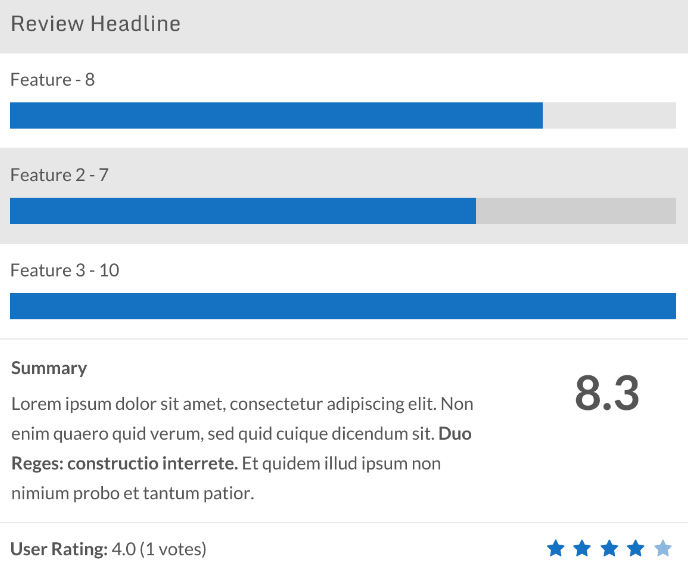 Apart from the pre-made design templates, you will also have a lot more customization options with unlimited color choices and multiple review rating types. You just need to customize the options that you want to display in your custom posts or page and make them blend with your website design. Furthermore, the review box can also be inserted anywhere on the page by using the shortcode option.
WP Review Features:
Support for 19 Types of Rich Snippets
Multiple rating types (star, point, and percentage rating)
16 pre-made templates (pro)
Compatible with every WordPress theme
Responsive and optimized for speed
Custom image for ratings (pro)
Allows adding text with a star rating (pro)
WP Review Pricing:
For this plugin both paid and free versions are available. And, its paid package comes in $67 for unlimited websites.
5. Multi Rating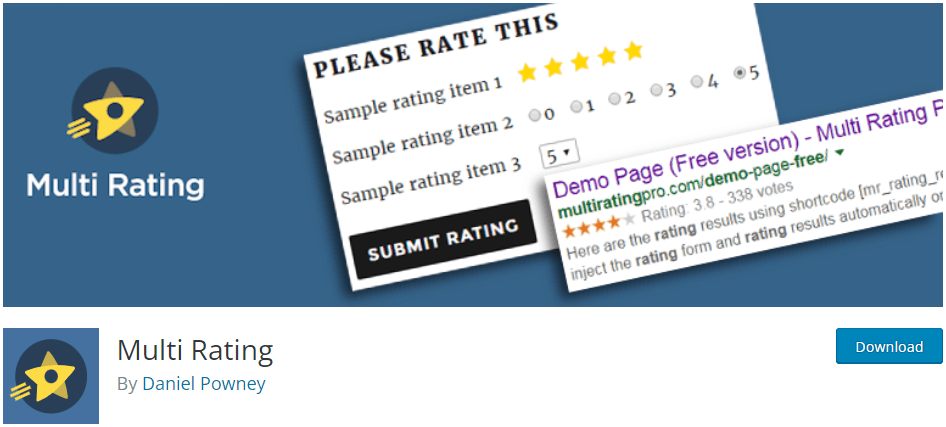 A powerful yet easy-to-use rating system for wordpress is the Multi Rating plugin. Multi rating plugin is equipped with powerful options and using multiple criteria or questions users are able to rate the posts. In fact, digital marketers can use this plugin for surveys, polls, online votes, and quizzes. This effortless plugin allows you to add the rating form and result automatically to your post content.
From Google-rich snippets to graphical reports on the entry number, tools to export rating results to CSV, and inbuilt template systems, this plugin has it all. Using this plugin you can drastically improve your website's credibility as it adds Google review snippets.
Multi Rating Features:
Compatible with both classic editor and Gutenberg
Allows using Font Awesome icons or uploading custom images
A rating system with WordPress comments (pro)
Automatic or manual approval of rating entries (pro)
Manually add rating entries from WP-admin (pro)
Multi Rating Pricing:
Multi rating plugin has a free version, including a pro version with 3 different packages that are billed once per year until canceled. For example-
1 Site – $49.00
2-5 Sites – $79.99
Unlimited Sites – $119.99
6. Rating Widget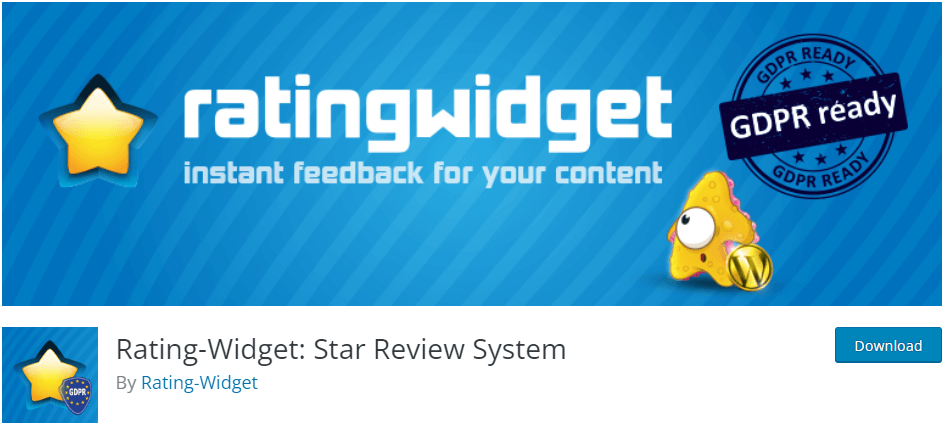 If you wish for a plugin that can help you to create unlimited thumb and star ratings and collect votes, this one has got you covered. Review widget is a feature-rich and highly customizable plugin, which is well known as one of the largest rating theme collection systems. It's an all-in-one rating plugin for posts, pages, comments, WooCommerce, and even BuddyPress and bbPress forums.
Customizing and placing the rating widget with this plugin's beautiful themes and rating designs only takes a few minutes without any specialized skills. Using this plugin, you can provide a one-click feedback functionality to your blog to get instant feedback and keep your visitors engaged. Besides, if you want to display the top-rated post, pages, and comments, this plugin's "top-rated" feature will help you to place the widget in your sidebar.
Rating Widget Features:
Includes more than 70 five-star rating themes and thumbs rating designs
Add Rich-Snippets metadata to add star ratings into content's Google SERP
Allows changing rating type, layout, language, alignment, and more
No CSS, PHP, code or other configuration is required
Supports 40 languages
Rating Widget Pricing:
This feature-rich plugin is free-to-use. Still, the premium version offers some additional features. So, if you want to access all its extra features, consider getting any of the following packages.
Starter - $4.99 per month
Professional - $8.99/ MO
Business - $34.99/ MO
7. Gd Rating System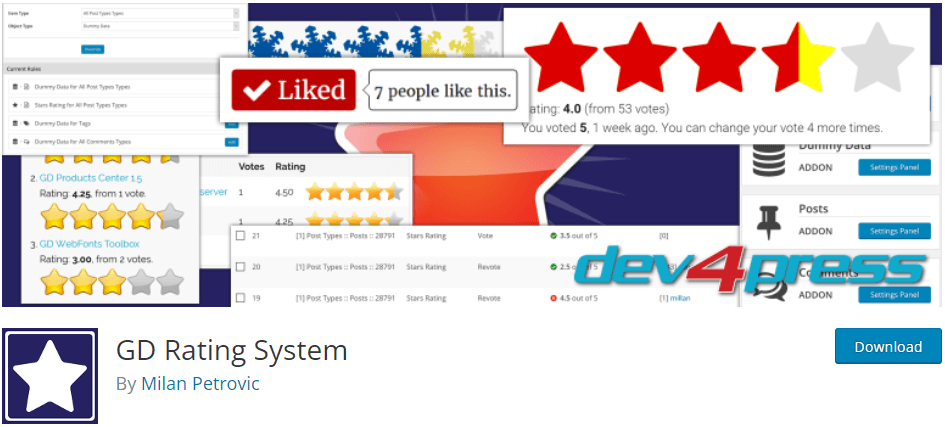 GD rating system is a perfect plugin for those who are looking for ratings on different materials available on your website. This powerful rating plugin is highly customizable, versatile, and comes in different rating methods. It helps visitors to rate every aspect of a website and helps you to work on the feedback to improve them further.
This typically includes posts with custom post types, comments, default post types, users, terms, and default and custom taxonomies. Since this plugin is shortcode enabled, you can place your website's rating anywhere on the posts or pages you want.
Gd Rating System Features:
Import data from WP Post Ratings, YASR, and KK star ratings
Incorporate 27 shortcodes with plenty of attributes
14+ widgets for rating list and single rating block
Includes start, like this, thumb, emoji, and slider rating method
Support rich snippet for book and recipe (pro)
Gd Rating System Pricing:
Both free and paid options are available for this plugin. The paid version offers three different licenses such as One Year (with manual renewal), Annual Subscription (auto renewal), and Lifetime (one-time payment). Each license includes four different packages that start with $49.00.
8. Starcat Reviews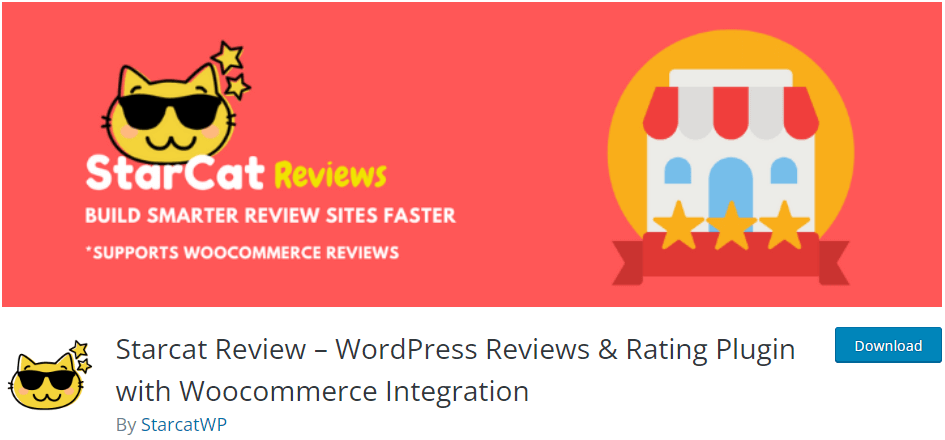 Whether you're looking for simplicity or developer-centered features, StarCat Review offers a variety of reviews and rating options that are suitable for any type of business.
StarCat Review allows you to build any type of review site from scratch quickly. All the heavy lifting has already been done with our plugin, so you can focus on building your site without worrying about all the technicalities.
As an end-to-end solution, StarCat Review also includes WooCommerce integration so you can easily collect ratings and reviews about the products in your online store for quality assurance.
With this easy-to-use and intuitive plugin, you will be able to automatically add ratings/reviews for your product as well as display new customers' reviews for posts and pages also. Users can rate products in different criteria, and this helps give some powerful insights for businesses to improve their services.
Starcat Reviews Features:
The rating system can be customized along with the rating icon
Allows the rating system into posts or pages with custom post types
Shows overall rating stats
Users can upvote and reply to other reviews
Enable Google reCAPTCHA to submit reviews
Starcat Reviews Pricing:
This plugin is 100% free to use.
9. Ultimate Reviews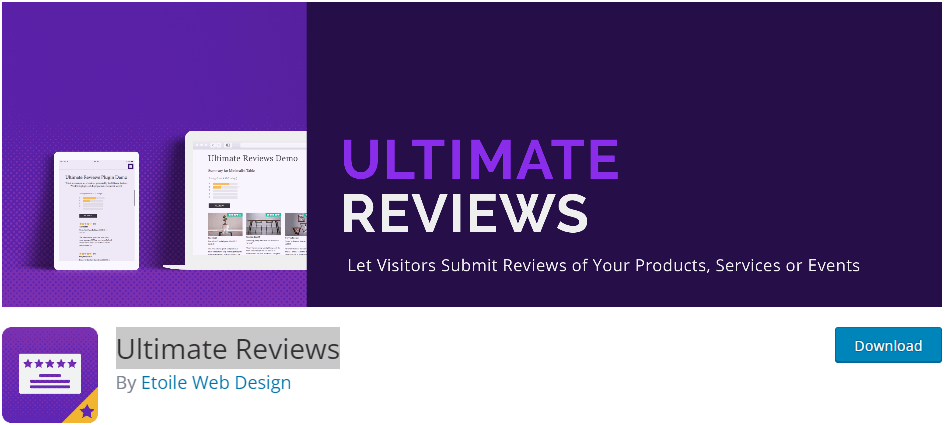 Whether you are running a WordPress blog website or a WooCommerce site that deals with reviews and ratings, Ultimate Reviews makes it easy to gather valuable ratings from happy customers.It lets the user rate different products, events, or anything else. This revolutionary plugin is easy to set up and requires little effort on your part while presenting a nice modern rating style.
Your visitors will be able to easily see your reviews and submit their own reviews with its two smart shortcodes. All you need to do is use its two different shortcodes. Adding rating functionalities to your site, from overall rating score to sub rating you can customize everything to suit your needs and increase your user engagement, and conversions.
Ultimate Reviews Features:
Multiple rating systems, for example, points and percentages
Products and services can be rated based on different elements
Displays and submits reviews and ratings using Gutenberg blocks
Rich snippets/schema structured data for aggregate ratings. (pro)
Allows custom CSS options for flexible styling
Replace WooCommerce Rating Stars with Ultimate Reviews. (pro)
Ultimate Reviews Pricing:
There is a free version of this plugin
Besides, it offers a 7-day free trial of the premium version. This means before you purchase the premium package, you can test this plugin to see if it suits your website or not. However, the premium plans include 3 different packages, for example,
Single Site License - $47
5 Site License - $127
10 Site License - $197
10. Ultimate Post Review - WordPress Rating/Reviews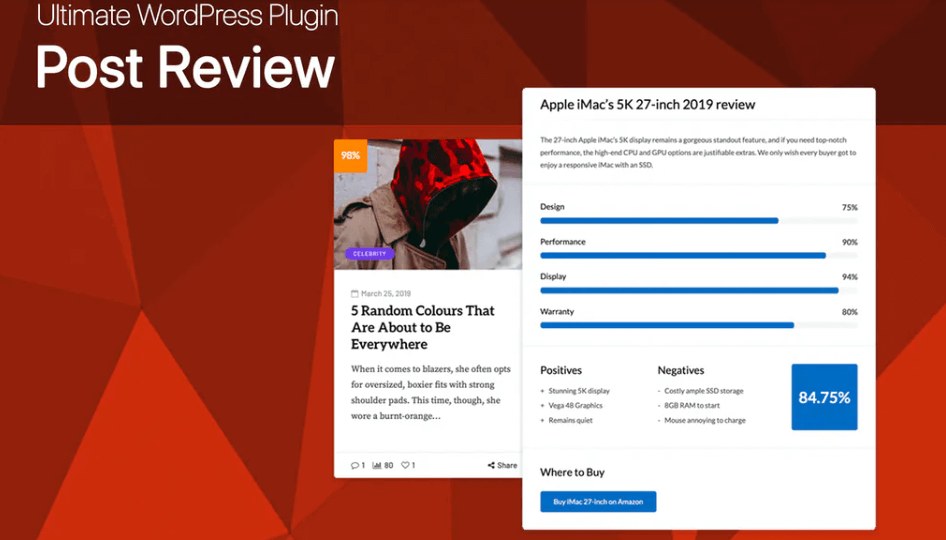 One of the most comprehensive WordPress plugins with unlimited rated criteria is the Ultimate post review plugin. For website owners looking for easy-to-use, feature-rich, and detailed post-review blocks with advanced rating functionalities, this plugin is here for you.
Ultimate Post Review allows website owners to easily add reviews and ratings on the content, including a summary, pros and cons, an affiliate button, and more on their websites.
With Unlimited Variations, Templates and Ratings, it is certain to be a great companion for every WordPress blog administrator out there. These review blocks help you to add more content, engage visitors on a deeper level, and increase revenue by featuring reviews while decreasing support costs.
Ultimate Post Review Features:
Comes with the percentage rating system
Display the total rating on a single post and blog listing pages automatically
Compatible with cross-browser and any other wordpress theme
Retina-ready, SEO-optimized, and responsive
Display review rating badge summary
Ultimate Post Review Pricing:
Ultimate post review is a premium plugin that comes at $16.50/m.
So, Which One Is Your Favorite Rating Plugin?
These are the top ten best WordPress rating plugins for you. We have listed both free and paid versions so that you can first use the free version to check the effectiveness and productivity of the plugin and then convert it to the paid version.
All these plugins are user-friendly, tested, and obviously reliable options to have a great rating system on your website.
Hopefully, now you have a better idea of the WordPress rating plugin and which ones might be the perfect fit for your WordPress website to display and collect product and service ratings. So, what are you waiting for? Grab the most suitable one that can serve you the best purpose and skyrocket your business.
Sign up for our newsletter
Be the first to know about releases and industry news and insights.
Let's

get started

on something great
Booknetic is a simple yet powerful plugin for accepting online bookings & payments on your WordPress site.