10 Best appointment scheduling apps for small business in 2023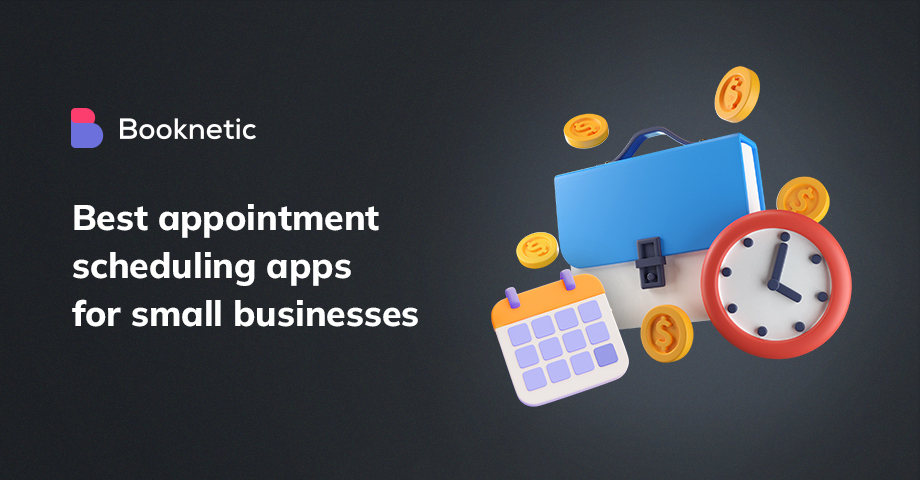 Running a business, conducting day-to-day tasks as a small business owner is already pressing. But, when you add the complexities of making appointments, creating schedules and managing bookings, it completely becomes a challenge.
As a small business owner, time is your most valuable asset. You need to think about new ideas and ways to offer the best experience to your customer, not lose time in making appointments that the customer doesn't even show up to. But what to do, customer is king and you should please your customers.
What you can do, without losing time and your customer, is using an appointment scheduling app for your small business. Today, we will talk about top appointment scheduling apps for small businesses that can save you a lot of time and gain your business customers.
10 Appointment scheduling apps for small businesses
There are a lot of benefits of online appointment scheduling for small businesses. Check out the list to know the best appointment scheduling software for small businesses.
1. Booknetic
2. Calendly
3. Appointy
4. Hubspot
5. Doodle
6. Square appointments
7. Setmore
8. YouCanBook.me
9. Wix Bookings
10. Acuity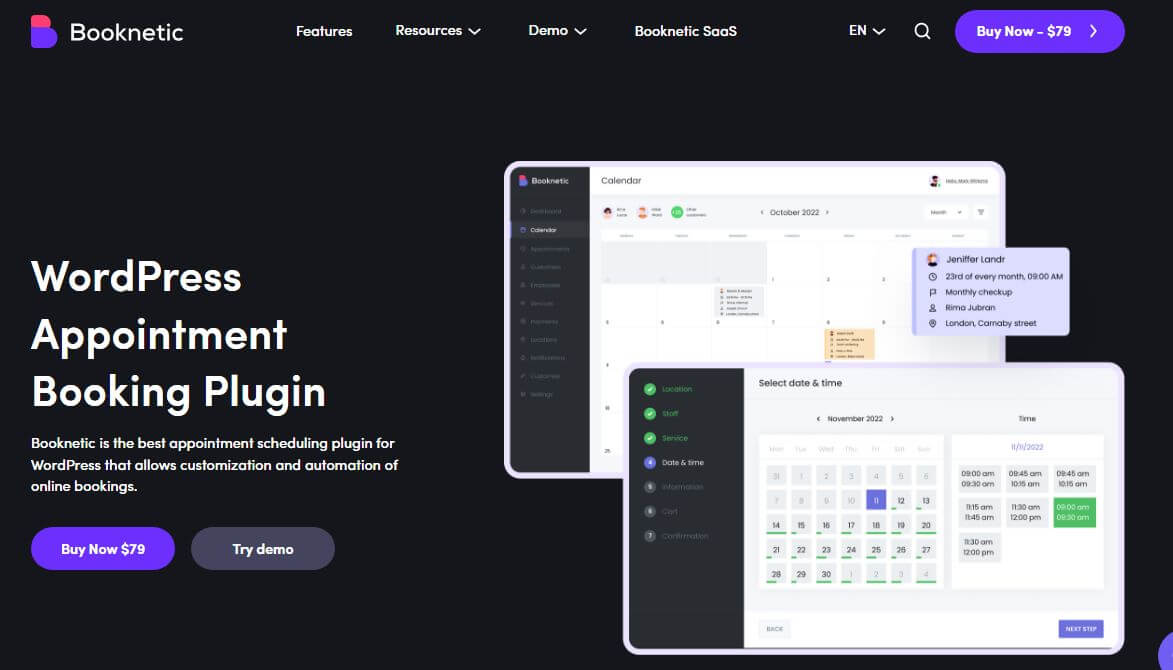 If you already own a WordPress-based website, you may not need to get an individual app for managing your appointments online. Booknetic, a versatile and fully automated WordPress appointment booking plugin, adds a refined and sleek-looking online booking system to your website.
The main benefit of using a WordPress site and its integrated plugins in your small business is its great ecosystem and supportive community. Using other plugins available on WordPress, you can customize your website according to your evolving business and its special needs.
Despite only being available on the web, Booknetic gives you all of the features you need to manage your business efficiently. If you want to learn how Booknetic can help you streamline and grow your business, the best way is to see it firsthand. See it with your own eyes and try Booknetic now!
What it offers:
Lifetime license
Responsive design to fit all sizes of screens
Embedded workflow automation
Multi payment feature with PayPal, Stripe, Mollie, Razorpay, WooCommerce,
Multi booking and custom durations
Waiting list support
Conversion tracking for appointment bookings
Whatsapp, Telegram, email and SMS reminders
Detailed business and employee metrics
Webhooks and Zapier integration
Recurring appointments and group sessions
Customer profiles and panels
Google Calendar and Zoom integration
Price: $79 for lifetime license
Calendly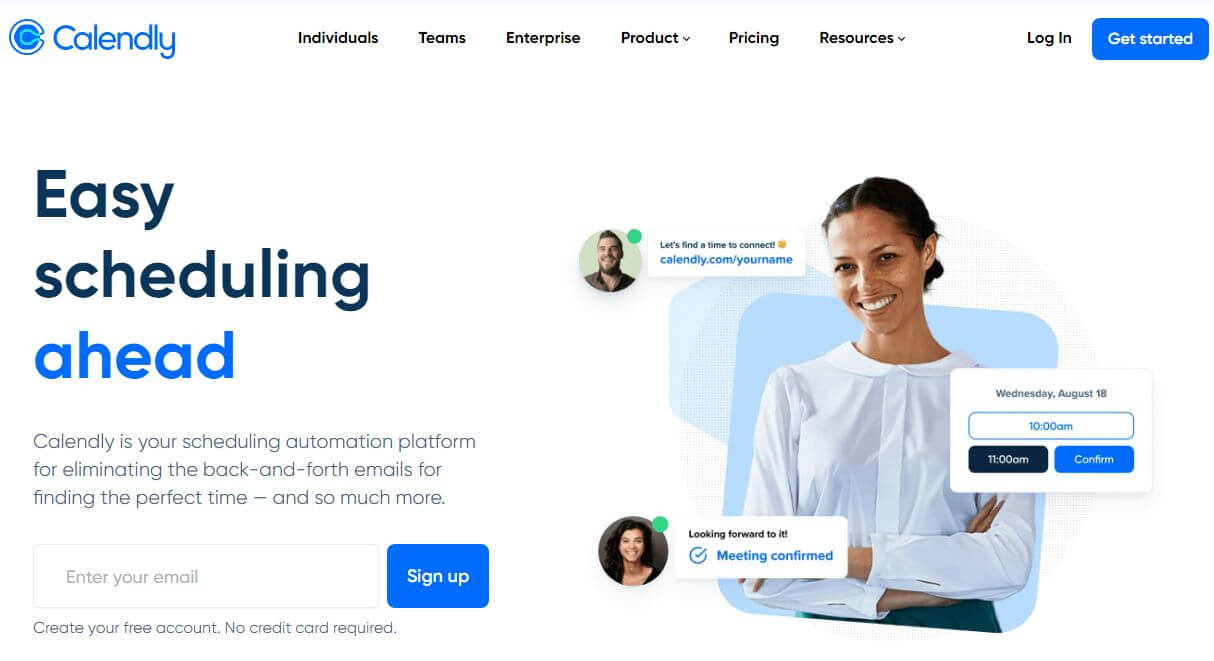 Calendly is a leader in the scheduling app sector and has successfully provided services for many years. The main selling point of this product is its utmost flexibility which allows you to schedule meetings with customers, employees and suppliers from one place. You can even set up webinars and team meetings using Calendly.
You can also block any time you may not want to work with just a click. It integrates with many online calendars such as Google Calendar, Outlook and iCloud Calendar so you are always up to date about your business and schedules.
Despite its wide range of options to customize your business, the free version offers limited functionality. So, it is great for testing, but for anything advanced, you will need to get the paid versions.
What it offers:
Availability options
Team scheduling
Workflows and embedded scheduling option
Integration and syncing with major Calendars
Online meeting polls for easy decision-making
In-depth analytics
Mobile app to manage on the go
PayPal and Stripe payment gateways
Price: $10/month for essentials, $15/month for professional and $20/month for teams plan
Appointy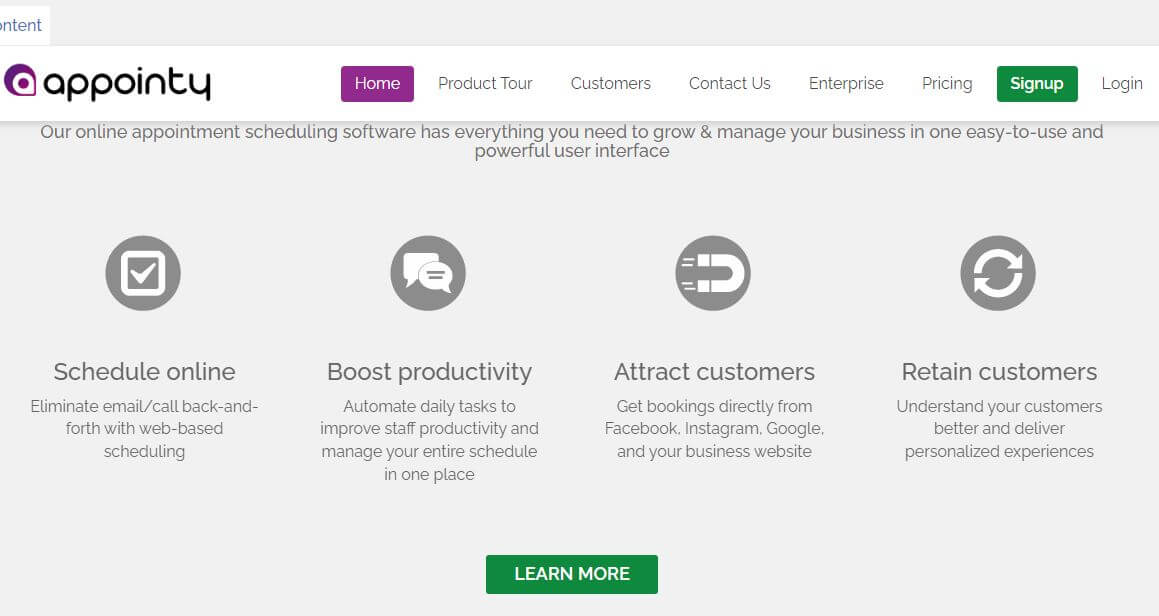 Appointy is specifically designed to be an appointment scheduling app for small businesses. As an owner, you can start using it for free, starting today. Unlike many other competitors, Appointy allows 1000 Zapier integrations to fully customize and automate your workflow.
As a unique feature, Appointly lets you accept bookings directly from your Facebook page. It is extremely convenient for customers and it gives a huge competitive advantage to your business. Using the free plan, you can get up to 100 appointments per month.
However, it is not all roses. Appointy provides some features completely free but doesn't let you close to other important features that can be helpful. Also, it is relatively expensive compared to other players in the market.
What it offers:
Free subdomain if you don't have a website
Facebook appointment scheduling
Staff level regulations
Interval booking options
Recurring bookings
Detail oriented analytics
Pre-payments and last minute promotion support
Sms and email notifications
Dedicated mobile app
Price: Free, $29.99 for Growth, $59.99 for Professional plan
HubSpot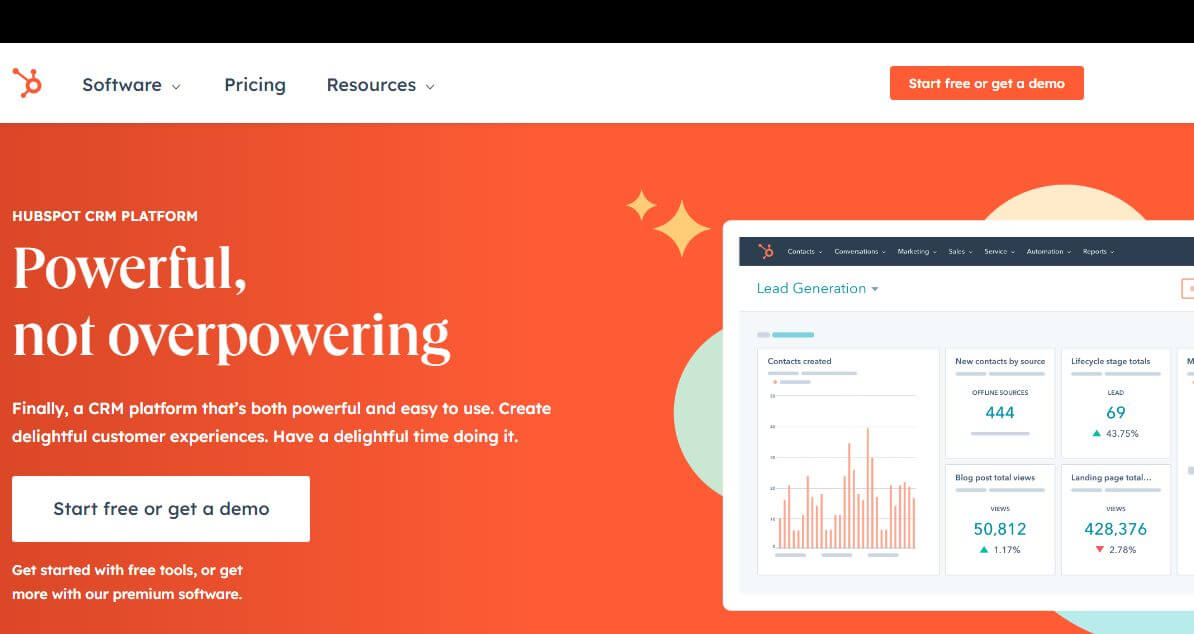 HubSpot is a fully-fledged business management and CRM platform. Keep in mind that this option is not just for scheduling appointments. The tools and features that come included with this platform can be employed across all your business. The scheduler functionality is just one small part of a bigger product.
HubSpot is a full package and you can manage all of your business processes starting from operations, marketing and sales to customer relationship management and customer support. It might be a life-saver if you want to connect and manage all your business from one place, but you will have to give up on customization and your freedom. Which takes us to the drawbacks of this product.
HubSpot is a robust, but expensive product. You can get enterprise subscriptions for other options listed in this blog for HubSpot's professional package. HubSpot also locks you into one platform and you become dependent on it to manage all your business, which can be a negative if you want to have some breathing space when managing your business operations.
What it offers:
Email tracking & notifications
Shared inbox and documents
Meeting scheduling and reporting dashboard
Advanced Facebook Messenger integration
HubSpot mobile app
Marketing events and Email reply tracking
Slack integration and email health reporting
1-to-1 email and user management
Custom user permissions
Price: $1780/month for Professional plan
Doodle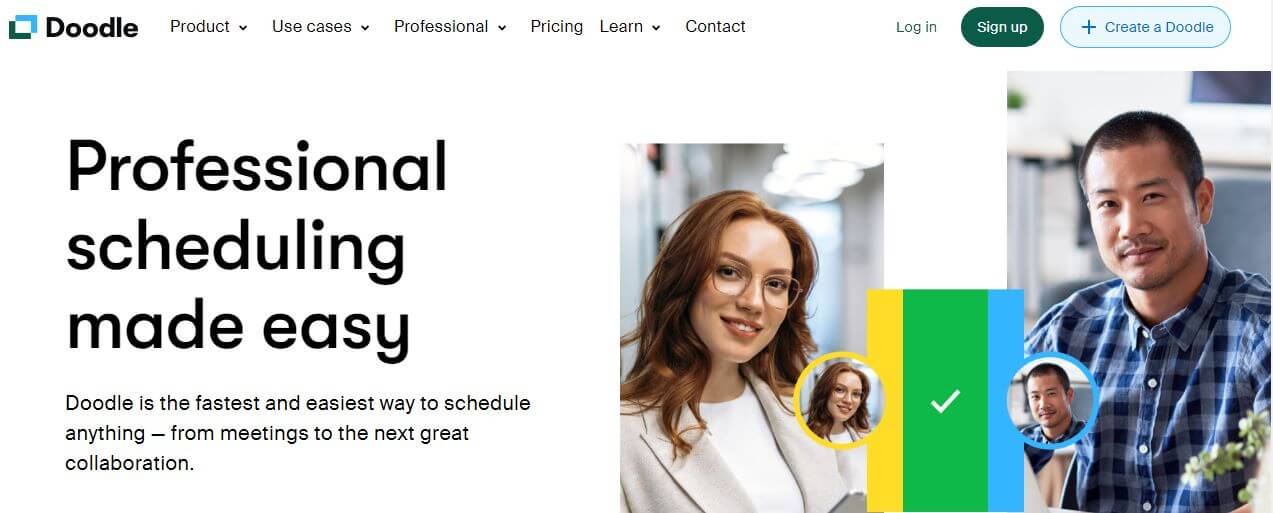 Even though it isn't among free appointment scheduling apps for small businesses, Doodle can be quite beneficial for your business. With this versatile tool, you can manage schedules with ease. Thanks to its advanced polls, creating meetings and scheduling calls is extremely easy.
Doodle lets you add a widget to your website so customers can book their appointments themselves. It also has automatic reminder support to make sure that no-shows are minimized. It syncs with popular tools like Zoom, Google Calendar, Outlook, Teams and Office programs. You can also automate workflows with its Zapier integration.
However, Doodle comes short in comparison with other appointment scheduling apps. For example, you can't schedule recurring appointments which can turn into trouble after a few times. Users have also reported that the customer service of Doodle is slow and sometimes unhelpful. It can also be a time-consuming process to learn and use this tool.
What it offers:
Unlimited group calls and meetings
1:1 meetings
Teams, Webex and Zoom video conferencing support
Two-way calendar sync
Zapier connection and workflow automation
Customizable booking page
Price: $6.95/month for professional, $8.95 for team plan
Square Appointments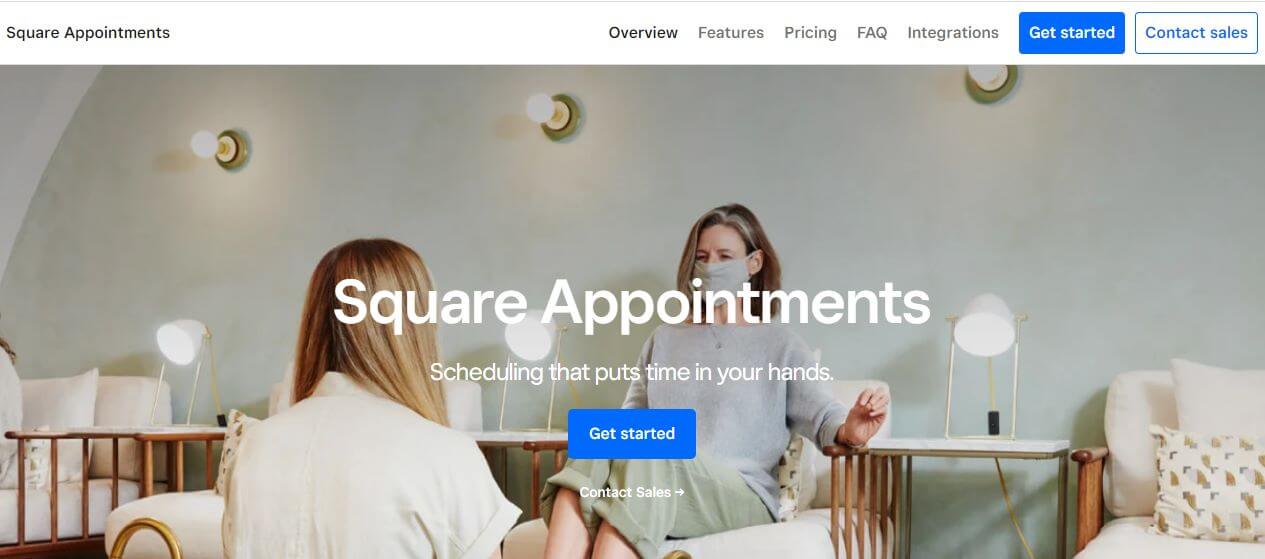 As one of the biggest payment platforms in the world, Square also offers an appointment scheduling app for small businesses. Square has a lot of experience in payment processing and truly understands the needs of a booking-based business. Thanks to this experience, they provide the most important features in their app.
With Square Appointments, you can start and manage a booking-based business from the ground. You can create a free website, accept bookings, send automated email and text reminders, accept bookings, cancellation and no-show fees and see it all synced up on your calendar.
For the business management side, you can manage your employees, see how they are performing, what their schedules are and how much they will make from their services and even manage how the tips will be split between the staff.
The major downside of this option is the payment processing part. Square Appointments locks you into only one payment gateway and charges you extra for each transaction you make. Although the free option is quite comprehensive, if you want to go beyond, you will have to pay more in comparison.
What it offers:
A free website and integration
Smart assistant to automate customer interactions
Automated email and text reminders
Mobile app
Time zone conversion
Cancellation and no-show fees
Extensive payment options
Payroll integration for wage automation
Multiple location support
Google Calendar synchronization
Price: Free, $29/month for Plus and $69/month for Premium plan
Setmore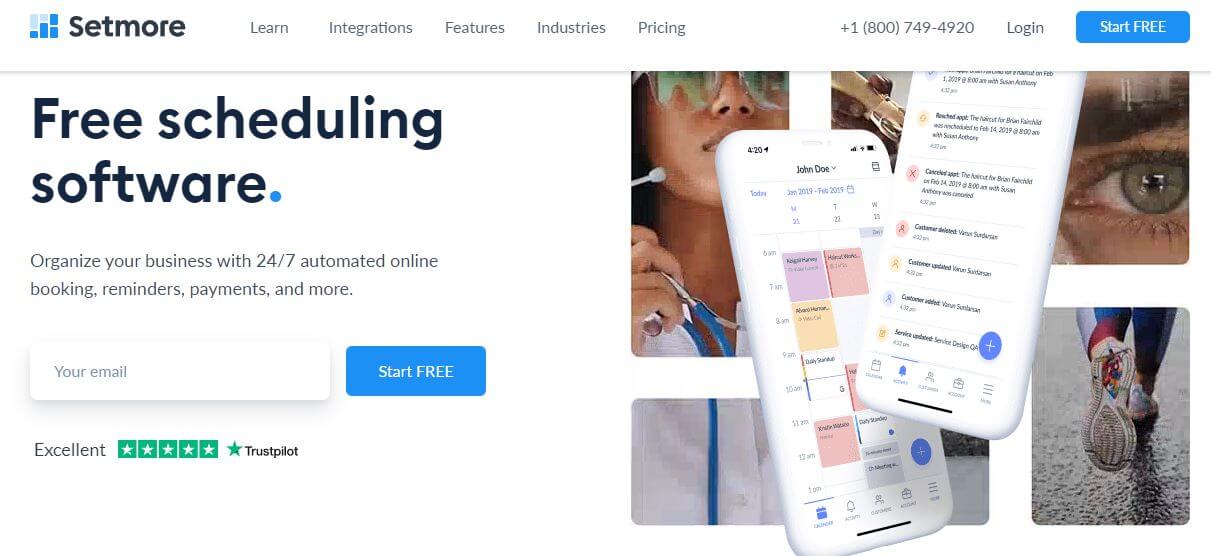 Setmore is a free appointment scheduling app for small businesses. It offers all of the core functions a business might need completely free. You can start and grow your business up to a certain point, after that Setmore's feature-rich premium plans will help streamline your business and grow exponentially.
With the free plan, you get an online booking page, unlimited appointments, free email reminders and a booking calendar for self-booking on the customer's side. You can integrate your social media accounts and display different reviews that your customers made. In the paid versions, you also get recurring appointments and customized reminders.
Unlike many other competitors, Setmore doesn't support 2-way calendar synchronization in the free plan. It also locks you into the Square payment gateway if you are not willing to pay. Even if you are willing to pay and registered for the pro plan, you can't get more than two users. Some users have also complained about the quality of its customer support.
What it offers:
Unlimited bookings
Class and staff bookings
Online booking for customers
Email and SMS reminders
Booking directly from Instagram & Facebook pages
Square, PayPal and Stripe payment gateways
Mobile app
Workflow automation with Zapier
Wide array of integrations
Price: Free, $12 per user per month for Premium, $9 per user per month for Pro plan
YouCanBook.me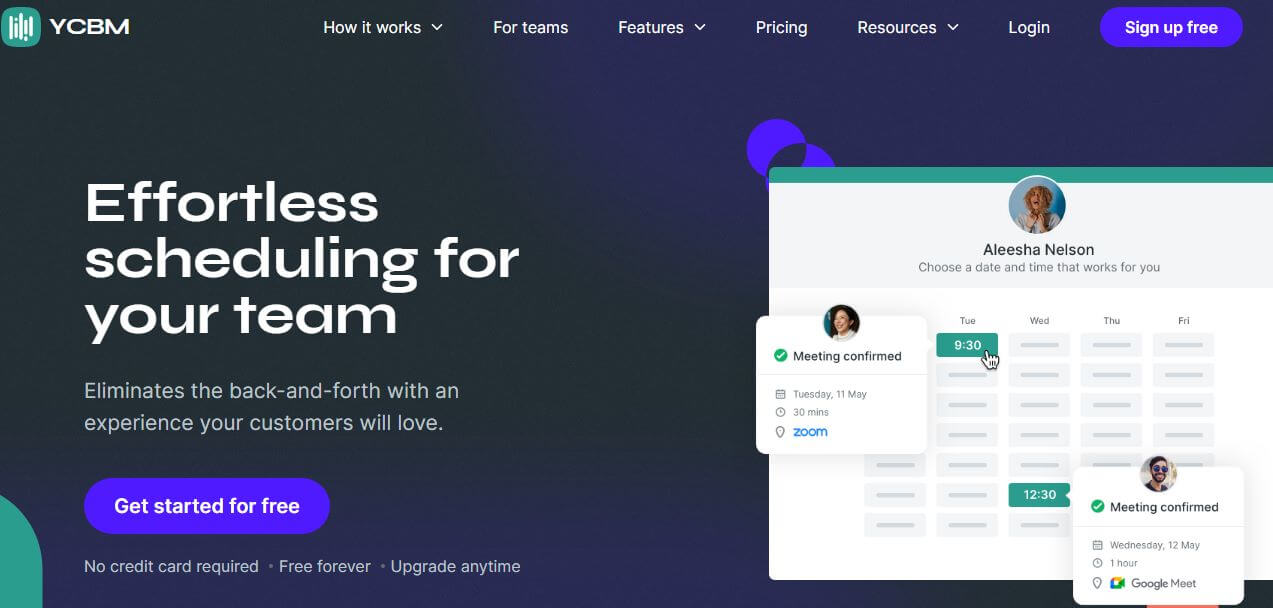 YouCanBook.me is an affordable appointment scheduling app for small businesses. It offers most of the features of other services at an affordable price. This option has a beautiful design that you can easily customize to fit your web page.
With its primary focus on the education sector YouCanBook.me is in the "Top 100 Software Products" listing on g2. This tool allows you to easily accept online bookings, keep them on hold and send confirmation emails. You can also set up automatic reminders and follow-up emails and increase your customer retention. It also integrates with Zapier to automate other workflows.
However, YouCanBook.me falls short on features. For example, it doesn't provide you with analytics and reports about your business, doesn't provide multiple location support and there is no mobile app to manage it while you are away. It should also be noted that many of the useful features are locked behind a monthly subscription
What it offers:
Online booking
Customizable design and booking forms
Enhanced appointment management with hold features
Choosing among different appointment types
Flexible appointment intervals
Time zone conversion
Calendar synchronization
Zoom, Google Meets and Teams support
Price: Free, $10/month for advanced features
Wix Bookings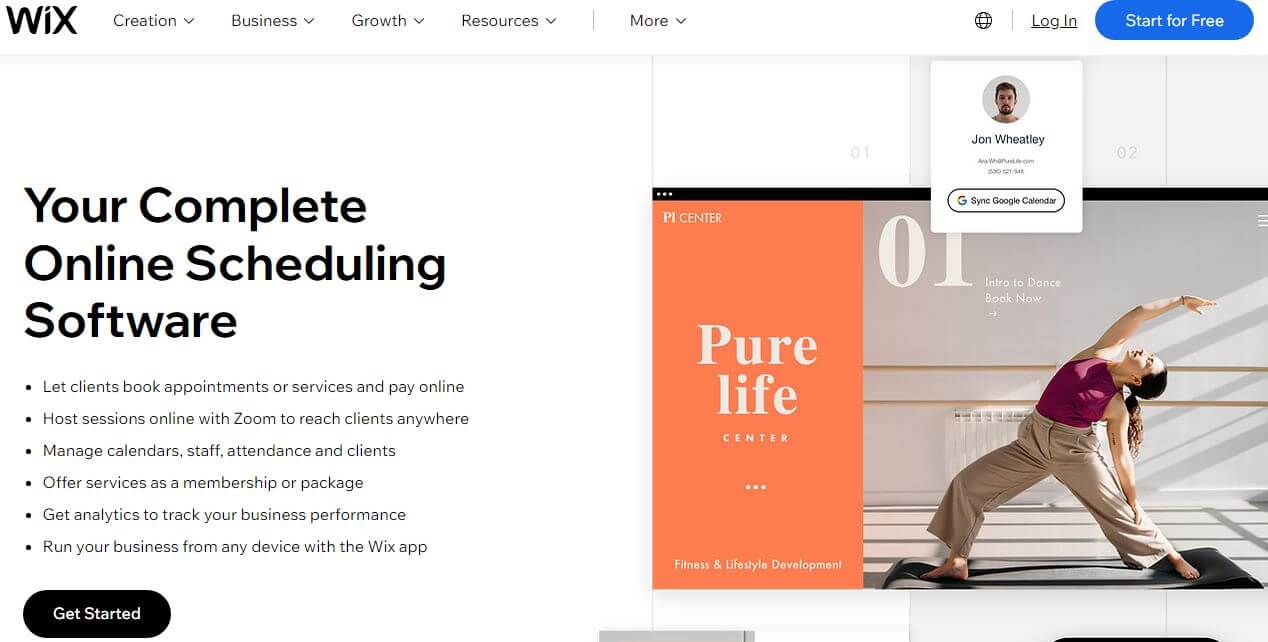 Wix Bookings is among the top appointment scheduling apps for small businesses. It is developed by the popular web hosting company, Wix. This app provides many useful features with a sleek design. It is also developing really fast with new features being added constantly.
The tool allows your customer to book appointments and services you offer on their phones thanks to its mobile app. You can accept payments via PayPal and Stripe alongside the default Wix Payments system. Thanks to its broad features and support in your overall business management, it will be a good companion for you.
Wix ecosystem allows you to manage most of the important parts of your business within one place, which can save time and let you focus on more important stuff. You can also customer relations thanks to the free tools offered by Wix Bookings.
The main downside is your dependency on the Wix platform, just like HubSpot. You are entirely dependent on Wix to provide all your hosting, website and other needs and you cannot buy the scheduling software separately. The price is also a little bit on the higher spectrum compared to others.
What it offers:
Online booking and 1:1 appointments
Calendar management from the Wix dashboard
Membership tiers and packages
Wix Payments, PayPal, Stripe, Alipay payment gateways
Member profiles, bookings history, payment status, notes support
SMS and email reminders
Mobile app for customers to use and book services
Detailed analytics
Price: $17/month for Business Basic, $25/month for Business Unlimited plan
Acuity Scheduling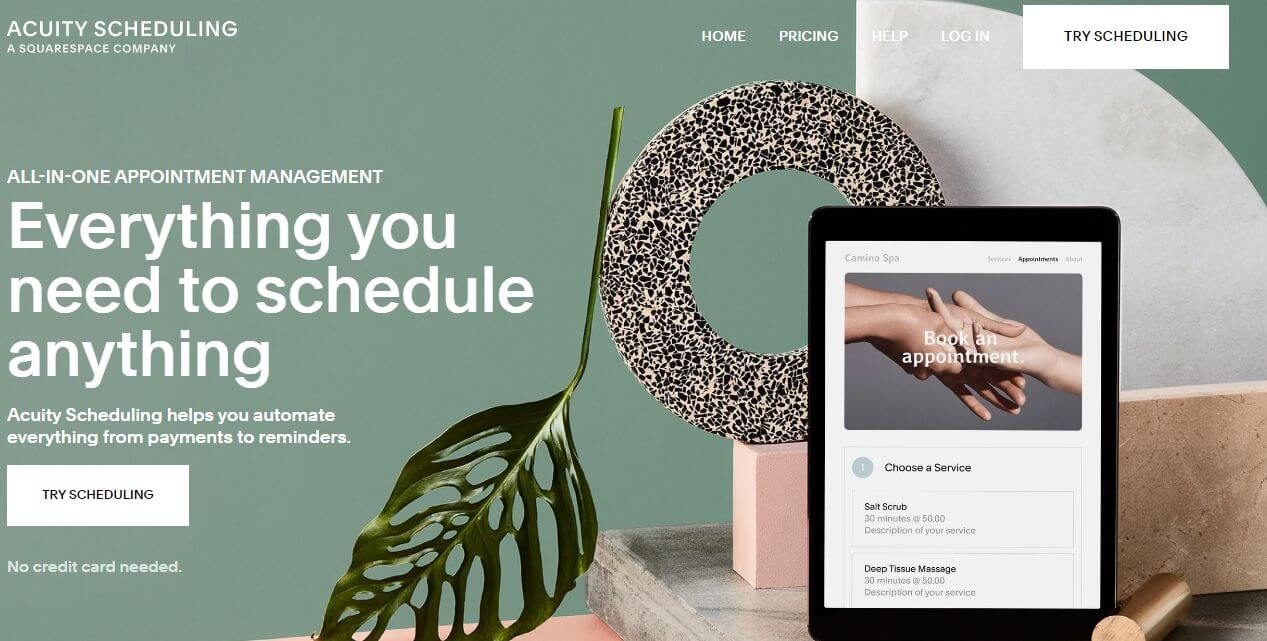 Acuity is one of the top appointment scheduling apps for small businesses. It comes with a plethora of features. With its mobile app, it's easy to manage all the bookings and schedules from one place.
Just like others on this list, Acuity accomplishes the core tasks like scheduling and integrating into the calendar. Unlike others on this list, Acuity offers more options for calendar integration with support for iCloud calendar, Google Calendar, Outlook and Microsoft 365. You can also easily manage invoices and taxes thanks to its integration with bookkeeping platforms.
You can manage multiple locations, staff and user profiles from one place. Acuity offers a lot of choices to you in every feature and doesn't lock you into one option for managing your business. You can accept payments through PayPal, Stripe or Square. You can make your meetings on Google Meet, Zoom or GoToMeeting, again on your own choice.
However, Acuity has some drawbacks that we should mention. First of all, it doesn't come with many features like SMS support. Secondly, it doesn't have a mobile app so you lose a huge portion of your user base. Last, but not least, if you are not going with the most expensive plan, you and your customers will see a "Powered by" text at the corner of the booking page.
What it offers:
Online booking
Multiple booking and location support
Calendar integration
Google Meet, Zoom and GoToMeeting support
PayPal, Stripe and Square support
Reminders and follow-up emails
Time zone conversion
Bookkeeping and tax automation
Price: $23 for Growing and $45 for Powerhouse plan
Bottom Line
If you are a small business owner just starting your business, you should minimize time spent on many tasks. Appointment scheduling and booking are perhaps at the top of the list of productivity tools for small business that you need to invest in. Thanks to appointment scheduling apps for small businesses you will not lose time on daily scheduling.
If you host your website on WordPress, Booknetic is the best. From a price point, you only pay for a single time and get lifetime access.
Sign up for our newsletter
Be the first to know about releases and industry news and insights.
Let's

get started

on something great
Booknetic is a simple yet powerful plugin for accepting online bookings & payments on your WordPress site.