Appointment Scheduling Mistakes to Avoid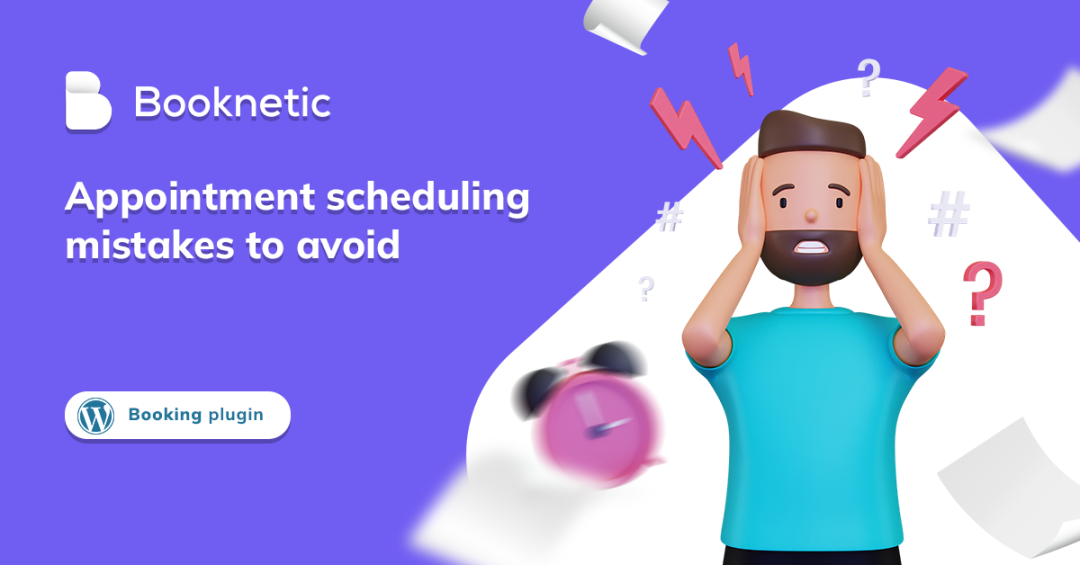 What is appointment scheduling?
Appointment scheduling is a great way to get things done in an efficient manner. You'll impress your clients with the amount of time you're able to allocate them, which will help keep business flowing smoothly at home.
On the other hand, you might be surprised to know that there are a number of common mistakes when making an appointment. These missteps could result in missed appointments, dissatisfied clients, and even failure!
The inability to manage appointments is a major cause of business failure. This might not be as simple as just keeping your staff's calendar up-to-date and allowing clients, customers & patients the opportunity to book online though.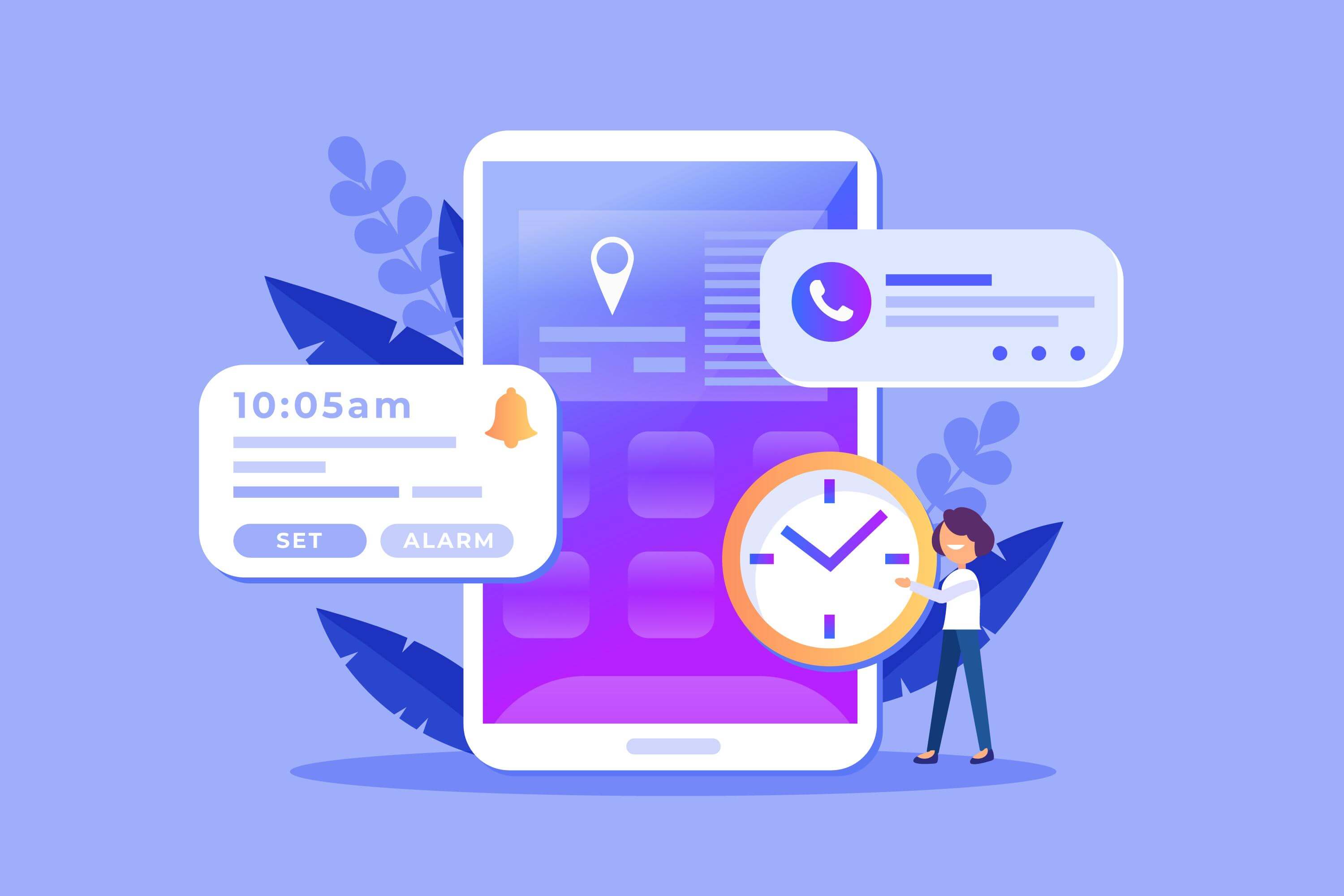 Why is appointment scheduling important?
As pandemics are becoming more intense, it is important to ensure the safety of customers. Appointments have become an integral part of this process - they allow for direct online interaction and help build trust so that you can get better faster without any concerns or risk involved when visiting somewhere. All things considered, appointments provide convenience and are personalized, making them a winning strategy from both perspectives: business-wise and consumer-oriented.
You can save time and money by automating your company's appointment system with this easy-to-use online scheduling platform. Your employees won't have to manually manage appointments anymore, they'll be automatically updated on their calendars so you don't miss out when someone cancels at the last minute or schedules a new meeting time. Plus customers will find it simple too - just enter their desired date/time in order for them to receive confirmation straight away without having sent over an email asking if it is okay every single day beforehand.
All you need is an appointment booking system!
Online appointment scheduling software is a great way to increase your customer satisfaction and maximize the time spent on each individual's visit.
Routine visits tend not only to be more profitable but also safer for staff members since there is less opportunity in rescheduling or canceling last-minute with paper systems.
The right online appointment scheduling software providers can be hard to find, and also lead to the biggest and common scheduling mistakes. You need one that has the features and abilities your business needs, but also offers value for money so you'll feel confident in their capabilities as well. Actually, choosing an inappropriate one is number one on the list of appointment booking mistakes that can turn your business into a nightmare. If you don't know how to choose one, continue reading!
How to avoid appointment scheduling mistakes
1. Wrong system, wrong strategy
As we mentioned above, choosing the wrong system would make your business completely upside down. The perfect business appointment reminder tool should be tailored to meet each company's specific needs. Even simple nuances such as the placement of scheduling form can be a great turn-off for customers.
Most platforms have been built on WordPress, so if you are searching for the best plugin, Booknetic should be your initial choice to avoid common mistakes when making an appointment. This plugin got everything you need for an easy appointment.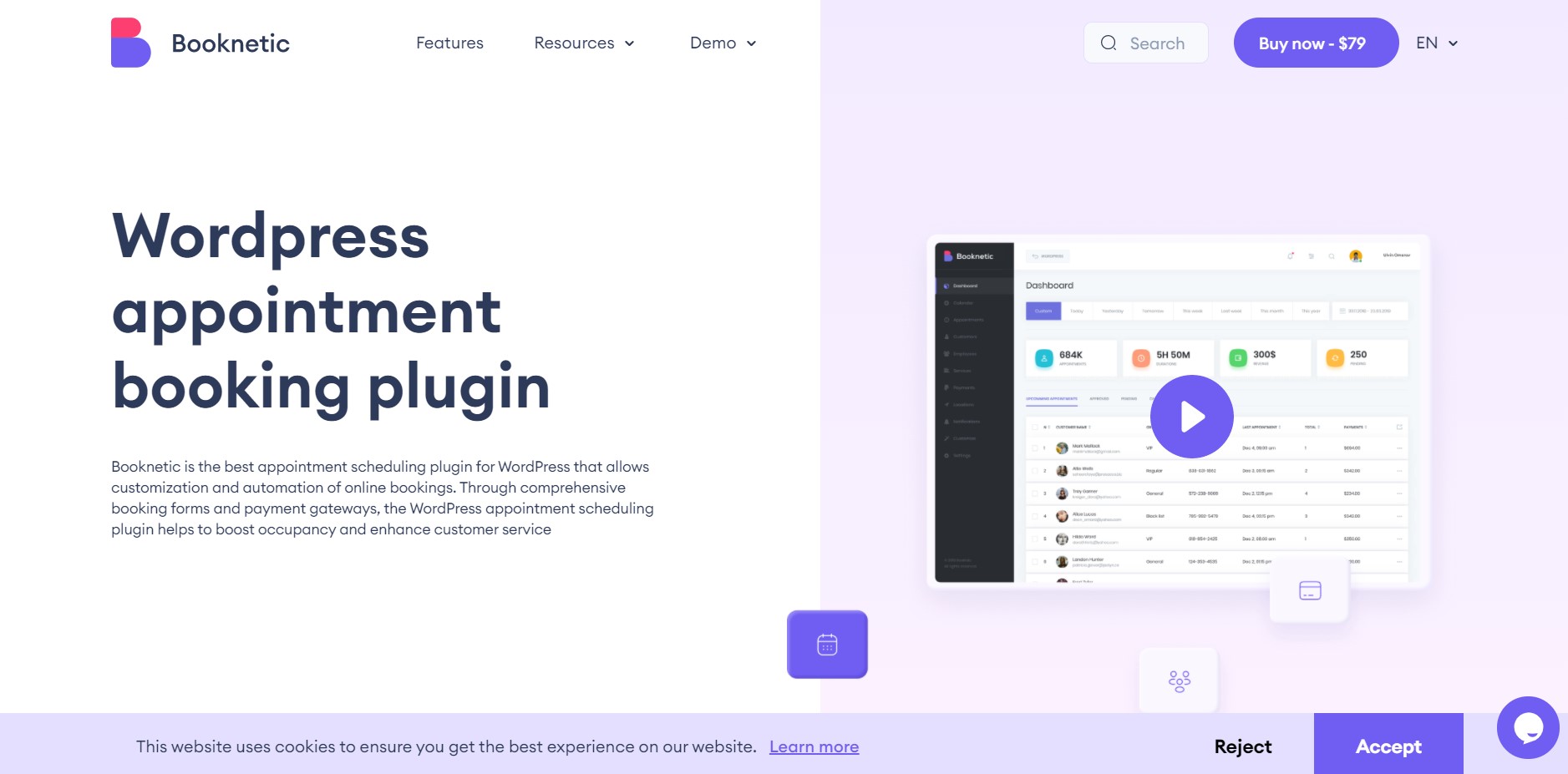 Booknetic has features, such as Zoom integration, Google Calendar Sync, various payment options (WooCommerce, PayPal, Stripe, Square, Mollie, Razorpay), Notifications (SMS, Whatsapp, Email, Telegram, Webhook), Group appointments, Translator, Form builder and so on, and so forth.
Online appointments have never been easier with Booknetic. All of these features, and more additional features as well, make it a great choice for any size company or individual looking to schedule their next meeting quickly and easily from anywhere in the world. Go and try demo to see all features!
2. Not knocking on with reminders
Forgetting an appointment is a common occurrence, especially if it's been planned for days or weeks in advance, but having no reminder system is one of the other important common scheduling mistakes. No-shows are another issue entirely that can be dealt with by reminding customers of their original plans. Reminder notifications are an affordable and easy way to nurture leads. The best part? You can cut down your no-show ratio while saving money.
If you want to have a higher attendance rate, make sure your customer is reminded of their upcoming appointment. Automated alerts for those reminders will help with cancellations and lead time in case they need another day or two before setting up an emergency meeting. Learn how to write reminder messages for a meeting before automating the solution.
Reminders are a great way to remind your customers about their next appointment. Notifications make them feel cared for and will be more likely to return as well. So, you should always send email and SMS reminders to customers when they arrange their appointments and a day or two ahead.
3. Don't oversend, to avoid common mistakes when making an appointment
Sending too many reminders is also one of the greatest appointment booking mistakes. Some people may be inclined to think that flooding an SMS text inbox is a good thing. However, it will only end up making customers more irritated and less efficient than they were before you started sending them messages.
4. Lack of information
You can always tell when someone is new on the internet. They want to know exactly what they're getting into before making any decisions, even if it means you might not be able to offer your services or products.
On your booking page, include clear information and let clients know what to get from the service. Include some standards or guidelines to assist guarantee that everyone has a great time.
A missed opportunity to impress customers is what happens when your appointment reminder doesn't have all the information they need. They might be left feeling confused or uncertain about their next steps, so you run a high risk of them having an unpleasant experience with your business.
5. Do your staff know?
It's not just about your customers, it is essential that the team understands how they can support you accordingly. The gaps in staff knowledge and chaotic business practices often lead to inconsistent service across different areas of your company's product or services offerings.
Don't let your company slack on this one! If you don't have an organizational structure in place, that is, a clear step-by-step assembly line that works as a checklist for each confirmed appointment, you may end up with dissatisfied clients.
6. How to avoid appointment scheduling mistakes by asking clients
One of the next common scheduling mistakes that have been made is not asking relevant questions. As a business owner, it is your responsibility to know what you want out of the experience.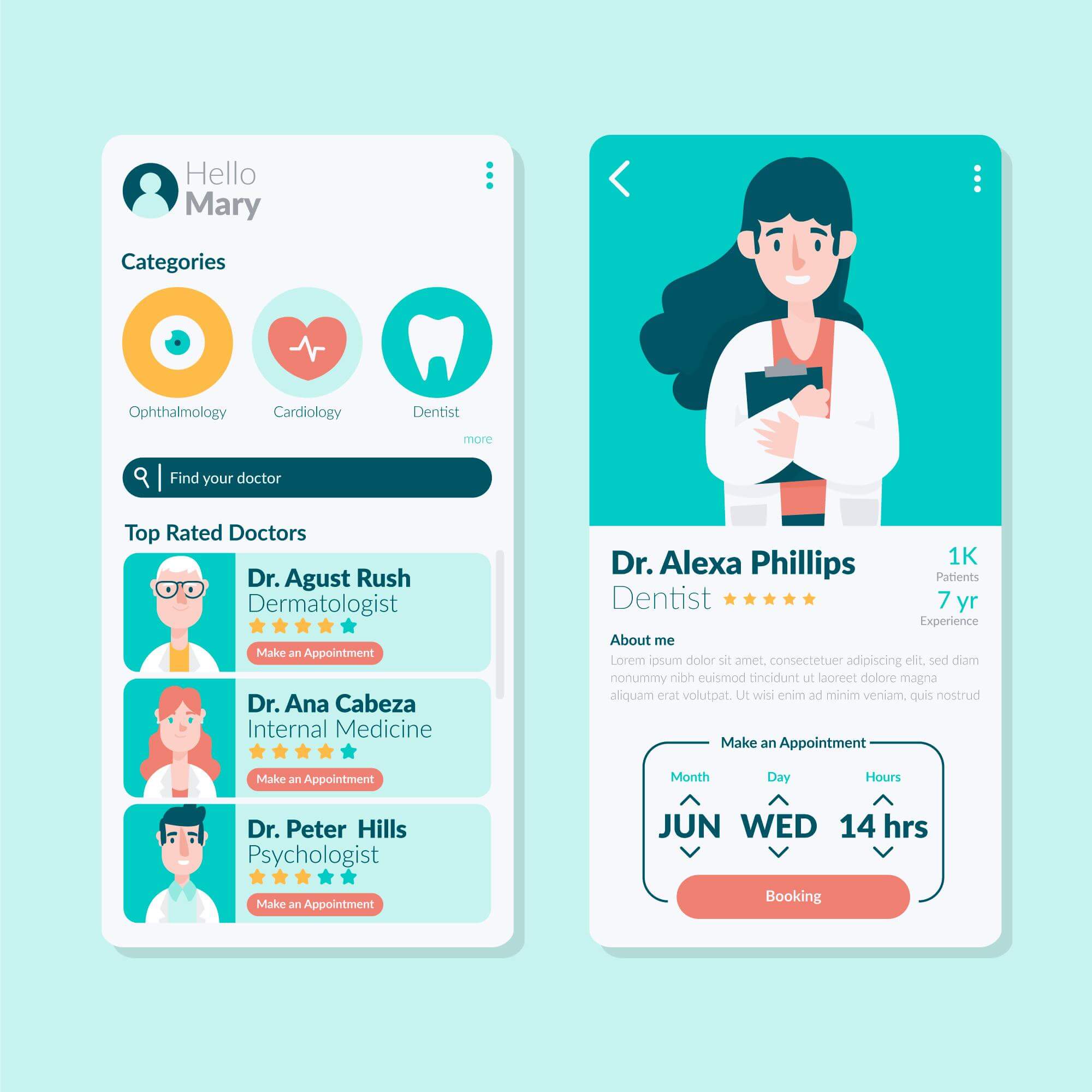 Uncertainty about your target population might increase client acquisition costs, resulting in a low ROI. Knowing the individuals you're aiming to target will help you to set better expectations and meet them within your budget by clarifying what's expected of both sides engaged in this interaction.
Smooth communication with clients is the best customer retention strategy.
7. Uncertain payment method is a great one of the common scheduling mistakes
To make your customer's life easier, ask them to pay for an appointment or consultation fee through the payment gateway. This will help track any invoices that may have been forgotten about in future searchesÅŸ
For example, Stripe and PayPal are the most used payment instruments globally, which makes them incredibly important to any company that needs an easy way for customers around the world to pay.
WooCommerce is a free and easy-to-use eCommerce platform that has been installed on millions of websites. With compliant platforms in every country, it's no surprise why so many people love using this site for their business.
Additionally, deposit payments can solve some common mistakes when making an appointment. With this feature, the customer is required to pay a deposit for their appointment while making reservations. They can then go on and book in at any time or cancel with no questions asked.
If they don't show up before that initial payment goes through though? You're going home with some extra cash from Stripe/PayPal since those systems encourage users who have paid deposits not only to make these payments but collect them too if possible. Or maybe WooCommerce sounds more appealing as it supports both methods of taking credit card info online.
8. How to avoid appointment scheduling mistakes by requesting feedback?
The best way to improve your appointment setting process is by getting customer feedback on what they think. If you're not already asking for this type of input, the next time someone schedules an appointment online or walks through your door, be sure to ask them how it went?
There are many ways to make the experience better for everyone. Maybe you can try asking people who have had a negative interaction with our system how it could be improved or suggest some changes yourself.
Keeping your customers happy is essential for long-term success. Feedback from them will help you improve the way things are done, and they might even turn into loyal fans.
In Conclusion
These appointment booking mistakes should be avoided from the beginning of your business's development. A good rule when questioning how to avoid appointment scheduling mistakes is always to keep updating yourself so that one day where nothing goes wrong doesn't happen again because then what would have been learned from those experiences matter less than just experiencing failure all at once.
We hope this article helped avoid some common errors when making schedules during these busy times of year because keeping priorities straight will help keep things running smoothly without any last-minute chaos.
Sign up for our newsletter
Be the first to know about releases and industry news and insights.
Let's

get started

on something great
Booknetic is a simple yet powerful plugin for accepting online bookings & payments on your WordPress site.