Which WPAmelia Alternative is Good For You?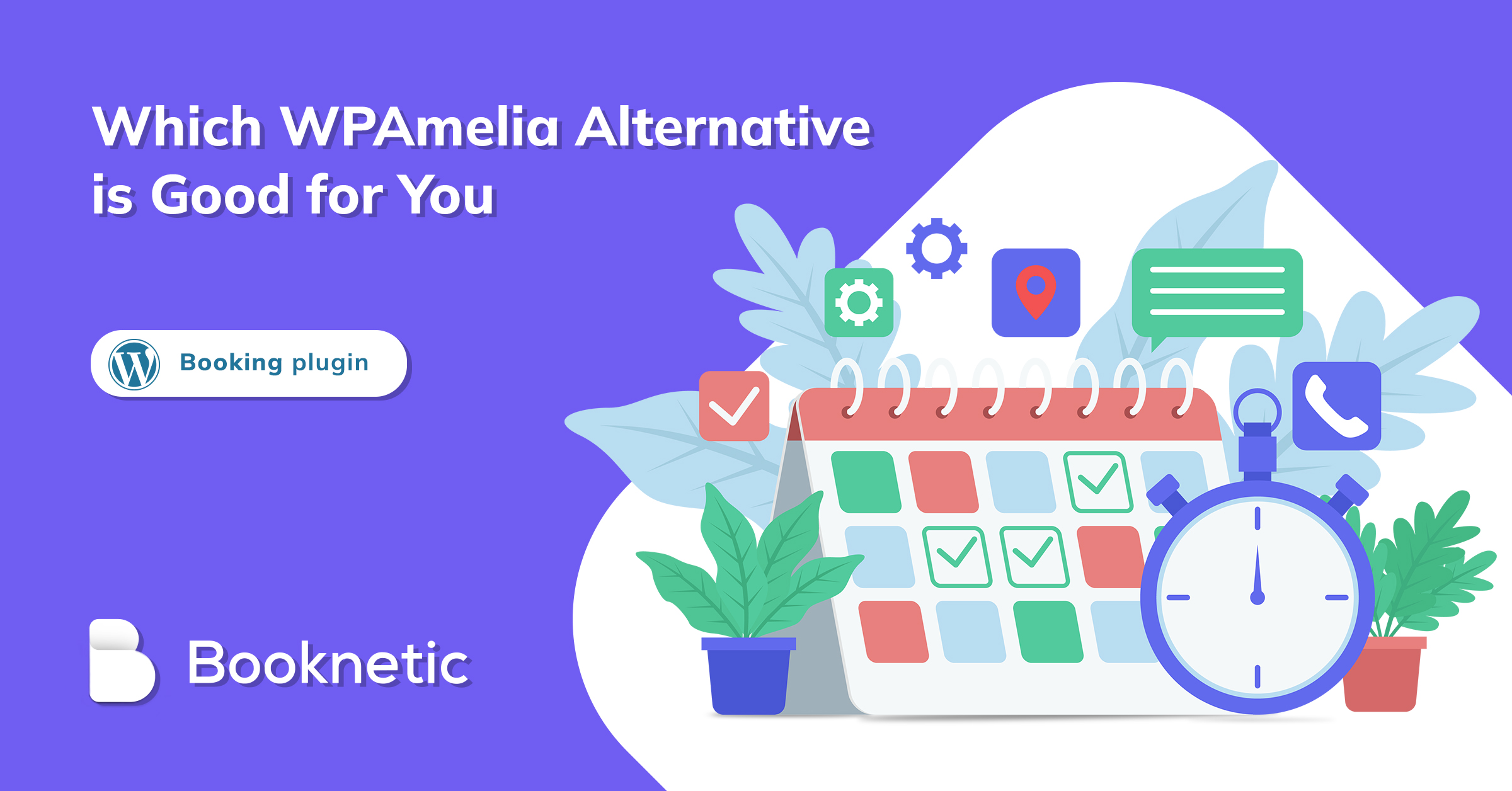 Finding the most suitable WPAmelia alternative takes a long review of available tools. Thankfully, we compiled a list of alternatives that offer similar features as Amelia. But first,
What is WPAmelia?
WP Amelia is an appointment and events booking WordPress plugin. The plugin is originally made for law consultants, spa salons, car repair centers, and private clinics that receive lots of bookings in day-to-day operations.
With custom fields, you can design and configure the booking form that matches your business. Once you build the booking forms, you can set buffer times, add holidays, and recurring payments which help replace manual work and go back and forth throughout a year. Google Calendar Sync helps employees to view their schedules on their own calendar.
Also, the plugin has a native integration with WooCommerce which allows you to make all payments, taxes, and invoices. Overall functionality allows customers to focus on significant tasks without being interrupted by the booking procedures.
The Basic plan on an annual basis costs $79. But for adding 3 domains, Amelia charges $119 per year. It also has a Developer plan which allows you to add unlimited domains. This plan costs $249 per year. Prices double up when you opt for a lifetime subscription.
As with other tools, there are certain features that Amelia lacks in its board. Which makes booking plugin searchers look for a suitable WPAmelia alternative.
The price point also comes into play when comparing Amelia with other booking software. Obviously, the price doesn't help small businesses that want to scale their business on a tight budget.
This is why we made a research on appointment booking tools to find out the best WP Amelia alternative for you.
Which WPAmelia alternative to choose?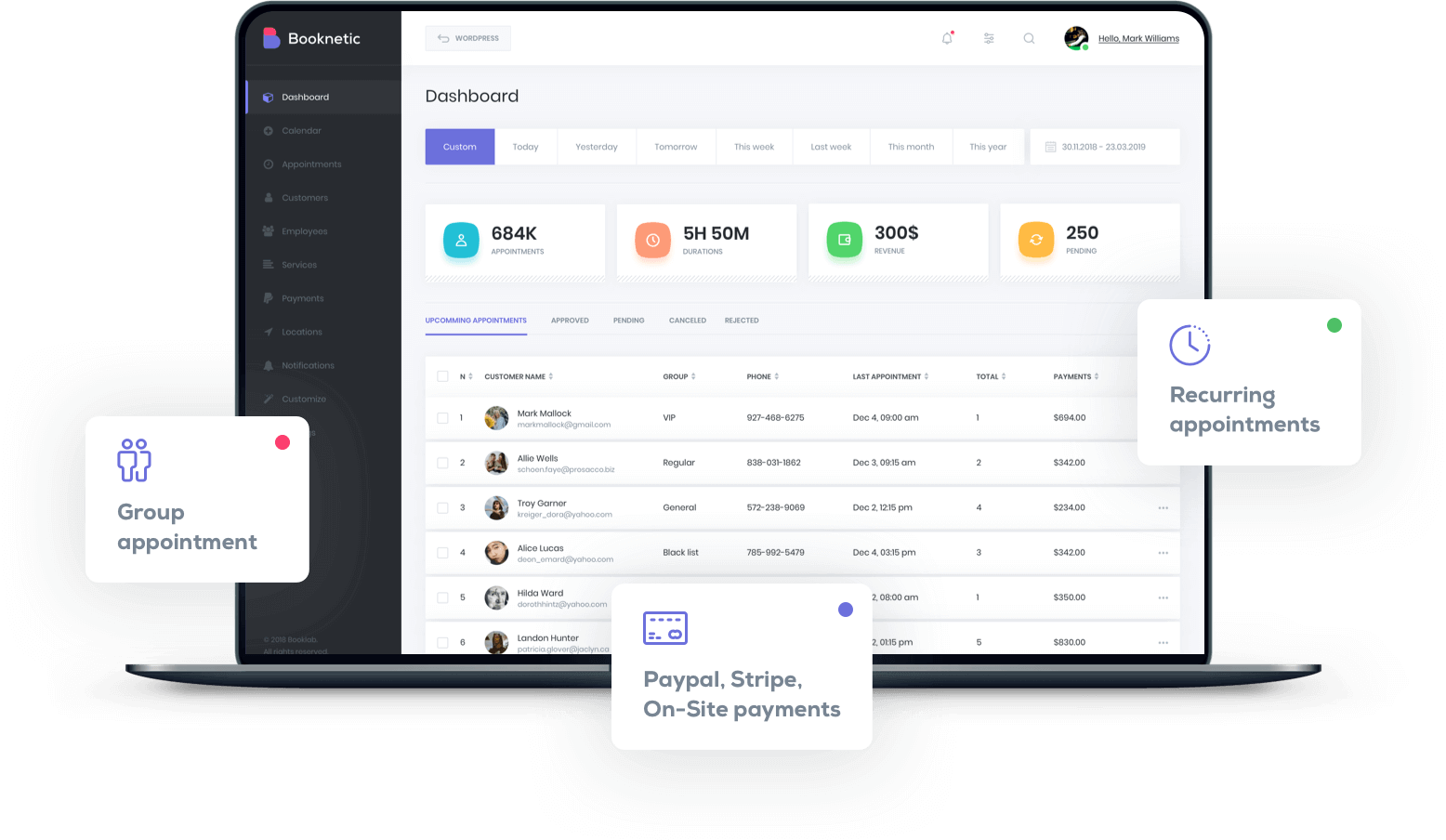 Amelia competes toe-to-toe with Booknetic when it comes to comparing the target audience and features. Booknetic too is designed for spa salons, wellness centers, health organizations, and consultants.
Booknetic has a fully customizable booking widget. Users can embed the widget anywhere on the website and design it to match their branding style. When booking an appointment, users can register through their Google or Facebook accounts.
As with Amelia, Booknetic also integrates with Google Calendar. This enables staff to view their appointment schedules on their calendar. Yet, you can set holidays, day-off in the calendar to make sure they are unfilled. Also, Booknetic has Zoom integration to streamline virtual meetings from the booking panel.
Unlike Amelia, Booknetic also has WhatsApp notifications. This makes it even easier to interact with always-online clients. Notifications can be used for appointment approval or cancellations, automated reminder messages, payment confirmations, or appointment rescheduling. You can use ready shortcodes for each message type or write your own notification message.
With multi-level categories, you can add unlimited service, locations, or staff and organize their orders.
Another advantage of Booknetic over Amelia is the payment gateways. Plus to PayPal, Booknetic natively integrates with Stripe. This helps customers to appeal to larger sets of customers around the globe. You can also accept WooCommerce payments via integration.
Booknetic is sold through the Envato market at a $79-one time payment. This includes all further updates and 6-month customer support.
For a head-to-head comparison with Amelia, read our Booknetic vs Amelia blog.
Calendly is easy-to-use scheduling software. Maybe the most known appointment booking tool in the market, Calendly works for any business and individual. As WP Amelia, scheduling features include one-on-one, group, and collective meetings.
Meeting polls is a distinct feature from Amelia. With this, users can offer time varieties in meeting schedule emails and invitees can vote on the preferable time.
As it is also designed for teams, it lets you control how your team gets booked. You can define meeting duration, set buffer time between meetings, and set the time for sending notifications. Team management features also include setting booking templates for different appointment types and also shift them into another type in bulk action.
Although it is not a WordPress plugin, Calendly can be embedded into any website. Furthermore, Calendly has native integrations with CRM, communication tools and also has API support. Unlike Amelia, Calendly can be ideally used as part of recruitments, sales, and team meetings.
Calendly is rich with subscription plans. Individuals can benefit from a free plan and get basic scheduling features. Individual and small teams who need scheduling automation and integration channels can pay $12 per seat on a monthly subscription.
We have a separate blog about Calendly alternatives you may like to read.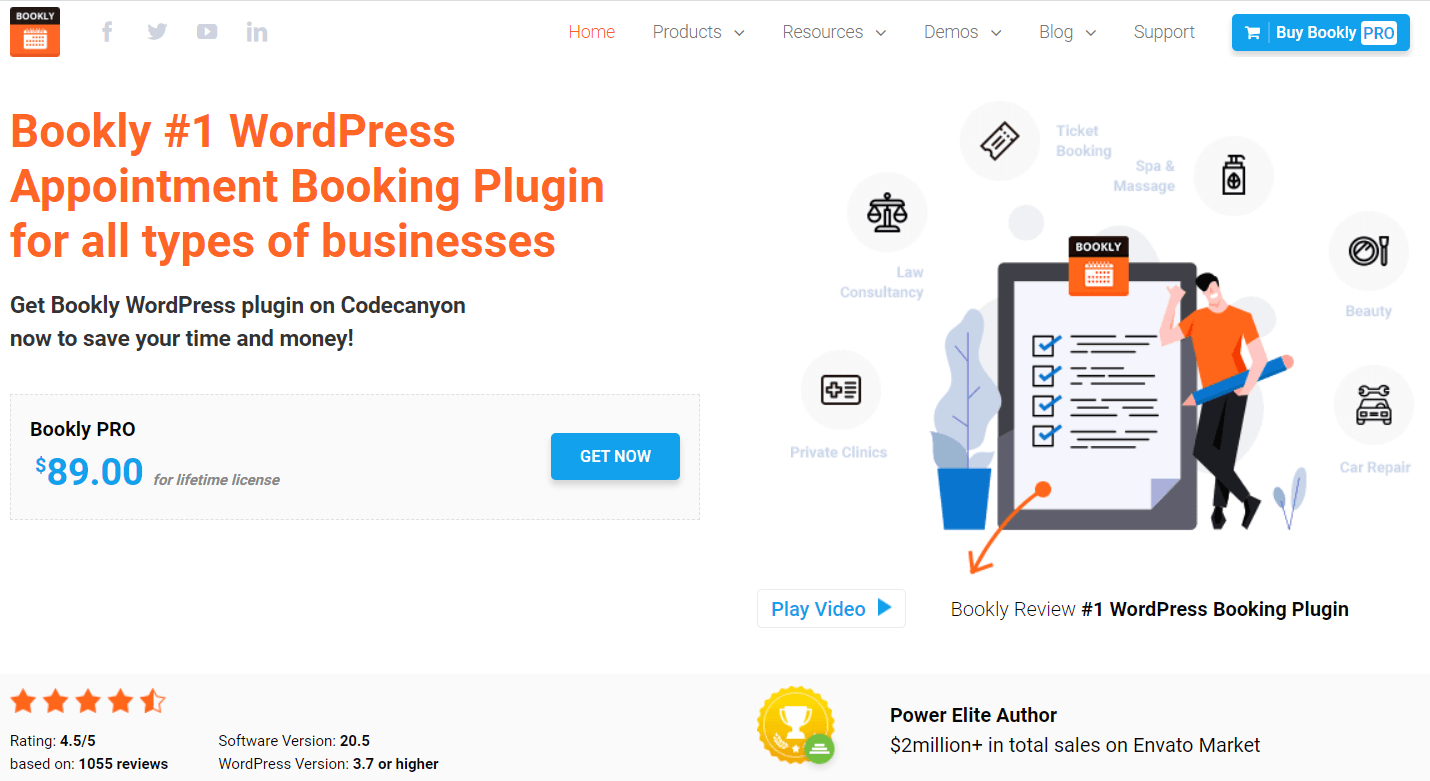 Bookly is another appointment scheduler for WordPress sites. The lightweight plugin is easy to download, install, and configure.
Like Amelia, Bookly has a customizable booking form where you can adjust colors and certain steps. You can show or hide specific fields, add new services other than by default, and customize any text in the form. Color customization helps to distinguish services from one another.
Bookly allows users to create and receive an unlimited number of bookings on the website. From the admin panel, you can control customers, and payments, control employees, and view booked times for each staff member from the calendar.
You can receive secure payments through PayPal and Stripe with Bookly. While Bookly Pro lets you integrate with various other payment gateways.
Similar to Amelia, users can search, sort, and filter booking lists for the best use case. Group booking, and service extras work on a similar basis with Amelia.
When it comes to pricing, Bookly has different packages for Bookly Pro and Bookly Pro add-ons. The standard price of Bookly Pro is $89.
Bookly add-ons are designed for different industry groups or feature needs. For example, features like group bookings, Stripe, custom fields, etc are included in separate add-ons rather than in a single plan.
On the positive side, this saves customers from paying additional payments for services that they don't use. On the other hand, add-ons come a bit pricy when they are separate from the main tool.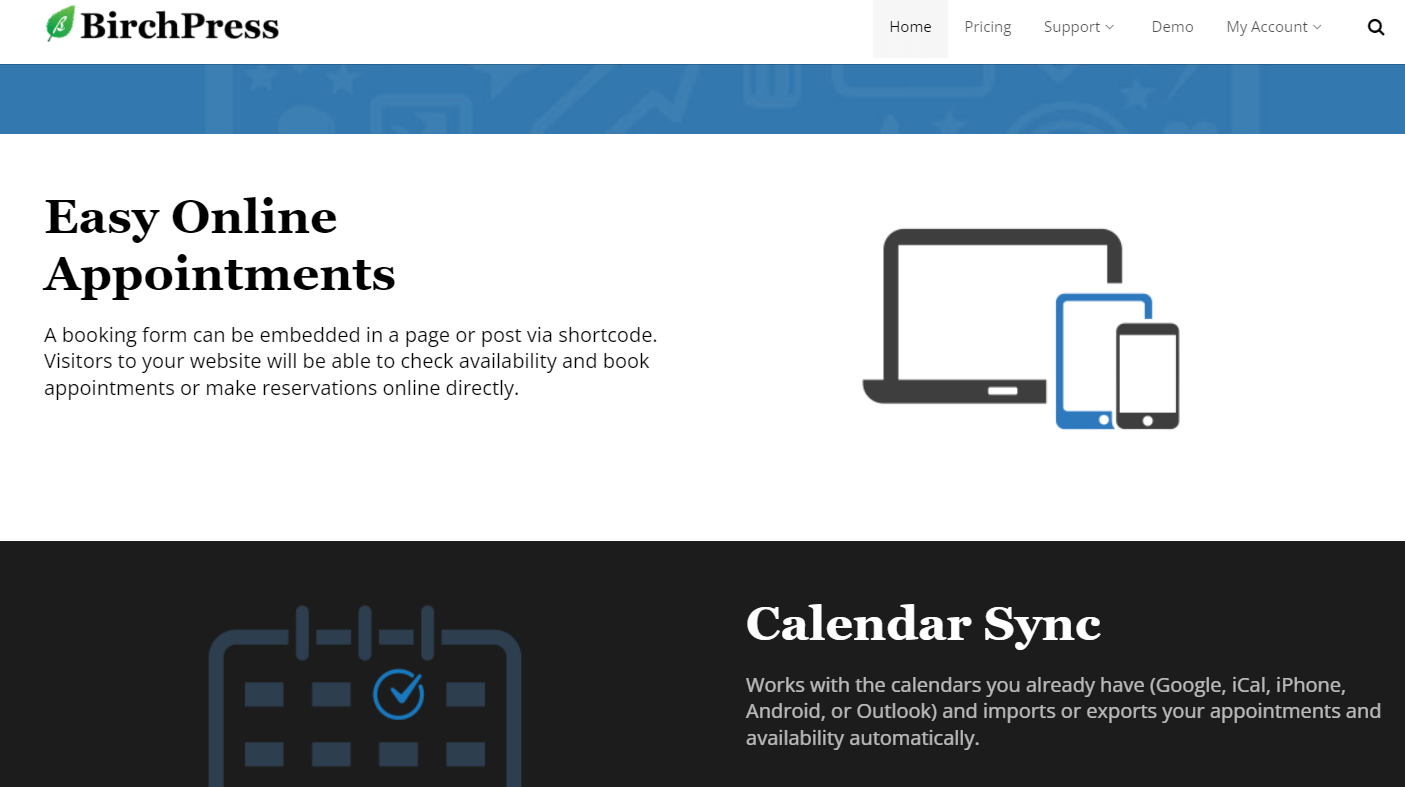 Yet another booking plugin for easing appointments is Birchpress. The first difference between Amelie comes in the plugin configuration. Here, a booking form can be embedded in a page or post via shortcode. This helps you receive bookings not only from the main page but from blogs, articles, and other pages.
The second difference lies in the Calendar Sync. plus to Google Calendar, Birchpress supports iCal, iPhone, Android, Outlook, and import\export your availability. Plus to the industries Amelia works for, this plugin can be used in financial services, business coaches, and delivery service providers.
Using the built-in form, you can customize the booking procedures.
Like Amelia, you can receive debit and credit card notifications through PayPal. Other payment gateways are supported through WooCommerce integrations. Only email notifications are the shortcoming of Birchpress when compared to Amelia.
Birchpress has three different price plans. The cheapest plan costs $99-lifetime payment. While features like PayPal integration, appointment rescheduling, group booking, and color customization for staff are included in upper-tier plans.
We also have a separate Booknetic vs Birchpress comparison blog you may like to review.
Another WPAmelia alternative software that can be used in WordPress is Acuity Scheduling. The tool has a sleek interface and user experience. You can share your calendar via the website, Facebook, and Instagram.
Same as WP Amelia, it has email and text notifications to reduce no-shows and cancellations. Group classes and service extras are also provided here. You can customize each element to match your branding.
Plus, video conferencing integrations are also available with this WPAmelia alternative. In addition to PayPal, it supports payments from Stripe and Square.
Users with paid Acuity Scheduling accounts can add its plugin to WordPress to embed their booking page directly into their websites. The cheapest plan costs $14 per staff\location monthly. This excludes text reminders, multiple time zones, custom API, and appointment packages features.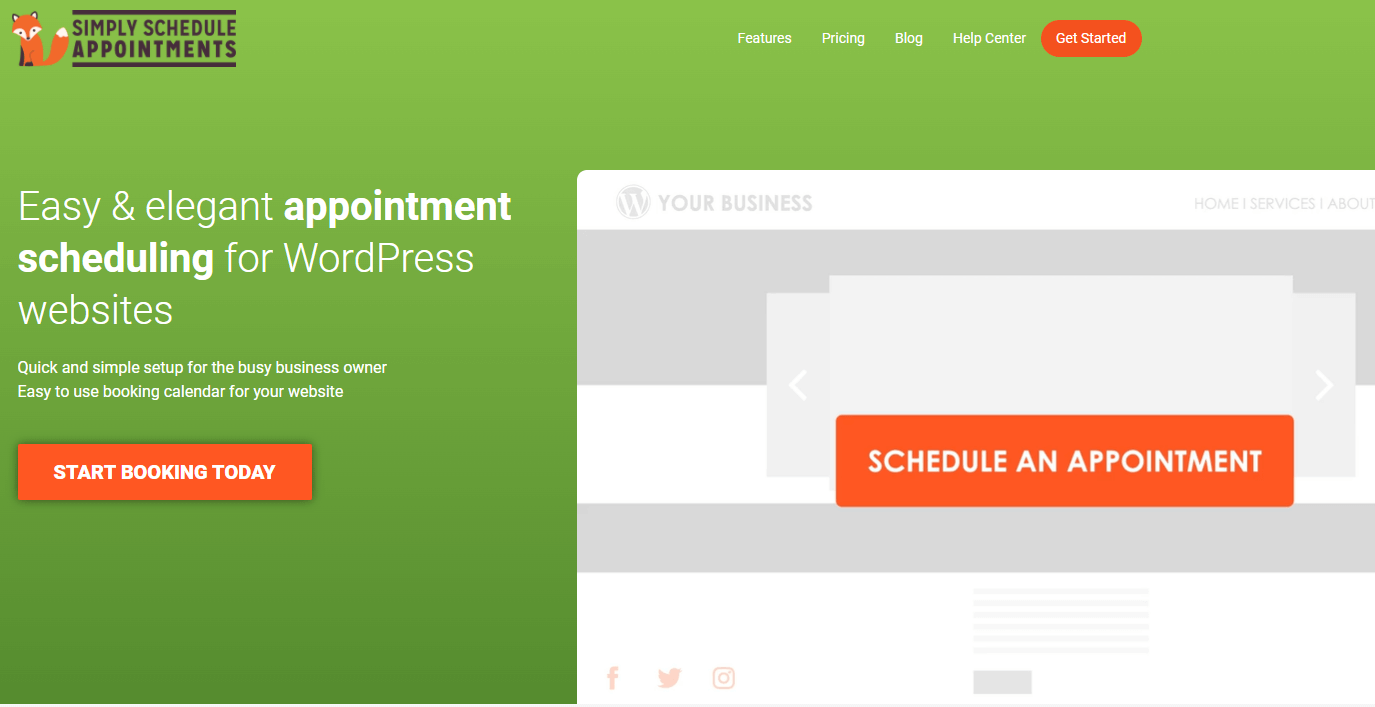 Simply Schedule Appointments has an intuitive interface for appointment bookings. It provides a simple way to book appointments. All versions of the plugin integrate with popular page builders like Elementor, Divi, and Beaver. This allows users to drag and drop booking fields and also customize their appearances.
With Google Calendar Sync you can display your available timings on the booking panel. You can also blackout holidays or special days to avoid bookings. As Amelia, it has email and text notifications for appointment confirmations.
Integration with PayPal and Stripe allows you to charge upfront payments and create a seamless payment experience. Additionally, it has Zapier integration to get even more app usage.
Simply Schedule Appointments has free and three-tier paid plans. The free version allows you to get unlimited appointments, customize and build a booking process with drag & drop builders. While the basic plan, $99 price is limited to custom fields bookings, group meetings, Google Calendar, and MailChimp integrations.
For Zoom integration, SMS & email notifications you need to get a $199 plan.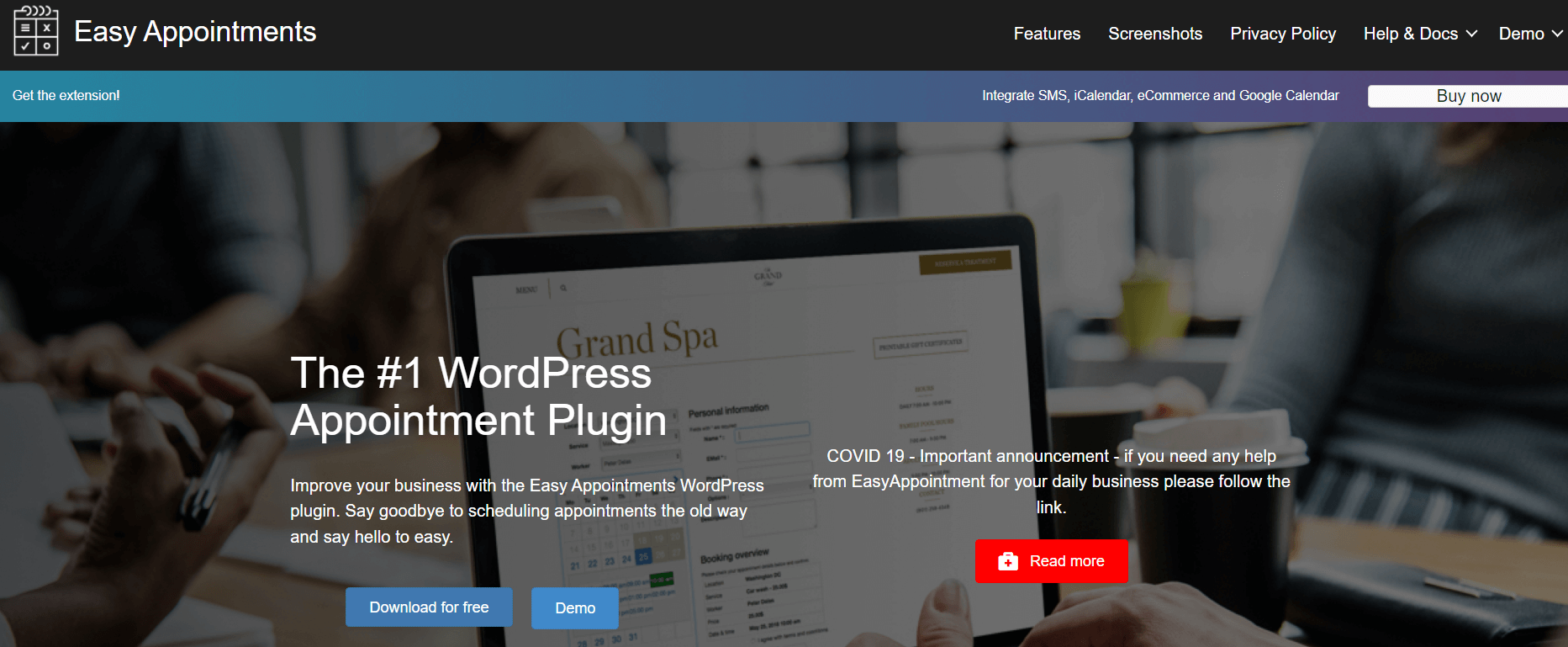 Easy Appointments is a WordPress appointment plugin that works for a range of businesses. As an affordable APAmelia alternative, it has quite a list of features to simplify booking appointments.
Similar to Amelia, you can add numerous services, staff, and locations, adjust their order in the booking panel. In the booking forms, you can request users to enter additional data like phone numbers, emails, or add text.
A full calendar views a day\week\ month before for employees. Also, you can add a vacation page and block holidays to lock bookings. You can streamline email notifications upon the approval of appointments by customers, rescheduling, or pending.
Its free plan includes email notifications, reporting, and event tracking. While paid options at $39 with one year of extended support. Features include PayPal integration, SMS notifications, iCal integration, and WooCommerce support.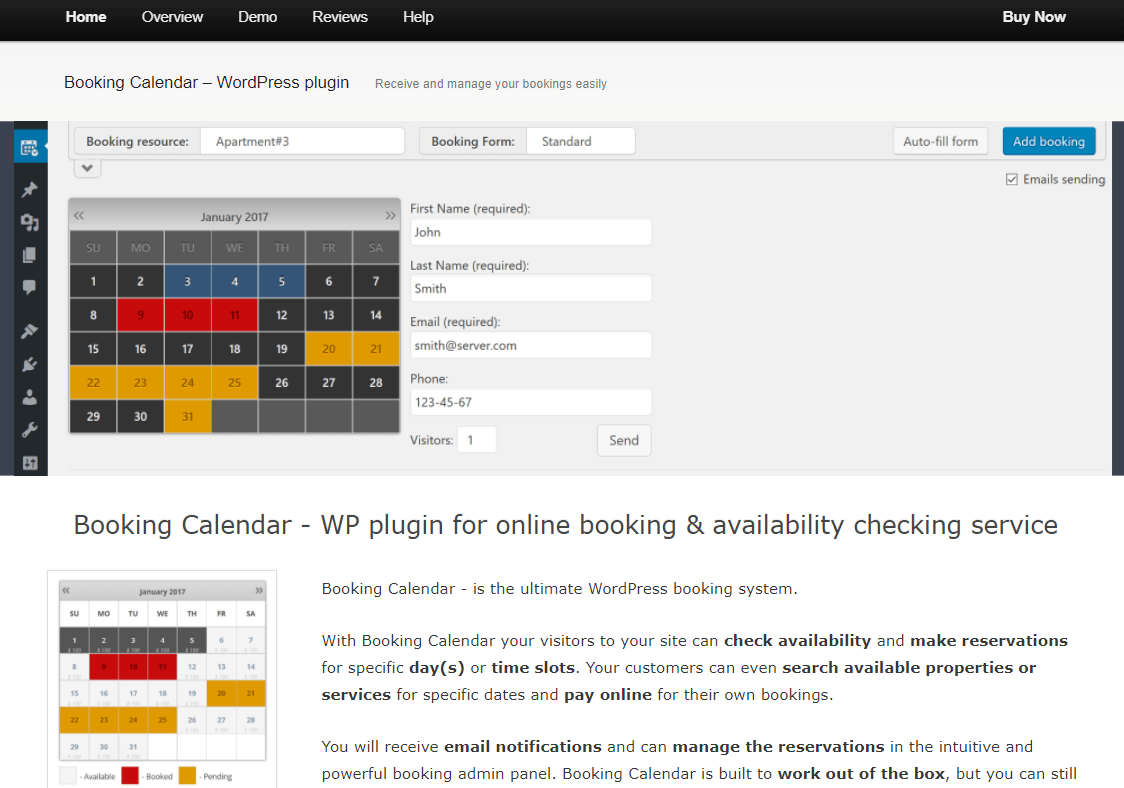 Booking Calendar is the oldest WordPress booking plugin. Through Google Calendar integration, employees can view their booking schedules at their calendars.
In the booking calendar, users can make reservations for specific days and time slots. A day booking feature makes this plugin suite for hotels or other apartment-based businesses that receive bookings on days rather than just hours.
The booking form and calendar can be customized fit to your website design. Unlike Amelia, it has only one notification through emails. Users can define email notifications for different types of bookings.
Advanced day selection includes setting a single, minimum or maximum number of days to be booked, also the time slots for selected dates. Booking Calendar supports PayPal, Stripe, and other online payment gateways.
Its free version comprises basic features including email notifications. While the cheapest paid plan for a single website costs $79-lifetime payment.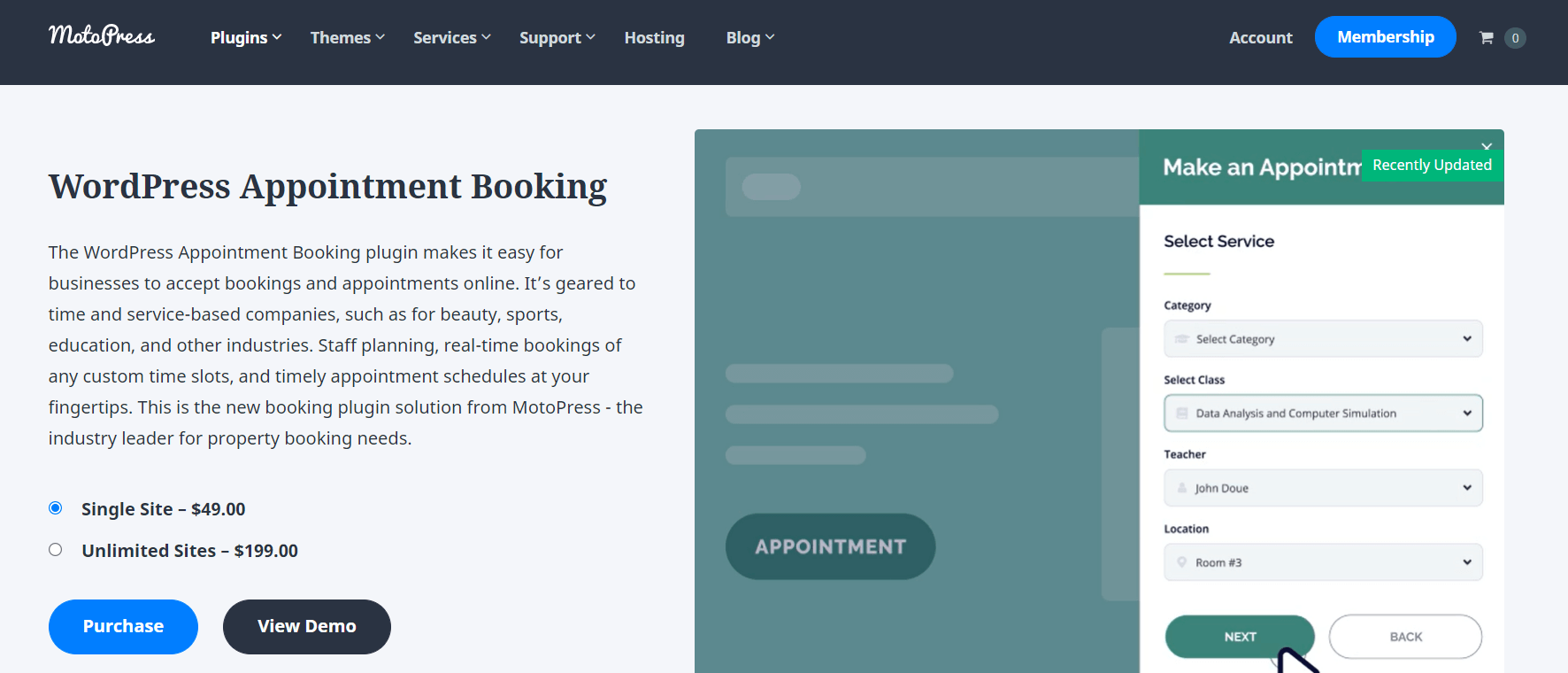 Moto Press is powerful and makes it easy for education, sport, beauty, and other types of service providers to accept bookings and appointments online.
Customizable booking plugin lets you time slot booking for numerous services. You can allos customers to book various services at one booking experience.
Admins can set appointment durations, assign employees, and add buffer time before and after booking to avoid overlap.
The creation of an individual staff calendar is also available with this WPAmelia alternative. This allows customization of service pricing, assigning various services and locations for individual employees.
You can choose to receive on-site payments, direct bank transfers, or through PayPal and Stripe.
Moto Press charges $49 for a single website.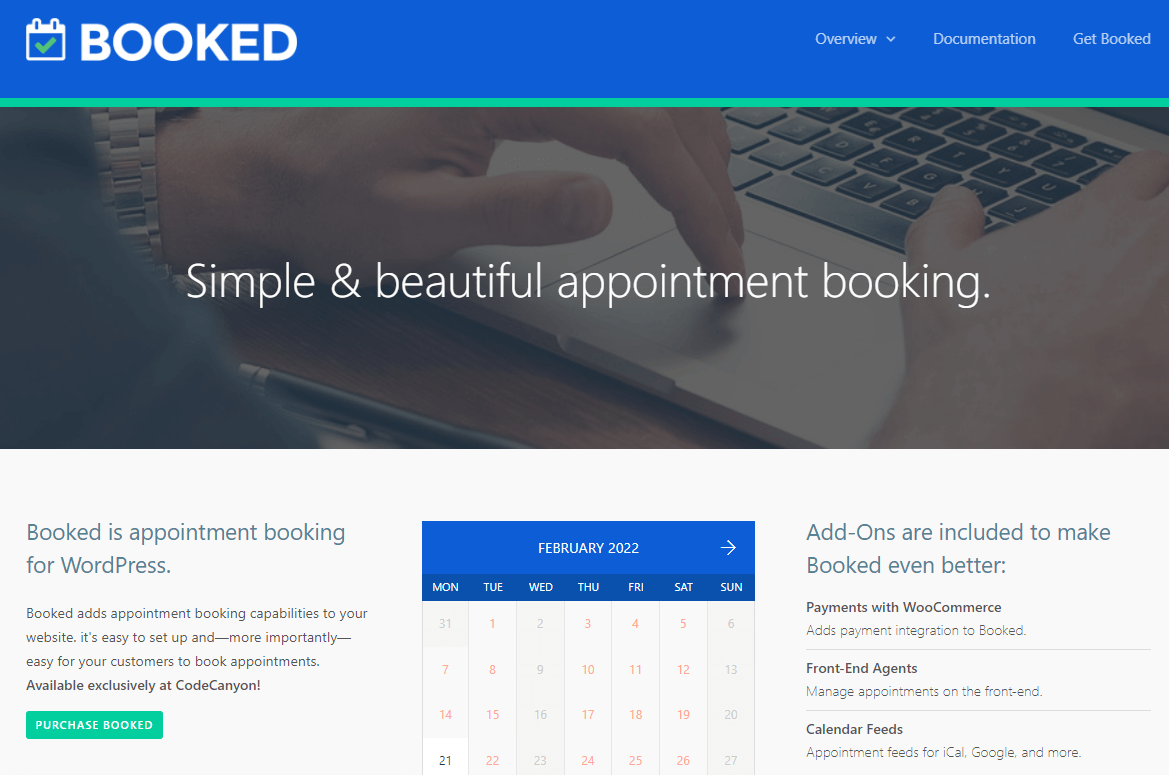 Another customizable WPAmelia alternative is Booked WordPress plugin. Plus to core features, it integrates with several add-ons like WooCommerce, Front-end Agents, and Calendar Feeds.
Booked has different shortcodes for customizing the look and the place of the booking widget. Alternative to the appointment calendar, Booked has a list view of scheduled bookings. Using the shortcode, you can decide to display the list view of bookings on a date\week\month\year.
With calendar assignments, you can let certain employees manage a separate calendar.
An affordable WPAmelia alternative, Booked is sold at a $49-lifetime payment.
Ending notes
This was a thorough review of WPAmelia alternatives. Some of these tools are overboard with features you may not necessarily need. While some tools contain extra features that will fuel your appointment booking experience. Price advantage is also important when comparing tools with Amelia.
To make things more straightforward consider:
If you look for WooCommerce compatibility, pick ones that have that feature
If you are on the affordable side of the track prioritize cheaper alternatives
If you emphasize user experience, look for an intuitive interface
If you also consider team management, consider workflow features
If you look for automated online payments then look for more integrated payment gateways
If you want to minimize cancellations and no-shows look for a notification channel-rich tool.
Check our short and long reviews to find the most suitable WPAmelia alternative for you.
Sign up for our newsletter
Be the first to know about releases and industry news and insights.
Let's

get started

on something great
Booknetic is a simple yet powerful plugin for accepting online bookings & payments on your WordPress site.