How to Set Up WordPress Appointment Booking Plugin For Nutritionists?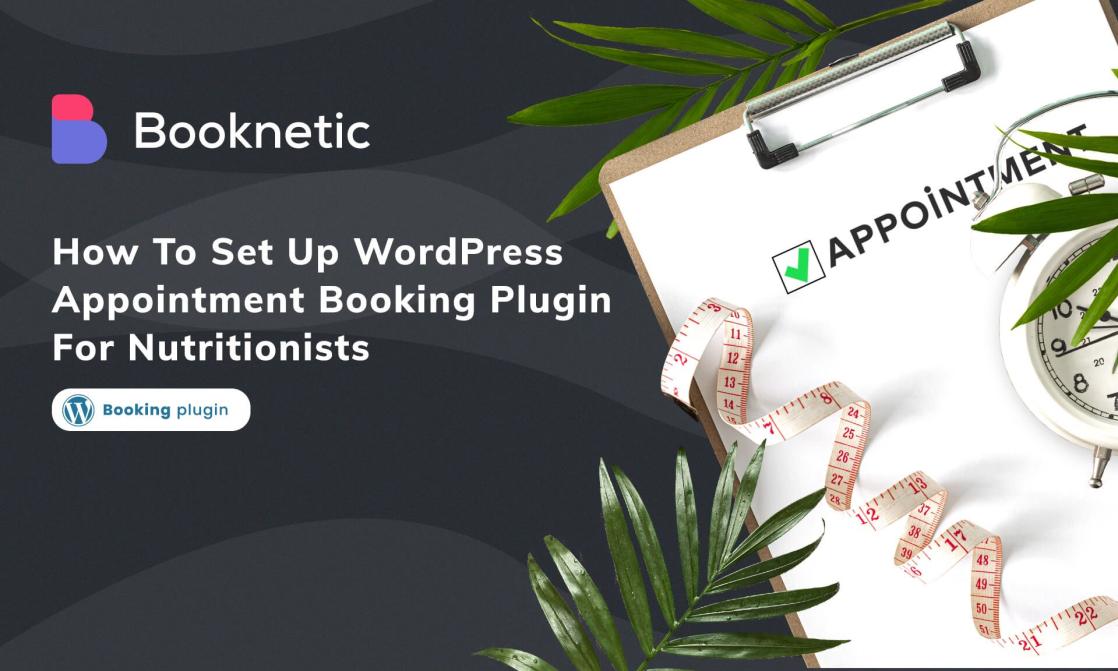 As a nutritionist, you have a great role in managing people's diet and helping them to reach their health goals. So, you have to consider your clients' nutrition and food requirements when building a nutritionist website. WordPress appointment booking plugins for nutritionists allow you to optimize your service according to your business needs.
The benefits of a nutritionist appointment booking website are:
It will help you to grow your visibility
It will bring more patients
It will strengthen your public image
It will make you more accessible to the patients
And, it will increase your upsells.
Building a nutritionist website can be confusing for non-tech people as you may need to add lots of different features to it. With approximately 25 live websites, WordPress is the most used content management platform in the world.
Its easy-to-use build allows non-tech people like nutritionists to create flexible designs and layouts without a touch of code with the help of nutrition WordPress themes. Affordable pricing, scalability, SEO friendliness, and responsiveness are other important reasons to build your website in WordPress. You can extend its features with the help of appointment booking plugins for nutritionists.
What makes a good WordPress appointment booking plugin for nutritionists?
You need to find a nutritionist booking plugin that will handle all of the technical processes on the website.
Calendar Sync
Calendar sync is the first step of an appointment booking process. It allows clients to pick available time slots available from the calendar.
With calendar integration, you can share your calendar with others and within your in-house team. If you have a team of nutritionists, this way clients can select available employees and you will be clear about your workers' schedule.
Scheduling through the plugin makes the appointment booking process straightforward for your patients and your organization.
Reminders
As crucial as the calendar sync, reminder notifications are great to keep both parties alerted about their upcoming appointments. Reminders are a friendly way of minimizing cancellations and no-shows
.
Notifications can be sent to patients and staff in the form of SMS, or email messages. You can select your way of communication like email, SMS, or WhatsApp messages based on your staff, patients, and the scope of your nutritionist service and automate it within the appointment booking plugin. Reminders can be sent in the form of confirmation emails or typical notifications.
Reminder messages can be set for once patients book an appointment, or their appointment is approved by the nutritionists when there is a change to the time or date when the payment is confirmed or recalls for missed appointments. From the subject line to the signoff part, the reminder message has great importance of getting positive results.
Customization
As a nutritionist, you may provide different sorts of health services to keep people's life healthy based on the patients' requests.
You may want to differentiate the colors and booking requirements for services like child nutrition, allergy-related advice, weight loss advice, and many more. This makes it inevitable to customize your operations according to each service category.
WordPress appointment booking plugin for nutritionists helps to add relevant features, create custom fields for effective delivery of your service.
Customization features can be enabled based on locations, service category, service price, staff members, team size, whether the appointment is online or offline, payment method.
Online meeting feature
With the rising demand for online appointments, nutritionist consultations are no exception that can be held online. Registering and receiving clients at different places, and sending them separate meeting links is exhausting work that can be utilized with well-built booking plugins.
Thankfully, nutritionist appointment plugins enable to schedule and hold consultations through audio or video calls in a single place. Integration with the major meeting applications helps to maintain all the processes on the website. To successfully set up and host virtual meetings, you have to be careful with your scheduling tool and preparation phase.
Online payment options
Nutritionist booking plugins present a transparent payment process to patients and get paid faster.
With payment integration, you can deliver a painless payment process by invoicing clients, setting deposits, and accepting payments right from the website. In sync with notifications features, you can send payment receipts when the payment is made. Adding a payment gateway to your website will smooth unnecessary back-and-forth communication and time spent for that.
Group appointment
Nutritionist consultations are among the services that can be held individually or in a group. You may want to arrange a different set of registration processes for each of these.
The services like pregnancy advice, age-related advice, and weight gain consultations are common topics that can be delivered to a group of clients. Such services help to reach a greater audience, share practice, and deliver higher quality service within the boundaries of the nutritionist appointment plugin.
Availability of group appointment feature allows to combine and handle scheduling, payments, meeting procedures in a single place.
How to set up a nutritionist appointment plugin?
1. Install the plugin
Once you download the plugin, you need to save the zip file on your computer. Go to your WordPress admin account and click Add new menu from the Plugins section. Upload the plugin file you saved and activate it.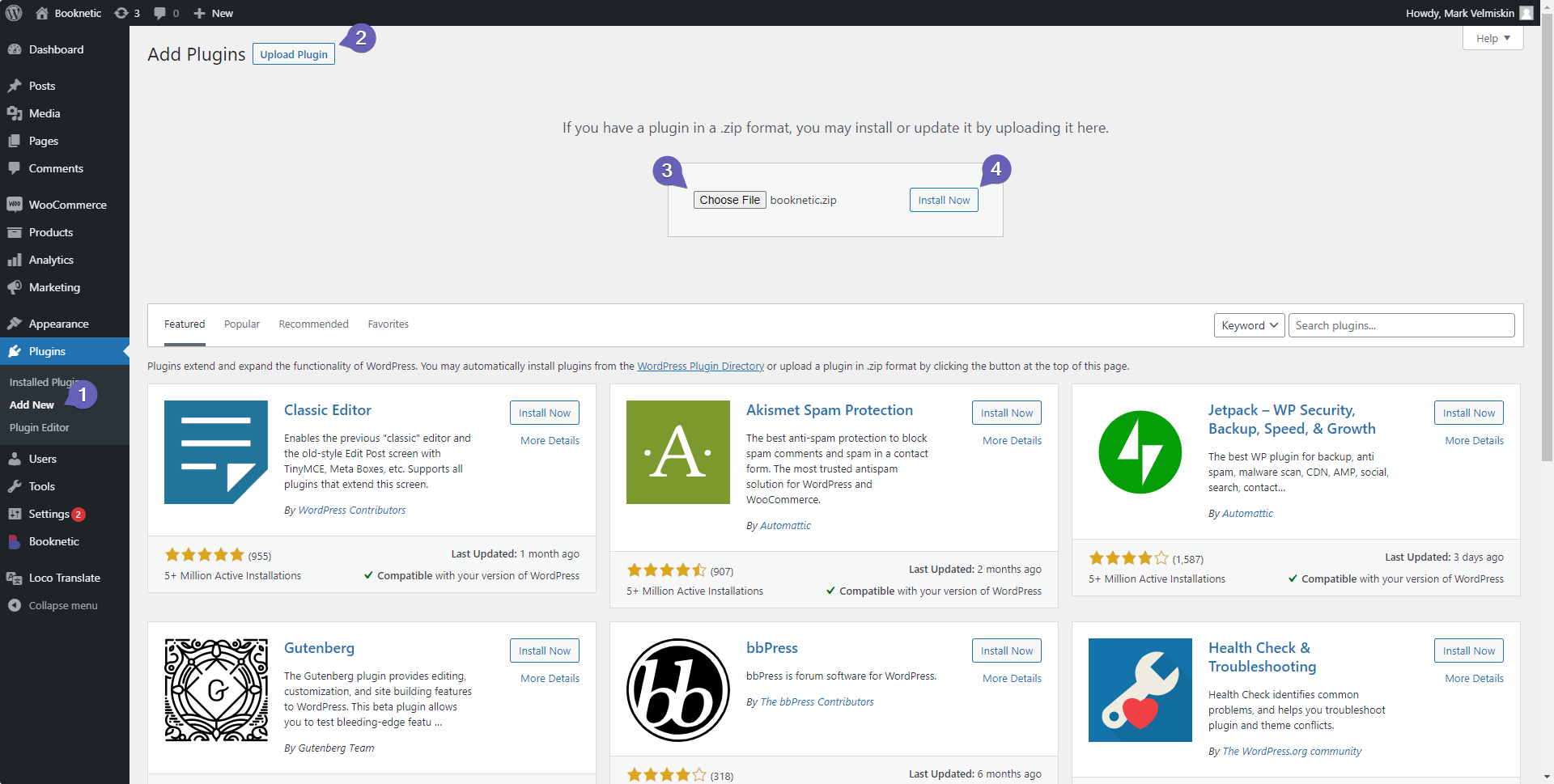 2. Add services
After finishing the installation, you need to actually set up the nutritionist appointment plugin. For this, you create the Booking panel. Let's say the first thing you'd like to add is the service page.
You need to create categories and clearly define the services under each category. For example, you can create child nutrition advice, and pregnancy advice services under the nutrition advice category. While creating services you also have to set the required time slots, alone or group level appointment type, and payments for each service.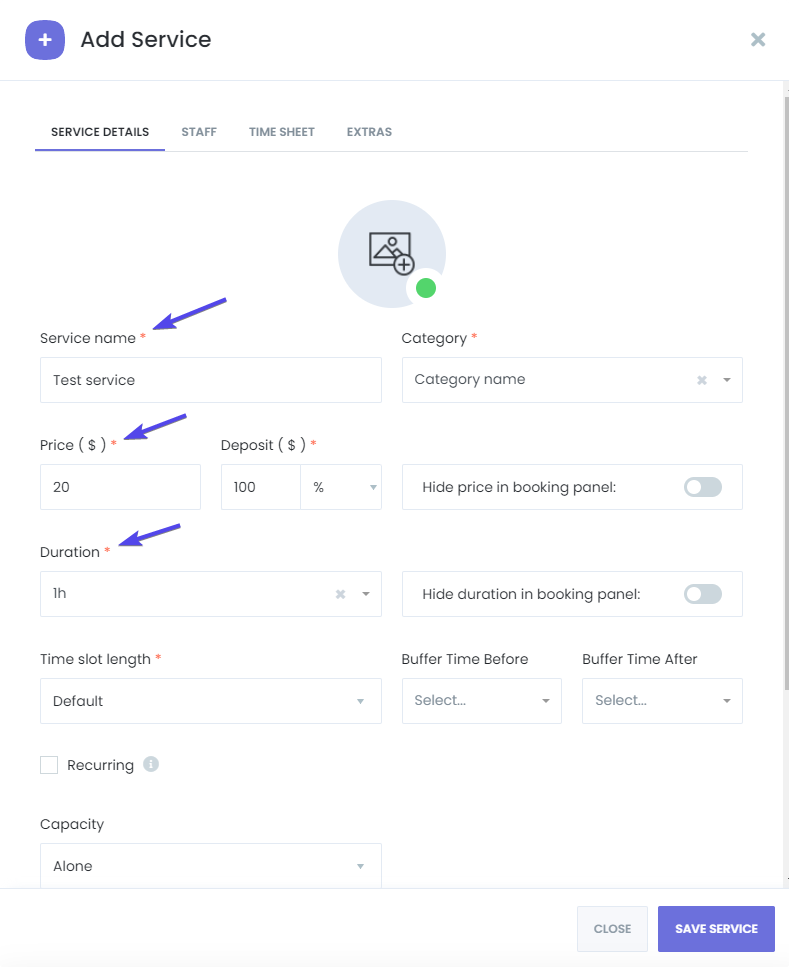 3. Set locations
Now that you finished with the service part, you can set up the location part of the appointment booking. You have to clearly map out the location of your offices along with descriptions so that there will be no need for calls.
You can skip this part if you do not have a physical office.
4. Integrate your calendar
You need to activate calendar integration to enable the online booking process. This way, patients' bookings and workers' busy times will be automatically displayed to both parties.
To synchronize Google Calendar into the appointment booking plugin, you need to activate it in the setting panel.
5. Add the list of employees
Coming to the crucial part. When adding employees you should add their names, professions, and contact information.
To incorporate the list of nutritionists into the appointment scheduling process you need to set a weekly schedule, available locations, and the services that they provide. You may also want to set special days or holidays depending on each employee.
6. Add working hours
An important part of setting up an appointment booking plugin is, of course, adding a work schedule. You need to set working days, hours suitable for each service, nutritionist, and location.
To make the scheduling smoother, you can also set holidays, day-offs, and breaks for each location, employee, or service.
7. Activate payment options
Online payments are a great way to ensure the quality of your service to clients and also secure your business operations. To activate online payment, you need to add your payment account ID to the plugin.
After adding your payment accounts, you need to set up the payment process by including the currency format that is supported by your payment account.
Another way to get paid faster is having invoice settings. You can add the appointment details such as service, the nutritionist's name, the duration, and add the relevant price for the service.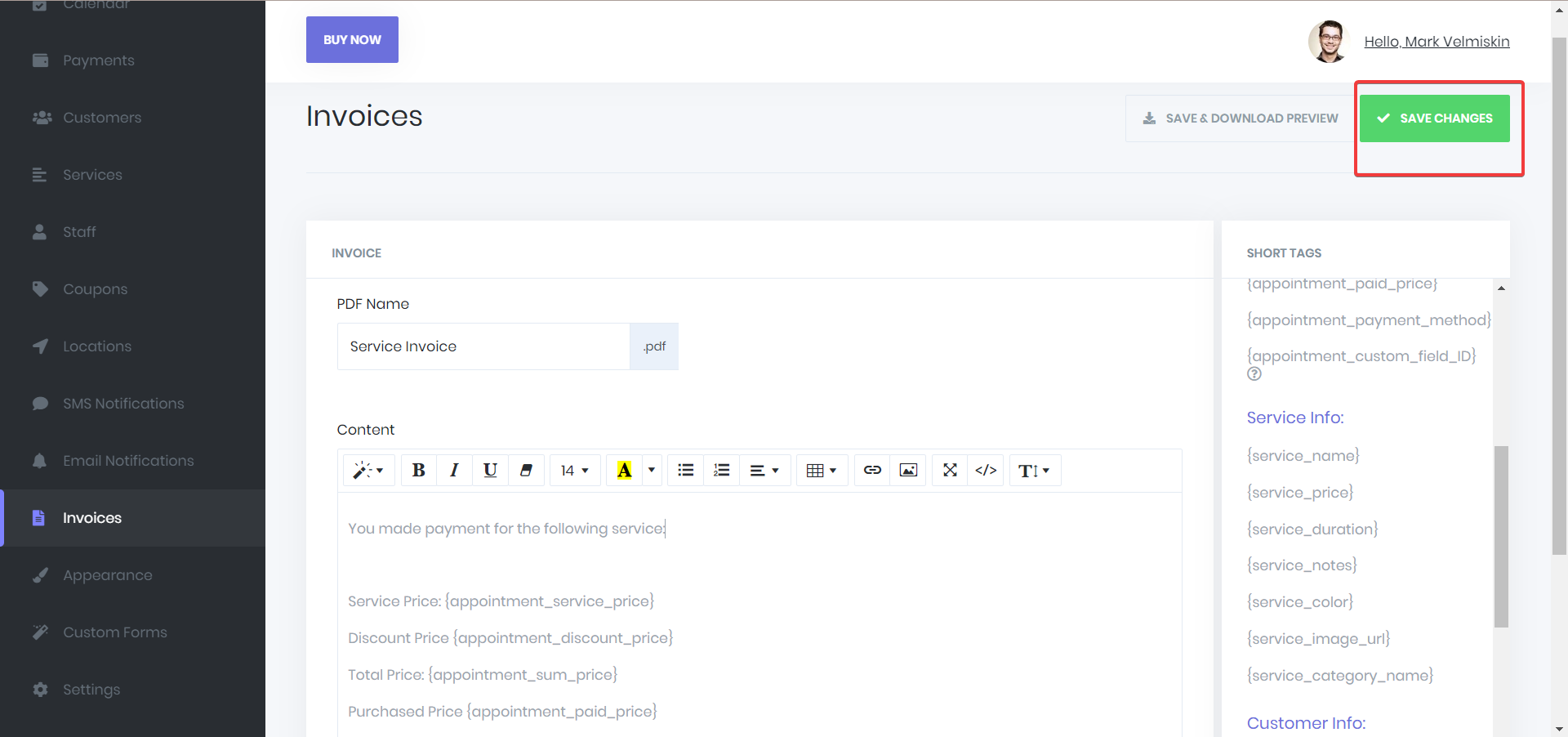 8. Set up notifications
To activate the notifications feature you need to properly set up email and SMS integration. Once you finish adding email and SMS to the plugin, you need to create appointment status notifications text for patients and employees.
9. Integration Zoom
You can fully automate your nutritionist appointments by holding the consultations online. To activate Zoom integration into the booking plugin you need to build your plugin in Zoom.
After filling in the app information, enter the API key and API secret in the required fields in the Zoom integration panel.
Once you finish the integration part, connect your staff to Zoom.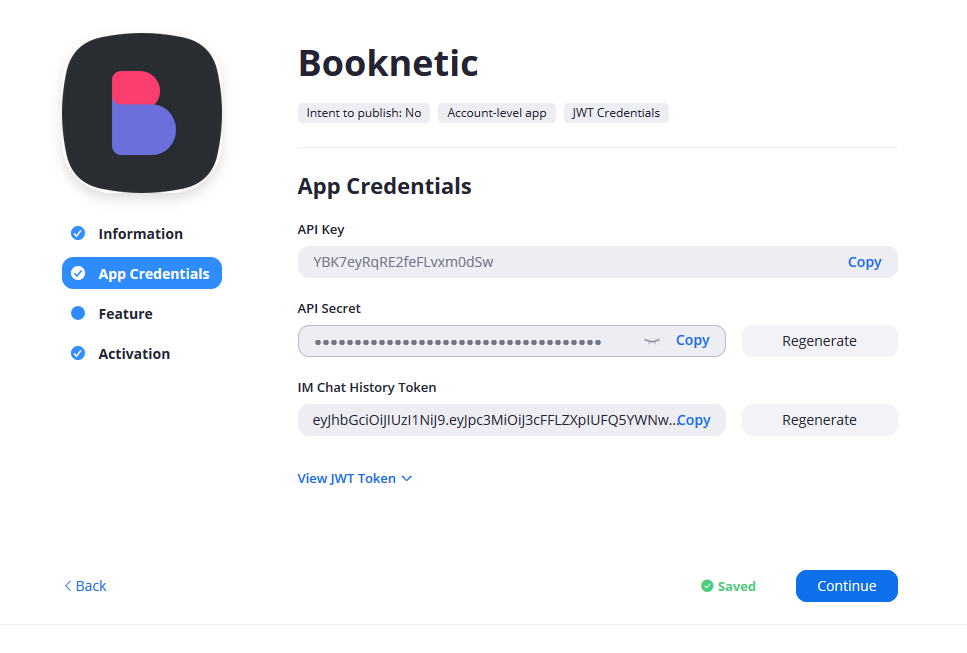 10. Set group appointments
Now that you finished the basic part of the booking panel you can switch to setting customized features. As we mentioned above, depending on your service you may hold group appointments for nutritionist consultations.
To effectively manage your staff and overall service delivery you need to put upper and lower limitations to group appointments.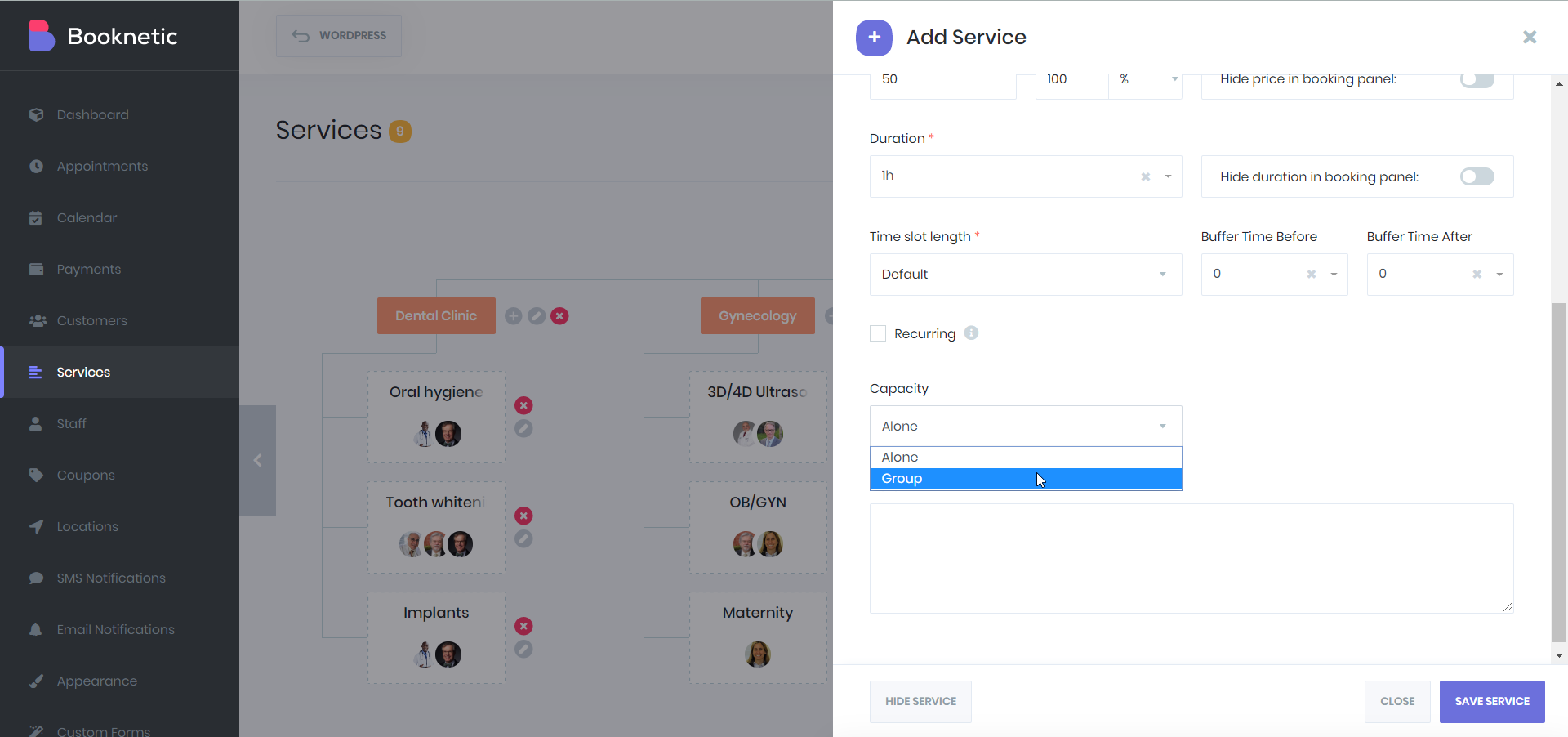 11. Add customized booking information
Nutrition consultations are one of the services that may require more customized forms for appointment booking. You may request thorough information from clients about their age, previous consultation experience, and some documents.
Having the right information helps nutritionists to be specific about their approach to each client. With the right nutritionist appointment plugin, you can build customized booking forms by including checkboxes, links, and fields for file uploading.
Final thoughts
In the booming tech age, online appointment booking is a necessity for nutritionist consultations. The right booking plugins make appointment scheduling smoother and more convenient for patients and employees.
WordPress appointment booking plugins for nutritionists help to boost service quality and satisfy business needs by automating the whole appointment procedure.
Booknetic helps you to simplify online nutritionist appointment booking procedures, guarantees you against no-shows, and helps to deliver your service whenever and wherever available to you and get paid on time. Try Demo to discover its features.
Also read
Sign up for our newsletter
Be the first to know about releases and industry news and insights.
Let's

get started

on something great
Booknetic is a simple yet powerful plugin for accepting online bookings & payments on your WordPress site.