13 Ultimate WordPress event booking plugins to simplify registration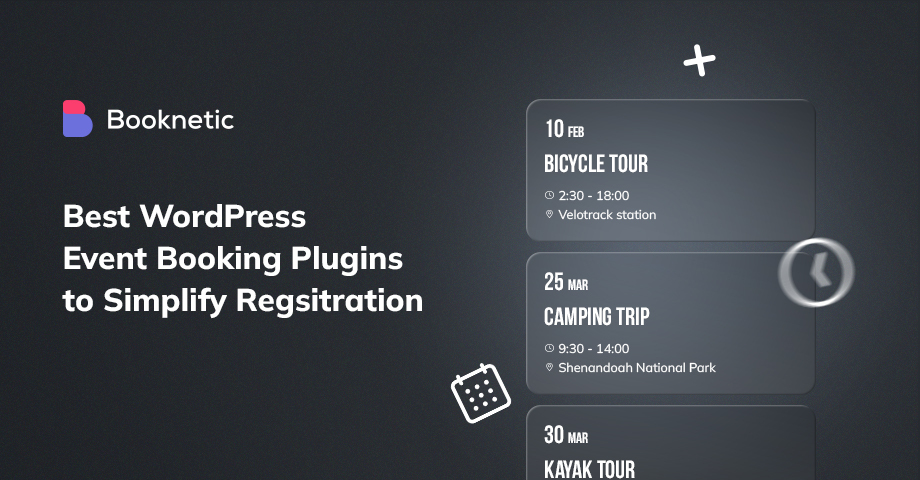 Organizing and managing an event can be a big hustle. If you have ever participated in an event as an organizer, you already know this.
For that reason, having a partner you can rely on is always a good idea. This partner can be in the form of an agency, human or a WordPress event booking plugin. Nevertheless, if the benefits outweigh the costs, you should keep using them.
We can't say anything about agency partners or what qualities you should look for in a human partner, but we have some ideas for WordPress event booking plugins.
To manage event organizations with WordPress event ticketing plugins, you first need to find out what features you need.
What features do you need in WordPress event booking plugins?
If your task is organizing events, some features are essential, while others are good. Your needs change based on the event types. If you are organizing a paid organization, it is best to have a ticketing option and a unique QR code generator. On the other hand, if you organize a free event, you don't need so many features and speed gains more importance. Generally, you need the following:
Google Maps integration
Multiple location support
Attendee limits
Recurring options for ongoing projects
In the case of paid events and organizations:
Wide selection of payment gateways
Ticketing option
QR Code generator
This post will list several event booking plugins and mention their strong sides.
13 Ultimate WordPress event booking plugins
WP Event Manager
The Events Calendar
Events Manager
Event Organiser
Event Espresso 4
TicketTailor
EventON
Calendarize it!
Timely All-in-One Event Calendar
Eventin
WooEvents
My Calendar
Tickera
1. WP Event Manager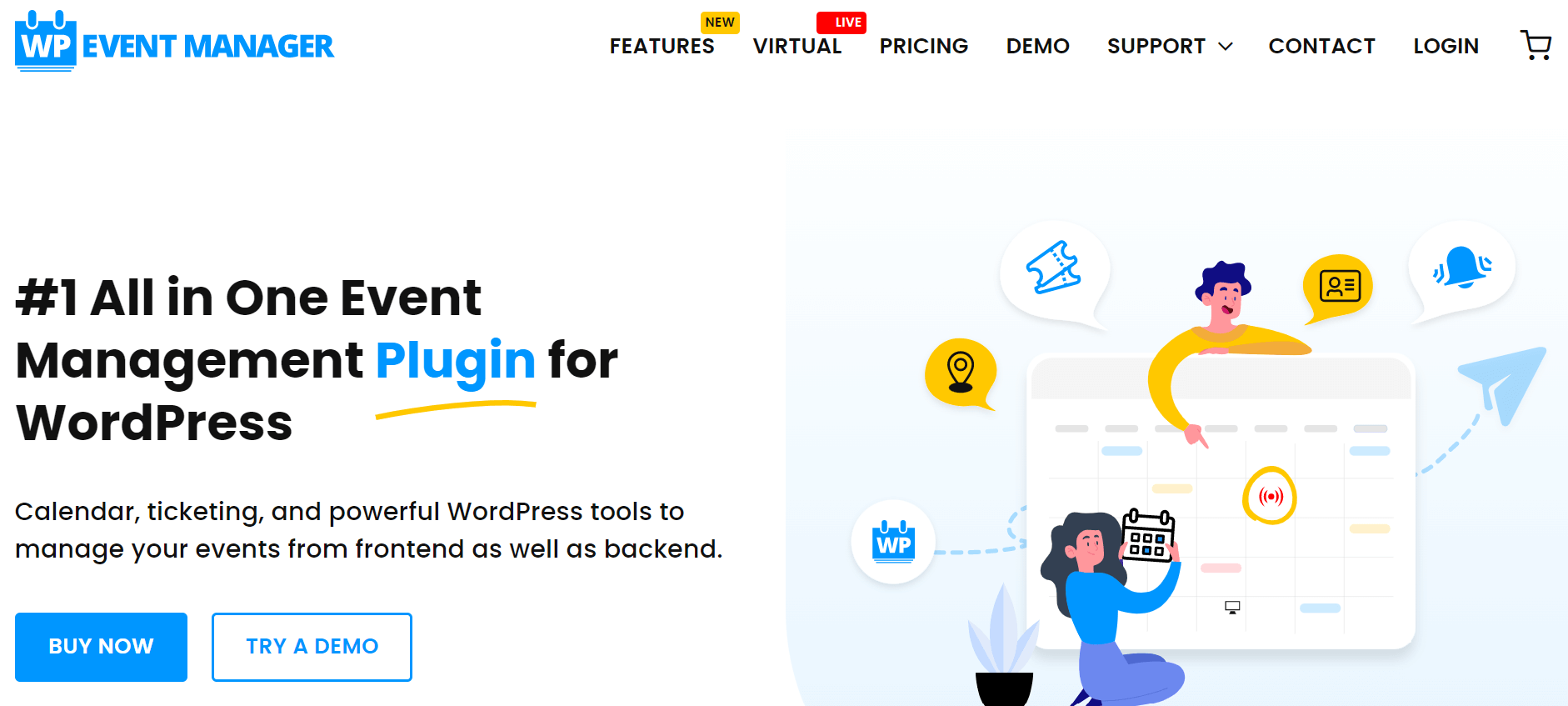 WP Event Manager is a simple and lightweight event booking plugin that is also quite useful. You can manage all your events, assign locations to events and group them based on these locations.
As it is built with speed and usability in mind, it is snappy and responsive. Visitors can easily see event listings, register for them, and manage their event registrations on any device.
However, to get the most out of this plugin, you need to get the premium version and its add-ons. With premium add-ons, you can integrate Google Maps into your events, sell tickets and integrate with zoom to host online events.
You can even set up a split payment with Stripe to send a commission to the hosting venue. Adding a split payment option is also a great venue marketing idea to maximize sales if you are a venue manager.
Features:
Location setting and grouping
Google Maps
WooCommerce Tickets
QR Code generator
Recurring events
Zoom integration
WooCommerce and Stripe payments
Mobile app
Pros:
Speedy and responsive design.
Extensive add-on options for enhanced functionality.
Mobile app integration.
Cons:
Most advanced features require premium add-ons.
Learning curve for newcomers.
No inbuilt multi-site compatibility.
Rating: 4.5 out of 5 stars (WordPress.org)
Price: $99 for plus, $199 for pro, $299 for virtual pro, $399 for all pro plan
Verdict
WP Event Manager stands out for its lightweight and speedy design, optimized for responsiveness on all devices. Its core functionalities manage events with location-based grouping efficiently. However, to unlock advanced integrations such as Google Maps, ticket sales, and Zoom-hosted events, users need to invest in the premium add-ons.
2. The Events Calendar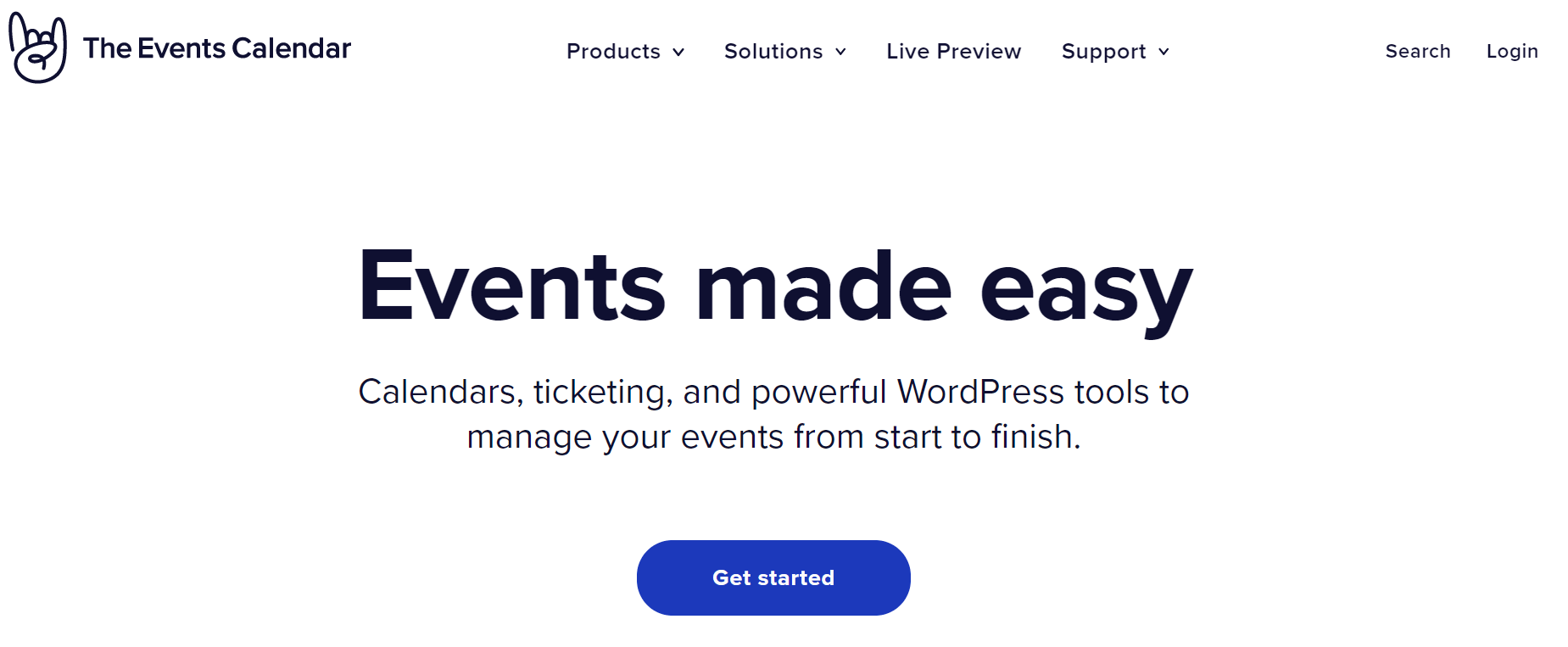 If you are looking for a fully-fledged and customizable event booking app, The Events Calendar is here for you. Everything is integrated into your WordPress dashboard. You don't need to go anywhere else to manage all your events.
Being the first events calendar plugin published on WordPress, it had a lot of time to develop and adapt to customer needs. The Events Calendar is built to work out-of-box, so there is no steep learning curve or difficulties while using this plugin.
It is packed with features such as RSVPs, Email confirmations alongside Paypal and Stripe (they take a 2% commission on top of standard Stripe commission in the free version) integration to accept payments even in the free version. If you want to pay the price, you get even more features.
Google Maps, Calendar, location search, calendar shortcodes, recurring events and photo supports all come included in the pro package. It is also possible to create an manage virtual events with its Zoom integration.
With its mobile event booking app, it is possible to manage everything on the go.
Features:
Free RSVP and email confirmations
PayPal and Stripe support
Google Maps and Google Calendar support
Multiple locations and location-based filtering
Recurring events
QR Code generator
Zoom integration
Specific venue pages
Mobile app
Pros:
Established reputation with continual improvements.
Comprehensive feature set even in the free version.
Mobile app for on-the-go management.
Cons:
Commission fees on ticket sales.
Might be overwhelming for simple event needs.
Premium features can be expensive for some.
Rating: 4.2 out of 5 stars (WordPress.org)
Price: $99/Year
Verdict
With a rich legacy as one of the initial event plugins on WordPress, The Events Calendar offers a blend of out-of-the-box usability and a comprehensive feature set. The plugin's key strength lies in its robust free version, which supports essential payment integrations and RSVP features.
3. Events Manager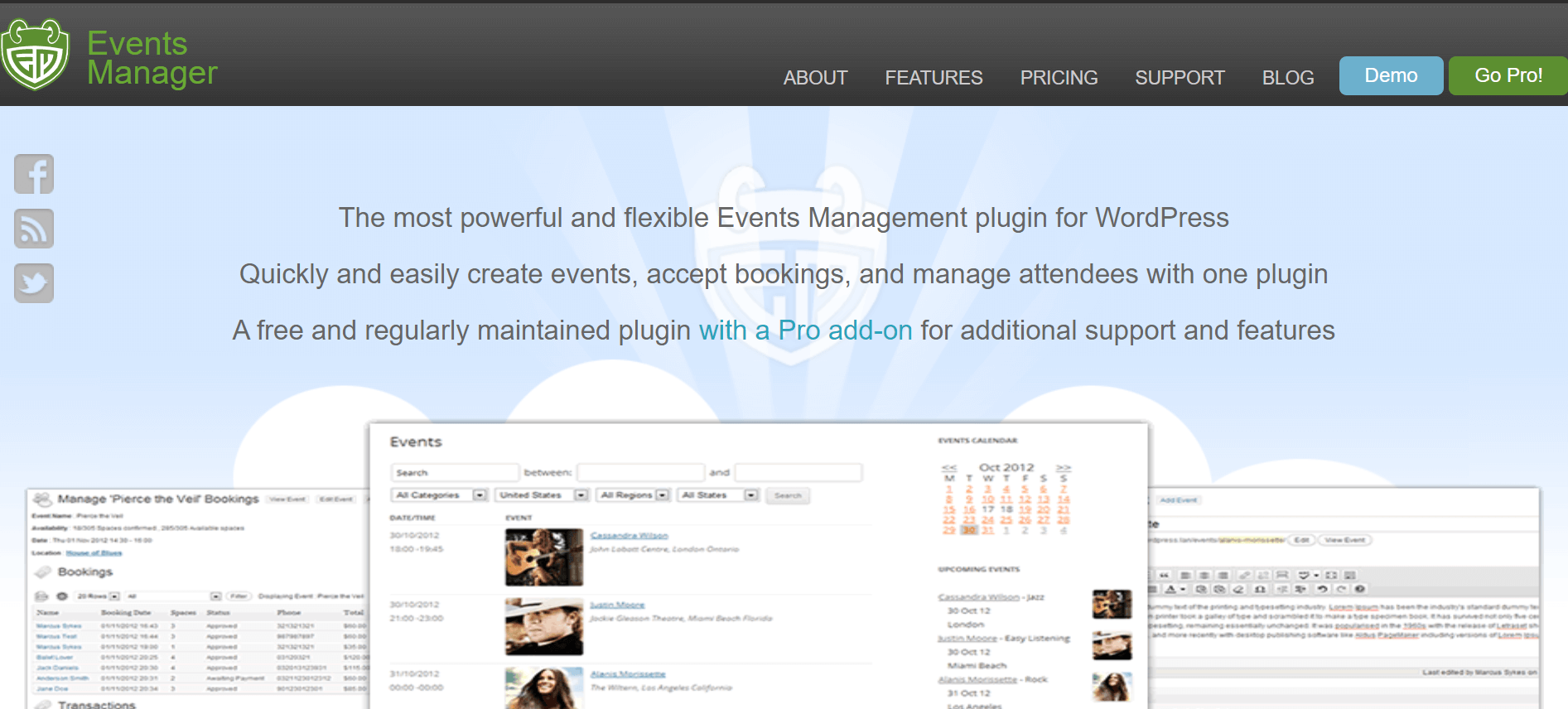 One great event ticketing tool is the Events Manager plugin for WordPress. It combines flexibility with many great features that come in the free version.
Events Manager is a reliable and full-featured tool. While most of the WordPress event ticketing plugins hide the most useful features behind a paywall, this plugin provides a considerable amount of them for free.
Google Maps integration, booking management, Google Calendar integration, Zoom support, confirmation emails, customizable templates, limited participation, recurring events and even tax management are included in the free version.
If you decide to upgrade to the premium version, you will be able to accept payments directly from your website, generate QR Codes and send ticket PDFs to customers, enable waitlists and even integrate your even ticketing tools into your WooCommerce website.
Features:
CSV import (includes Google Sheets, Zoom, iCal, Excel and meetup.com)
WooCommerce integration
Multiple location support and filtering
Automated Emails
WordPress user integration
Webhooks and Zapier automation
Stripe, PayPal, Authorize.net payment gateways
Zoom integration
QR Code generator
Duplicating events
Pros:
Generous free version with many advanced features
Flexible and full-featured.
Integration with popular platforms like WooCommerce
Cons:
Some may find the interface dated.
Premium version required for payment gateways.
Limited customization in email notifications.
Rating: 4.3 out of 5 stars (WordPress.org)
Price: Free, $89/Year for Pro version
Verdict
What sets Events Manager apart is its commitment to offering substantial features, including booking management, and recurring events, without a paywall. For those who choose the premium upgrade, seamless payment gateway integrations and enhanced ticketing tools, such as QR codes and PDF tickets, await.
4. Event Organiser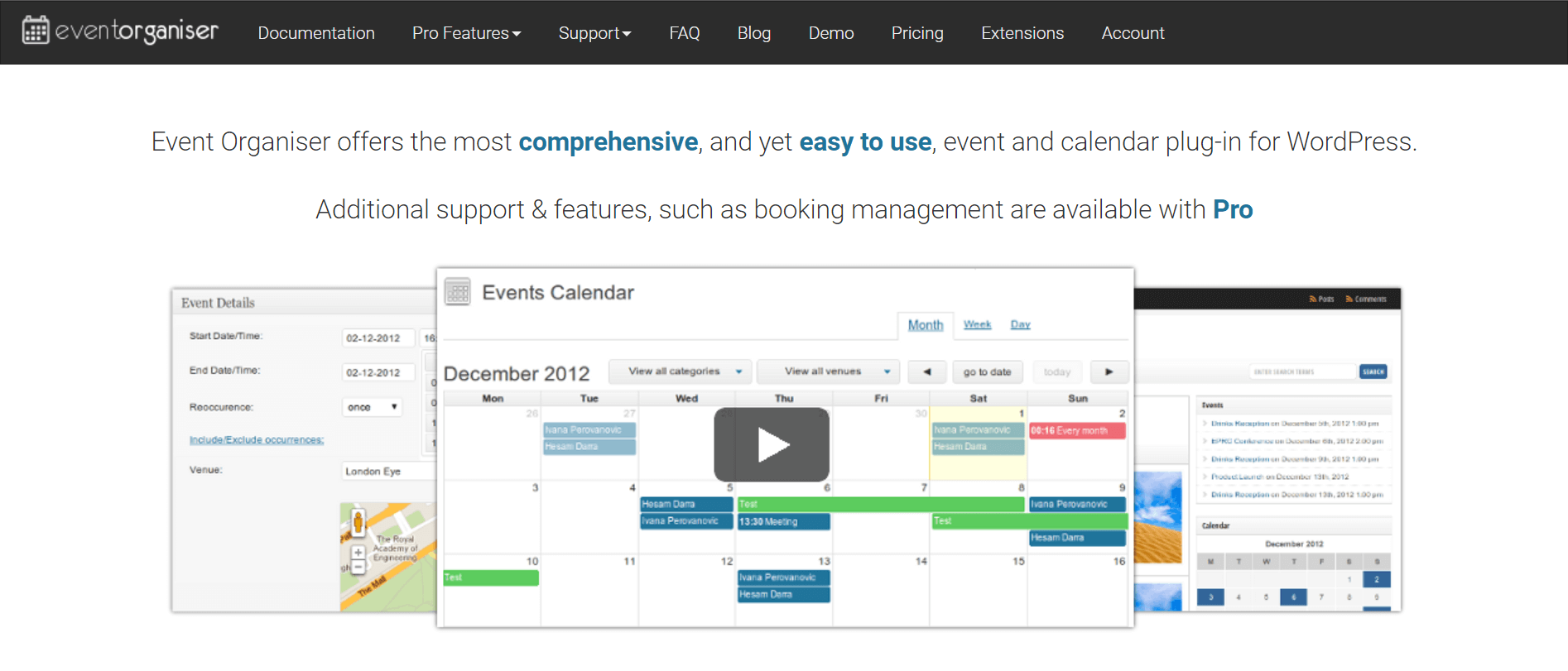 This WordPress event booking app is great for people offering their services in multiple locations with multiple languages used.
Event Organiser comes with a powerful set of features to streamline your event organization process. Even if you decide to cut back costs and get the free version, you can still effectively manage your business with ease.
You can set up a fully functional calendar, add agenda widgets, create custom permissions, import from and export to CSV files and create recurring events without paying a dime.
In the pro version, it is possible to customize emails, customize booking forms, add featured images, determine flexible booking rules and ask for advanced event-venue queries. It natively supports 40+ languages so that you can offer your services to different countries and cultures.
However, it should be noted aesthetics of this WordPress event calendar plugin feels a bit outdated. You should probably use a better-looking plugin if you are operating in a more competitive market.
Features:
Google Maps add-on
Shortcodes and widgets
Event listings
Subscription to events
Event functions
Pros:
Supports over 40 languages.
Robust free version.
Ability to import/export in CSV
Cons:
Interface can feel outdated
Limited payment gateway integrations
No native mobile app
Rating: 4.6 out of 5 stars (WordPress.org)
Price: Free, £120 for full access
Verdict
Event Organiser is a go-to for multi-language event bookings, supporting over 40 languages natively. Its robust free version encompasses features like a functional calendar and recurring events. However, the design feels a tad outdated, which could be a deterrent in aesthetic-driven markets.
5. Event Espresso 4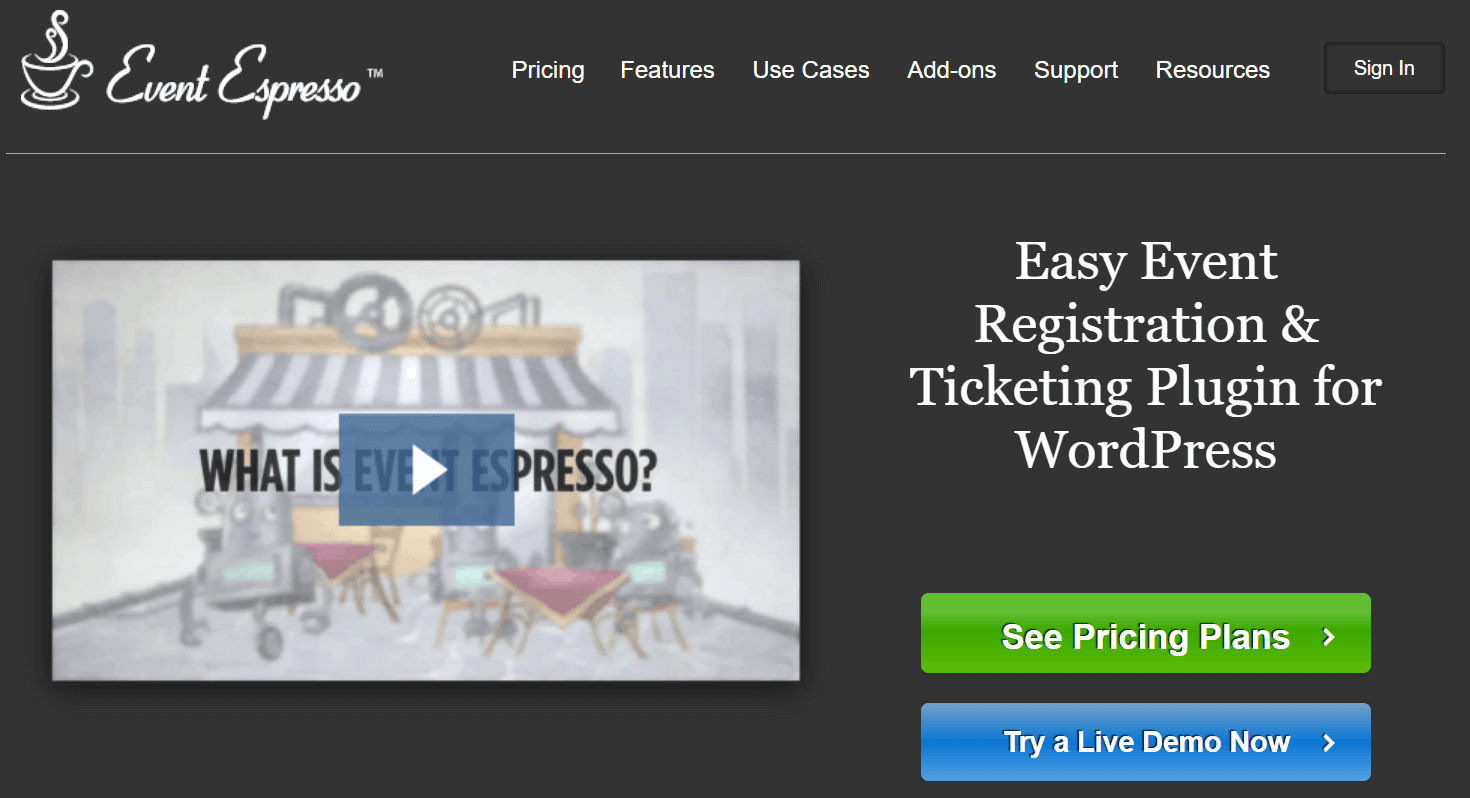 Event Espresso 4 is a great WordPress event ticketing plugin that can help transform your business. It is an excellent option if you also need ticketing in your business operations.
This event booking plugin comes with the functions you need most. Whether you use the decaf (free) version or pay for extra features, some core features come included.
Within the free version, you can do all; create events, accept registrations, send confirmation emails, manage attendee details, set limits to events and accept payments via PayPal. If you decide these features are enough, you are good to go with the free version.
However, if you decide to go with the premium version, you can add Google Maps integration, set multiple ticket tiers and charge accordingly, customize emails, accept payments via additional payment gateways and handle taxes within the application.
One great benefit of Event Espresso is its WordPress integration. You don't need to learn and adapt to a different system. Everything is handled via the default WordPress dashboard.
Features:
Google Maps add-on
Customizable emails
Attendee registration forms
Mobile app
PayPal, Authorize.net payment gateways
Staff management
Pros:
Comprehensive core features.
Tight WordPress integration.
Multiple payment gateway options.
Cons:
Premium features can be pricey.
Might be overkill for small events.
Limited to WordPress integration.
Rating: 4.3 out of 5 stars (WordPress.org)
Price: Free, $99.95 for Personal, $359.95 for Developer Support (5 websites), $359.95 for Everything support (1 website with all features)
Verdict
Perfectly integrated within the WordPress ecosystem, Event Espresso 4 offers a balance between essential and premium features. The decaf version enables basic event management and PayPal payments, but for those who want a richer experience with Google Maps, tiered ticketing, and multiple payment gateways, the premium version is the way to go.
6. TicketTailor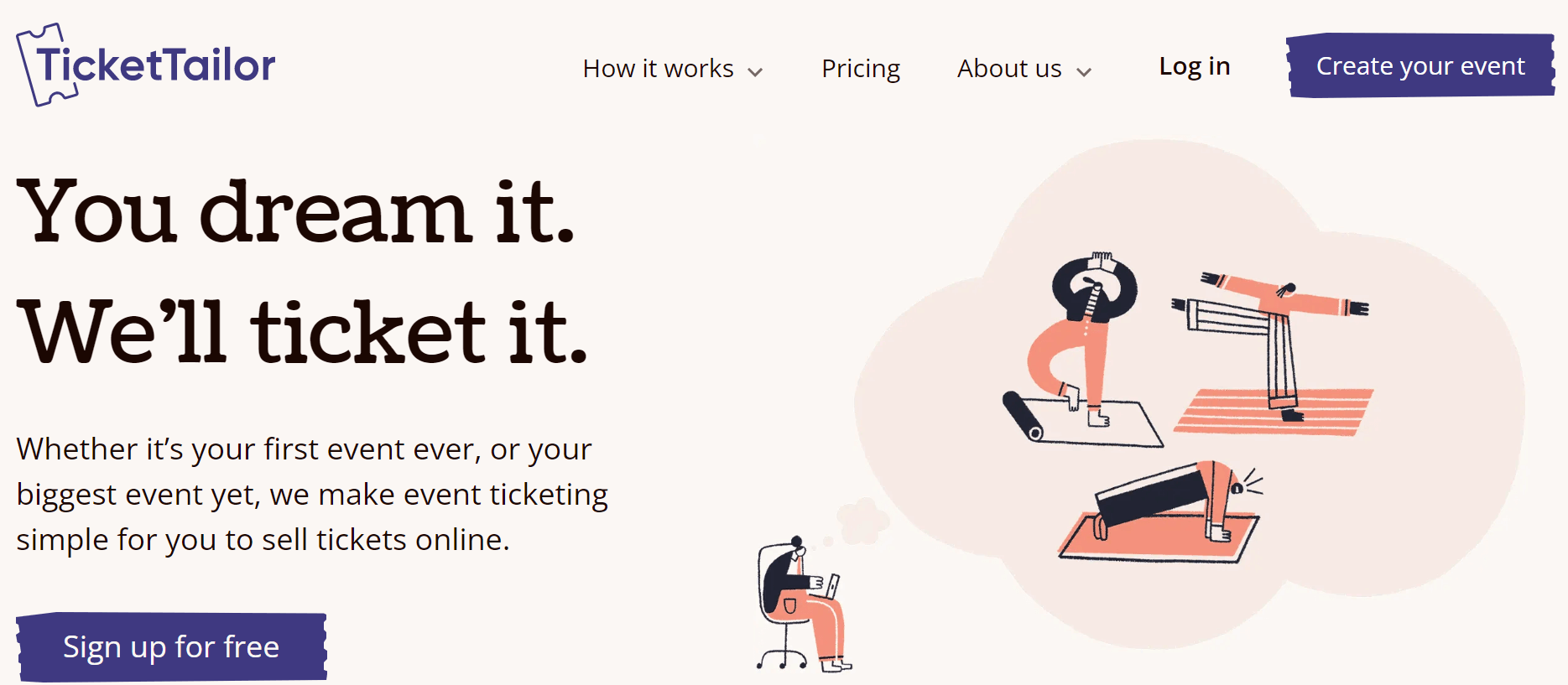 TicketTailor is an all-rounded event ticketing app with users in mind. It gives a different perspective to the whole event ticketing business.
We should note that it is not only a WordPress event ticketing plugin but an integrated system that also has a WP plugin. So, a lot of things are done differently in TicketTailor. For example, pricing, you don't pay a yearly subscription or get by a single payment. Rather, you pay based on your ticket sales. If you only host free events, you can use this plugin for free.
As you pay based on your event type, you don't essentially have a free and premium version. This means you get access to all features and benefits in any case.
You can add unlimited events and ticket types, create recurring events, keep records of all transactions, accept payments via Google Pay and Apple Pay, set up conversion tracking via Google Analytics and even send your phone a notification every time you sell a ticket.
Features:
Maps integration
Mobile app
Unique QR codes
Calendar integration
Recurring events and waitlists
Automatic confirmation emails
Password-protected ticket types
Pros:
Pay-per-ticket pricing model.
Comprehensive feature access without version limitations.
Integrated system with WP plugin.
Cons:
Can become costly for large-scale events.
Requires separate setup outside WordPress.
No inbuilt QR code generator.
Rating: 4.3 out of 5 stars (WordPress.org)
Price: Free, $0.26 commission for 1 ticket if you pay beforehand, $0.65 commission for tickets as they are sold
Verdict
Best suited for event organizers who have fluctuating event sizes and ticketing requirements. Its pay-per-ticket model provides an affordable solution for smaller or free events, while ensuring all premium features are accessible. However, it may not be the most cost-effective for very large-scale events. It's seamless WP plugin and comprehensive notification features make it a standout, though setting it up outside WordPress might be an initial hurdle for some. It's ideal for sporadic event organizers who value a flexible pricing model.
7. EventON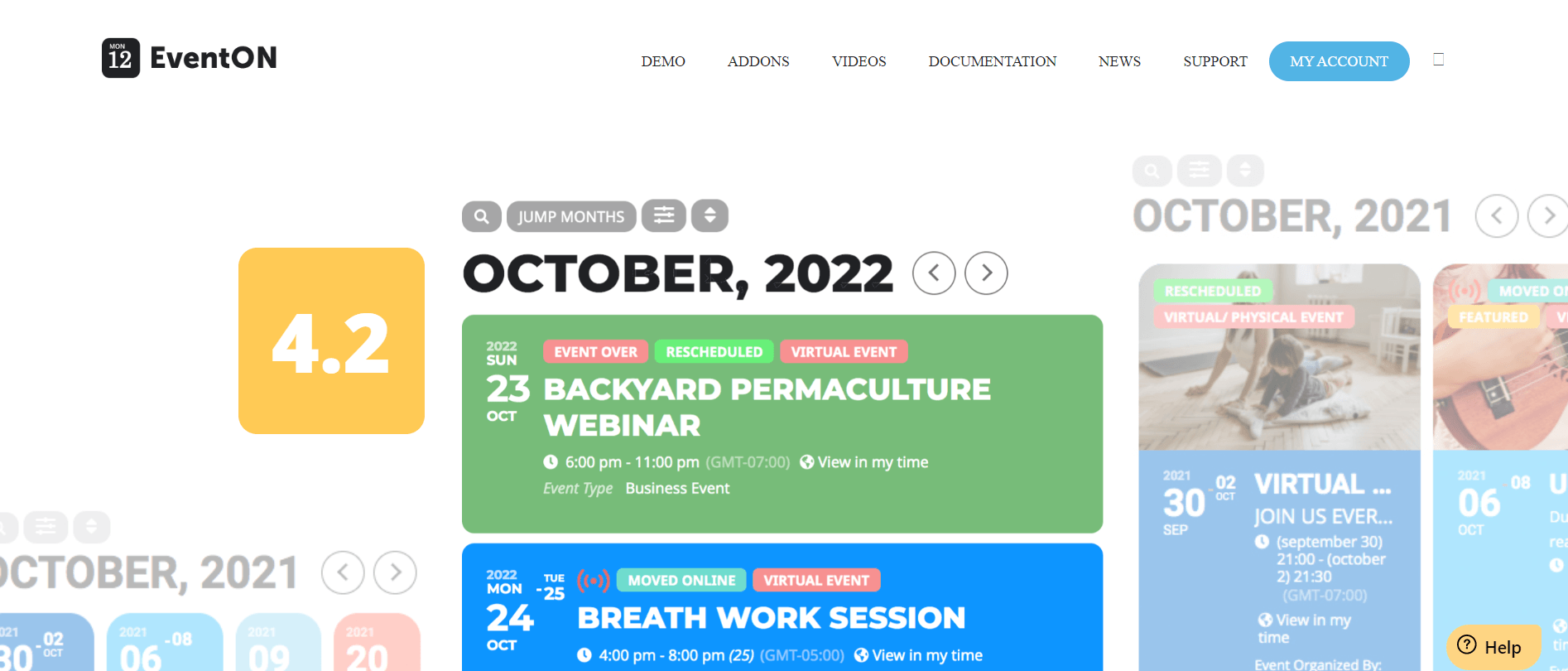 EventON is a premium and stunning WordPress event calendar plugin. Even if it didn't have any features, looks alone were enough to give this plugin a try.
Although EventON is a premium plugin, the developing team still offers a lite version. But don't let the word lite fool you. It is still a powerful tool with formidable features.
The lite version comes with unlimited and recurring events, multiple day event support, one featured image, event categorization and filtering features, as well as Google Calendar, timezone conversion and PayPal support.
With the premium version, powerful customization features come in. It is possible to customize event messages, each part of the calendar listings and customized messages when there are no events. You also need the paid version if you want to add Zoom integration or make use of webhooks on your website.
Unfortunately, you don't get a mobile app or generate QR codes with this plugin, so you will need to rely on other tools. But considering its relatively affordable price and aesthetics, it is easy to overlook these roadblocks.
Features:
Google Maps support
Recurring events
Google Calendar integration
PayPal payments
Webhooks
Zoom integration
Live event views
Pros:
Visually stunning interface.
Affordable lifetime license.
Comprehensive feature set in the lite version.
Cons:
No native mobile app.
Some essential features, like Zoom, require premium.
Limited integration options.
Rating: 3.9 out of 5 stars (WordPress.org)
Price: Free, $25 for a lifetime license
Verdict
A blend of functionality and aesthetics, EventON appeals to those who prioritize presentation without compromising on essential features. Its visually captivating interface is backed by a robust lite version, making it accessible for budget users. However, its lack of a mobile app and dependency on premium for critical integrations can be a deal-breaker for tech-savvy event organizers. Perfect for those prioritizing aesthetics without sacrificing core functionality.
8. Calendarize it!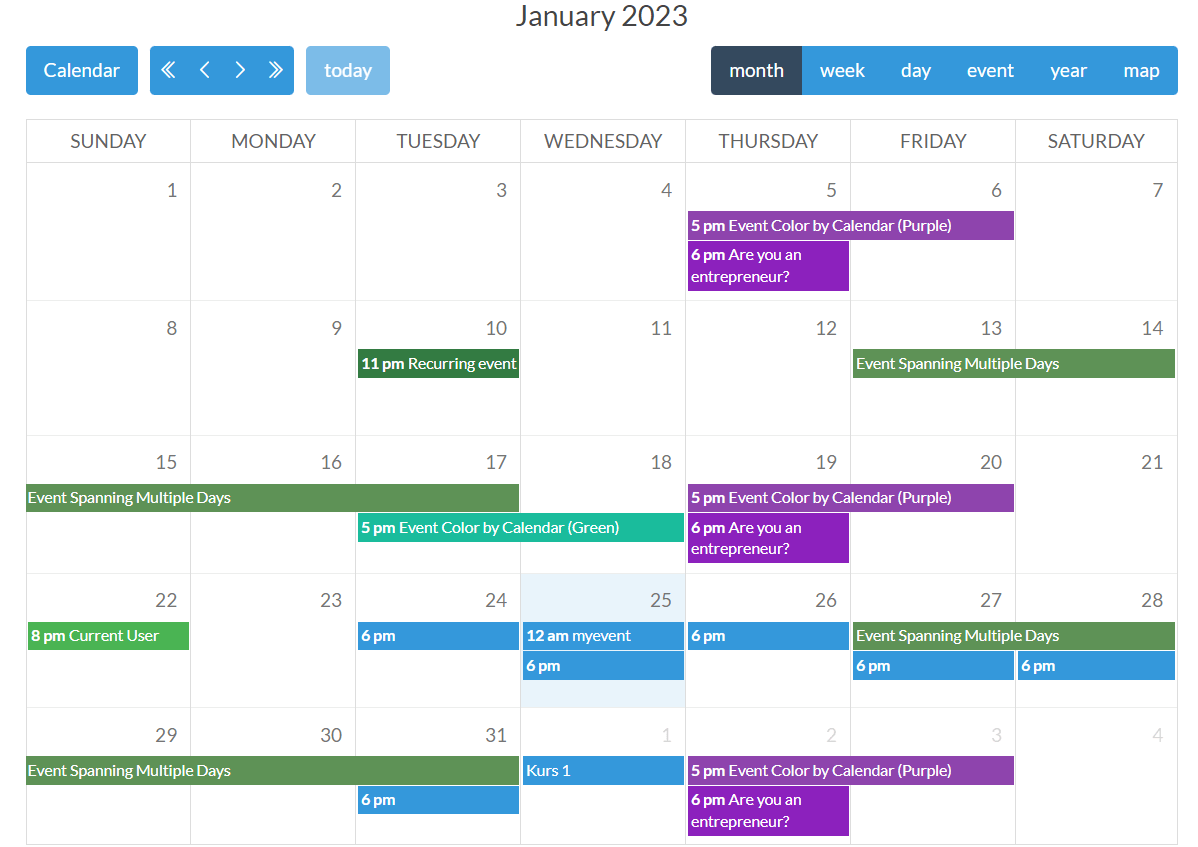 Originally, Calendarize it! is a versatile WordPress calendar. What makes it special is the numerous add-ons and a little bit of tweaking.
Unfortunately, you won't get the full functionality of an event booking app even if you get Calendarize it! from codecanyon. You still need to get a few add-ons to get the full functionality.
But if you consider paying, here is what you will get: a fully functional calendar with upcoming events, map view, custom buttons, featured image, timetable, events countdown, ratings and reviews, WooCommerce event tickets, Eventbrite tickets (the last two are paid).
This plugin best suits businesses that are hosting multiple recurring events, as it shows all of the events in the calendar instead of a listing.
Features:
Viewing in maps
External event sources (linking with Facebook)
Recurring events
Calendar view for events
RSVP options
WooCommerce event tickets
Extensive linking
Pros:
Highly versatile with many add-ons.
Optimized for recurring events.
In-depth calendar view.
Cons:
Essential features require multiple add-ons.
Can become expensive with all add-ons.
No native mobile support.
Rating: 4.31 out of 5 stars (Codecanyon.net)
Price: $29 for the regular license, $89 for WooCommerce event ticket add-on
Verdict
With a strong emphasis on calendar visuals, this plugin shines for businesses hosting recurring events. Its expansive add-ons make it highly adaptable but also potentially expensive. While it offers a robust calendar view, the lack of native mobile support may be a letdown for some.
9. Timely All-in-One Event Calendar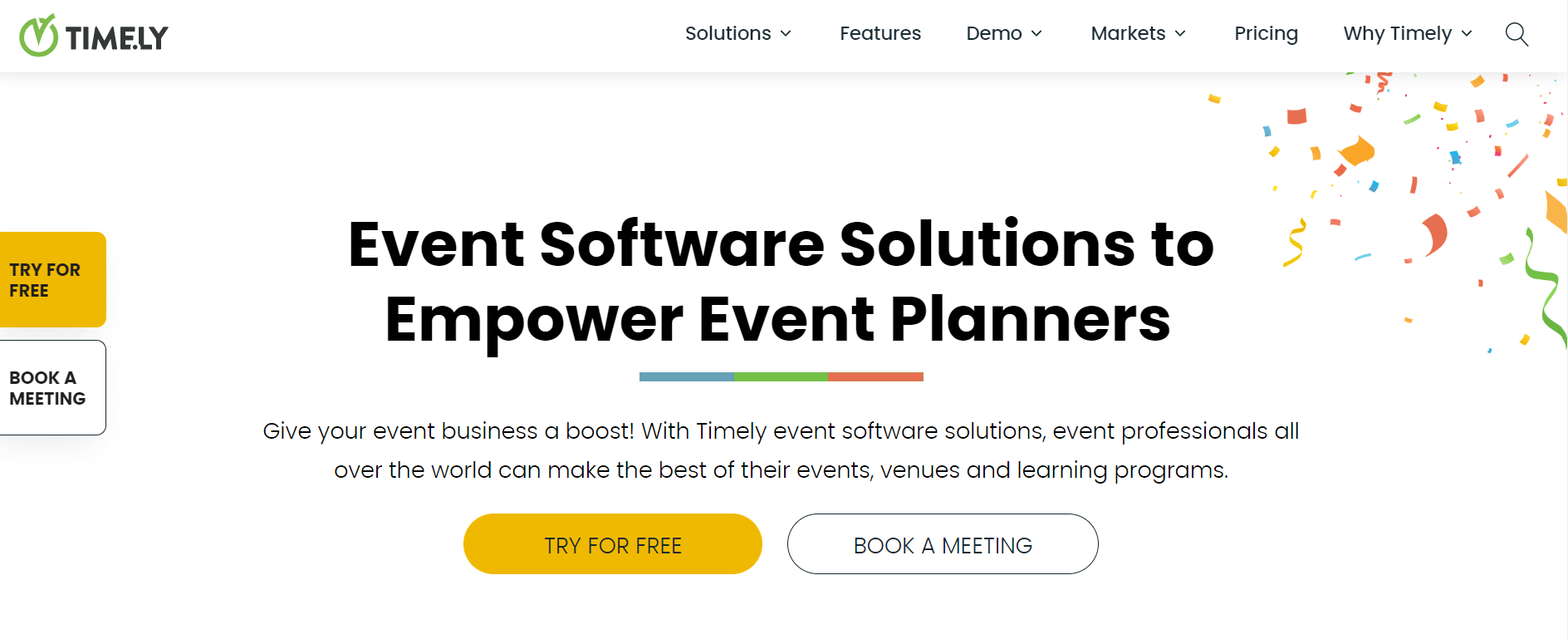 Another WordPress event calendar plugin that's worth a shot is Timely. It is also a standalone software that also has a WP integration.
Unfortunately, essential features like Google Maps integration, the ability to accept payments and ticketing options are not included in the free version.
However, the free version still gives you plenty of features if you are hosting free events. Creating multiple-day, recurring or never-ending events is straightforward. You can also add featured photos and videos to your events, filter by event categories and share all your events in a Google Calendar.
When you upgrade to the premium plans, you also get extended features like Google Maps integration, QR code generation, mobile app support, multiple payment gateways, email marketing options, invoicing and taxing and real-time ticket availability views.
We should also mention that there are a lot of customization options. This plugin and its files are translated into 14+ different languages. They also have several design templates and custom theme-creating options.
Features:
Google Maps integration
Mobile app
QR code generator
Calendar support
Event response forms
Zoom, Google Meets, Microsoft Teams integration
PayPal, Stripe and Square payment gateways
Pros:
Multilingual support.
Extensive customization options.
Integrated solution with WP support.
Cons:
Essential features behind a paywall.
No standard pricing transparency.
No native QR code support.
Rating: 4.2 out of 5 stars (WordPress.org)
Price: Free, Paid (there are no standard subscriptions and you should book a call to get a quote)
Verdict
Timely offers extensive customization and multilingual support. Its premium features are extensive, making it suitable for larger, more diverse events. The lack of pricing transparency might deter some, but its expansive features might justify the price.
10. Eventin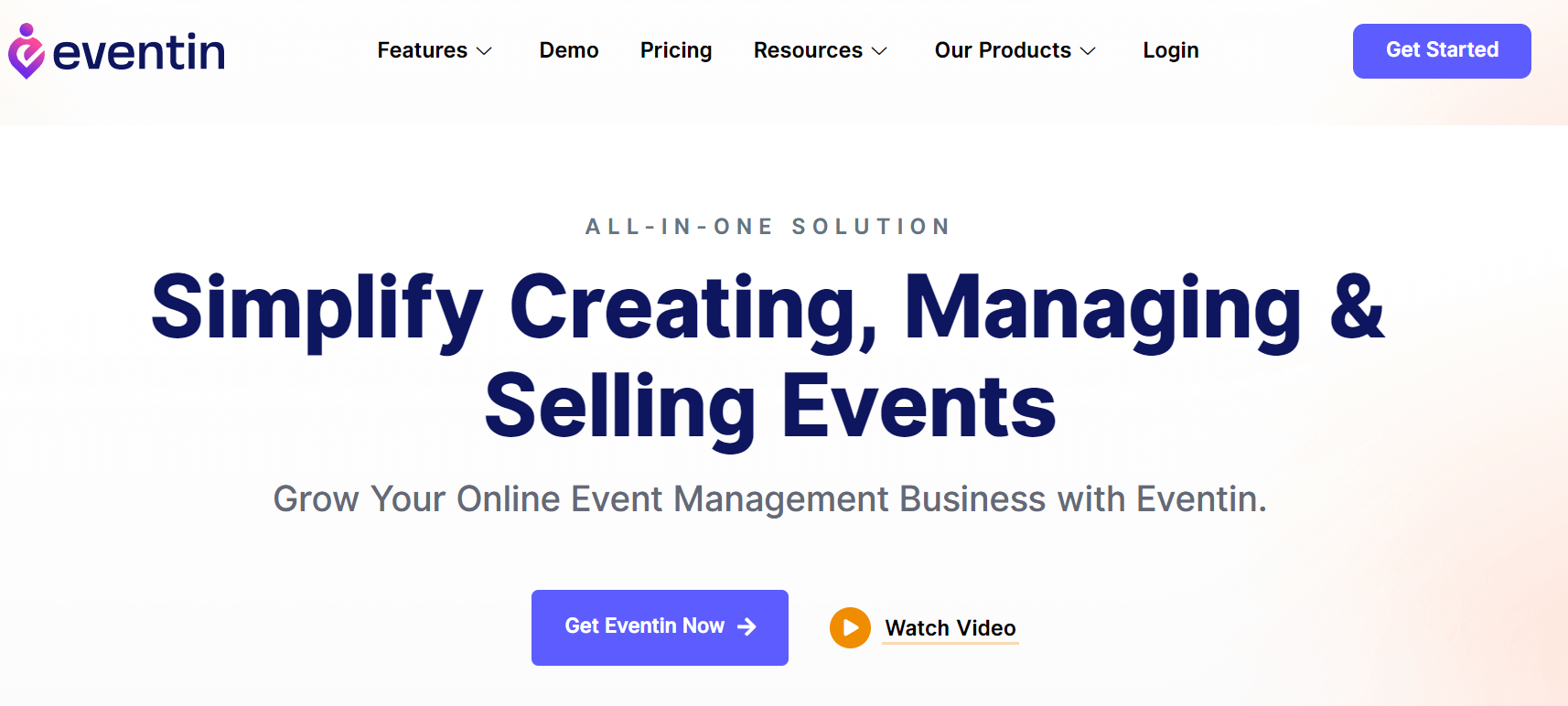 Last but not least on our list is Eventin. It is a WooCommerce event manager plugin that helps you sell event tickets from an e-commerce website.
This plugin is feature-packed! You get tons of functionalities even in the free version. You can show the events in a listing, create recurring events and event calendars, ticketing options and individual tickets for each attendee, get detailed reports for attendees, add pages about speakers in your events and accept payments via WooCommerce payment options.
The pro version adds on top of them. With integration with major service providers such as Zoom, Zapier and Pabbly, Twilio SMS, you can easily automate a big chunk of the event management process.
Eventin also integrates with Dokan, a major WooCommerce plugin. Thanks to this integration, you can easily create a multi-vendor event booking plugin on your website.
One major drawback of this plugin is its dependence on WooCommerce. As it is a plugin developed with WooCommmerce users in mind, you can't add it to your WordPress website.
Features:
Google Maps
QR code generator
Multiple calendar support (Outlook, Google, Yahoo!)
Analytics reports
Zoom integration
Zapier and Pabbly automation
Multi vendor website support
Webhooks
WooCommerce, Stripe payment options
Pros:
Deep integration with WooCommerce.
Extensive feature set in the free version.
Automation with major service providers.
Cons:
Relies heavily on WooCommerce.
Can be complex for simple needs.
Limited payment gateways.
Rating: 4.9 out of 5 stars (WordPress.org)
Price: Free, $169 for a lifetime license
Verdict
A powerhouse for WooCommerce users, Eventin provides deep integration with the platform, offering a rich feature set even in its free version. Its integration capabilities with other major service providers make it a one-stop-shop for WooCommerce event management. However, its reliance on WooCommerce can be limiting for those not using the platform.
11. WooEvents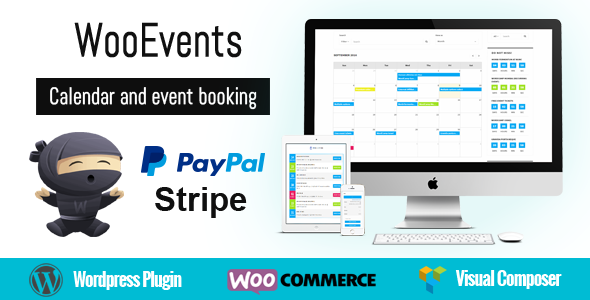 WooEvents is a comprehensive solution for event management tailored for WooCommerce users. Seamlessly integrated with WooCommerce, this plugin enables you to create events, sell tickets, and manage participants with ease.
With its intuitive dashboard and myriad of options, you can set up events in a breeze and ensure attendees have a smooth registration experience. Furthermore, it's versatile enough to cater to both online and offline events, making it perfect for various scenarios.
To fully harness its capabilities, you might consider diving into the premium version which comes packed with additional features and integrations.
Features:
Seamless integration with WooCommerce
Calendar view for easy scheduling and viewing
Countdown timer to create urgency for events
Customizable email notifications for participants
Supports multi-day events
Online and offline event capabilities
Detailed reporting and participant management
Pros:
Deep integration with WooCommerce ensures consistency in payment and user management.
Offers both calendar view and list view for versatility.
Multi-language support making it user-friendly for a global audience.
Cons:
Might have a steeper learning curve for those unfamiliar with WooCommerce.
Some advanced features are only available in the premium version.
Could be overkill for those needing a simple event setup without e-commerce capabilities.
Rating: 4.87 out of 5 stars (Codecanyon.net)
Price: $39 for a single site license, with extended licenses and bundle options available.
Verdict
WooEvents stands as a beacon for WooCommerce enthusiasts needing a sophisticated event management tool. Its thorough integration ensures e-commerce ventures sail smoothly with event-driven commerce. Given the expansive growth of virtual and hybrid events, the dual capability of online-offline events positions WooEvents favorably for future ventures. The one drawback may be its learning curve for those not well-acquainted with WooCommerce.
12. My Calendar

My Calendar is an adaptable WordPress plugin designed for displaying and scheduling events. Its strength lies in its flexibility, allowing users to display events in various ways including monthly, weekly, or daily views.
Whether you're running a large-scale business event or a small community gathering, My Calendar caters to different event requirements with its rich feature set.
Features:
Responsive calendar display
Customizable event templates
Location management with map support
Event search functionality
Widgets and shortcodes for easy integration
Event categories and tagging
Grid and list views for events
Pros:
Highly customizable with a range of display options.
User-friendly interface making event management a breeze.
Good support and regular updates.
Cons:
Some features are locked behind the Pro version.
Initial setup can be slightly daunting for complete beginners.
The default styling might require additional CSS tweaking for some themes.
Rating: 4.7 out of 5 stars (WordPress.org)
Price: Free for the basic version, Pro version starts at $49.
Verdict
My Calendar promises flexibility that'll resonate with diverse event needs of the future. Its customizable facets coupled with multiple viewing options ensures its utility across various business scales.
13. Tickera

Tickera is the go-to solution for those looking to sell tickets directly from their WordPress site. By bypassing third-party ticketing platforms, Tickera empowers event managers to have complete control over their ticket sales without additional fees.
It's designed for simplicity, allowing you to set up and start selling in no time. The built-in barcode reader ensures quick check-ins at event venues.
Features:
Barcode and QR code ticket generation
Multiple ticket types and pricing options
Various payment gateway integrations
Event reporting and analytics
Seamless integration with most WordPress themes
Customizable ticket templates
Mobile app for ticket check-in
Pros:
Eliminates the need for third-party ticket platforms and associated fees.
Robust ticketing system with barcodes for easy event management.
Wide range of payment gateways making transactions smoother.
Cons:
Lacks some advanced event management features, focusing mainly on ticketing.
The design customization might be limited unless diving into custom CSS.
Mobile app check-in might require a stable internet connection at the venue.
Rating: 4.4 out of 5 stars (WordPress.org)
Price: Starting at $49 for the standard package with more feature-rich packages available.
Verdict
Carving its niche by sidelining third-party ticketing middlemen, Tickera champions direct ticket sales, ensuring event managers retain control and margins. As the future leans toward more decentralized control, Tickera's position is strengthened. However, it's essential to note that while it masters ticketing, it might not be the all-in-one event management solution some might be seeking.
Conclusion
If you are an event organizer looking forward to making your life easier, event management software is your biggest help.
In this post, we mentioned several WordPress event booking plugins and their most important features so you can find the solution right for you.
Verdict
Each of these WordPress event booking plugins offers unique features and capabilities to cater to various needs. Whether you are organizing small community events, large conferences, or anything in between, there's a plugin on this list for you. When making a decision, consider your event's specific requirements, your budget, and how a plugin integrates with your current website setup. With the right plugin, managing and selling tickets can become a seamless part of your event planning process.
Sign up for our newsletter
Be the first to know about releases and industry news and insights.
Let's

get started

on something great
Booknetic is a simple yet powerful plugin for accepting online bookings & payments on your WordPress site.