7 exceptional WordPress multi vendor booking plugins to start business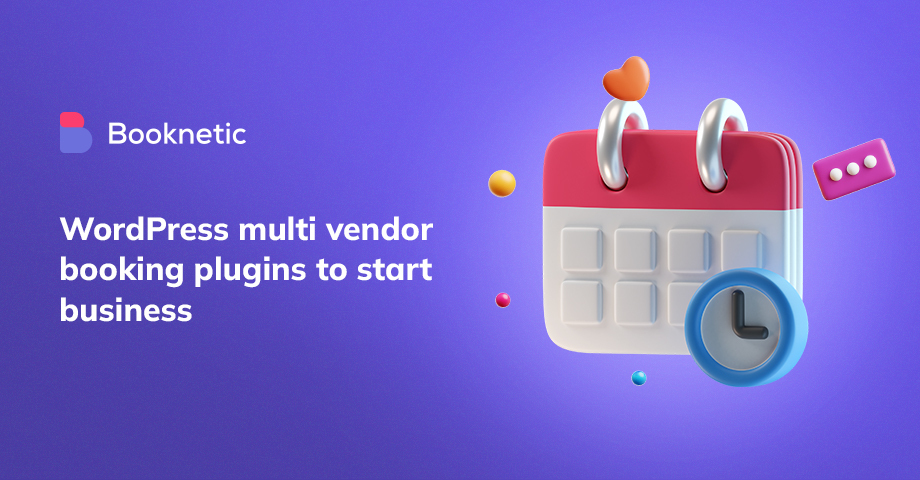 Nowadays, multi vendor business platforms are becoming more common and vital among businesses. Family businesses and Fortune 500 companies are using these platforms. Today, we will talk about WordPress multi vendor booking plugins that can help build your business.
First, we should start by asking and answering questions to grasp the meaning of multi vendor better.
What is a multi vendor booking system?
A multi vendor booking system is a platform where customers can create their booking website. Unlike typical marketplaces with a platform owner, buyers and sellers, multi vendor booking systems operate differently.
In a multi vendor booking system, the platform owner gives access to third parties to use this platform to build a booking system on their website.
What does multi vendor mean?
Firstly, vendor means seller or supplier. So, multi vendor means there is more than one seller.
What is the difference between multi vendor e-commerce and multi vendor booking system?
In multi vendor e-commerce platforms, sellers use the platform for advertising and selling their products. In multi vendor booking systems, sellers use the platform to establish a booking system on their website as well as the websites of their customers.
The two styles of multi vendor booking systems
Because multi vendor concept is relatively new in the services sector, multi vendor booking sector has branched out to two different variations.
One is the usual e-commerce style multi vendor services, in which multiple users can showcase their booking based services in e-commerce style listings.
The second is specific to services. A vendor may design a subscription plan in this multi-vendor service system with included features, terms and conditions, and pricing alternatives. When other customers pay to install this platform on their websites, the vendor can effectively rent out the platform to those customers.
Multi vendor booking systems unlock a new business opportunity that can significantly boost your revenues.
But why would you want to have a multi vendor booking system instead of a regular one?
What is the difference between multi vendor booking system and regular one?
The main difference between multi vendor and regular appointment booking apps your capabilities. With a regular booking system, you can set up booking functionalities on a single website. On the other hand, with a multi vendor one, you can effectively offer a regular booking system to others based on your pricing policy and the functions you want them to have.
Owning a multi vendor booking system means that you own the platform. You don't have to deal with the particularly tedious development process, but you can still benefit from it.
The only downside is the added cost of owning a multi vendor booking system. Even with that, owning such a platform can quickly reach the break-even point and establish a reliable revenue stream.
So if you are thinking big and want more than just a regular booking system on your website, multi vendor booking is specifically tailored for you. The only question remaining now is the question of…
How do I create a multi vendor booking system on my website?
The best way to set up a multi vendor booking system on your website is by using a WordPress multi vendor appointment booking plugin. They are reliable, cost-effective and exceptionally rich in features.
Don't let WordPress scare you. Nearly half of all website owners are your potential customers, as WordPress powers 43% of the internet.
With WordPress plugins, you can make your website infinitely more practical, awe-inspiring and user-friendly. To perform even better as an ecommerce automation system, the website can be integrated with third-party WooCommerce extensions. These are designed so you can customize your WooCommerce store without any coding knowledge. Plus, they come with up-to-date guides to get you started.
Suppose you are trying to build an online multi vendor booking system on your website. Unfortunately, you don't have many options, especially if you are looking for a service style multi vendor booking system.
Most of the options work with WooCommerce, one of the most popular WooCommerce plugins. The options we list today will be WooCommerce multi vendor booking plugins and require you to have WooCommerce Bookings installed on your website.
7 best multi vendor booking plugins
Booknetic
WCFM Marketplace
Dokan
YITH
WooCommerce Product Vendors
WC Vendors Pro
WordPress WooCommerce Multi Vendor Marketplace Plugin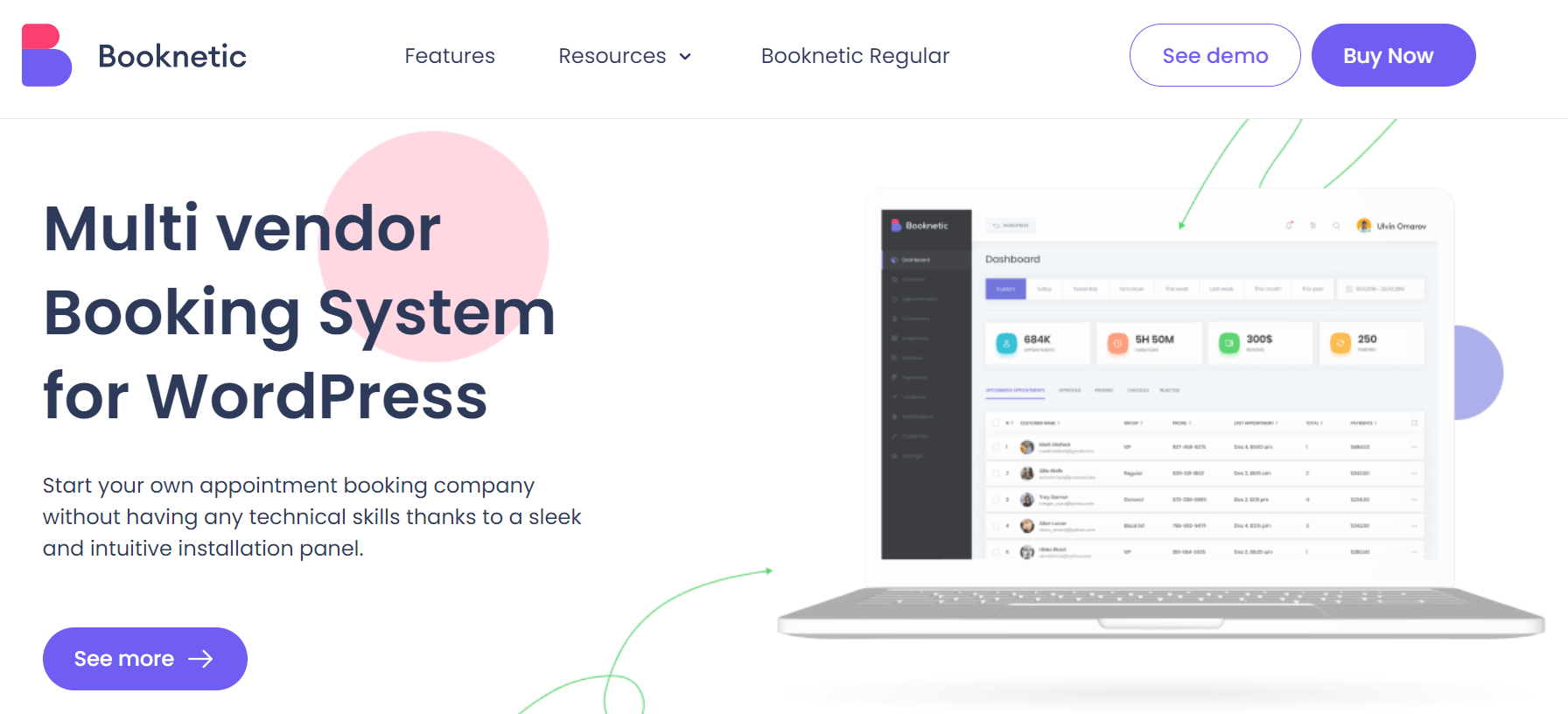 Booknetic SaaS is a fully automated multi vendor booking system for WordPress. It lets you create your own booking company, add tenants, determine price policies, manage features and earn subscription revenues from user activities.
Booknetic SaaS supports all of the regular Booknetic features plus exclusive features of the SaaS version like a super admin panel, adding tenants and giving admin panels for individual users.
With Booknetic SaaS, you can easily set up a booking system on your website and effectively rent it out to other customers. You are entirely independent of pricing issues and Booknetic doesn't get any commission from using its services. There are no hidden costs!
Another plus side of Booknetic SaaS is white labeling option. You can customize it to your taste in the front end while retaining all of the features in the back end.
You can add an unlimited number of users as tenants and set up as many subscription rules as you want. And the best thing is you don't need WooCommmerce or WooCommerce Bookings to use Booknetic SaaS!
You don't even need to have technical knowledge. With Booknetic SaaS, you can create a multi vendor booking system with no coding.
Features:
All the regular Booknetic features
WooCommerce integration
Superadmin panel
Ability to set up subscription plans
Adding an unlimited number of tenants
Individual booking URLs and admin panels
White labeling
Unlimited number of tenants
Affilate program for tenants to bring more users
Split payment to automatically charge tenants via PayPal and Stripe
PayPal and Stripe integration
Price: $489 for lifetime license
2. WCFM Marketplace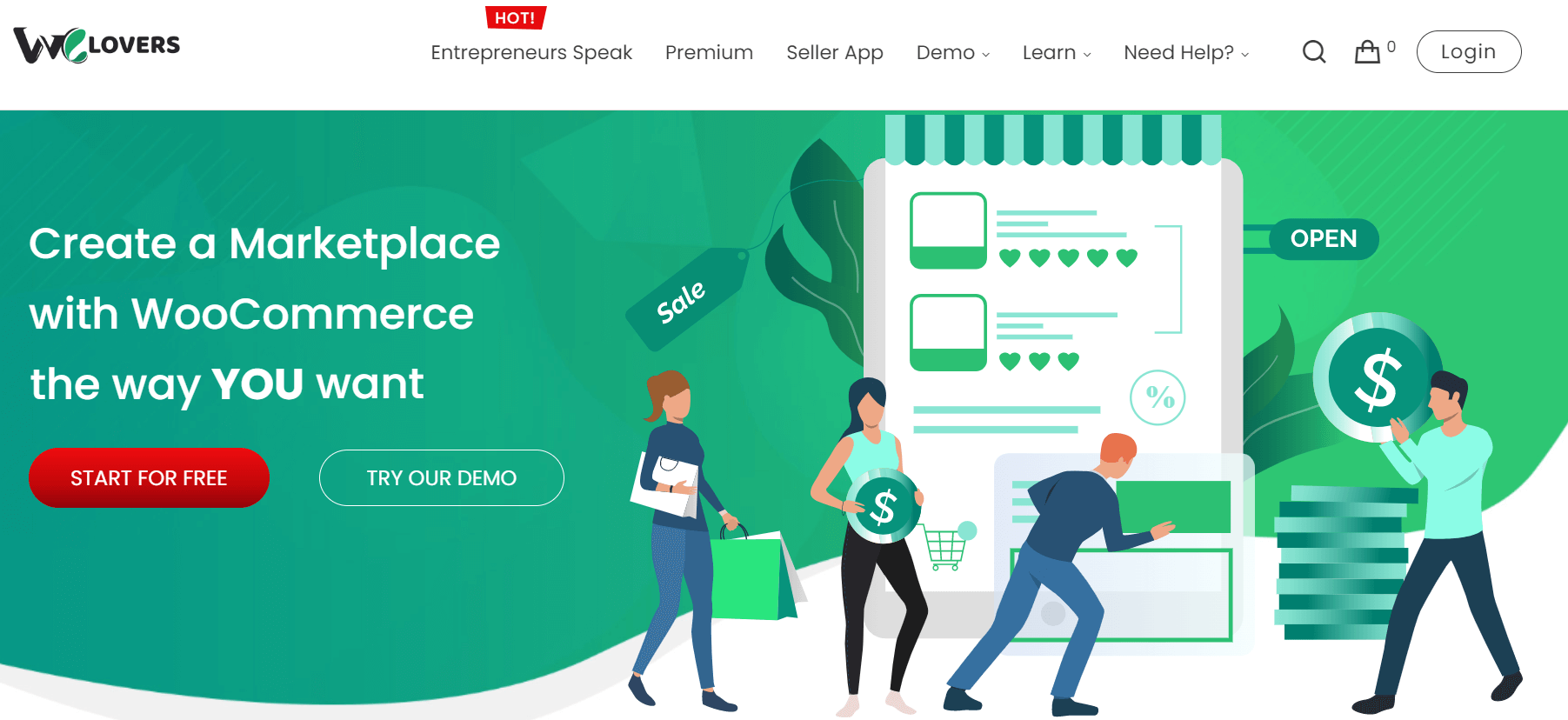 WCFM Marketplace is a powerful plugin that acts as a WooCommerce multi vendor booking plugin.
This plugin adds multi vendor functionality to WooCommerce, transforming it into a platform where buyers and sellers can meet.
If you integrate it with WooCommerce Bookings, vendors on your website can list their services on your platform. So, with a few steps and tweaking, you get an all-rounded e-commerce experience that also serves as a multi vendor booking system.
Features:
Multi vendor functionality for WooCommerce
WooCommerce Bookings integration
Geolocation and radius search
Integrated analytics
Store SEO
Following sellers
Price: $1044 for lifetime license (you have to pay for WooCommerce as well)
3. Dokan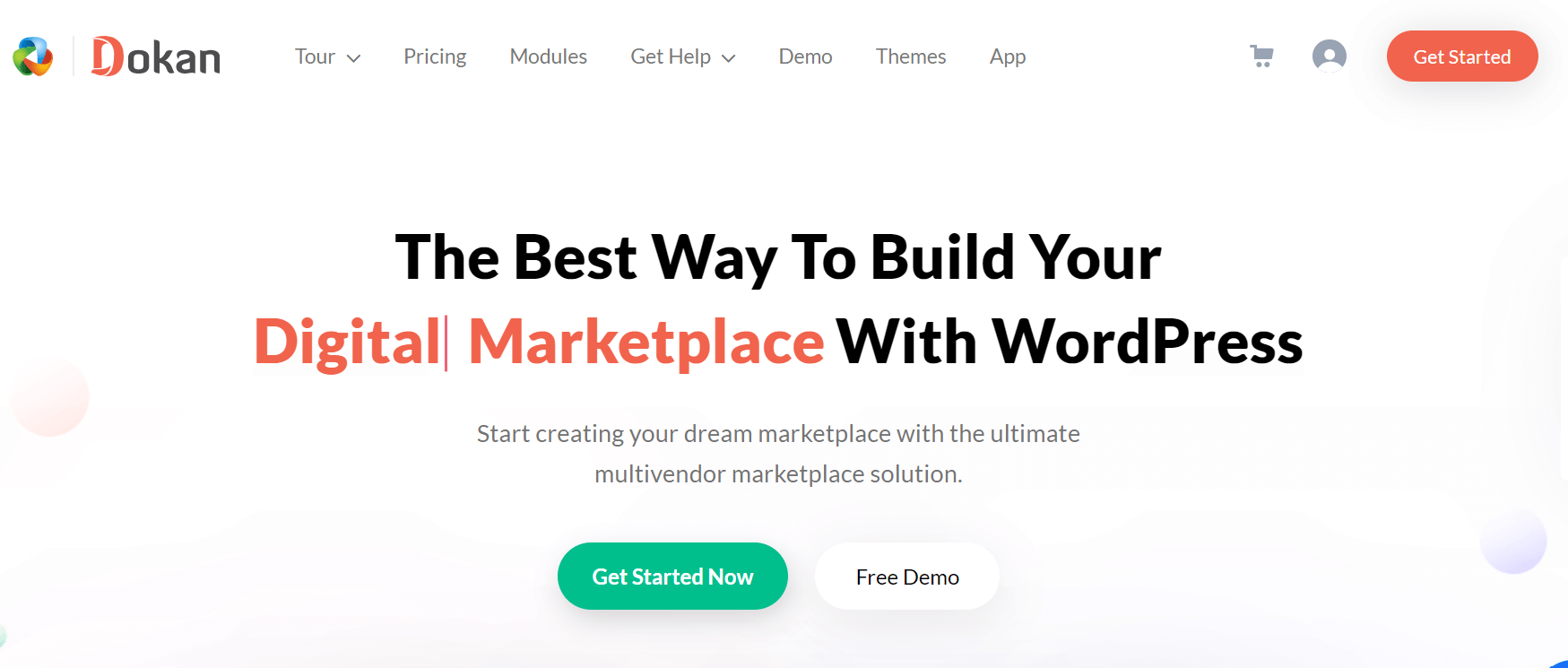 If we are talking about WooCommerce multi vendor booking plugins, we should mention Dokan, perhaps their most popular.
Dokan is already a formidable WooCommerce plugin, but when combined with WooCommerce Bookings, you can easily add service providers to your multi vendor e-commerce site.
Dokan comes with all of the features an e-commerce site needs. With the added support, it is easy to list different types of services or bookable products on their site. Between the two, bookable products are more valuable for Dokan.
To activate a fully-optional booking experience, a user expects you to have to buy several add-ons. You need an add-on for adding a booking panel, managing staff and locations. When considering all the costs, it becomes unreasonable after a certain point.
So, Dokan is best for businesses that mainly offer e-commerce options but also want to tap into the bookings market.
Features:
Quarterly and weekly reports
Following sellers
Vendor staff manager
Geolocation
Auctions
Price: $2495 for a lifetime license (there are cheaper versions, but they do not come with booking functionality)
4. YITH

Originally started as a blog and after a theme developer for WordPress, YITH now focuses on developing WooCommerce plugins. They are one of the oldest, biggest and most popular teams.
Their YITH plugin is a bridge between buyers and sellers based on WooCommerce. With several years of expertise, YITH is reliable.
You need to combine two of their plugins, YITH Booking an Appointment for WooCommerce and YITH WooCommerce Multi Vendor / Marketplace, to get a fully functional multi vendor booking system on your website.
Although YITH doesn't have a direct WooCommerce multi vendor booking plugin, the combination gives all the features you need, like listing services, managing bookings and even setting buffer times.
Thanks to their across-the-board integration policy, everything will work perfectly, so you can focus on developing your products and giving more benefits to the customers.
Features:
Multi vendor marketplace with booking options
Extra services with appointments
Google Calendar synchronization
Booking, Airbnb synchronization
Vendor commissions
Price: €179.99/Year for multi vendor, €289.99/Year for appointment bookings plugins
5. WooCommerce Product Vendors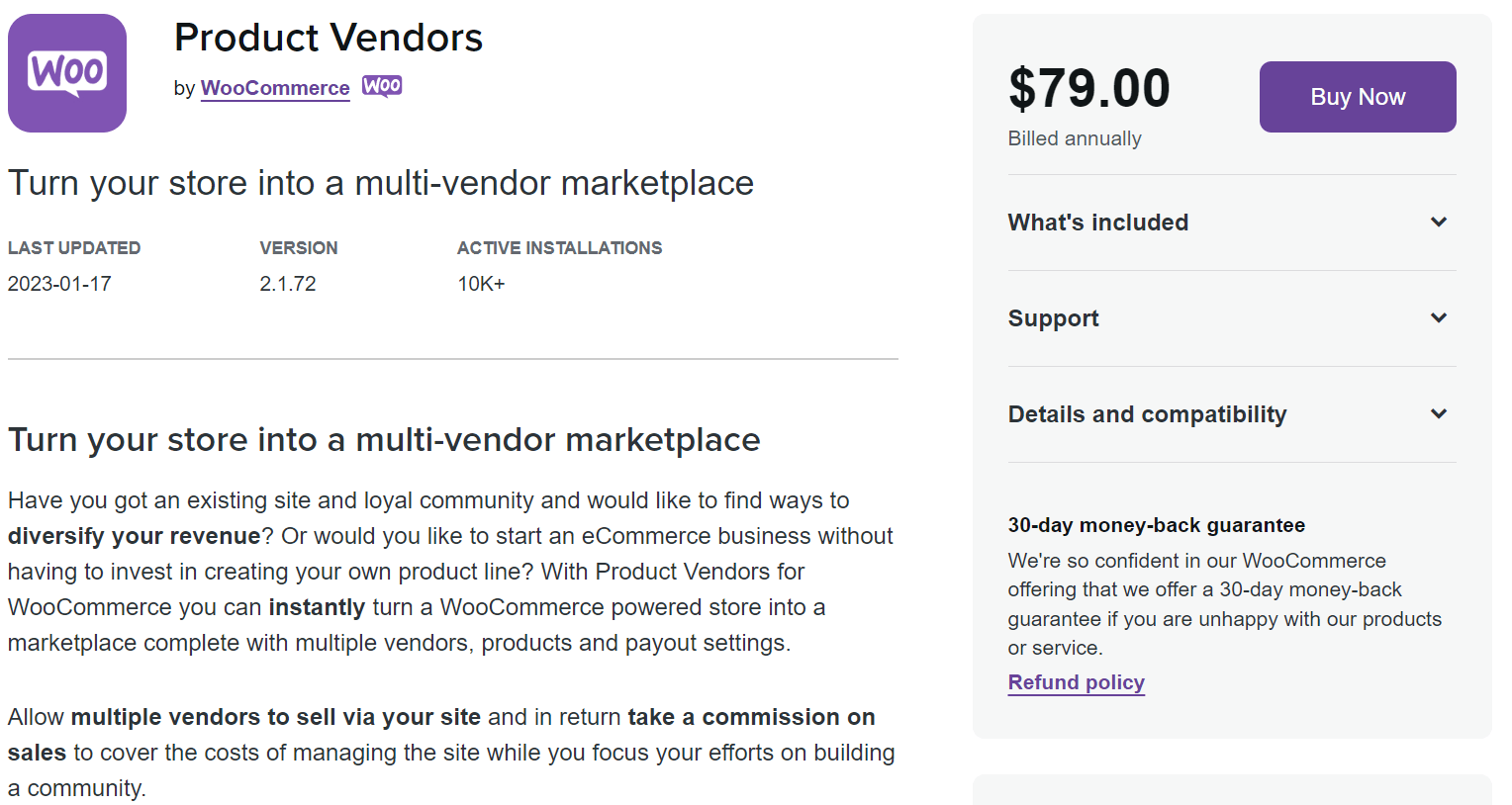 If you are looking to add a multi vendor booking system to your website, you don't need to go on the road to search for a reliable third party developer. WooCommerce team has already developed WooCommerce appointment booking system plugins to create a multi vendor booking system.
WooCommerce Bookings enables acceptance of bookings directly from your e-commerce website. Product Vendors open this website to other vendors. In the end, you get a fully integrated multi vendor booking system.
It allows for various booking options such as booking calendar, group appointments, time zone conversion, integrated WooCommerce payments, reminders and Google Calendar synchronization.
Despite all this, the WooCommerce Bookings plugin has several technical problems on top of the already complex installation and learning process. Its price is also not great as you can't get a lifetime license.
Features:
Allow service providers to add their services
Appointment bookings
Time zone conversion
Multi vendor booking system
Constant reports and updates
Price: $249/Year for Bookings, $79/Year for Product Vendors
6. WC Vendors Pro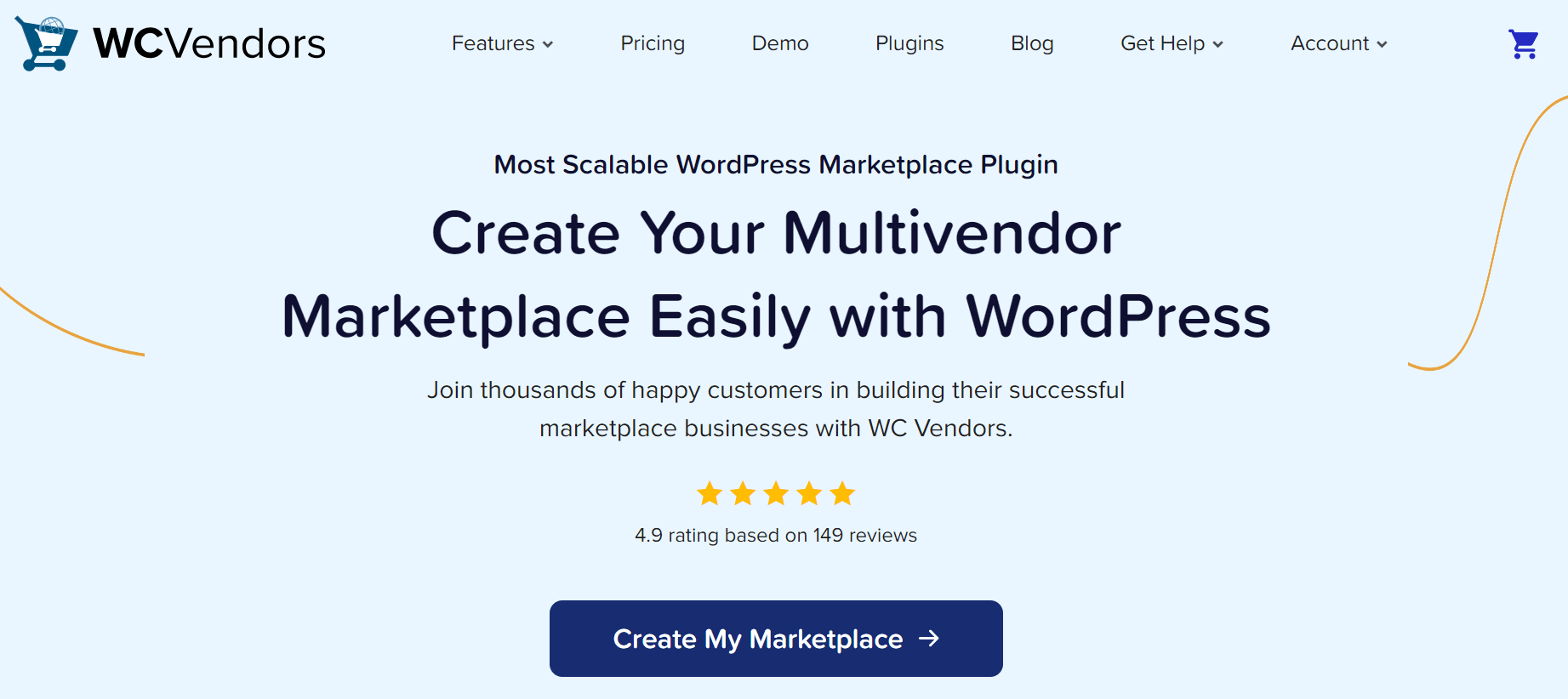 Another great WordPress multi vendor appointment booking plugin is WC Vendors Pro. It provides flexible bookings with WC Vendors WooCommerce Bookings integration into the WooCommerce ecosystem.
Service providers can add all the necessary information about a product or a professional providing the service, define costs and manage all their bookable products from an admin panel. They can also manage their bookings to confirm or cancel appointments based on their needs.
This plugin is also compatible with WooCommerse Accommodation Bookings, so your multi vendor booking platform is open to hotels and other agents in the hospitality sector. You also get a Google Calendar synchronization, so you never miss an appointment.
Features:
Multi vendor booking system
Vendor store branding
Multiple commission types
Automated taxes
Booking calendar
Appointment durations
Price: $299 for WC Vendors WooCommerce Bookings and $699 for WC Vendors Pro lifetime licenses
7. WordPress WooCommerce Multi Vendor Marketplace Plugin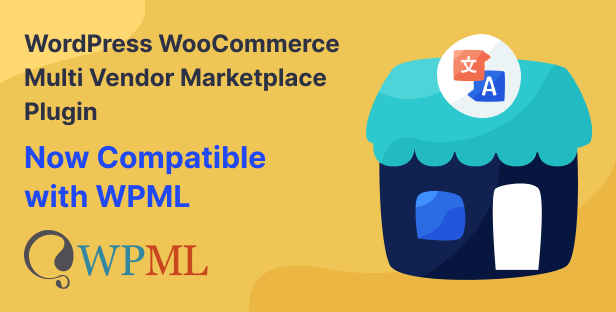 WordPress WooCommerce Multi Vendor Marketplace Plugin is among the best multi vendor booking plugins.
Like the other options on this list, it lets you create an online marketplace where customers can also book appointments without leaving.
The main benefit of this plugin is its price, as it is lower than other solutions on this list.
With this plugin, sellers can list their services, manage available time slots and confirm or cancel appointments from their admin panel.
Users can book their appointments from the integrated booking calendar and choose more than one bookable product. This plugin also has a built-in system to avoid double bookings.
Overall, this plugin provides just the essentials with minimal cost. They also offer a mobile app to do all this on the go!
Features:
Admin panel for sellers
Managing, adding or removing vendors
Flexible commissions
Seller profiles and favorite seller
Booking management from the admin and user side
Price: $99 for marketplace and $49 for bookings
Bottom line
Right now, SaaS business ideas are exploding. Starting a multi vendor booking system is one micro SaaS business idea you can use to diversify your revenue stream.
To help you in this matter, we listed several multi vendor booking plugins you can use on your website.
If you aren't sure about what to choose, we recommend Booknetic SaaS.
Booknetic SaaS is a fully automated multi vendor booking system that can help you build a reliable revenue stream while also managing your business. Try Booknetic SaaS now!
Sign up for our newsletter
Be the first to know about releases and industry news and insights.
Let's

get started

on something great
Booknetic is a simple yet powerful plugin for accepting online bookings & payments on your WordPress site.