How to Improve Booking Management System With Appointment Booking Plugin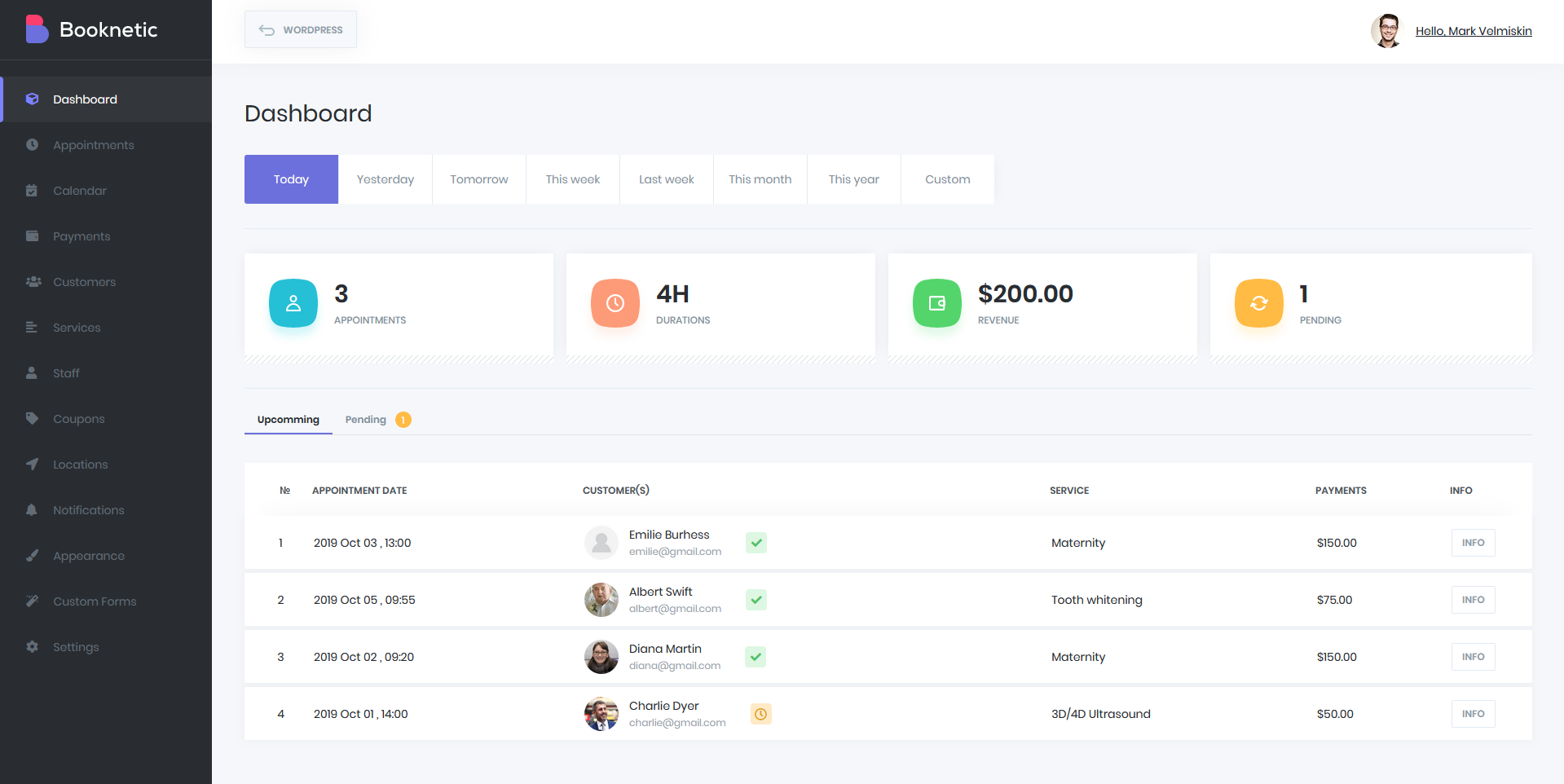 Do you have a small business? How do your customers book appointment? There are many companies that are not sure about the appointment booking WordPress plugin system nowadays. They still use the classical booking system. In those firms, customers make an appointment by phone call. This approach is too old-fashioned at this time. Because most of your clients use cell phones and computers. So you have to keep up with your customers.
First of all, you need to open a website so it`s perfect to use the appointment booking WordPress plugin. This method is going to make your business easier. Booknetic is one of the best WordPress plugins for booking appointments.
The online appointment booking system has a lot of advantages. Your employees and you will not worry about appointments. Also, there will not be a misunderstanding between workers and clients.
So how can you improve your booking management system with WordPress Plugin?
Using online scheduling software is one of the best ways to improve the booking management system. There are a lot of benefits to booking management systems, as we said above. These systems make your life easier and help your business to develop. So you can boost the booking management system with Booknetic WordPress Plugin. Here is the reason why:
1. You can provide a good user experience with WordPress plugin
In booking management systems, giving a good user experience is so critical. Because if you don`t give your customers on your website a good experience they will not be interested in to making an appointment next time. The Booknetic Plugin will give your customers a good user experience. Your customers can make their appointments very easily from a computer, tablet and cell phone. This plugin is not difficult and it can easily be used by anyone. For you and your workers it is also simple. To use this plugin you don`t need any courses.
In business, time is so critical. Employees waste a lot of time in the classical appointment method. That's why it's so important to have a strong booking management system. Your workers had to talk to customers and make an appointment for them before appointing WordPress plugins. In this classical method, they have wasted so much time. Your workers will do their own jobs after using the Booknetic booking system. There's also no need to think about appointments.
In the booking management system, reporting is very important. Pick the plugin with its reporting system if you want to boost your booking management system. Why is reporting so crucial? To understand how your clients use your website, reporting is important. This is perfect for providing a great user experience. Booknetic Plugin gives you reports about your business. This technique will allow you to respond quickly to customer requests.
4. Returning customer information
These plugins save the customers' data if you use the WordPress appointment booking plugin. Your client would not need to add her appointment details. Because it becomes the duty of your booking system to generate returning clients.
Security in the online booking system is critical. Because your clients can pay by card for appointments. So they will be worried about safety. Plugins for WordPress appointment bookings must have data protection. Booknetic is a plugin that is secure. With peace of mind, you can use Booknetic.
Humans are too busy with their work now. Often, during working hours, they can`t have time to call and schedule an appointment. But you can make this process simple for them with online booking management systems. During the night and early morning, these people can make an online appointment. The interface of Booknetic will allow your clients to make their appointments in a few minutes.
You would need to pick a new employee who answers the telephone calls for the classical appointment process. With the Booknetic WordPress plugin appointment booking, you will not pay the employee extra money. This helps to boost the bottom line of your business on a small budget.
For the appointment, clients will be able to select the most convenient date. Also, any time they need, they can change the time. Before the appointment, the online scheduling software will send a notification to the customer. The customer will not miss the appointment.
Your customers can book an appointment and pay by credit card online. This method helps to avoid fake clients. If you either add a payment gateway to WordPress or use a plugin that has built-in payment features. Booknetic has a very specific online payment functionality. There's a deposit system for this plugin. Maybe you'd like to learn what this deposit system is? You are going to guarantee your money with a deposit system. You're going to receive some cash even though your client doesn't come to an appointment.
You can have international clients. Because of the language barrier, there is a risk that your client can't make an appointment. Your clients can make an appointment on your website with the Booknetic WordPress plugin, at least in English.
We have listed the above 10 advantages of WordPress plugins for appointment booking. For your business, Booknetic Plugin has a lot of benefits. By using our plugin, you can provide clients with a good user experience (UX) and enhance your booking management system. In the Booknetic plugin, clients can also use their coupons when making an appointment. In addition, via the Booknetic WordPress plugin, you can send WhatsApp notifications to your clients.
At this point, we should give a reminder. While it might seem cost-efficient to obtain Booknetic from other "sketchy" sources, it is a potential security threat and might have some implications. Check out our blog on the topic Why You should Avoid Booknetic Nulled.
Do not forget to announce this to your customers after starting online booking management. Available appointment dates can be shared across various channels. So you can reach your potential customers.
Now the trend of phone bookings is slowly dying, the competitive disadvantage of not having an internet booking management system will particularly leave your small business behind. Join in and move online with the booking trend.
If you decide to purchase a plugin for online appointments you can review the demo version of the plugin. Everybody can try the demo version of our plugin whenever they want.
Sign up for our newsletter
Be the first to know about releases and industry news and insights.
Let's

get started

on something great
Booknetic is a simple yet powerful plugin for accepting online bookings & payments on your WordPress site.