SureMembers vs MemberPress: Which one is Better?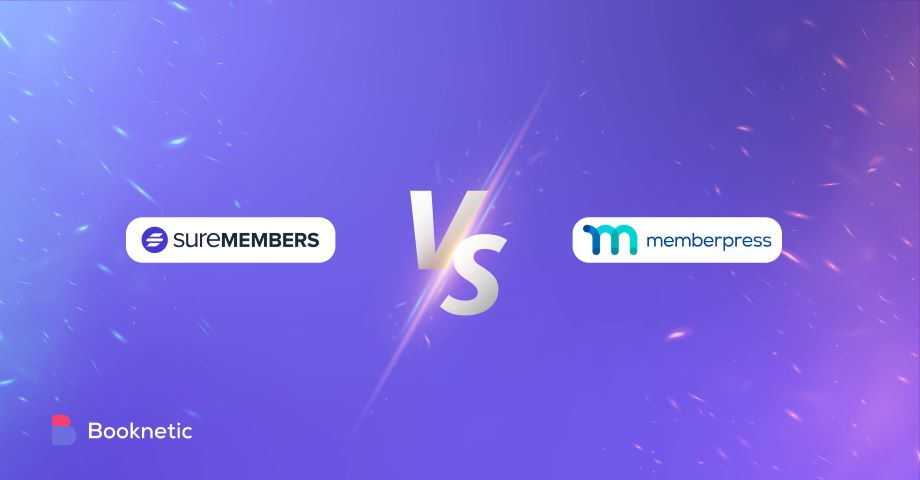 Ask yourself:
Why do people subscribe to magazines, journals, or platforms like Netflix?
It's for exclusive, valuable content.
These businesses understand that content has value. And ask themselves why give it away for free when monetizing is possible.
If YOU have a talent for creating content, YOU can earn money from it.
How? You ask.
By building paywalls around your content. By offering online courses, creating communities and exclusive forums, and by offering digital subscriptions.
You can be pretty successful if you do it consistently and well enough.
Now, we will not (and can not) teach you how to be successful by creating content.
What we will do is offer a way of building the paywalls, making your content exclusive, and creating online courses.
You can do this by using a membership plugin on your WordPress website. Membership plugins conceal a section of your website and require authentication.
Yet, there are many options available for membership plugins.
And making the right decision seems so hard.
The most popular two are MemberPress and SureMembers.
And we will compare the two in this blog.
Excited yet?
Let's get started!
Why Do You Need a Membership Plugin?
Imagine the Possibilities.
With a membership plugin:
Your website can become a source of recurring revenue. No more relying solely on unpredictable ad revenue.
With a touch of lead generation and smart marketing your content builds a community of loyal, engaged subscribers.
With a mix of free and premium content, you attract a wider audience while still generating income.
See the Bigger Picture.
As your premium content grows:
The more valuable content you add, the more you can justify subscription fees.
Engaged subscribers give feedback. This helps refine content, making your platform even better.
Consider the Small Investment for a Larger Return.
Membership plugins might have a cost, but think ROI (Return on Investment):
One subscriber's monthly or annual fee could cover the plugin's cost.
Every additional subscriber is a potential profit.
The Added Bonuses.
Beyond monetization, membership plugins offer:
Protection: Safeguard your content from being pirated.
Data Insights: Understand what your members love. Tailor your content strategy accordingly.
Integration: Seamlessly integrate with email marketing tools, CRMs, and payment gateways.
Overview of Membership Plugins
About MemberPress
Who Made It?
MemberPress was developed by a company named CaseProof. They've been around since 2004, and they're experts at creating plugins for websites.
What Is MemberPress?
It is a membership plugin you can add to your WordPress website. Once you add it, you can make special sections where only members who sign up can see the content.
Features of MemberPress:
Online Lessons: It allows you to set up online courses. This means you can teach people and they can learn by watching or reading on your website.
Taxes: MemberPress can handle the tax when people pay to join your website.
Big Accounts: Companies or larger groups can have their own special sign-ups.
Control Access: With MemberPress, you decide who gets to see which part of your site.
Track Members: You can see how many people have joined, which helps you know how popular your special sections are.
The Good:
Everything in One: MemberPress is a membership plugin packed with features, so you don't need many others.
Updates: They make the plugin better by adding new features from time to time.
Helpful Guides: There are easy-to-read guides that help you use the plugin.
Things to Improve:
More ways to sell would be nice.
The sign-up page could be made to look better.
Some people might find it a bit hard to set up at the start.
About SureMembers
Who Made It?
SureMembers is made by the SureCrafted team. They've not been around for long but have started strong since 2022. This team also creates other plugins and add-ons for websites like SureCart (a shop for your site) and SureTriggers (automated integration support).
What Is SureMembers?
SureMembers is a content restriction plugin that adds layers to your WordPress website. With it, you can make parts of your website only available for people who sign up and maybe even pay.
Features of SureMembers:
Special Podcasts: You can have podcasts that only members can listen to.
Change Menus: You decide what different members see on the website menu.
Marketing: Helps you see how well you sell and make members happy.
Give Content Slowly (drip content): Decide when members can see your content.
Downloads: Members can download files you choose.
SureTriggers: Lets your website integrate with countless different apps with ease.
The Good:
User-Friendly: Even if you've never used something like this before, it's easy.
Look & Feel: It has a modern and pleasant design.
Custom Checkout: You can make the payment page look how you want. And they're planning to add more features.
One Price, Many Websites: You can use it on many websites if you pay for it.
Things to Improve:
For payments, you need another plugin called WooCommerce or SureCart. Even though SureCart is easy to set up, something integrated would be better.
Some extra features need SureTriggers. But it means you won't have to add a bunch of other plugins.
It's a new membership plugin, so not many people have used it for a long time. So it falls short on the community support.
Feature Overview
Key Features of MemberPress: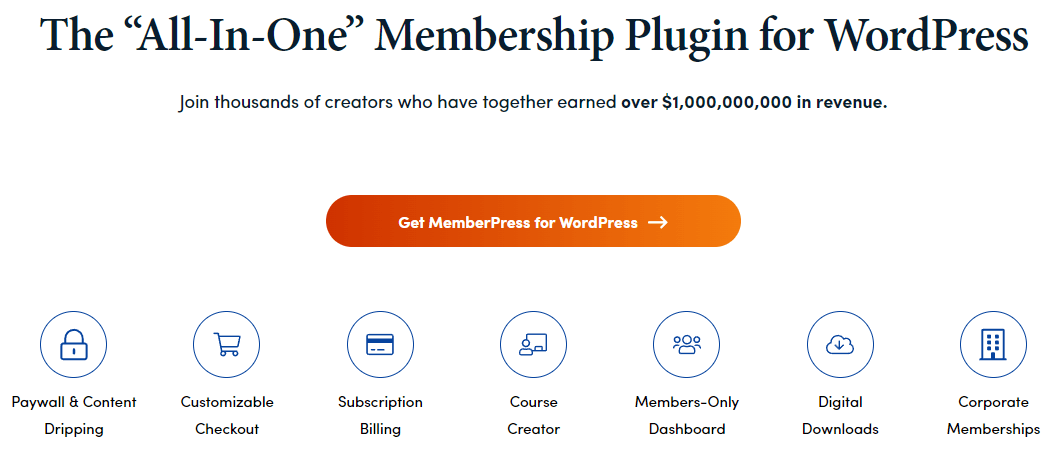 Easy Setup: MemberPress is user-friendly membership plugin and offers a straightforward setup process.
Unlimited Membership Levels: You can create multiple membership levels to offer different content and pricing options.
Content Dripping: MemberPress supports content dripping, allowing you to release content to members at scheduled intervals.
Content Expiration: You can set content to expire after a certain period, limiting member access.
Community Integration: While MemberPress doesn't have built-in community features, it can integrate with specialized forum plugins.
Subscription Types: You can create various subscription plans, including tiered payment options.
Subscription Management: Members can easily change their subscription level, pause, or cancel it at any time.
Coupons: MemberPress lets you offer coupons and discounts to new members during promotions.
E-commerce Integration: It integrates with WooCommerce and other e-commerce plugins if you want to sell locked content as products.
Email Marketing Integration: You can connect this membership plugin to your email marketing service provider for automated members-only email campaigns.
Customization: MemberPress allows you to customize the checkout process and appearance of checkout-related pages.
Payment Processing Options: It supports multiple payment gateways, including PayPal, Authorize.net, and Stripe.
Documentation and Support: MemberPress offers comprehensive tutorials and support resources.
Key features of SureMembers: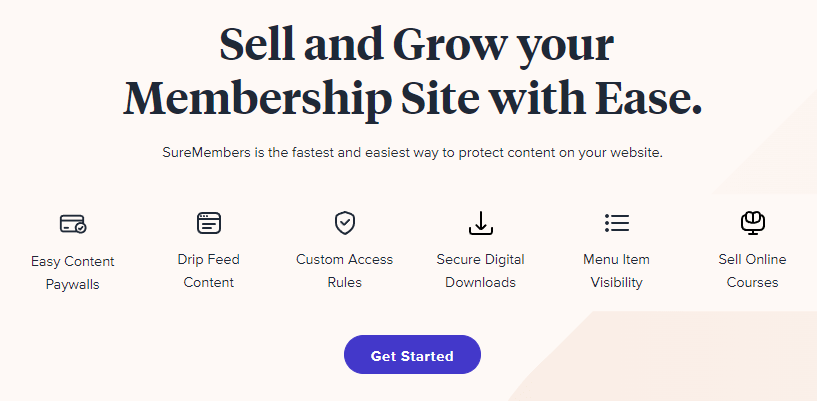 Seamless Integration: SureMembers seamlessly integrates with popular plugins like SureCart and Gutenberg. You can also link its sister plugin "SureTriggers" for enhanced functionality.
Content Release Strategy: SureMembers allows you to plan and organize your content release strategy. So that you have regular new content for members.
User-Friendly Interface: SureMembers is an intuitive and user-friendly membership plugin. It is easy to grasp both for the beginners and experts in WordPress.
Customizable Plans: SureMembers provides well-structured plans for the needs of individuals and agencies.
Efficient Customer Support: This membership plugin has a strong support game. So even if you face a serious issue, you can be sure to get help you need.
MemberPress vs. SureMembers – Feature Comparison
Dedicated Dashboard
MemberPress: Everything is integrated into the WordPress dashboard. Although intuitive, it has many menu items on the left side which can be overwhelming for first-time users.

SureMembers: Features a third-party dashboard for a seamless user interface via SureCart, offering a minimalistic approach.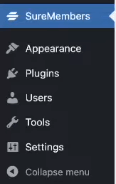 Events and Triggers Automation
MemberPress: Offers automation via Zapier, but this feature requires an upgrade from the Basic to the Plus plan, costing an additional $90.
SureMembers: Provides automation via SureTriggers, a free-to-use platform similar to Zapier.
Payment Options
| | | |
| --- | --- | --- |
| Payment Options | SureMembers | MemberPress |
| Stripe | ✅ | ✅ |
| PayPal | ✅ | ✅ |
| Authorize.net | ✅(Upcoming) | ✅ |
| Mollie | ✅(Upcoming) | ❌ |
| RazorPay | ✅(Upcoming) | ❌ |
| Square | ✅(Upcoming) | ❌ |
| Apple Pay | ✅ | ✅ |
| Google Pay | ✅ | ✅ |
| Amazon Pay | ✅ | ✅ |
| PayFast | ❌ | ❌ |
| CyberSource | ❌ | ❌ |
Reporting and Analytics
MemberPress: Provides basic analytics offering a general overview of subscription numbers and activity.
SureMembers: Offers in-depth reporting and analytics with metrics like sales, subscriptions, order bumps, cross-sells, and more thanks to SureCart integration.
Content Lock Rules
| | | |
| --- | --- | --- |
| Content Lock Features | SureMembers | MemberPress |
| Lock posts and pages | ✅ | ✅ |
| Lock custom post types (CPT) | ✅ | ✅ |
| Lock parts of a post or page | ✅ | ✅ |
| Lock all templates | ✅ | ✅ |
| Lock files/downloads | ✅(Via SureCart) | ✅ |
| Lock URL | ✅ | ✅ |
Showing Excerpts
MemberPress & SureMembers: Both plugins support showing excerpts to visitors.
Content Dripping
MemberPress: Offers content dripping starting from the Basic Plan.
SureMembers: Supports content dripping.
Expiration Rules
MemberPress & SureMembers: Both plugins offer expiration rules for content.
View Post Limits
Neither of the plugins support this feature.
Tax and VAT Collection
MemberPress & SureMembers: Both plugins support tax and VAT collection.
Backend Shortcut Lock Icon for Admins
MemberPress: Does not provide this feature.
SureMembers: Offers a content lock shortcut icon for backend editing.
Redirection Rules
MemberPress & SureMembers: Both support redirection rules to guide users upon login.
Menu Item Visibility
MemberPress & SureMembers: Both plugins allow for specific navigation menu item visibility rules.
Integrations
| | | |
| --- | --- | --- |
| Integration Feature | SureMembers | MemberPress |
| Event-based Automation | SureTriggers | Zapier |
| eCommerce Integration | SureCart, WooCommerce | WooCommerce |
| Other Relevant Integrations | LearnDash, TutorLMS, LifterLMS, BuddyBoss | Mailchimp, Active Campaign, Learndash, Wp-CourseWare |
Pricing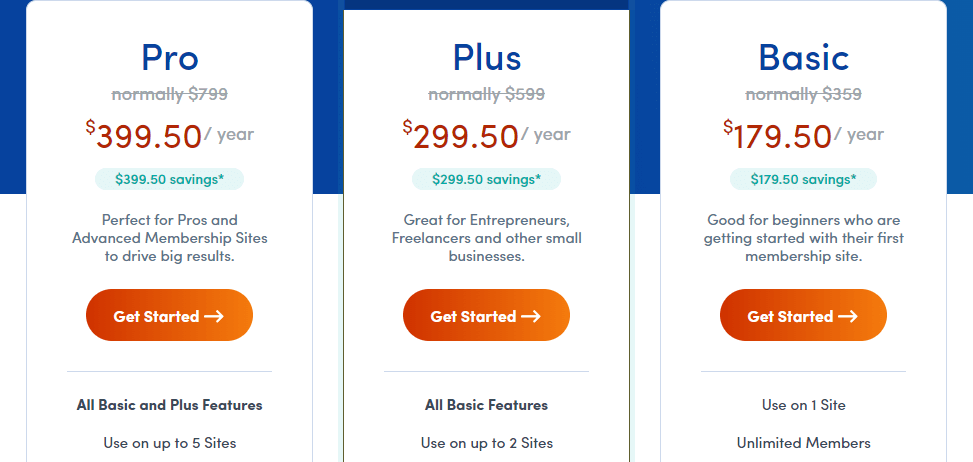 | | | |
| --- | --- | --- |
| Pricing Features | SureMembers | MemberPress |
| Cheapest Plan | $99/Year | $359Year |
| Most Expensive Plan | $149/Year | 799/Year |
| Site Licenses | 1 to 10 | 1 to 5 |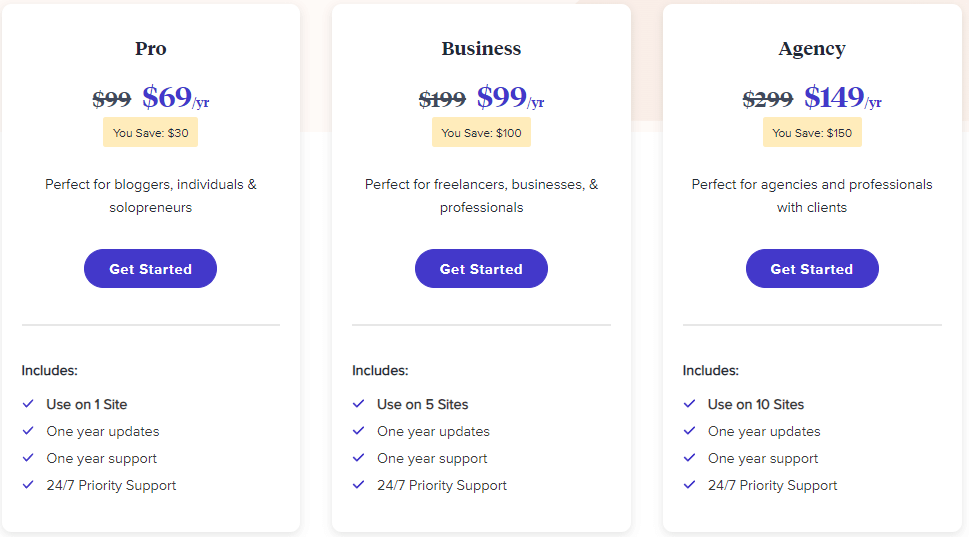 Which One is Better?
MemberPress has been in the market for nearly a decade.
SureMembers joined the party just a few years ago.
However.
SureMembers focuses on the simplicity and content restriction side of membership plugins.
And EXCELS at it.
While MemberPress has a wider arsenal of features.
The decision is yours.
Want something simple and gets the job done?
Choose SureMembers.
Want to indulge into the complexities and configure every last bit of detail?
Choose MemberPress.
There you have it. A comprehensive breakdown of each plugin and a simple guide for making a decision.
Make sure to read our blog and subscribe to our newsletter to get more of helpful and simple content in your inbox.
Sign up for our newsletter
Be the first to know about releases and industry news and insights.
Let's

get started

on something great
Booknetic is a simple yet powerful plugin for accepting online bookings & payments on your WordPress site.