10 Best WordPress Lead Generation Plugins to Increase your Conversions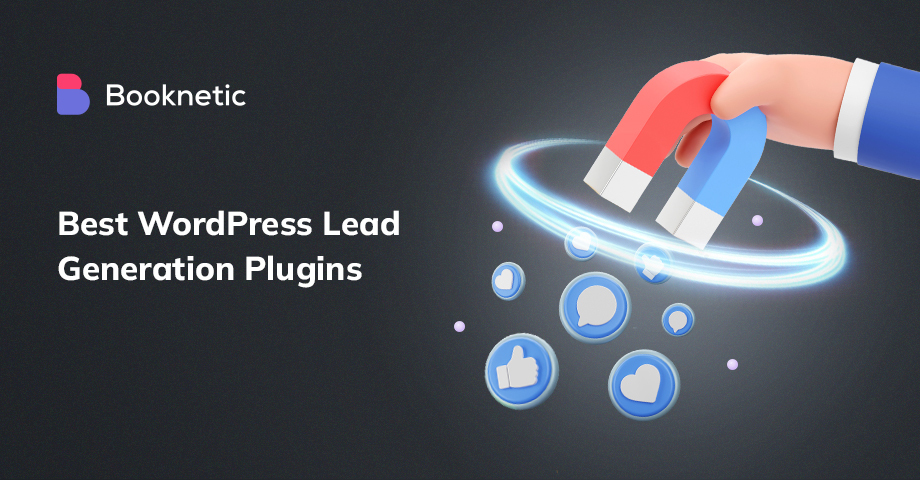 Without the right WordPress lead generation plugins is crucial for increasing sales. They provide you with email list collection, sign-ups, and engagement triggers that help to grow your business. Before diving into the list of best WordPress plugins for lead generation, let's first clarify the meaning of lead generation and the necessity for using a lead generation plugin.
What is lead generation?
In business, lead generation is the process of cultivating the interest of potential customers. Lead generation starts with the initiation of customer interest in your products or services and is followed by nurturing relations based on the collected data. It is the process of building visibility and credibility around your products.
Lead in this context is the contact information of the prospect and also can be the demographic details.
When you launch your site or eCommerce store, you don't instantly receive a flow of customers or visitors to your site. Those who even make a purchase don't stick around forever. So you need potential customers' or customers' data to for acquisition and retention strategies.
The best way to do this is using lead generation tools. The drawback of these tools is that they stand on the pricer side for small businesses. Thankfully, WordPress websites can get those facilities with the help of the best WordPress plugins for lead generation.
Top 10 WordPress lead generation plugins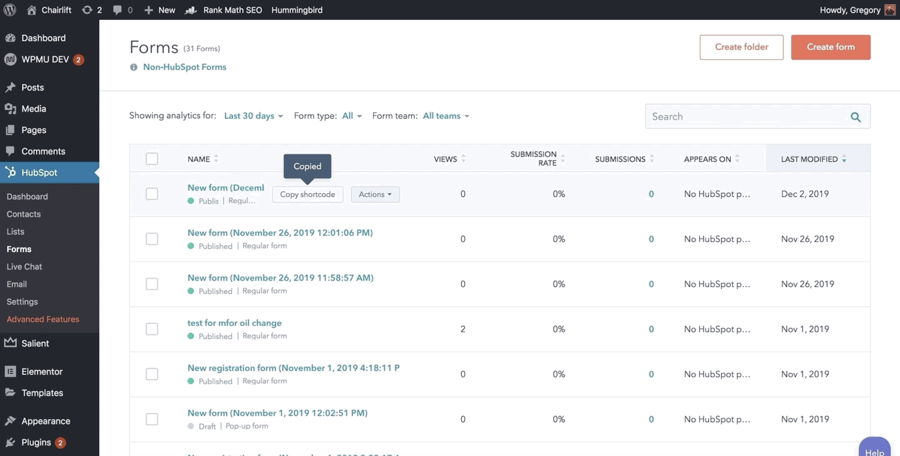 HubSpot is one of the tools that instantly comes to mind when talking about lead generation. Its WordPress lead generation plugin helps to capture leads in multiple places on your website. Being equipped with email marketing, live chat, and sign-up forms, it allows you to collect customer contacts as well as details about their customers.
The lead generation form is the first feature that allows you to collect data. It uses a drag & drop builder to build the form. Another feature is a pop-up option that you can place on pop-ups, banners, and slide-in boxes to capture leads.
Live chat and automated chatbot model allow you to connect your support with customers and reply to customer inquiries in real-time. No matter which leads gen tool you use, all data is automatically stored on your HubSpot's CRM system.
It is a completely free WordPress lead generation plugin you can use.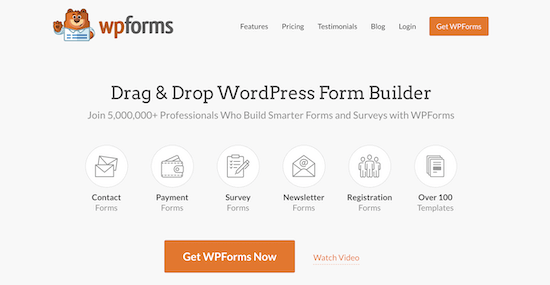 WP Forms is a powerful plugin to create any type of contact form on your website. It also uses a drag & drop builder to create custom lead forms. Collected data is stored in WP Forms' entry management system, which you can access from the WordPress dashboard.
It is the best WordPress lead generation plugin for collecting newsletter subscriptions, registration forms, or payment forms. Plus, it also comes with survey forms where you can gather as many details as you need.
The best part is that you can embed the contact forms in multiple places like blogs, pages, footers, sidebar widgets, and more. With the notification system, you will instantly be notified about new leads and can respond to them on time.
It integrates with email marketing plugins and CRM systems which allows you to automatically add leads to your email lists.
WP Forms has a free plan and several paid options starting from $40 per year.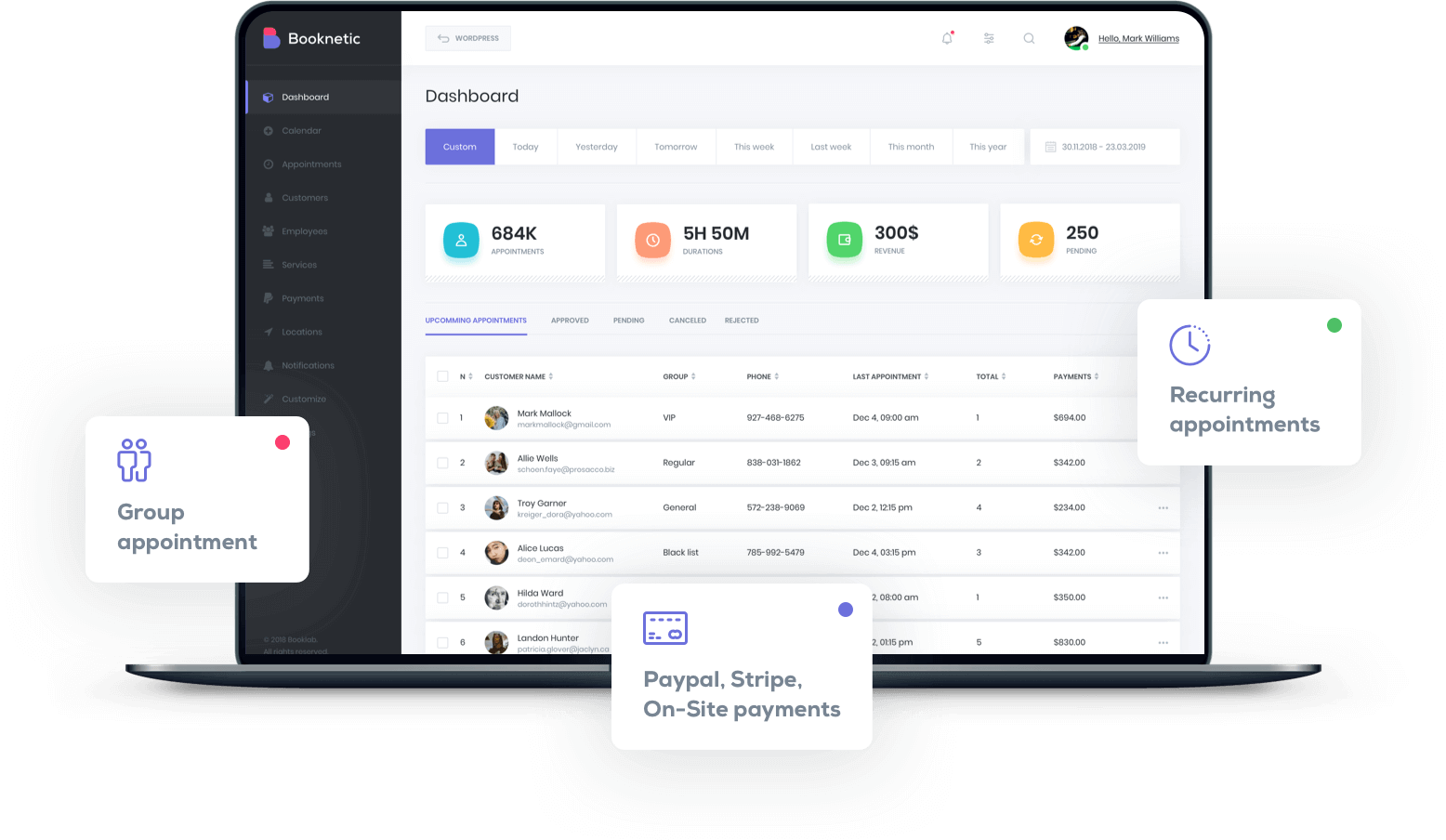 Booknetic is essentially an appointment booking plugin for service businesses. By supporting built-in CRM features, it makes its name to the list of WordPress lead generation plugins.
Using the custom form builder feature, you can select what types of information to ask customers. This includes texts, links, documents, radio buttons, date inputs, email, and checkboxes. All this information is automatically saved in your plugin's admin panel.
Whether a customer schedules an appointment or a staff member creates a manual appointment from the admin panel, the included information is sent to both staff and customer through the workflow model. In the customer section, you can view the list of customers along with their appointment dates, details, payment history, and more.
Customer data can be imported or exported to CSV format. The collected contact information is mainly used for notifying customers about appointments or manually reaching out to them if needed.
But you can import the data to your email marketing tool to re-connect with customers on later campaigns. You can get Booknetic at a $79 one-time payment to get core features.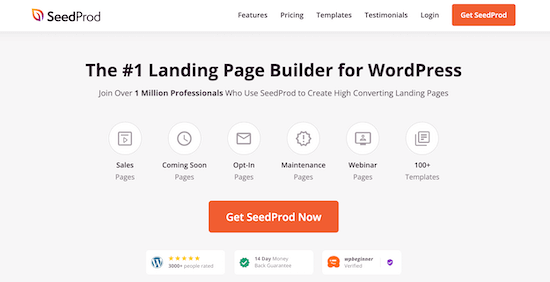 SeedProd is a landing page builder for WordPress websites. It comes with 200+ templates and a custom theme builder to design a proper landing page for you. You can create sales funnels using opt-in forms, timers, and custom blocks. You can also add call-to-action buttons and headers to create new layouts. These help to trigger actions and boost conversions.
Coming soon page templates help to generate leads before your site or feature is live. You can put timers and contact form builders to design pages.
You can collect emails with MailChimp, Active Campaign, and Constant Contact. Subscriber tracking is also available with this WordPress lead generation plugin. You can SeedProd's lite version for free or get premium versions. The cheapest plan starts at $40 per year.

Ninja Forms is another WordPress lead generation plugin with a drag & drop form builder. It requires no code to build contact forms, lead generation pages, conditional forms, and multi-pages.
You can let users upload any type of format. You can hook the collected data to any email marketing services, CRM, Zapier, or Webhook to connect with leads.
This plugin can be used for creating email opt-in forms, surveys, or polls. Payment receiving is also possible with this lead generation plugin. You can accept PayPal or credit card payments on single, fixed, variable, subscription, or user-entered amounts.
Ninja Forms come with free and several paid plans starting at a $49 annual payment.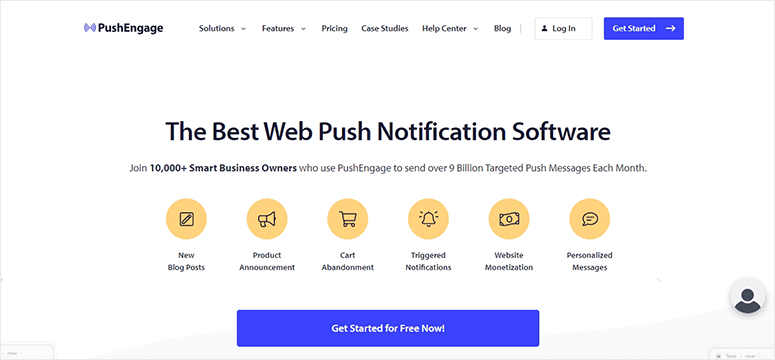 PushEngage is a WordPress notification plugin that lets you collect leads by sending browser notifications. Once your users subscribe to your notifications they will receive instant notifications about the latest updates, payments, or even personalized messages.
By detecting user behavior, it lets you send personalization notifications. You can also segment user groups and A\B test to experient different notification types or texts. Sending offline notifications is also possible with this plugin. TurboSned and Scheduling are on top features that let you customize notification timings based on the user's time zone.
PushEngage has free and paid plans starting from a $14 monthly payment.
MemberPress is a powerful plugin to set up a membership program on your site. You can create free, single, and multi-level membership plans. It has a restricted-only users area feature that triggers users to become a member of your site.
Additionally, it has monetization options. You can create courses, downloadable materials, and podcasts in exchange for payment. The drip content feature lets you keep your content more engaged. You can launch timed content releases and give access expiration.
It is the best lead generation plugin for WordPress if you want to convert regular site users into leads. Compared to traditional WordPress lead generation plugins, it is an expensive one. The basic plan starts $279 yearly payment.

Jetpack is a powerful WordPress lead generation plugin to keep leads, customers, and invoices in a single place. It is perfect for WooCommerce, WordPress freelancers and agencies, small businesses, and startups.
As a lead generation tool, you can collect customer details, store them on your website admin, and integrate them with your CRM system. By connecting PayPal, and Stripe via extensions and manage your transactions and payment in WordPress.
It is one of the must-have WordPress plugins to connect multiple functionalities for your business. You can get selective features such as CRM and lead generation for free.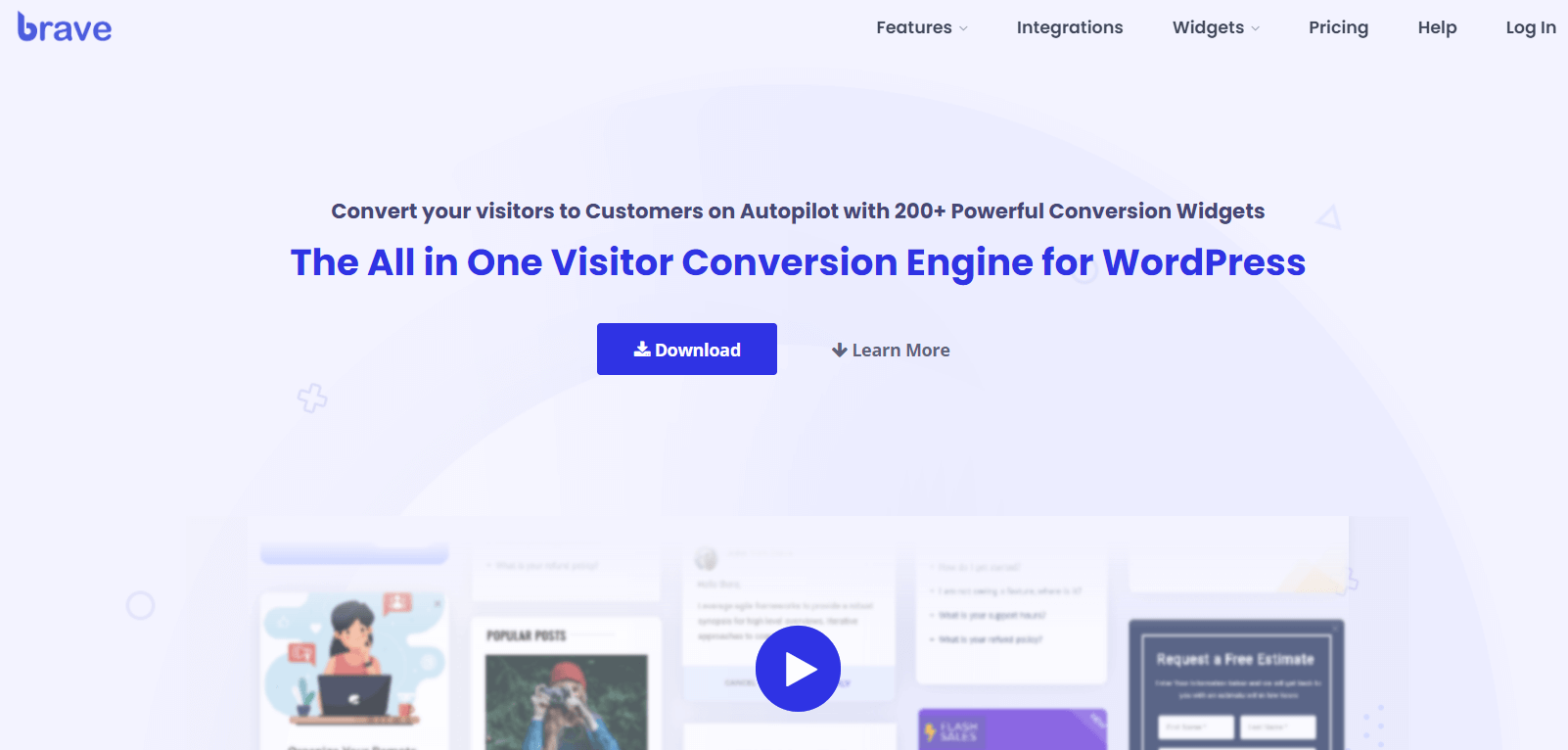 Brave is a conversion widget builder for WordPress. You can create pop-ups, sticky bars, lead generation forms, and sidebars to convert leads. Using its drag & drop builder, you can create newsletter opt-in pop-ups, contact form pop-ups, lightboxes, and models.
It comes with 10 design elements such as text, button, image, shape, and WooCommerce products.
You can connect newsletter opt-in forms to email marketing and CRM service providers. With built-in analytics, you can find out which pop-ups bring the most conversion, and their click and view count.
You can the lite version of Brave for basic features and the pro for personalized features. The cheapest plan starts at a $59-yearly subscription.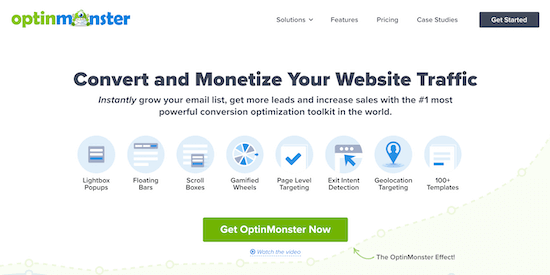 OptinMonster lets you create visually-pleasing lead generation forms. It is one of the best WordPress lead generation plugins to create dynamic lead generation forms and boost conversions.
You can create pop-ups, floating bars, scroll boxes, slide-in, and coupon wheels. Design elements like a countdown, images, and customization are for creating dynamic lead generation forms. Using A\B testing you can check different forms in practice.
The built-in targeting option makes it the best lead generation plugin for WordPress. You can use this for geolocation targeting and page-specific targeting. The basic plan costs a $14 monthly payment with page-level targeting and segmentation features.
==> Also read: 6 Best affiliate link tracking plugins
Final thoughts
Lead generation can make or break your business growth strategy. When done well, it can increase your sales based on customer data. WordPress lead generation plugins help to simplify this process with codeless implementation and affordable prices.
Some of these plugins take a few minutes to configure while others require time to fully set up. It is possible to use multiple lead generation plugins that will support you in different parts of your business. The key here is to choose ones that respond to your needs.
So, what is the best WordPress lead generation plugin you find the most important to use?
Sign up for our newsletter
Be the first to know about releases and industry news and insights.
Let's

get started

on something great
Booknetic is a simple yet powerful plugin for accepting online bookings & payments on your WordPress site.